Customer retention is a big deal for businesses — big and small — everywhere. According to a report by Frederick Reichheld of Bain & Company, the cost of customer acquisition versus customer retention could reach as high as 700%. So putting more attention to building real relationships with existing customers should be a no brainer. With these figures in mind, every business should invest in a strategic approach to creating stronger relationships with their existing customer base. And yet there may be some marketing tactics that even the most skilled customer retention managers may be missing out on. And here, we're touching on six such tactics, all of which allow businesses to build bridges IRL rather than sticking to digital interactions. Business greeting cards are underutilized despite high performance. Perhaps you're already sending your company holiday cards, but you may be missing out on a few other opportunities to foster a level of customer loyalty you haven't been able to reach thus far.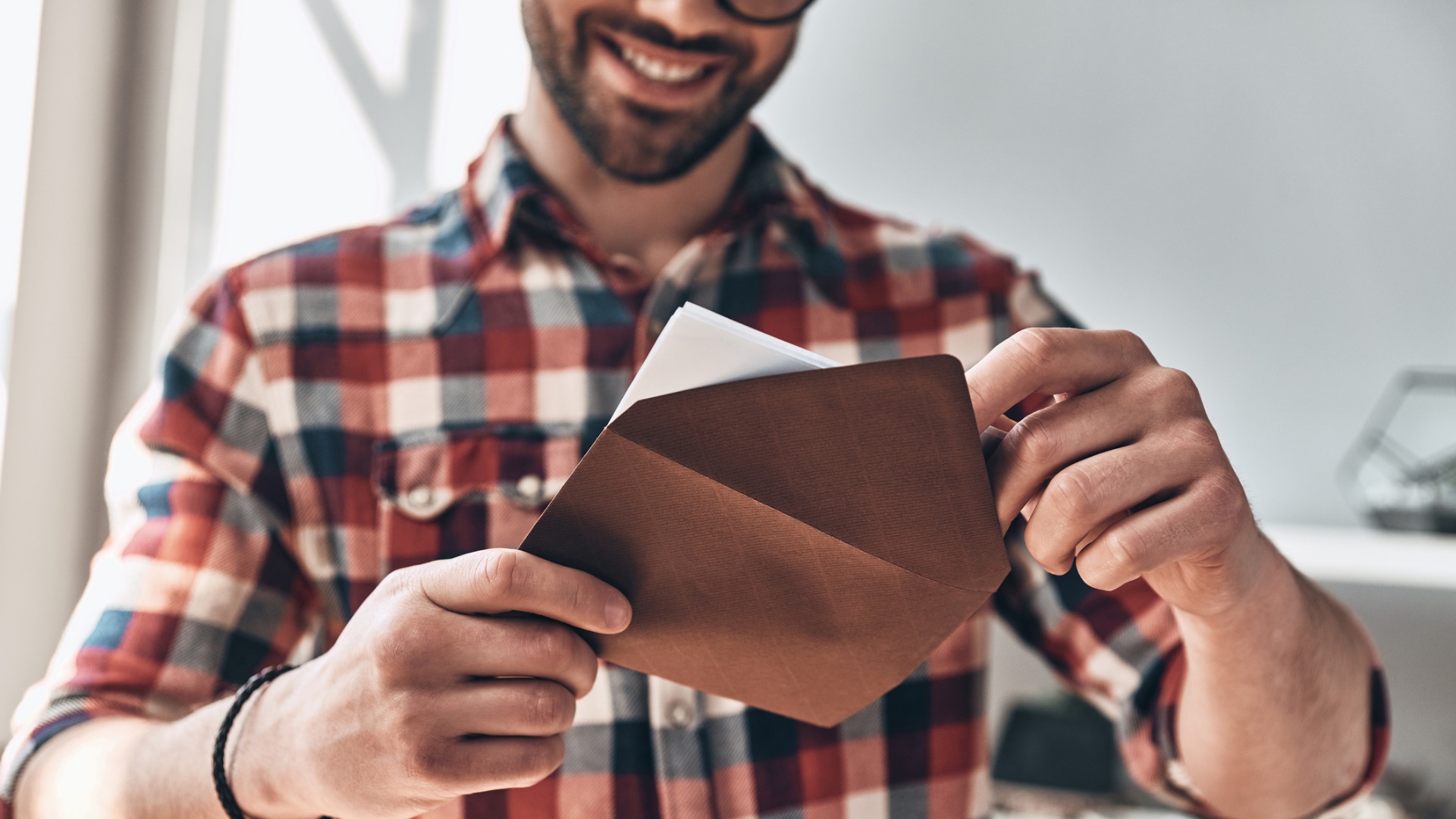 You can send marketing emails day in and day out, but sending a personal handwritten note takes the customer relationship building to a-whole-nother level.
Here are 6 IRL touch points to increase customer retention — that you might be missing out on.
1. Thank You Cards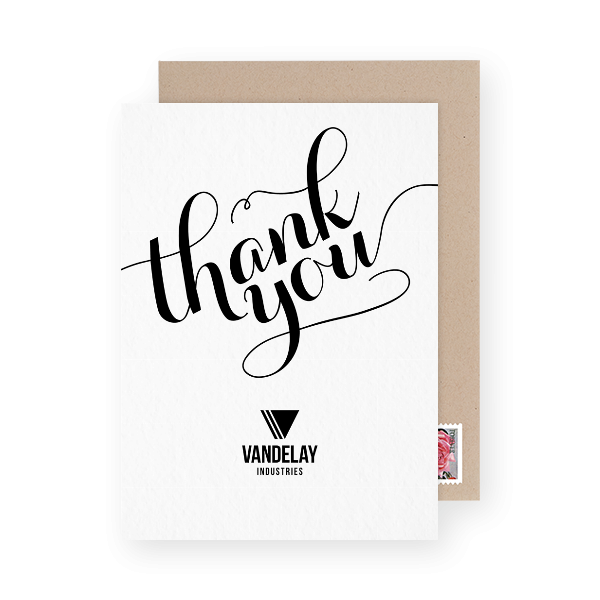 Business thank you cards are a big deal. There are a number of occasions in which you should be mailing these bad boys [see The 5 opportunities to Send Business Thank You Cards]. But these (along with the other occasions on this list) are especially important for online businesses. Unlike brick and mortar stores where the customer has a face to face interaction with the business owners or even staff — there's no such interaction online. And while this gives online businesses many advantages (less overhead costs, 24-7 hours etc.) the one big disadvantage here is the lack of face-to-face relationship building.
When someone walks out of a store — they get a big fat THANK YOU. And sure, there's a thank you page following an online purchase, but it doesn't really hit home. Sending a thank you card creates that personal interaction that's missing online. Customers who feel connected and appreciated for their business are more likely to come back.
2. Apology Cards
Ok, so you messed up. It happens. Every business owner knows not everything goes quite as planned. Perhaps there was a mishap with an item or a situation wasn't handled in the most professional way possible. Whatever may have happened, it's on the business to give their sincerest apologies. An angry customer is your greatest opportunity to create your most loyal customer.
Make up for your mistake with a card that includes a personal apology note and maybe even a gift (or discount) code — depending on what the situation may call for. Turn your mistake into your biggest fan and win your clients back!
3. Birthday Cards
Marking important dates in your customers' lives with a small gesture like a Birthday card can make a big difference. Besides having the opportunity to get your branding in front of you customers' eyes, the personal business birthday card will leave your customer with some serious heartwarming feels. They'll feel special on their birthday and will likely keep your business in mind moving forward.
Set up business birthday cards for the entire year in minutes. Postable will automatically print, address, and mail them for you throughout the year.
4. Holiday Cards
The card of all greeting cards. The time of year that your customers' mail boxes are filled with cards from friends and family is a great time to add your branding to the mix. Add your company photo to show your culture and the faces behind the scene or add your logo to the front of your business holiday card. Either way, be sure to include a short and sweet (but also personal) business holiday message to send your best wishes for the season.
[Pro tip: Sending Business Thanksgiving cards is a great way to stand out. While everyone else is mailing cards later for the holiday season, your messaging will arrive just in time to give thanks! Also a perfect opportunity to send your appreciation cards (see #6).]
5. Anniversary Cards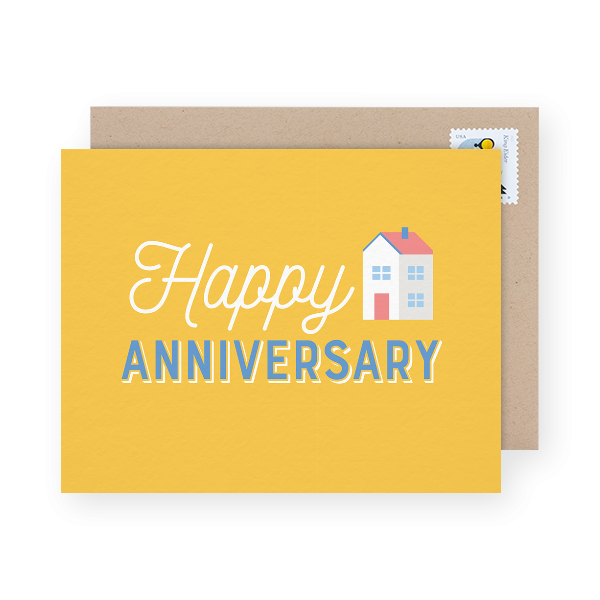 Send home anniversary cards for all your clients in minutes. Postable will print, address, and mail them for you.
If you have a subscription service or customers who have been consistently in business with your company for a year — sending them a business anniversary card is a good idea. The same way you would mark other important dates like birthdays and holidays — the anniversary is just as important.
This is especially key for Real Estate professionals so mark the home anniversary dates and remind clients of the great work you did for them.
6. Appreciation Cards
The same way you've automated a few emails to get sent throughout the year to your best customers, you should be sending a random (this is what makes receiving this card so special) appreciation card to your customers. Obviously it's not completely random — there are a few factors to look at.
First, you'll pick your best customers. Then choose a date where you haven't touched base with these customers in a while (you don't want to dilute the potency of receiving these personal cards). It's sort of like a thank you card, only the reason isn't quite as obvious. Your customers will feel extra special for getting recognized for simply being a customer and you'll have increased the potential for customer loyalty and retention.
Pro tip: Postable Business Tools
Feeling overwhelmed by the prospect of having to handwrite all the notes now? Don't fret. Postable's business tools were created especially to solve this problem. Who has time to sit and write out hundreds of appreciation cards or stamp holiday cards galore? We get it. That's why we've made it super simple for businesses to mail their greeting cards with as much ease as sending an email. Yes, really.
Don't have an account? Sign up for your free account in seconds — here.
Postable's business tools have everything from easy import of contact lists, carbon copy (apply the same message to many cards at once), custom logo business designs and so much more. Once you have an account, you'll be able to save your designs and come back whenever you'd like — there's no need to start all over each time. You can send that same thank you card you designed yesterday for today's meeting. Easy. Peasy.
Send business birthday, holiday, and thank you cards for all your clients in minutes. Postable will print, address, and mail them for you.