We all have friends who come in the form of cat loving maniacs aka cat people. That one friend who spends all of their extra money on cat nip and gourmet cat food. Or maybe they don't even have a pet kitty, but spend all their free time day dreaming about it. Scrolling through endless funny cat videos is their favorite afternoon activity. Whatever the scope of their feline love — we all have someone in our lives that fits the bill. Whether you're a cat person yourself or align more with the puppies (because puppies make the world go round) — sending cat greeting cards is an easy way to make your cat loving friends smile.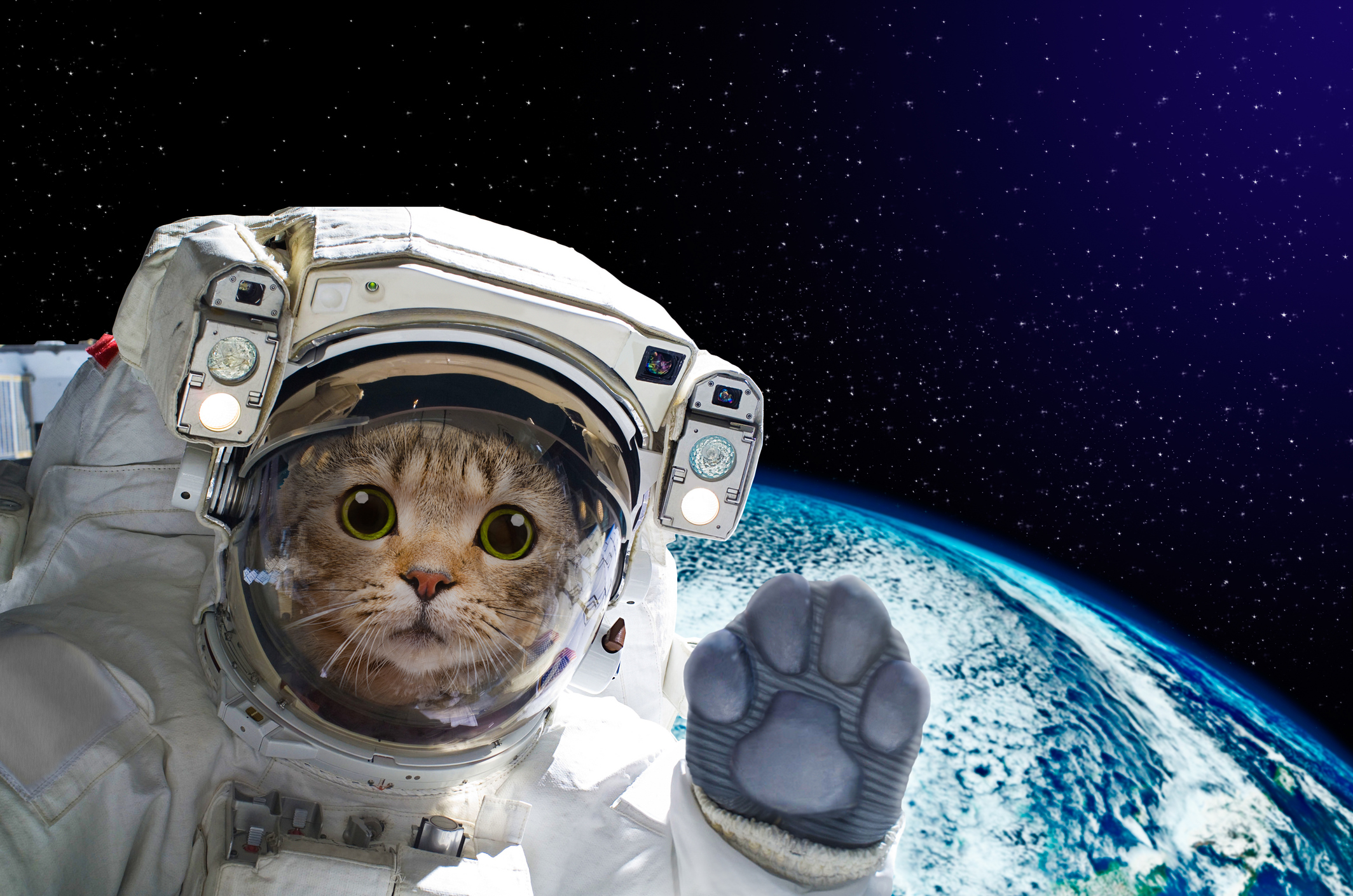 So, we went ahead and created this delightful list of 13 cat greeting cards so that finding sad cat-inspired cards would be the easiest thing ever.
1. Cat Seasons Greetings
Wish your cat loving friends the cheerful-iest seasons greetings with this cat sweater card by Susie Esse. They probably have a real sweater just like it.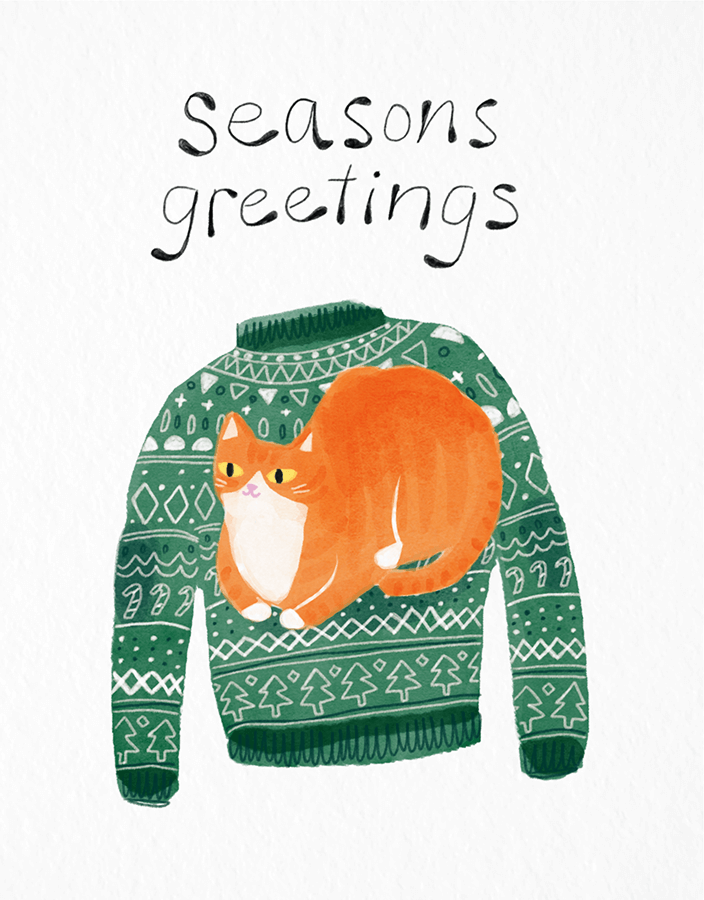 Send this card here
2. Cat Hello
It's that time of year where a holiday lull is in place, but you're just itching to send your friends a greeting card — an urge we can totally relate to. Sending a lovely hello card doesn't require an actual holiday — that's the best part! A card to say hello is a card that says you were thinking about them just because you care.
Send this card here
3. Cat's Ass
You could send them some flowers or a card that simply says 'I love you'. OR you could tell them they're the 'cat's ass' with this delightful card by Bench Pressed.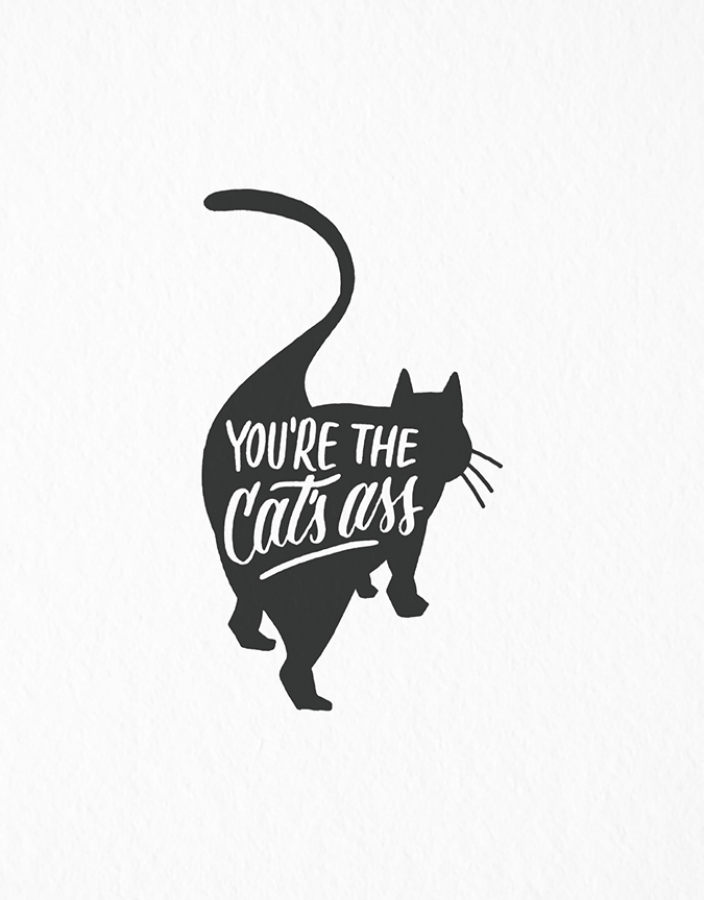 Send this card here
3. Cat's Meow
Ok, so perhaps telling someone they resemble a cat's ass isn't sitting comfortably with you. Understandable. How about this lovely hand painted card as a more subtle alternative.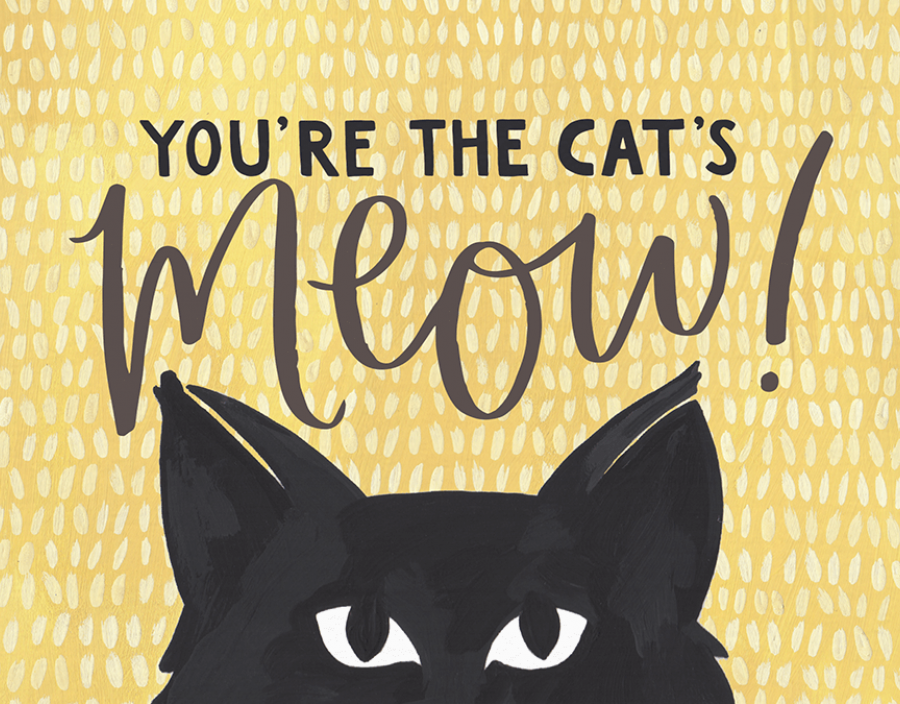 Send this card here
4. You're Purrrfect
And the puns just keep on coming. This quirky design is great for someone who appreciates a good pun — a good cat pun at that!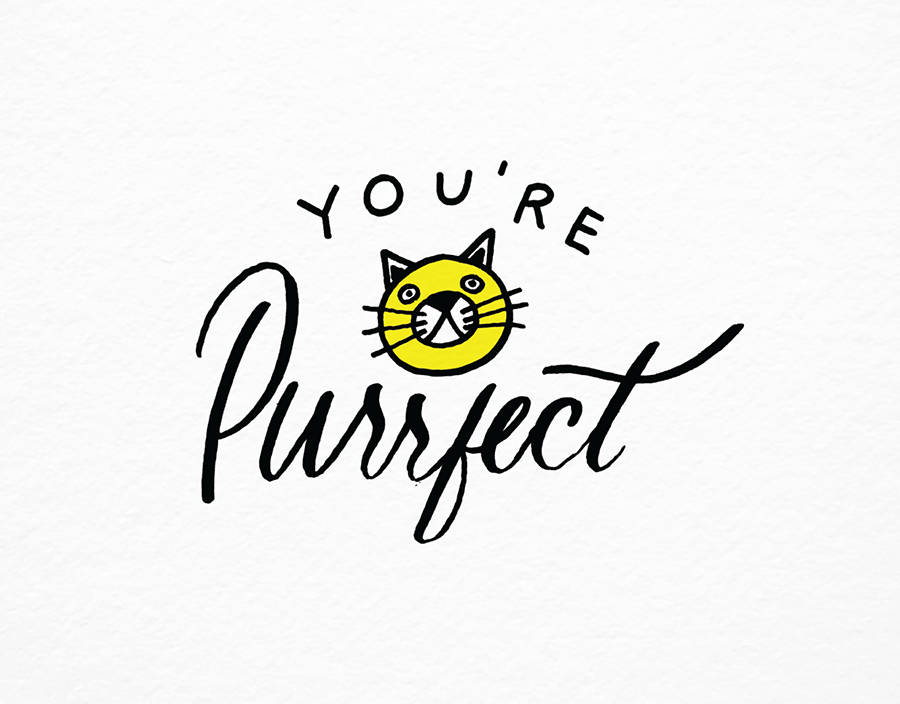 Send this card here
5. Lazy Cat Valentine's Day
Is your significant other a cat loving fiend? Then this card by Small Adventure is the perfect way to send them your love. There's few ways to express your love for someone than to volunteer to be lazy together.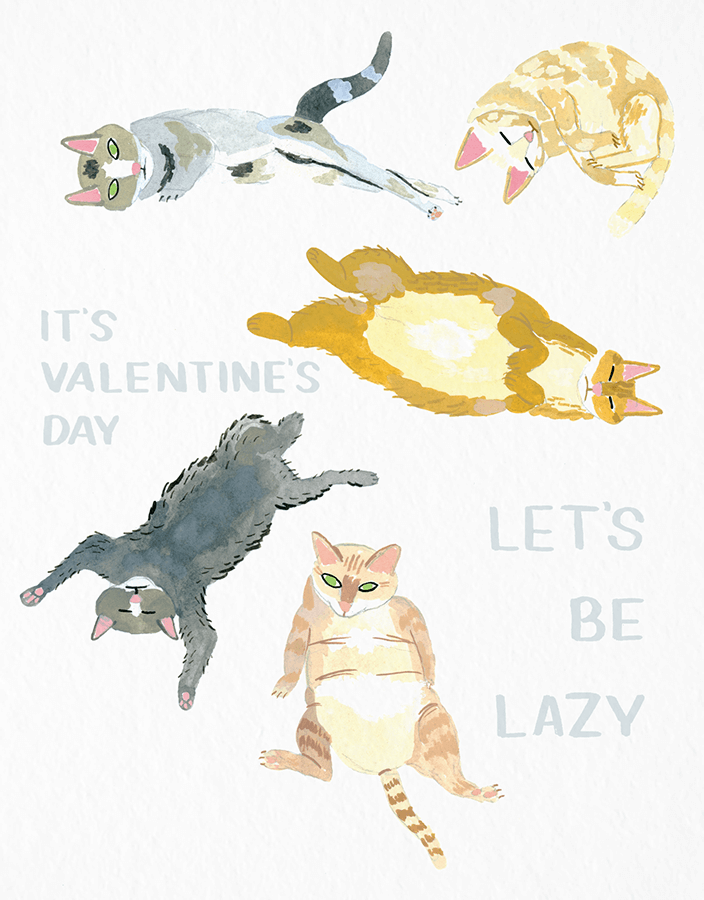 Send this card here
6.  Cat Birthday
What better way to wish your cat loving friend a delightful birthday than with a birthday card adorned with a cat and a party hat. Yes, that did just rhyme.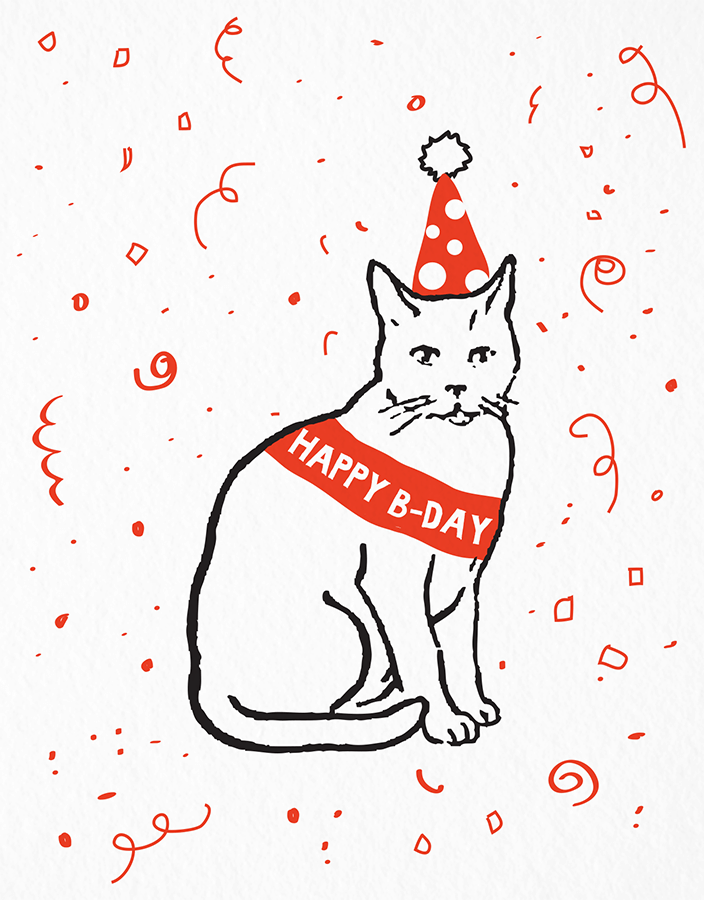 Send this card right here
7. Just Because Cat Cactus Card
When there's no occasion on the horizon, but you'd like to send a friend or maybe a cousin or maybe the girl who lives the down the street who happens to love cats a card– you're in luck. This card — while holiday-less — has a charming design and there's a cat so it's perfect. Even your non-cat loving friends will probably love this design, who wouldn't?!?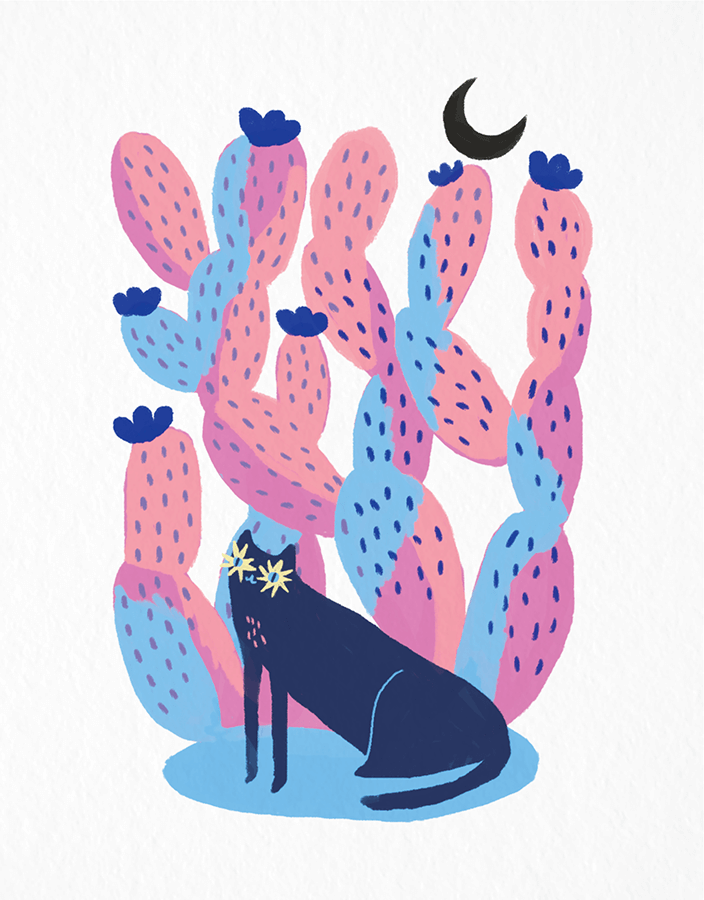 Send this card here
8. All the Cats Birthday Card
Forage Paper Co. does it again with this deliriously delightful design. Know a cat person with a birthday coming up? This card will no doubt make the birthday girl/boy extremely happy. You can almost count on it.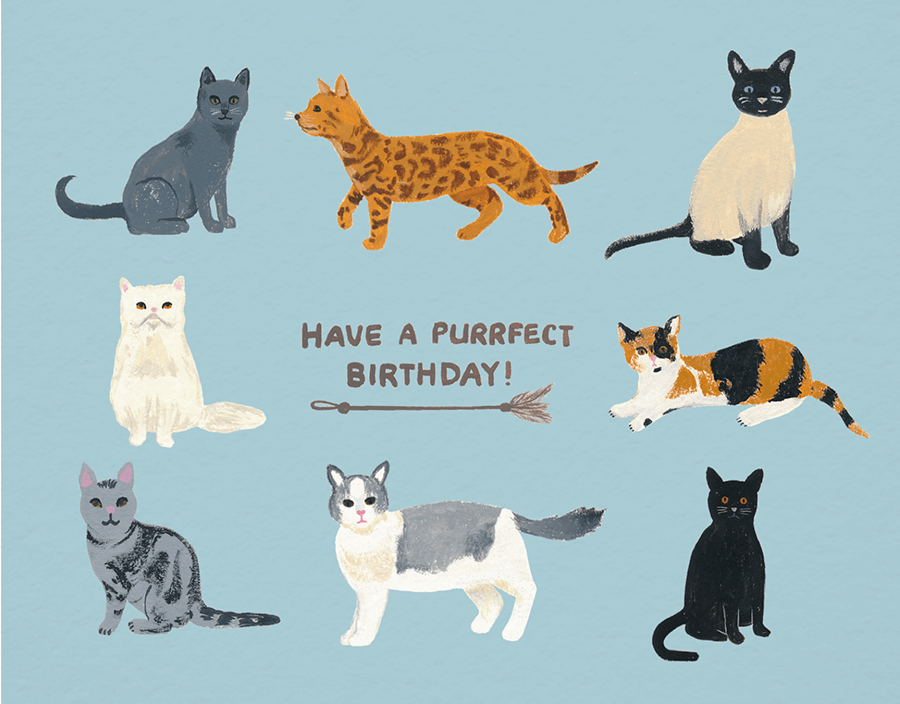 Send this card here
9. Cat in Flowers Birthday
This design's popping colors alone will likely make the birthday girl/boy smile — because they're just SO fun!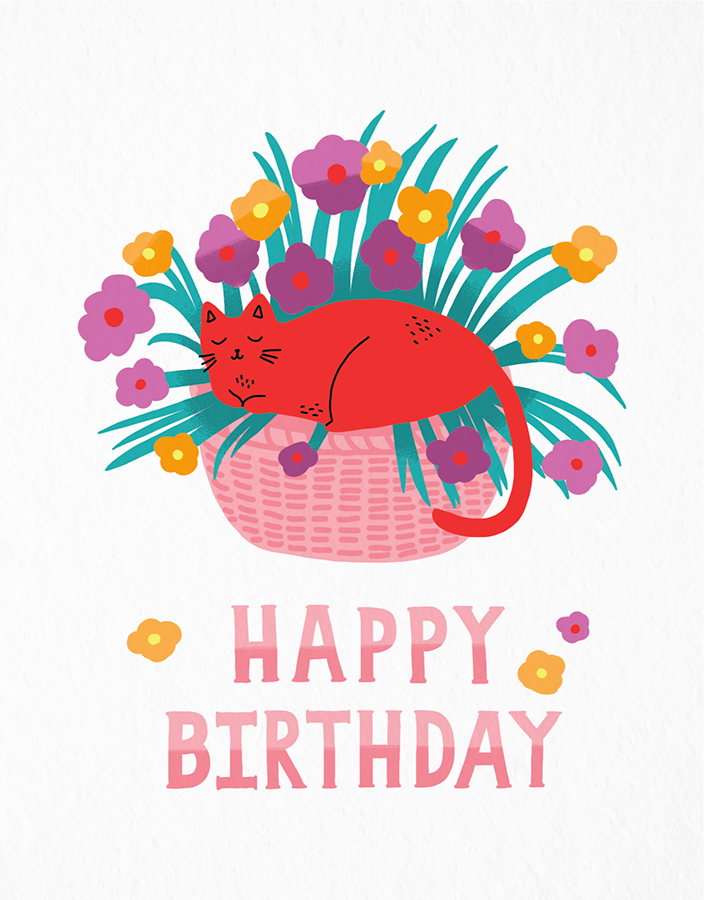 Send this card here
10. Halloween Cat
The black cat is a pretty obvious symbol for Halloween, but those folks in our lives that cringe at the idea that the black cats are bad luck would love this Halloween card. For them, the black cat is nothing less than magic. Also, the cat on this design looks mighty friendly.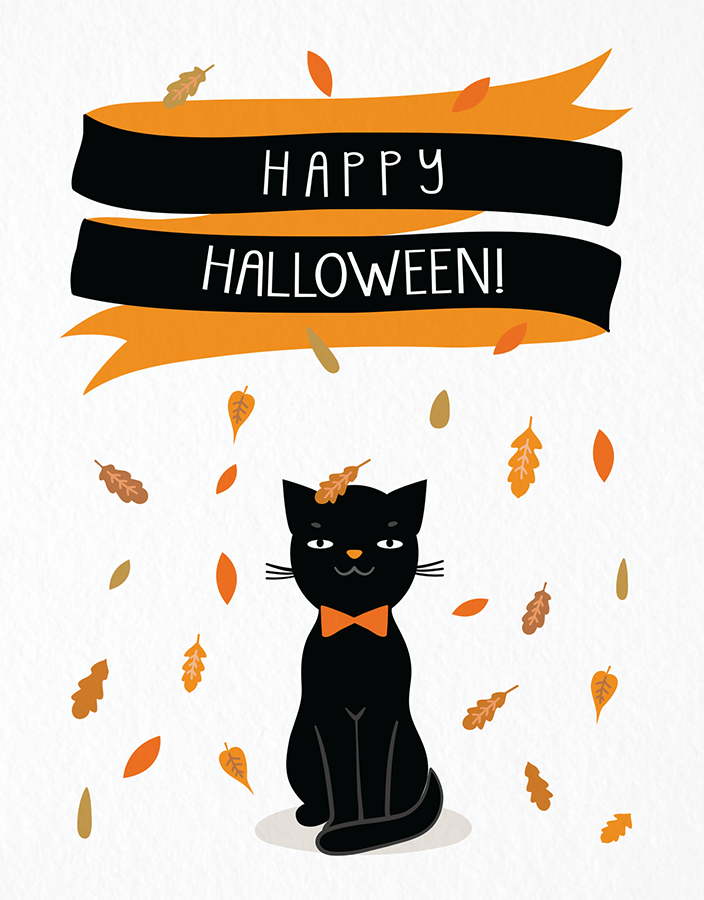 Send this card here
11. Cat Purrty
Another pun for the win! This cheerful cat party card is perfect for birthdays — especially for the little ones who love cats. On the other hand, you could totally send this card on any random day that you want to get a party started. Which is most days.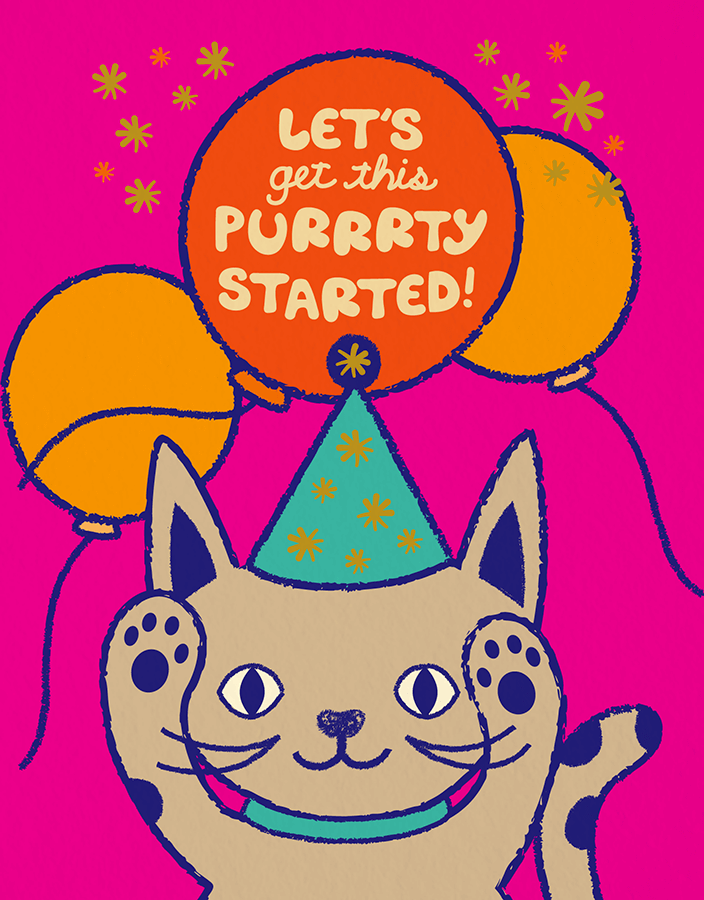 Send this card here
12. Cool Cat Birthday
Know a cool cat who loves cats? This birthday card  TYLRE is perfect.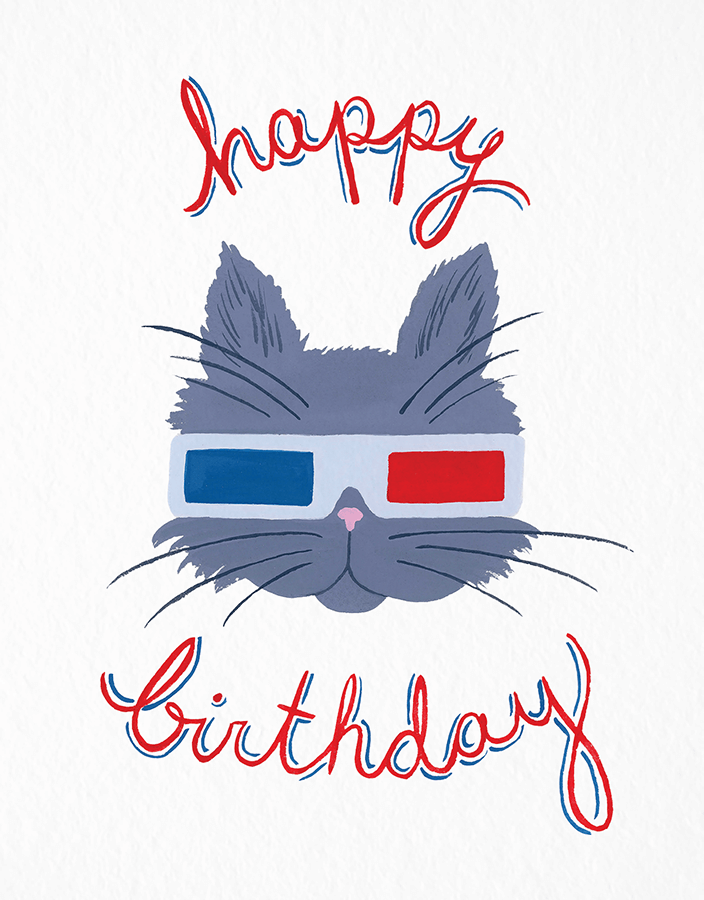 Send this card here
13. Abstract Hello Cat
If you haven't yet noticed that sending cards on any ole' random day of the week or year is totally acceptable. In fact, the exaggerated surprise factor makes these types of 'hello' cards that much more special. This design by Susie Esse is one of many cat designs. [pro tip: Pretty much all of Susie Esse's designs are adorned with some form of a cat.]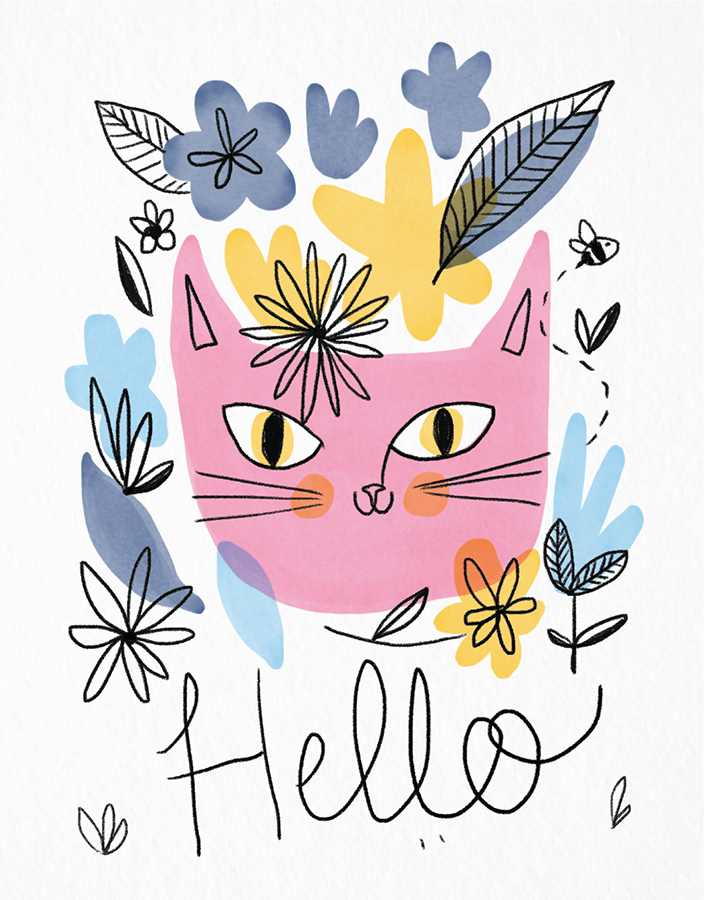 Send this card here
Cat greeting cards are a stellar way to make your cat loving friends and family smile. Ok, but now that you've sent the perfect cat card that there ever was, you want to step it up even more. If you're racking your brain for some quirky gifts to give your cat loving friends along with the card, we got you covered. Doesn't matter if it's your friend's birthday or you simply want to do something nice — these cat gifts will delight just about anyone with a love of kitties.
Cat Shower Curtain
How fun is this bathroom accessory?! Even the non-cat-lovers in your life would *probably like this one. Who wouldn't want to stare at a quirky collection of cat drawings amidst their daily shower taking?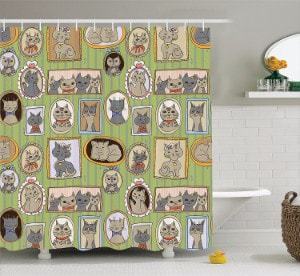 via Amazon
Cat Slippers
You want your friends to stay warm during the dreadful winter months? These felt cat slippers will keep their feet warm and remind them of you each time they slip them on. Also, they're pretty darn cute.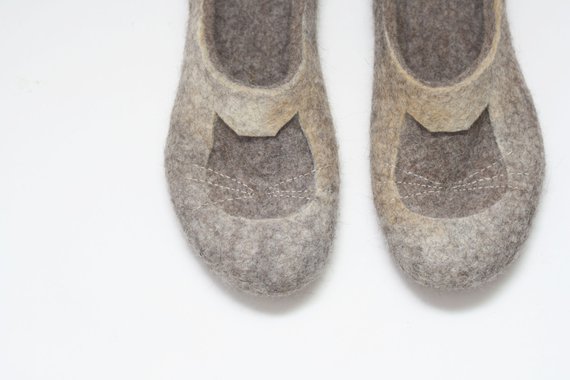 Cat Wine Glass
Because wine accessories are the perfect gift. Right after wine itself. Pair this adorable wine glass with some actual wine and make your cat gift all around perfect.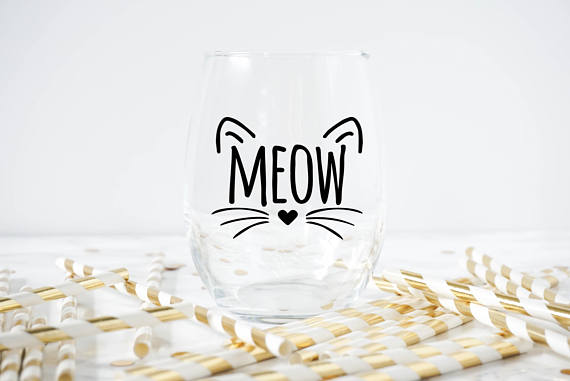 via Etsy
Cat Coffee Mug
Coffee — aka life juice — is almost as important as wine so gifting a delightful cat mug is the perfect gift. Also — the design on this one may not be for *everyone of your cat loving friends. But also, it's pretty amazing.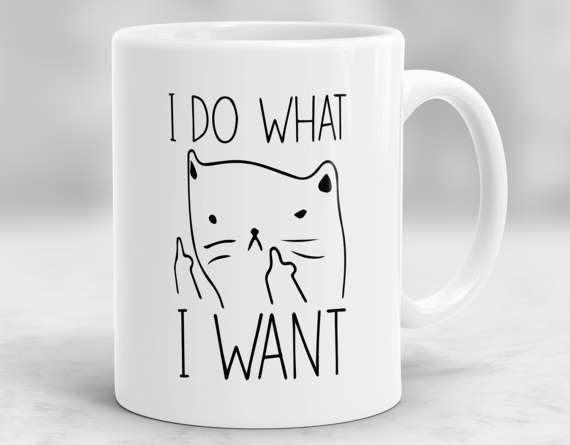 via Etsy