Should kids send thank you cards? It's no secret that sending thank you cards is a task every adult should be doing. Writing thank you cards for occasions like weddings and baby showers is a must. Follow up thank yous for job interviews and birthday gifts, the practice of sending business thank you cards for things like referrals, as well as the occasional thank you note for a helpful hand– these are a constant in most adults' lives. Does that mean the skill of writing thank you notes should be taught at an early age?
Kids pick the design and write the message while Postable prints, addresses, and mails them directly to recipients.
Why should kids send thank you cards?
How early should they start? Are there any good reasons to introduce this to the kids? We decided to get some outside opinions on this topic from the folks who work with children as well as the ultimate child experts — parents.
Kids should send thank you cards because it's a way to instill a practice of gratitude.
"I think the main reason kids ought to write thank you notes is that grateful people are happy people. Gratitude is a key factor in enduring long-term happiness, and training our children to appreciate what they have and what they receive is an important way to instill this trait in them."
— Raffi Bilek, LCSW-C — A family therapist and director of the Baltimore Therapy Center.
If the kids are not quite old enough to write a thank you note, they can draw pictures.
"There is something to be said about the value of a handwritten note. We, as parents, should be instilling a sense of gratitude in children. Is your child not yet old enough to write? Drawing a picture instead is a nice gesture and you can help write the message. It can also be helpful to model good behavior. Did you receive a gift from a friend or family member? Let your child see you writing this person a thank you note. Take the time to discuss the importance of giving thanks and showing appreciation, not just because it's the "nice thing to do".
— Stephanie Leclair, RECE and Curriculum Developer at Tiny Hoppers.

Can kids write too many thank you notes? Err on the side of overdoing it.
"There will never be an occasion where it's a mistake to write a thank-you, so err on the side of overdoing it! And, hand-written notes express a different sentiment than even a thoughtful email. Have your kids pick out thank-you notes that they like, or get them personalized note cards."
— Susan G. Groner, The Parenting Mentor and author of Parenting: 101 Ways to Rock Your World.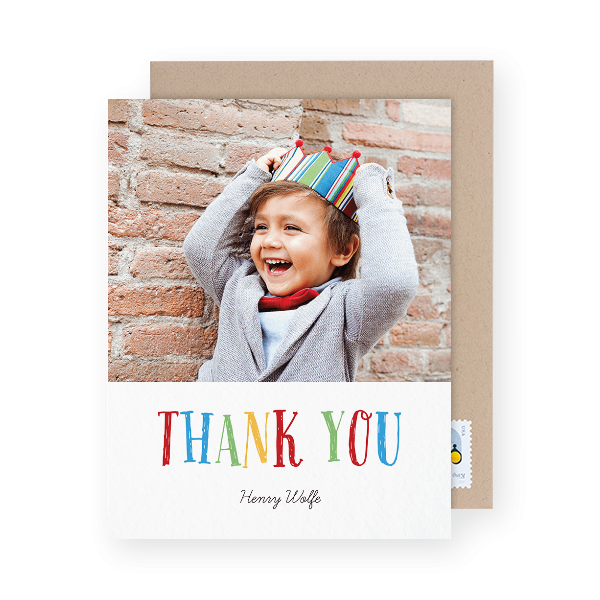 Kids thank you notes have many benefits with numerous occasions.
"Writing thank you notes can benefit children of all ages in many ways.
1. It instills in children a heart of gratefulness
2. It helps develop writing and reading and cognitive skills.
3. It teaches children manners/proper etiquette.
4. It allows children to be creative
5. It shows respect and appreciation to others.
Proper times to write thank you notes…
1. When they have visited a friend's house for a playdate
2. When they receive gifts for their birthday or special holiday
3. To their teachers and principal during teacher appreciation week or at the end of the year.
4. To parents, siblings grandparents and/or caregivers on birthdays, National Grandparents Day, etc.
5. To their doctors and nurses if they have been sick."
— Natalie Pickett, a professional development manager in early childhood education with twelve years experience teaching elementary school and a M..S. in Special Education.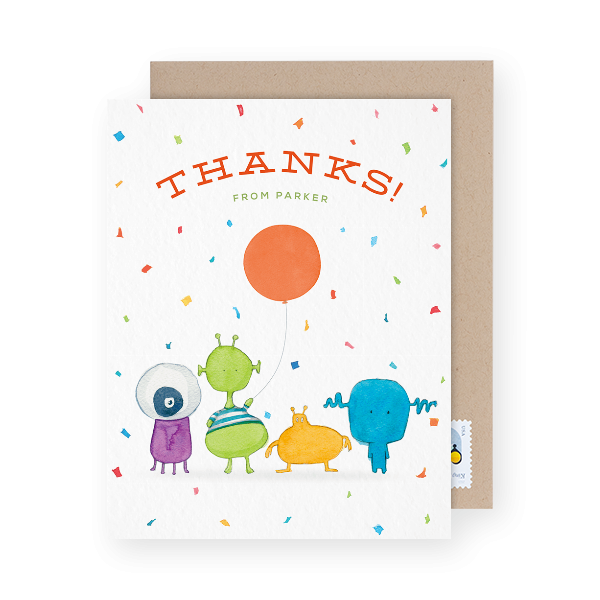 Get them comfortable expressing feelings of gratitude.
"I think that today we all often forget to say thank you, even for the little things. Sometimes we say thank you so infrequently that we feel uncomfortable thanking people for the contributions they make to our lives. Helping our kids to write thank you notes, especially when they receive gifts, gives us an opportunity to teach them the appropriate language to use and help them get comfortable expressing feelings of gratitude as they get older."
— Jen Panaro is the founder of Honestly Modern, an online brand focusing on sustainable living for modern families.
By writing thank you notes, kids get to practice mindfulness.
"Mindfulness – One of the biggest benefits I've seen is that by taking the time to write a note, my children have to take a moment to really think about each gift they got. In the hustle and bustle of a birthday party, the excitement is really just in ripping through presents. But to take time and really think about what it is that they liked about the gift has just helped them be mindful about the fact that someone took the time to think about what they might like.
Gratitude – An obvious answer is gratitude, but I think it goes deeper than just forcing kids to show gratitude. By taking time out of their day to sit and think "Wow this person knew I loved unicorns, so they actually put time and thought into something special for me," helps my kids feel loved and cared about. It helps them develop a genuine feeling of being grateful that they are loved."
— Crystal is a mom of two girls and a mom blogger at Crystal Henry Writes.

The art of small talk & the value of others.
"The art of small talk. Learning to fill the blank space on a thank you note after you say "thank you" helps children practice the art of small talk. This skill is invaluable in life and takes practice for most of us.
That manners are about the other person not about you.
Why are manners an integral part of society? Manners are not about how you feel, manners are about making the other person feel comfortable and appreciated. It's valuable for children to learn that the world isn't just about them."
— Susan is a mother of three, a parent educator and blog at Organized 31.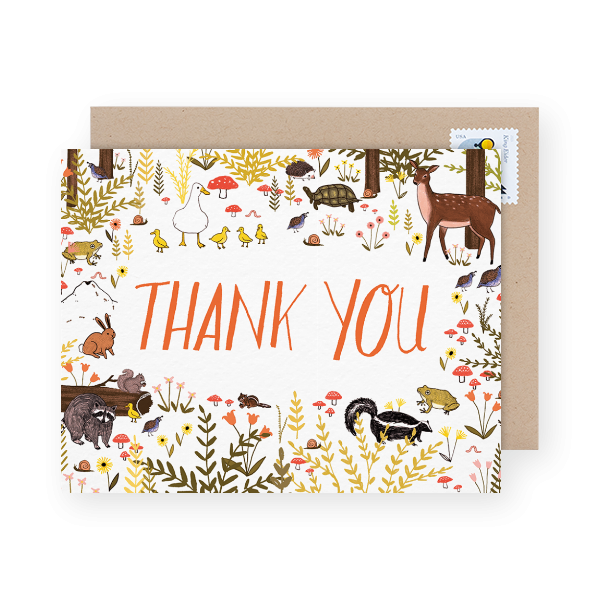 How to you get your kids to write their thank you notes?
Teaching your kids about kindness, gratefulness and a whole slew of other life lessons is important. Not sure how to start your own thank you card? Check out this post on The Ultimate Guide on How to Write Thank You Notes — in case you need a refresher before teaching the kiddos. And remember, if you didn't get a chance to run to the store to buy all the thank you card supplies — you can always write thank you cards with Postable without leaving your couch. Nobody said showing gratitude involved having to go to the post office.
This is all great and dandy, but how?
You've begged, guilted, and threatened, but getting your kids to write their thank yous is like pulling teeth. Skip all of the crying, hair-pulling, and general parenting madness with these tips:
Break it up.
Rather than overwhelming your child with having to write all of their thank yous at once, agree upon tackling 2 or 3 at a time. After the first few are written it'll feel more manageable and your kid will appreciate the routine. Make a list and check off each name once you're done so your kid can see that they're making progress.
Set a time and a place.
No one likes to feel rushed, so carve out some time to sit down with your child and work on these thank yous together (PS: snacks help).
Keep it short and simple.
Hey, they're not writing a novel! And depending on your child's age they might feel overwhelmed at the prospect of having to do a lot of writing. A nice 3-sentence thank you is all you need:
Sentence 1: Say "thank you" for the gift
Sentence 2: Write about why you like it or what you plan to do with it
Sentence 3: Tell the giver that you can't wait to see them soon
Be creative!
Make sure that your child gets to personalize the card to their liking. Whether they get to pick out the design, draw a picture inside, or decorate the envelope, it's important that they feel like they made the card their own.