Expressing gratitude to your customers, employees and partners is key to building business loyalty and sustaining solid business relationships. This is especially true as consumers consider their connections to the brands they interact with and ultimately support. And although tacking a 'Thanks much' to the end of an email is good form, it certainly doesn't replace the need to send a formal hold-in-your-hand thank you for your business note. We know a thing or two about business thank you notes as we've continued to help hundreds of businesses every year to increase customer retention with gratitude. There's a certain art to writing the perfect thank you for your business note without sounding generic or sale-sy. We've got the details all mapped out so you can be sure to harness the power these tiny little cards wield in the world of business relationships.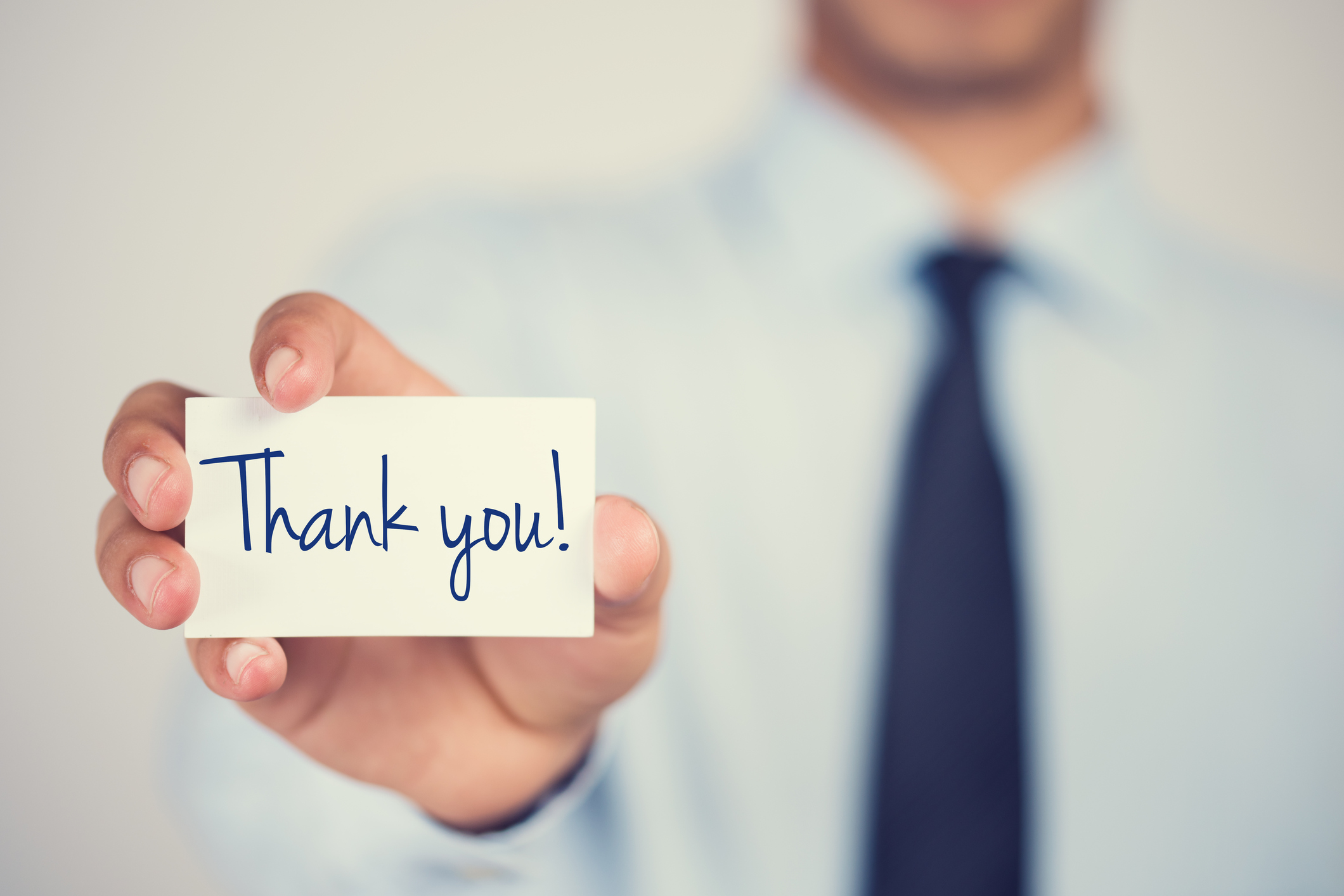 Table of contents:
Benefits to sending business thank you notes.
Tips to writing the perfect thank you.
Sample business thank you messages.
How to blend authenticity with automation.
Business thank you cards with handwritten fonts and automated personalization all printed, addressed and mailed for you.
Use code BIZTHANKS for 20% off business thank you cards
The Benefits of Sending a Thank You Note
Mailing timely thank you for your business cards makes good business sense for one major reason: customer retention. According to research conducted by Harvard Business School, a company can see total profits grow by 25-95% following an increase of only 5% in customer retention — which makes it an obvious worthwhile investment.
It should come as no surprise to any business owner or manager that expressing gratitude for your clients is the first step in building long lasting relationships — a key tenet in customer retention. Every one of us receives a ton of emails on the daily, but real hold-in-your-hand kind of mail is a throwback that easily delights. Mailing timely thank you cards is an easy way to surprise and delight your customers and remind them of their experience with your company (which was hopefully a good one). It also leaves your interaction on a positive note. Adding personal touches like these to online businesses who do not benefit from person-to-person interactions like that of brick and mortar companies is a must if you want to build those new client relationships.
As soon as your clients have their first interaction with your business, make sure their second touch point is a positive one like a personal thank you note.
Personal business thank you cards are so much more than just meaningless words. They help to create and foster a personal relationship that is necessary for building and marketing a business.
Tips for Sending Out Thank You For Your Business Messages
Writing the perfect business thank you note isn't rocket science, but there are definitely a few key mishaps to avoid. Before you dive into your business thank you message to your customers or your yearly gratitude thank you note to your employees — make sure you check out this list of tips in order to get your message across loud and clear!
Business Thank You Emails
Although sending a thank you email alone is insufficient at best, clicking send in some instances is also a must — especially in time sensitive scenarios. It's important to note that most —if not all— the tips applied to writing business thank you notes apply here as well. A few specific tips to keep in mind when composing your thank you in the form of an email.
Spell check

— Just because you're emailing from your phone doesn't make spelling errors any more excusable.

Double check recipient email

— Unless you're replying to someone, double check that the recipient email is correct. Sometimes, autofill captures the wrong recipient causing your thank you to go unnoticed or worse, sensitive information gets distributed.

Don't email someone at odd hours

— Make sure you don't mail your business thank you email at 3am. This may seem off putting to your recipients and distract from the positive message of your actual email.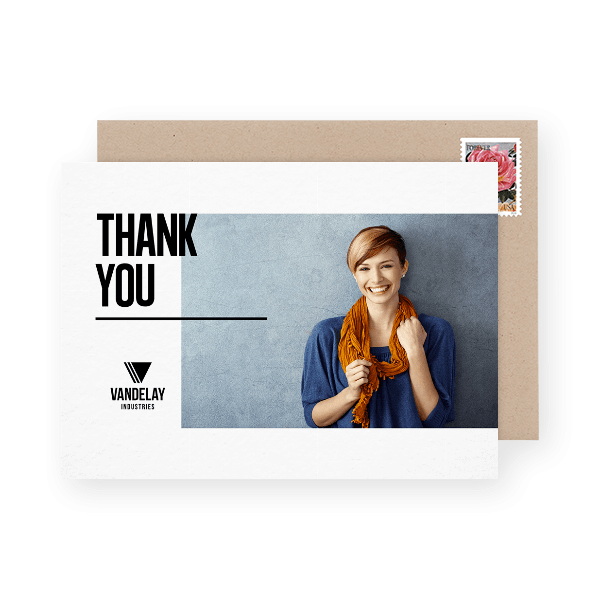 Business Thank You Notes
Before we dive into sample messages, let's cover a few ground rules to keep in mind as you're composing your thank you for your business messages.
Remember, you're not writing a novel. Thank you notes are not emails (though even in an email this rule applies) — there is limited space. Keep your messaging concise and to the point.
Say thank you and actually tell them what* you're thankful for.
Be specific about what you're thanking them for. If it's a thank you for supporting my small business, then give an example of how they've done that for you.
And on that note, keep a lid on the dramatic effects. Sincerity is lost when someone starts to gush unrealistically. The level of gratitude should appropriately reflect the good deed.
Writing a successful business thank you message to customers (or anyone) requires a personal touch. Your recipient should feel your thoughtfulness come through in your note. Add a brief note about the recipient or your relationship.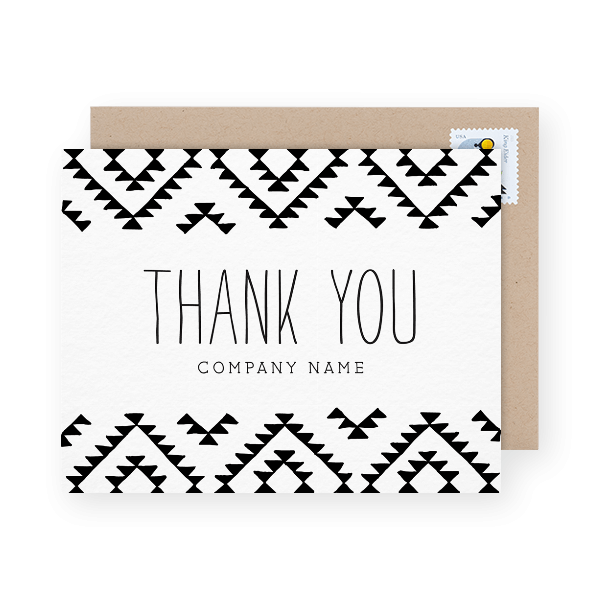 General Thank You Phrases
We'll be diving into full length message samples below, but here is a quick overview of some thank you phrases you can employ in your next business message to your customers.
Your efforts are greatly appreciated.

Thank you for your business!

Thank you for your support during these unprecedented times!

Your customer loyalty is greatly appreciated.

Thank you for supporting my small business and helping to keep our doors open!

Thank you for being part of the COMPANY NAME family.

I appreciate the opportunity to…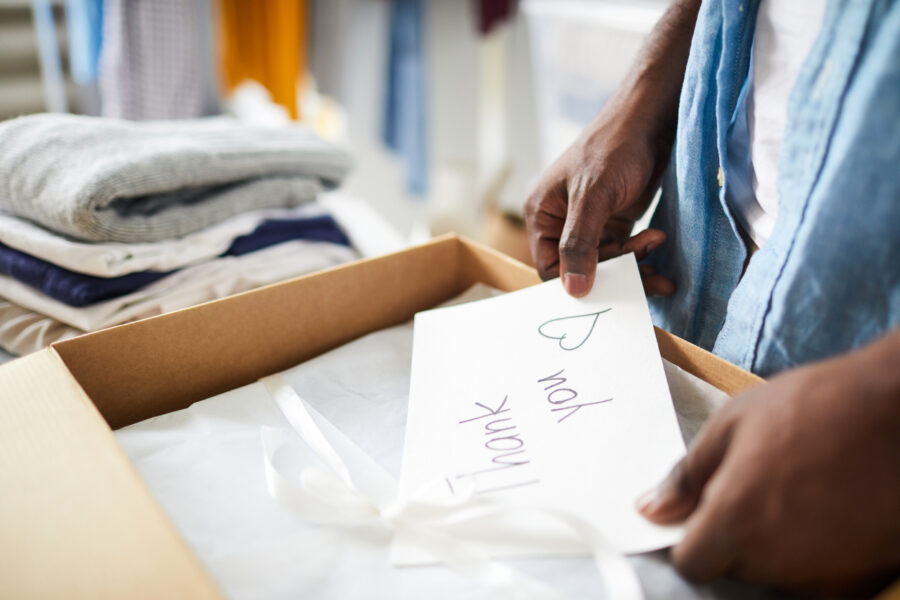 Sample business thank you messages, remove 'Thank you for your business' from your vocabulary by following these examples.
There are certain key phrases that are so commonly used, they begin to lose their value. 'Thank you for your business' is one of them. Finding ways to show your thanks in new ways will only give your note more sincerity.
You've got some tips under your belt, time to get writing. Here are 11 scenarios as well as sample message examples of what you can write in your own business thank you cards.
For someone who helped you start your business.
Miriam,
Despite the bumps and bruises that have come along with 2020, the business is booming and that's largely due to your wise guidance. Thank you so much for believing in my idea from the start and playing such an integral role in turning it into a reality.

Please come by the offices next time you're in the city, I'd love to introduce you to the team. Lunch is most definitely on me!

Immensely grateful,
Georgina Roe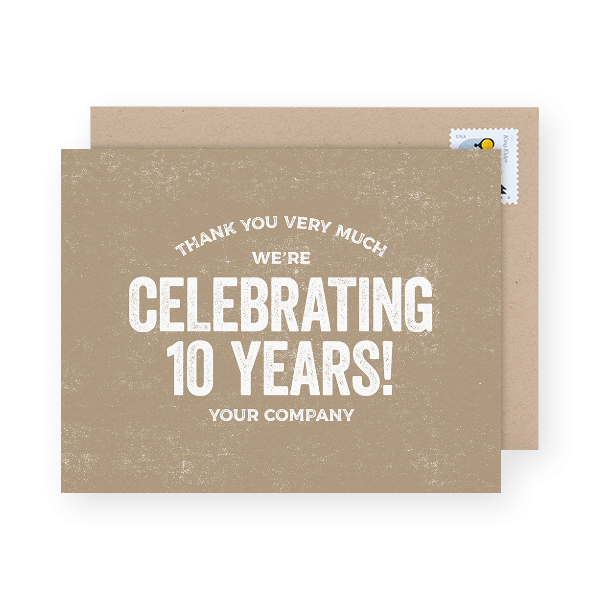 For an annual customer anniversary.
When a customer has stuck around long enough to have an anniversary, they deserve a personal and thoughtful thank you note. Show them that you care about their business and build customer loyalty at the same time. Something along the lines of 'Thanks for sticking around with us this long' is a good starting point.
Mary,
It is my pleasure to reach out and thank you personally for being a loyal customer since January 2020! The past few years have taken everyone for quite a ride and we're so grateful you chose to stick it out with us.

As a token of appreciation, we've left a little gift of gratitude waiting for you in your account — just log in.

Thank you for being a part of the Vandelay Inc. family!
Josh Hartnett, CEO
Vandelay Inc.
Handwritten fonts and timely automations. Mail automated anniversary cards with Postable without losing that personal touch.
Thank you for the opportunity to quote.
David & Patrick,

I appreciate the opportunity to meet and provide you with a quote for the Moroccan tile work in the back bathroom of your delightful store. I truly believe our team at Forever Tile can turn your creative vision into a reality that you and your customers will enjoy for years to come.

And I'll be sure to stop by on my way back from Elmdale to pick up a few goodies for the wife next week! She's going to love the new lavender hand cream.

Thank you,
Justina Riler
Forever Tile
After someone requests a proposal.
Miss Callyway,

Thank you for requesting a proposal for a custom wall mural for Foxtail Coffee House. I'm confident that your customers will love the intricate design work as much our artists will enjoy painting it.

We're delighted for the potential to collaborate with you and your team and look forward to hearing from you soon. Please don't hesitate to reach out if I can provide any additional information.

Also, thanks for introducing me to the best dirty Matcha latte in town!

Many thanks,
Kristina Applegate
DesignTribe
For a job well done for deserving employees.
Employee appreciation should never be downplayed and birthdays aren't the only time you should be mailing your employees thoughtful cards. If someone has done an exceptional job — make sure they know that you appreciate their hard work. Happy employees create happy businesses.
Monica,

Your hard work, dedication and enthusiasm has been a remarkable gift to everyone on the team. I appreciate all that you do and want you to know your efforts are seen and acknowledged.

Thank you for always going above and beyond!

Tricia Alva
Head of Operations

After someone has made a purchase or used your services.
Letting your customers know that you're grateful for their business is a simple gesture that will go a long way. Something along the lines of 'Thank you for supporting my small business' or 'Thank you for using our services'. This is especially effective for first-time clients! Start off on the best foot possible.
Twyla,

Thank you for trusting Bob's Garage in diagnosing and repairing your carburetor. We're delighted to have had the opportunity to help get your car back up and running. Please don't hesitate to reach out if you ever have any additional automotive needs.

We look forward to seeing you at your next oil change!

Bob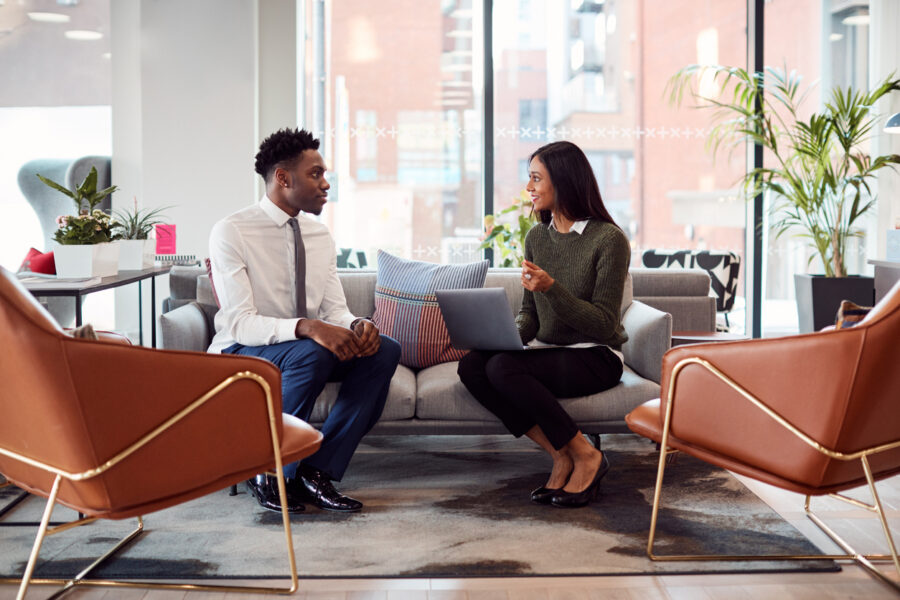 After a job interview.
Miss Landry,

Thank you for taking time out of your schedule to chat with me this week about the Project Management position. It was a pleasure getting to learn more about the role; I'm very excited about the prospect of joining Lisa Designs. I believe I can truly make an impact helping to increase brand awareness to a wider audience with such an enthusiastic team!

I look forward to hearing from you about the next steps in the hiring process. In the meantime, please don't hesitate to contact me if I can help provide any additional information.

Thank you,
Joan Rual
As a thank you for the opportunity to submit a proposal.
Town Council,

Thank you for the opportunity to submit a proposal for Schitts Creek's next big event. I truly believe in our town's ability to increase engagement and participation across the region to raise tourist numbers.

I look forward to collaborating with you all. I hope we can work together to make this practical idea into a magical event that helps to put our little town on the map!

Thank you,
Alexis Rose

After a special meeting follow up.
Whether it's a business associate or a potential customer — when someone took the time to meet about your business it's a good idea to thank them. A simple gesture like this can help you achieve your goal. It may be the little push that gets you the deal or lands you the job. Want your meeting to be memorable? Send a personal business thank you card with your logo or branding on it and it'll be hard to forget.
Jack,

I appreciate you taking the time to meet with me yesterday. Your input on the strategic restructuring has already proven to be instrumental in helping to pave the way for positive change within the company.

I hope to return the favor someday soon and look forward to partnering with you on your next project!

Thanks again,
Liz Lemon
Pro tip: Use your follow up thank you note to address something you may have missed in the meeting/interview. If you left feeling as though they had some reservations about working with you, use the space in your thank you note to briefly* address these concerns.
Thanksgiving thank you notes!
Ross,

Happy Thanksgiving! Thank you for supporting my small business during such a tumultuous year. From our Ruby Retail family to yours, we hope you are able to find some peace and joy this Thanksgiving. I look forward to growing our community together in 2023.

Thank you for all of your support!
Louise Cachou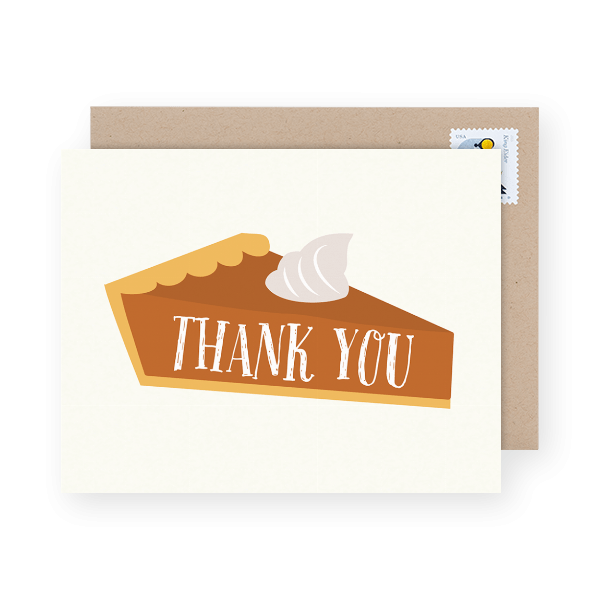 As a thanks for a referral.
If an old customer or a business associate sends a new client your way it's time for you to send your thanks. Depending on how important of a referral this was, consider sending them a gift. The thank you should appropriately match the level of the referral.
John,

Thank you for referring our services to your guests at the Rosebud Motel. We've seen quite a big boost in business around here thanks to you and your staff. Congratulations on the successful franchise expansion!

Please stop on by next time you're in town, lunch is on us!

Thank you,
Bob
Bob's Garage
Project kick-off thank you!
Lauren,

Thank you for choosing Events by Maureen to help coordinate all of the ongoings for your latest Pop-Up marketplace experience. We're confident that between our teams' collaboration, this month-long project will be a huge success.

We can't wait to kick-off opening day with our traditional pre-kickoff brunch with you and your team — see you there!

Many thanks,

Maureen Baker
Events by Maureen
Integrating gratitude into everyday customer experience.
A quick note on consistency. Integrating gratitude into the everyday experience and not just one-off thank you notes should be an important focus. If you're sending out marketing materials (regardless of medium), make sure your clients don't feel like you're just trying to sell them something and instead help them to feel as though their business is appreciated.
The same is true for employees. Employee morale is incredibly important and sending one thank you note in a blue moon simply will not do the trick. However you choose to express your gratitude, make sure your employees know that you value them and their efforts *every day.
If a general sense of gratitude is not in alignment with how your employees and customers experience your brand, the surprise thank you note may not be as effective as it could be.
Authenticity and automation.
The key to composing the perfect thank you for supporting my business message — as we've already mentioned is sincerity. You want your recipient to know that you had them in mind when you wrote the card.
However, when you're dealing with hundreds (perhaps even thousands) of thank you notes the level of personalization may need a little streamlining. However, regardless how big your business gets, it's always wise to continue showering your customers with very personal touches.
And while it may seem odd to associate an authentic experience with automation — hear us out because we truly believe we've found the sweet spot. Writing hundreds of thank you notes by hand, while ideal isn't the best use of your time. However, sending generic thank you notes without personalization will not have nearly the same effect.
So the next best thing would be to use a tool that will help you marry automation with the ability to personalize your message.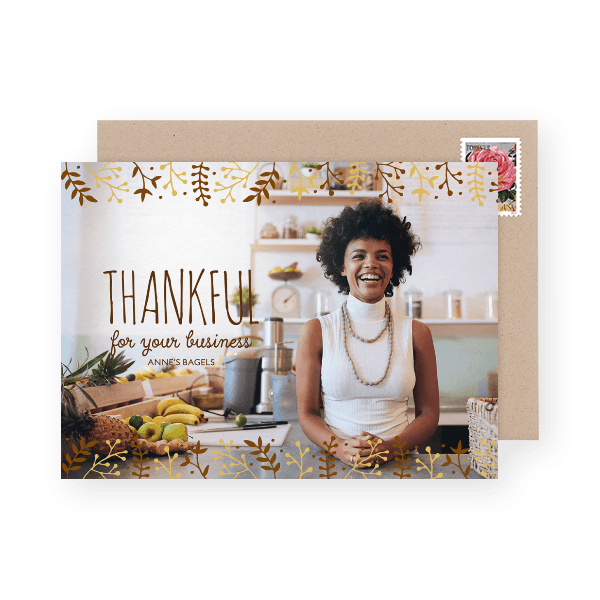 Use code BIZTHANKS for 20% off at checkout
Postable will print, address and mail your business thank you cards for you. And Postable's smart handwritten fonts really do look like you wrote them all by hand (shhh, we won't tell). Finally, our business tools allow the user to apply master messages to every recipient while automatically personalizing for each person's first name. If you have additional personal touches you'd like to make to the messages, you can always do so.