Most companies understand the value of mailing holiday cards — having their brand be visible during the peak season while people are earnestly opening their mail boxes is a big deal. What many companies don't know, however, is the missed opportunity of mailing out business Thanksgiving cards. Showing gratitude is no small gesture and it's certainly not one your customers and employees will forget any time soon. A simple thank you goes a long way and while sending business thank you cards throughout the year is always a good idea, Thanksgiving is the perfect opportunity to share your gratitude.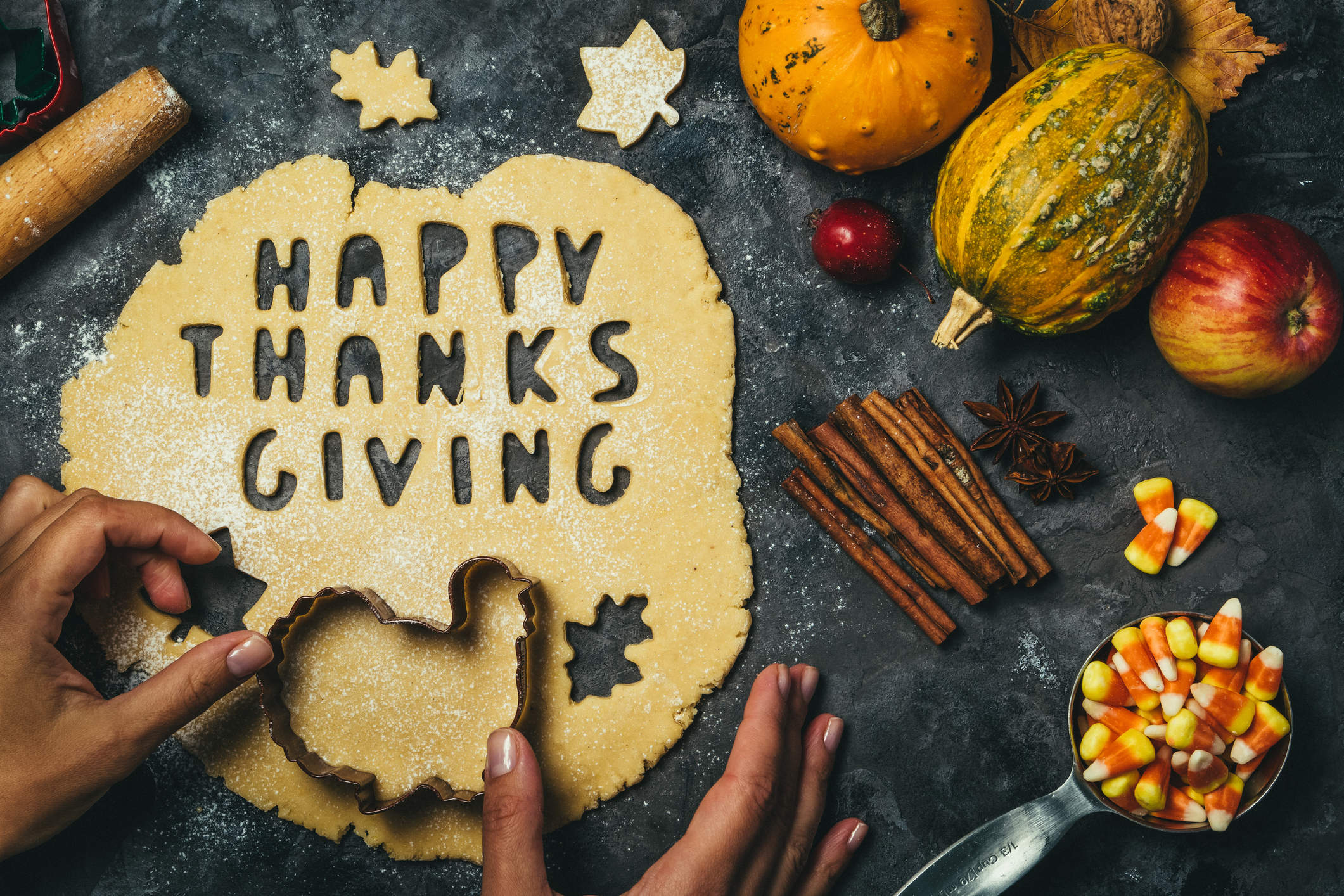 Before you take off for the family holiday be sure to get your Thanksgiving cards ready to go. You can always schedule your cards well ahead of time so you don't have to worry about this task during the busiest season of the year.
Not sure sending business Thanksgiving cards makes sense? Here are four good reasons to change your mind.
1. The start of the holiday season — sales.
Let's get straight to the point. Thanksgiving marks the beginning of peak season for many companies. Consumers have created their season's shopping list and are already on the prowl for the best deals. To avoid perverting the American holiday that's all about gratitude, don't use Thanksgiving to blatantly sell your products. But, while showing your gratitude, you're inevitably going to be placing your brand in front of many potential sales. Holiday marketing will likely begin well before Thanksgiving even graces us with it's presence so your clients will have already been bombarded with deals upon deals. Use this as an opportunity to sell with gratitude. Your customers will no doubt appreciate the gesture and your products will be at the top of their minds when shopping begins.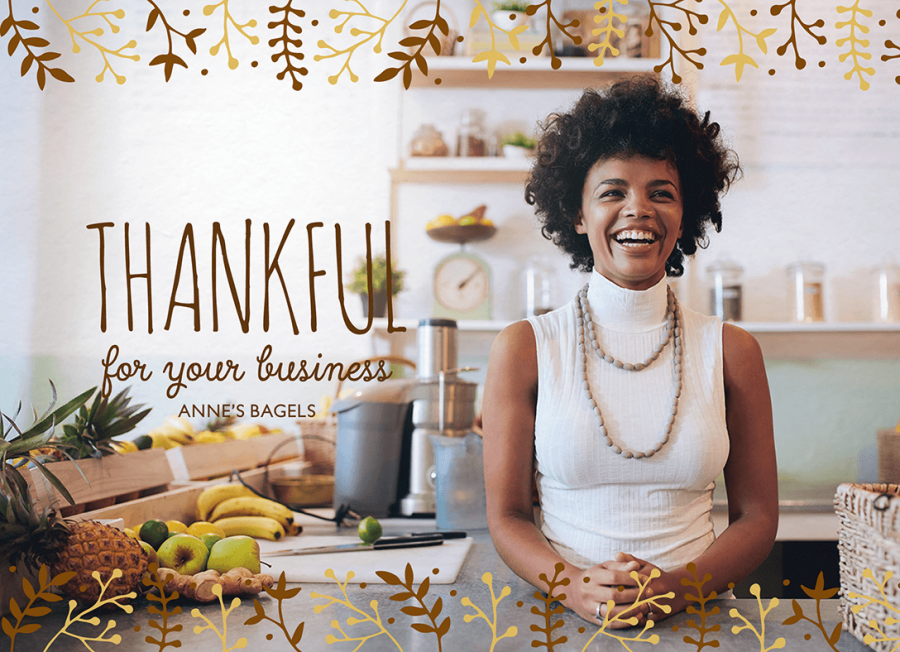 See Thanksgiving cards here
2. Customer retention.
Let's pretend Thanksgiving isn't the beginning of the highest shopping season of the year. The core of customer retention marketing is all about creating and maintaining relationships with your customer base. What better way to foster a strong relationship than to show gratitude? Customers want to shop and be associated with brands that have human qualities. Sending business greeting cards is especially important for online businesses where the human contact is missing from the customer experience interaction.
3. The element of surprise.
As we mentioned, most companies have already gotten on the holiday card band wagon. Rightly so. However, not nearly as many companies send Thanksgiving cards. Your business will likely be one of a few cards that your recipients will receive. Everybody expects a full mail box during December, but a card in the mail before the season hits the fan will likely land a big surprise. With that said, sending business greeting cards just about any time outside of Christmas will stand out. Combining the surprise element with the human aspect of your brand for Thanksgiving will serve as a double whammy.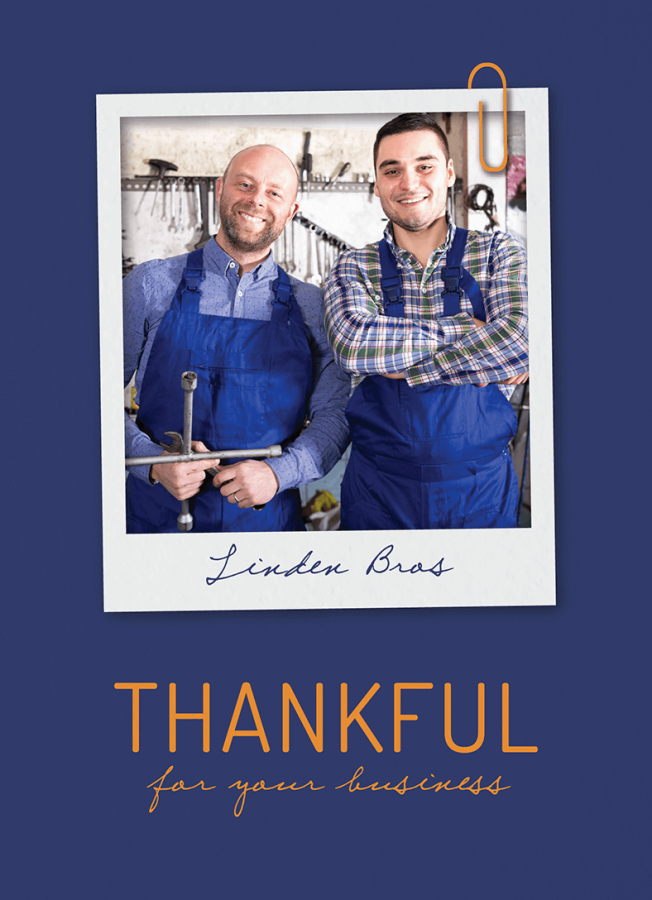 See Thanksgiving cards here
4. Focus on your brand.
Not only will the surprise factor be much higher — and who doesn't want to delight their customers with a surprise — but you'll also benefit from concentrated attention. Once December comes around, consumers will be sorting through a bunch of holiday cards — both personal and not-so-personal company cards. Their attention span will be divided and your job to get your company's holiday card to stand out is tougher. On the other hand, if you send Thanksgiving cards your clients won't have their attention span divided between a bunch of cards, since yours will likely be one of a few select.
Bonus Pro Tips: Do's and Don'ts with business Thanksgiving Cards
Do send them on time.
Unlike other business holiday cards, late Thanksgiving cards don't quite have the same effect. If a client receives a business seasons greetings card early January — it's not a big problem as many people will even appreciate the post season holiday card. Thanksgiving cards received mid-December just don't have the same potency. If you're going to send business Thanksgiving cards, try to get them either scheduled well ahead of time or get them in the mail about 7-10 days before the holiday (the post office won't be delivering on Thanksgiving so it's better that they arrive a day or two early).
Don't try to be too salesy.
While sending Thanksgiving cards is a great opportunity to grab your customers' attention just in time for the highest sales season of the year, you don't want your cards to appear sleazy. That totally defeats the effort of sending a card showing your gratitude. Simply putting your brand in front of your customers and associating your brand with something your clients can appreciate will serve the purpose. If you normally email your list with 25% off coupons — skip this in your Thanksgiving card to keep the meaning. If you really want to give a discount of some kind, make it something out of the ordinary. Perhaps 50% off of a certain part of the store or something equally big to make the opportunity unique.
Do send a card to the assistants.
Especially those assistants that work with your most important clients. These people are the ones usually responsible for setting meetings and forwarding messages. It's always a good idea to show your appreciation for them separately — it will likely pay off in the future.
What to write inside your business Thanksgiving card?
Not sure what to write in your business Thanksgiving card? A good rule of thumb is to keep it simple. If it isn't obvious, including some sort of thank you is a must. This holiday is specifically there for us to express our gratitude and as a business this is no exception. You can choose to keep it real personal by composing a unique message for everyone on your list (the more time consuming option) or compose a master message to apply it to everyone (while still personalizing the recipients' names). You can achieve the second option by using the Carbon Copy feature — see how to use it here. You can even compose a couple different master messages — for example, one for your customers and another for your employees. A little customization that takes little time.
Easily send all of your Thanksgiving cards without leaving your computer. Postable will print, address and mail all of your cards for you.
Don't have an account — sign up for your free account here.