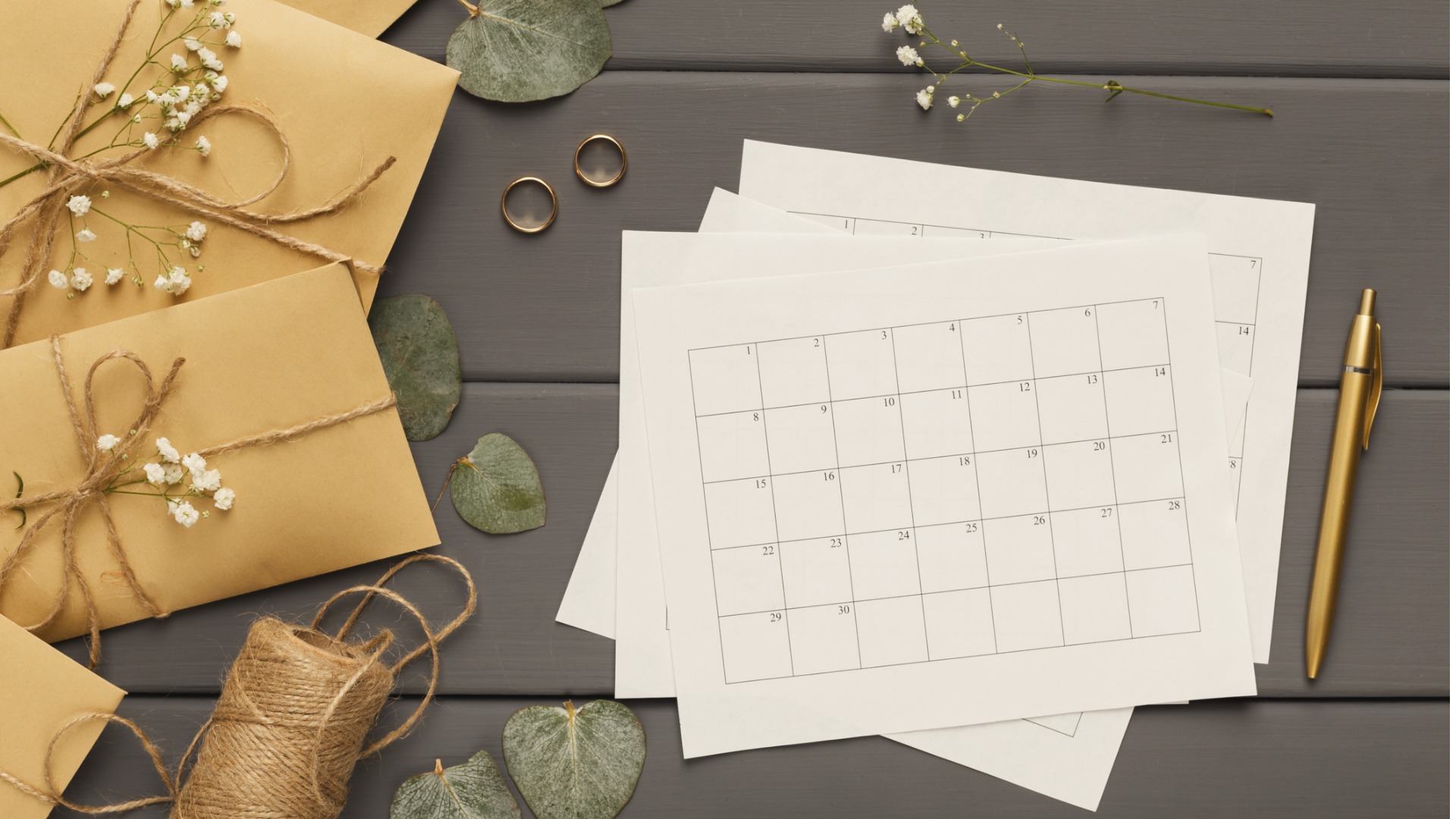 So you've gotten engaged and you're ready to dive into the world of wedding mail starting with your save the dates. A big congrats is in order! You're about to embark on one of the most exciting and love-filled times in your life. That's nothing to sneeze at!
And while it may feel like your head is spinning uncontrollably with questions galore — don't worry. We got you covered with all the information you'll ever need to know when it comes to choosing and mailing save the dates.
Let's get started with your most burning questions.
Why save the dates are important?
They're there so that your guests can save your date in their calendar assuring their presence for your special day. This is especially important if you're having a destination wedding or if many of your guests will be coming in from out of town. Buying plane tickets and making work schedules needs prior notice — well before you're ready to mail out your wedding invites.
Are save the dates necessary for weddings?
If you want to make sure that your guests will attend your special day, then yes — save the dates are necessary for weddings. Skip sending out these cards and prepare to be ok with people on your guest list not being able to make it.
Save the dates are important IF you want your special day filled with everyone you love.
Are save the dates and invitations the same?
They're the same, right?! Not quite.
When you plan your wedding one of the first tasks is to choose the special date. Without this, you're not able to confirm a venue or any vendors. You have this date in mind well before you're ready to send out formal wedding invites.
Save the dates have the bare bones introduction to your big day and serve mostly to give your guests a heads up so that they can begin making their plans accordingly. Once you've confirmed your venue and have most of your wedding day info down, this information will be included on your wedding invites.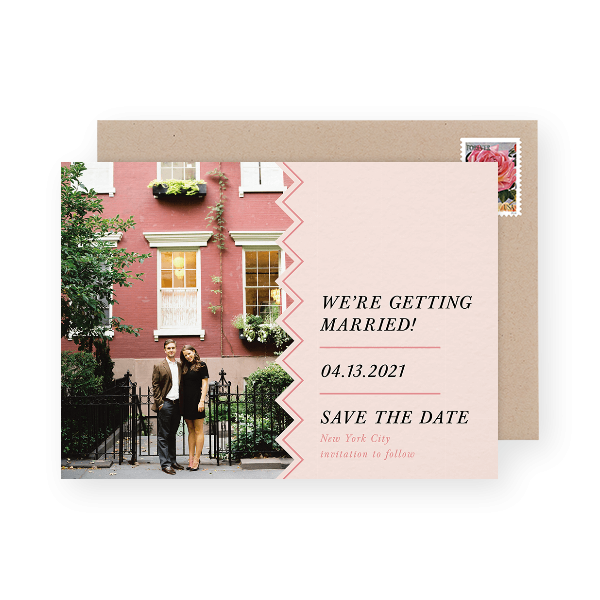 Checkout the Postable collection of cards here
Who are save the dates for?
Are save the dates the same as formal wedding invites? No. But that doesn't mean they serve completely different purposes. The save the date is like a precursor to the formal invite. So, what does that mean?
It means — only send save the dates to the people that are officially on your wedding invite list. This is very important. If you decide to willy-nilly to send out your save the dates to everyone you know without first thinking about who to invite to your big day — you will have a big etiquette no-no on your hands when it comes time to actually invite people.
The save the date tells your guests that more info is coming their way. Don't bank on the 'they won't be able to make it anyway' mindset — because they will make it work and you'll have to explain why they didn't get an invite.
How to choose save the dates?
If you've solidified your special date and have begun moving forward with your wedding plans, it's time to choose and mail out your very own wedding save the dates.
With a gajillion designs to choose from, you may be a bit overwhelmed. And we don't blame you. Your save the dates set the tone for the rest of your big day. Think of them as the introduction to your ultimate love story. No big deal, right?
Once you have a vibe in mind — choose a design that goes with it accordingly.
A few things to keep in mind when choosing your save the dates —
Color scheme
Location vibes
Theme
Formality level
If you have your colors selected, then great! Use them to choose your design. If you're still ages away from making that kind of a decision, not to worry.
What kind of venue will the wedding be held in — beach, city rooftop, barn etc.? This will give you some ideas about the vibe you'll want to look for in a save the date.
Speaking of vibes, is there a theme to your wedding? The location may [or may not] play a role in your theme– if you choose to have one. Are you and your fiancé big on travel? Perhaps you're planning a travel themed wedding. Or the two of you are huge movie fans and it's all about Hollywood. If you decide you're going with a theme, keep this in mind when choosing your cards.
Finally, the formality level of your wedding. Do you want all of your guests in gowns or is this more of a khaki and flip flops kind of event?
Again, these cards are an introduction your big day. All you're trying to do with the design is to keep the feeling consistent from start to finish. No pressure — if you choose to change your mind about the colors or the formality [or anything else] by the time it's wedding invite time you still can! There's also the option to do matching save the dates and invites.
The best part? It's your wedding so choose whatever feels right.
Save the dates without engagement photos
If you're not into the whole photo thing — save the dates without engagement photos are totally a thing. And there are plenty designs to choose from in that department as well. These designs will give you more to play with in terms of theme and color schemes.
[See: 15 Save the Dates Without Photos That Will Blow Your Mind]
If you and your fiancé took the most amazing engagement photos, why not use them for your save the dates? There are a bunch of great photo save the dates out there which you can play with until you find the right one! Photo save the dates are great designs to choose if you're still largely unsure about the details of what the day will feel like. You can use the photo as the full background of your card so that the theme and colors are still up for grabs.
[See: 13 Save the Dates to Add Your Engagement Photos]
What Goes on Save the Dates | A Dissected Wedding Save the Date
It's simple, really.
Names + Date + General Location
That's it. Well, sort of. The two most important parts of a save the date are your names and the special date. If you're choosing from a pre-designed selection of cards they'll likely all have the words 'Save the Date' already on them as well. And lastly, include the general location of the big day. That may be in a city (especially important for destination weddings) or a resort name etc.
Want to get an idea of what some save the dates look like? Check out Postable's glorious selection here.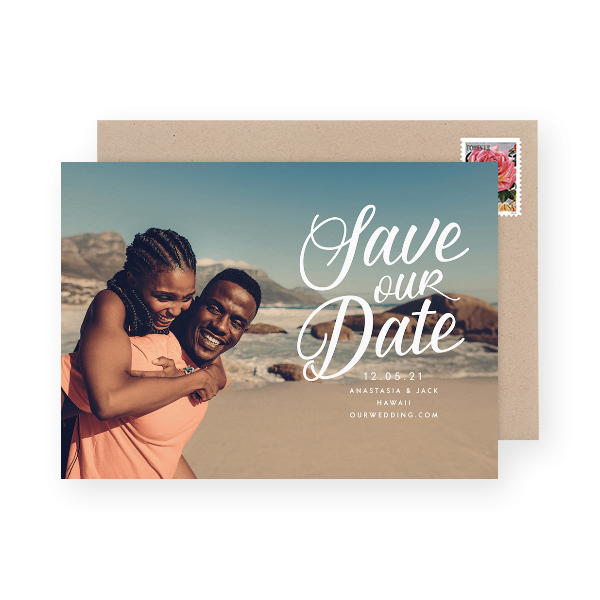 Checkout the Postable collection here
How to mail save the dates?
In the past you would have had to go through a process that takes hours to mail your save the dates. This would mean collecting mailing addresses from relatives & friends, finding the perfect save the date design and having them printed and mailed to you… Only then to painstakingly address hundreds of envelopes, re-doing each one like a million times because your handwriting is not what you thought it was.
Ok, so maybe you still want to do this — in which case have at it!
For those of us who would rather spend time doing just about anything else — you could pick out your save the dates and have them mailed for you by us (Postable) in minutes. Now, how does 5 minutes sound?
We'll collect all of your guests' mailing addresses for you and allow you to customize your own save the date (we work with some of the greatest designers out there). But the best part? We'll print, address and mail out your save the dates for you.
Here's a handy info-graphic to show you exactly how you can make this happen.

How to address save the dates?
So you're all set and ready to mail your cards, but you're a bit unsure of how to address the envelopes. Who can blame you? When was the last time you addressed any envelope?!
First, decide exactly who is invited. Is it just Darcy or is it Darcy and her hubby? Or is the whole family invited? Second, decide the formality level you want to use.
You have the options to use various titles or no titles at all. Still unsure exactly what to put on the envelopes.
Married Couple
(formal) Mr. Jim and Mrs. Pam Halpert
(super-formal) Mr. and Mrs. Jim Halpert
(casual) Jim and Pam Halpert
(Family) The Halpert Family
Married Couple with Different Last Names
(formal) Mr. Jim Halpert and Ms. Pam Beesley
(casual) Jim Halpert and Pam Beesley
Hyphenated Last Name
(formal) Mr. Jim Halpert and Mrs. Pam Beesley-Halpert
(casual) Jim Halpert and Pam Beesley-Halpert
Unmarried Couple Living Together
(formal) Mr. Jim Halpert and Ms. Pam Beesley
(casual) Jim Halpert and Pam Beesley
Married Woman Doctor or Two Married Doctors
Doctor Pam and Mr. Jim Halpert
Drs. Pam and Jim Halpert
The Doctors Halpert
*Whichever spouse has the professional title should be listed first.
How to address wedding invitations to families & children?
If you'd like to extend an invite to entire family, you can do so one of two ways. You can either write out all the names or simply just address the envelopes to the family name.
Mr. and Mrs. Jim Halpert
Philip and Cecelia
When to mail wedding save the dates?
6-9 months prior to wedding date
As soon as you have your special date solidified — tell your guests about it so that they can make arrangements. Here's the thing — if you have your date AND your guest list ready to rumble a year in advance, maybe wait a couple of months before mailing them out. If you send them *too early (which let's be honest is not usually an issue) your guests may forget when it comes time to actually making plans.
Six to nine months gives your guests plenty of time to take time off work and arrange for a baby sitter.
For more information on when to mail wedding invites and thank you cards — See: When to Mail Out Save the Dates and Other Mail.
When to mail send save the dates for destination wedding?
9-12 months for destination weddings
If you're planning a destination wedding or have many out of town guests, it's a good idea to give them even more time.
Nine to twelve months is ideal as this gives your guests enough time to look for plane tickets and lodging. They'll also need to budget for a trip like this so it's best to give them as much notice as possible.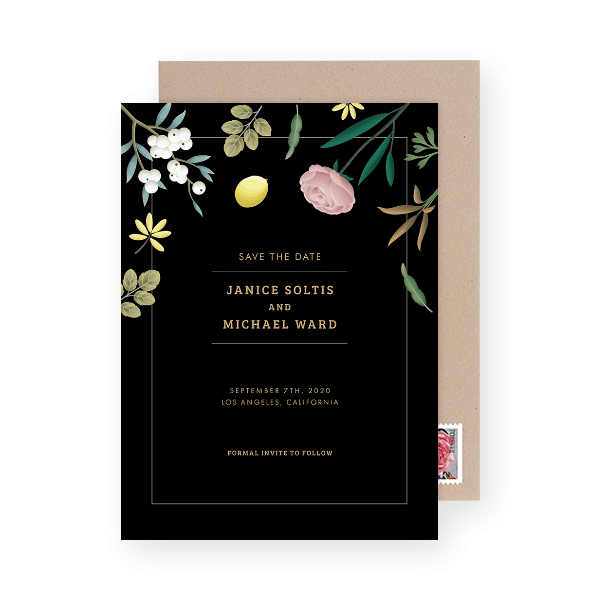 Checkout the Postable collection here
Can you skip the save the dates?
Sure. It's your wedding — you can do whatever you want. That's the beauty of having it be yours. But do keep in mind why these cards exist in the first place. They serve a pretty important purpose so be sure that this isn't important to you before you nix save the dates altogether.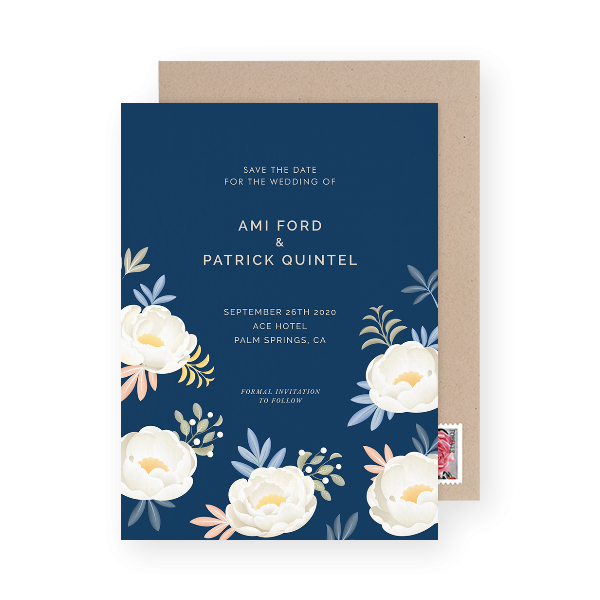 There you have it — everything you'll ever need to know about your wedding save the dates. If you've tackled this part of your wedding planning then a job well done is in order!
Go ahead, have yourself a celebration drink…