Real estate agents, like any small business owners, are always on the lookout for the best way to stay in touch with their past, current, and future clients. And for good reason. With so much competition you have to make your business stand out in a crowd of many. While e-mail marketing can be a great way to keep your Realty business out in front of your clients, it's not exactly earth shattering. The minute the delete button gets clicked, all memory of your branding gets wiped away. E-mail marketing is king until it's not.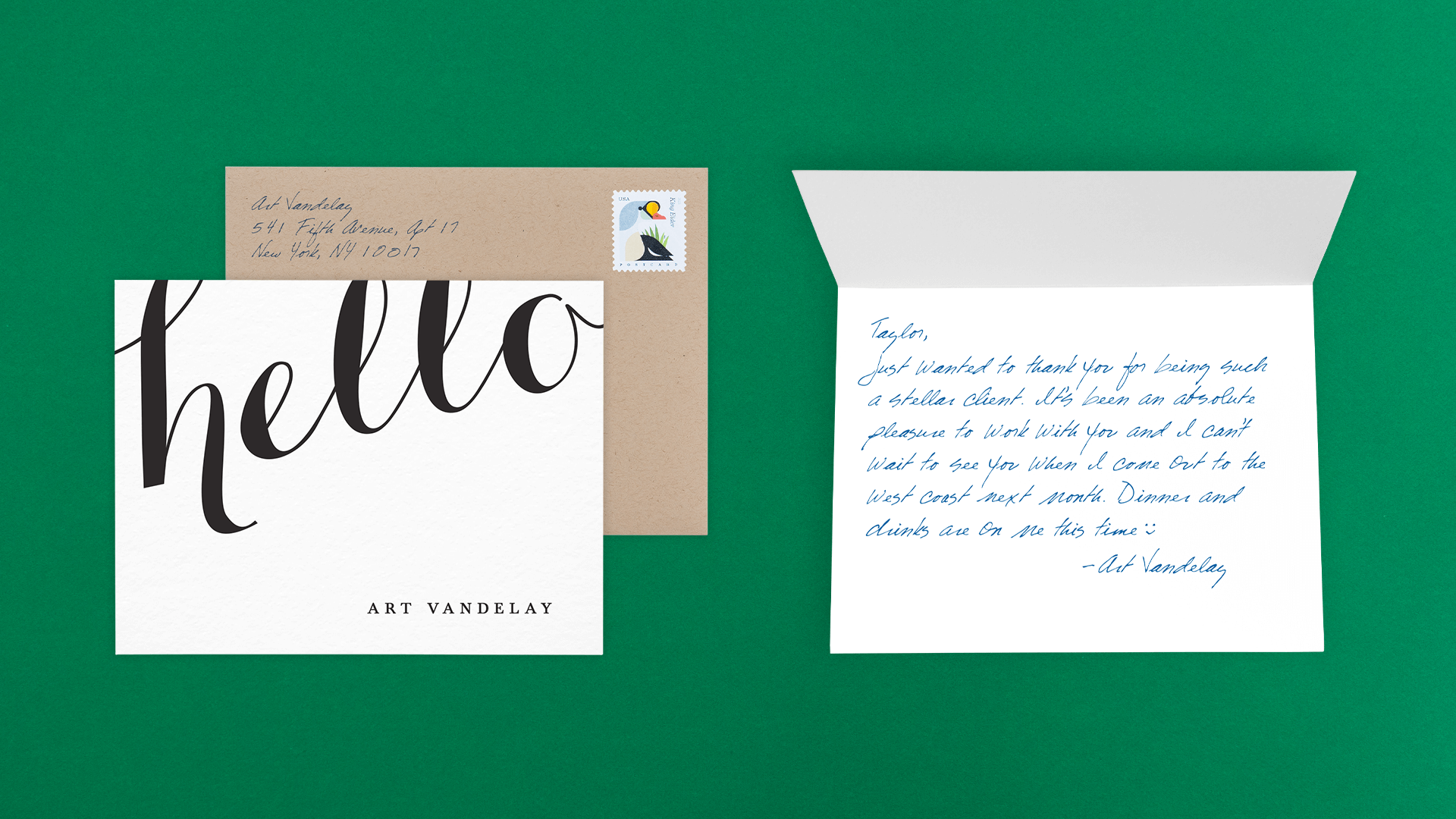 Sending real physical snail mail is a great compliment to email marketing; adding that personal touch that's lacking in an e-mail. Creating and developing personal relationships with clients is the best way to ensure you and your business stay on top of their minds when your services are needed. Of course we're talking about customer retention here and the root of all customer retention tactics is the process of nourishing an already existent relationship. There are few things as personal nowadays as snail mail.
Automate really nice business greeting cards in minutes. Postable will print, address, and mail them for you.
Real life connections are more important now than ever before.
Given the endless Zoom calls we've all endured for over a year at this point, going the extra personal mile with your marketing in 2021 is key. The digital experience, though obviously useful, has exhausted us all. The last thing most of your clients want is another email. They're craving human interaction. If you want to really maximize your marketing efforts, you'll need to connect with your clients in real life — or as close as you can get. That's where snail mail and print marketing comes in.
But who has the time?!
Postable's business tools make sending personalized mail as easy as sending an email.
Here are 7 print marketing use-cases to make your real estate business stand out.
Need some ideas on how to incorporate print marketing into your existing plan? We got you.
1. Home purchases
You made a sale! Congrats. You've worked real hard to help your clients find their dream home. You've probably spent a great deal of time with your customers and have already built a foundation on which now you can grow your business client relationship over time. Up until now their experience has hopefully been amazing, why not seal the deal with a personal final touch. Send them a thank you note for choosing you. Leave your clients with a good feeling about the whole experience.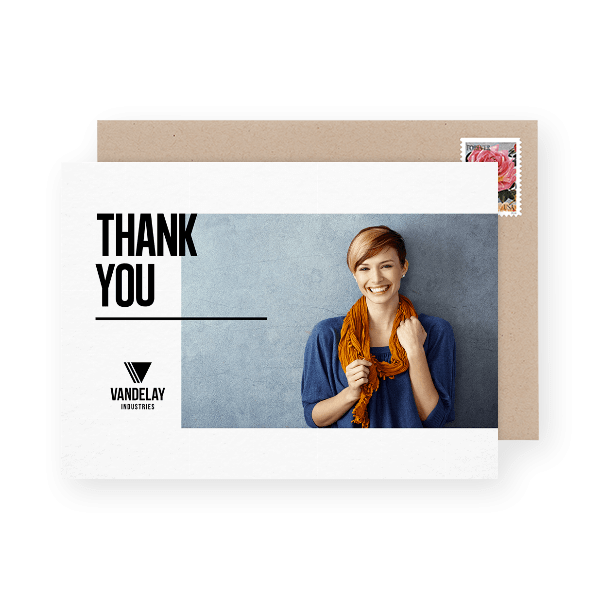 2. Home anniversaries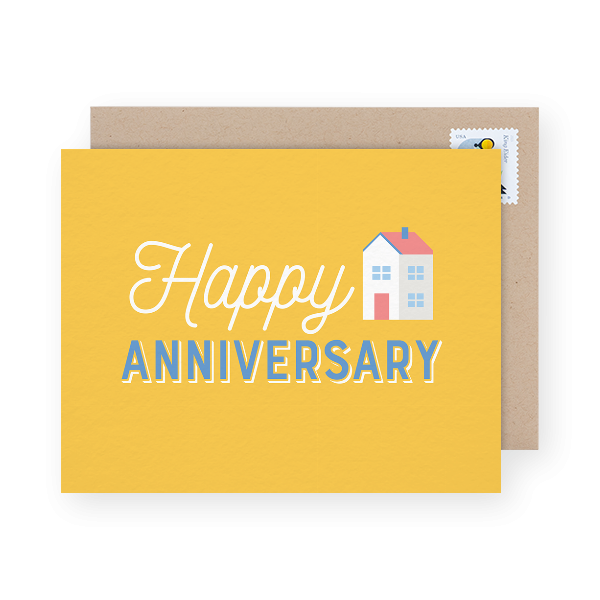 Ok, so it's been a while since your last interaction and you've concluded your business. This doesn't mean you should leave that customer in the past. Home purchase anniversaries are great opportunities to spark a dormant customer relationship back to life. It's likely that they'll need your services again in the future or perhaps will know someone who might. Help your past clients celebrate their home anniversary with a thoughtful card. This is a great opportunity to remind your customers of the great work you did for them. They'll appreciate the personal message and you'll once again be atop of their minds when one of their friends asks them for Realty recommendation.
[Pro tip: Postable's auto-anniversary tool, allows you to set up all your cards to be mailed automatically throughout the year just in time for each client's home anniversary. Simply import your list, choose a card, write your message — use the tool to automize everything for you.]
3. Holidays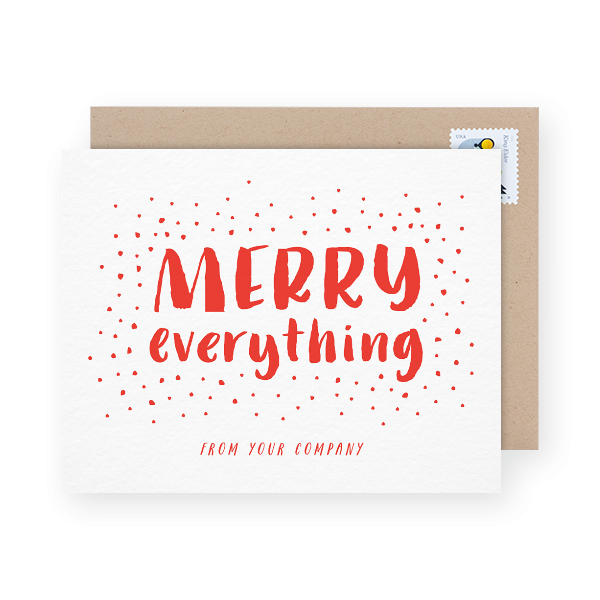 The holidays bring a slue of non-stop social gatherings with friends and family. Which means the potential for word of mouth referrals are stronger than ever. Why not touch base with your clients (past & present) to make sure your business name will be the first thing they think of when their co-workers decide it's time to sell their home. Your clients' mailboxes will be filling up with holiday card after holiday card — make sure your brand is amongst all the merry wishes. And if you want to really stand out, consider Thanksgiving cards. Not nearly as many people will be mailing out Thanksgiving cards. Your brand will be amongst the few who do — getting far more attention. Use that opportunity to thank your clients and wish them all the best for the upcoming holiday season. Avoid selling anything directly in Thanksgiving or holiday cards — your sincerity will go a long way without any direct selling.
If you're going to be strapped for time during the holidays, you can always schedule your holiday cards in advance. Easy peasy.
4. Birthdays
Business birthday cards are a no brainer. You want your clients to keep you at the forefront of their thoughts all year round so this is a great opportunity to touch base. Another excuse to remind them how much thought you put into everything that you do. Sending birthday cards to your clients is also a simple way to make them feel special and after all is said and done — this is really what we're all after.
[Pro tip: Postable's Automated Birthday Tool lets you set up all of your birthday cards to be mailed automatically throughout the year.]
Automate really nice business greeting cards in minutes. Postable will print, address, and mail them for you.
5. Thank you follow up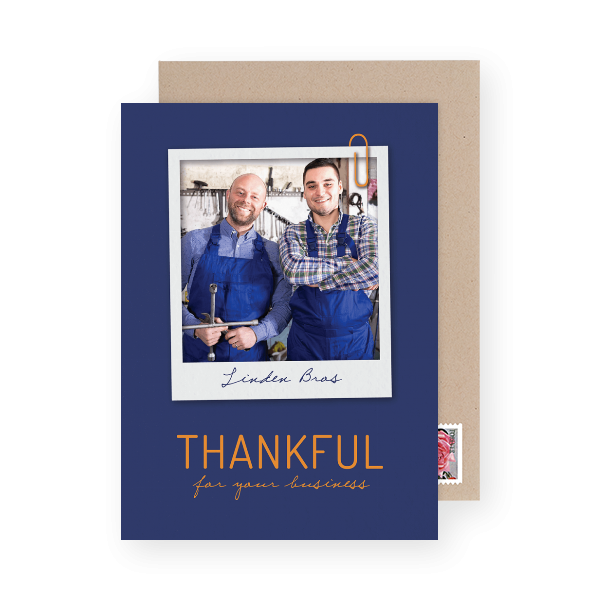 Perhaps you haven't quite sealed the deal and you have some potential clients waiting to make a commitment to you and your services. Why not send a personal branded thank you card to show them that you will always place a great deal of personal attention to your dealings with them. Everyone has about a million things going on in their lives — it's very easy to lose track and forget about a business or a service no matter how good it seemed at the time. Sending a follow up thank you card simply gives your potential clients a little nudge and serves as a reminder to move forward.
6. Events
Hosting an open house or a holiday party? Whatever the event, consider using real paper invites in lieu of email invites. It's much easier to delete an email than a nice paper invite you're holding in your hand.
7. Bragging rights to gain new prospects
Word of mouth is great, but reaching out to potential new clients directly with a nice personal message is a great way to connect and introduce yourself and your brand. Sending out a logo card letting a community know of your track record selling homes in their neighborhood and offering your services can be a great way to get attention. Keep the messaging clean and simple to let you record (and brand) speak for itself. Mail these out in preparation for an upcoming event and follow the branded cards up with your event invites to really seal the deal.
Ready to make some personal connections happen?
Automate really nice business greeting cards in minutes. Postable will print, address, and mail them for you.
Sign up for your free business account now.