As much as you love the Postable selection of designer greeting cards, you've found yourself itching for a card that you can upload your own photo onto. We totally get it. Who wouldn't want to send a card with their own smiling face on the front?! Make your own card or use one of the photo templates to customize an existing design. Postable has a bunch of great custom greeting cards to choose from. Whatever occasion you're looking for, chances are Postable will have a photo card that you'll love. Looking for a birthday card where you can upload your own photo? Here's a good one. How about a thank you card you can upload your wedding photos to? Here's one. (Pro tip: at the top of every card category page, you can choose to filter the selection to only see the cards that are customizable.)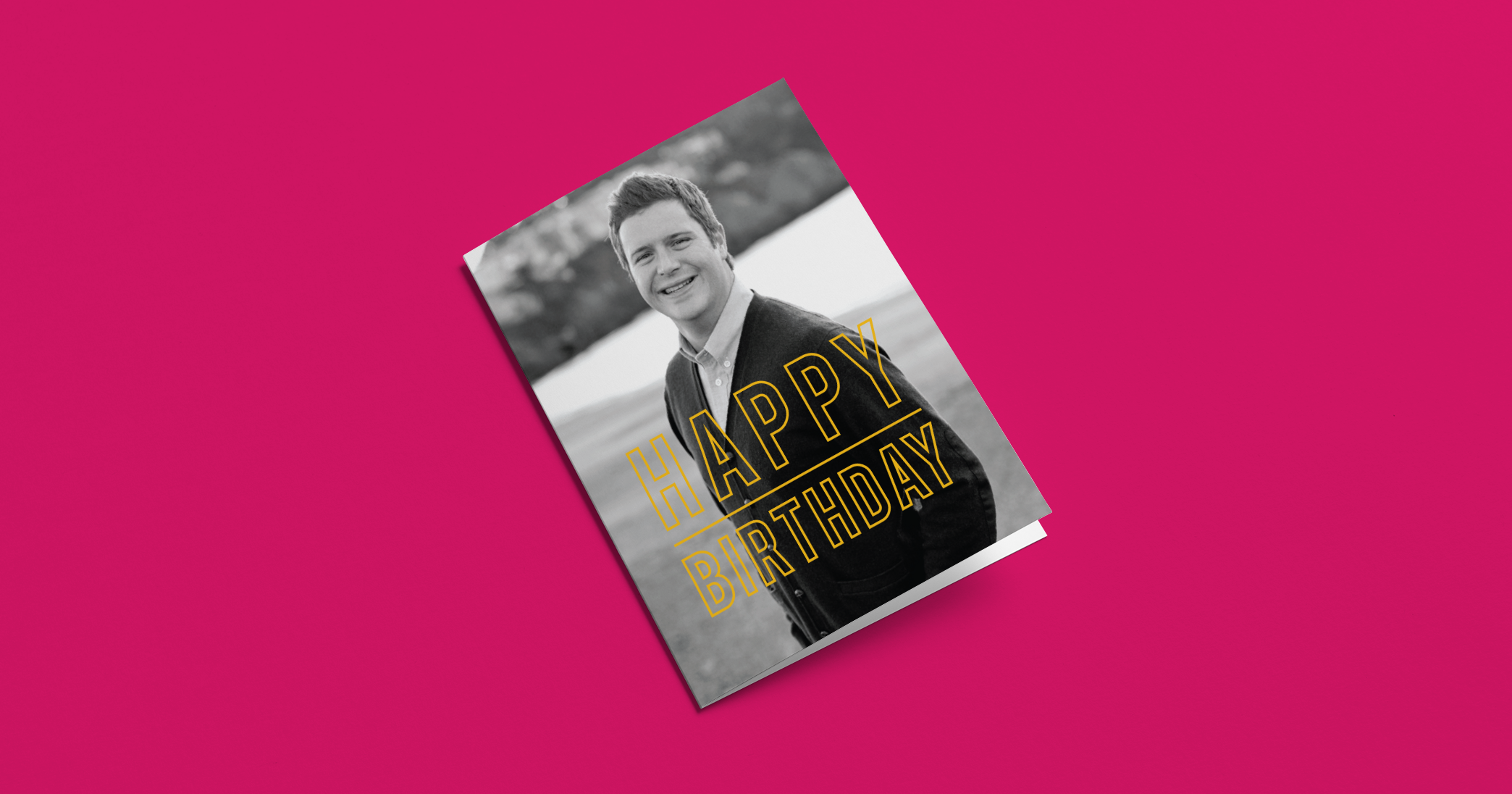 If you've created a design totally of your own making and want a completely blank slate to upload your design — we got you covered. Use one of Postable's Make Your Own Card templates to send one of your very own creations.
Custom photo cards are all the rage and we want to help make yours the most spectacular one out there! Whether you're uploading your own photo to a thank you photo card or using a completely blank make your own card, these tips will help you create the best version of your card possible.
While you have all the freedom in the world to create your very own card design (or image), we want to help make sure that your custom card is printed the best way possible. You also don't have to be a designer to create top notch, high quality greeting cards if you just follow a few tips that we've outlined here just for you! Here are 3 simple tips to make sure your cards turn out the best way possible!
1. High Resolution
The first thing to look at is the resolution of your image. Make sure the resolution is around 300 dpi at the size of the card (so 300 dpi when the image is 4.5 x 5 inches for folded cards). This is the best way to avoid blurry and pixelated prints and will ensure that your image is printed nice and crisp.
One important thing to note, although your image may look nice and crisp on your computer or phone, it doesn't necessarily mean it will print that way. The resolution may still be quite low and will still result in a blurry/pixelated print. If you click on the blank template that you're interested in using, the pixel dimensions will be visible for you to use as a template when creating your own design. 
[Note: If your image is low res, simply increasing the resolution will not work. You must have the original image that was high resolution to begin with.]
2. Keep Off the Edges
Keep the important stuff away from the edges of your design. The edges of the cards are trimmed after printing, so make sure to keep anything you wouldn't want trimmed off (any text, faces or borders) at least 1/4 inch away from the edge. 
Is your baby's face [almost] at the edge of your image? Is the time of your event close to the corner? Try to use a different image and move the important event details closer to the center of the design.  
3. Keep it light
The way the colors are displayed on your screen will vary a bit from the way they appear on paper. They may even vary between various display screens. Same goes for the lightness of an image. High quality paper is a bit toothy and thicker in texture. When an image is printed some of the ink gets absorbed into the high quality paper. This can result in slightly darker images on the card.
With that said, keep your images lightened up. No need to completely over do it, but if your image is dark on your screen, it will likely appear a little darker when printed.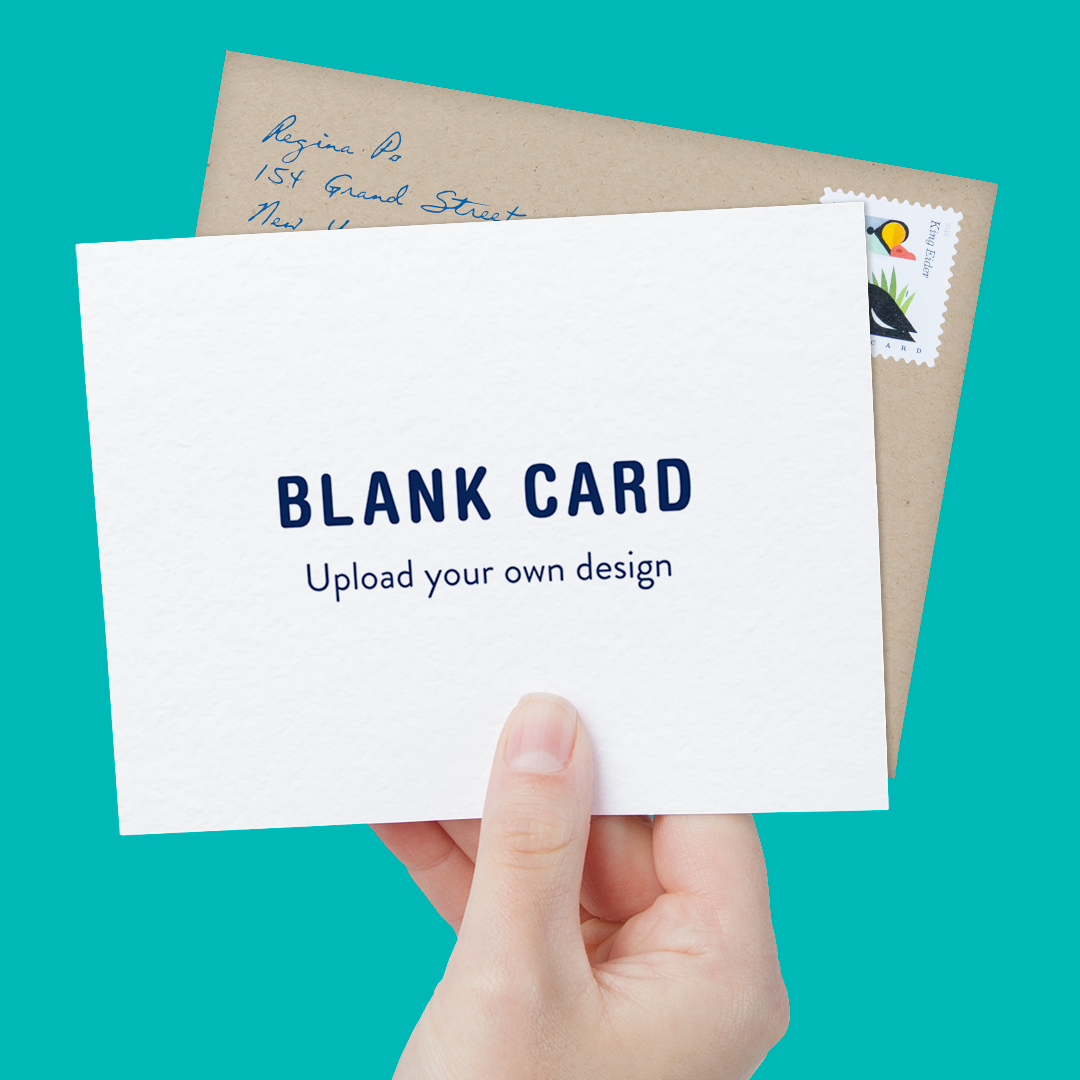 See the blank templates here
Want to send a custom card, but still unsure how to make one? No worries. If you're not a seasoned Photoshopping expert, you can still send really nice custom greeting cards. First, have your photo that you'd like to use handy. Take a moment to make sure the 3 tips outlined above apply to your photo. If you're not sure if your photo is high resolution — you can email it to us (info@postable.com) and we'll check for you! Second, choose an existing template from one of the hundreds of custom card templates on the site. You can find these by going to the category first (Birthday, Wedding thank you etc.) and filtering the card templates by 'Customizable' — this will only show you custom cards — which you can then make your own. Some of these cards allow you to upload your own photo and text while others will do one or the other. Take a look around to pick the template that tickles your fancy! From there, it's super easy to customize your template to create your very own greeting card. No Photoshopping required!
We hope these three tips will make it easier for you to create and send your very own custom created cards! Share your latest selfie with mom using a blank template, use your latest engagement photos for your save the dates or create a custom meme here to send to all your besties. And at the end of the day, if you don't feel like customizing your very own card — there are literally thousands of designer cards at the ready! All you have to do is write your personal message on the inside.
The options really are endless! The question boils down to: what will you create?! Looking for inspiration? Here are some Christmas card photo ideas you can share with your photographer this year. Getting ready to walk down the isle? Here are some tips to getting the most out of your wedding photos straight from professional wedding photographers.