You've shared some of your proudest moments with your bestie and now they live miles and miles away. So many miles, in fact, that it's impossible to see each other every day the way you're used to. Actually, you haven't seen each other in months or maybe even years — but your friendship is still as strong as ever. Friendships like these don't come around often so it's up to you (and said bestie) to keep in touch and keep the friendship going. What could you possibly do when you're miles and miles (and miles) apart? For starters, you should let your bff know just how much you miss them. It's only the most obvious thing to do. Sending I miss you cards is the perfect way to start a long distance conversation — or even start pen-paling with each other! Either way, sending an I miss you card will brighten your bestie's day and you'll probably have fun picking out the right card.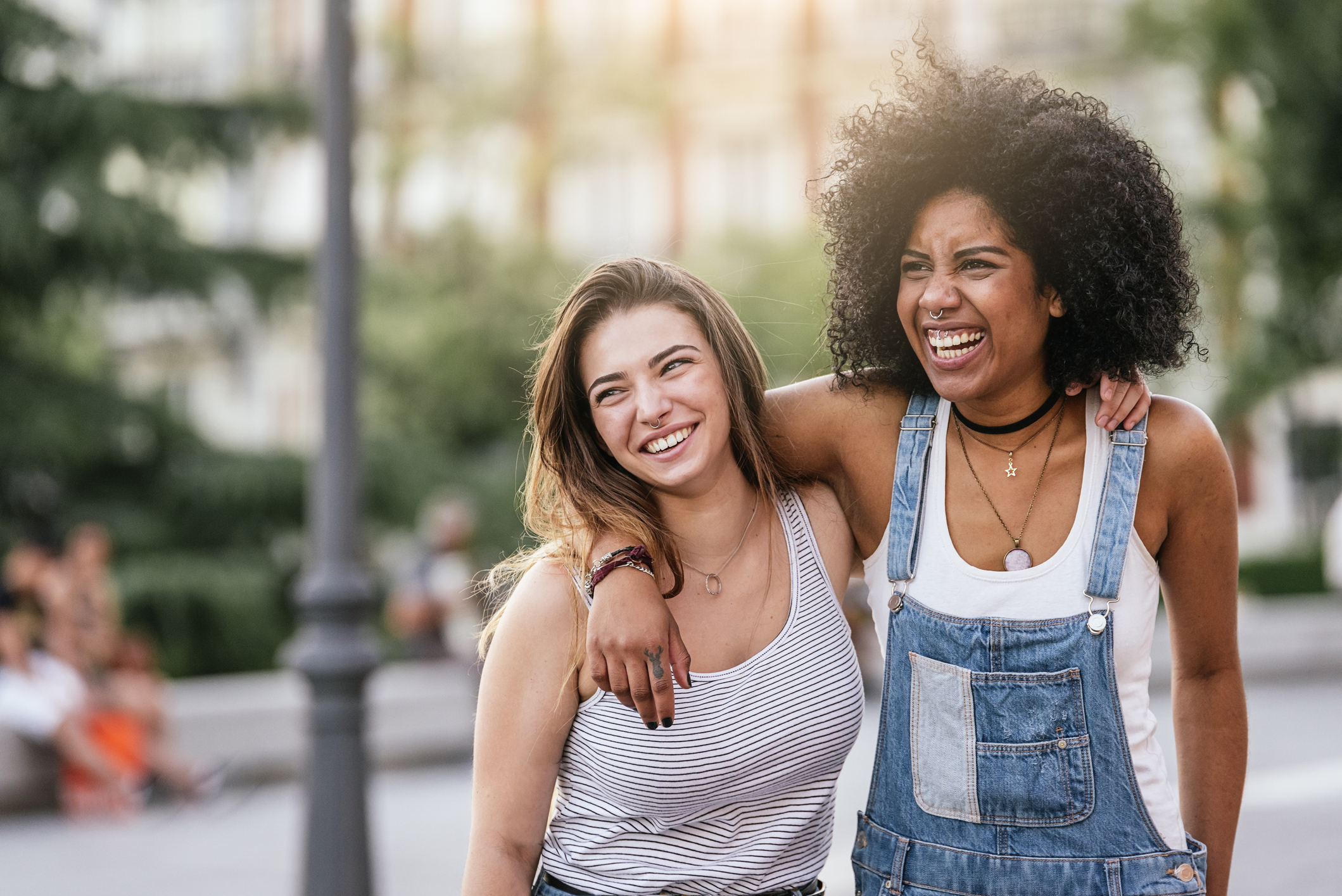 Lucky for you there's a bunch of delightful I miss you cards to choose from right here. This list of greeting cards are all perfect to send to your long distance best friend and remember to write your personal message on the inside. The personal message doesn't have to be long and elaborate — unless of course you want to write something of the sort ('Remember that one time…'). It's perfectly fine to keep the message short and sweet to let your bff know just how much you miss them. Simply choose one of these delightful I miss you cards, write your message and click send. Postable will print, address and mail the greeting card out for you. Your bestie will receive the quirky card in the mail and you'll have won Best Bestie Of the Year award once again.
If you're really missing your other half, we've also got a fun list of quirky bestie gifts you can send as well — but first: 
The I miss you cards.
1. Did the two of you spend countless hours binging Friends and Gilmore Girls (thank you, Netflix!) before the big separation? This I miss you card by E. Frances couldn't BE more perfect — especially if you actually did used to live down the street from one another (that's almost scary perfect).
Send this card here
2. For the long distance friendships that used to involve tents, bonfires and roasted marshmallows. This delightful Miss You card by Small Adventure will send your bestie all the nostalgic feels. Also, it's adorable and pretty to look at.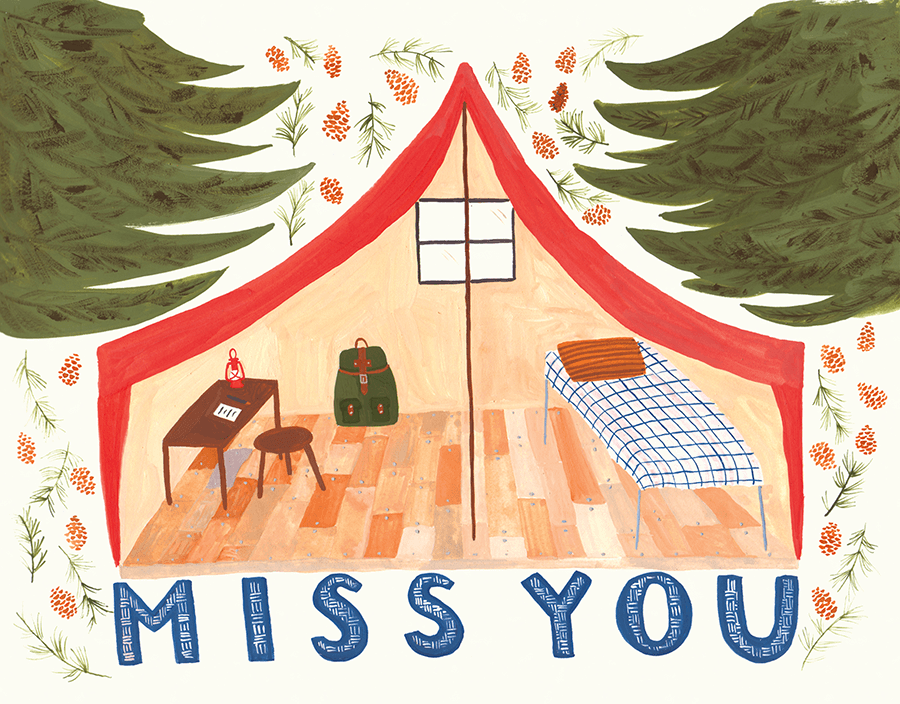 Send this card here
3. What better way to tell your bestie how much you miss them then by sending some sunshine? Especially awesome if you're sending the card during the winter months and your bestie is up north suffering through yet another snow storm.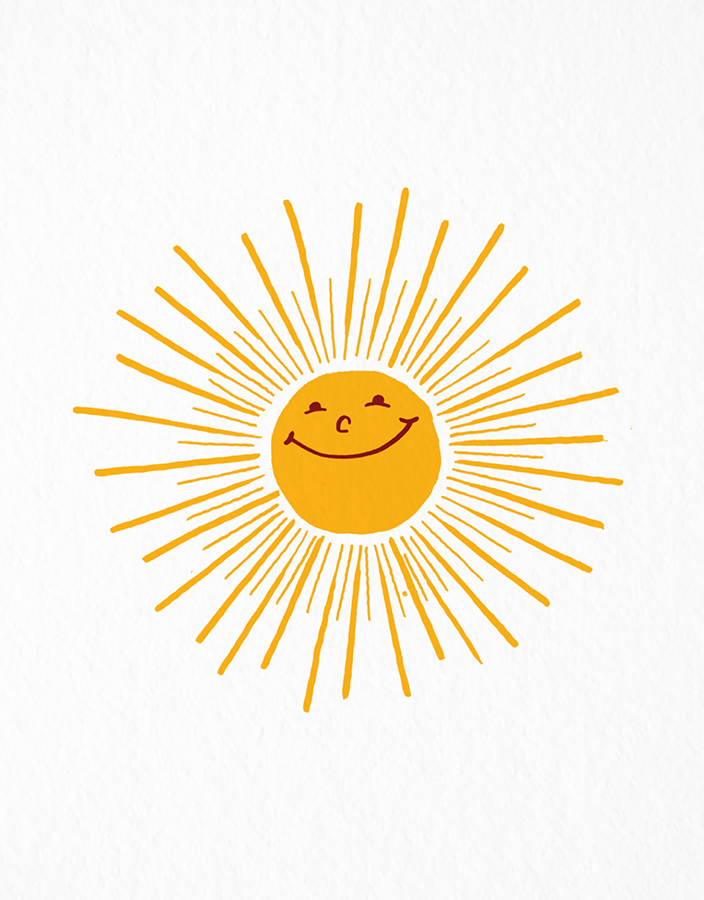 Send this card here
4. Get straight to the point. Let them know just how much you really miss them with this funny straight to the point I miss you card.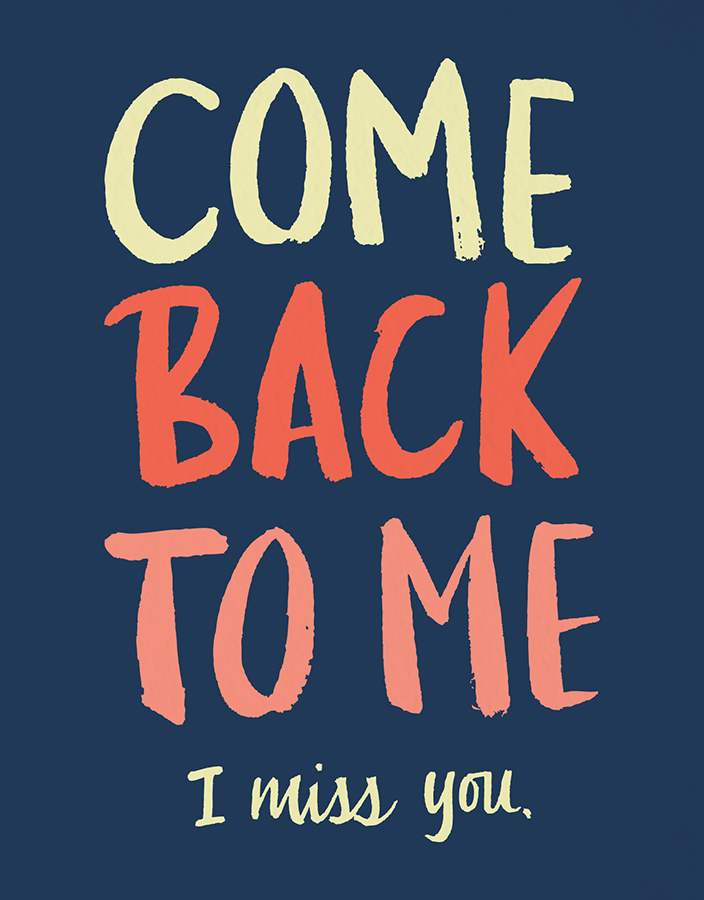 Send this card here
5. For the cat loving bestie. This funny greeting card by Sussie Essie may make your bff a tad bit sad, but at least there's funny little cats all over it — that's gotta bring a smile to their face.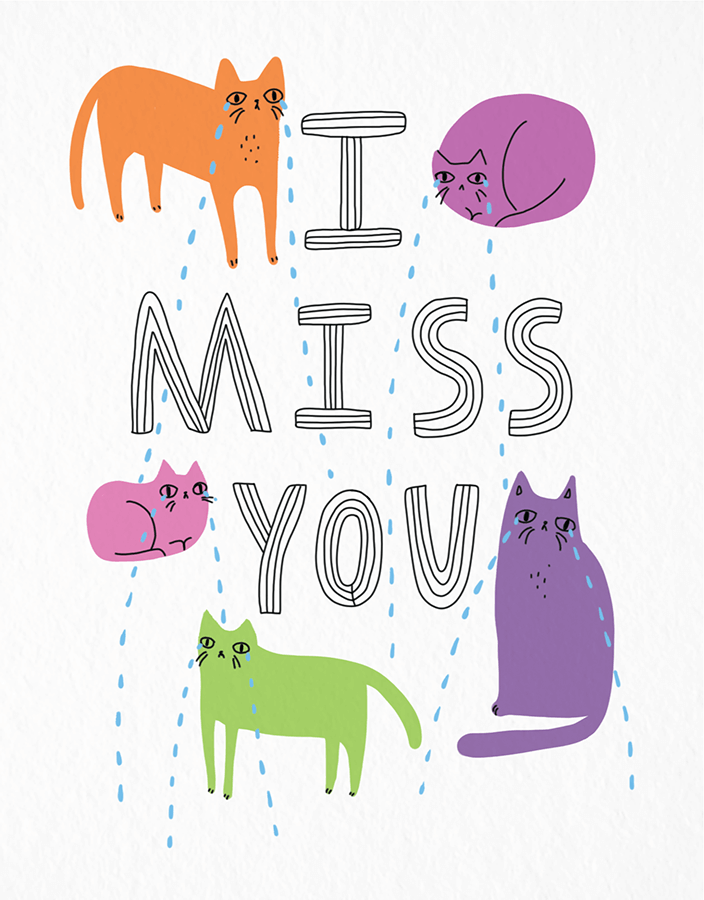 Send this card here
6. A little creepy? Maybe. But also kind of cute — wouldn't you agree? This quirky little missing you card by Mai Ly Degnan will totally delight your bestie.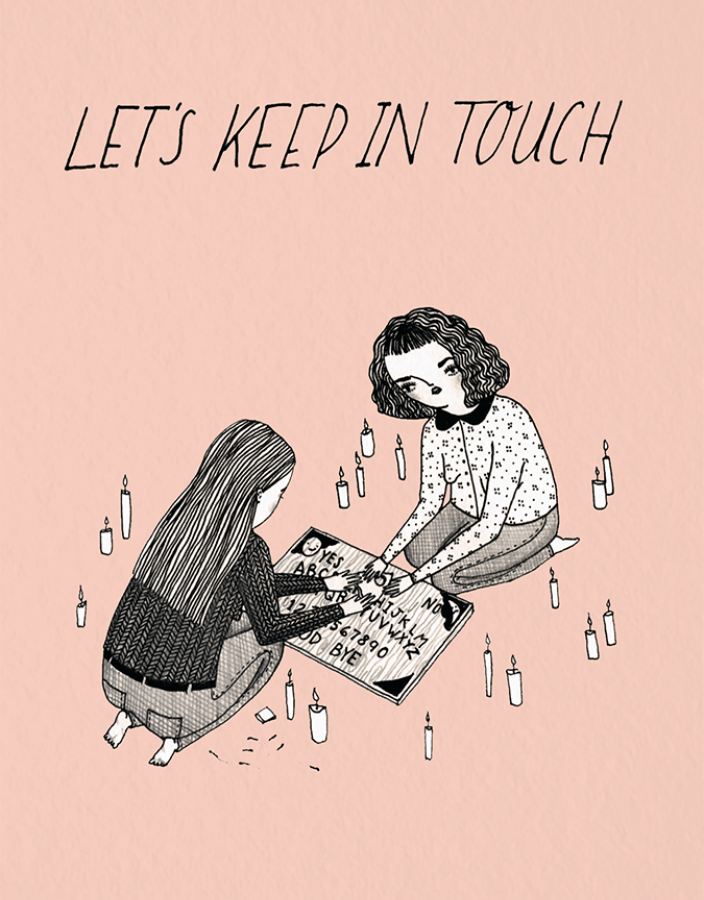 Send this card here
The I miss you gifts.
So you sent your bestie an I miss you card (or maybe you sent them 5, but who's counting?). But you really want to send them a little quirky gift too so the two of you can giggle about it the next time you plan on having an adventure together. We got you covered. Checkout this list of delightfully quirky I miss you gifts.
7. Let your bestie know just how much you miss them with a cute little candle. This adorable and custom candle via DefineDesignetc on Etsy is a lovely gift that will also give your bestie all the missing you feels. Plus, they can actually use this gift so it's a win win.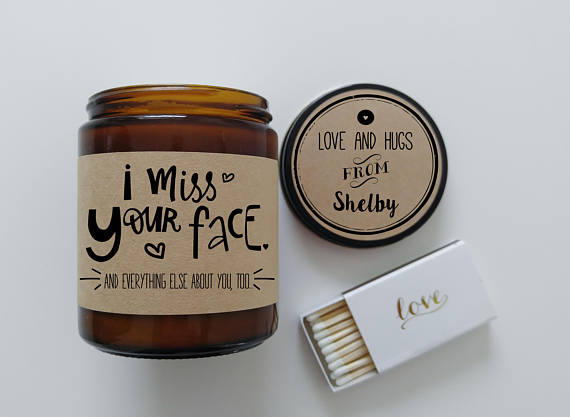 8. Maybe not quite as quirky as the others, this little necklace gift is too adorable not to include. Who says you can't bring back the friendship necklace from your elementary school days? These adorable little pendants via YouLoveYouShop on Etsy are a great way to keep your long distance bestie close to your heart.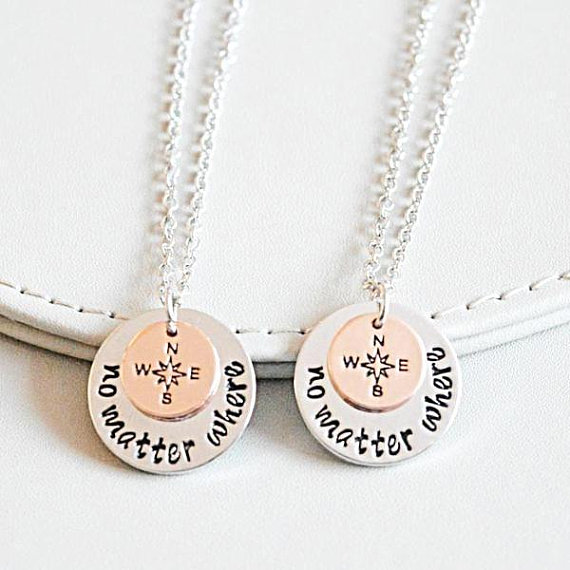 9. This funny coffee mug via SweetMintHandmade on Etsy will remind your bestie to give you a shout every morning. Plus it'll give her a good giggle.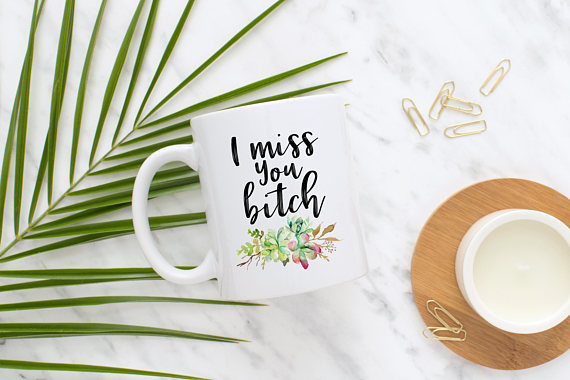 10. Because cats are cute and so are you. This adorable missing me pillow from MikMikOnline on Etsy is definitely a quirky way to say I miss you.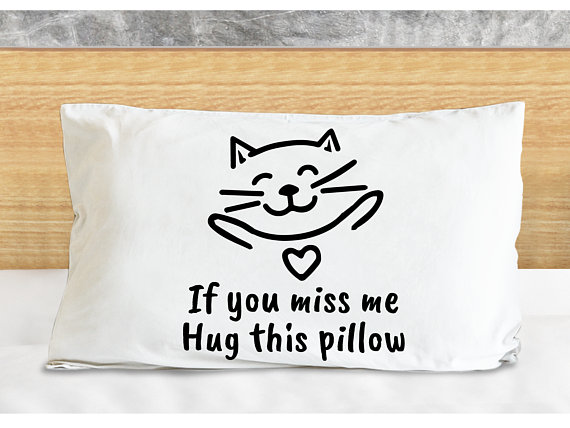 11. This funny little I miss you pin from FishCakesoboy on Etsy will definitely brighten your bff's day. Perfect for the bestie who adorns her backpack or jean jacket with all things pins.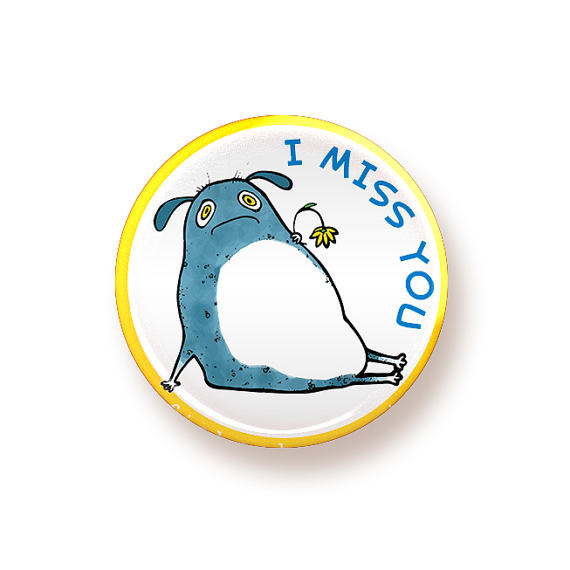 12. This one is funny and taste-y. You can't go wrong with chocolate — like ever. Your bestie will feel oh so special (you'll be living up to your bestie duties like never before) and wish you were there to eat the entire box with them. These I miss your face chocolates are from WhatCandySays on Etsy.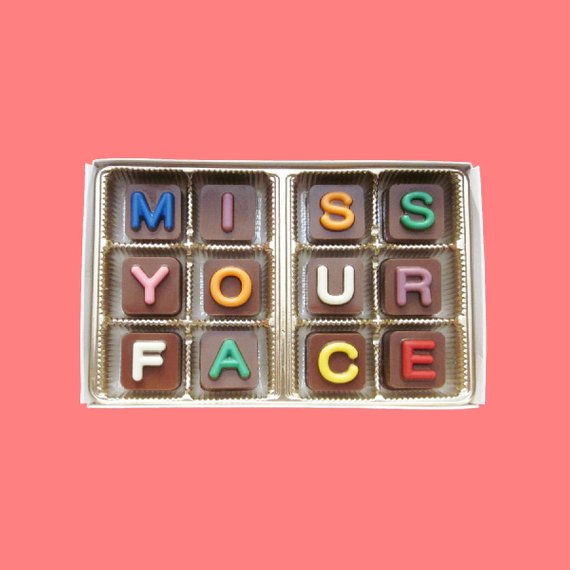 13. All the wine — all the time. If you and your bestie share a love of all things vino and Parks & Rec — there is no better missing you gift than this quirky wine glass from DanniBCollection on Etsy. Maybe suggest a weekly phone chat in your missing you card and enjoy a glass of wine together over the phone. Who says you can't still connect via long distance?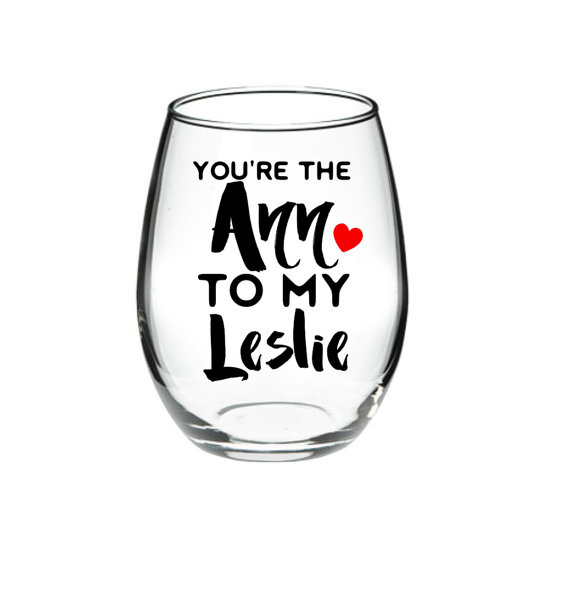 Friendships are the greatest possessions we have in life and the besties that we're luckily to call ours are our treasures. Being an adult sucks sometimes and having to live far af away from your best friends is at the top of that sucky list, but at least we can send them cool stuff to remind them just how awesome they are.