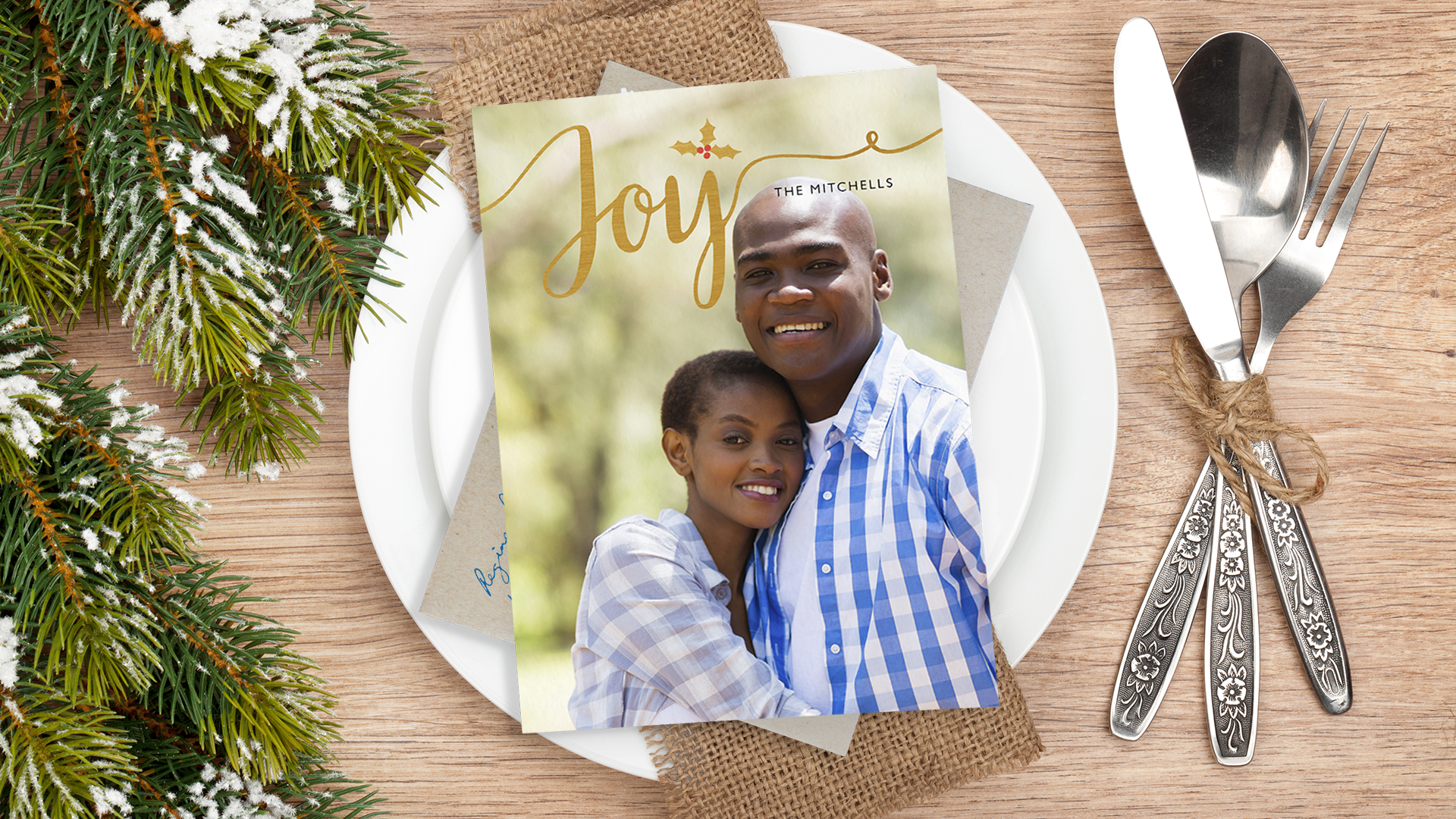 Beautiful customizable Christmas cards mailed for you in minutes. Customize your perfect Xmas card and we'll do the rest.
There's table etiquette. There's wedding etiquette. There's birthday etiquette. There are predetermined conventions for just about every occasion and Christmas card etiquette is no exception. And while there are a number of key elements we'll go over in this post — as with most etiquette formalities — they're totally up for interpretation. Take what works for you and your family and leave the rest. Don't worry, we won't tell! 
Who knew the holidays would consist of anything more than just eggnog? Not everyone can be Christmas card experts, right? While some 'rules' are made to be broken, others are there for a good reason. Which are which? That's for you to decide. We're just here to share the knowledge so that perhaps you can avoid some unpleasantness. The last thing you'll want is an hour long lecture on Christmas card etiquette from your aunt Sally when you're up to your ears with hosting holiday parties and wrapping gifts. To avoid that catastrophe, checkout this list of Christmas card etiquette tips.
Navigate around this blog post:
Christmas Card Etiquette: Writing A Greeting Card
Who knew there were rules on how to write a greeting card? Let's start with the obvious. If you think you know how to write the card our suggestion is just to listen to your gut. No need to follow formulas or instructions if you don't feel that they're required. However, if you do wish to learn a bit more, we've got all the details for you!
What to say in a Christmas card?
Before diving into specifics on exactly what to say in your Christmas card, we want to point out an important consideration: space. The amount of space inside a Christmas card is limited compared to a full 5×7 letter. Repeat: writing a season's greetings message in a card is not the same as writing a letter.
This means keeping the message short and sweet is key! You're writing to wish your friends and family a Merry Christmas so make sure you don't get too far off track. 
Some themes or topics you may want to include:
Well wishes of health and good cheer for the holiday season and the upcoming new year. 

How blessed you are to have them in your life. 

Something personal about your recipient (perhaps their love of Christmas cookies or a favorite holiday movie you can't wait to hear their thoughts on).

Mentioning the last time you saw them and how much you're looking forward to seeing them again soon!
It's not necessary to mention all of these things. Just write from the heart with sincerity and you'll have the perfect Christmas card message in 2022. Whatever you choose to write — keep your Christmas greetings light and cheerful; remember, you're mailing your cards to spread cheer.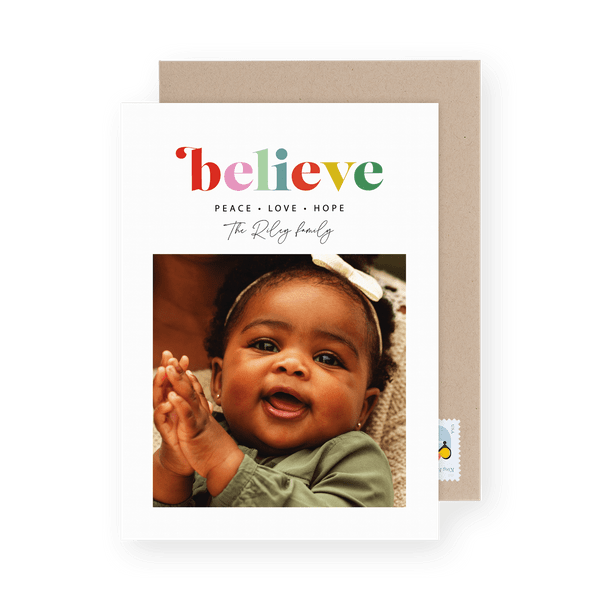 What to write in a business Christmas card to a client?
Business Christmas cards are great opportunities to celebrate your clients and make them feel special! Keep the messaging light and straightforward to spread the holiday cheer without diluting the effect. Avoid overwhelming a client with business related content inside your business Christmas card — save that for an email or a phone call. 
A nice general holiday message with a few words on how much you appreciate their loyalty (especially relevant in 2022) and how much you're looking forward to the upcoming year.
RELATED: BUSINESS HOLIDAY CARD MESSAGE
Who should I send Christmas cards to?
Everyone deserves to receive a little extra cheer during the holidays — especially after the last couple of years. Some important folks to consider when creating your Christmas card list:
Family (far and wide)

Spending the holiday season apart is tough (we all know that by now). So make sure to spread the joy to those spending the season with you and those who have to remain apart. Don't forget to let them know how much you miss them!
Friends

This, too, may seem as obvious as having your own family on your list of recipients, but consider updating your Christmas card list for 2022. You may want to add new connections made this year and update mailing addresses for friends that have moved recently.

Pro tip: Postable's online address book tool can collect (and update) your holiday addresses in minutes (for free).
Teachers

If you have kids who are close with their teachers, this holiday season would be a great time to shower them with extra love. Teachers have had an extraordinarily challenging couple of years and they deserve all the extra love.
RELATED: 71 'THANK YOU TEACHER' MESSAGES FOR TEACHER APPRECIATION CARDS
Neighbors

Sure, maybe they play their music a tad too loud every Tuesday at 5pm, but they're still your neighbors! Spread the cheer by mailing them a Christmas card.
Clients

While using business Christmas cards to sell something is definitely not an etiquette approved behavior, mailing these greetings to simply show appreciation and spread some cheer is. Use your corporate holiday cards to remind your clients of their loyalty to your company and watch your customer retention grow.
Employees

Don't forget the people who keep your company going! Employee appreciation is such a simple way to improve morale and Christmas card etiquette says mailing these festive cards to your employees is a must. Let them know how much you appreciate all their hard work and dedication with a cheerful company holiday card.
Pro tip: You can choose a different design for each type of recipient (if you so choose) easily when mailing your Christmas cards with Postable.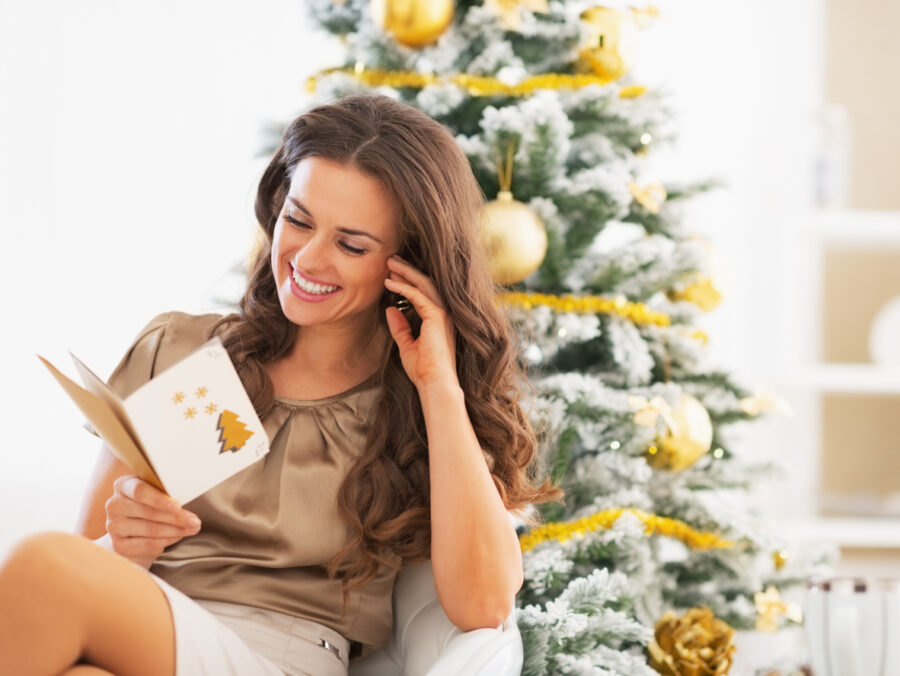 Etiquette for signing Christmas cards.
How do you sign a Christmas card?
We've written extensively on the topic of signing off a greeting card and Christmas cards are no different. It all boils down to two key considerations. 
What is your relationship with the recipient?

For example, are you text-most-days kind of close or more like friendly acquaintances? Though using 'Love' liberally during the holidays is definitely encouraged, if you don't feel that's an appropriate sign-off, an alternative could be 'Warmly' or 'Warm Wishes'. Remember, this is a Christmas card, not a tax document — no stringent rules here.

**The exception to this rule: business Christmas cards. It should go without saying, signing off with 'love' on a business anything is inappropriate. You can still get in the festive spirit and stay professional, however. Signing off with 'Warmest Wishes' or 'Happy Holidays!' is still A-OK.


Are you signing your Christmas cards as a family or as an individual?



Keeping this in mind may help guide your choice of a signoff as well. Perhaps using 'love' may be more appropriate when signing off as a family vs. an individual (again, depending on the relationship). Another option would be to sign off with 'We Love You!' if you're including the whole family.
You'll want to keep these two questions in mind when signing your Christmas card.
Once you've got yourself some answers, there's one more thing to remember — these are Christmas cards so don't feel like you have to overthink things. Write from the heart (avoid long-winded letters) and your sign-offs will be just right!
Some examples of Christmas card sign offs for loved ones include:
Warm wishes,

Stay cozy,

Blessings,

Christmas Greetings!

Merry Christmas,

Happy Holidays!

Love always,

We love you!

Brightest blessings,

Peace be with you,

Making spirits bright,

Peace and love,

Goodbye 2022!

Adios 2022!
Some examples of Christmas card sign offs for business ones include:
Happy Holidays!

Warm greetings,

Warmest Wishes,

From your friends at,

All the dedicated staff at,

With gratitude,

Seasons greetings,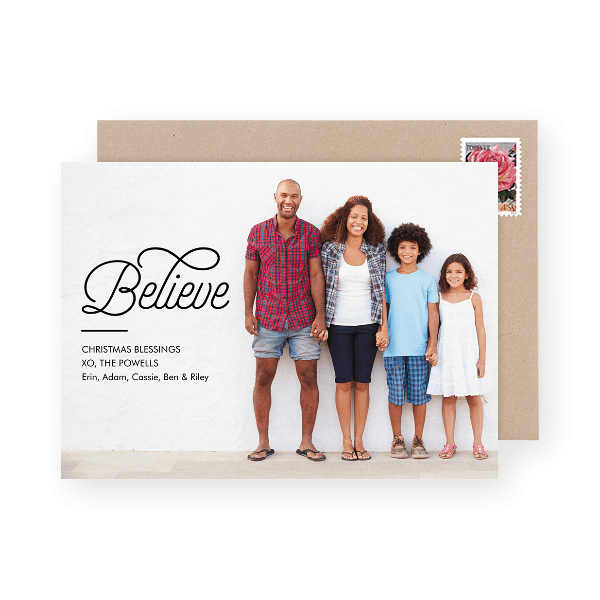 Christmas card envelope addressing etiquette.
Perhaps it's been a while since you last wrote and addressed an envelope. Not to worry. The only thing to remember is it's very easy and you're going to be a pro in no time.
Where to write an address on an envelope and the proper way to address an envelope?
Every envelope has 3 important sections:
The

USPS stamp

: top right corner.

The recipient information (name + address): centered top to bottom & on the right.

The return address: top left corner.
That's really it, but here's a couple additional tips!
Do write a return address!

You'll want to get some holiday cards of your own, we presume, so make sure your recipients have your return address. Additionally, if for some reason the mailing address is incorrect, the return address gives the post office a location to which they can return the envelope.


Information you need to include for the recipient: their name, street address, city, state and zip code.

When you use Postable to mail your Christmas cards– we'll automatically make sure all the necessary information is filled in and guide you every step of the way!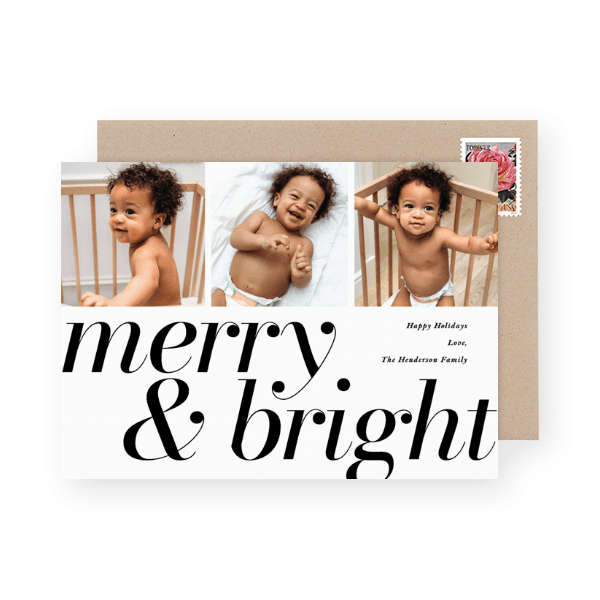 What is the proper formality to use on the address?
The level of formality you use on your Christmas card envelopes is totally up to you. It's definitely not a necessity to include titles unless that's your jam!
For example, you could address the envelope as John and Jane Smith or Mr. and Mrs. Smith.
How to address an envelope to a family?
If your recipient is a whole family rather than an individual, you'll add the family name with 'The' and 'Family' directly above the mailing address as shown below. 
Example:
The Johnson Family
123 Sweet Drive
Sweetest, NY 12345
Is it OK to use address labels or name stamps on Christmas card envelopes?
We say sure. Christmas card etiquette isn't a stickler heavyweight like Wedding invitations when it comes to expectations. However old school etiquette would likely tell you to stay away from using address labels or name stamps.
Pro tip: If you mail your Christmas cards with Postable, we'll address the envelopes for you using one of our smart handwritten fonts! Easy & etiquette friendly!

Quick easy tips for staying on top of your Christmas card game.
Following etiquette rules can get overwhelming, especially when life requires so much of us already. You'd think the holidays would be the one season and time of year where we can just let a little loose! Well, you'd be right. As we've mentioned before — take whatever etiquette tips that work for you and leave the rest. The last thing we'd want is for your Christmas cards to feel like a chore.
Which brings us to our first easy tip…
1. Use Postable to mail your Christmas cards for you.
We've made it so that the task of mailing Christmas cards is crossed off your list in minutes, giving you more time to do Christmas-y things like drinking eggnog and baking (and eating) cookies!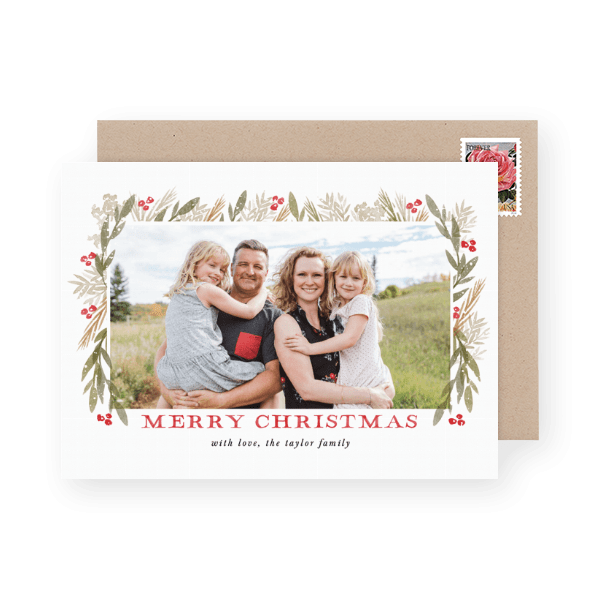 Our selection of Christmas cards is designed by the world's greatest artists. Customize the designs — or don't. And we'll mail them all out for you.
1. Send your Christmas cards early.
To assure that your Christmas cards arrive in time for Christmas, send them early. This means placing your cards in the mail in early December. The holiday rush at the post office starts around December 15th (though we're living in some very uncertain times so it's possible this rush comes earlier). This slows the usual 5-7 day delivery time down quite a bit. Take the slower delivery time and add the fact that the post office doesn't deliver on December 24th, 25th or 31st (postal workers have families too!) and you've got all the reason to send your holiday cards early.
So, when should you send Christmas cards then?
Sending your cards before the second week of December will give your Christmas cards an almost sure thing of arriving prior to Christmas. If you place your cards in the mail after December 15th the chances of your cards getting lost or delayed en route get higher. If you do happen to send your cards days away from Christmas, just keep in mind it might take them longer to arrive. This may not be such a bad thing since most people really enjoy getting to open more holiday cards even after December has come and gone. New Years cards are also a good alternative if you've already fallen behind. 
Pro tip: You can schedule your Christmas cards ahead of time with Postable. 
2. Skip the family Christmas newsletter.
Yearly newsletters were once a great way to stay up to date with family ongoings, but today social media allows us to stay up to date throughout the entire year so whatever updates you would include are likely already up for everyone to see. A way to keep this tradition going is by including several images on your holiday cards with the significant events highlighted in the images (the kids' graduation photos or the newlyweds for example). You can also include a short snippet on the back of your holiday cards with the highlights.
3. E-cards are not a replacement for Christmas cards.
They're impersonal and completely stripped of character (despite how cute they appear on your screen). We're all constantly bombarded with an overflowing inbox. Think about all those junk emails you receive on the daily. Opening emails and/or messages on a screen doesn't really have the same effect as opening a beautiful paper holiday card. Plus, you can't hang an e-card on the fridge.
4. Don't send family photos to business associates.
If you're mailing out business holiday cards to your business associates, make sure you use a different design than the one you're sending to your family. While mom and dad are going to love a holiday card with a photo of the kids smack dab in the center — your newest client will have a slightly different reaction. Avoid confusing your clients and employees with your family photos by sending them a different card altogether. You can use your company's logo or maybe some other neutral season's greetings design. If you'd like to include a photo, use one with your company's team or perhaps a product photo with your logo on the front.  
5. Include a return address.
You want to get a Christmas card in return, don't you? Include a return address so that your recipients can be sure to return the favor. It's also a good idea just in case you happened to have the wrong address for someone. This way, the post office will have an address to return the card to. In the case of a wrong address, keep in mind the post office is likely not going to be very fast at returning it during the holidays.
6. Keep a proper list.
While it may seem like a good idea to keep a running list of all your Christmas card recipients in your head… Wait, no it doesn't. That sounds like a whole lot of work you don't need to do. You can use an old fashioned spreadsheet to keep all your Christmas addresses in one place OR you can use Postable's free handy holiday address book.
Pro tip: You can even collect mailing addresses in minutes using this free address book!
However you choose to keep track of your list, make it easy on yourself and keep it organized!
7. Use 'love' liberally.
The holiday season can be both a truly magical time of the year as well as extraordinarily tough. There's really no better time to spread some extra love around so feel free to use the 'love' word liberally in your Christmas messages and sign offs! 2022 could use a little extra love!
Phew. There you have it! All the Christmas card etiquette one could ever want. Just remember, this should be fun so go ahead and get festive!