You'd be hard pressed to find a group of people more deserving of a sincere thank you note than the teachers. Thank you teacher messages should be sung from the rooftops, drawn on posters, and danced into Tik Toks everywhere. But more importantly, thank you teacher messages should be written in teacher appreciation cards on a routine and yearly basis (at minimum). Here at Postable writing and sending unique and personal thank you notes is a source of pride and joy. Just call us your friendly go-to thank you card experts.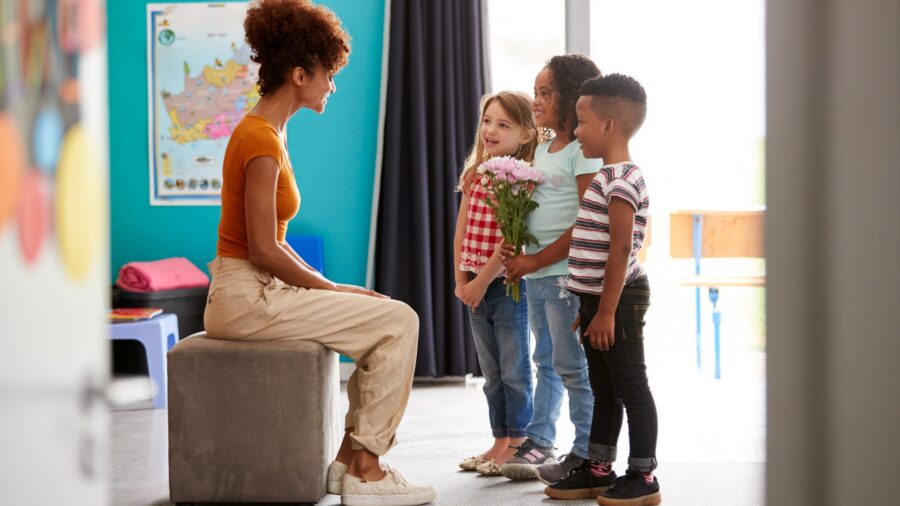 Though Teacher Appreciation Week is typically in early May, we think teachers deserve to be thanked throughout the year. That's where this post comes in. Here you'll get over 70 unique and thoughtful ways to say 'thank you teacher' along with tips on how to make your teacher appreciation card personal and sincere. There's even a whole section dedicated to teacher quotes you can add into your message.
Easy Navigation:
When should you thank a teacher?
We kind of alluded to this already, but it's worth reiterating: you can (and should) thank teachers throughout the year. But if you're the type of person who needs a neat reminder to mark on your calendar or a specific occasion, we got you there too. Here are some examples of when you should be sending your teachers a teacher appreciation thank you card.
Teacher Appreciation Week (Typically the first week of May)
The end of the school year
During finals week (they'll be just as stressed as students)
After they taught you (or your child) something particularly challenging
After they went out of their way to help you (or your child) with something
When you've graduated and are no longer in school (more on this below)
In all honesty, you can pretty much assume that every day is a good time to send a teacher a thank you note. Teaching is a grossly underpaid and overworked profession that most people choose out of a passion for education and their students. There's rarely a time during the year when teachers aren't sacrificing their own paychecks and well being for their students (something they obviously shouldn't have to do). At the very least they deserve to know their efforts are appreciated.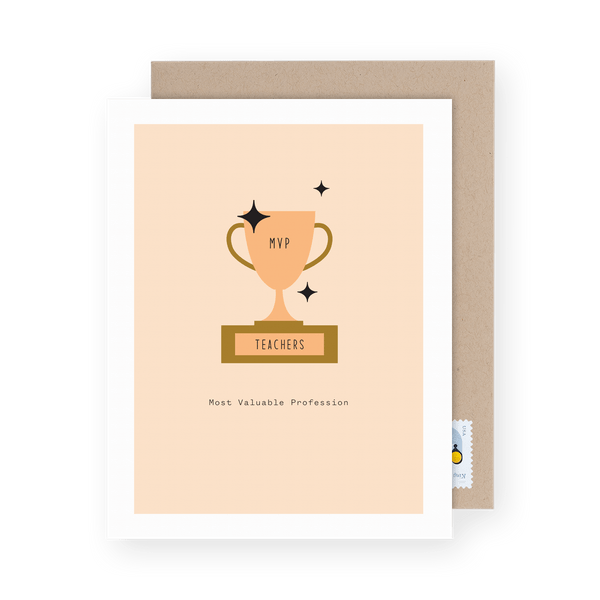 What to write in a teacher thank you card – general tips.
We've written about how to write thank you cards before so feel free to dive in for more detail, but here are a few key things to remember.
RELATED: How to Write a Thank You Note
Be sincere
Use details
Mind the length
Be sincere
It's important to write what you actually mean rather than just writing what you think they'd want to hear or what you think you're supposed to say. The most effective thank you notes are written from the heart so if you don't actually think that particular teacher has changed your life, don't say it. Instead, write how they have made an impact on you in reality.
Use details
And on that note, to help you stay sincere with your message use details. If you're able to articulate why you're thanking your teacher with details, the chance of exaggeration or any other kind of insincerity decreases.
Mind the length
Just remember that a thank you note has a word limit that you probably don't want to even come close to. A thank you teacher message should be short, sweet, and straight to the point.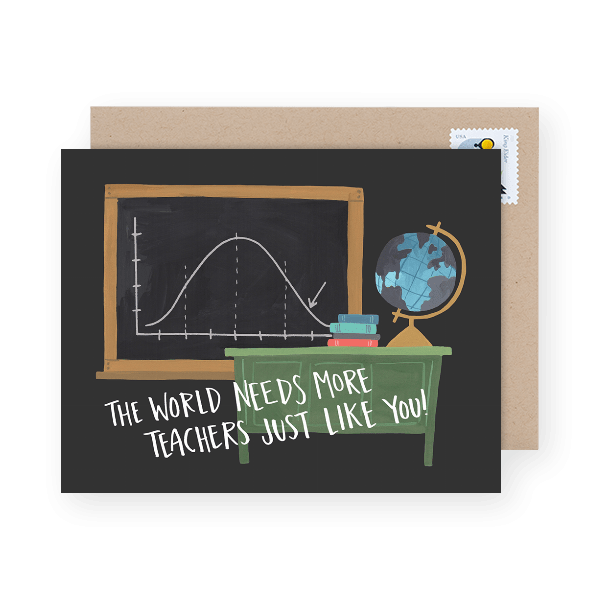 Thank You Teacher Messages From Parents
While it's definitely a good idea for your littlest one to include a thank you teacher message within a thank you note, if your child is too young to write a complete note you're more than welcome to compose the message yourself. Also, even if your child is old enough to write their own card, it certainly wouldn't hurt to let their teacher know you are grateful for them as well.
How do you thank your child's teacher?
You can thank your child's teacher by writing a sincere thank you note and a little gift wouldn't hurt either. Additionally, if you have the time or resources, asking the teacher if they could use your assistance with anything in particular in your thank you message is also a good idea. Just make sure you can actually follow through.
Here are some sample thank you teacher messages from parents:
You have my gratitude for being the best teacher for [KID'S NAME].

Thank you for always being so gracious in explaining the concepts [KID'S NAME] finds particularly tricky so thoroughly. 

[KID'S NAME] is so lucky to have you as their teacher. 

Thank you for being available to [KID'S NAME] when they need a little extra help.

Thank you for showing up with your truest fullest self to teach the kiddos every day. I don't know where you get the energy, but as a parent, I am beyond grateful.

[KID'S NAME] has never been so excited to go to school and you are 100% to thank for that. 
Thank you for making learning fun for my kiddo. She's so excited to tell me all the things she's learned each and every day!
Thank you for creating an atmosphere of curiosity in your classroom. I know that [KID'S NAME] is benefitting immensely from your example.
My kids are so lucky to learn from such an amazing teacher and intelligent human being. Thank you for showing them what education can do for self confidence. 
I never expected my kid to love learning as much as he does in your classroom and for that I am forever grateful.
Thank you for being so patient with [KID'S NAME]. I know they can be a handful. Your patience and strategy for teaching them self awareness techniques is really benefiting our whole family. Thank you for being the teacher they need.  
A room full of pre-teens?! You are a god among humans. Thank you for doing what you do and having the patience of a monk. My kids are so lucky to have you teaching them American history.
Thank you for adjusting to the unfortunate circumstances of the last couple of years with such grace. I don't know how you and your colleagues do it, but I hope you know us parents appreciate everything you do for our children.
Thank you for keeping [KID'S NAME] interested in physics. They're confidence has shrunk significantly over the last couple of years when it comes to science in general. I am so thrilled to see them blossom in a subject they thought they weren't cut out for. 
Thank you for not only teaching my child with such expertise, but also with such care and open mindedness. We are so grateful to know you have their best interests at heart.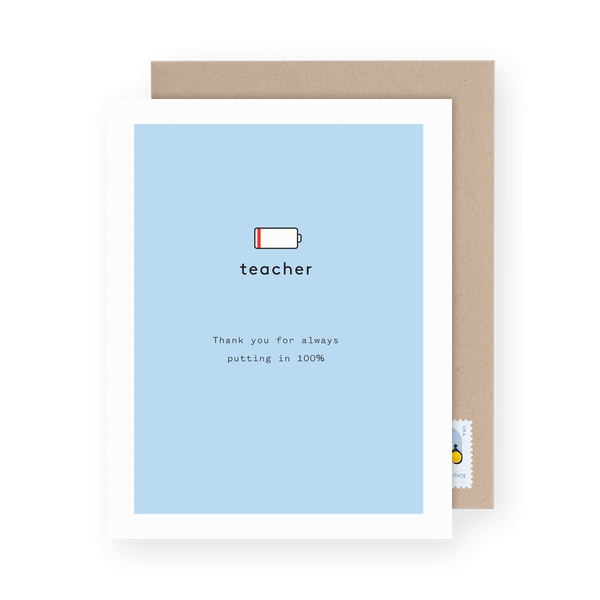 Thank You Teacher Messages From Students
Parents shouldn't be the only ones thanking teachers. In fact, kids should be on the frontlines of this endeavor whenever possible (of course the tiniest kiddos won't have the capacity just yet).
Thank you for being so patient with me the last few weeks. I think I've finally got a good grasp on [SUBJECT] and it's all thanks to you.
Thank you for turning the cell cycle process into something so engaging we couldn't help but remember every single step. I know you didn't have to approach the subject matter with such creativity and just wanted to say thank you. It helped so much!
Thank you for going out of your way to acquire all the costumes our class could possibly need to reenact the final scene of Romeo and Juliet. It was definitely more exciting to watch.
Teaching isn't for everyone, but you've got it down! Thank you for being such a cool teach!
Thank you for being such a unique and one-of-a-kind teacher. Your point of view helped to make sense of some really confusing concepts!
Thank you for teaching me how to access my self confidence before getting up and doing my speech. Your words had an impact on me.
Our class is so lucky to have you as our teacher.
I am grateful to have been exposed to your sense of curiosity for learning. It was so contagious that I can't wait to keep asking questions! Thank you for being such an inspirational teacher.
Thank you for making me laugh. You were by far the funniest teacher I've ever had and I learned so much in all the laughter.
Your ability to see the good in everyone has been such an inspiration to me. Thank you for showing us that everyone deserves respect and teaching us far beyond the syllabi.
A mere thank you will never suffice, but it'll have to do for now. Thank you for teaching me how to ask the right questions. Your students are lucky to have you (myself included).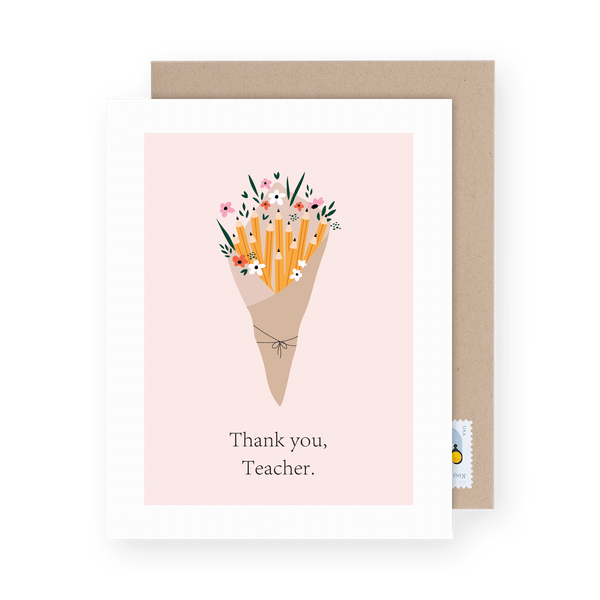 Teacher Appreciation Messages For End Of the School Year
You can use many of the previous samples above for an end of the year teacher appreciation card, but here are some more specifically tailored for that occasion.
What an incredible school year!? Thank you for being part of what made it possible.
A huge thank you for never wavering in your dedication to providing us the best possible instruction. You made my senior (and final) year in school one to remember.
Thank you for being awesome in my last year in elementary school!
I am so happy you were my teacher this year. Thank you for helping us learn!
This year flew by. I guess that's what happens when you're having fun learning?! Thank you for making that possible.
Thank you for never making me feel like I had a stupid question. You made learning so much easier for me this year and for that I am so thankful.
I'm so happy you were my teacher this year. Thank you for helping me learn!
Thank you for making learning so fun this year!
Best teacher ever! Thank you for being so fun all year!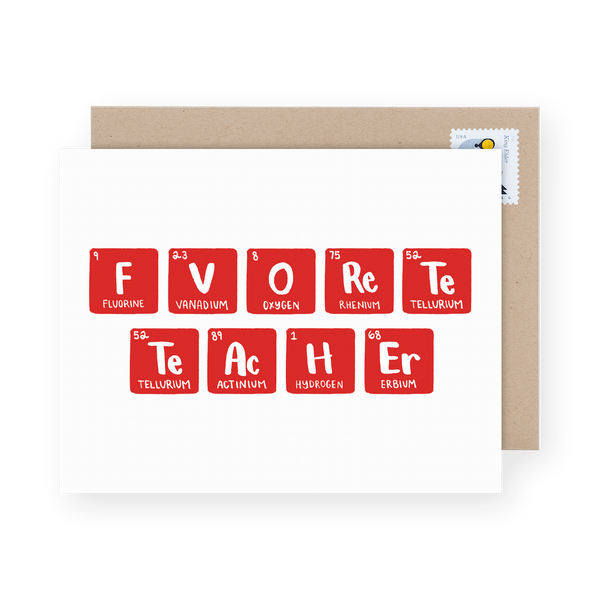 Teacher Appreciation Messages For Teacher Appreciation Week
As we've already mentioned, you don't need to wait until Teacher Appreciation Week or the end of the year to give your teacher a thank you note. The following teacher appreciation messages are specifically geared towards that week, but feel free to use any (or any combination) of the messages listed in this whole post. 
Teacher Appreciation Week is here and I hope you know how much us students appreciate everything you do for us.
Thank you for all that you do for your students this Teacher Appreciation Week AND every other week of the year.
I hope you know how grateful I am that you are my teacher this – and every other – week.
Thank you for bringing out the best in me and all your students this Teacher Appreciation Week (and every other week of the school year).
Teacher Appreciation Messages For Your Former Teachers
Sometimes it takes a few years and some distance to realize just how much of an effect a teacher had on you. And when that moment comes, make sure you reach out to your former teacher and give them a big old thank you!
I am forever grateful for your guidance during high school. I now see just how much your strict deadlines did to prepare me for college and beyond. Thank you for never letting up!
It's because of you that I decided to pursue my dream of becoming a marine biologist. I was ages ahead of my college classmates in foundational concepts that you so expertly taught us. This gave me the confidence I needed to make it happen. Thank you!
Thank you for instilling a deep seeded sense of curiosity in me from an early age. I still remember your fourth grade science class to this day and credit it with my success in pursuing medical school. Thank you for being such a great teacher to kids!
Thank you for believing in that little scrawny kid in your 4th period theater class ten years ago. Your encouragement gave me the confidence to audition and subsequently snag a role in an upcoming Off Broadway play. Thank you!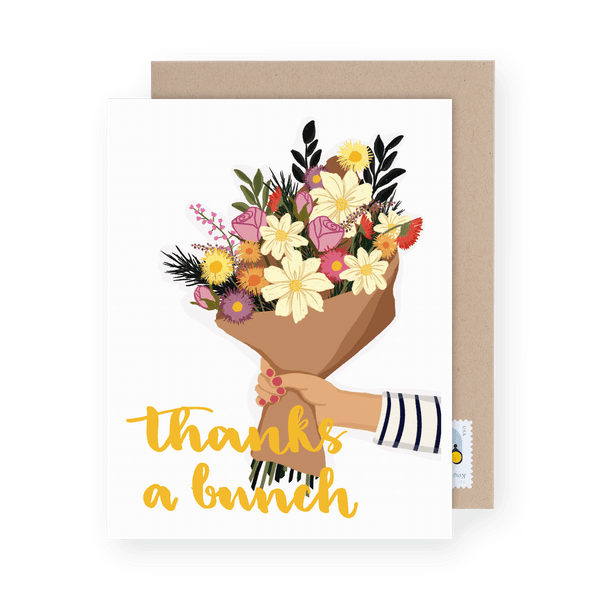 Thank You Teacher Quotes To Use in Your Teacher Appreciation Cards
"If you can read this, thank a teacher." – American Proverb
"A good teacher is like a candle – it consumes itself to light the way for others." – Mustafa Kemal Ataturk
"As we express our gratitude, we must never forget that the highest appreciation is not to utter words, but to live by them." – JFK
"It's easy to make a buck. It's a lot tougher to make a difference." – Tom Brokaw
"It takes a big heart to help shape little minds. Teaching is the greatest act of optimism." – Colleen Wilcox
"One child, one teacher, one book, one pen can change the world." – Malala Yousafzai
"Education breeds confidence. Confidence breeds hope. Hope breeds peace." – Confucius
"It is the supreme art of the teacher to awaken joy in creative expression and knowledge." – Albert Einstein
"Let us be grateful to the people who make us happy; they are the charming gardeners who make our souls blossom." – Marcel Proust
"It's easy to make a buck. It's a lot tougher to make a difference." – Tom Brokaw
"A teacher is a compass that activates the magnets of curiosity, knowledge and wisdom in the pupils." – Ever Garrison
"A mind, once stretched by a new idea, never regains its original dimensions." – Oliver Wendell Holmes
"Nine-tenths of education is encouragement."- Anatole France
"Better than a thousand days of diligent study is one day with a great teacher." – Japanese Proverb
"Those who know, do. Those who understand, teach."- Aristotle
"Everyone who remembers his own education remembers teachers, not methods and techniques. The teacher is the heart of the educational system." – Sidney Hook
"What we learn with pleasure we never forget." – Alfred Mercier
"My teacher thought I was smarter than I was – so I was."- Six-Year-Old Child
"The greatest sign of success for a teacher… is to be able to say, 'The children are now working as if I did not exist.'" – Maria Montessori
"A teacher affects eternity: he can never tell where his influence stops." – Henry Adams
"Anyone who does anything to help a child in his life is a hero to me." – Fred Rogers (Mister Rogers)
"I can no other answer make but thanks, and thanks, and ever thanks…" – William Shakespeare (Twelfth Night, Act III, Scene 3)
"Your heart is slightly bigger than the average human heart, but that's because you're a teacher." – Aaron Bacall
"Teaching kids to count is fine, but teaching them what counts is best." – Bob Talbert
"It's the teacher that makes the difference, not the classroom." –Michael Morpurgo
"The art of teaching is the art of assisting discovery." – Mark Van Doren
"Appreciation is a wonderful thing. It makes what is excellent in others belong to us as well." – Voltaire
"Kindness is a language which the deaf can hear and the blind can see." – Mark Twain
6 Thoughtful Teacher Appreciation Cards Your Teachers Will Love
With all of the unique thank you teacher messages above, you're ready to compose the world's greatest teacher appreciation card. To get started, you'll need a card. If you don't already have one, these cards can all be personalized with your unique message straight from your phone or computer and mailed directly to your teacher.
Just choose the card, write your message and click send. Postable will print, address and mail the card for you. And don't worry if you want to try it out first… Create as many drafts of as many cards as you like without checking out.
1. Best Teacher Ever by Spaghetti & Meatballs
This pink teacher appreciation card is delightfully straight to the point. Is your teacher the best ever? Make sure they know it!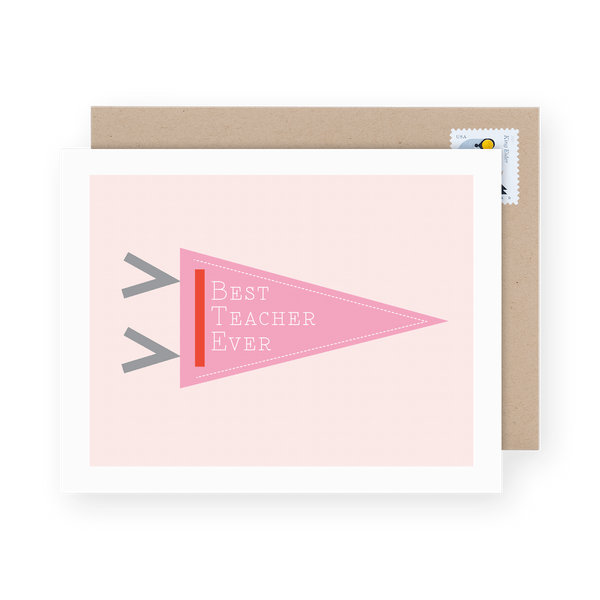 2. Thank You For Teaching Me by Two Pooch Paperie
This adorable greeting card would be perfect for younger students just starting to write their own teacher appreciation cards. Seriously, what teacher wouldn't love this!?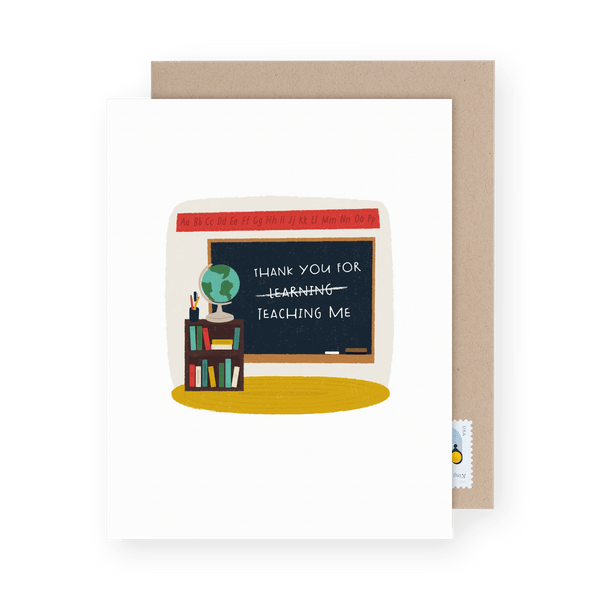 3. Netflix and Grade by Spaghetti & Meatballs
This funny teacher thank you card would be perfect for those of us with teacher friends. If you've got a friend that teaches, sending them a thank you card is totally appreciated. Nobody said you have to be a student (or know one) to send a thank you to a teacher. We all benefit from their dedication.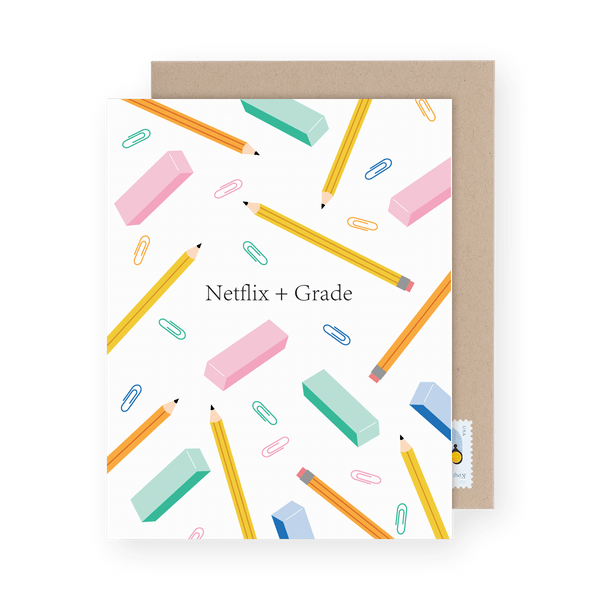 4. Teacher Wine by Spaghetti & Meatballs
Another funny card to send to a teacher you know. This may not be the most appropriate for a student to send to their teacher, but if you have a friend that is a teacher – this is a funny way to show your solidarity with them. Teaching, especially today, can often feel like an uphill battle. Wine and giggles can help.
5. Teaching Gift by Live Love
This simple thank you teacher card has the perfect thank you teacher message right there on the front design. All you have to do is add some personalization with details as to how your teacher impacted you in the inside message.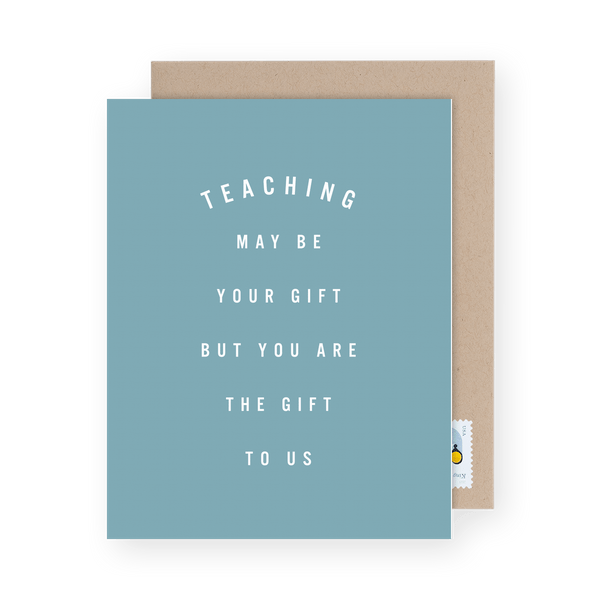 6. You're a Wonderful Teacher by Night Owl Paper Goods
Know a wonderful teacher? This would be a lovely teacher appreciation card to send them.