Ready for some epic Friendsgiving ideas you can use this year? November: the month of fall goodies. Everything from pumpkin pie to roasted turkeys will be making appearances all month. And while it's just the precursor to the bigger — even more festive — event that is the holiday season, November is all about Thanksgiving. Even though the big day is close to the end of the month, everyone is likely already in a thankful mood. Not to mention hungry. Hungry for mashed potatoes, pecan pie and all the stuffing. Yum… What were we talking about?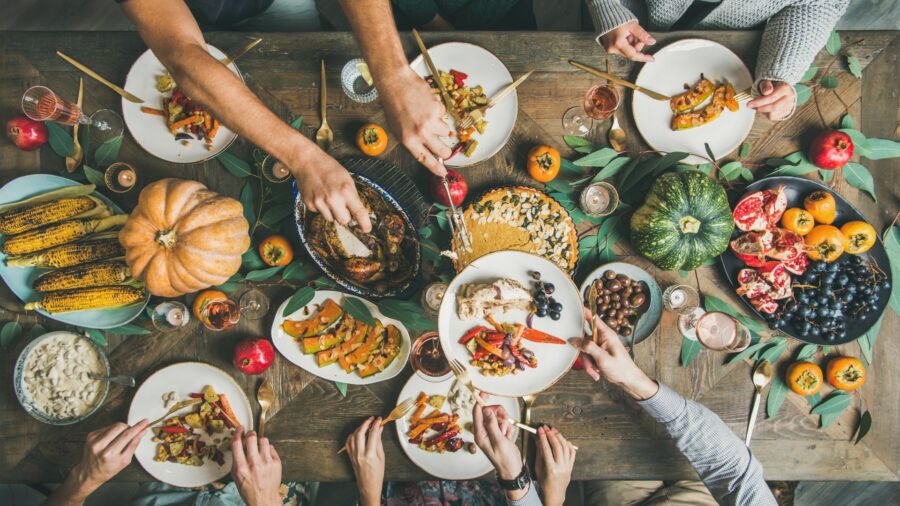 Right — November. Aside from hosting the single biggest Food Coma Day (aka Thanksgiving) of the year, November is also host to a slew of Thanksgiving themed feasts all leading up to the big day. Friendsgivings will be popping up all over the place and all over your calendar. And if you're the one hosting this years' gathering, you must be very excited! We know we are! Hosting Friendsgiving can be a little stressful, but it doesn't have to be. Mostly because we've got Friendsgiving ideas that'll make this year's gathering one to remember. Friendsgiving is your chance to test out that special recipe you're hoping to showcase at the real deal (Thanksgiving). Think of this gathering as your dress rehearsal. It's also your opportunity to get a little creative. This isn't Thanksgiving. Grandma isn't going to be there making sure everything is up to traditional standards.
Go ahead and make a giant ham instead of a Turkey — if you so wish. Your friends won't mind. If you're keen for some fresh Friendsgiving ideas — we got you covered. Everything from Friendsgiving menu ideas to funky decor inspiration — this list is full of everything you'll need to host the greatest Friendsgiving of all time.
Navigate your way around this article:
Don't forget to send Friendsgiving invitations!
Before we dive into all the ideas, let us not forget the thing that'll get your party started: the invites. Your guests will need around two weeks to make plans to attend your Friendsgiving so make sure they have the invites in their hands about 2-3 weeks in advance. Any more and they'll forget about the event; any less will prevent them from making arrangements in time.
Sure, you could send a text, an email, or even set up a Facebook event… OR you could send real, hold-in-your-hand Friendsgiving invitations that will be impossible to ignore. Plus, real paper invites give your party a little extra class.
*Bonus: send your real paper Friendsgiving invites with Postable. You never have to lick a stamp. Just customize your invite (and there are many designer creations to choose from), enter addresses, and click send.
Postable will mail your invites for you.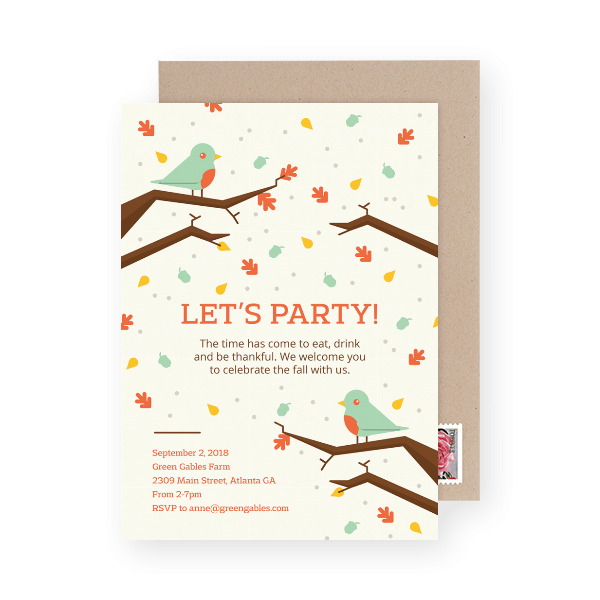 Friendsgiving menu tips.
Before diving into specific menu ideas, let's cover the basics. Should you cook the entire Friendsgiving dinner yourself? Can you do a lunch or brunch or even a breakfast Friendsgiving? What if you're allergic to cooking, but still want to host a Friendsgiving? Will your friends have an uprising if there's no turkey to be seen?
All really great questions we hope to answer below. But to sum things up as we usually do with these types of things: you do you. Tradition is cool, but if you're the kind to dance to the beat of your own drum, we say go for it! Host Friendsgiving your way — whatever that means. We're just here to help make the process easier and help you with some fun Friendsgiving ideas. Take what you like, leave what you don't.
Turkey goes to the host.
Unless you're some sort of superhuman cooking genius who finds cooking two epic feasts a fun endeavor, we wouldn't recommend taking on the entire Friendsgiving meal yourself. Perhaps if you're not responsible for Thanksgiving you'll be more inclined to do the whole Friendsgiving meal, but just in case you're not… We'd suggest hosting a Friendsgiving potluck to make the whole thing more manageable.
*However, the main event should definitely be up to the host. Cooking a Turkey and transporting it is too much to ask of your guests so be sure to take this on yourself.*
The USDA says 1 lb per person (or bigger if you're looking to have leftovers). Don't forget to give yourself time to thaw the turkey if it's going to be frozen (24 hours for every 4 to 5 lbs). There are also some gourmet groceries that will roast a turkey and deliver it to you if you don't feel like taking on such an enormous task. And to that end, you can even get creative by making a few small 'main events' like a pork loin, ham, and even tofurkey!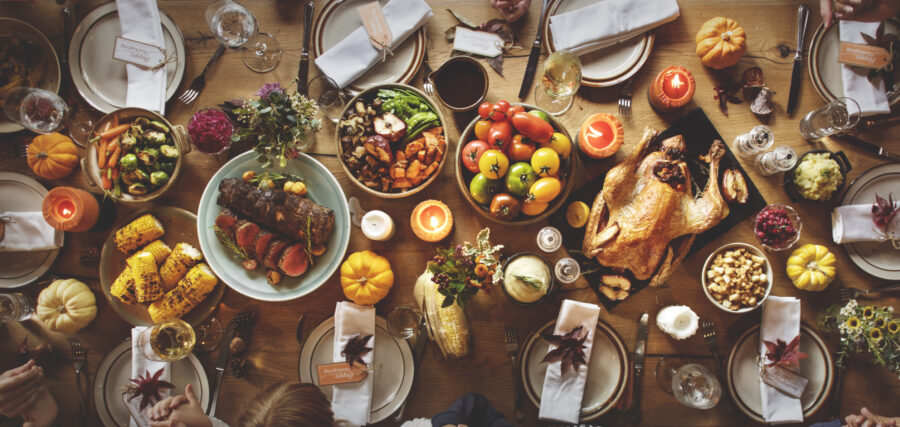 Friendsgiving side dishes go to the guests.
Ask your friends to bring their favorite Thanksgiving dish or something unique to their own traditions. It's much easier for guests to bring over a casserole than a giant turkey. The friends who are completely useless in a kitchen can contribute booze to the party. Be sure to have an empty table ready to go for your guests to place their dishes. Include a tall glass filled with serving utensils that guests can place into their dishes. A fun addition could be blank table tents (or sticky notes) on which to write their dish's name to spark conversation (and make it easier on everyone when serving themselves later). You can also use brown paper to serve as a tablecloth that you can write on. Leave markers out so that your guests can write the names of their dishes directly on the table.
Don't forget the booze.
Some of your guests will be bringing booze to contribute so don't feel like you have to have enough alcohol to last all night. You should, however, have some booze to get things started like a few bottles of red wine or even one giant pitcher/container of a fall cocktail.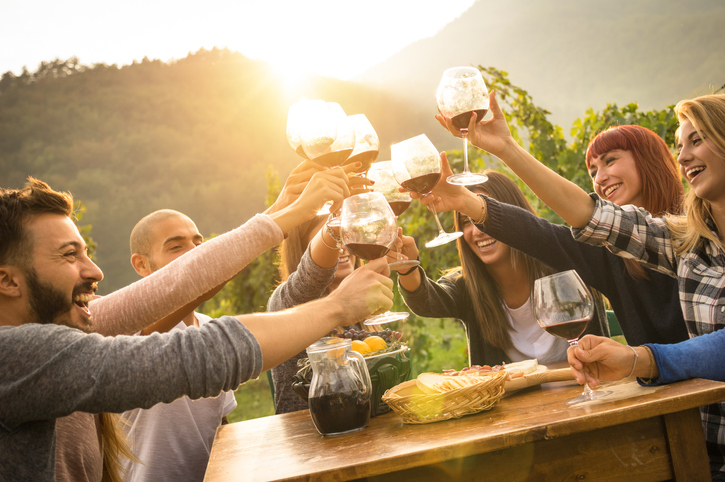 Keep a running list of menu dishes.
Sweet potatoes are all fine and dandy, but when everyone decides to make them it doesn't work out well. Make sure to organize your menu ahead of time to make sure all the basis are covered. You can use Facebook to organize the menu. Ask your guests to comment with their dish and keep an updated list of the menu in the description so guests will know what's left.
Friendsgiving ideas for menu items.
Ok, so you've got a general idea of how to approach your Friendsgiving food situation. Now for the specifics. We told you we were full of Friendsgiving ideas and we weren't joking. Have at it and remember: don't feel like you have to replicate these ideas exactly. This isn't an invitation for a Pinterest fail. Take these ideas and adjust them so that they work for your Friendsgiving resources and budget.
Themed cookies
Everyone loves a good cookie. Ok, most everyone with a soul anyway. Keep it simple by baking your favorite cookies in their good old fashioned circular shapes or get creative and use some fall themed cookie cutters. This is one Friendsgiving food idea that is versatile and can serve both as a yummy treat as well as decor. We love efficiency! Don't be fooled, you can totally bake adorable cookies with a simple cookie recipe and a turkey (or some other fall theme) shaped cookie cutter. If you'd rather just order ready-made cookies and it's in your budget, go for it! 
Set up a dessert or cookie table or use a large single cookie as part of the table setting.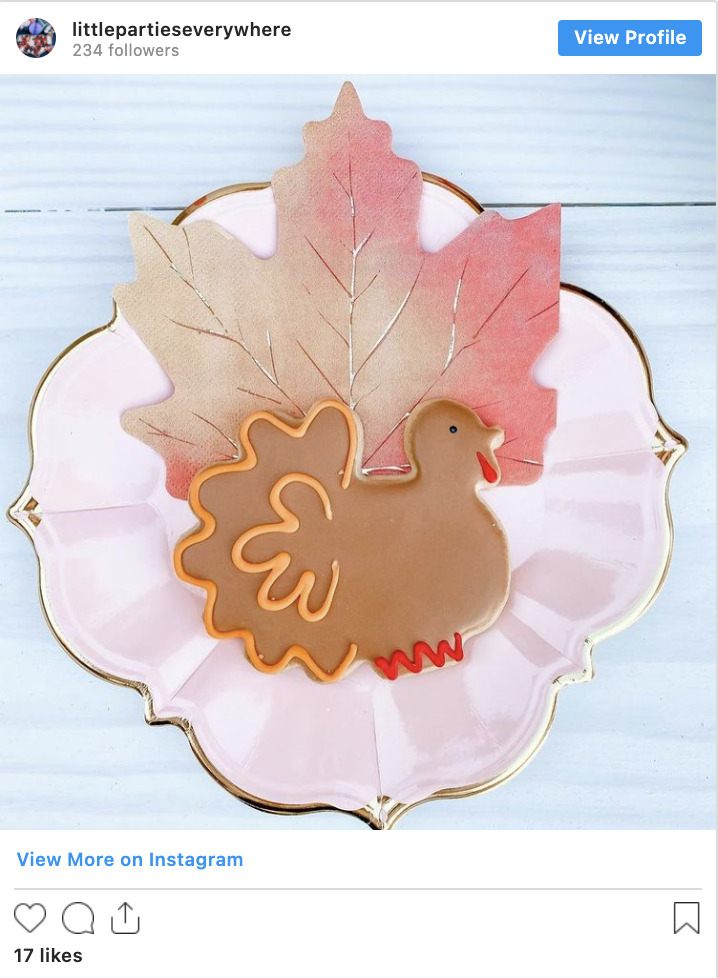 Friendsgiving pies
If you're not feeling up to cooking TWO turkeys (one for your friendsgiving and another for the actual Thanksgiving meal) then we've got good news: you can still host a Friendsgiving party. Narrow your Friendsgiving menu with a theme so nobody expects a Turkey or even a full blown meal. For example, you could host a Friendsgiving Tea Time (with turkey filled tea sandwiches and pumpkin spiced lattes). Another Friendsgiving idea would be to use a pie theme. Have everyone make a pie (potluck style) and set up a Pie Bar for everyone to enjoy. It'll be a memorable experience and you can go ham on the decorations!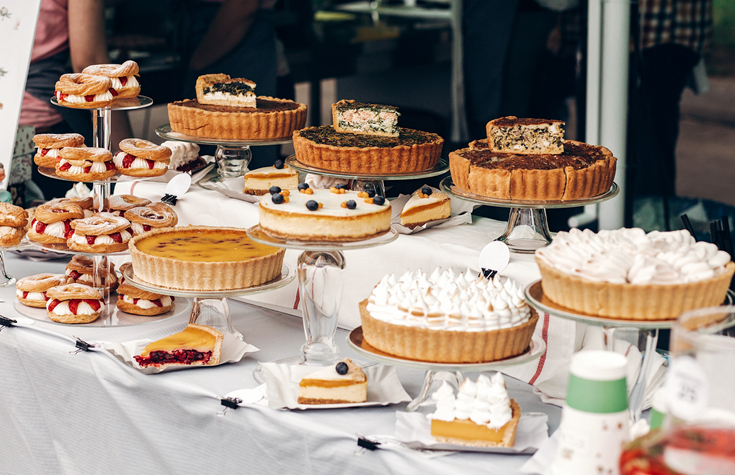 Custom themed wine labels
Drinks certainly fall under the menu purview and wine is typically a crowd favorite. As we've already mentioned with the cookies, you can have your Friendsgiving menu items work double time. By getting custom wine labels, like these from HarperandIvy on Etsy, you're adding a bit of decoration and Friendsgiving vibes without adding extra decorations. Your wine will serve as both the booze and the decor.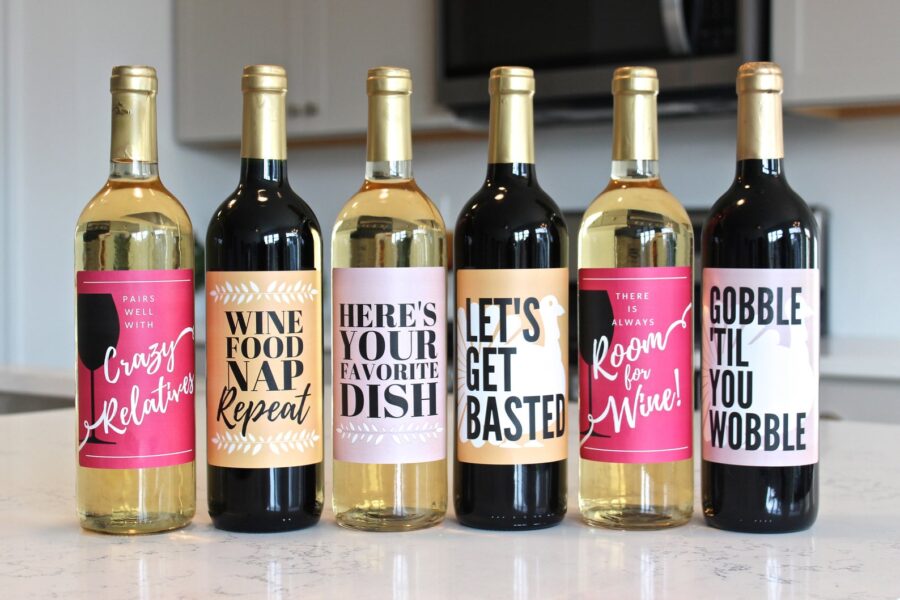 Friendsgiving ideas: skip the pies, have a cake
Who says you can't have Friendsgiving cake and eat it too?! As much as we love a good pumpkin pie, if you're feeling like a cake is in order for your Friendsgiving party, then go for it! Just add a delightful little Happy Friendsgiving cake topper (like this one from Celebrationhill on Etsy) and voila!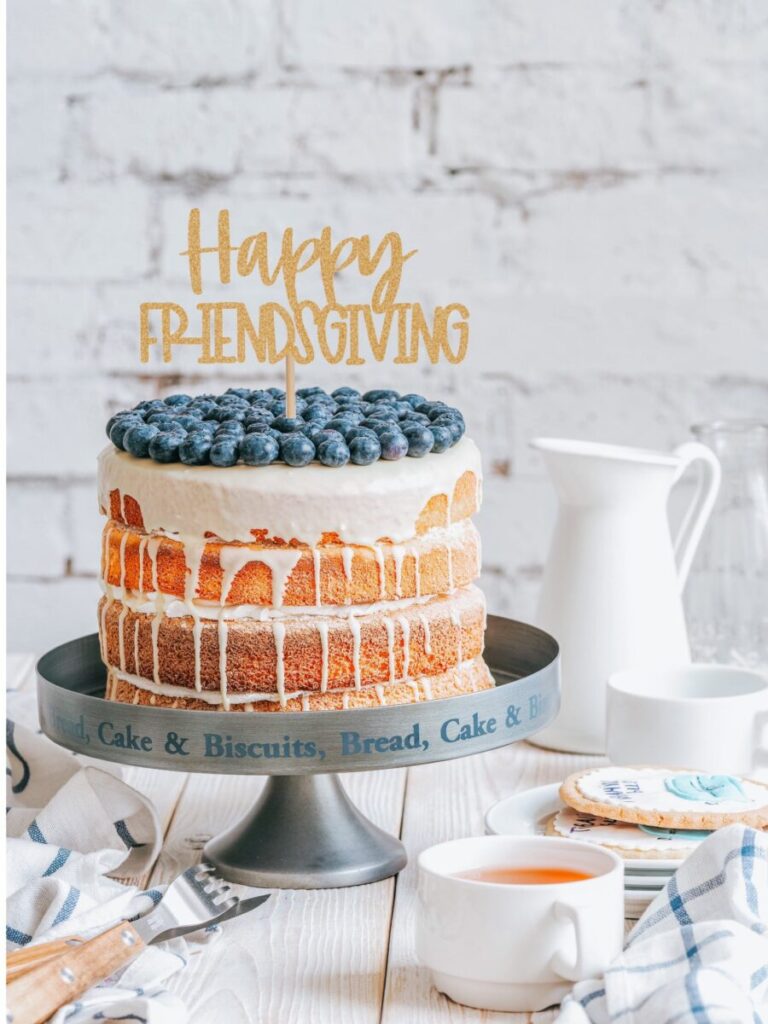 Friendsgiving ideas for the decor.
As you've already probably noticed, we've suggested a few Friendsgiving ideas for decorations by using your menu items to serve double duty. That doesn't mean, however, that you can't also have other Friendsgiving decorations to spice things up for your gathering. Here are some fun ideas to get you started.
Friendsgiving decorations and party favors that are actually useful
Let's get real for a moment — useless party favors are, well, useless. Another shot glass? Why? And while party favors are totally optional when it comes to Friendsgivings, if you want to have some nonetheless why not give out favors that people will actually use (and love). And who doesn't love adorable little succulents?!? They're like puppies, only smaller and less playful. Get extra crafty by using them initially as your friendsgiving party decor. That way they give life to your party and then your guests can help you clean up by taking home a little piece of the event with them.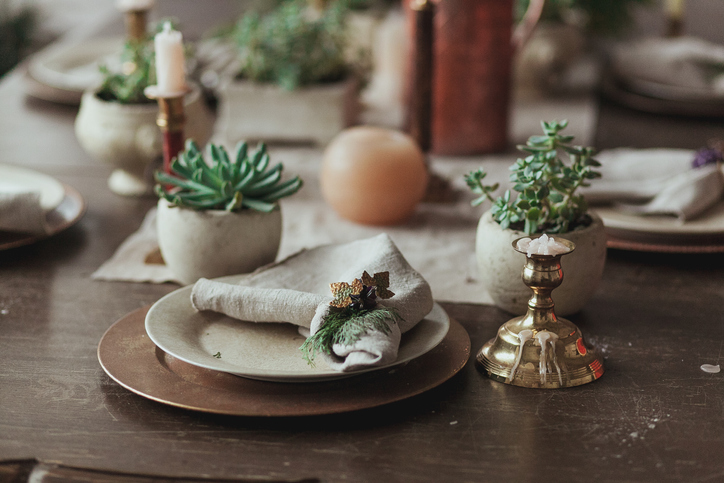 Give the fall colors a rest
There's nothing wrong with traditional fall colors. In fact, we're huge fans. But in case you're dreaming up a Friendsgiving that's coloring outside the lines, why not go for something different. You can literally use any color scheme you want. Throw caution to the wind and get creative. If you're not in love with the idea of throwing the fall theme totally out of the running, consider incorporating untraditional colors into the mix in a more subtle way. Think rose golds and deep blush pinks.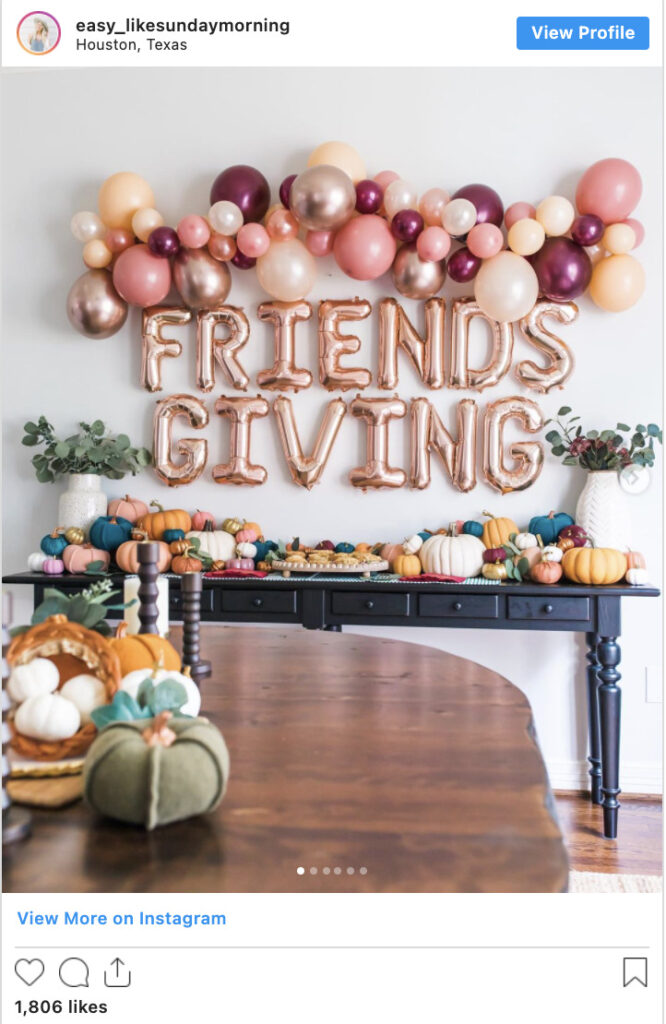 Want to theme your Friendsgiving with pink & gold. Do it. Remember, there are no rules that can't be broken on Friendsgiving. Don't be surprised if your party decor is the talk of Instagram.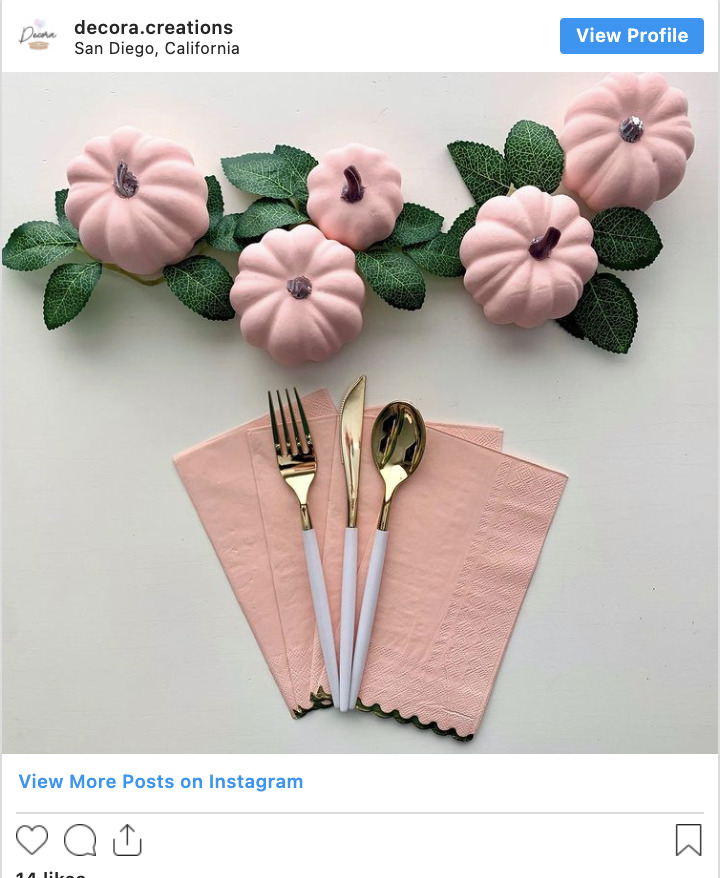 Personal place setting at your Friendsgiving table
If you're looking to make assigned seating for your Friendsgiving — assuming it's a smaller affair — here's your chance to really personalize the experience for your guests with lovely custom place settings, like this one from EdenwoodPaperie on Etsy.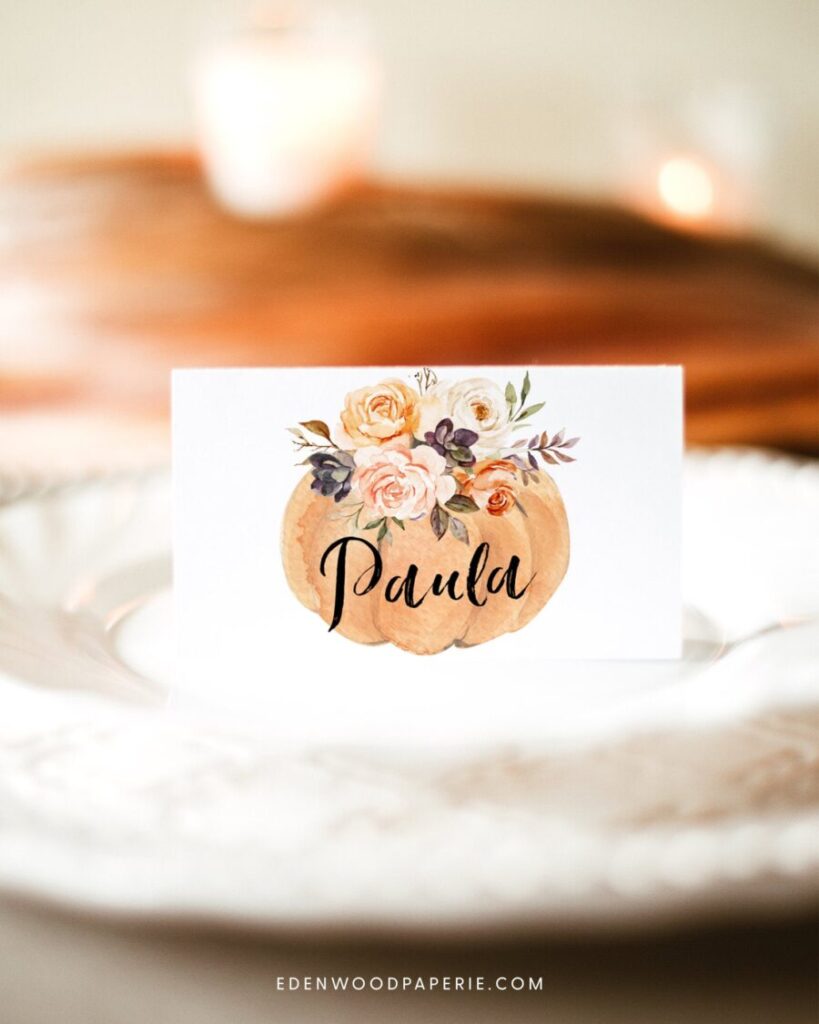 Let the food pop with color
On the complete other end of that colorful spectrum, here's a friendsgiving idea that allows the food to shine. Gather a bunch of small to medium sized pumpkins and paint them all white. Go with an all white decor theme and let the colors in the food make your Friendsgiving table POP!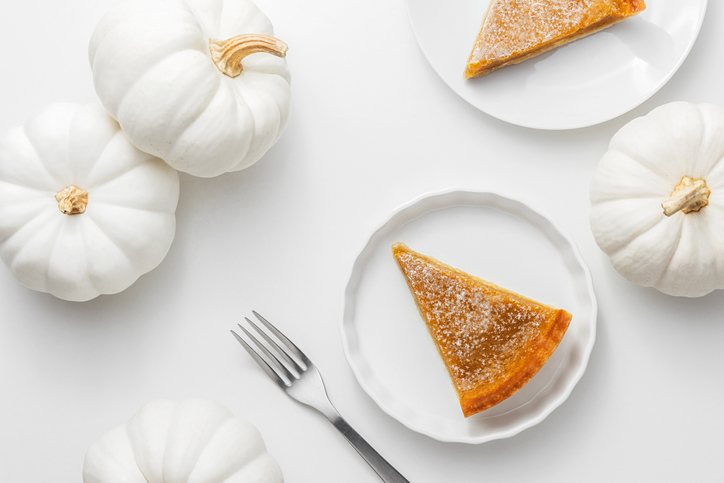 Add a FRIENDS theme to your Friendsgiving
Are you and your friends huge fans of FRIENDS? (How many times do you think we can say 'friends' in one sentence?) If you are, you'd know that Thanksgiving is kind of a yearly tradition for that group and so why not theme your own gathering with that favorite show in mind?!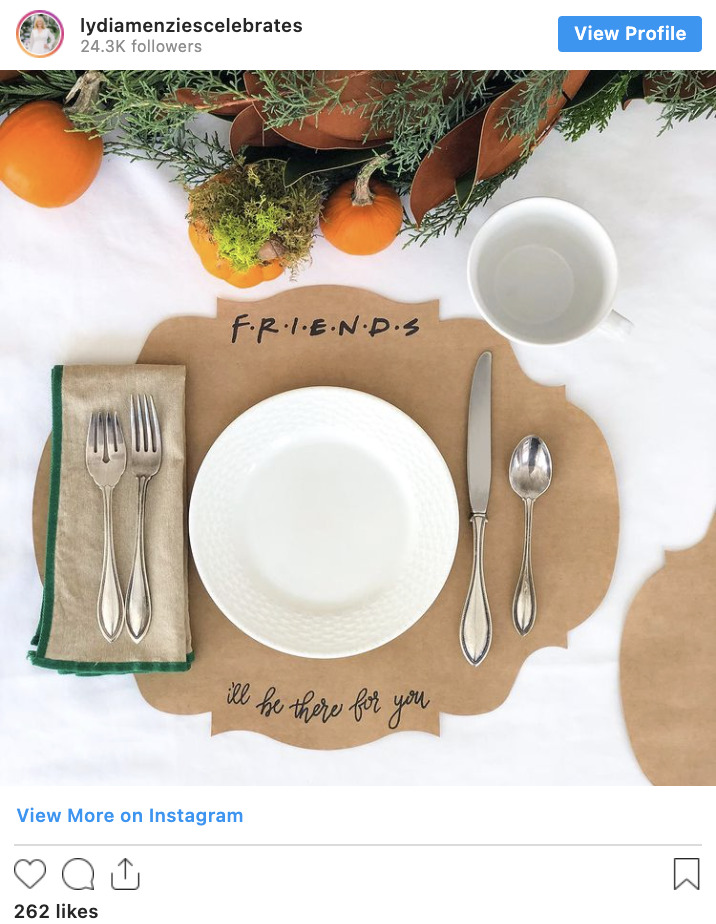 Fall themed decor
Not into the trendy, untraditional approach to your decor? You can make your Friendsgiving event a classic fall affair without too much effort. You don't need a big budget to pull off an elegant fall party with fall themed decor. A simple way to add a little fall elegance to your Friendsgiving is by including a couple cinnamon sticks with a few dried eucalyptus strands and using twine to wrap it around the napkin.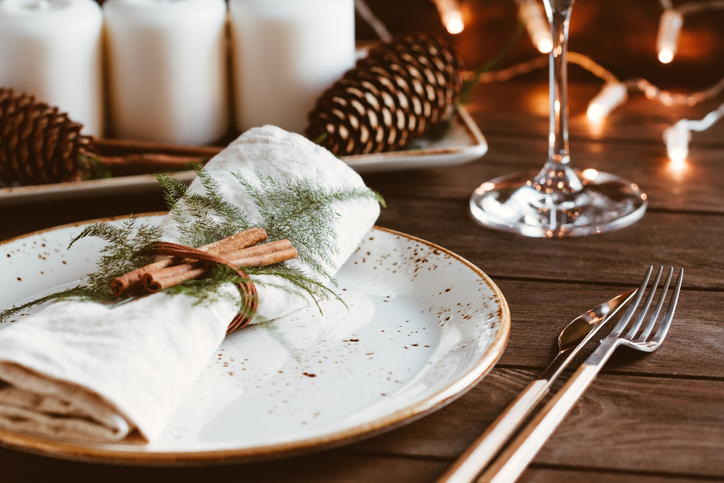 Friendsgiving ideas for leftovers
The best part of any November feast (whether that be Friendsgiving or Thanksgiving or anything in between) is, of course, the leftovers! You cook and you cook and you cook only to have leftovers in the fridge for days on end. Well, if you're hosting the Friendsgiving you may not have enough room in your own fridge to house all the leftovers you're bound to have.
This Friendsgiving idea is both functional and decorative (again with the efficiency!). Setup a little corner with to-go containers, like these from ACottageIndustry on Etsy, that your guests can fill up themselves.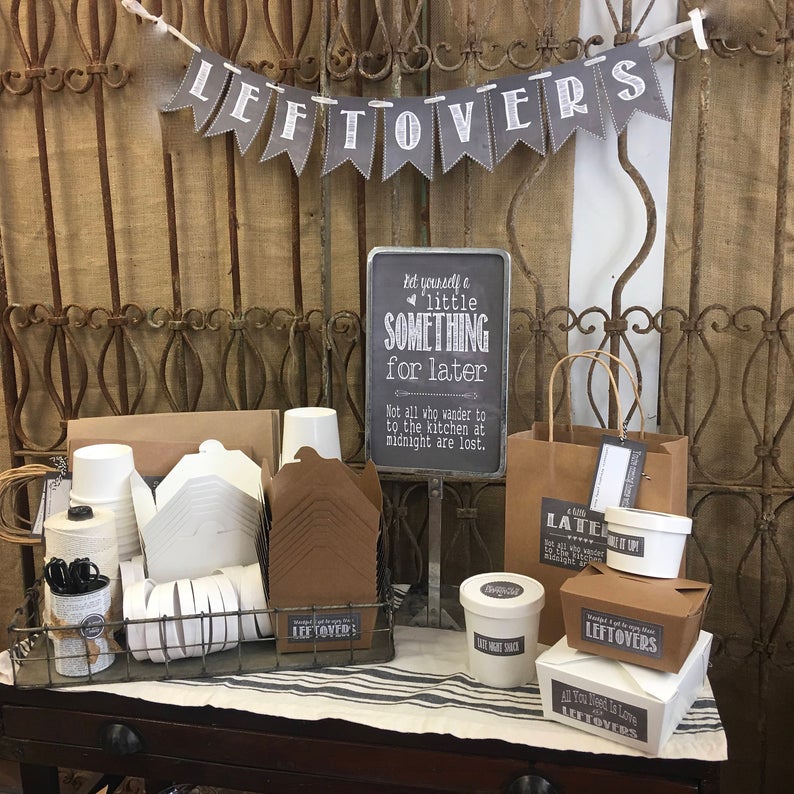 Friendsgiving ideas for the activities.
Ok, so we've covered the food and the decorations. Now, let us share some unique and fun Friendsgiving ideas for things to do during your party. That's not to say that eating, drinking, and mingling isn't enough. However if you're looking for a little extra something for you and your guests to do, we've got you covered.
A Friendsgiving Piñata?!
Why, yes indeed! If you're looking for unconventional Friendsgiving ideas then this one will be right up your alley. Piñatas are sort of a crowd favorite and although they're not typically associated with this time of year, why not get a fall/thanksgiving themed one and have your friends go at it?! Fill it with Fall goodies like pumpkin spiced… Anything. This will definitely be something your guests will enjoy and remember all season long.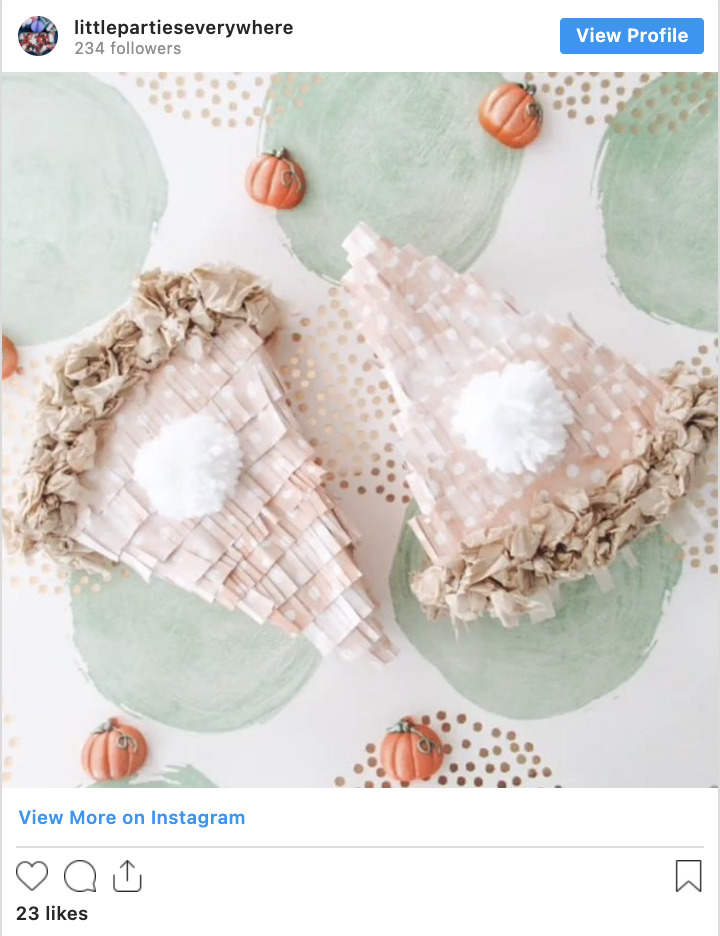 Thank you note station
A lovely way to end your Friendsgiving is to have everyone leave with gratitude. Of all the Friendsgiving ideas out there, this one is probably our favorite — and it's probably not hard to tell why. A lovely Friendsgiving activity is to have your friends write thank you notes to someone in their lives. Nobody else has to know what they write, this is one of those activities that can be done as a group, but without sharing (unless of course someone would like to).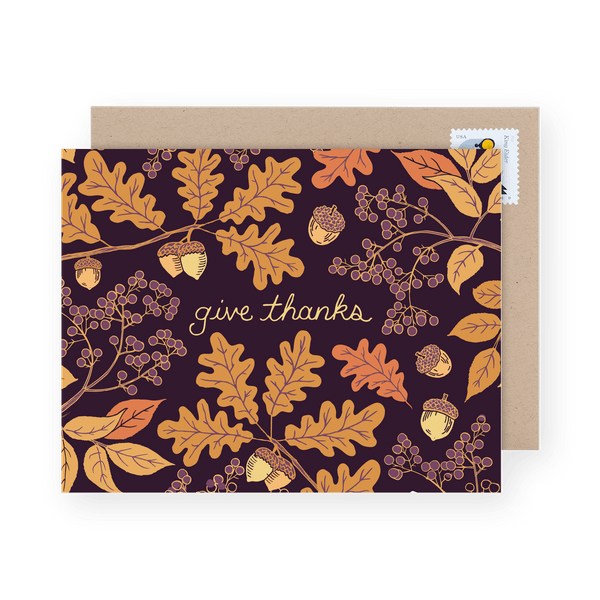 Set up a table with lots of fun (and empty) thank you cards along with writing utensils, envelopes, and stamps at the ready. Your guests can pick their card, write their note to anyone they'd like and seal their envelope right at your Friendsgiving. At the end of your party, you can place all the thank you notes in the mail for them.
Friendsgiving Hosting Tips
We've even compiled tips, specifically for all you hosts-to-be, to throw the most epic Friendsgiving ever. We know how exciting the prospect of throwing your very own Thanksgiving themed get together can be so if you're already knee deep in planning please, don't let us stop you. However, if you've had a chance to stop and smell the pumpkin pie — you'll want to read these Friendsgiving tips before you dive deep into your planning.
Don't invite more than you can fit
The more the merrier doesn't always work for dinner parties (or any party where food is the focus). If there's no room for your guests to put down a plate of food and a glass of wine (or a hot toddy) then you've got a problem. When making your invite list, think of your closest friends first. Once you've got this down and you still think there's room for more — list the folks that may not have Thanksgiving plans of their own or have no family around. At least they'll get to spend one large meal surrounded by great people, wine, and turkey!
Send paper invites
​​Speaking of a guest list, send out real paper invites! Keep your Friendsgiving classy with nice (and fun!) paper invites. It'll totally surprise your guests and give them even more reason to make it to your event. You can even include a Facebook event page on the invite where guests can go to RSVP and organize the menu. [pro tip: You can mail your real paper Friendsgiving invites straight from your computer with Postable.]
Send beautiful Friendsgiving invitations in minutes. Postable will print, address, and mail them for you.
Food over decor
Go easy on yourself. Hosting a Friendsgiving can be a lot. If you're feeling overwhelmed and need to let go of something, then don't worry so much about going all out on the decorations. The food is the main event at a Friendsgiving, but if you want to spice up the room you can add a few pumpkins here and there. Lighting is also a super easy way to add decor without compromising precious space. Hang new lights around your home and use colorful bulbs to add a little fall-esque feel.
Invite friends to prep with you
Have some friends come over early to cook. It will feel so much more like Thanksgiving and will make the preparations for the dinner so much more fun! Prepare some early treats for this group by plopping some bacon in the oven or even preparing a giant quiche ahead of time so you can eat while you prepare to eat some more.
Things to have ahead of your Friendsgiving party
Get things ready days ahead so you're not stressing out or forgetting something last minute. Make sure you have the following:
plates
cups/glasses
utensils
napkins
cooler/bucket for drinks
space in the fridge
chairs/seating
garbage bags
toilet paper
hand soap
hand towels
a playlist
Don't forget to have fun!
Hosting a bunch of people can get stressful. Don't let the little things get you all flustered. Remember this is your chance to spend time with your closest friends and enjoy a massive feast together! Enjoy!!!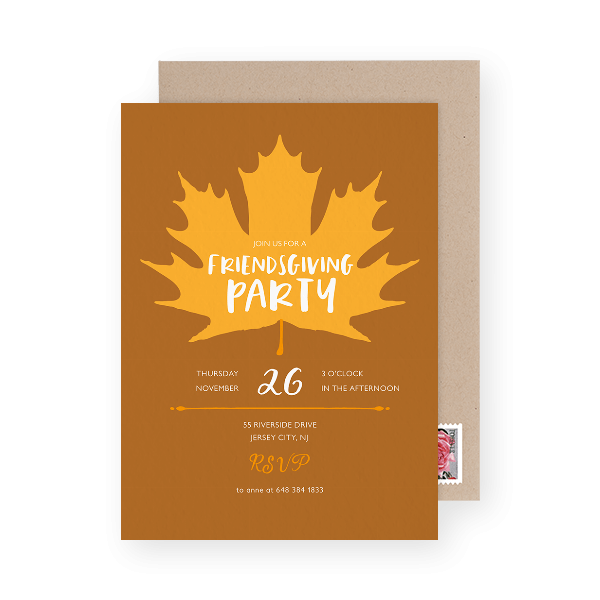 Send beautiful Friendsgiving invitations in minutes. Postable will print, address, and mail them for you.