Thanksgiving is almost here. Hooray! Who doesn't love the season where you eat all the food and drink all the drinks?! But before you go home to the family, spending time and giving thanks with your friends might be worth while (duh). If you're thinking of throwing a Friendsigiving (which you should) we're totally behind this decision 100%. We've even compiled tips, especially for all you hosts-to-be, to throwing the most epic Friendsgiving ever.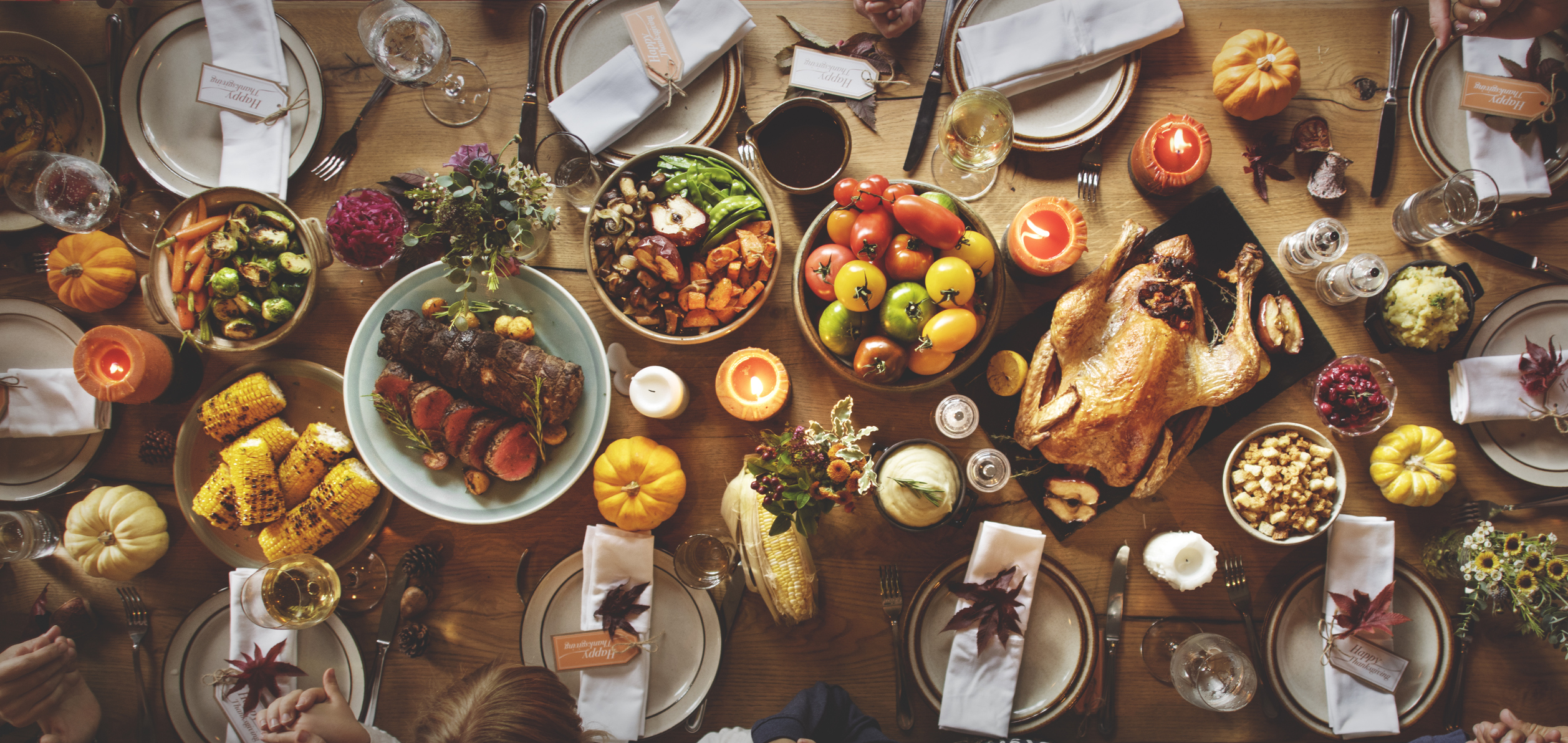 We know how exciting the prospect of throwing your very own Thanksgiving themed get together can be so if you're already knee deep in planning please, don't let us stop you. However, if you've have a chance to stop and smell the pumpkin pie — you'll want to read these 11 tips before you dive deep into your planning.
1. Don't invite more than you can fit
The more the merrier doesn't always work for dinner parties. Seeing as how the main event revolves around sitting down and eating a meal together. If there's no room for your guests to put down a plate of food & a glass of wine (or a hot toddy) then you've got a problem. When making your invite list, think of your closest friends first. Once you've got this down and you still think there's room for more — list the folks that may not have Thanksgiving plans of their own or have no family around. This may not make up for the main event, but if you invite someone without any other plans — you're likely going to make their day (or week). At least they'll get to spend one large meal surrounded by great people, wine & turkey!
2. Send paper invites.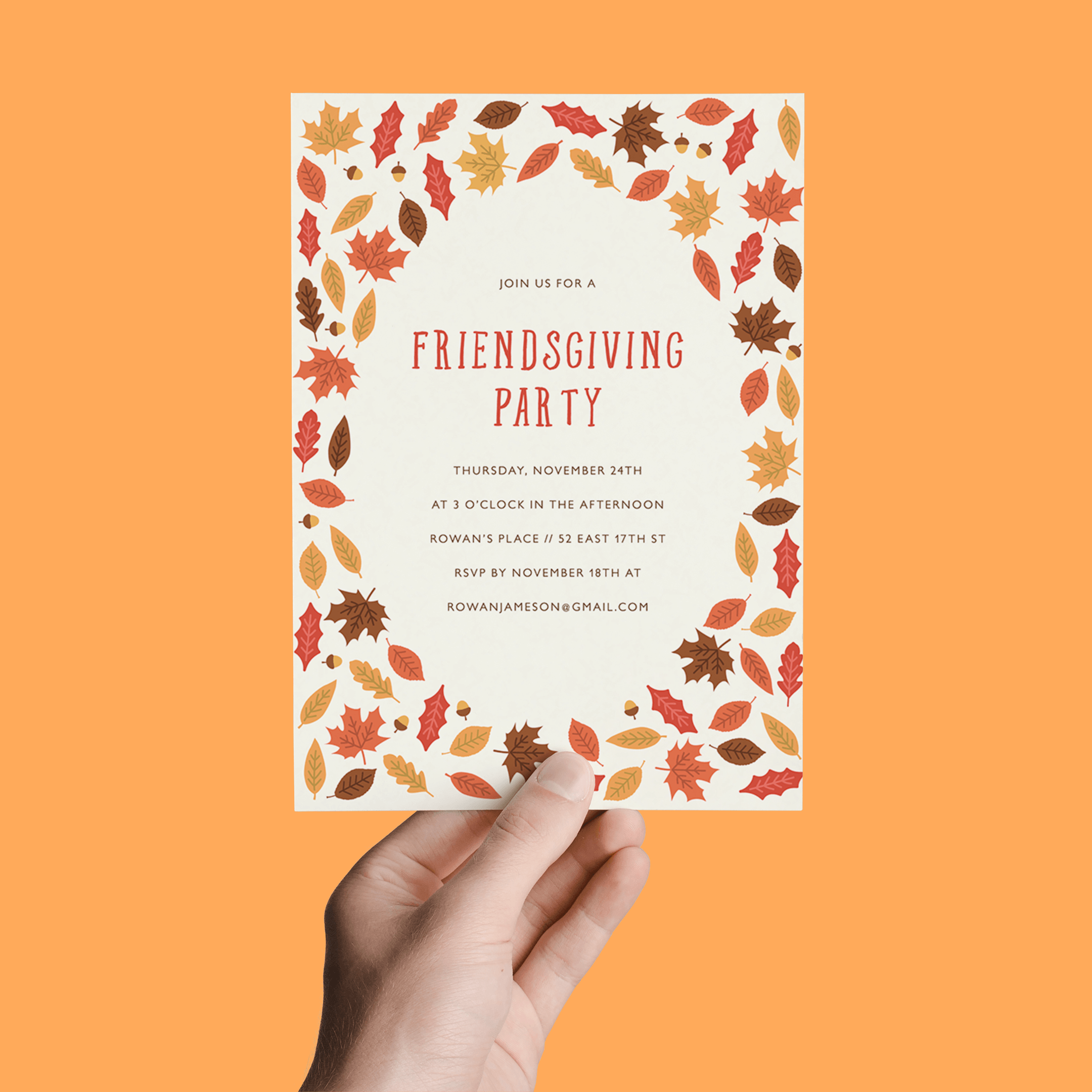 See the cards here
Speaking of a guest list, send out real paper invites! Keep your Friendsgiving classy with nice (and fun!) paper invites. It'll totally surprise your guests and give them even more reason to make it to your event. You can even include a Facebook event page on the invite where guests can go to RSVP and organize the menu. [pro tip: You can mail your real paper Friendsgiving invites straight from your computer with Postable.]
3. Turkey goes to the host.
Don't even think about trying to cook the entire Friendsgiving feast on your own. However, the main event should definitely be up to the host. Cooking a Turkey and transporting it is too much to ask of your guests so be sure to take this on yourself. The USDA says 1 lb per person (or bigger if you're looking to have left overs). Don't forget to give yourself time to thaw the turkey if it's going to be frozen (24 hours for every 4 to 5 lbs). There are also some gourmet groceries that will roast a turkey and deliver it to you if you don't feel like taking on such a ginormous task! And to that end, you can even get creative by making a few small 'main events' like adding a pork loin, ham and even tofurkey!
4. Sides go to the guests.
Ask your friends to bring their favorite Thanksgiving dish or something unique to their cultures and traditions. It's much easier for guests to bring over a casserole than a giant turkey. The friends who are completely useless in a kitchen can contribute booze to the party. Be sure to have an empty table ready to go for your guests to place their dishes. Include a tall glass filled with serving utensils that guests can place into their dishes. A fun addition could be blank table tents (or sticky notes) on which to write their dish's name to spark conversation (and make it easier on everyone when serving themselves later). You can also use brown paper to serve as a table cloth that you can write on. Leave markers out so that your guests can write the names of their dishes directly on the table.
5. Keep a running list of menu dishes.
Sweet potatoes are all fine and dandy, but when 6 of these dishes show up it's not going to work well. Make sure to organize your menu ahead of time to make sure all the basis are covered. You can use Facebook to organize the menu. Ask your guests to comment with their dish and keep an updated list of the menu in the description so guests will know what's left.
6. Food trumps the decor.
Go easy on yourself. Hosting a Friendsgiving can be a lot, don't worry so much about going all out on the decorations (unless that's your thing then go for it). The food is the main event at a Friendsgiving, but if you want to spice up the room you can add a few pumpkins here and there. Lighting is also a super easy way to add decor without compromising precious space. Hang new lights around your home and use colorful bulbs to add a little fall-esque feels.
7. Invite friends to prep with you.
Have some friends come over early to help you cook or just cook together. It will feel so much more like Thanksgiving and will make the preparations for the dinner so much more fun! Prepare some early treats for this group by plopping some bacon in the oven or even preparing a giant quiche ahead of time so you can eat while you prepare to eat some more.
8 Writing down your thanks.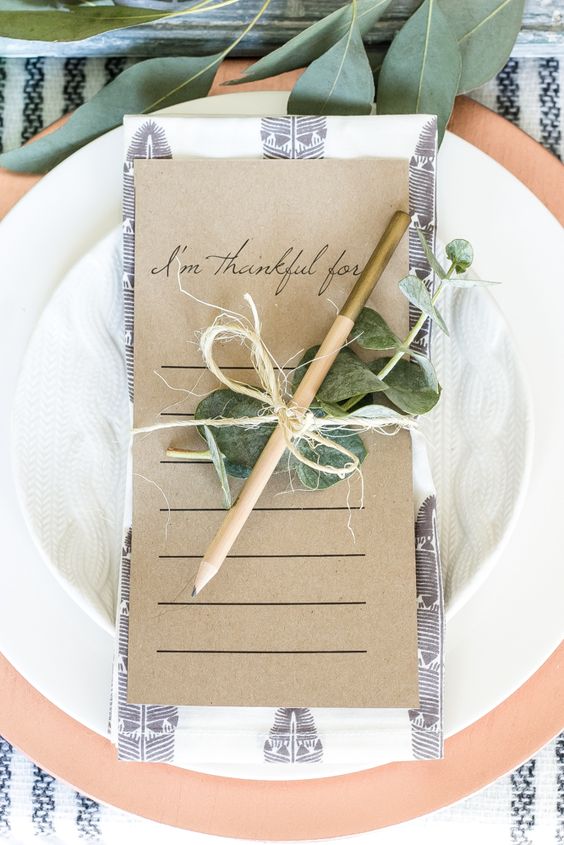 A fun way to allow your guests to give thanks is to let  them write it down! Include some note cards for your guests to write down what they're thankful for this year and don't forget to include writing utensils!
9. Don't forget the booze.
Some of your guests will be bringing booze to contribute so don't feel like you have to have enough alcohol to last all night. You should have some booze to get things started like a few bottles of red wine or even one giant pitcher/container of a fall-esque cocktail.
10. Non-food preparations.
Get things ready days ahead so you're not stressing out or forgetting something last minute. Make sure you have the following: plates, cups/glasses, utensils, napkins, cooler/bucket for drinks, space in the fridge, chairs/seating, garbage bags, toilet paper, hand soap, hand towels & a playlist.
11. Don't forget, have fun!
Hosting a bunch of people can get stressful. Don't let the little things get you all flustered, remember this is your chance to spend time with your closest friends and enjoy a massive feast together! Enjoy!!!