Looking for some guidance on how to write your Thanksgiving message? Thankfully (pun intended) you've found the right place! We've got everything from message examples you can customize for yourself as well as tips on how to go about writing your Thanksgiving wishes — all the things to include as well as avoid!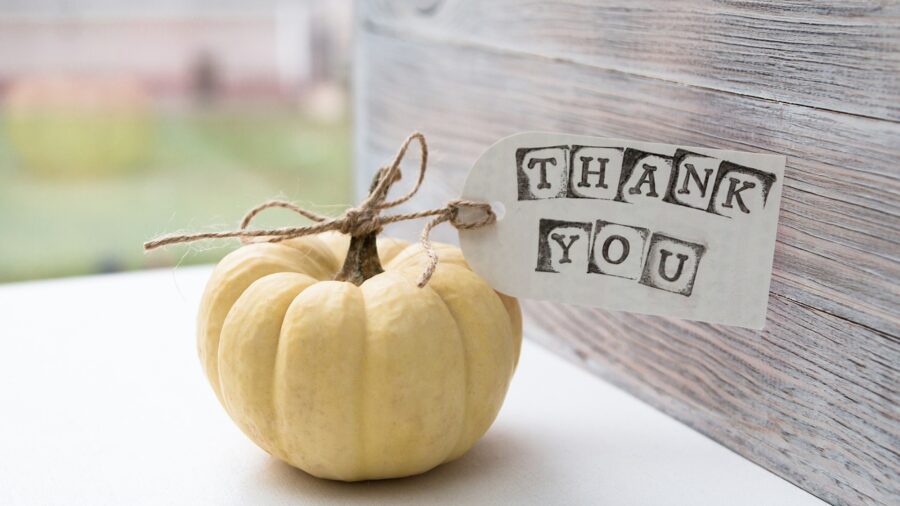 Use code THNKSBLG and get 20% off beautiful Thanksgiving cards. Postable will print, address, and mail it for you.
Even with all the additional chaos 2021 has presented us with, there is still so much to be thankful for this Thanksgiving. We'd even argue one of the greatest gifts this challenging year has given us was a new perspective on the things we've been taking for granted all this time! A new perspective on just how grateful we are for the simplest of things. And while many are still struggling this Thanksgiving, we hope you are able to take a moment and practice some gratitude for all the lessons 2021 has brought us all. And if you're in the mood for spreading some gratitude around, sending Thanksgiving cards is a great way to do just that. In fact, if you're feeling extra gloomy, studies have shown practicing gratitude is one way to boost your mood. So, if you're ready to write your Thanksgiving message, we're ready to give you some pointers and examples.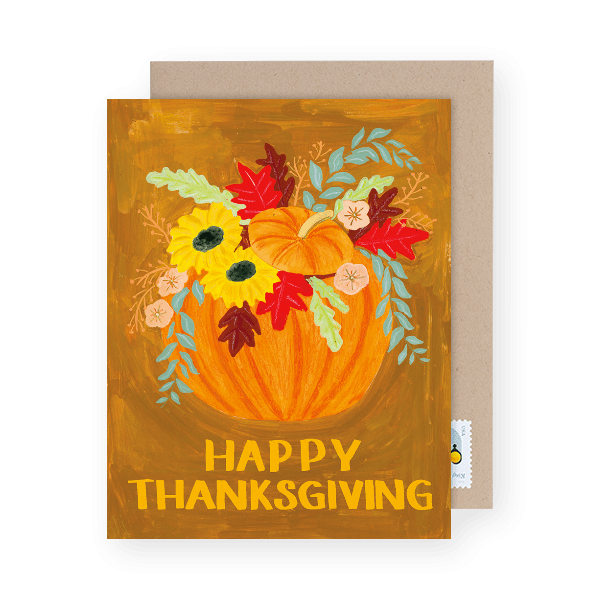 Thanksgiving Message Examples for Everyone
We're wasting no time. Let's get right to the point. Whether you're social distancing in 2021 or gathering with one another, here's a list of some general Thanksgiving messages you can choose from to send to most anyone.
We are so grateful for you and your family! Sending you peace and warmth during this crazy time. 
We all have so much to be thankful for! Sending you and your family a harvest of blessings this Thanksgiving. 
Happy Thanksgiving! We know this year has been rough, but we see your strength and wish you all the best this Thanksgiving.
May you enjoy the warmth of family this season and the harvest of the feast! Happy Thanksgiving!
Sending you laughter, joy and lots of stuffing this Thanksgiving. 
We hope you and your family have been able to get together this year and are enjoying a Thanksgiving feast together! 
Wishing you a Happy Thanksgiving from across the [Street, country, state etc.]. 
What a crazy ride this year has been! We are so thankful for you and your family. Happy Thanksgiving!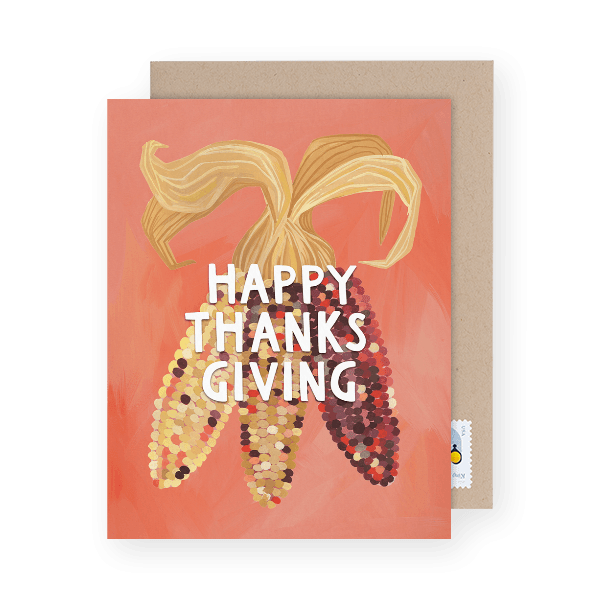 Thanksgiving Wishes For Family And Friends
Whether you're able to join your family this Thanksgiving or are having to socially distance, a loving Thanksgiving card will still go a long way in letting your loved ones know you care.
Wishing you a day of feasting, laughing and loving one another. Happy Thanksgiving! Grateful for each and every one of you!
Thankful to call you family — this and every year! Happy Thanksgiving.
Sending you all my love from across the [country, state, world etc.]! I/we am so grateful to have you all in my life and wish I could be there feasting with you all. Have some extra pumpkin pie for me.
It's been one hell of a year and I cannot be more grateful for you all as you stuck by me each and every step of the way. Happy Thanksgiving!
I am beyond thankful to have you all in my life, this and every year! Sending my love!
Your family is a true blessing in my/our life! Thanking my lucky stars this season that you are all well and healthy. Happy Thanksgiving!
What a year! I am stunned at the level of support you've shown me/us and am beyond grateful for you. Happy Thanksgiving!
Hope you and your family enjoy a delicious feast! Grateful that everyone is well and healthy!
Thinking of you this Thanksgiving season and wishing you all peace and love.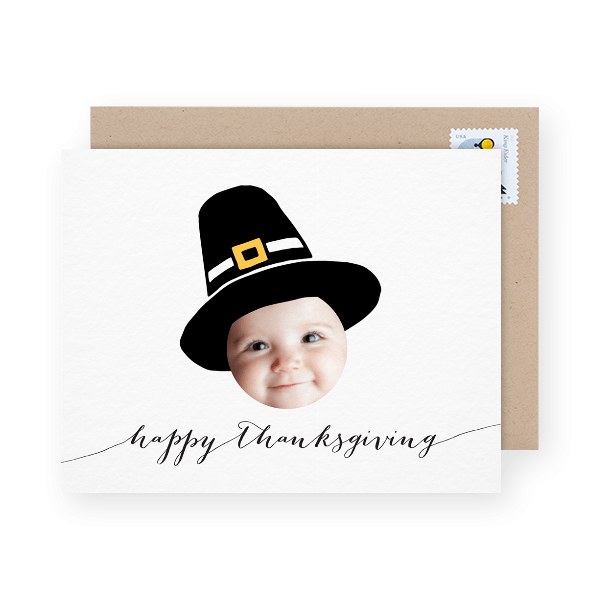 Happy Thanksgiving Message For Colleagues
Sending Thanksgiving cards is definitely not just a family thing. You can absolutely wish your colleagues a happy Thanksgiving. After all, business partnerships are maintained through mutual appreciation and support.
If you're feeling a bit stuck on how to phrase your Thanksgiving message to your colleagues without sounding too sentimental or crossing any personal lines in 2021, we got you.
Taking this opportunity to formally thank you for being such a pleasure to work with. Happy Thanksgiving!
Thank you for always supporting me and having my back. Happy Thanksgiving!
I could not have asked for a better work-mate, thanks for everything and happy Thanksgiving.
Wishing you and your family lots of good eats and gratitude this season!
Grateful for your partnership this year and looking forward to continuing our rebuild next year! Happy Thanksgiving!
Thank you for staying by our side this year. Your loyalty is truly appreciated and we look forward to working with you soon.
Thanksgiving Message to Clients
There are a number of good reasons (hello, customer retention) why businesses have success in mailing out Thanksgiving cards to their client base as well as their employees.
When writing a Thanksgiving message to clients you should stick to a few simple rules like keeping the message short and sweet and focused on the positive all while avoiding the sound of a sales pitch. The same tips and tricks for Business holiday card messages apply here.
Thank you for supporting our small business through the trials of this year. We are grateful for your loyalty and wish you a very Happy Thanksgiving!
Our gratitude goes out to you and your family this Thanksgiving. Thank you for your business in 2021!
We appreciate your business this and every year! Happy Thanksgiving!
The small team at [Company X] thanks you for your patronage in 2021 and wishes you a very delicious Thanksgiving feast!
Happy Thanksgiving from your local [X] business! Thank you for being a loyal customer.
Use code THNKSBLG for 20% off really nice Holiday cards. Postable will print, address, and mail them for you.
Funny Thanksgiving Messages
Although 2021 is no 2020, it's still been a tough year for many of our friends, family, and neighbors. Practicing gratitude in 2021 is likely tough for many people. Hopefully there are still plenty of things to be thankful for. Either way, we can all use a good giggle so why not write something on the goofier side inside your Thanksgiving card this year?
The best part of the holidays is getting to see you! And pie, gotta be grateful for pie.
Happy Spanxgiving! Hope you've prepared your coziest, stretchiest pants for the sleepiest day of the year! Can't wait to feast with you!
Happy Thanksgiving! We've been training for this all year… Let's feast!
This year, I'm grateful for you… And adult beverages. Happy Thanksgiving!
Who's ready to feast?!
You bring the turkey, I'll bring the side dishes… By which I mean booze and lots of it. Happy Thanksgiving!
Inspirational Thanksgiving Quotes
Getting ready to write your Thanksgiving cards means you'll want to get into the gratitude spirit and what better way to do that than by reading some inspirational quotes about being grateful?! You can even add one of these bad boys into your Thanksgiving message for a little extra gratitude *umph*! Here are some famous quotes to get you thinking thankfulness!
"Feeling gratitude and not expressing it is like wrapping a present and not giving it." — William Arthur Ward
"As we express our gratitude, we must never forget that the highest appreciation is not to utter words but to live by them." — John F. Kennedy
"He is a wise man who does not grieve for the things which he has not, but rejoices for those which he has." — Epictetus
"Joy is the simplest form of gratitude." – Karl Barth
"Silent gratitude isn't very much to anyone." — Gertrude Stein
"Piglet noticed that even though he had a Very Small Heart, it could hold a rather large amount of Gratitude." — A.A. Milne
"We often take for granted the very things that most deserve our gratitude." – Cynthia Ozick
"Gratitude helps you to grow and expand; gratitude brings joy and laughter into your life and into the lives of all those around you." – Eileen Caddy
"The only people with whom you should try to get even are those who have helped you." — John E. Southard
"In life, one has a choice to take one of two paths: to wait for some special day–or to celebrate each special day." — Rasheed Ogunlaru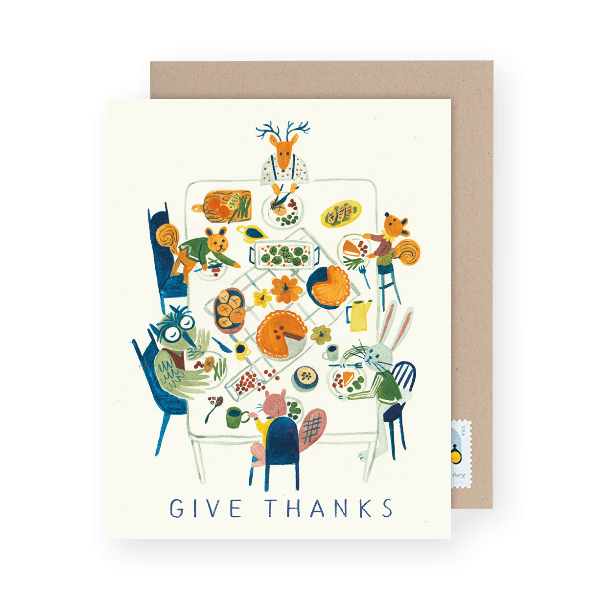 Funny Thanksgiving Quotes
Looking for a quote on Thanksgiving to make them (or yourself) giggle? Thankfully (pun unintended) lots of funny people have had thoughts on this delightful holiday.
"Thanksgiving. Bringing out the best in family dysfunction since 1863." — Anonymous
"A new survey found that 80 percent of men claim they help cook Thanksgiving dinner. Which makes sense, when you hear them consider saying 'that smells good' to be helping." — Jimmy Fallon
"It wouldn't be Thanksgiving without a little emotional scarring." — FRIENDS
"It's not too much food. This is what we've been training for our whole lives. This is our destiny, this is our finest hour." — Loralie Gilmore
"I suppose I will die never knowing what pumpkin pie tastes like when you have room for it." — Robert Brault
"You can tell you ate too much for Thanksgiving when you have to let your bathrobe out." — Jay Leno
"Thanksgiving—when the people who are the most thankful are the ones who didn't have to cook." — Melanie White
"There's always something to be thankful for on Thanksgiving. Even if it's just not being a turkey." — Unknown
Tips for Writing a Thanksgiving Card
So you've got some ideas on what you'd like to write inside your Thanksgiving card with all the examples above. You didn't think we'd leave it at that, did you?! We've got some hot tips on what you should and shouldn't include in this year's Thanksgiving message.
Send a beautiful Thanksgiving card in minutes. Postable will print, address, and mail it for you.
Don't harp on the sh*t-storm-mini that was 2021.
Look, we were all there. 2021 was not great for many people around the world even if it seemed as though much of the hardships faded into 2020. It sucked and it's worth mentioning in your message if your recipient had a particularly hard go at 2021. However, don't spend the entire message harping on all the bad stuff that's happened. Simply acknowledging the hardships of the past year is enough and then shifting the message to something more positive is the way to go. You don't want your Thanksgiving message to be depressing — we've all had enough of bad news.
DO shine some light on the positive!
Instead of dwelling on the past, look forward to something positive. 2021 has already proven somewhat more bright than last year. Perhaps you're planning on spending some time together soon or you're planning on working together. This is definitely something positive to mention in your card.
Highlight something you're grateful and excited for that also applies to your recipient. Perhaps you're especially grateful for health this year or you're grateful for having your family close by… Whatever it may be, if your recipient falls under the umbrella, it's worth mentioning.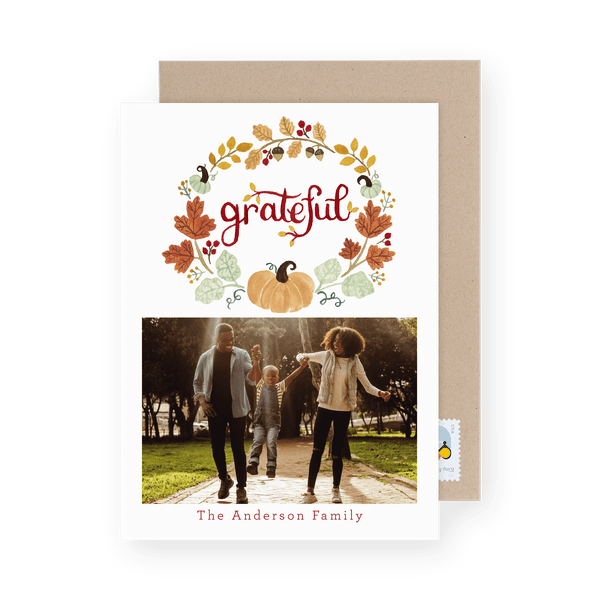 DO show gratitude for them!
And on that positive note, don't forget to express your gratitude towards the actual recipient. It's great that you're thankful for the feast you'll all be partaking in, but don't forget to let them know that their presence in your life is something you're truly grateful for. This simple message alone will leave your recipient filled with love.
Don't write a novel.
Yes, there is SO much to say in a year that's often felt like a continuation of 2020. But remember — you're writing a greeting card, not a twenty page thesis. Greeting cards tend to have limited space so keep this in mind when writing your message. A short and sweet greeting that leaves your recipient feeling loved is really all that's needed here.
And if you're using Postable to write and mail your card(s), the font will shrink as you write in order to fit inside. This is all gravy until the font is just too small to read! You don't want your recipient squinting to try and understand your Thanksgiving wishes.
So– find that sweet spot and don't go overboard.
DO write a draft.
We know, you're not writing an essay (we hope)… But in order to avoid having scratched out words within your nice Thanksgiving card or underestimating just how much room you have, you'll want to write out your thoughts on some scratch paper first.
If you're using Postable to write and mail your Thanksgiving cards, you don't need to worry about this step. You can type and re-type your message as many times as you want until you get it just right. We'll then print and mail your card (using one of our lovely handwritten fonts) for you.
Send a beautiful Thanksgiving card in minutes. Postable will print, address, and mail it for you.
Thanksgiving Text Messages
Even though we've all grown accustomed to sending and receiving text messages for just about everything, doesn't mean they should replace all communication. Yes, we live in a digital age, but now more than ever sending a real hold-in-your-hand greeting card or letter means so much more to your receiver than a text message (which takes barely a second thought to create).
So long story short: don't resort to just sending a Thanksgiving text message. Take a few minutes to write a genuine Thanksgiving message on a *card. If you don't have one — Postable's collection is pretty darn beautiful (and we'll even mail them for you).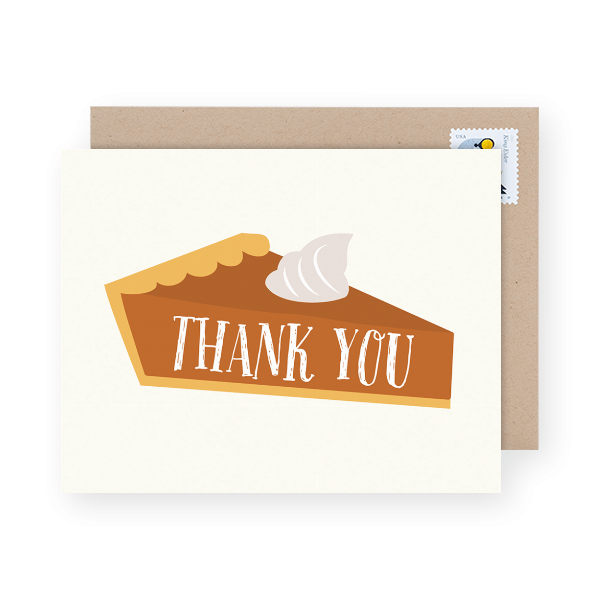 Postable has beautiful Holiday Cards too! And yup, we'll mail them for you. Send really nice holiday cards in minutes.