Say hello to November! The month of all the fall goodies. Everything from pumpkin pie to roasted turkeys will be making appearances all month. And while it's just the precursor to the bigger — even more festive — event that is the holiday season; November is no slacker. Thanksgiving pretty much makes November what it is. Even though the big day is close to the end of the glorious month, everyone is likely already in the thankful mood. Not to mention hungry. Hungry for mashed potatoes, pecan pie and all the stuffing one can eat. Yum… What were we talking about?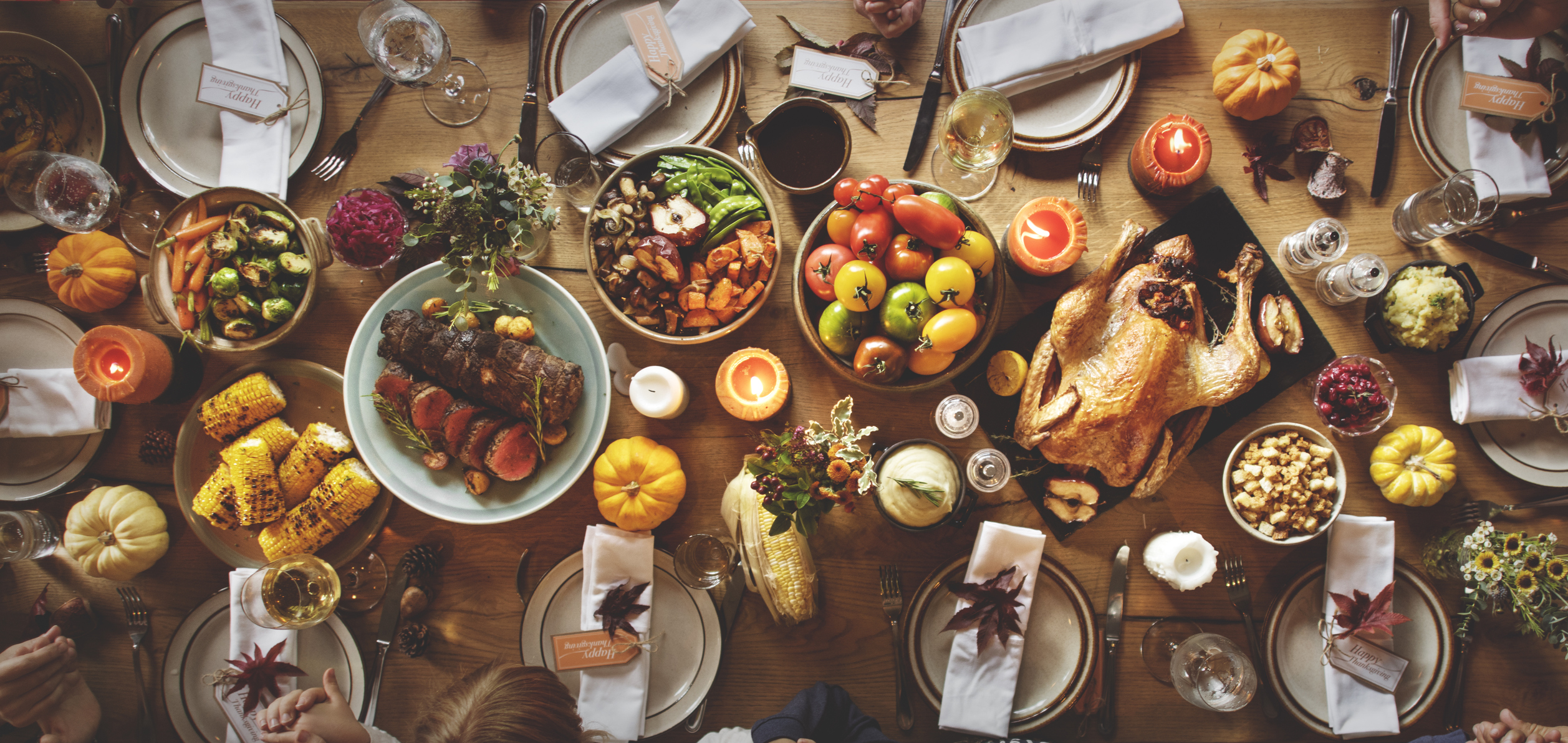 Right — November. Aside from hosting the biggest eating holiday of the year, November is also host to a slue of Thanksgiving themed feasts all leading up to the big day. Friendsgivings will be popping up all over the place and all over your calendar. And if you're the one hosting this years' gathering, you must be very excited! We know we are! Hosting Friendsgiving can be a little stressful, but it so doesn't have to be. This is your chance to test out that special recipe you're hoping to showcase at the real deal (Thanksgiving). It's also your opportunity to get a little creative. This isn't Thanksgiving — grandma isn't going to be there making sure everything is up to traditional standards. Go ahead and make a giant ham instead of a Turkey — if you so wish. Your friends won't mind. If you're keen for some new ideas — we got you covered. We scoured the world of Pinterest to find the snazziest Friendsgiving ideas you can use at your own party. Everything from new recipes to funky decor ideas — this list is full of everything you'll need to fuel your inspiration.
Before you get too into the world of ideas — don't forget to send out those Friendsgiving invites. Remember to give your guests a couple of weeks notice so they can make appropriate plans to attend your gathering. Don't worry — you don't have to spend a bunch of time mailing invites. Postable will print, address and mail them all out for you. See the invites here to easily customize and mail one out right now.
[And if you're looking for more useful tips to throwing your very best Friendsgiving see: 11 Tips to Throwing the Best Friendsgiving.]
Party favors that are actually useful.
Let's get real for a moment — useless party favors are well, useless. Another shot glass? Why? And while party favors are totally optional when it comes to Friendsgivings if you want to have some nonetheless why not give out favors that people will actually love. And who doesn't love adorable little succulents?!? They're like puppies, only smaller and less playful. And they make for stellar decoration– both for your Friendsgiving AND their new homes. Set up a giant table filled with them or place them directly in the center of your table so that they serve as the centerpiece.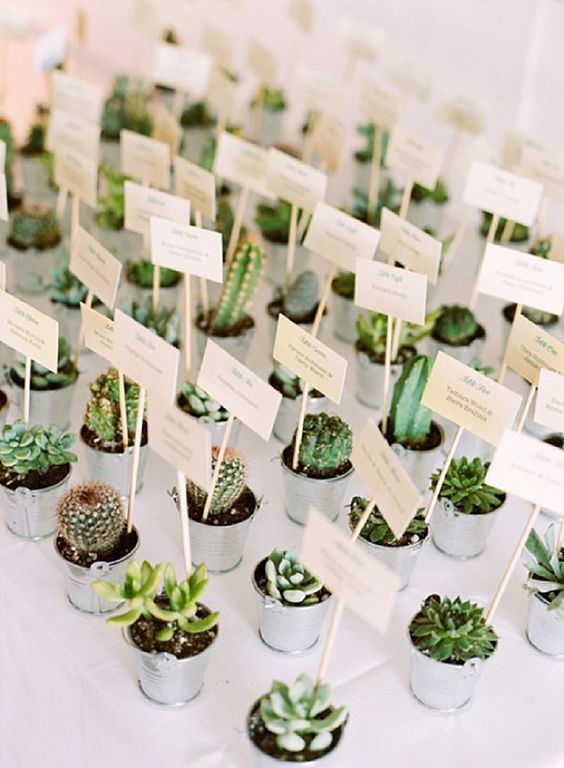 via Pinterest
Friendsgiving activities.
Ok, so maybe this isn't so much an activity as a tradition. But if you're feeling a little crafty you can make these clay wishbones. Paint them whatever color goes with the rest of your decor. Place one between each seat so that folks will be able to break off a wishbone each. It's like Thanksgiving only more colorful.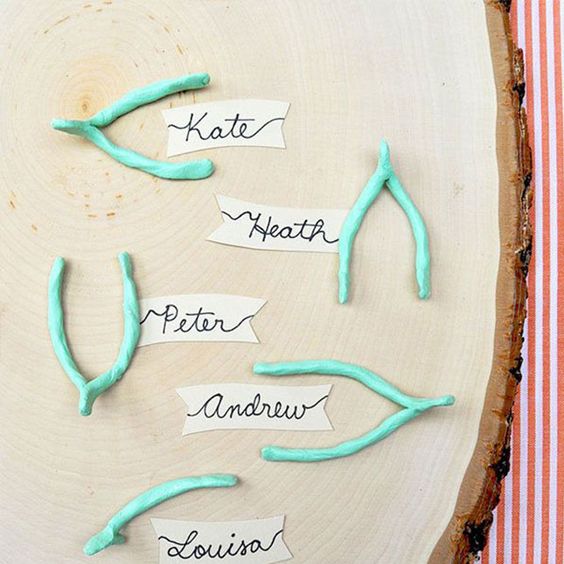 via Pinterest
Give the fall colors a rest.
Or don't — whatever you want. Who says you gotta stick with fall colors? Want to theme your Friendsgiving with pink & gold. Do it. Remember, there are no rules that can't be broken on Friendsgiving. We LOVE this hot pink backdrop with the giant letter balloons. Don't be surprised if your party decor is the talk of Instagram.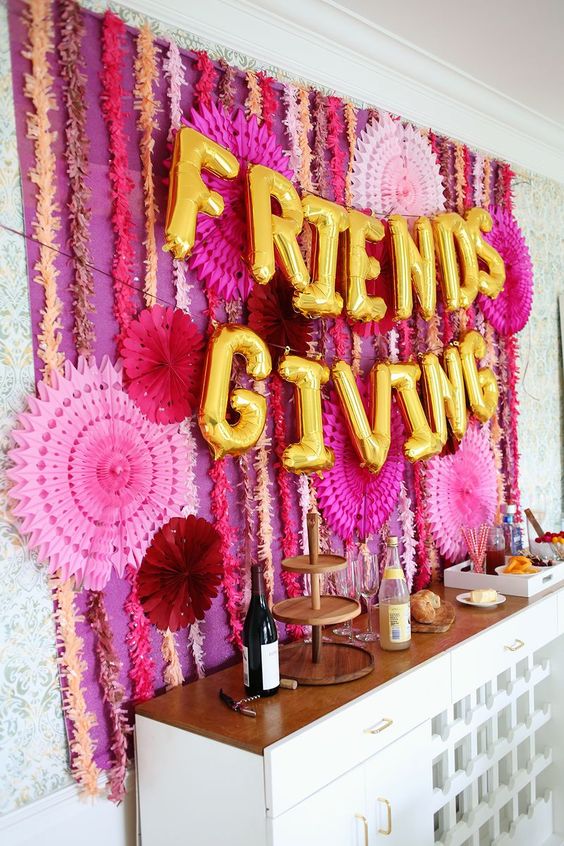 via Pinterest
Outdoor Friendsgiving.
Hosting your gathering in the backyard? Place fleece blankets on the backs of the chairs in case it gets chilly for some of your guests. If the blankets match with the decor they'll act as functional and decorative additions.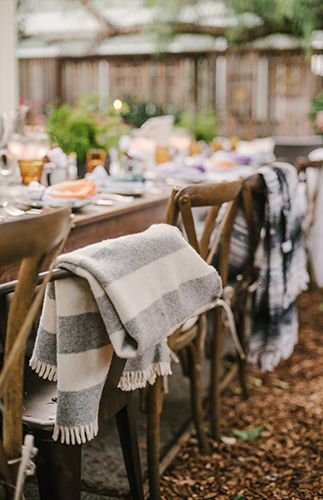 via Pinterest
Personalized utensil wrap.
If you're looking to make assigned seating for your Friendsgiving — assuming it's a smaller affair — here's your chance to really personalize the experience for your guests. Show your friends how thankful you are for them by literally saying so.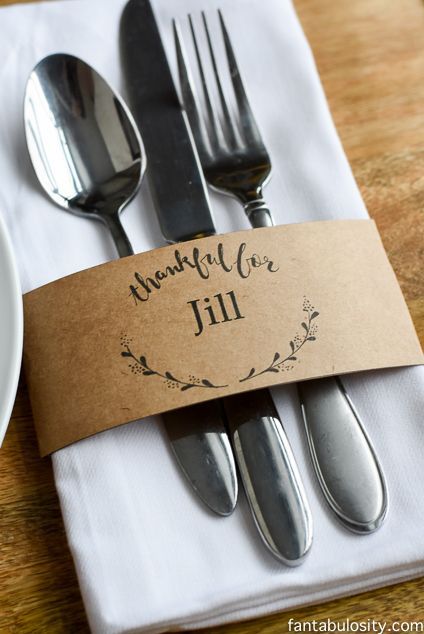 via Pinterest
Vintage Friendsgiving Invite.
Like we said — whatever theme or look you want goes. So if you're itching to host a party with a vintage feel this is your chance. Go for it.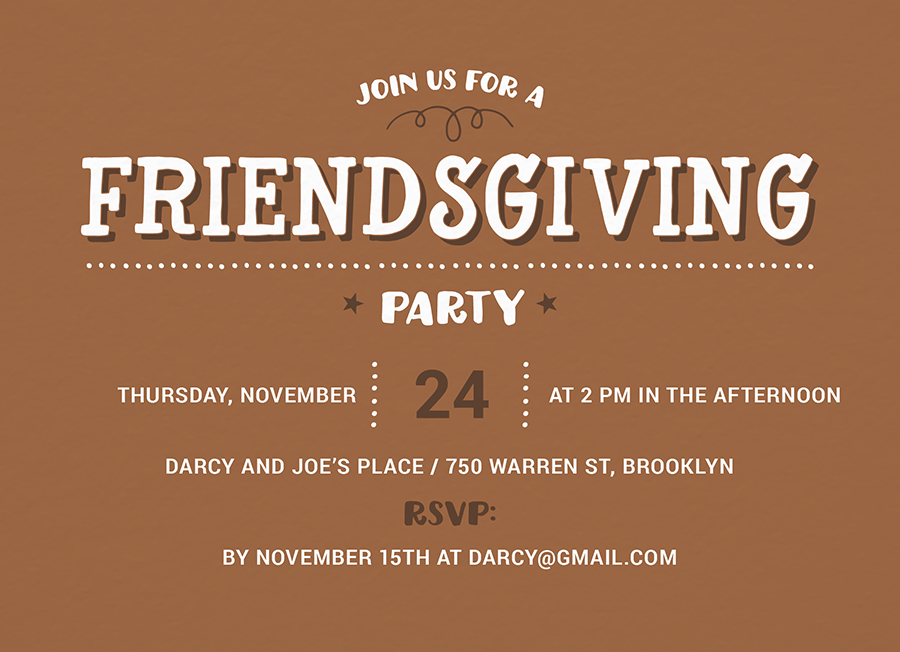 Customize the card here
Vintage feels decor.
Speaking of which — here's a super simple way to add a little vintage flair to your Friendsgiving. It's easy to do and will look effortless on your dinner table.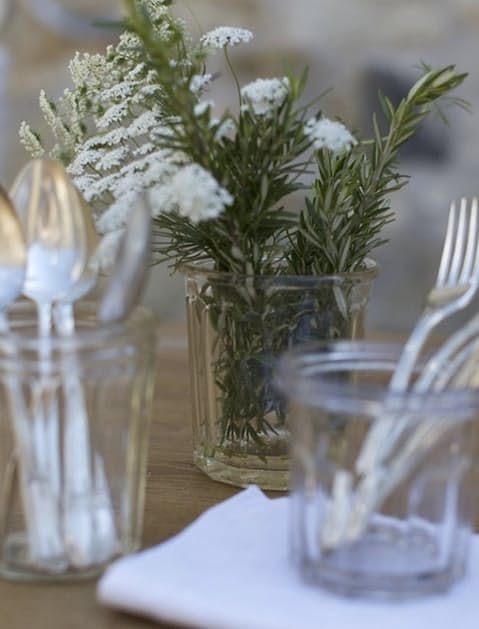 via Pinterest
A practical tip.
You're going to have many guests over at once. Unless you're using disposable cups (which can pile up and cause a huge mess not to mention are not exactly environmentally friendly) you'll want a way to avoid the cup mix up. These little clothes-pin cup markers are brilliant!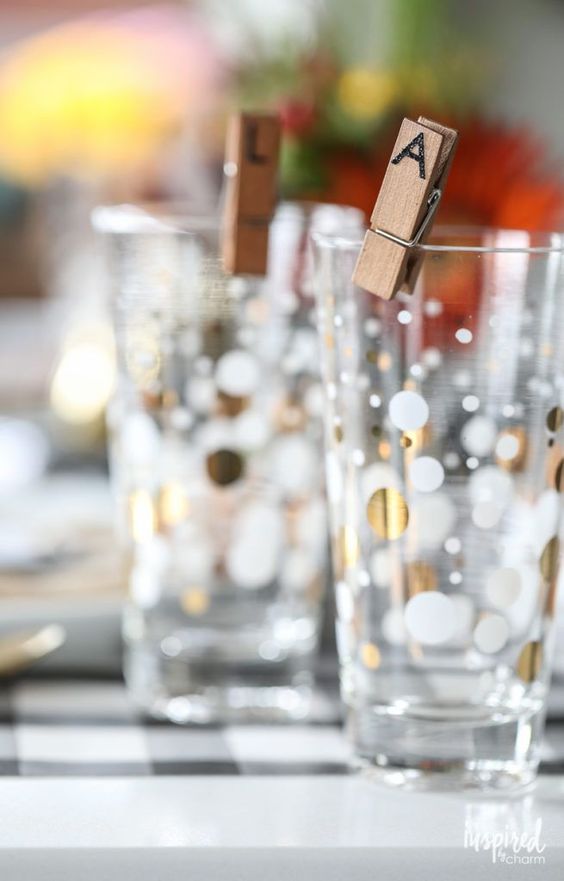 via Pinterest
Give thanks at your Friendsgiving.
Expressing gratitude is the point of this glorious holiday so don't forget to incorporate that somehow. We love this idea of using a giant jar to collect little thankful notes from everyone and then maybe hosting another party the following year to read the notes aloud. Another idea is to have brown paper and markers — allow your guests to simply go at it.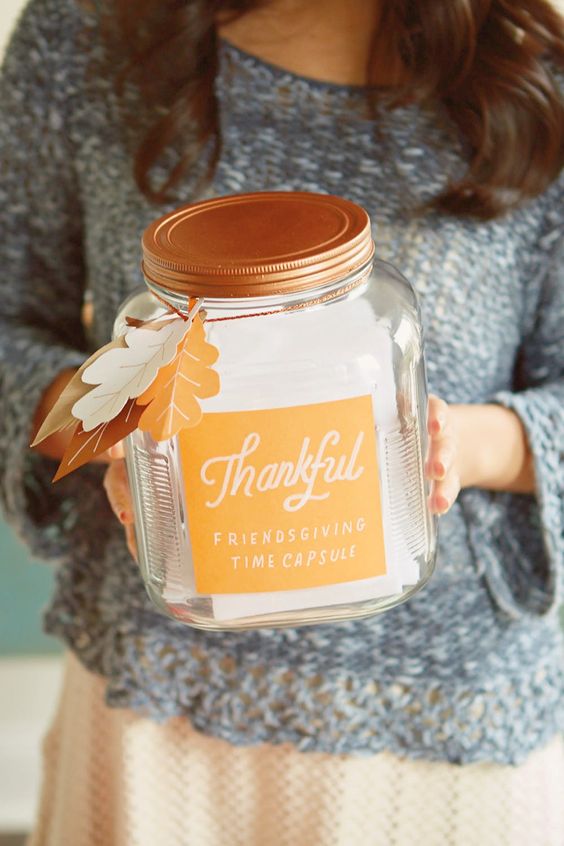 via Pinterest
A colorful Friendsgiving.
Paint pumpkins whatever colors you'd like to still keep in with the fall-esque theme, but with your own spin. Friendsgiving gives you more freedom with how you host the gathering as opposed to Thanksgiving where some relatives may expect the more traditional food/colors etc.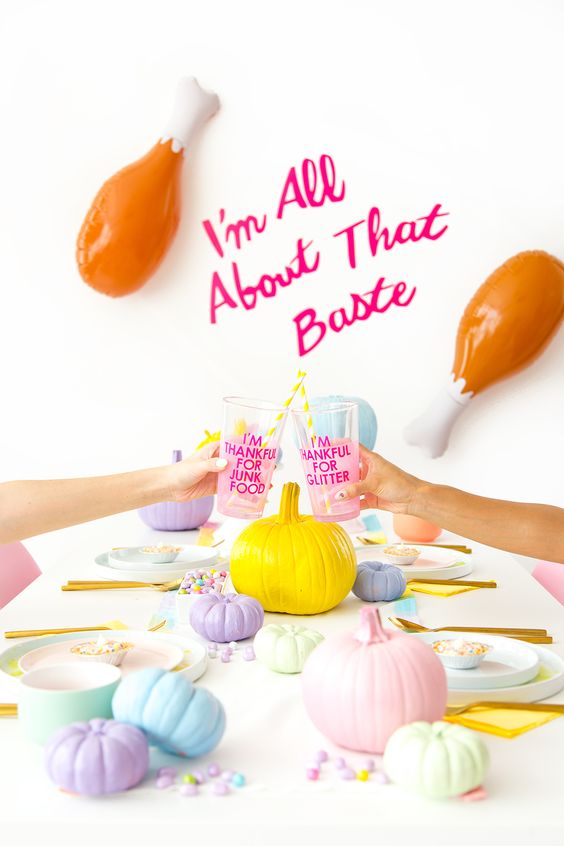 via Pinterest
Fall leaves Friendsgiving invite.
Send real paper invites about two weeks prior to your Friendsgiving — allowing your guests plenty of time to plan and RSVP. Paper invites tend to make people a little less flaky so you'll have a better idea of who's coming to your get together. [Pro tip: Postable has a bunch of great designs to choose from AND we'll print, address & mail them out for you.]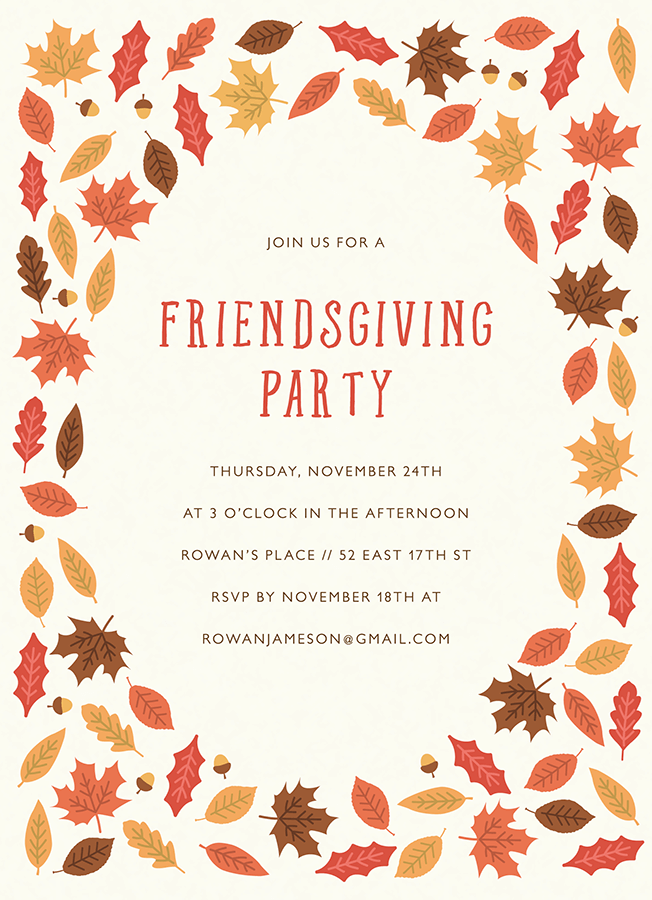 Customize this card here
Fall leaves decor.
Going with the fall leaves theme — because frankly it's the most obvious — here's a fun way to incorporate it. Simple and lovely. Get outdoors to find your supplies & enjoy the beautiful weather! Use fishing wire to create the floating leaves. Easy Peasy. If you're not trying to go off book and make your Friendsgiving bursting with pink this is a great way to keep in with the traditional fall look and still make it fun.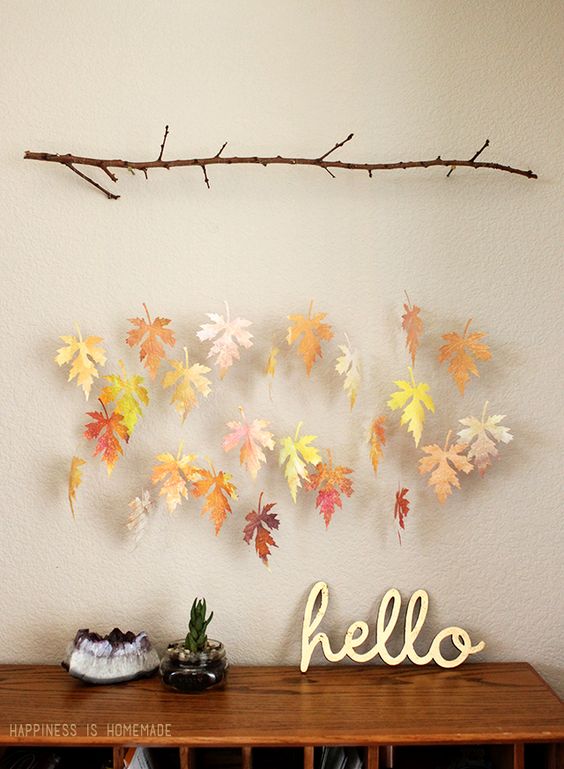 Via Pinterest
Ok, who's ready to party?!
Get started by mailing your Friendsgiving Invites in minutes — here.