Not sure how to address wedding invitations? Perhaps you're still stuck on getting those save the dates addressed and mailed out? No worries, the good news is addressing wedding invites and save the dates requires the same process. And honestly, you're not alone. It's not like you find yourself addressing envelopes on the daily. Planning a wedding typically leads you to discover just how much you may not know about snail mail. Not to worry, everything you need to know about how to address wedding invitations is right here for your taking.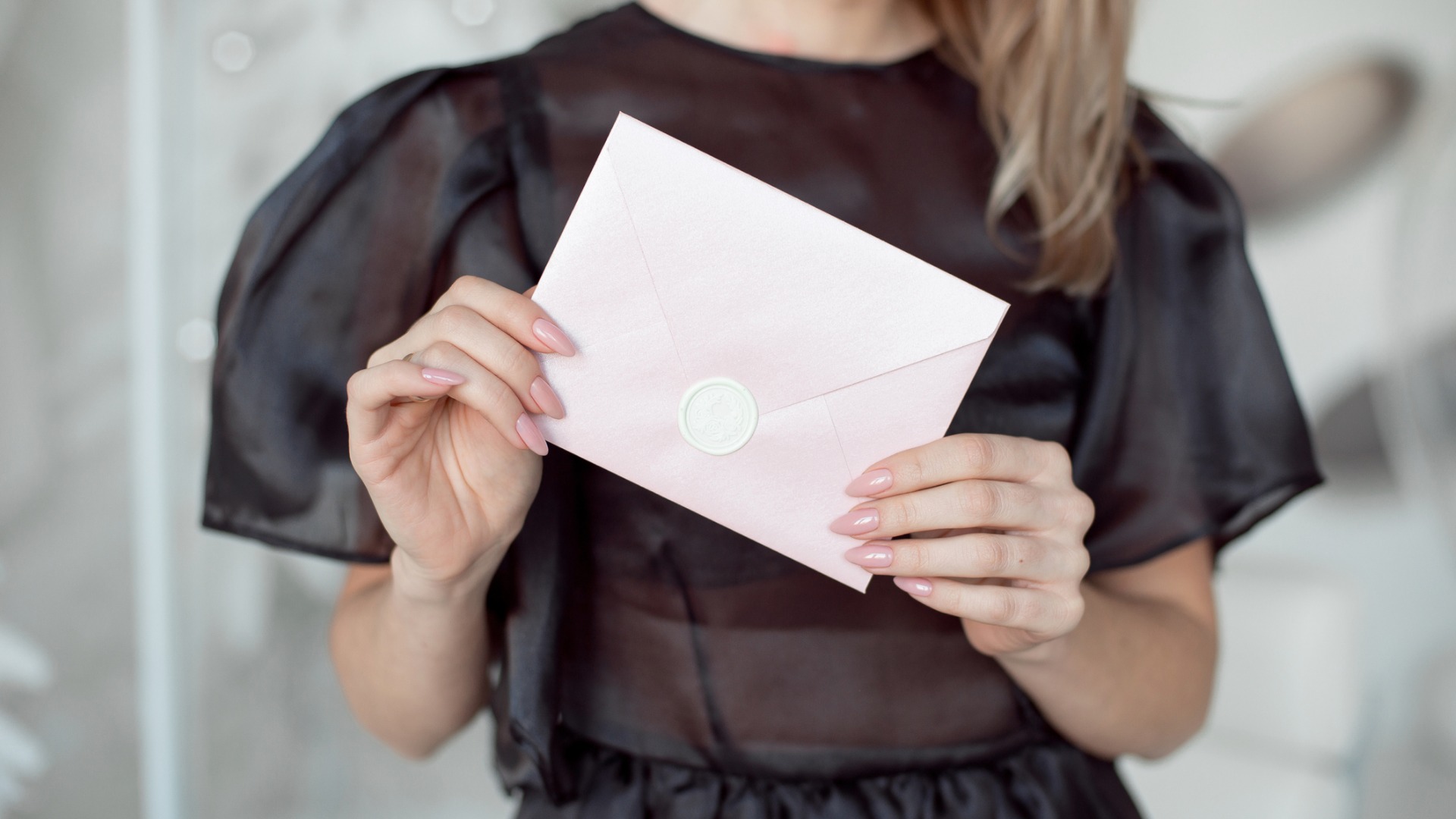 There are a number of little nit picky rules you may want to review. Like what to do if the couple has different last names? Should you list all of the children's' names or just put "And Family"? What if they're a couple, but not married? What if one's a doctor?! Feeling overwhelmed yet?
Breathe. In the digital age the rules and regulations for proper wedding etiquette are more confusing than ever. But, rest easy, we've read Emily Post's Guide to Etiquette cover-to-cover so you'll know how to address wedding invitations and save the dates in no time.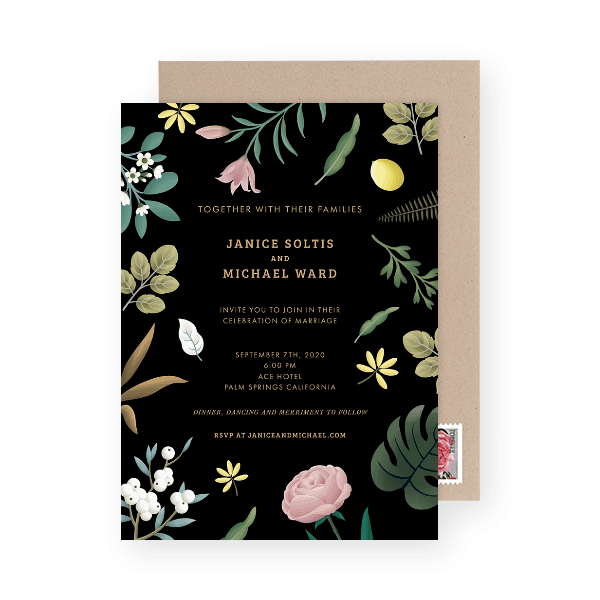 Before you can address your wedding invitations, you'll need mailing addresses.
First thing's first: do you have the mailing addresses of everyone on your guest list? If you skipped that first step, you'll need to start there. Don't worry, collecting physical mailing addresses doesn't have to be a complete nightmare. Postable's free wedding address book makes collecting addresses a total breeze.
To do this, follow these easy steps:
Sign up for a free address book.
Customize your personal link and address request form.
Send it to your guest list and watch your address book magically fill up.
Easy to use. Private & secure. Oh and it's absolutely FREE!
Get organized and make some decisions prior to addressing your wedding invitations.
Once you have your guests' wedding addresses in hand and are ready to take the first step to addressing wedding invitations, you'll need to make a few simple decisions. The two main things you'll want to consider:
The formality level
Getting super precise with the guest list
Considering the formality level
If your wedding is a black tie affair you may choose to address your wedding envelopes in the most formal way possible. On the other hand, perhaps traditional addressing styles aren't really your thing and you want something a bit more casual. There are options for every level so just figure out your preferences before getting started.
Getting precise with that guest list
When addressing wedding invitations, keep in mind who you'd like to invite. If the entire family is welcome to join, you can address the envelopes to the whole family, but if you'd like to host a kid-free wedding address the invites directly. This is why reviewing your guest list and finalizing it with a correct head count is an important step prior to mailing out those wedding invites.
When you're thinking about how to address your save the dates, keep these same points in mind. You don't want to send someone a save the date if they're not going to be receiving an actual invite (checkout these Do's & Don'ts for wedding invites & save the dates).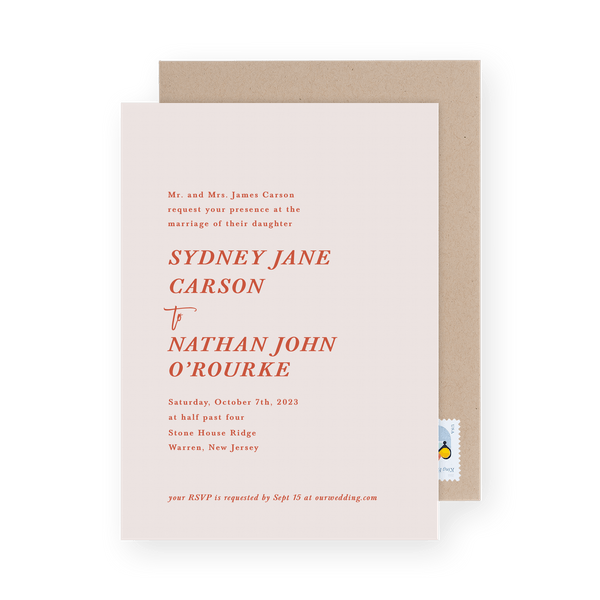 How to address wedding invitations
OK, now that you've got your guest list and their mailing addresses and you've considered the formality level you're ready to get started. Below we've separated the sections into the groups of people you may be inviting and within each one of these sections you'll find different formality levels so you know exactly how to address wedding invitations that are right for you.
Married Couple
(formal) Mr. Jim and Mrs. Pam Halpert
(super-formal) Mr. and Mrs. Jim Halpert
(casual) Jim and Pam Halpert
(Family) The Halpert Family
Married Couple with Different Last Names
(formal) Mr. Jim Halpert and Ms. Pam Beesley
(casual) Jim Halpert and Pam Beesley
Hyphenated Last Name
(formal) Mr. Jim Halpert and Mrs. Pam Beesley-Halpert
(casual) Jim Halpert and Pam Beesley-Halpert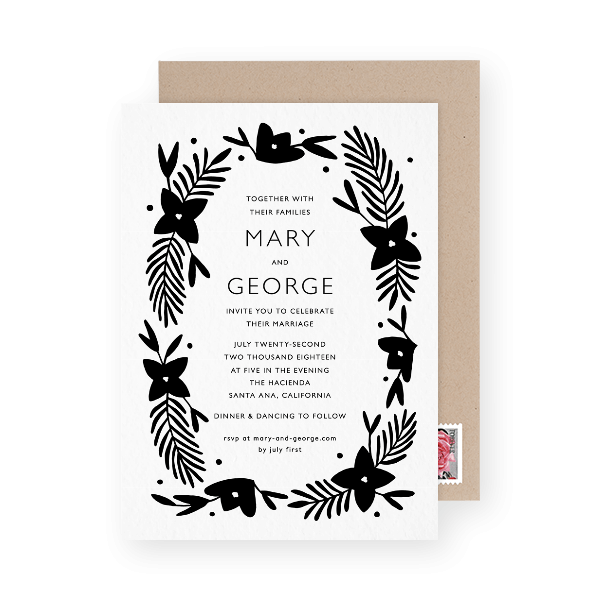 Unmarried Couple Living Together
(formal) Mr. Jim Halpert and Ms. Pam Beesley
(casual) Jim Halpert and Pam Beesley
Married Woman Doctor or Two Married Doctors
Doctor Pam and Mr. Jim Halpert
Drs. Pam and Jim Halpert
The Doctors Halpert
*Whichever spouse has the professional title should be listed first.
How to address wedding invitations to families & children?
If you'd like to extend an invite to entire family, you can do so one of two ways. You can either write out all the names or simply just address the envelopes to the family name.
The Halpert Family
Mr. and Mrs. Jim Halpert
Philip and Cecelia
*If you're looking to have a kid-free wedding and feel awkward about telling guests, one subtle way to solve this is to make sure that the envelopes are ONLY addressed to the parents.
A note on addresses: "When in doubt, spell it out!"
P.O. Box = Post Office Box
St. = Street
Apt. = Apartment
NY (States) = New York
16 (House numbers less than 20) = Sixteen
Additional tips on how to address wedding invitations.
Only send invites to those you'd actually like to invite.
If your budget calls for 100 guests, but you send out 150 with the hope that 50 will RSVP with a 'Regretful No' you're likely going to end up with a lot more folks than you can host. Even if you're certain the 'extra' people you're sending invites to will not be able to make it, don't take that chance. More often than not, these people will do everything they can to alter their schedule in order to make it for your big day.  Look at your guest list long and hard to make sure everyone you're inviting will make your wedding day special. 
Don't try address them all at once. 
Your wrist will thank you. You may have the urge to knock out addressing wedding invitations all in one sitting, but writing out hundreds of envelopes in one day may be more than you bargained for. Split the total number of invites into 4 (or more) groups depending on the total number and spend no more than one day on each group. So if you have 100 wedding invites, give yourself minimum 4 days to address the envelopes. Not only will your wrists begin to get sore, but your handwriting — even if it's usually beautiful — will begin to suffer. Keep a running list handy to make sure you cross off the names that you've completed. Staying organized is key as this process will likely take some time.
Address your wedding invites in 5 minutes.
But wait, what? Yep. A little pro tip for ya: Postable (hey, that's us!) will address and mail all of your wedding invites for you. Your wrists will thank you and you won't have to spend an eternity trying to write out hundreds of envelopes. You'll be able to choose from a number of really nice handwritten fonts (many of which are script fonts) along with the formality level. Just upload your spreadsheet of contacts (or use your existing Postable address book), choose and customize one of the stunning wedding invitation designs and click send. Then sit back and relax — or move onto one of the other million things you need to do before the big day. Let us worry about addressing & mailing the invites.