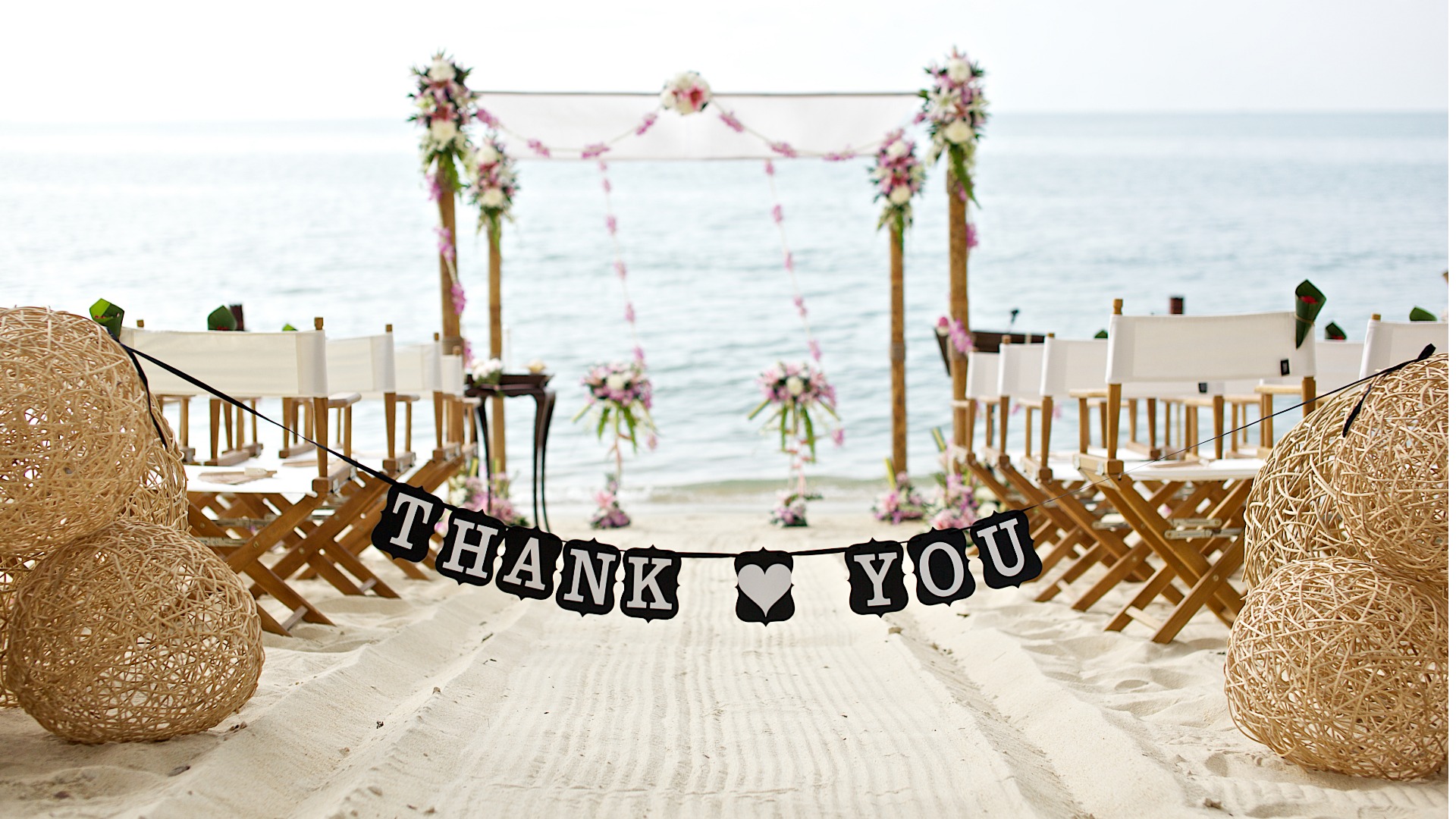 Congrats, you successfully made it down the aisle! You survived the wedding madness, but unfortunately you've still got one task left…and it's a doozy: your wedding thank you notes. Before you flip out, remember that you couldn't have made your wedding day quite as special without the help of loved ones. Your friends and family deserve some gratitude–all 250 of them. They didn't complain when you asked them to be present for cake tastings and flower showings. They didn't moan and groan (we hope) during the wedding set up and now it's your turn to tell them just how much you appreciated their help during the whole process.
Writing your wedding thank you cards can be a huge task to get through, but luckily for you Postable (hey, that's us!) has some nifty tricks to make writing them super easy.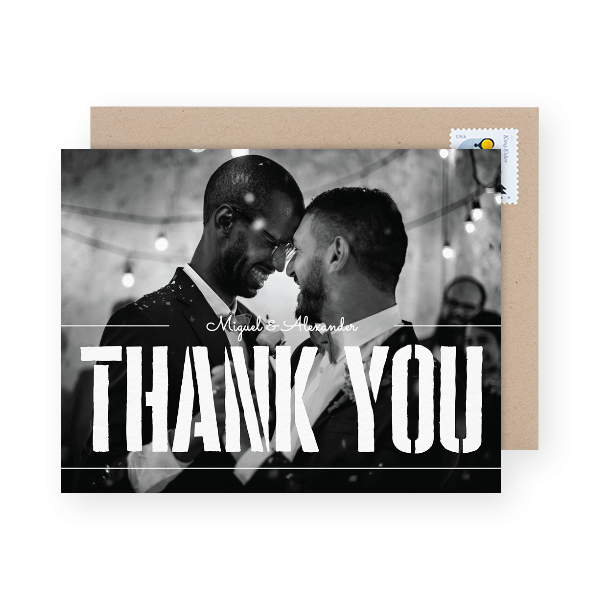 Writing your wedding thank you notes.
Thank everyone on your list in minutes?
Yes, really.
The idea of writing hundreds of thank you notes starting to give you nightmares of giant cards chasing you down a dark alley? Yikes. Stress level through the roof.
Not to worry. Wedding thank you notes don't have to take forever. And they most certainly don't have to stress you out. Getting those bad boys out of the way as soon as you've returned from the honeymoon is so much easier than you know.
Exactly how long will it take?
Well, this depends on you. But you could get them all out of the way in one sitting, depending on the amount of personalization you have made ahead of time.
No, writing wedding thank you notes doesn't have to take all year. In fact, you really should get them out as soon as you get the gifts (within 3 months). Does that sound impossible? Nope. Totally possible.
But How?
Postable's handy wedding thank you notes will get printed and mailed out for you. You just need to get yourself a little organized & those thank you notes will be done in record time!
Here's your insider's guide to writing your wedding thank you notes.
First, some mistakes to avoid.
We've come up with 7 wedding thank you note mistakes to avoid at all costs!
A bit dramatic? Yes, but who doesn't love a little drama?
1. Leaving someone out.
You should be sending thank you cards to everyone who gave you an engagement, bridal shower or wedding gift. PLUS anyone who had an important role in your big day.
Bridal Party
Vendors
Involved family members
Anyone who showed up and threw some dough your way
Anyone who sent you a gift in their absence
Your bridal party put up with your crazy-ness (as lovely as it might be) for months, they deserve a little thanks. Your vendors were hopefully everything you were hoping they'd be so yes, even though you've paid them — show them some extra love with a thank you note. Your family members drove you to numerous cake tastings and dress fittings, let them know you noticed their extra effort to make your day special. And the rest of the folks who came to your big day. Not everyone was able to make it to your wedding, but if you received a gift from anyone at all — make sure to send them a thank you.
To avoid missing someone and awkwardly running into them months later, write down names as the gifts roll in. Keep an ongoing spreadsheet or notepad where you write down the gift/gesture with each person's name next to it. This way, when you sit down to write your thank yous, you can just cross the names off the list.
2. Misspelling your your guests' names.
Check and double check that guest list to make sure every impossible-to-pronounce, is-that-even-a-name name gets spelled correctly. Also, don't forget to include the name of your guests' plus ones. If you aren't sure of someone's name or how it's spelled, do some detective work and ask around. Chances are, someone else you know will have the inside scoop on spelling the name(s) correctly. Someone's gotta be Facebook friends with them, right?
3. Mixing up who attended and who did not.
We get it, you had a big wedding and it's hard keeping track of all those names and faces. Still, don't give it away by thanking someone who couldn't make it for being there or forgetting to thank someone who did attend. Hint hint, check the cards that came with the gifts–usually a guest who couldn't be there will say something like "I'm sorry I wasn't able to be there for your special day".
Of course as we've already mentioned, you should still thank someone for a wedding gift even though they couldn't make it. You can even mention that you were sad to have missed them, but their gift is truly appreciated!
4. Writing the same generic message for everyone.
"Dear ____, Thank you so much for the gift, we love it. John & I were so happy that you could be there for our special day. Miss you and hope to see you soon" sounds just as boring and impersonal as it looks. Remember, these people love and cherish you and took the time to look through your 50 page long registry just to pick out the perfect salad spinner. They deserve a thoughtful, well-written, personalized thank you note.
Luckily for you, Postable's Carbon Copy tool lets you apply the same master message to all 250 recipients at one time. This way, you can go into each note and personalize it further. Some things to mention: the gift they gave you and how much you're looking forward to seeing them again. (Need more ideas? Checkout our Ultimate Guide to Writing Thank You Cards.)
5. Sending an e-card.
Sending an e-card may be fine for St. Patrick's Day, but this was your wedding. One of the most important days of your life that you're about to show gratitude for.
Although it might seem oh-so-tempting to send out 300 of those e-cards with the animated cherubs, DON'T. Post-wedding thank you notes are one of those occasions where snail mail is an absolute must. Does your 85 year-old grandmother who gave you the family china even know what e-mail is?
C'mon, people get your head in the game!
6. Taking a million years to send 'em.
Once upon a time someone started a rumor saying that it was acceptable for couples to send out their thank you cards within a year of the wedding. This is a horrible lie that is making Emily Post roll over in her grave as we speak. You've got max 5 to 6 months to get those suckers in the mail. We get that you're busy being newlyweds and all, but if your guests have forgotten what they gave you by the time your wedding thank yous arrive, then you're doing it wrong.
Also, better late than never. But always better on time than late.
Get your wedding thank you cards ahead of time and have them ready to rumble when the gifts start rolling in — often times these come in before you walk down the aisle. Or write and send your notes via Postable as they start coming in.
7. Write a novel.
This really applies to just about any thank you note you'll ever need to write, but it's worth mentioning here. Don't write a novel. This is a wedding thank you note, not your PhD thesis. Keep it short and sweet. Try not to overthink this — just get to the point.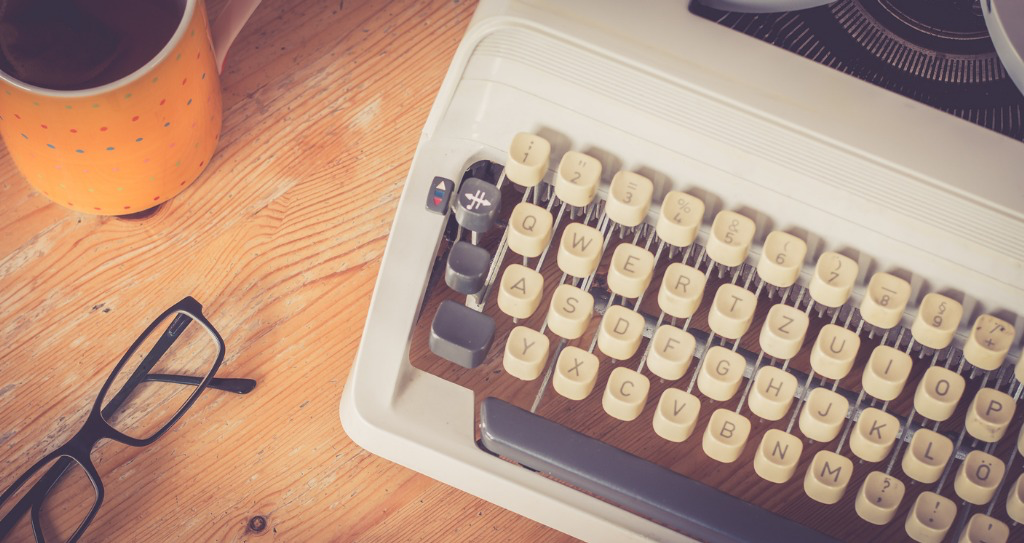 Here is your handy 3-step process to getting your wedding thank notes completed in one sitting.
Okay, now that you know what to avoid you're ready to hit the ground writing. If you're going to write all of your thank yous by hand — may the force of all forces be with you! If you want to streamline the process — without losing the personal touch — we've got three easy steps anyone can follow to finish their wedding thank you notes once and for all.
Step 1: Have a list of your gift-giving guests ready to rumble.
Step 2: Write your thank you message.
Step 3: Sit back & relax (Postable will do all the heavy lifting for you)!
Step 1. Have your gift-giving guest list ready.
If you used Postable to collect your wedding addresses (and to send your save the dates) then your Postable address book will already have your guest list. If not, you can easily import a spreadsheet.
Don't have your free Postable account? It's cool, we can still be friends.
Sign up here.
Step 2. Say thanks!
Choose one of Postable's delightful wedding thank you notes. You can even use one of the hundreds of beautiful wedding photos you've been dying to share with a photo wedding thank you card!
Use our handy Carbon Copy tool to create a simple generic message and apply it to all your cards at once. Then, go back into each individual card and personalize it further. This is where your notes on who gave you what will come in handy. Use this to mention the gift in the personal message and make sure to let them know why you're appreciative.
Don't forget to play around with Postable's selection of delightful handwritten fonts. We won't tell, nobody has to know 😉
Not sure what to write? We've made The Ultimate Guide on How to Write a Thank You Note just for you.
Step 3. Sit back, relax & enjoy!
The only thing left to do is click the big green checkout button. Postable will print, address & mail all your wedding thank you notes for you. No fuss. No muss.
Choosing the right Wedding Thank You Note
When it comes to the design of this special card, just go with your gut. There are a million options to choose from — everything from photo custom designs to beautiful hand painted master pieces.
Our favorite designs
We've picked just a few from our bewitching wedding thank you note collection so you get an idea of what your cards can look like. And remember, you can write and mail all of these cards directly from your computer (or have them mailed to you in a box).
1. Happily Ever After Watercolor
This oh-so-delicate design by E. Frances Paper makes us oh-so-happy. Seriously, this design is beyond beautiful and elegant. Send it here.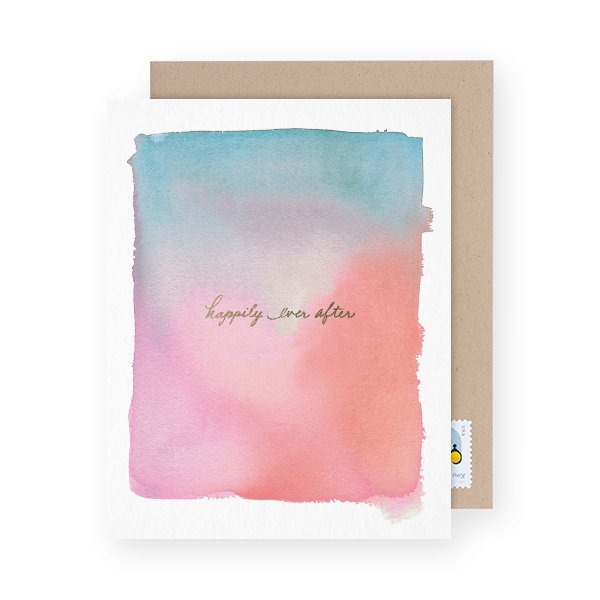 2. Floral Heart
This lovely floral heart painted card by Meera Lee Patel is the perfect way to let your friends and family know how much you care. Send it here.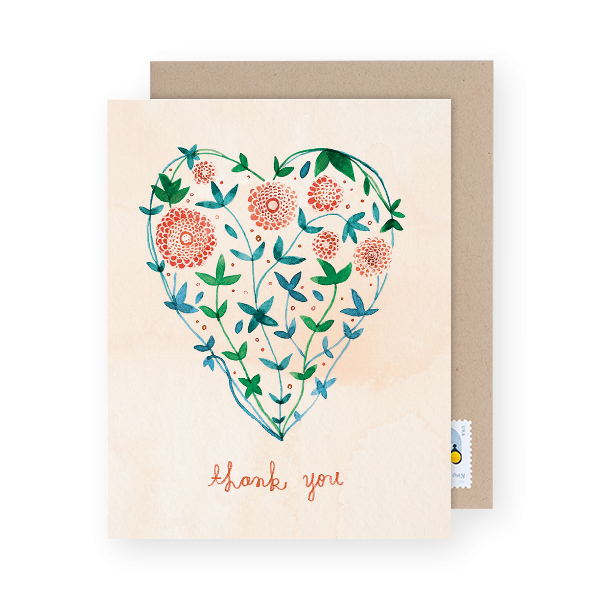 3. Happily Ever After Chapel
Especially lovely if your wedding took place in a lovely little chapel. Send this card here.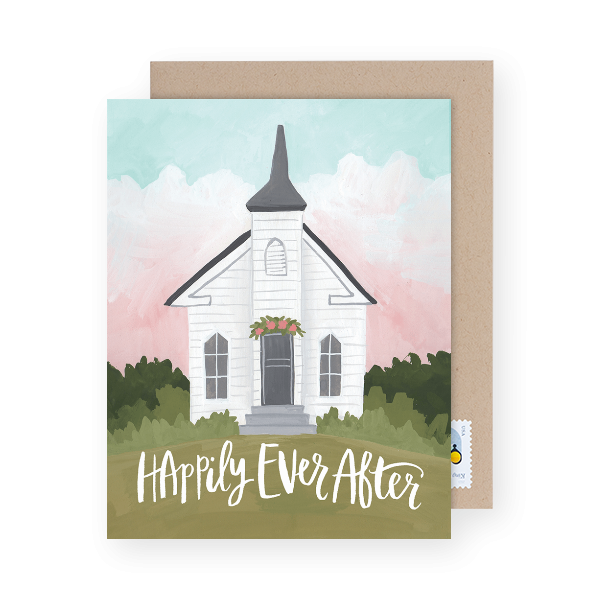 4. Kilim Thank You
A slightly more simplistic thank you design for the minimalist couples. Customize your names on the front and write your personal message here.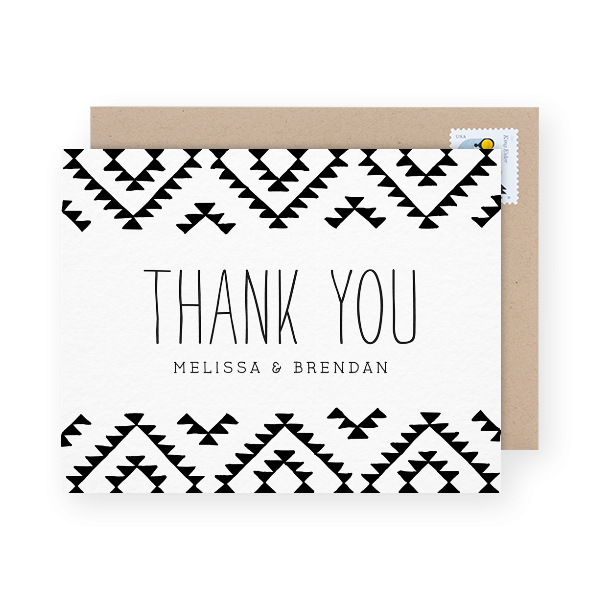 5. Simple Photo Thank You
Not sure which design to choose? Want to use one of the millions of images you have from the big day? This photo card will work with just about any of them! Customize it here.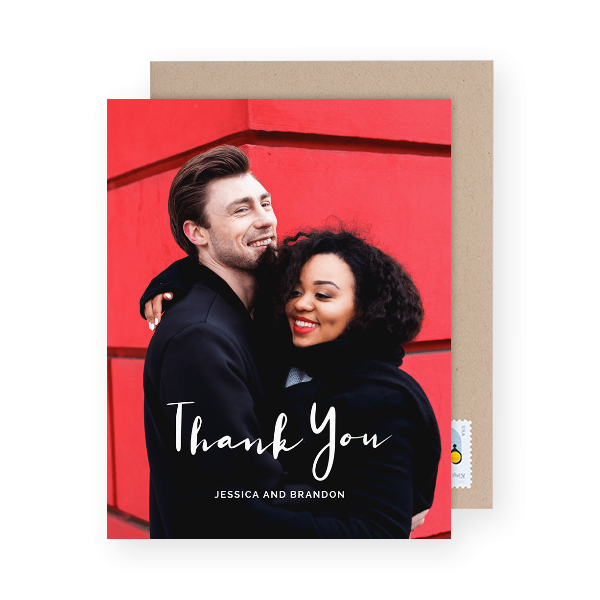 6. Merci Swirl Photo
Another lovely wedding photo thank you card. This one has more design elements. Play around by uploading your own photos here.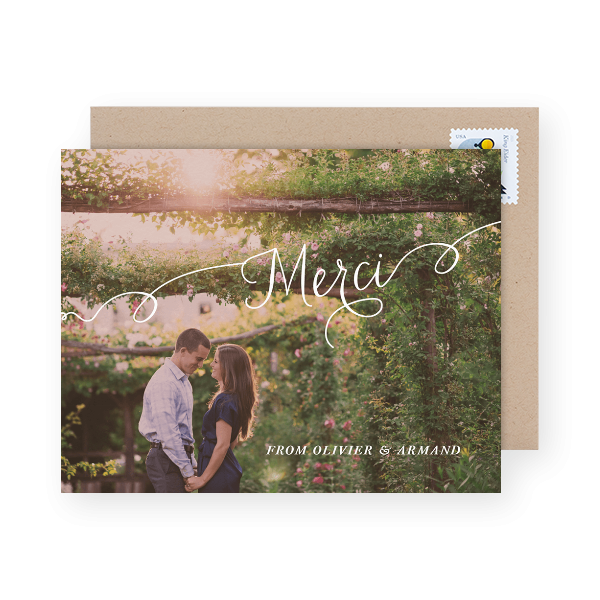 We hope you're as dazzled as we usually are after browsing these designs. We work with hundreds of incredible artists from around the country to bring you the best of the best.
Click on any of the links associated with each card to play around with the custom designs or to start creating your project!