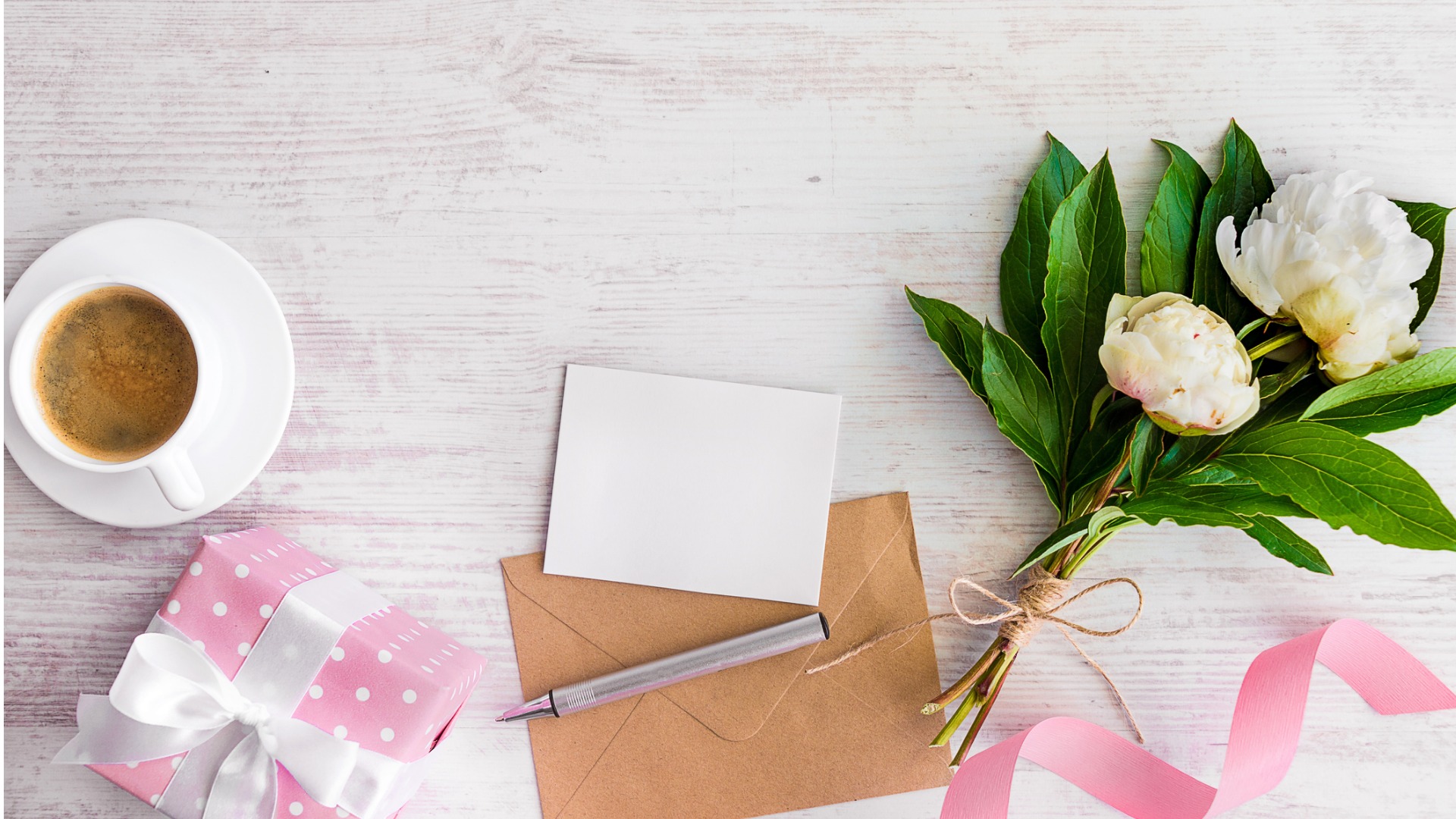 Are late wedding thank you notes weighing on you? Has this task been etched into your to-do list for months on end at this point? It's ok, don't be so hard on yourself! Life gets in the way — we totally get it. Mailing your wedding thank you notes in a timely manner — while important — is tough. The thing is, the folks who spent time, effort, and money on gifting you and your new spouse that special wedding gift still deserve a proper thank you note.
While not ideal, sending late wedding thank you notes is not as uncommon as you might think and it certainly preferable to no thank you notes at all.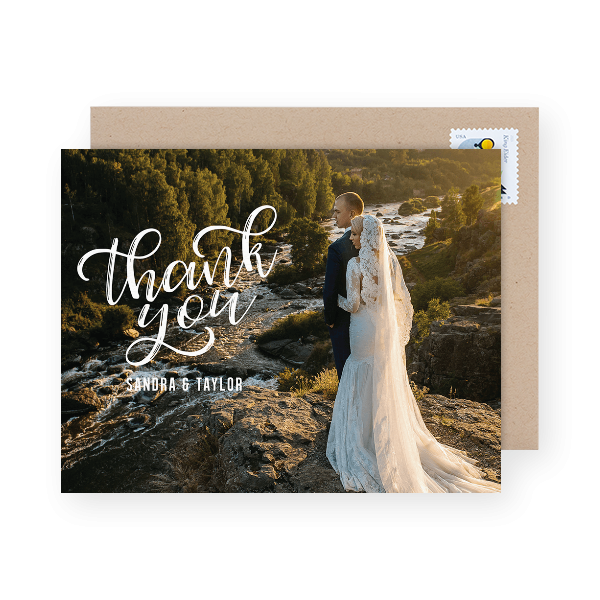 How long do you have to send thank you cards after a wedding… Is it ever too late?
Many months may have passed since you tied the knot, but the chance to mail out your wedding thank you notes has not.
Better late than never.
Whether it's been 8 months or a full year, don't let the build-up of having put this off be used as an excuse to never mail out your thank yous.
The key is to come to terms with what's done is done and get those bad boys written! Don't worry if you're already feeling overwhelmed by reading this because we've got a step-by-step process you can easily follow to get this done in no time.
Step-by-step guide to writing your late wedding thank you notes.
Not sure how to get started? We got you.
Make the commitment to just do it!
Choose a card or a set of stationery.
Set aside time in your calendar.
Get to writing!
First step may seem obvious, but just as with any ominous task you need to make the decision to just get this done. Without this crucial step the likelihood that this task will get pushed further and further down your to do list is all but guaranteed.
You'll need a card to write in so be sure to order your stationery asap or use Postable to write all of your thank you notes and we'll mail them all out for you (yes, using the USPS)!
Beautiful wedding thank you cards with real handwritten fonts printed, addressed, and mailed for you!

Use code NEVERTOOLATE and get 20% off.
Setting aside time to actually complete this task is just as important as steps 1 and 2. If you don't make time for this in your schedule, excuses will inevitably continue to come up.
Get to writing! Ok, this step is rather self explanatory… Not sure what to say? Keep reading — we've got wording examples you can use.
What to Say in Late Wedding Thank Notes?
The messaging in regular wedding thank you notes still applies here, you'll just have to add one extra item: a short apology.
Now, don't take this opportunity to write a novel about how busy life has gotten or how sorry you are that the notes are late. Mention it once and move on. Nobody wants to read long winded excuses in their thank you note. Keep your apology short and sweet — just like the rest of the message.
Here are all the things to include in your late wedding thank you note:
Salutation
The actual 'thank you'
The short 'sorry'
One specific detail about the gift
Look ahead
Another 'thank you'
Sign off
Here are some samples with all of these items put together into succinct and lovely messages: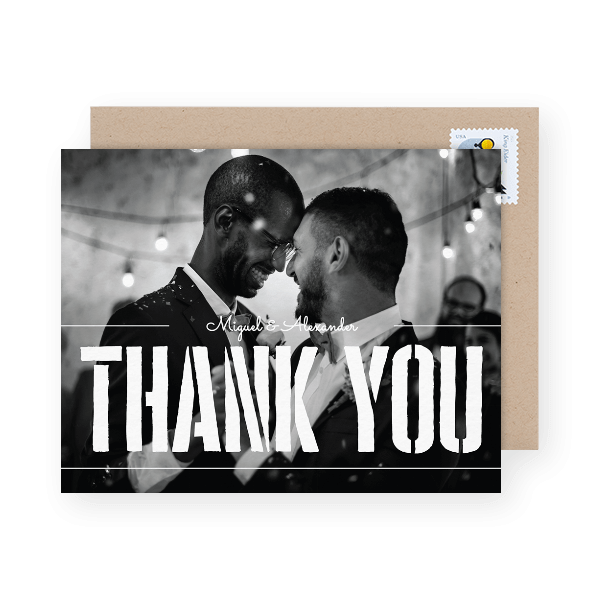 Dear Ken & Mary,

Thank you so much for the blender. We're sorry it's taken this long to get this note to you. We've been smoothie-making machines for months, and we're feeling great! Would love to have you over for brunch soon. We're so grateful for your generosity.

With love,
John & Lucy
Dear Monica & Chandler,

A huge –and well overdue– thank you for the couples spa package. Your attention to detail and generosity never fails to amaze. Thank you for remembering our favorite date night activity; we are looking forward to using the package for our 1st anniversary. We're so grateful for your friendship and can't wait to see you both soon!

With love,
Joey & Marge
Dear Chris & Josh,

A belated, but heartfelt thank you for the donation you made in our name to the Save the Children foundation. We were so pleased to receive the notice and could not think of a more perfect way to honor our love. We are constantly amazed at all the amazing work that you do and look forward to working with you both very soon.

Thank you!
Joanna & Billie
Remember — always keep your messages short and sweet, write with sincerity, and spell check names.
Want more wording examples? Read through all these wedding thank you note wording examples and just remember to acknowledge (briefly) the lateness.
Postable makes sending wedding thank you notes extra easy!
Postable — hey, that's us! — can help make this whole process a lot easier. You can write and mail all of your late (or not-so-late) wedding thank you notes without leaving your couch or computer. We'll print, address and mail your personalized notes for you. AND you can complete the whole task in the fraction of the time.
Your guests will receive beautiful custom wedding thank you notes with a lovely handwritten font (that you chose) and you wouldn't need to spend a whole weekend writing, addressing and stamping them.
Yes, really.