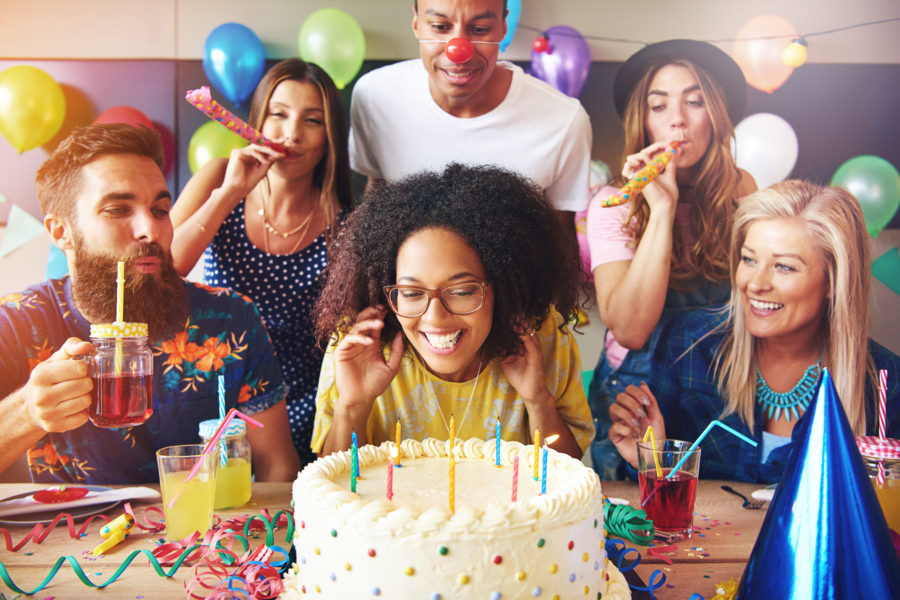 Coming up with birthday surprise ideas for best friends can sometimes feel like a far more arduous task than it needs to be. Especially when you've been celebrating your birthdays for 5, 10 or even 20 years! As the BFFs of the world, we have a responsibility of turning our best friend's birthday into an uber-super-quadrupel special occasion. Luckily, we've come up with a whole lot of ideas you can absolutely credit is as your own brilliance — we won't tell!
It's the holiday season! Don't forget to send your bestie a delightful Holiday card and brighten up their day!
We take birthday and bestie duties rather seriously here at Postable. Or as seriously as one can while still designing cards adorned with party Yetis. If your BFF is getting ready to celebrate their birthday, get ready to make it the most epic one yet! And if you're the one who's constantly outdoing yourself in the being-the-bestest-friend-ever department, you're likely thinking last year will be hard to beat especially given the quarantine guidelines we're all coping with.
Quarantine can't stop you from being the ultimate BFF surpriser of all time!
Not to worry. You can still out-do your past self by scrolling through and getting your idea juices flowing. Many of these birthday surprise ideas for best friends can still be done while being apart from one another during shelter in place. And the rest you can do once the world has been given the green light to resume socially un-distant activities.
Go ahead and get browsing… We've broken the most perfect way to surprise your best friend on their birthday into 3 easy steps. Follow these bad boys and your bestie will have the time of her life — quarantine or not.
Three steps to making your BFF's Birthday ridiculously special.
Perhaps last year you got them a stellar gift that they never knew they wanted or took them out to a big bash. That sounds amazing, but if you want to make your best friend's big day extra special this year — you'll need to take it up a notch (or ten). It doesn't have to be hard to make your bff's birthday epic, but it will take a bit of effort. Not to worry, we've broken it down step by step!
On that note, we've got just what the friendly doctors ordered.
Step One: Send your BFF a Birthday card.
Texting doesn't exactly scream — special occasion.
Especially during a time when everyone has resorted to fully communicating digitally on a daily basis, a text message just won't cut it. Heck — even before the quarantine a 'Happy Birthday' text message didn't translate into thoughtfulness. You know we're right.
Even though this is just just step number one in our three-step extravaganza — it'll surprise the birthday hat right off your bestie's head! And that's ultimately the point, right? Birthday surprise for the win!
Send your bestie a really nice Birthday card right now. Postable will print, address, and mail it directly to your BFF for you.
What makes sending a birthday card so special compared to just sending a text? You guessed it — thoughtfulness. You need to put in a little foresight and thoughtfulness into sending your bff a birthday card. So, don't wait until the day before your best friend's birthday to send the card — that's not how snail mail works. Plan to send the card about a week prior to the big day and don't forget to write something only a best friend would!
Whether you create your own birthday card or you buy one from the store because the crafty-art-gene skipped you, just whatever you do — don't skip this step!
[Pro tip: Postable will print, address and mail your bestie's birthday card for you. So there really is no excuse not to send one.]
Let us find THE perfect bestie birthday card for your BFF!
The grateful friend card.
Aren't you happy they were born? Ok then — this birthday card is both accurate and beautiful. Gotta love those watercolors!
The most adorable birthday card of all time.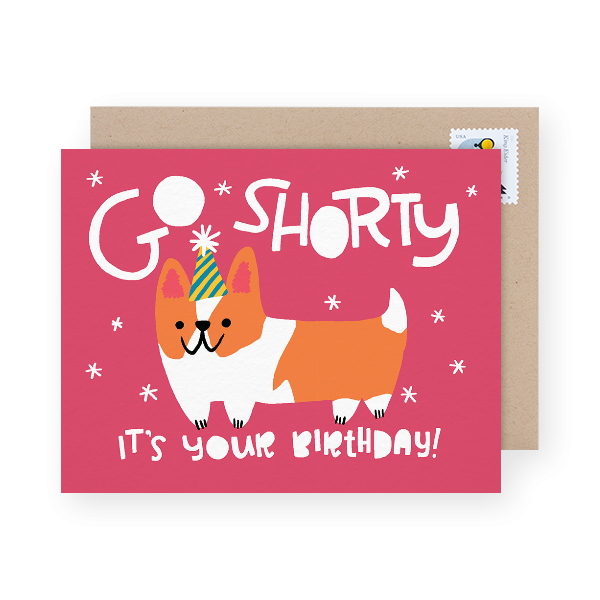 Your bestie like corgis? Of course they do. Who doesn't?!? This birthday card is both funny AND out-of-this-world adorable.
Step Two: Gift them food.
We all know food is the fastest way to a person's heart. Whatever gift you were planning on giving your best friend is great, but consider gifting them a food item too.
Think we're nuts? Think again. We've got some stellar ideas on how you can make your bestie's birthday belly epically happy.
You can't go wrong with a good old fashioned birthday cake, but if you're feeling adventurous why not go for something a little unconventional.
Your BFF like pizza? Why not pair a pizza birthday card with a giant pizza from a local favorite. Not into the whole bread, cheese, and pepperoni concoction? What is the one food that your best friend is constantly raving about? Great, now turn that food item into some version of a 'cake' and you've got yourself a recipe to surprising your best friend on their birthday — for sure!
There are many ways in which you could present your best friend with said food item:
Surprise them at the office with a pint from their favorite ice cream shop.
Make plans to meet them for their lunch break.
Organize a picnic with their favorites at the ready.
The Quarantine alternatives.
So the quarantine's got you both indoors and out of sight of normalcy, huh? No sweat. You can still surprise your best friend with their favorite food in a number of ways:
Use a delivery service!
Make it yourself (extra brownie points for this one) and drive it over.
IF health guidelines allow, organize a picnic at the local park and have the yummy goodies ready to share.
Still having not sure what food to bring to the table…
Send your bestie a really nice Birthday card right now. Postable will print, address, and mail it directly to your BFF for you.
The Birthday Pancakes.
Does your bestie love pancakes? Of course they do. Everyone loves pancakes. So why not surprise them with a giant stack covered in rainbow sprinkles. If you make them from scratch, that'll definitely be a plus (yummy recipe here). Perfect for weekend birthdays.
The pizza CAKE.
So maybe your bestie would rather eat pizza than anything else at any given moment. Like, ever. Skip the birthday cake and go for the pizza cake instead. Also, whoa. Whoever invented this culinary masterpiece should get a giant trophy. Check out how here.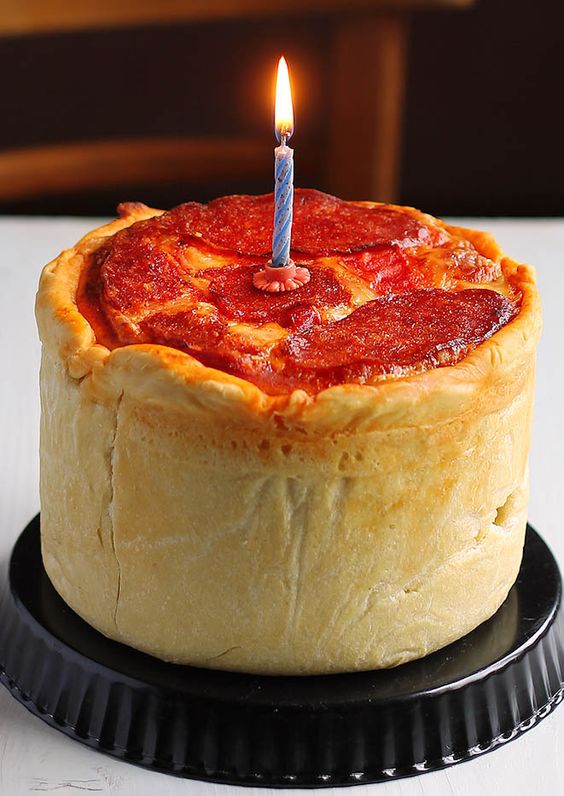 The Donut Birthday Puns.
It's hard to go wrong with gooey-doughy-goodness. Donuts are the greatest thing since sliced bread. Only better. Send your bestie a box of their favorites the morning of their birthday with a fun little pun on the inside.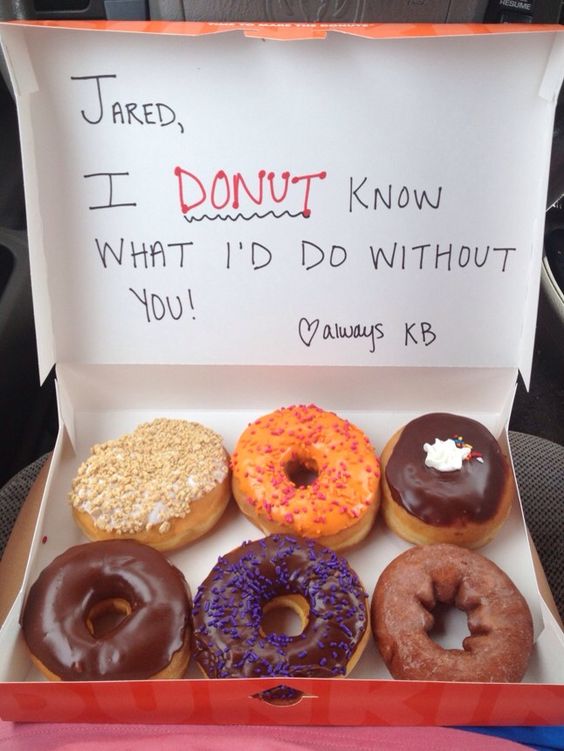 Step 3: Skip the gift card & go for memories.
Ok, so you've sent the birthday card and surprised your BFF with their favorite food. Don't stop there! What about the gift?!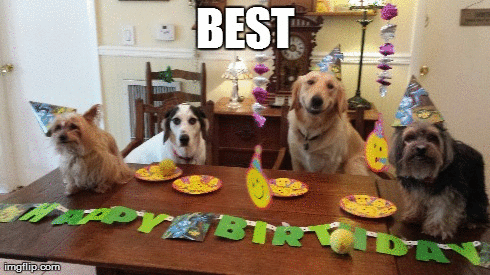 We're talking about surpassing your typical birthday shenanigans so if you're thinking gift cards — get your head in the game! Gift cards are nice for your niece's twelve year birthday (although you could probably come up with something better) — not for your closest friend.
You, better than anyone, will know what will bring them the most joy. But at the end of the day gifting your bestie an experience they'll likely to remember forever is a great way to make their birthday surprise above and beyond.
No need to pull a Jawbreaker and kidnap your blind folded BFF, but a little surprise never hurt. So here are just a few ideas to get your thinking cap on.
The flash mob.
If you have the chops to pull off a flash mob, is there really anyone else more deserving than your BFF? How surprised will they be when they realize their friends have spent a bunch of time organizing a flash mob. I mean whoa — talk about SURPRISE!
Don't freak out if you don't have the moves or time to choreograph a giant number. There are a bunch of other things you can do to make their birthday into an experience they won't forget.
The surprise birthday bash!
Being the traditionalist that you are, throwing a birthday party seems like the most common sensed thing to do. And we're totally on board! However, this shouldn't be your run of the mill birthday party. It needs to have that extra umph that comes with best friend territory.
Make it a surprise! Your best friend will feel all sorts of special AND you'll also get to have a great time. Not sure how to make the whole gang come together and make it happen? Check out our guide to throwing a surprise party like a pro.
The quarantine alternative to an in-person surprise birthday.
So gathering a whole bunch of friends under one roof is obviously a no-go during a global pandemic. But don't let this put a damper on your plans. You can still host a surprise party… ONLINE. Ok, so maybe all those virtual happy hours have you both sick of Zoom gatherings, but hear us out.
Get creative with it and everyone might-just-maybe have a great time! Find fun trivia games you can play with everyone on the call and if the booze is already flowing — turn these into a drinking game! You can ask a musically inclined friend to perform a song or two.
The small, but mighty bday gathering.
Ok so maybe parties aren't really your bestie's style. We get it. Perhaps they prefer a night in to a night out? You could pick their favorite people and invite them over for a chill birthday celebration.
Some ideas to get you thinking:
DIY spa day with all the cucumbers and facials the birthday star could want.
Board game night with a few selections and delicious finger foods.
Movie night with a few classic selections, popcorn and some frozen cocktails!
Go outside for a lovely outdoor picnic with a few close friends!
Just remember the key items to making any small gathering a true delight: snacks, people and atmosphere.
Make sure to have a good selection of finger foods to go around the entire time — whether you get creative and make them by hand or simply go do a bit of snack shopping. Be picky on the folks you invite and really think about the birthday boy/girl when you're making the guest list.
Whatever theme you go with — really dive in. Spa day? Make sure you have everything you'll need. If you're diving into a board game evening, make sure to have some options and consider a few decorations to go with the theme.
And finally the booze. A cocktail or two never hurt a gathering, no matter how small. In fact, smaller gatherings are a great time to create some fun frozen cocktails!
Send your bestie a really nice Birthday card right now. Postable will print, address, and mail it directly to your BFF for you.
The birthday activity.
How about planning a fun-filled city-wide scavenger hunt? Has your bestie been dying to go laser tagging or roller blading? Why not gather the gang for some action-filled fun? That's bound to beat last year's birthday dinner.
This will depend on the options in your city, but do a little research to see what's available. Once you have your options, put yourself in your bestie's shoes. What would they want to do? Are they active or more brainy? Perhaps an escape room would be more to their liking than a paint-ball war.
Remember that many places require reservations. Make plans ahead of time!
Bonus Step: Go the extra mile.
What's that!? A knock on the door, you say?! This is where planning will be key. Even if you don't plan a surprise birthday party, planning a little extra surprise for your bestie's birthday will make them feel like rock stars.
Here are some of our favorite ideas to try.
Birthday video mash-up.
Perhaps the best and arguably the biggest way to surprise your best friend on their birthday is to create a birthday video mash up. You can do this during the quarantine to really boost their day, but this surprise idea is totally valid just about anytime anywhere.
Ask your bestie's closest friends and family members to film themselves wishing your best friend a happy birthday and answering a simple question along the lines of:
What makes [BFF NAME] awesome/special?
Then use the footage with some handy imovie magic to create a short flick. Your best friend will undoubtedly be surprised to see all the people they love wishing them a happy birthday.
The Balloon(s) surprise.
Imagine your BFF stepping out to the front door to see an unexpected box. Who wouldn't love to get a surprise box filled with colorful birthday balloons? Seriously, even the gloomiest of birthday mornings can be made bright with this little gift. Decorate the box yourself, but don't feel like you have to get super crafty (unless you want to). Even a simple '!' on the front will be enough.

The Happy Thoughts Wall.
Getting older can suck sometimes… But not really if someone makes you a personal wall of happy thoughts! How neat is this?! Fill each envelope with a delightful birthday card and you've pretty much made their day. Shape the whole thing into their birthday year to make turning one year older more awesome.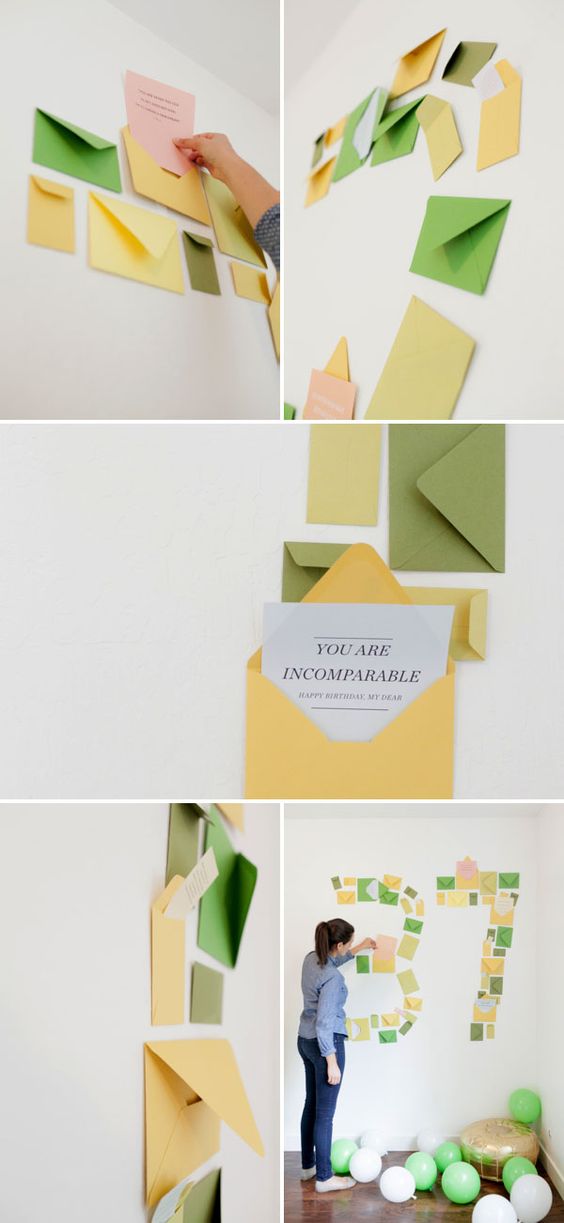 The Piñata.
Yes, a piñata. What could be more fun than hitting a giant fun shaped box filled with goodies on your birthday? Nothing. Nothing is more fun. Add a piñata to your BFF's Surprise Birthday party and you've got yourself a win-win.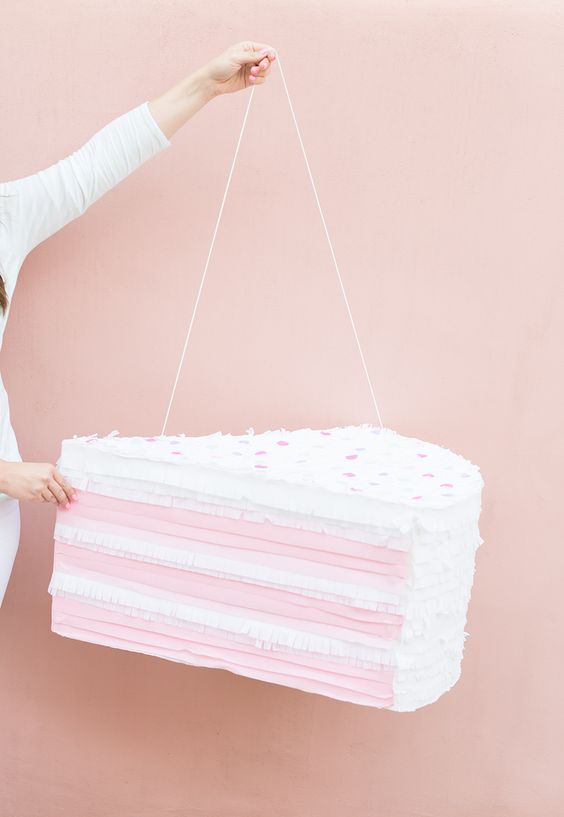 Whatever you choose to gift or organize for your best friend, stick to things that are experiences rather than things they'll forget they have next month.
You can thank us later. Good luck!
Not sure among all these epic birthday surprise ideas for your best friend?!