If you're wondering how to throw a surprise party for your best friend's birthday then you've found the right place. Here at Postable, we take bestie duties quite seriously. Or as seriously as one can while still sending cards like this one. We also know a thing or two (or everything there ever is to know) about birthdays. Your best friend's birthday is your chance to show your BFF just how awesome of a friend you really are. It's also a chance to help make your BFF's birthday the best day ever. And there's no better way to make that happen than to surprise them with a surprise party!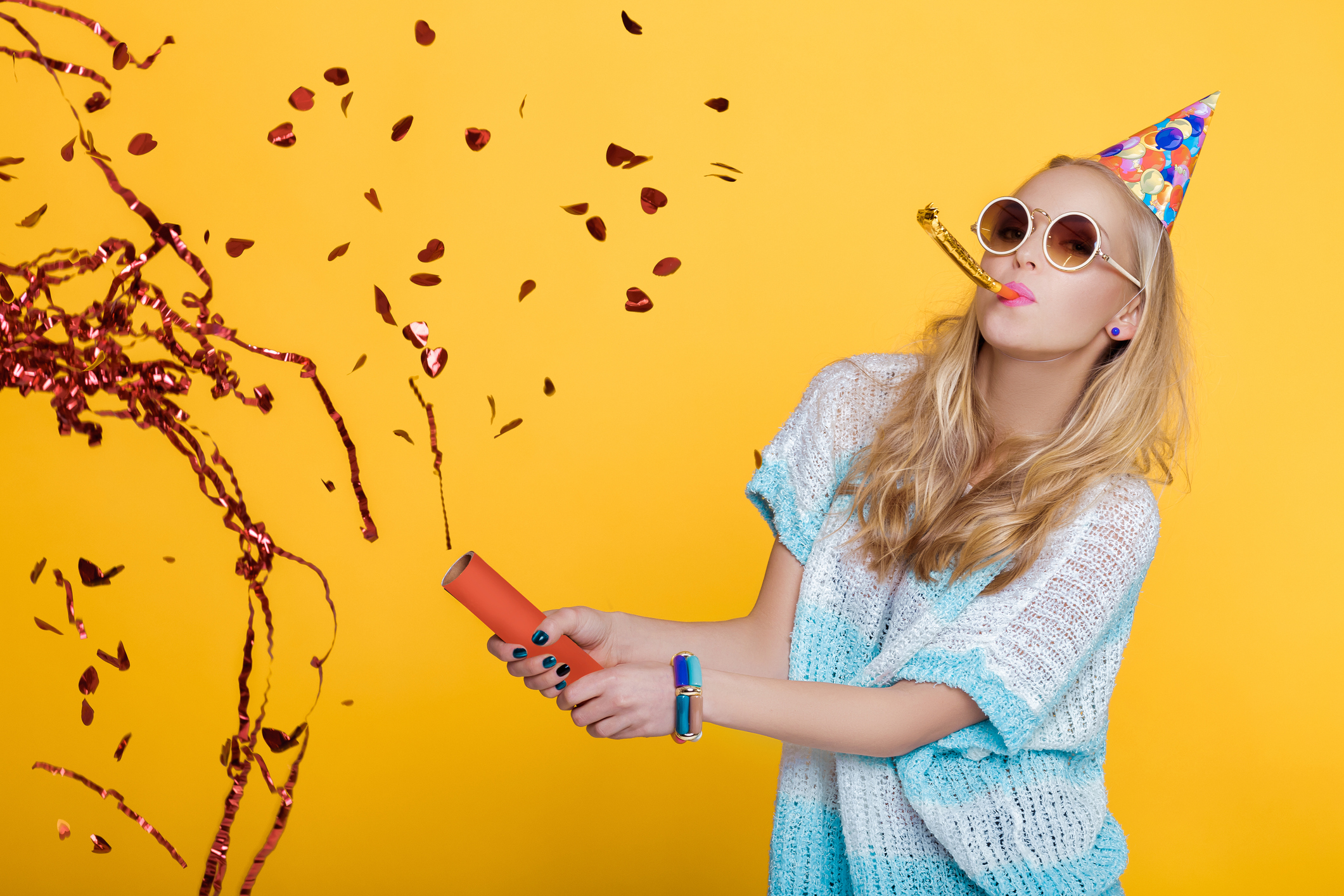 Birthday cards first, surprise party second.
First things first, before we dig into how to throw a surprise party for your best friend's birthday, you need to make sure that their basic birthday needs are met. Sending birthday cards for friends should be the first thing on your to-do list. It's a quick and easy task that should be knocked off about a week prior to the special day to ensure it gets delivered by their birthday.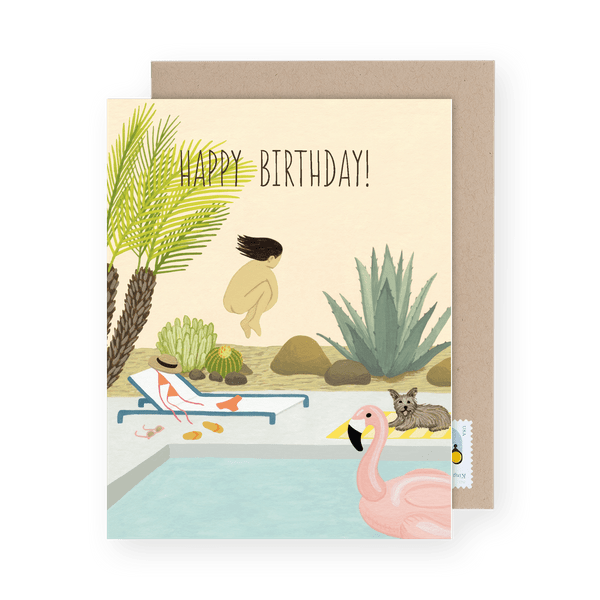 How to throw a surprise party – plan the logistics!
Once you've got the birthday cards for your best friend checked off and taken care of, you'll want to start planning the surprise party.
Just like any other party, there are logistics to think about — the space, the decorations, and the food. But unlike typical parties, you'll have to think about these details from someone else's perspective without their input.
Tricky, but totally doable. Especially considering that someone is your best friend.
When and where will you throw your surprise party?
Where will you host the surprise party? Do you have a place of your own where you could host the festivities? Or will you partner up with another friend to host the event somewhere else?
You know your BFF better than anyone so this is where your unique skill set will come in handy. The options are endless, but will ultimately need to pass the bestie test. If you can't see the birthday-person having a good time in the location, it's a no-go.
Pick a location that you know your bestie will enjoy spending time in. A few suggestions:
[At your place or another friend's place.] Don't get hung up on not having enough space; you can always move some furniture around.
[At a local park.]
[At the local kickball field.]
[At your bestie's favorite restaurant or bar.]
[At that laser tag place your bff is always raving about.]
When choosing the location, consider what activities you'll want to do. If it's an outdoor park party, you could have a picnic set up. On the other hand, if it's at someone's house you can turn it into a giant potluck.
Once you've settled on the location, time to nail down the date. A few things to consider:
Any reservations that need to be made at the location.
Your best friend's schedule – will they be in town or available to be effortlessly maneuvered to the party?
Holiday weekends – you don't want to plan the party on the Saturday of a three day weekend when many of your guests may be planning to go out of town.
Before solidifying a date for your best friend's surprise birthday party, make plans with them for the big day to make 100% sure they'll be there. Alternatively you can have a different friend or family member make plans with them so as not to raise any red flags.
Plan the guest list for your best friend's surprise party.
Making a guest list for a surprise party can be tricky. It's not like you can ask your bestie for all the people they'd love to see on their birthday. This is also where your special bestie knowledge comes in handy.
You know the people that make up your BFF's life. Their friends, family, co-workers, etc. Maybe they're really close with their barista (aka bartender). You know best. And if you'd like to be extra sure to make the perfect guest list — enlist some help. Ask family members and other friends to see if you missed anyone.
Invite guests to the surprise party.
There are a number of ways you can go about inviting your guest list, but using a long text message chain is not one of them. First of all, let's face it – nobody likes huge chain threads. They blow up our phones and half the time we don't read most of what is on them. Don't let your invite (or the oh-so-important surprise details) get lost in the thread.
If you'd like to keep the invites digital, Facebook is probably your best bet. Most everyone is already there, so all the resources are at your fingertips. Just plop in the logistics to the description (make sure to mention IN BIG BOLD LETTERS that this is a surprise birthday party) and select your guest list.
*Don't forget to make this a private event so your best friend doesn't stumble onto it by accident.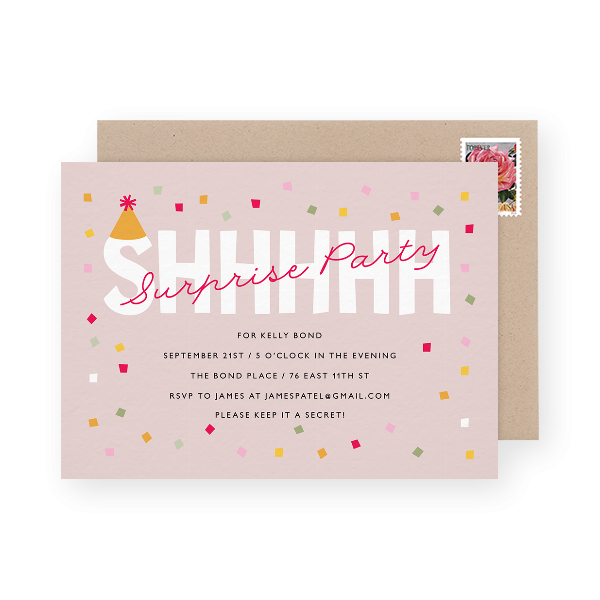 If you want to throw a surprise party for your best friend that blows everyone out of the water – go ahead and start the thing off with real paper invites. It's a lot harder to resist attending a party with real hold-in-your-hands paper invites. 
Send your surprise party invites in minutes. Postable will print, address, and mail them for you.
You're adults now. Go ahead and send your surprise party guest list real invites.

How to throw a surprise party – iron out the details!
You've got the location, the date, and the guest list. You've sent the invites and now it's time to iron out the remaining details before the big surprise!
Gather the birthday surprise party supplies.
Get all the party supplies ready well ahead of time so that you're not scrambling at the last minute. Make a list and use it as you go along. Here is a list you can use to get started.
Food (get really specific here… what (if anything) will you be serving)
Drinks (this one is not optional)
Decorations (depending on the location you choose, you may not need this)
Activity supplies (if you're planning on something specific you may need to really think about this… Throwing a pool party? Make sure to have some floaties!)
The best friend surprise party *it* factor.
Think about adding those extra touches that only you — the bestie — could.
What does your BFF absolutely love? Do they love ice cream? Why not add a mini ice cream bar so that guests can help themselves to a scoop and cone along with their booze. Maybe they're super into face-painting. Have someone around to paint the guests' faces.
Whatever 'it' may be, take a moment (or two) to think this one out. This is where being the BFF really makes the difference when it comes to throwing the surprise party.
Storing the items prior to the party.
Make sure your best friend doesn't get any glimpse of the goods — consider keeping them somewhere far from them like your work or a family member's place. Ask friends and family to help gather items and set up the day of the big surprise. You don't want to be the only one setting up the party.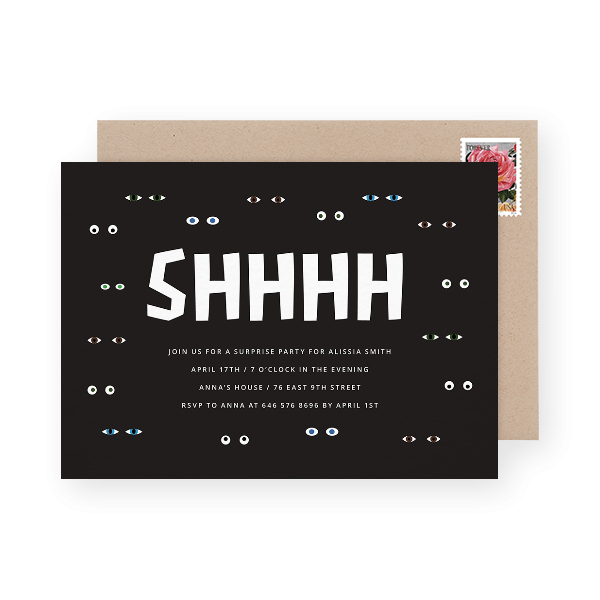 How to throw a surprise party – planning the moment of surprise!
Why make a plan?
Whether you're the one spending the pre-party hours with your bestie or they'll be off with someone else, make sure there's a real plan in place. You don't want your best friend to walk in on the party without any sort of 'SURPRISE.'
You've put in all this hard work, make it count by planning this important moment. Have a set time, but make sure you can be flexible.
Send your surprise party invites in minutes. Postable will print, address, and mail them for you.
Set an actual time for the surprise.
Give your guests a time by which they need to arrive (make it clear that this time must be taken seriously — wouldn't want your best friend's cousin randomly walking into them on their way in and ruin the whole thing).
The big arrival should be about 20-30 minutes after the last call for guest arrival time. This gives a little buffer without having the guests wait too long.
If you're the one bringing the bestie, make sure to have an inside man: the person who is responsible for rounding everyone up. Have a backup plan to stall your bestie — just in case the inside crew isn't quite ready for some reason.
Enjoy!
Enjoy the big event. Your best friend will feel like the queen/king that they are and you'll be crowned [once again] the best bestie that ever lived.
Send your surprise party invites in minutes. Postable will print, address, and mail them for you.