Here at Postable, we take bestie duties quite seriously. Or as seriously as one can with cards like this. Your best friend's birthday is your chance to show your BFF just how awesome of a friend you really are. It's also a chance to help make your BFF's birthday the best day ever. What better way to make your best friend's birthday epic than to surprise them with a surprise party!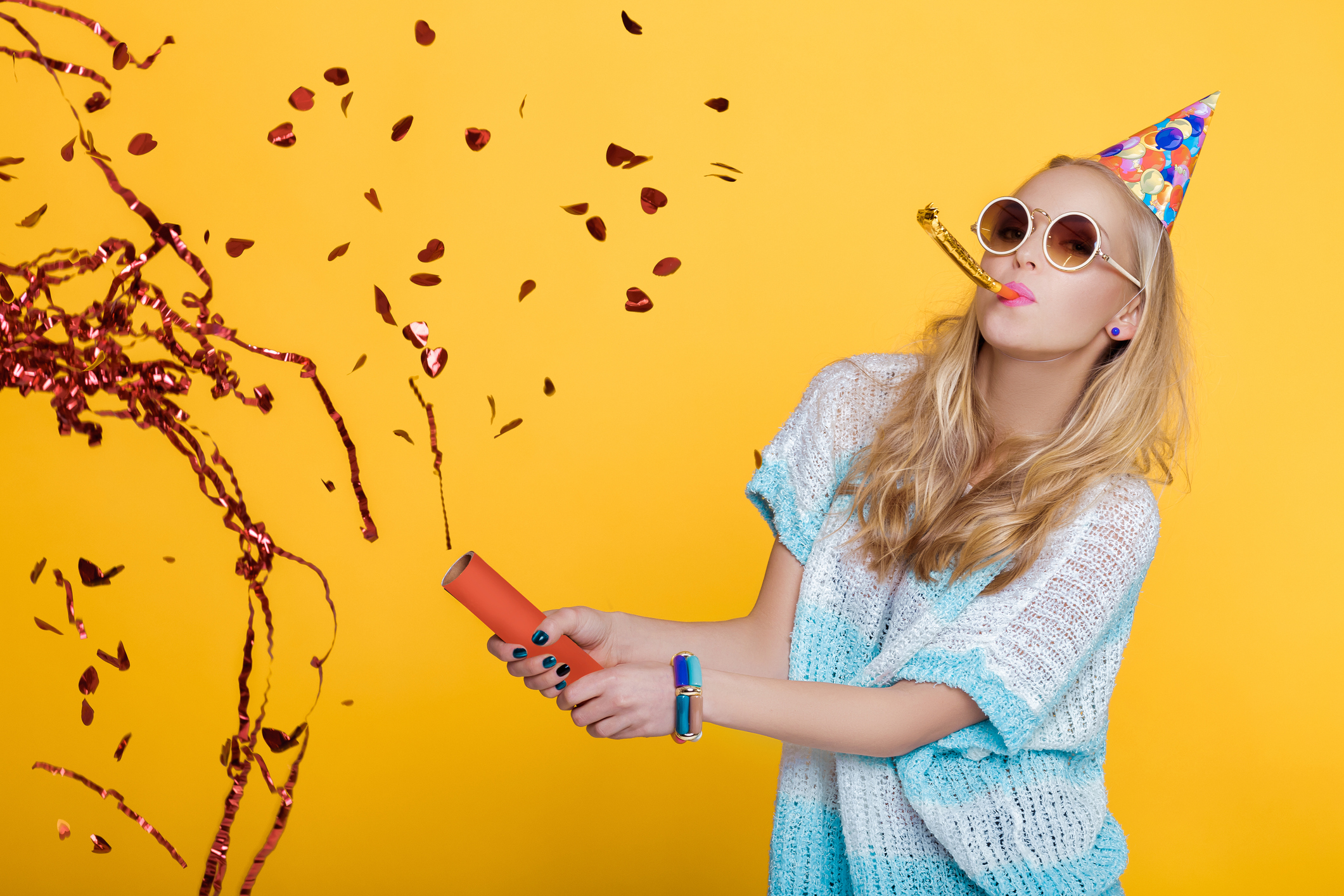 Birthday cards first, surprise second.
First things first, before you start planning your bestie's surprise birthday party you'll want to make sure that their basic birthday needs are met. Best friend birthday cards should be the first thing on your list. It's a quick and easy task to knock off at the beginning (you can even schedule these if you wanted) to make sure it gets delivered on the day of their birthday.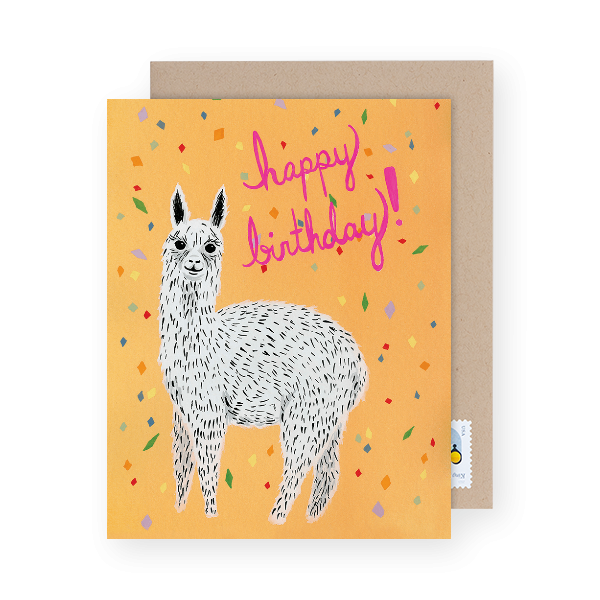 Planning the surprise party.
Once you've got the birthday cards for your best friend checked off and taken care of, you'll want to start planning the surprise party. Just like any other party, there are logistics to think about — the space, the decorations, and the food. But unlike typical parties, you'll have to think about the party from someone else's perspective (without their input).
Tricky, but totally doable. Especially considering that someone is your best friend.
When & Where?
Where will you host the surprise party? Do you have a place of your own where you could host the festivities? Or will you partner up with another friend to host the event somewhere else?
Don't get hung up on not having enough space (you can always move some furniture around). There's also the option of throwing the party outdoors (if the birthday coincides with a lovely time of year) or someplace a little out of the ordinary. Like a picnic surprise party or surprise them at your local laser tag space with a group of friends and some pizza. You know your BFF better than anyone so this is where your unique skill set will come in handy.
Picking a date once you have a place in mind should be easy, but remember to keep in mind that your guest of honor will need to 100% be able to make it and keep that date open.
Before solidifying a date for your best friend's surprise birthday party, make sure to make plans with them for the big day. You can also have another friend or family member make plans with the birthday boy/girl so as not to raise any red flags.
Guest List & Invites.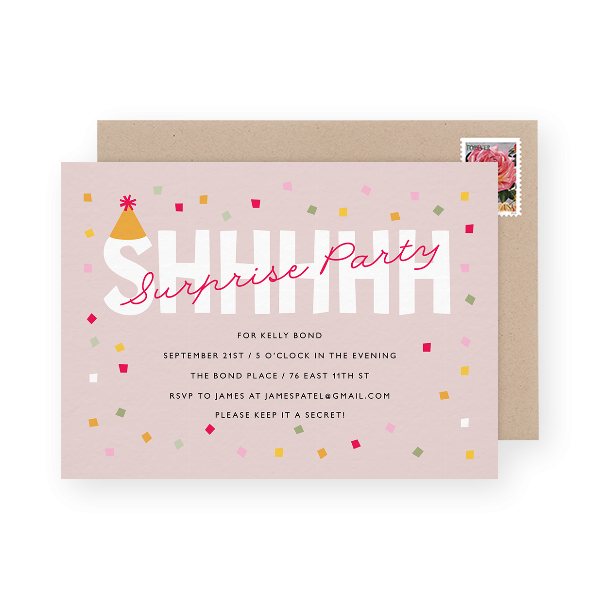 Get this card here
Making a guest list for a surprise party is a bit tricky. It's not like you can ask your bestie for all the people they'd love to see on their birthday. This is also where your special bestie knowledge comes into play.
You know the people that make up your BFF's life. Their friends, family, co-workers, etc. Maybe they're really close with their barista (aka bartender). You know best. And if you'd like to be extra sure to make the perfect guest list — enlist some help. Ask family members and other friends to see if maybe you missed someone.
There are a number of ways you can go about inviting your guest list, but using a long text message chain is not one of them. Avoid flooding your friends' text messages with an invite while running the risk of missing someone.
If you'd like to keep the invites digital, Facebook is probably your best bet. Most everyone is already there, so all the resources are at your fingertips. Just plop in the logistics to the description (make sure to mention IN BIG BOLD LETTERS that this is a surprise birthday party) and select your guest list.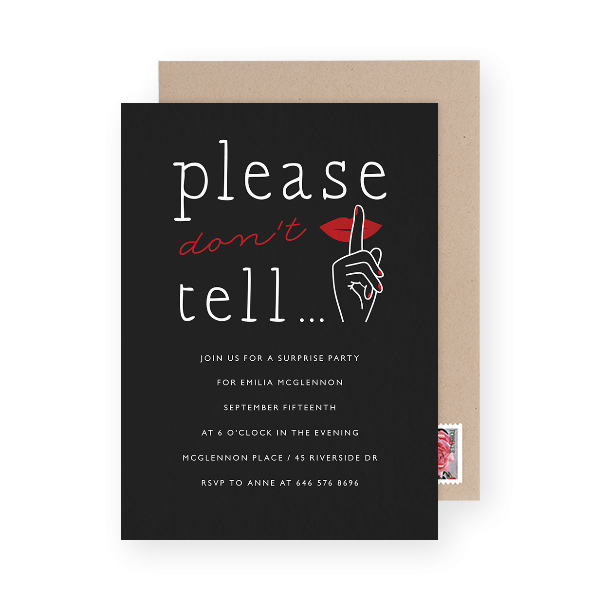 Get this card here
If you'd like to take your best friend's birthday party to the next level — send real paper invites.
Don't worry, there's no need to make a special trip to the post office. You can mail real-physical-snail-mail surprise birthday party invites straight from your computer. Sending real paper invites will make your guests more likely to commit to their RSVP (which they can do with via email or a Facebook event page).
Also, real paper invites are classy. Don't you want to be classy?
Select the surprise birthday party design that fits in with the feel of the upcoming event, customize it with your own details and click send.
Postable will print, address and mail them out for you. Just make sure you do this with plenty of time for the cards to arrive AND allow your guests time to RSVP (around 3 weeks in advance).
Pre-party planning.
Get all the party supplies ready well ahead of time so that you're not scrambling last minute. Make a list of everything you'll need (food, drinks, decorations) and make a plan where and when you'll get each item. Check each item off the list as you go.
Make sure your bestie doesn't get any glimpse of the goods — think about keeping them somewhere far from them like work or a family member's place. Ask friends and family to help gather items and set up the day of the big surprise. You don't want to be the only one setting up the party.
Think about adding those extra touches that only you — the bestie — could.
What does your BFF absolutely love? Do they love ice cream? Why not add a mini ice cream bar so that guests can help themselves to a scoop and cone along with their booze. Maybe they're super into face-painting. Have someone around to paint the guests' faces (along with the birthday bestie). Maybe they're more into dinner parties?
Whatever 'it' may be, take a moment (or two) to think this one out. This is where being the BFF really makes the difference when it comes to hosting the birthday party.
If you're planning on hosting the surprise at a restaurant or some sort of venue (see laser tag idea above), make sure to reserve the space well ahead of time and submit any deposits required.
Plan out the big surprise.
Whether you're the one spending the pre-party hours with your bestie or they'll be off with someone else, make sure there's a real plan in place. You don't want your best friend to walk in on the party without any sort of 'SURPRISE' moment.
You've put in all this hard work, make it count by planning out this important moment. Have a set time, but make sure you're able to be flexible.
Your guests should have a time by which they need to arrive (make it clear that this time must be taken seriously — wouldn't want your bestie's cousin randomly walking into them on their way in and ruin the whole thing).
The big arrival should be about 30-40 minutes after the last call for guest arrival time. You don't want your friend to walk in with anyone else, but you'll also want to avoid having the guests be completely plastered before the guest of honor even arrives.
If you're the one bringing the bestie, make sure to have an inside man. A person who is responsible for rounding everyone up. Have a backup plan to stall your bestie — just in case the inside crew isn't quite ready for some reason.
Enjoy!
Enjoy the big event. Your bestie will feel like the queen/king that they are and you'll be crowned [once again] the best bestie that ever lived.