Like cake? Of course, you do. Whether you're throwing a birthday party, hosting a baby or bridal shower or even having a wedding (eeek!) — some sort of cake or sugary goodness will be present. That means you're likely searching for the perfect cake topper to make the event photos POP.
And while you could go with something a bit more traditional for your cake topper, why not get a little imaginative and go with something extraordinary. That's where this list comes in. Here at Postable we're all about amazing design (having some of the world's greatest artists to create our beautiful party invitations) — and that design extends to all things. Including cake toppers.
This list of cake toppers is so amazing you won't believe your eyes! There's everything from the quirky to the totally chic. Bonus: All items are coming from Etsy so you know it's one of a kind.
Birthday Party Cake Toppers
Throwing a birthday party bash for yourself or a loved one?! Of course you are. Because why wouldn't you? Birthdays are kind of big deals — at least we think so. Where there's a party, there's a cake. And where there is a cake — a fun and unique cake topper is a must.
Who wouldn't want to adorn their birthday cake with something special to spice up the birthday party decor?!
1. Cat on a cow birthday
Let's start things off with the quirkiest cake topper of them all. Whether you're hosting a birthday party for your nine-year-old or one for yourself — this quirky cake topper will no doubt insight an overload of Insta-likes. It's a cat… On a cow. What's not to love?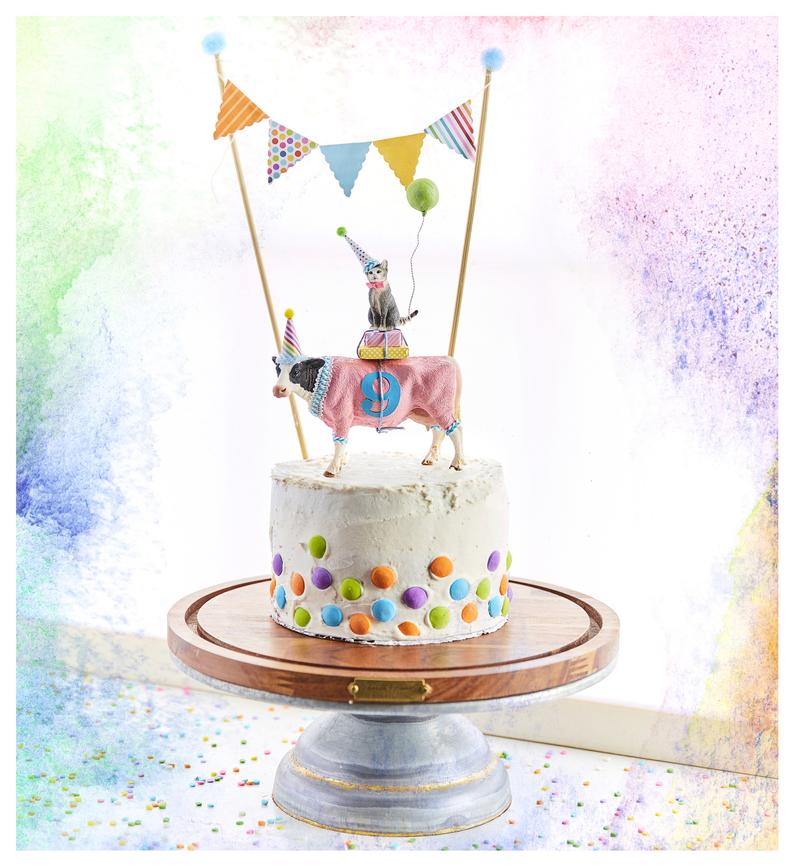 2. Treat Yo Self Birthday
via ForeverWeddingCrafts on Etsy
For the Parks & Rec fans out there, but also for anyone who knows the true meaning of self care. This is it. The perfect cake topper for a modern themed birthday. Go ahead, treat yo self to this delightful cake topper for your birthday party.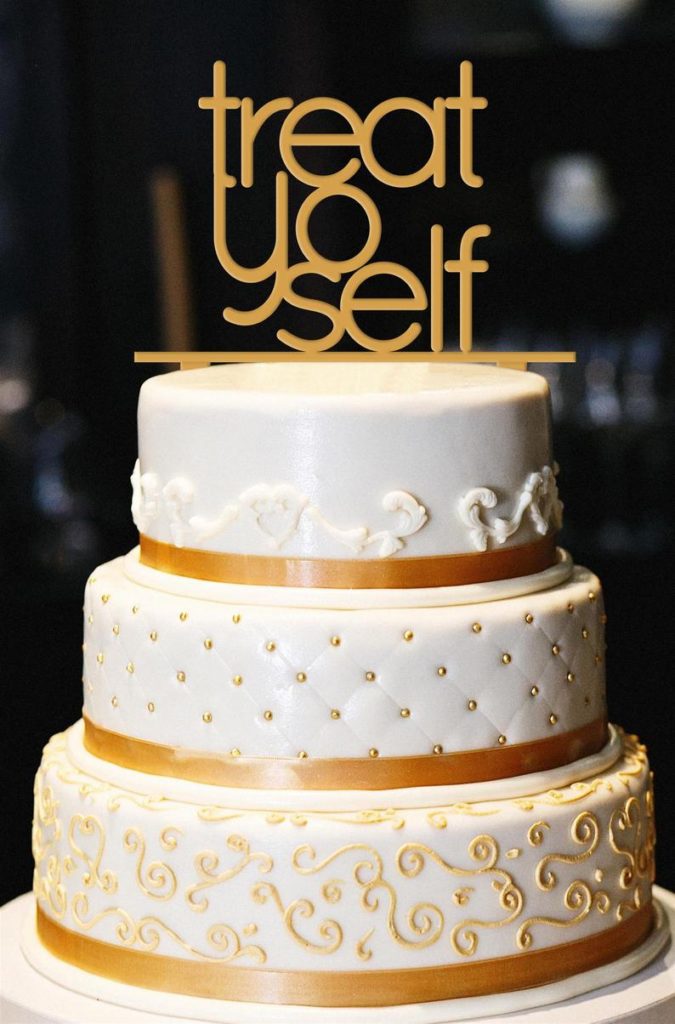 3. Old AF
Short, sweet and to the point. This funny birthday cake topper will have your guests giggling with glee as they snap away. Not taking yourself too seriously and laughing at yourself is a sign of wisdom — or so they say.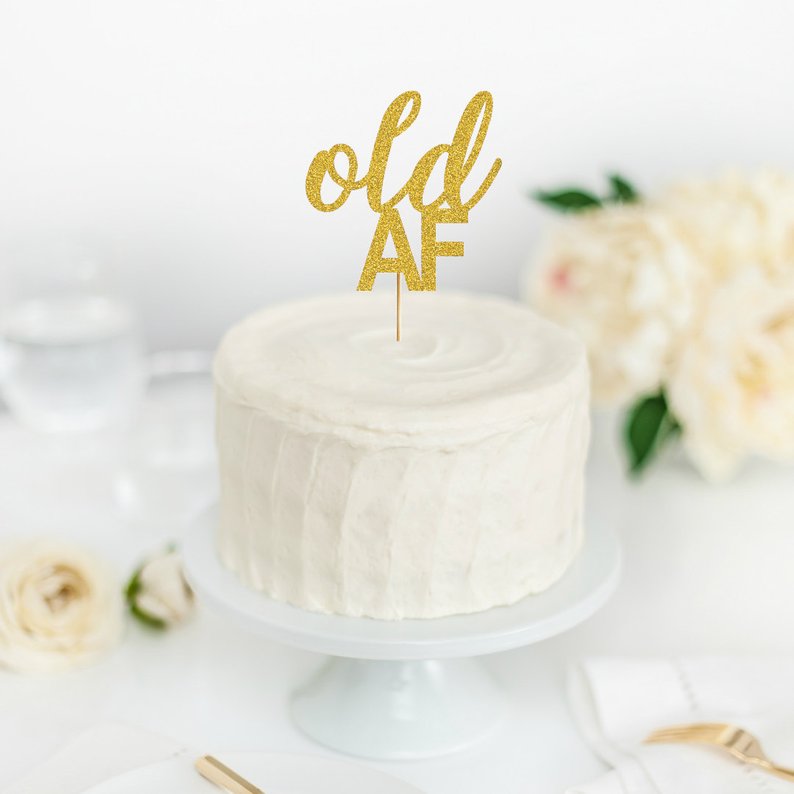 4. Unicorn Cake
via ILoveHoneyBeeCakes via Etsy
Hosting a birthday party for the unicorn in your life?! This cake topper would be a perfect way of celebrating them! Especially perfect if you're throwing a surprise birthday party — this cake topper will totally knock their socks off.
[See: How to Throw a Surprise Birthday Party]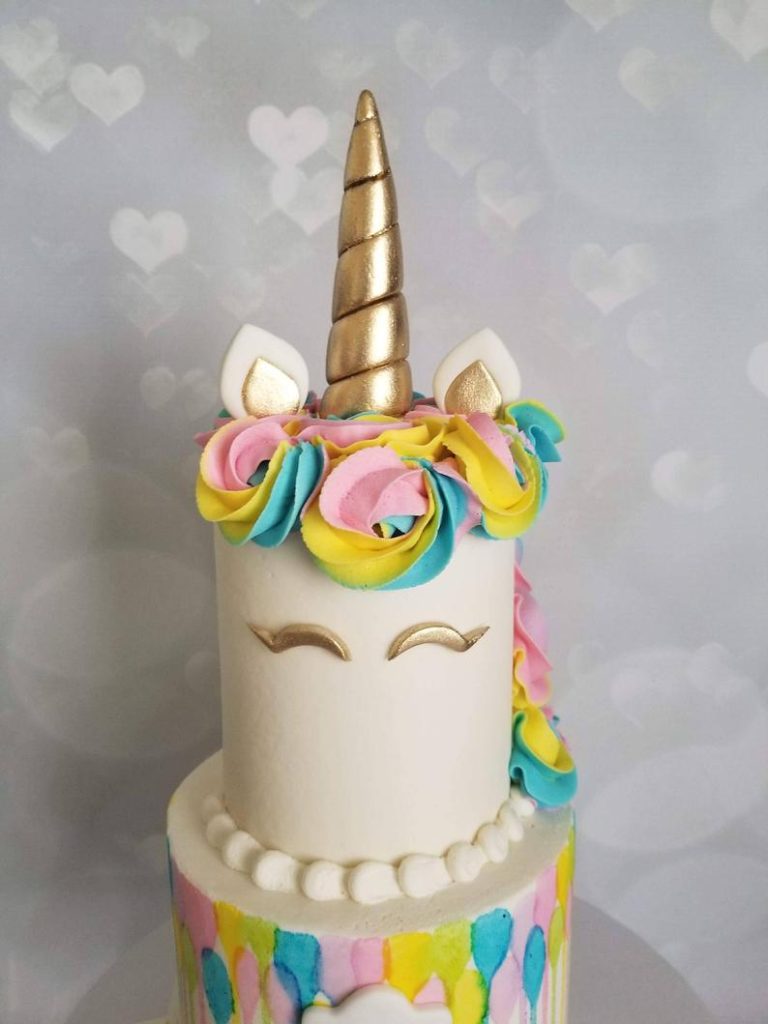 5. Wild One
The best part of this lovely birthday cake topper? You can use this for your kid's first birthday party with a Where the Wild Things Are party theme OR you can totally incorporate this into your own adult birthday party. Because what adult isn't at least a little wild? We love the versatile style too!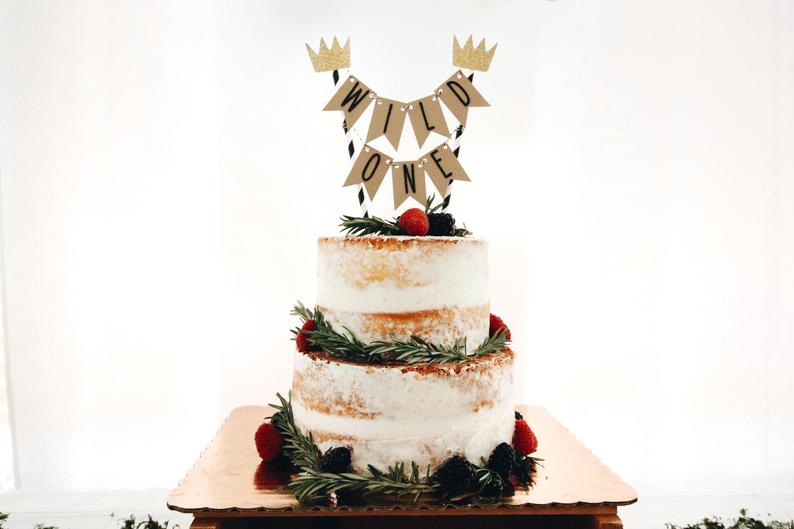 6. Lost Count Birthday
Not even sure what birthday you're celebrating any more?! First of all, congratulations — you've made it in life so far the number doesn't even matter anymore. Ok, but seriously this lost count birthday cake topper is both funny and chic af. Also if you decide to go with a cookie cake like the one in the image you win the coolest birthday girl/boy award of all time.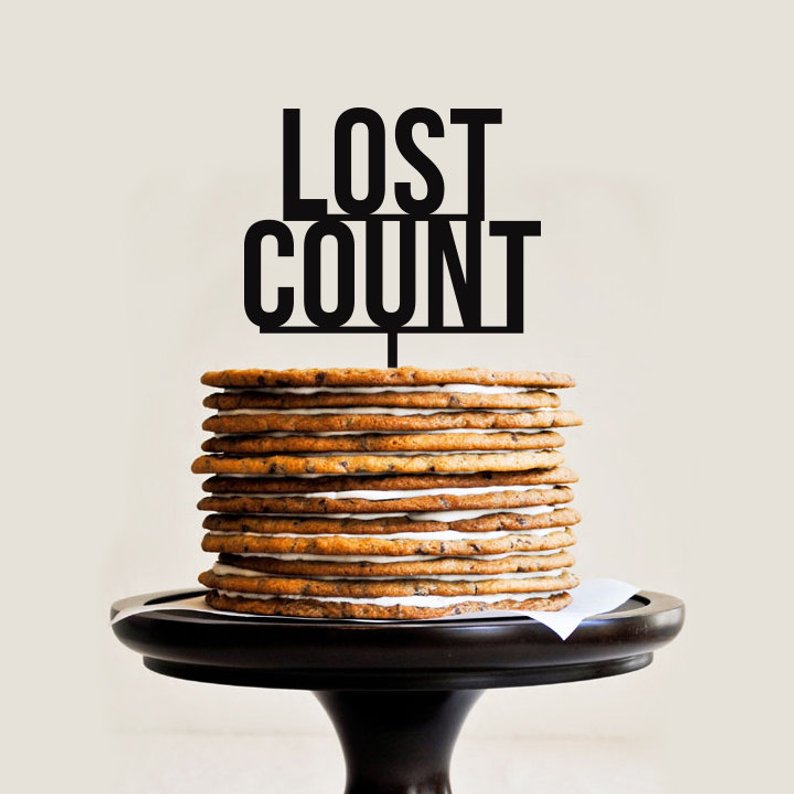 7. Llama Banner
Who doesn't want a cute little llama on top of their birthday cake? Perfect for your kid's birthday party. It's colorful, customizable and there's a llama. There's really nothing better.
8. Thirty Banner
There are some milestones in life that don't really require an explanation of what makes them so great. Turning thirty is one of those milestones. This cake topper pretty much says it all AND it has an adorable little banner to go with it.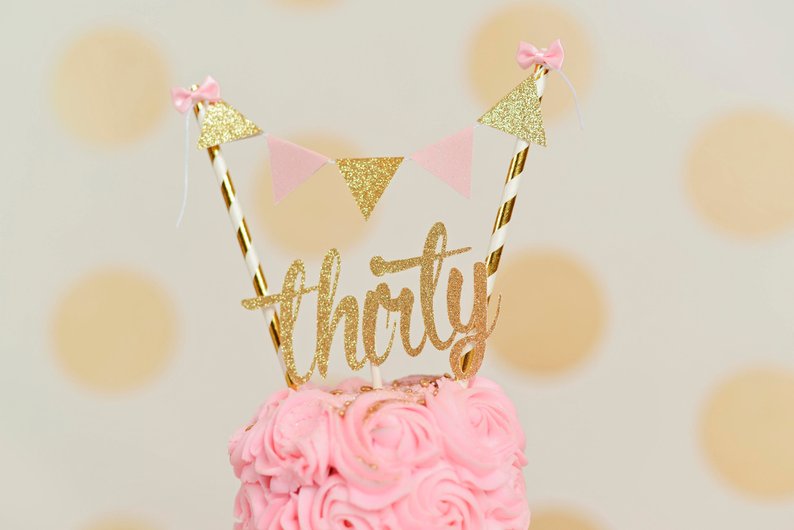 Wedding Cake Toppers
The celebration that practically birthed the cake topper — the wedding. When it comes to cake toppers — weddings are the granddaddy of them all. You can go the traditional route with the couple on top if you're into that sort of thing. But here we've got a list of wacky, chic and outright adorable wedding cake toppers for your viewing pleasure.
And remember — this is your big day so go with whatever tickles your fancy!
[See: How to Get Organized For Your Wedding]
9. Geometric Llamas
This is a fun and modern take on the traditional names only cake topper. It's untraditional and oh so cute. Especially great if your wedding cake is pretty simple on its own — the geometric design of the llamas (HA!) really adds an interesting element to the cake decor.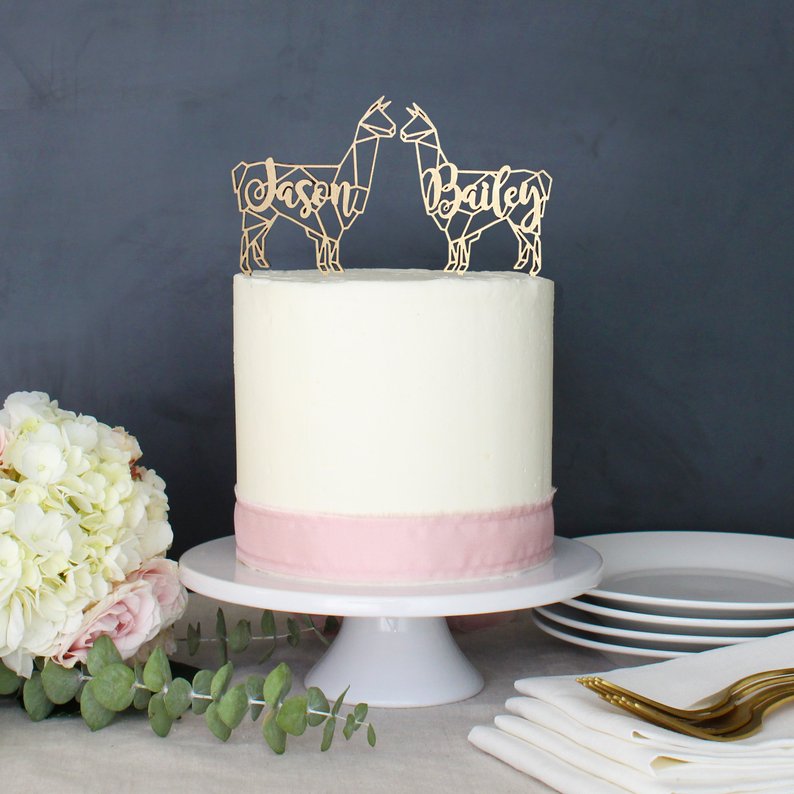 10. Yay Cake Topper
This YAY topper is simple yet oh so chic. We love the thick wire and the loopy font is beautiful. Hosting an intimate wedding instead of a big bash? Then your wedding cake will likely be smaller in size — perfect for this bold yet perfectly sized cake topper. Also, how cute?!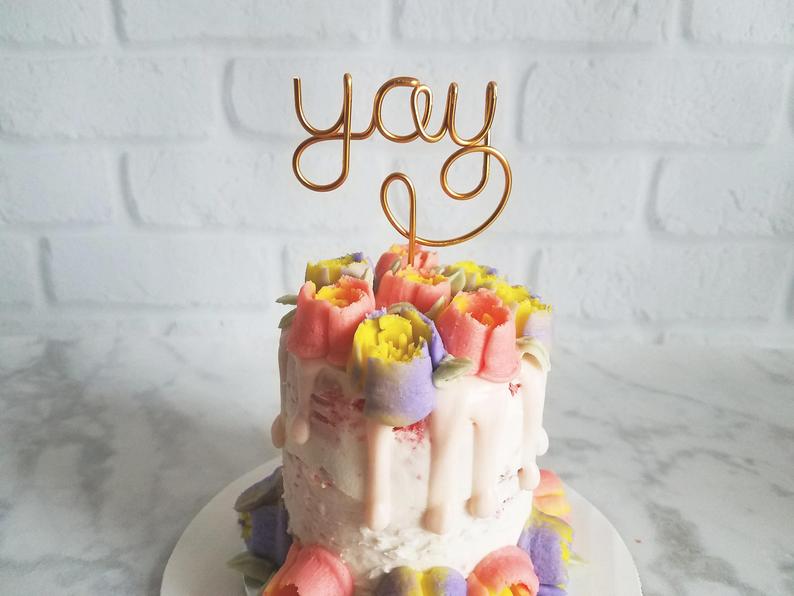 11. Best Day Ever
It IS the best day ever, isn't it!?! Why not say so right on top of your glorious wedding cake? The simplicity in design makes the words pop even more. Matching it up with some florals like this example will really take your wedding cake decor to the next level.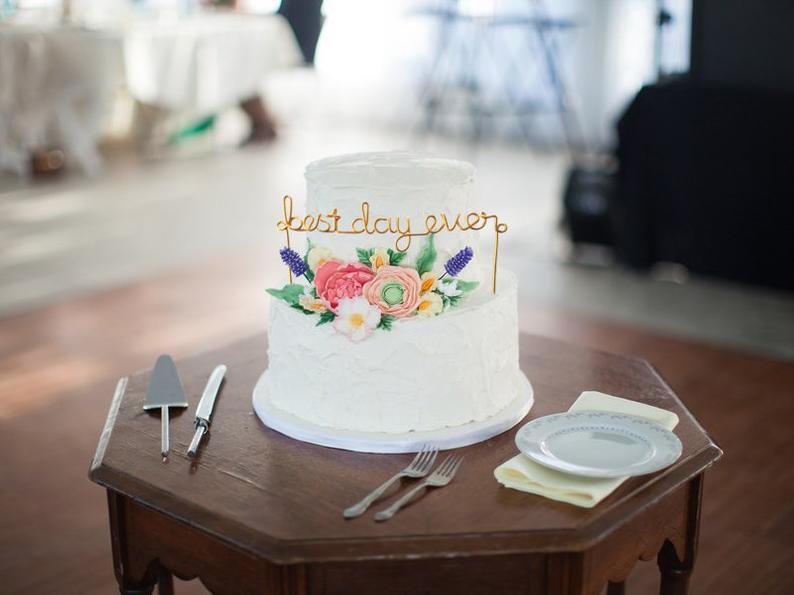 12. Yay Cupcake Toppers
And we're back with YAYs! These adorable little cupcake toppers are perfect if you're stepping away from tradition and serving cupcakes. We're totally on board. These gold glittery toppers would be perfect and definitely show your excitement for the big day.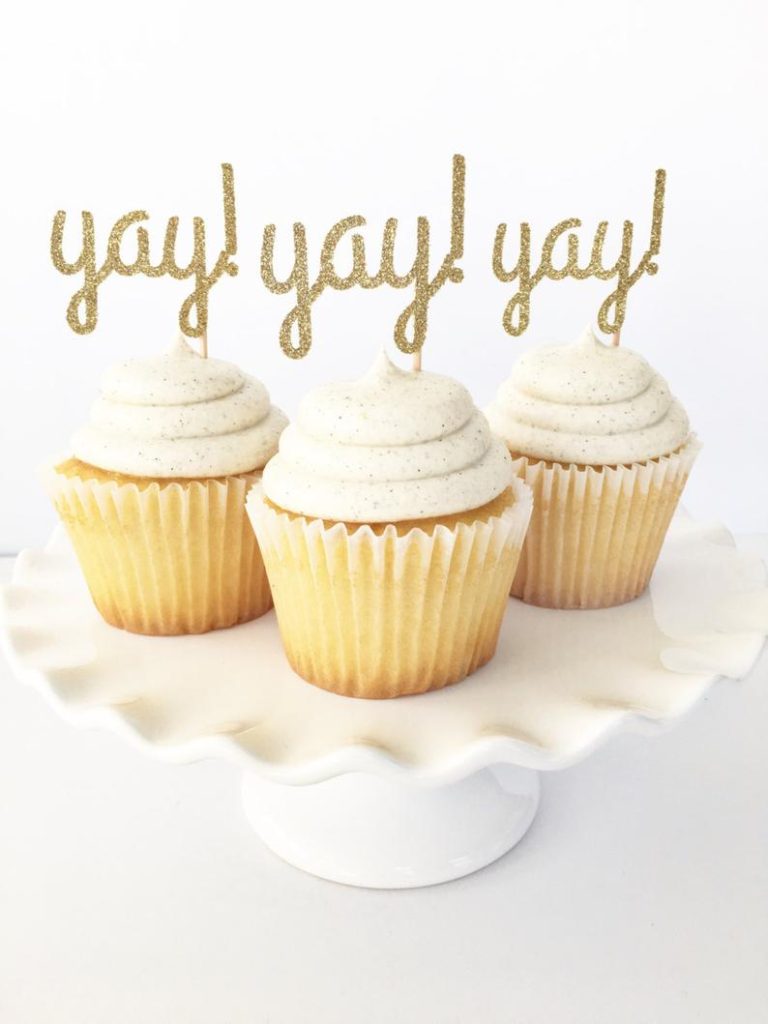 13. He's Her Lobster
Did you find your lobster?! For all the F R I E N D S fans out there. This geometric take on the Friends catch phrase is lovely! As with most of these cake toppers, it never hurts to add a bit of florals because flowers are life.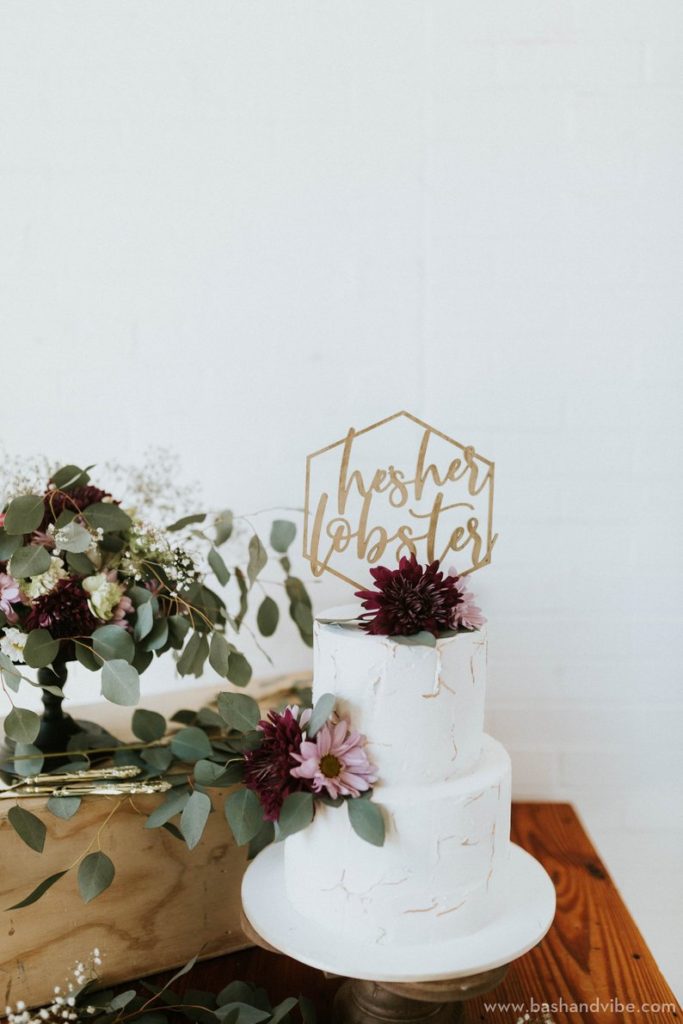 Other Party Cake Toppers
There are plenty of reasons one would throw a party. Birthdays and weddings are just two of them. You can host a party because you've finally finished college or your best friend is in town visiting for the first time in years. Maybe you're throwing a party to celebrate upcoming nuptials aka a bridal shower. Or perhaps you've gathered all your lady friends for a little Galentine's Day bash.
Whatever the reason that's brought you and your friends together for a party — we're glad ya did! There's no celebrating, however, without a cake!
So here are some more of our fun cake topper picks!
And remember — if you're throwing a party, don't forget the invites.
14. Educated AF
You nights studying and hours taking all the tests. Show them what you've learned with this delightfully succinct graduation cake topper. It'll give your guests a giggle and everyone (including you) will not be able to resist snapping all the photos — you can't pass up the opp to hashtag!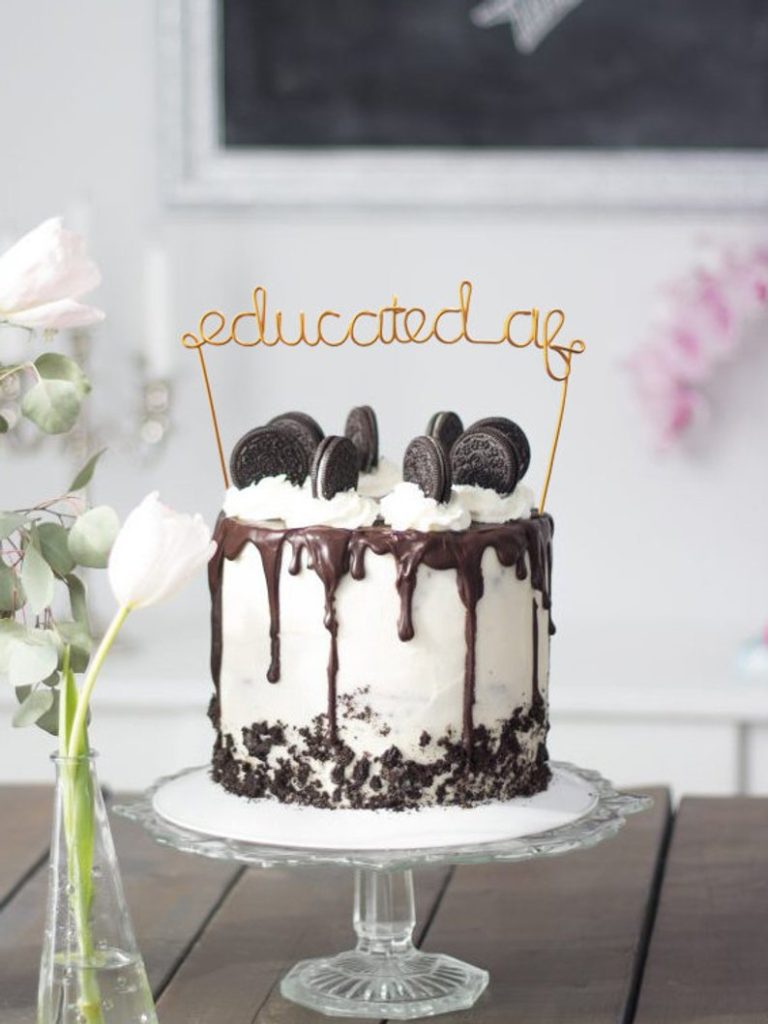 15. Smarty Pants
Equally as giggle-inducing — this graduation cake topper is just as awesome as the one before it. A different approach — with an adorable loopy thick font that we're kind of obsessed with. Choose whichever one makes you feel most adult-like — after all, you're all grown up now.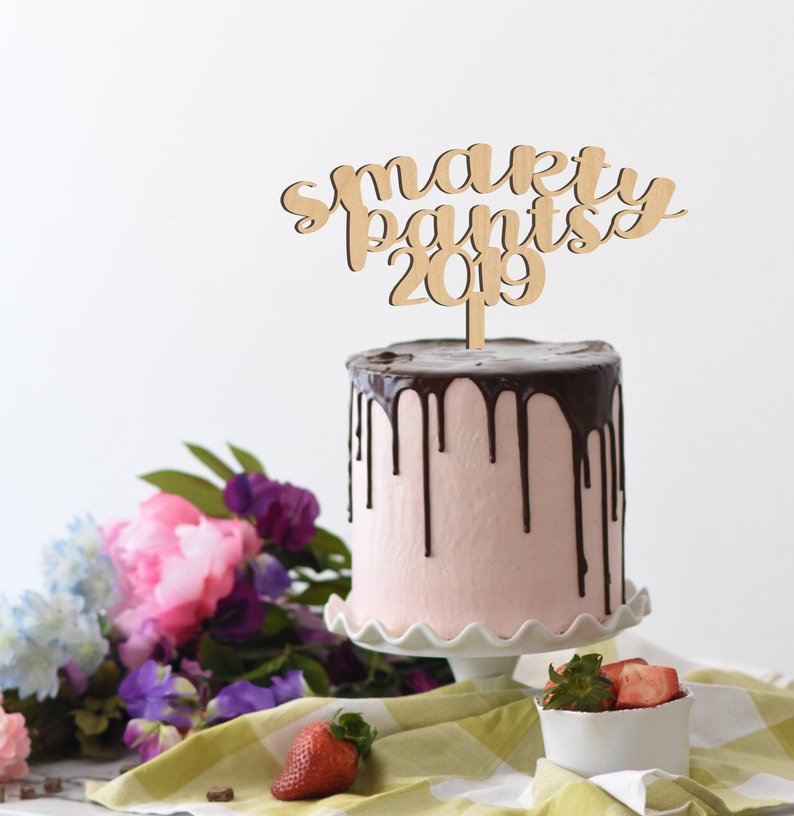 16. Harry Potter Cake Topper
A Harry Potter cake topper? What occasion could you possibly use this cake topper for?! Just about any. It's Harry Potter. Use it for a Harry Potter themed birthday party or baby shower. Or top off your brunch pancakes and call it a Sunday celebration. You can pretty much use this for any party you're hosting that is sure to have some Harry Potter fans in attendance.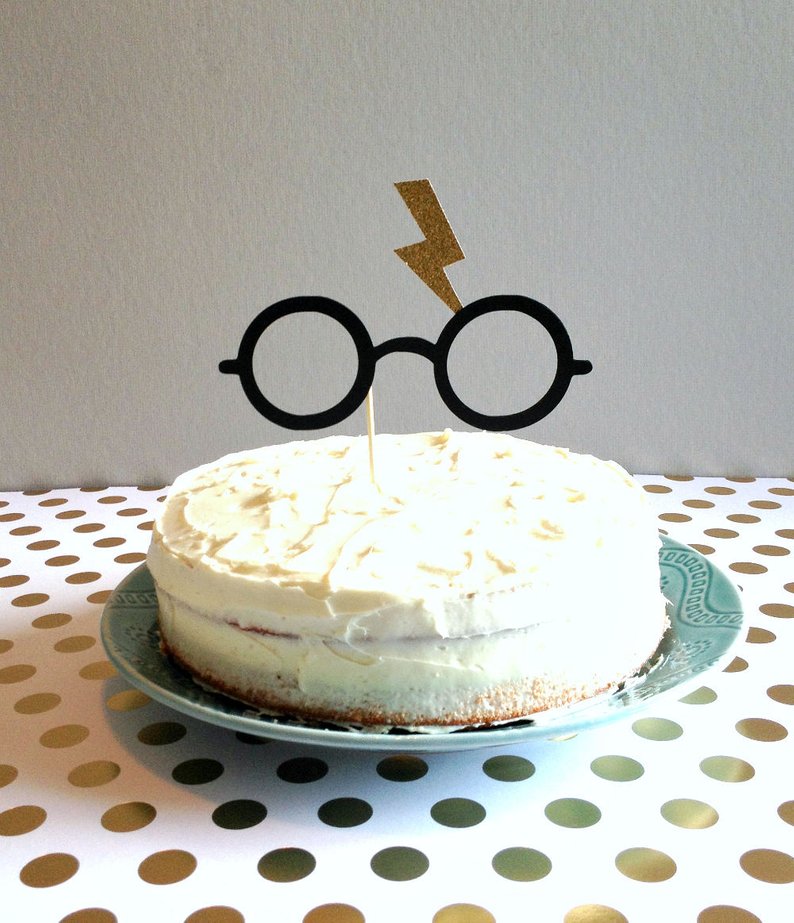 17. Little Llama
via ConfettiMommaParty on Etsy
Another non-occasion specific cupcake topper that's too adorable not to include on a list such as this. Use this cute little llama topper at a bridal shower or a birthday party or your very next brunch party. It's cute and will undoubtedly make your guests swoon with delight.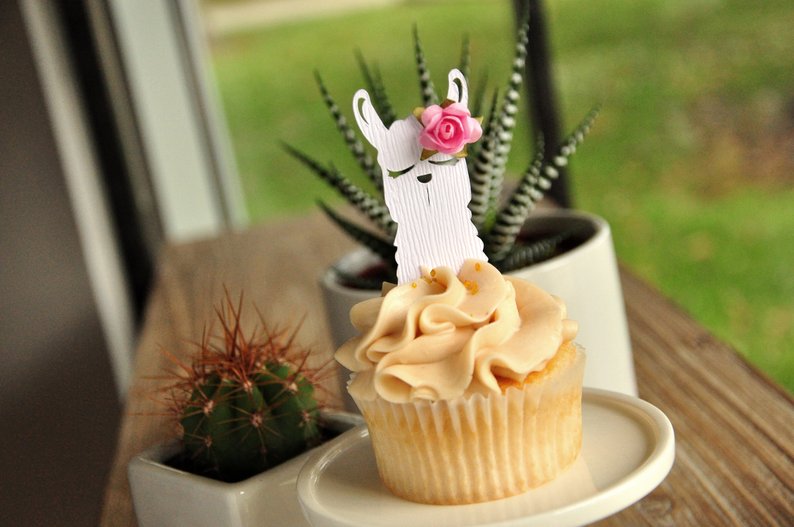 18. Shit Just Got Real
This Shit Just Got Real cake topper is pretty applicable for just about any big celebration. Use it at your bridal shower, graduation party or even the big wedding day. Use caution with this one — if grandma is invited, think how she'll feel seeing this and how much this means to you.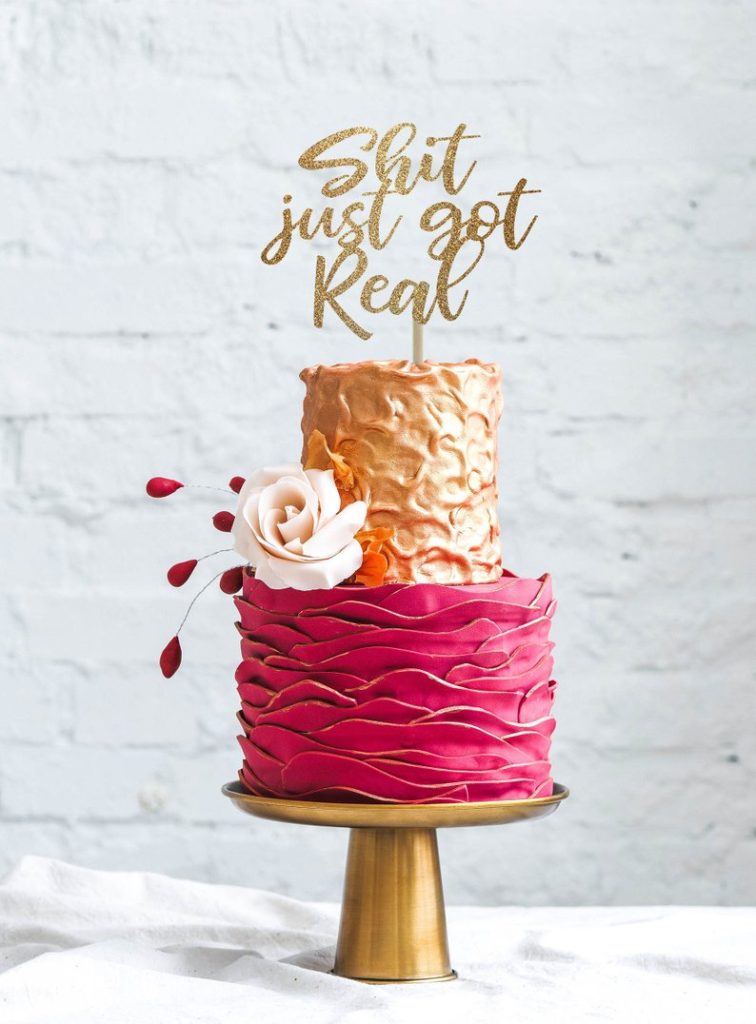 19. Dino Cupcakes
Another great example of cake toppers that could work for a variety of occasions. Hosting a birthday party for your ten year old who loves dinosaurs or a baby shower with a dino theme? These cupcake toppers would be a beautiful addition to the party decor. At the same time if you're turning thirty and want to have a party with dino cupcake toppers — we say you do you!