Ok so we can't guarantee these get well soon cards will *actually make someone feel better, but they're so darn nice to look at that it's very likely these cards will help aid the process. The first step (of many potential steps) to making someone you know feel a little better is to send a nice get well soon card. No, a text is not going to cut it and while sending a long message via Facebook Messenger is nice — it still doesn't carry the same impact. A lovely hold-in-your-hand card has a unique way of letting your person know that they're in your thoughts. It takes a bit more effort to send an actual card as opposed to sending an email or a text message. Of course it doesn't have to be THAT intensive (Postable can print, address and mail your card for you).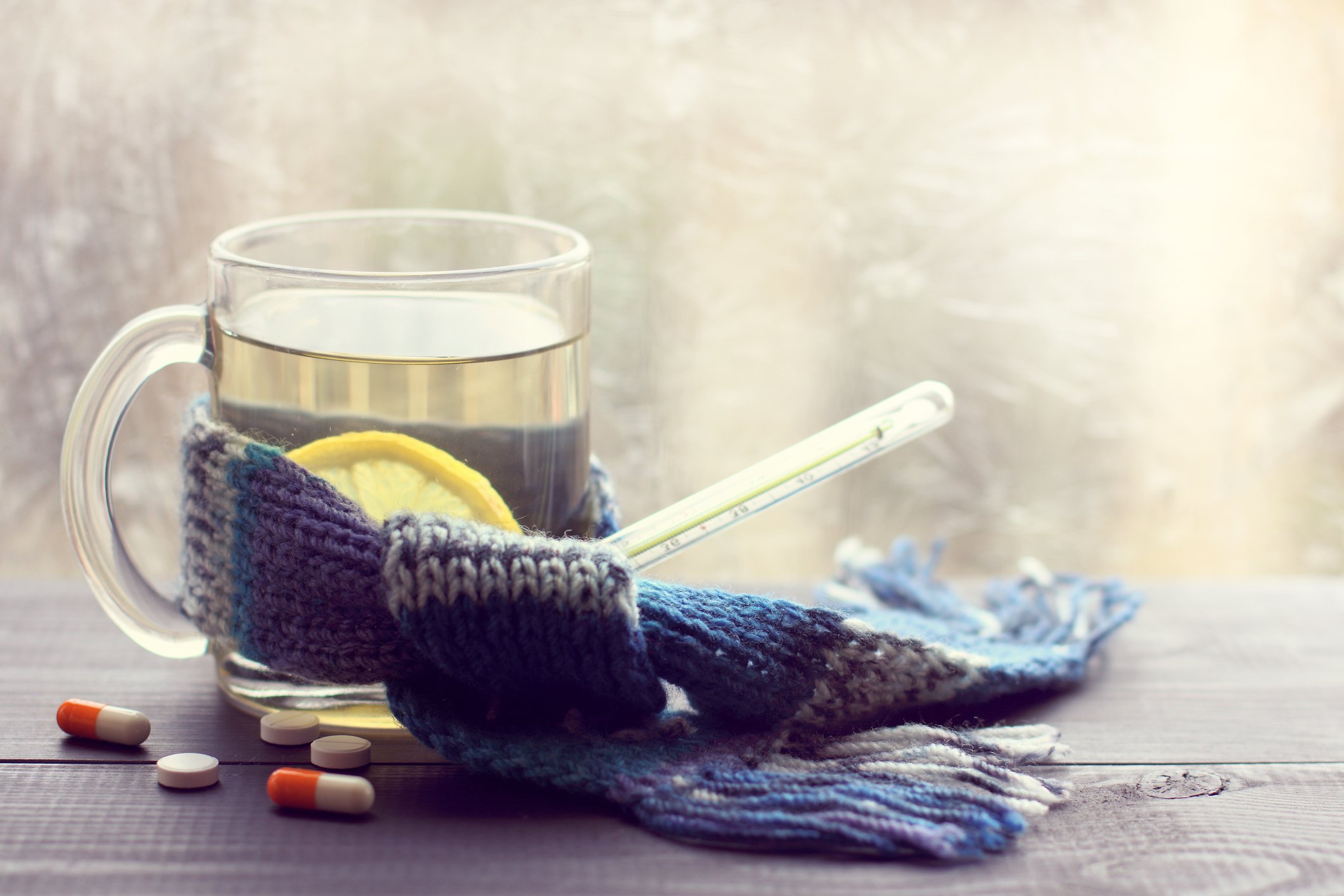 Whatever way you choose to send a nice get well soon card, you'll want to do it in a timely manner (don't wait until your friend is already better to send them a card — at that point, perhaps you could send a 'YAY' card to congratulate them on the recovery). But if you'd like to let your friend or cousin or teacher — or whoever — know that you're thinking about them and sending them all sorts of healthy vibes, you'll want to send the card asap.
There's lots of things you can do to be of use when someone is not feeling their best. Sending a card is step one. Then sending a gift or perhaps gifting your time by helping out are step two.
But first, the cards…
1. Yellow Get Well Soon
So bright and colorful, this get well soon card will — if nothing else — bring some liveliness to your friend, cousin or whoever needs it. You may as well package the sunshine and ship it over — this card by Forage Paper Co. is so fun to look at we can't look away!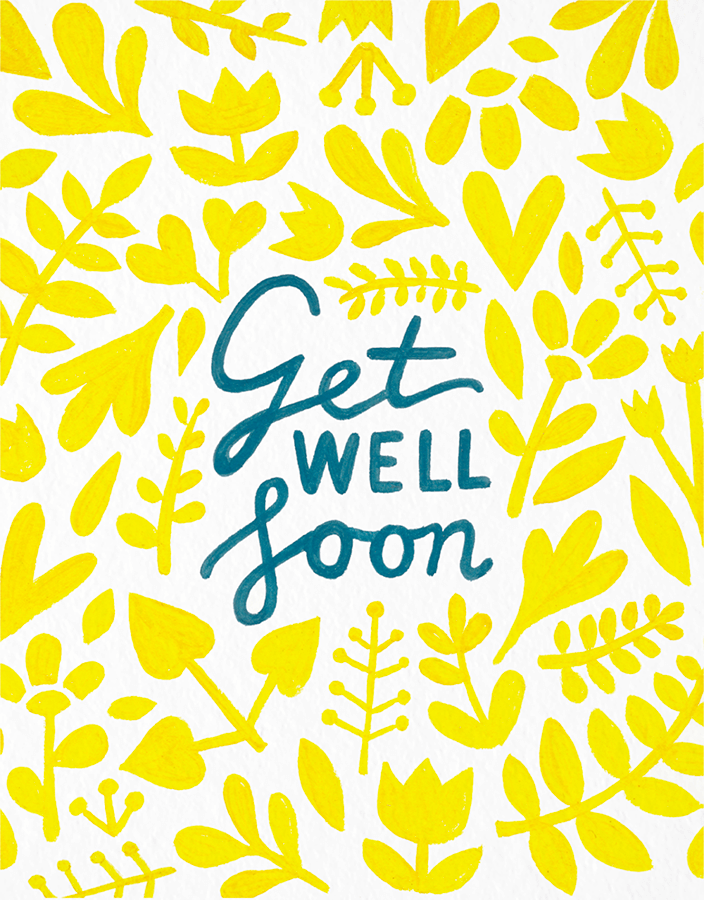 Send this card here
2. Feel Souper Soon
Everyone loves a good pun. What better way to send some cheer to someone who could really use it than with a delightful little pun. This design by Knotty Cards will have them grinning ear to ear. Maybe send along some actual soup.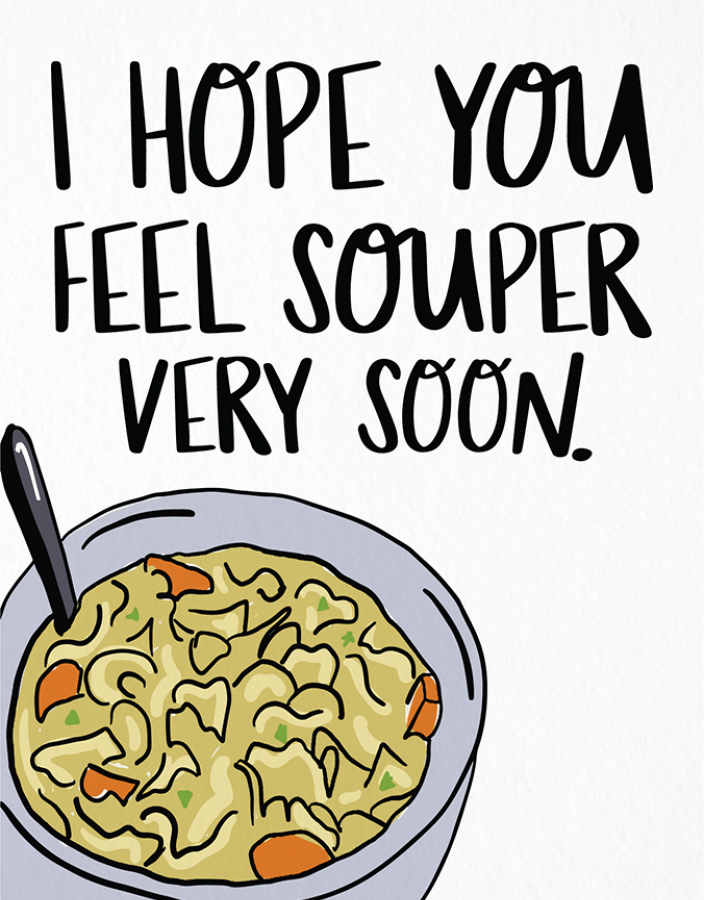 Send this card here
3. Eat The Ice Cream
Everyone loves ice cream, right?  They're probably already eating the ice cream straight from the carton anyway, but it's always nice to have support — even when it has to do with eating ice cream.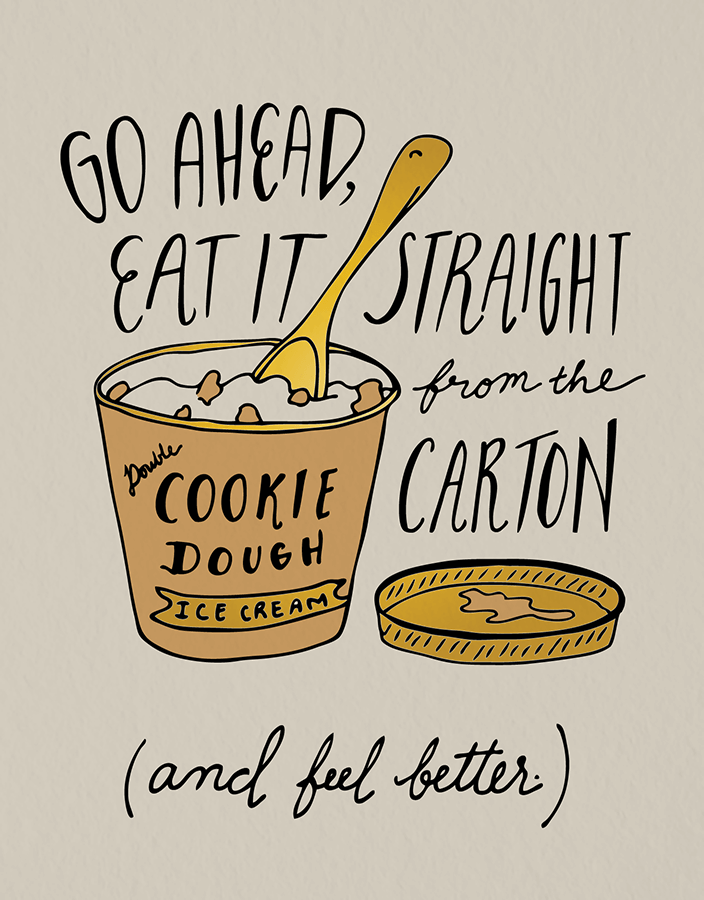 Send this card here
4. Tea Pot Get Well Soon
Nothing says get well soon like a delightful cup of tea. This beautiful illustration by Quill & Fox will send all the warm thoughts their way.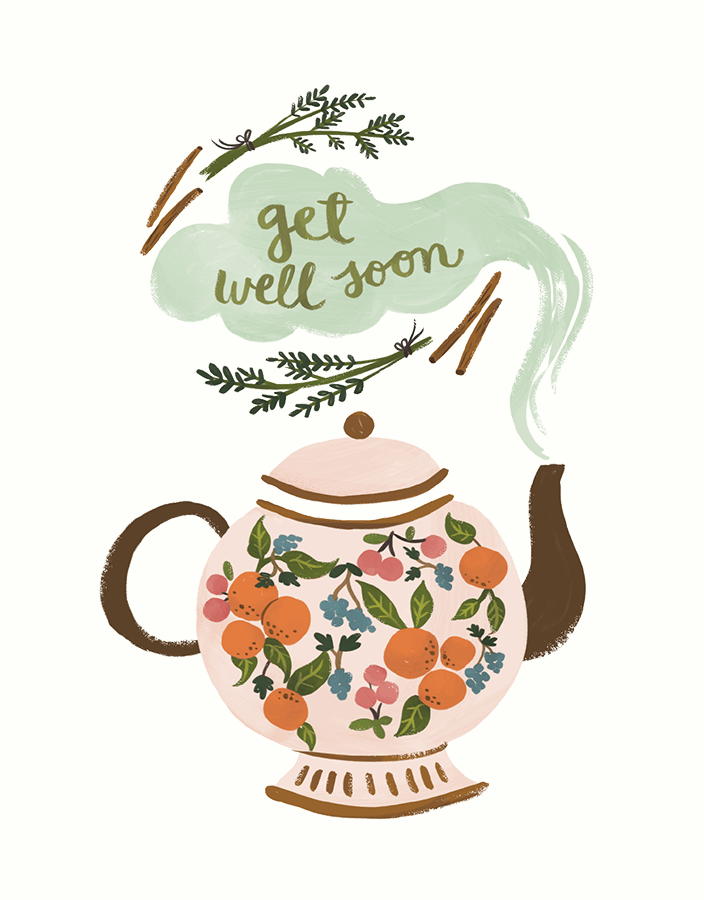 5. Feel Better
Big. Bold. And totally straight to the point. Sometimes the less we say the better… But maybe still consider adding a few personal words of encouragement and sunshine inside the actual card.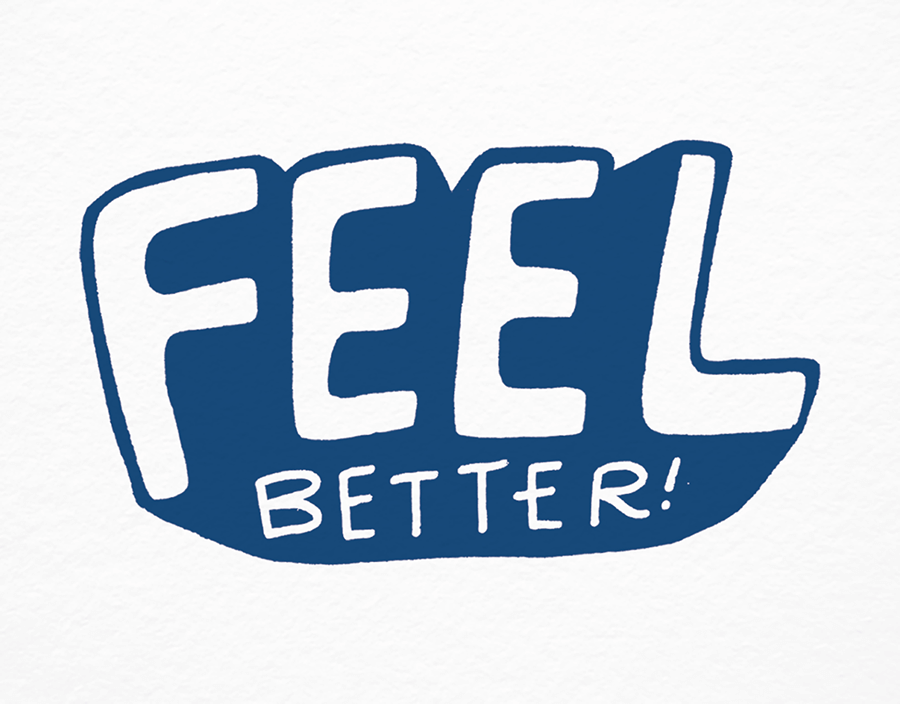 Send this card here
6. Tough Break
Another pun card for the win. Especially applicable for that friend with a brand new cast on their arm. It sucks, but at least they'll get a little giggle out of the situation.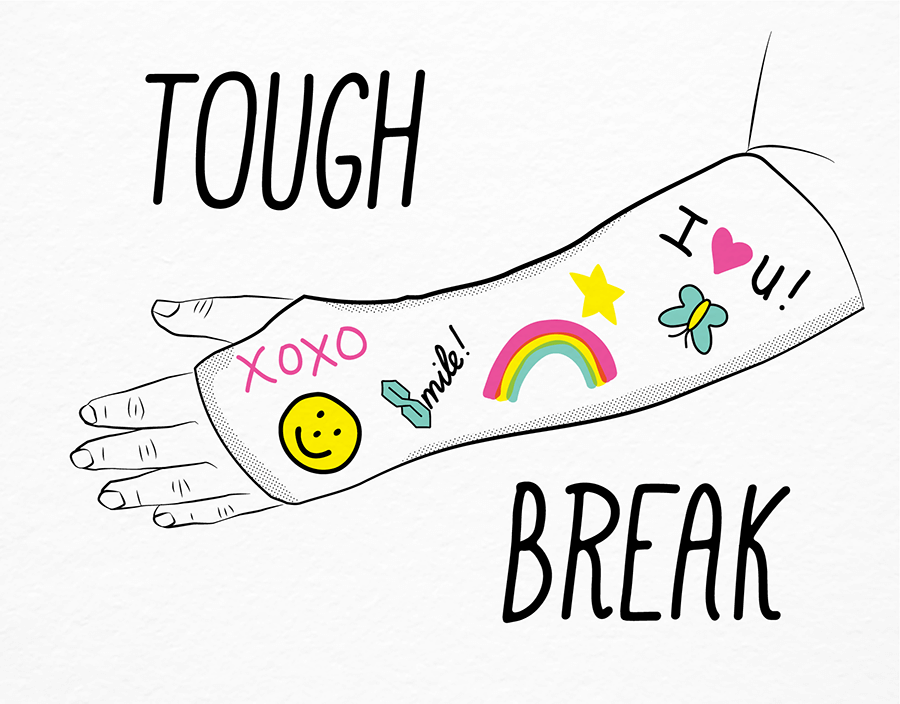 Send this card here
7. Better Than The Plants
If you have a knack for killing your green plant babies — this card will probably make your friend laugh (the best medicine). Who knew a card with dying plants can be so pretty?!? Small Adventure does it again with a lovely hand painted design.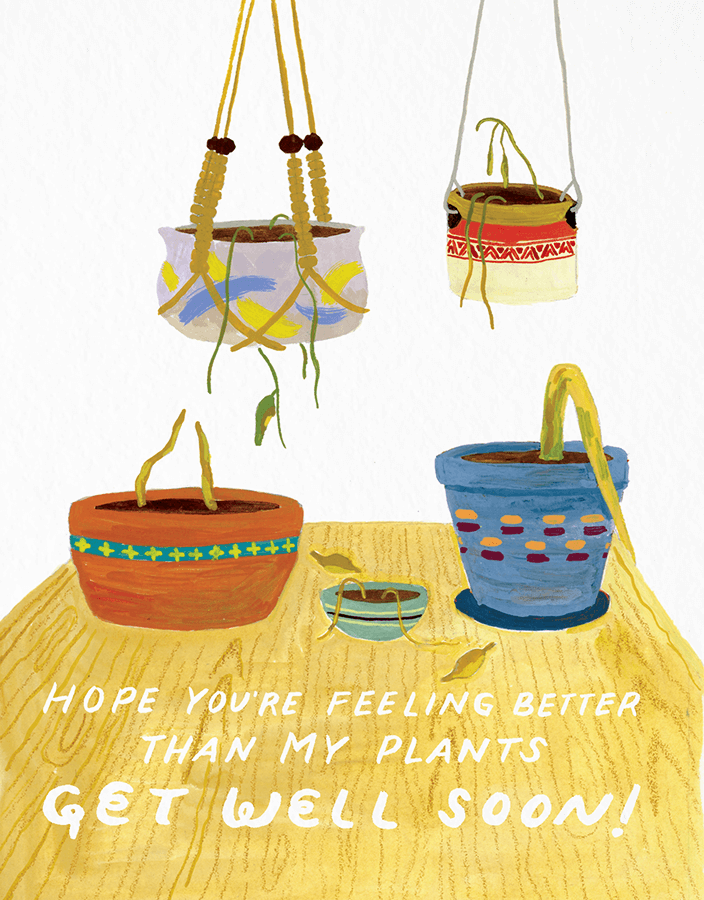 Send this card here
8. Drink Together Again
Honest and kind of a selfish. Let them know they're missed with this funny get well soon card.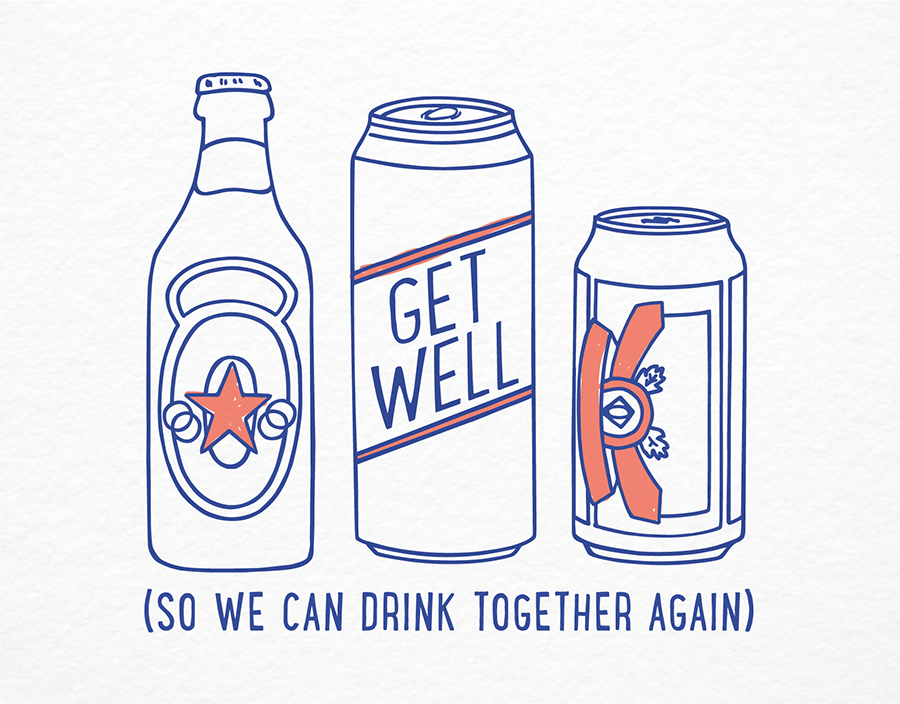 Send this card here
9. Good Vibes
Send allll the good vibes their way with this colorful card design by Happy Cactus. If good vibes had a look — this would be it.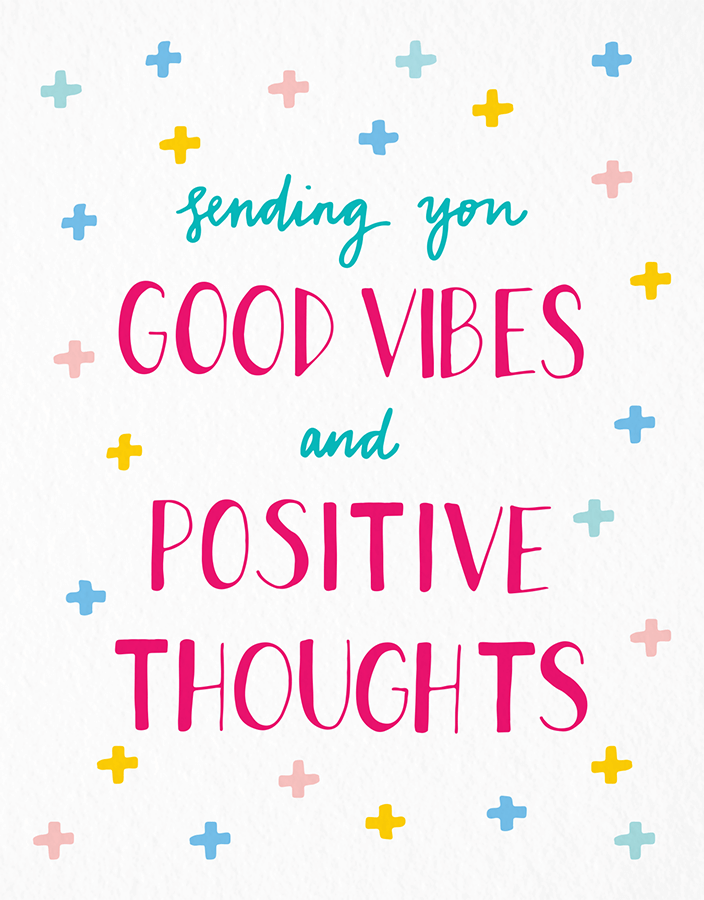 Send this card here
So you sent a get well soon card, but you feel like you'd like to do something more. We totally get it. Here are some nice get well soon gifts to send your under the weather friends.
The Tee that says it all.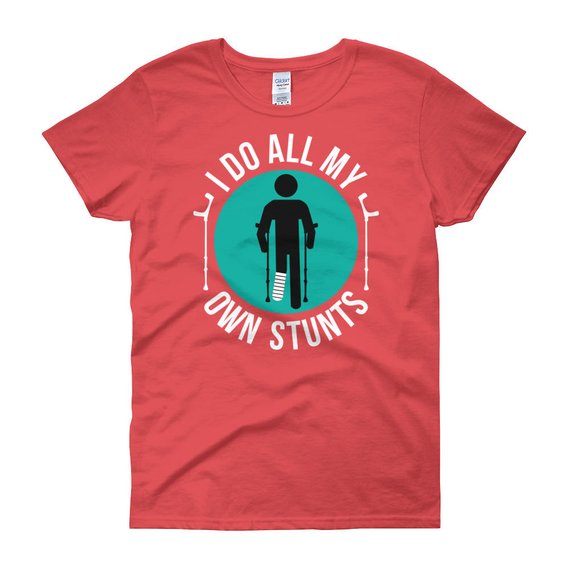 Have a friend with a broken leg? Send them this funny Tee by BestTeesAt  as a quirky way to send them your best wishes.
Get well soon cookies.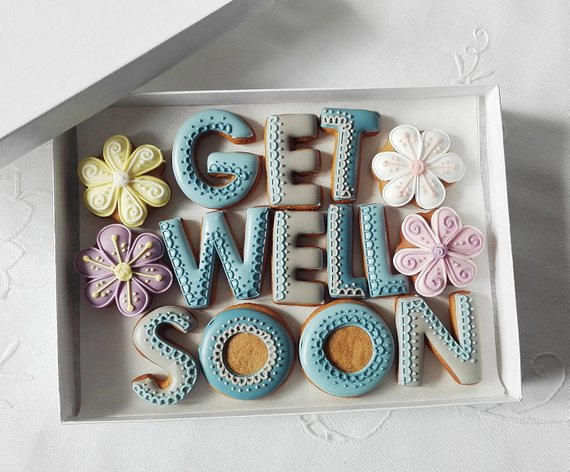 Nothing says feel better like sweet treats. This box of cookies from CookieArtLondon are pretty AND informative. And though we haven't actually tasted them, they look pretty darn yummy.
All the good vibes care package.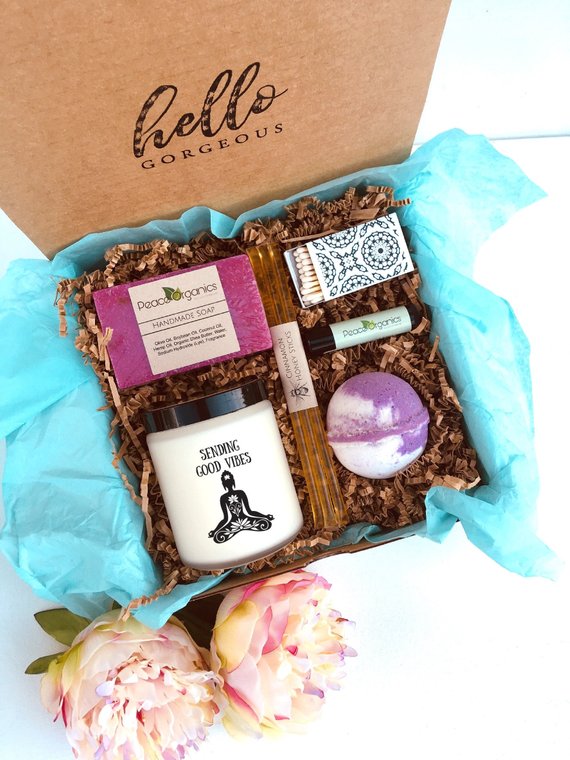 Is your under the weather friend a bit of a hippie? Even if they're not, this get well soon care package looks like a delightful gift to help make just about anyone feel up to facing the world again. Send your good vibes with a care package like this from PeaceOrganics.
Get well spoon.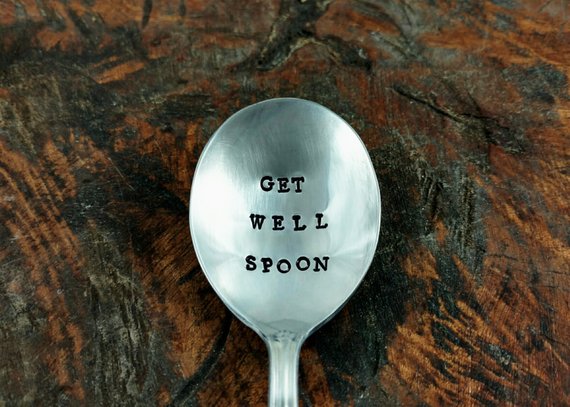 Want to send your well wishes along with a giggle? This small, but oh so useful get well soon gift will give your friend a much needed smile and they'll actually be able to use it for all that soup they're eating.
DIY Cookies.

Baking your own get well soon cookies is a great way to show you care! They may not be as pretty as the pre-bought cookies (although maybe you're a baking expert in which case this is probably a no brainer for you). Either way, sending homemade anything is always a plus. These cinnamon roll cookies sound unbelievable and will definitely make your friend's day sweeter. Get the recipe via SallysBakingAddiction.
Make your own get well package.

Speaking of doing it yourself… Why not help your friend feel better with a personalized get well care package. Fill it up with all the stuff you know they love and could use to get better. This will obviously depend on each person and situation, but to get you an idea the image above via Pinterest will get your thinking wheels moving. Think about their favorite candy or sweet treats, maybe add a little succulent for some earthy feels and use a basket they'll be able to use later to carry all the goodies. Send the card in advance and let the care package be an extra surprise!