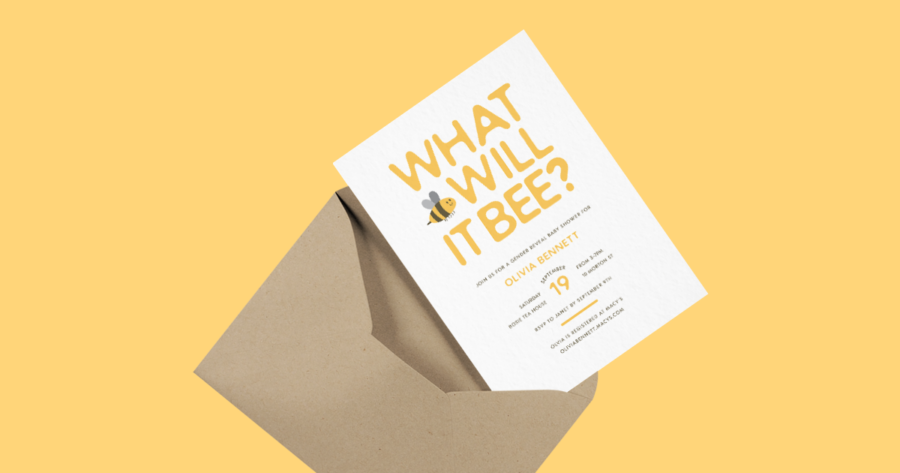 Gender reveal parties are filled with good vibes. If you're getting ready to host your very own — whether for yourself or for someone you love — you're in for a lot of fun! What Will It Bee — one of our favorite gender reveal themes is adorable and flexible. You can approach this theme with a more fun and playful vibe OR keep it more 'adult' with elegant tones and touches.
However you wish to plan your party, we're here to give you 11 of the most adorable What Will It Bee gender reveal party ideas out there!
The Invites
There's no party without guests and no guests without party invites. And while you can totally set up a Facebook event page — why not class it up a bit for your gender reveal party with some real hold-in-your-hands paper invites.
Your guests are far more likely to remember your big reveal date– placing it on their fridges makes it kind of hard to forget. It's also a great opportunity to introduce your party's theme from the start!
And if your head is already spinning from the million things you still need to do to get ready, you don't have to think about the invites. You can mail them all out right now — without ever leaving your computer…
Send this What Will It Bee Gender Reveal party invite here
Postable will print, address and mail your gender reveal party invites out for you.
Easy peasy.
The Decor
A what will it bee gender reveal party ideas list would be nothing without decor ideas. There are a number of ways you can spice up your home or party event space, depending on your budget.
On that note, you can totally do this theme on a budget! Here are some delightful decor ideas you can use for your own gender reveal party.
Paper Wall Decor
via Etsy
Use the space that you have to weave in your bumble bee theme. Adding bits and pieces to the wall is a great way to sprinkle your theme throughout. If you're a master crafter and paper maker extraordinaire, then perhaps you'll be able to recreate this glorious sun flower and bumble bee medley — otherwise, head to Etsy!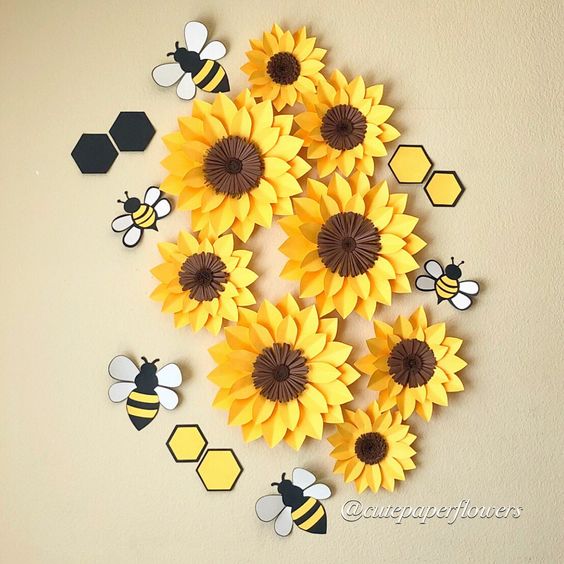 The Balloons
via HWTM
Didn't we mention this list of what will it bee gender reveal party ideas will include budget ideas as well?! Well, we've delivered. You can easily create these adorable little balloon bumble bees for your own party in no time. Just grab your self some yellow balloons (go for the studier ones), permanent black markers and some white paper. Fill your yellow balloons with helium and create your bees once the balloons are inflated.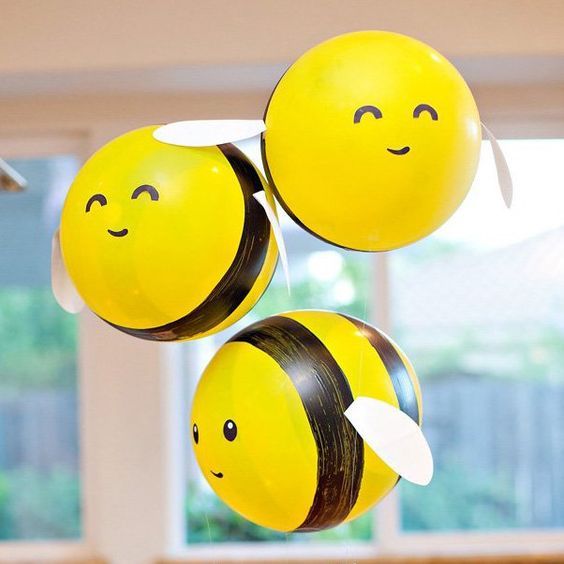 Dessert Table Decor
via Oriental Trading
What kind of gender reveal party would it be without sugary sweets? Use a giant wall art piece as your backdrop and keep with the yellow, black and white color scheme to really tie things together. Use yellow paper lamps and attach tiny paper bumble bees (be careful of using plastic bees as these may weigh down the paper lamp).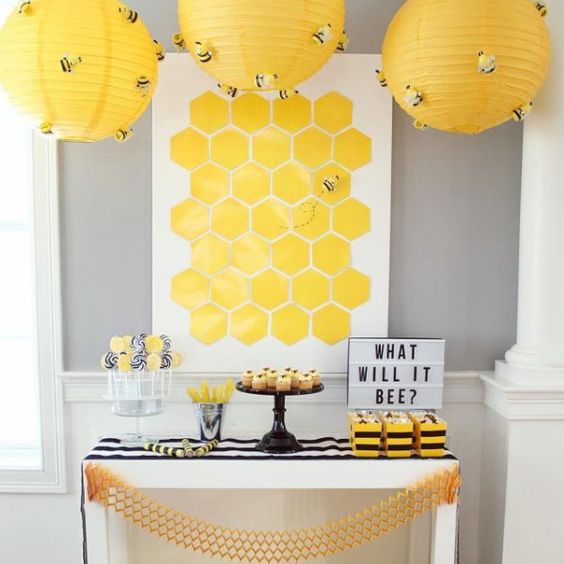 The Cake Display Take Two
via Storybook Ending
If you want to take your what will it bee gender reveal party and go towards something more elegant, use this cake display as your ultimate inspiration. It's still totally in theme, but uses more subtle colors and can we just say — the use of dark gold is stunning!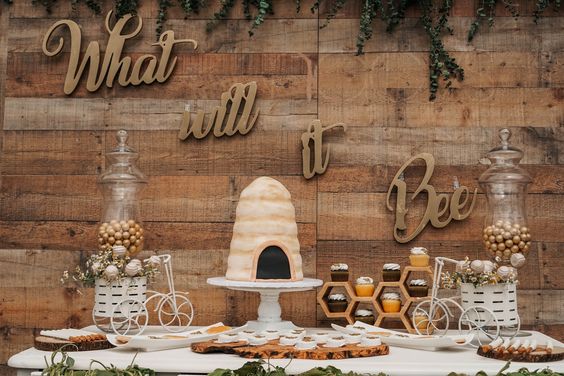 The Food
There's really no party — of any kind — without a good amount of delicious snacks. Sugary sweets, especially, are important for a gender reveal party. We've got you covered with some fun ideas on how you can tie this fun theme with your party.
What will it bee gender reveal themed cookies
via Pinterest
Raise your hand if you love cookies. As if any hands would ever* stay down!?! Everyone loves cookies especially when they're this adorable. Although we almost* feel bad biting into something that looks this pretty. Almost.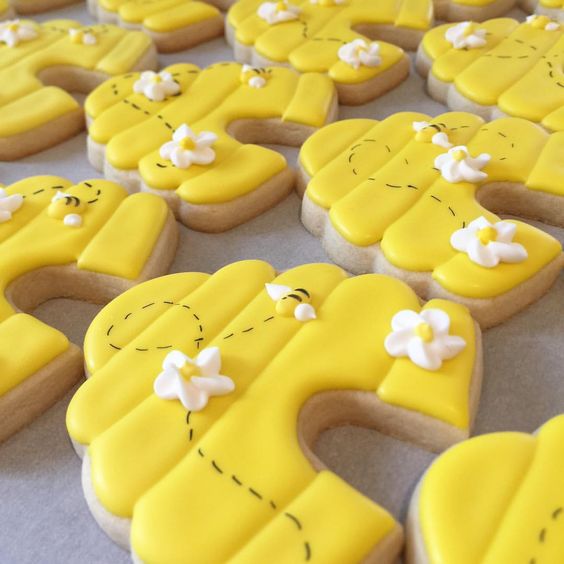 More Cookies
via Etsy
We did say we loved cookies, right? These are just as cute as the little honey comb cookies, but we're also kind of in love with the little bumble bee onesies. If you're a cookie-making-monster yourself then by all means make these adorable sweet treats yourself, otherwise Etsy is full of goodness that you can order for your party.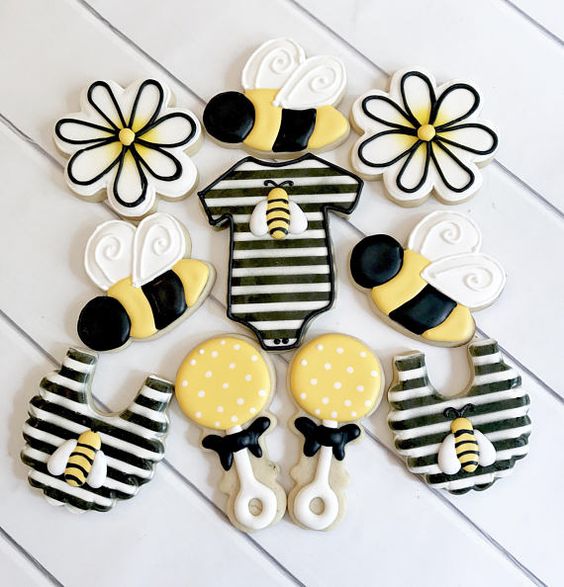 Bumble Bee Cupcakes
via Etsy
Ok so you've got the cookies, but you can't have a gender reveal party without some sort of a cake. We love the use of cupcakes at a party like this as it makes serving super easy! Guests can just help themselves and you're not compromising aesthetics. These tiny bumblebee cupcake toppers are perfect!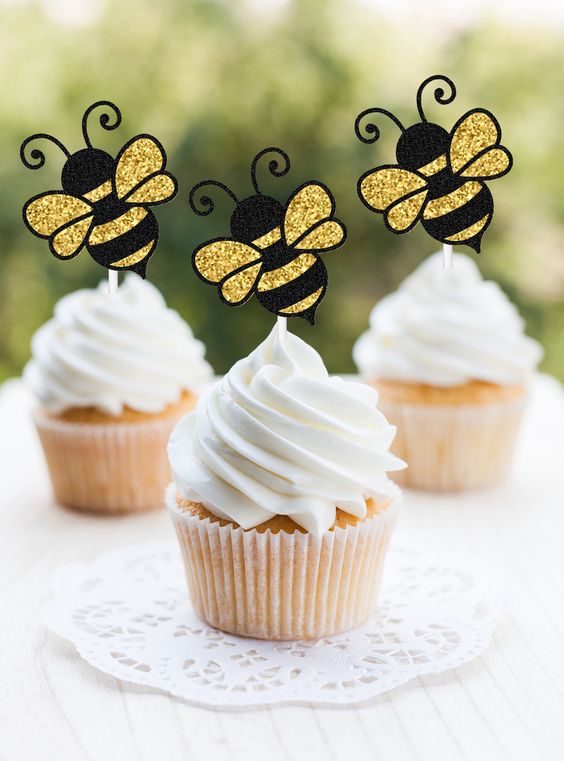 An Elegant What Will It Bee Cake
via The Bash
Ok, so if you want to stick with a traditional cake — we're totally on board. A cake like this one is a lovely approach to the theme. We love the muted tones on the cake design which keeps it elegant and the little tiny bees still keep it light and in theme. It's almost* too beautiful to eat.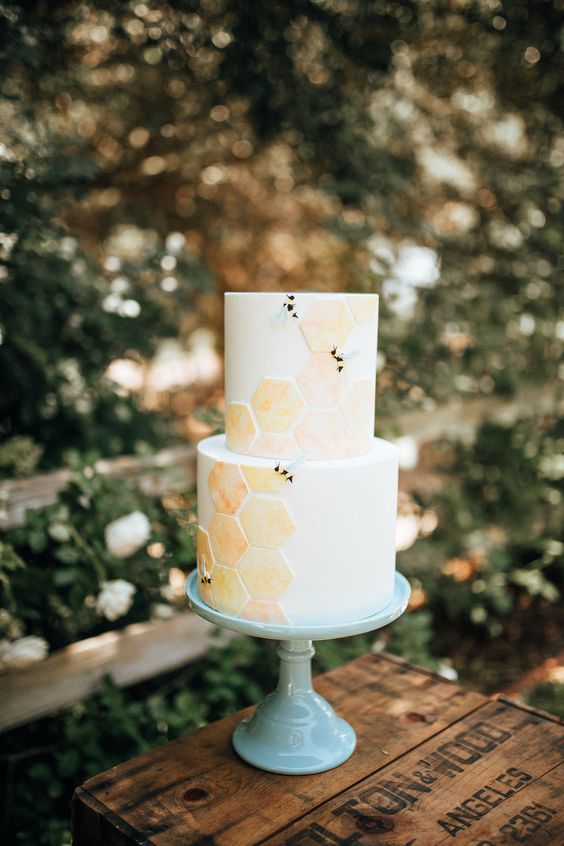 The Actual Gender Reveal
The whole point of a gender reveal party is to, well — reveal! This is the pinnacle moment of your party so make it as big as you want. Keeping in with the what will it bee theme, we've got some fun ideas you can use here.
Lettered Balloons
via Inspired by This
Ok, so it's not 100% in theme, but you can totally make it so. The point here is to use giant lettered balloons to reveal the gender. Stuff them into a giant box that you can then decorate with tiny bees. We love the idea of releasing these outdoors — it makes for a stellar natural photo backdrop.
[Bonus tip: keep the ends of the balloon strings weighed down to something so that they don't float away once you open the box.]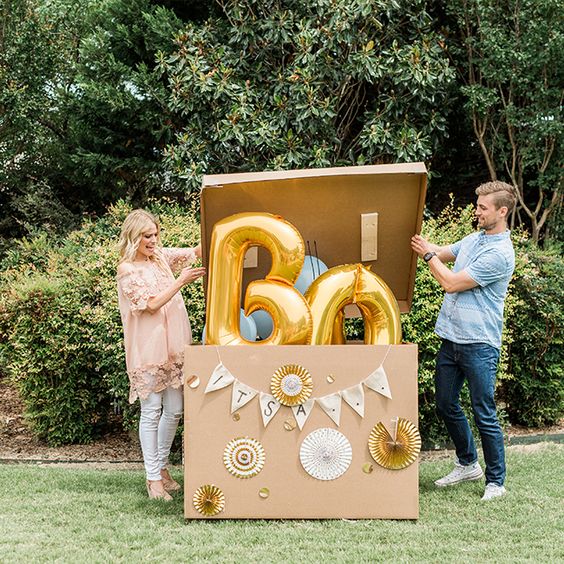 What Will It Bee Reveal Box
via Pinterest
Need some ideas on how to decorate the box in which you'll be placing your giant lettered balloons?! Here's a more playful and fun version of the reveal box decor!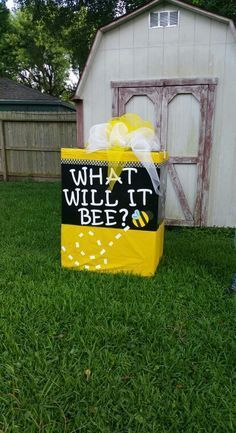 What Will It Bee Piñata!
via Etsy
What can be more fun than slamming a big yellow piñata to reveal the gender of your future child?! We love this idea for the big reveal!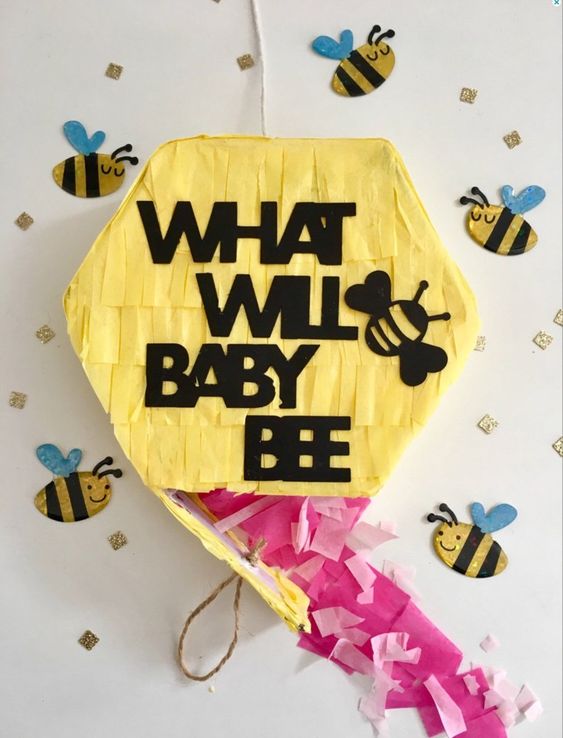 There you have it! What fun ways will you incorporate this adorable theme into your gender reveal party?!
Not sure where to start?!