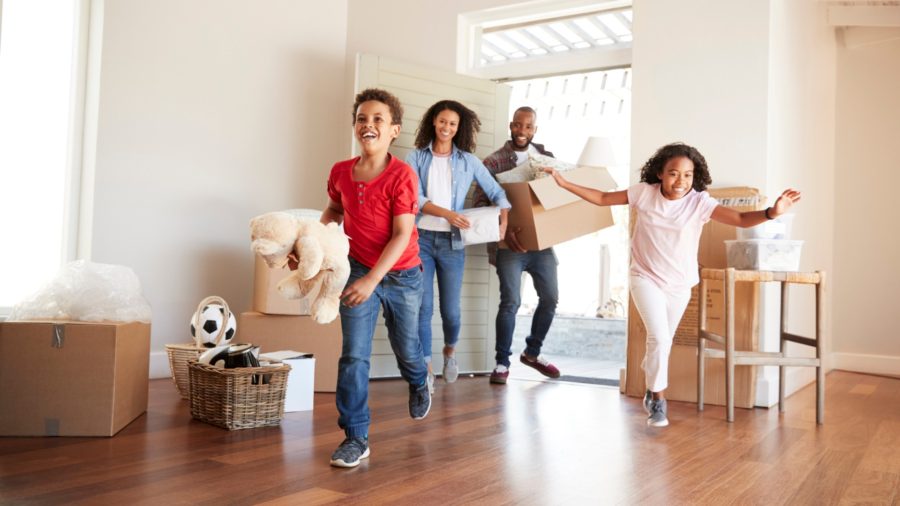 Moving announcements are a long-held tradition intended to inform your friends and family of your new address. They also serve a secondary role: a formal life update. Yes, social media is a thing and you've likely Instagrammed every step of your move with your followers eagerly awaiting your tips and tricks on the best way to pack moving boxes. But no matter how hard Instagram (and all its social media offspring) tries, it will never replace a good old fashioned snail mail announcement. A moving announcement mailed via USPS can be held in your hand and hung on your refrigerator. You can't do that with a tweet, you know!
Aside from keeping in with tradition and maybe rubbing in the good news a little extra hard to that cousin who said you'd never amount to anything — mailing moving cards has a few unexpected benefits that we're digging into.
Unexpected benefits of mailing moving announcements.
Who would have thought that a little ole' card can have such a big impact? While you're busy unpacking endless rows of boxes and stuffing your clothes into that newly reconstructed dresser, your moving announcements are doing a whole lot more. Those cards that you mailed out right before you made the big change are making their way to old friends and family members — giving them a gentle nudge to send you all the congratulations wishes they can muster.
Here are three unexpected benefits — you may not have thought of — from moving cards.
1. Housewarming gifts you didn't know you needed thanks to your moving cards.
Ok, so 'needed' may be a bit of a stretch, but you like gifts, don't you? While you may be expecting to get a few housewarming gifts from your closest friends and family, mailing those moving cards may very well result in a few unexpected gifts from some unexpected places.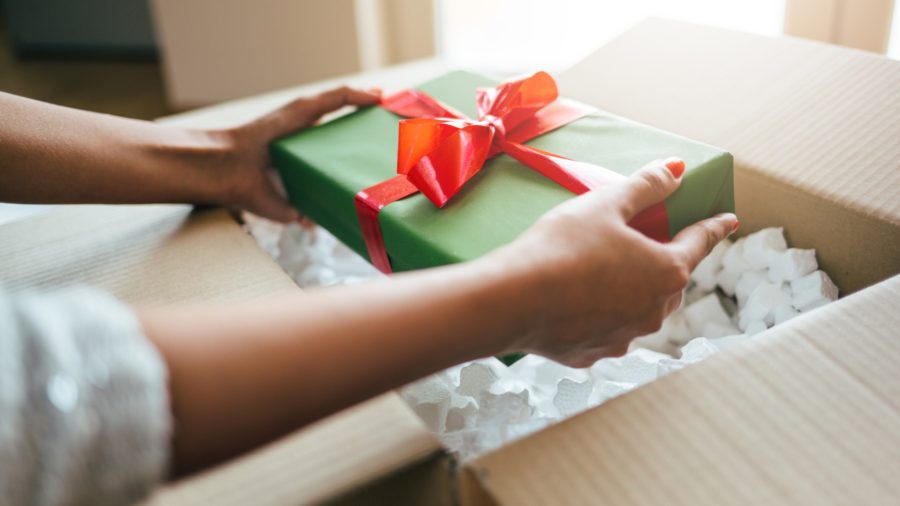 Perhaps a family friend notices that you've moved into your first adult home and wants to wish you well on this brand new journey and they end up mailing you that new kitchen appliance you've been day dreaming about (how did they know!?!). Without those moving cards, you would have had to wait until the next big sale to even think about getting the new gadget (moving is pricey enough).
And just think, you haven't even hosted your housewarming yet!
2. You can thank your moving cards for birthday and holiday cards that actually reach you.
If you want to make sure your (and your family's) birthday cards make it to you — make sure to let your friends and family know your updated address. Sending a change of address cards is more than just a way to share your big news — it lets your loved ones know where to mail you those snail mail goodies in the very near future.
When it comes time to mail you birthday cards (along with those birthday presents — can't have too many of those) they'll have your updated mailing address. Not to mention holiday cards. You don't want your holiday fridge to be empty this year because you didn't share the big news. If it were you, you'd want to know that your Christmas card will actually make it to its recipient.
3. Messages of encouragement will undoubtedly rain down after those moving cards.
Gifts are always welcomed, sure, but what about simple messages of encouragement. Thoughts really are what count in the long run and setting yourself up with a whole bucket full of them is not a bad way to begin a new life in a new home.
If you mail out moving cards to your friends and family, chances are — they'll send you some seriously awesome well wishes. Whether they mail you congratulations on the new home cards, text you a few loving words or simply keep you in their thoughts as you transition into this new phase. All those well wishes will help get you started on a positive note.
Moving can be a real pain — it wouldn't hurt to know that there are a bunch of awesome people out there rooting for your success (even if they can't lend a helping hand).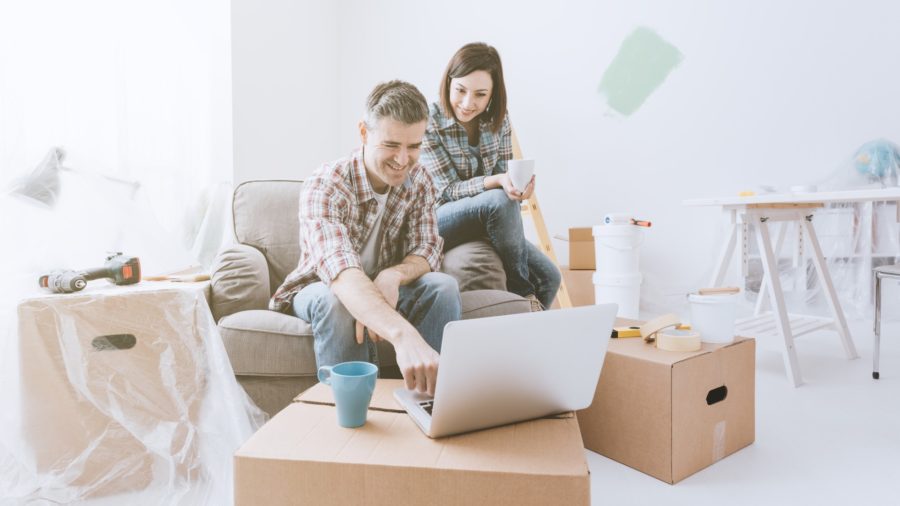 How to mail moving cards like a pro.
How does one become a pro moving announcement mailer?! By letting the entire mailing list know of the new home address with just a few clicks of a button. THAT'S how.
Ok, we'll drop the drama now.
Mailing moving announcements may seem like another task to add to an already ever-evolving ever-growing to do list. Seriously, have we mentioned how much of a pain moving can be?!
Why in the world would you add yet another task to your moving list?
The answer is simple: because it's crazy easy.
And also — the three reasons listed above (duh).
Postable has a bunch of delightful moving cards to choose from. Each of which can be customized in seconds. Then simply add your recipients and click send. Postable will print, address and mail your moving announcements for you.
So you can get back to un-packing.
Send really nice moving cards without lifting a finger or leaving your seat. Postable will print, address, and mail them directly for you.
Moving cards you can mail in 60 seconds.
Here are a few of our favorite designs that you can customize right now and Postable will mail for you. You can play around with each design by customizing them with your own info!
Golden New Home!
A simple and beautiful moving announcement with the important stuff right there on the front. You can customize the back of this card with photos or additional text.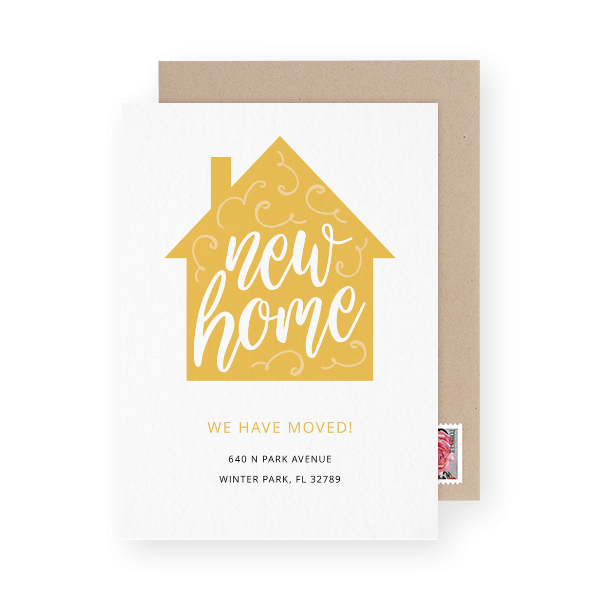 Rustic We've Moved Truck!
We love this adorable design with a moving truck and a scripted font.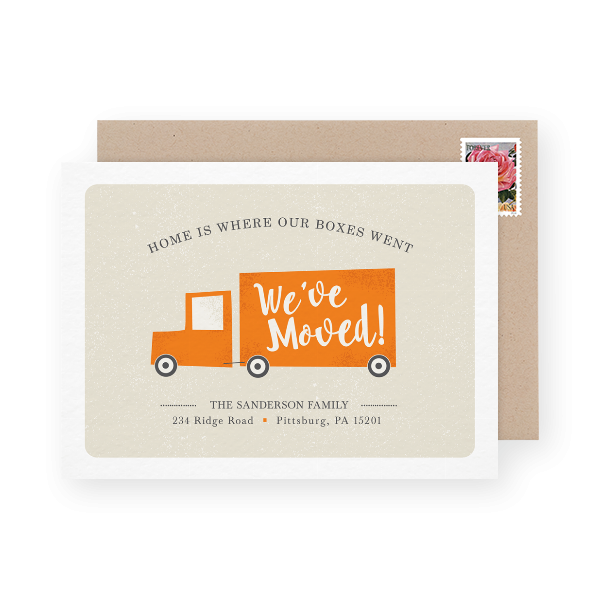 Neighborhood New Home
This beautiful design by There Will Be Cake is a folded card that allows you to write whatever you'd like on the inside. Include your new address and any other information you want your friends and family to know about this exciting new time in your life!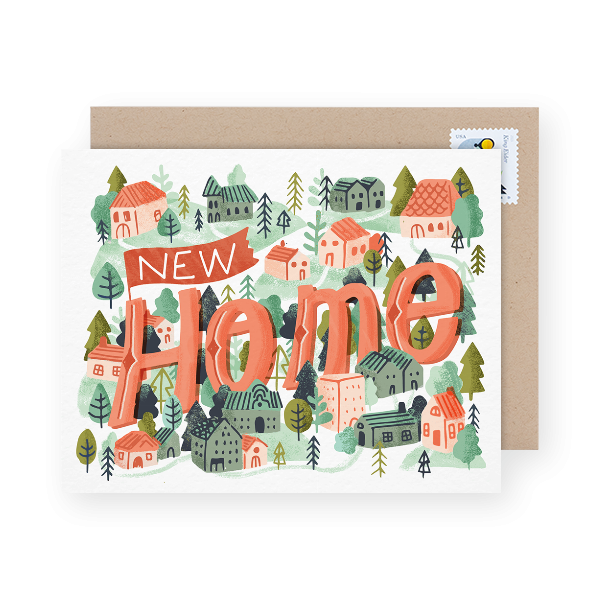 When to mail moving announcements?
Before or after moving?! We recommend mailing them after you've moved or very* close to moving day. There are a couple of reasons for this:
The return address will be your new place so if the cards get lost, you'll be there when they get returned.
Remember those gifts? You want them to arrive when you're already moved in.
So, you've mailed your moving cards — what next?
The housewarming of course!
Once you've unpacked your boxes and cooked a few good meals in your brand new kitchen — invite your friends and family to help you warm up the new space.
Pro tip: You can mail your Housewarming Invites with Postable too!
Ready to get started?
Mail your moving announcements here (or schedule them now to be mailed out when you've made the big move).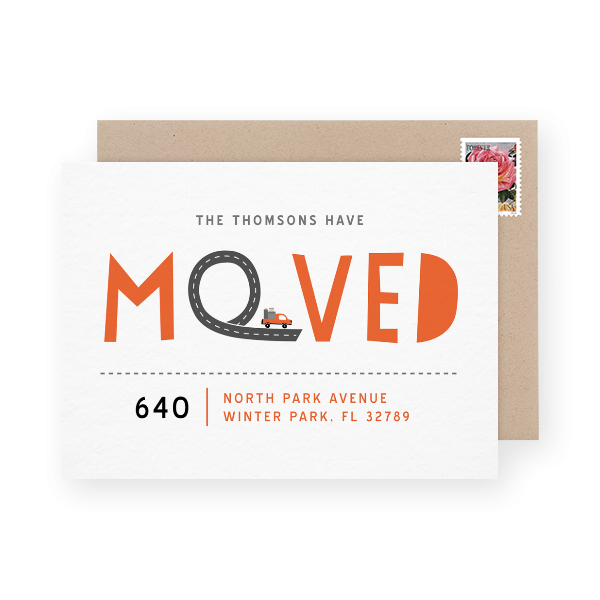 Send really nice moving cards without lifting a finger or leaving your seat. Postable will print, address, and mail them directly for you.