The best way to wish the dads in our lives a happy Fathers Day in 2022 is to send them funny Fathers Day cards. Why funny? Because why not? Laughter really is the best medicine and something tells us dad would agree: the more laughs the better. And if funny Father's Day cards are not exactly doing it for you, we've got an additional list of adorable Father's Day cards that'll make you swoon. Though we should warn you — the funny cards are hard not to love.
Go ahead, make dad giggle.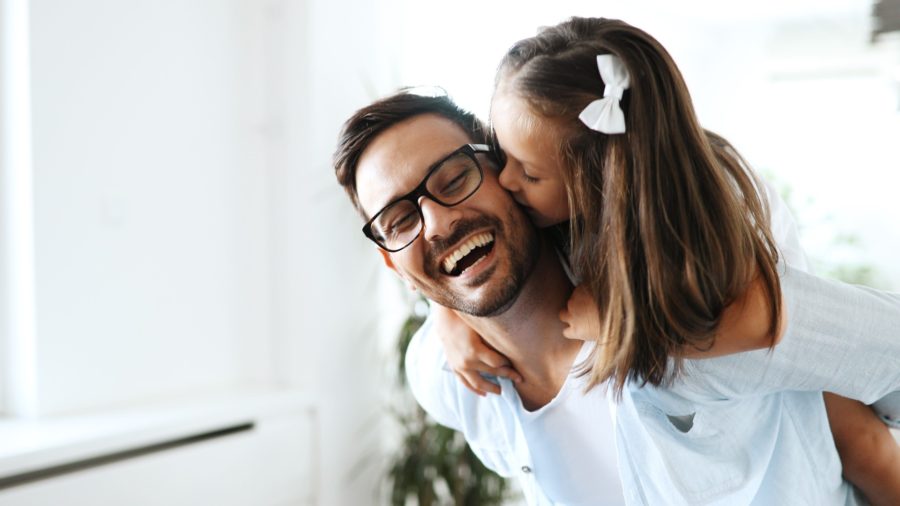 Funny Fathers Day cards you can send right now.
Before digging into this delightful list of cards, there's something you should know: you can send any one of them right now without so much as lifting your finger (except to click a button).
You can send a real Father's Day card in minutes without leaving your home. Postable will print, address and mail it for you.
[Postable will print, address and mail your Father's Day cards for you.]
Yes, make sure to give dad a thoughtful gift. Yes, make plans with dad to do all the fun things he's always talking about.
But first things first — send dad a funny father's day card. And do it ahead of time because while Postable makes snail mail easy peasy — we can't make it *quite* as fast as an email.
Psss: You can even schedule your Father's Day card ahead of time so that you don't forget.
29 Deliriously funny Father's Day cards to make dad chuckle in 2022.
And while our Father's Day card collection is about as extensive as it gets — we decided to pick some of our favorites. Out of these 29 epic designs, you'll be sure to find the perfect card for the dad in your life.
Ok, let's get to chuckling.
Uber Dad
Whether you're still in your teens, attempting to learn adulting or have excelled at this whole adulthood thing, dad has at one point or another been there to drive you around. It's funny because it's true.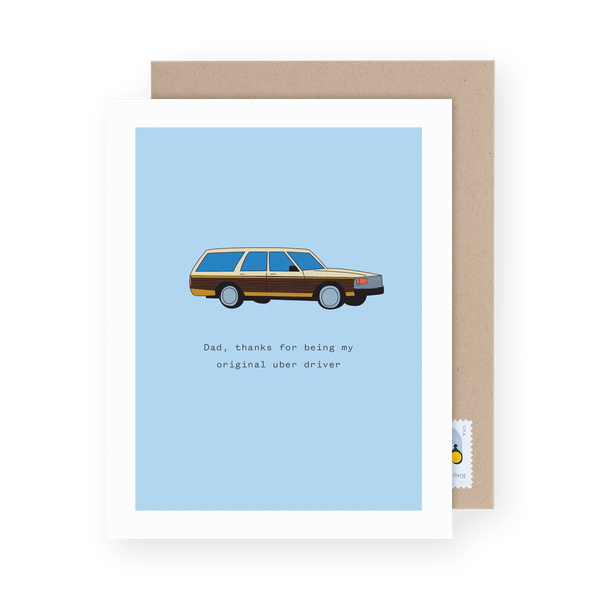 Socially Distanced Dad
Another masterpiece by one of Postable's newest artists, Spaghetti & Meatballs, this delightful illustration is sure to make dad chuckle.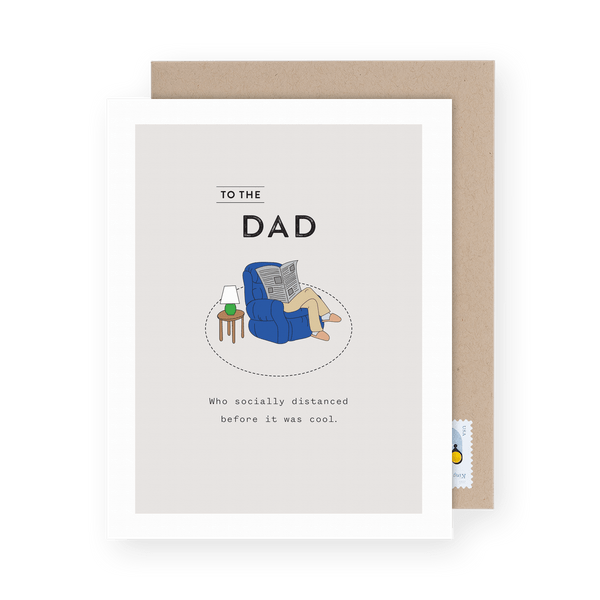 An OK Dad
This is one of those cards that you either know dad will love or you don't. You know best.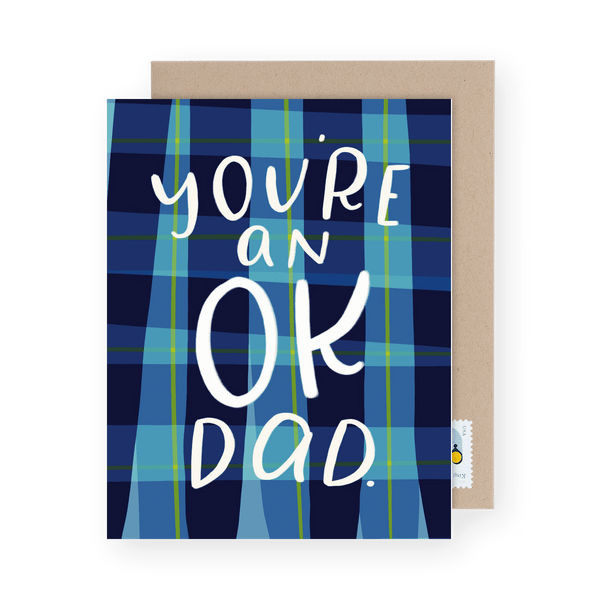 Thanks for the great genes, dad.
Dad will love this hand-painted card by E. Frances Paper. It's so simple and silly yet delicately drawn that the contrast is itself quite funny. Who wouldn't love this elephant and jeans pun card?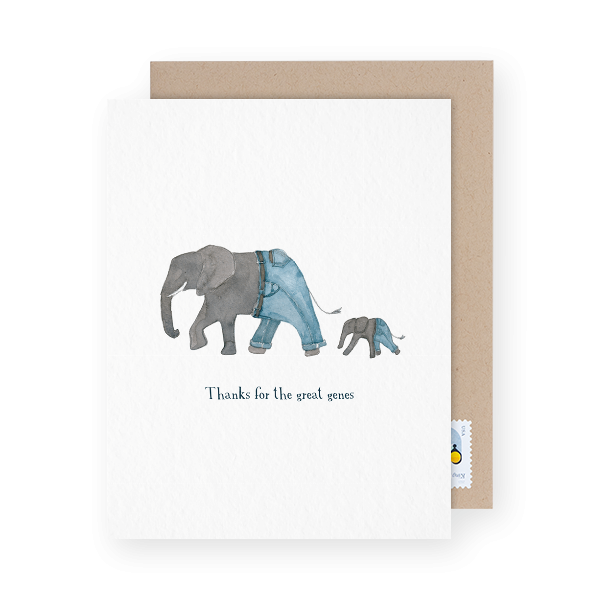 Old Fashioned Father
Dads love puns right? This punny Father's Day design by Knotty Cards will probably give dad a little chuckle (or two). Consider gifting dad a cocktail set along with this card (like these). If nothing else, it'll certainly put a smile on dad's face and make him feel special.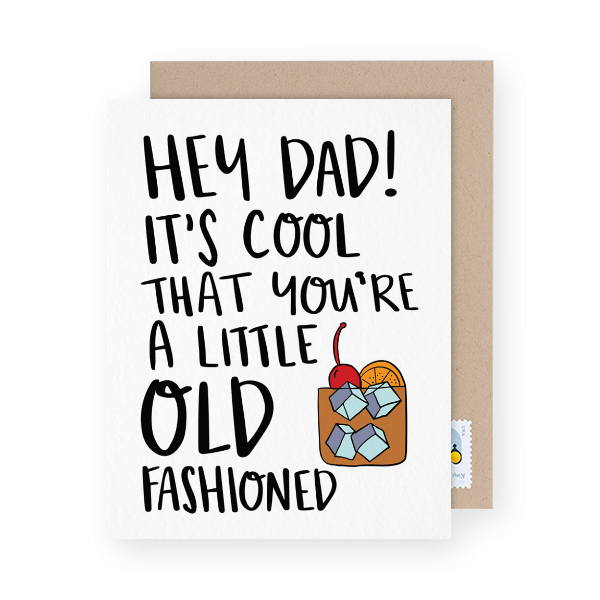 Mustached Dad
Sometimes simplicity is key. It'll probably be a little weird if you send this card to your dad and he doesn't have a mustache, but if it feels right we say — go for it!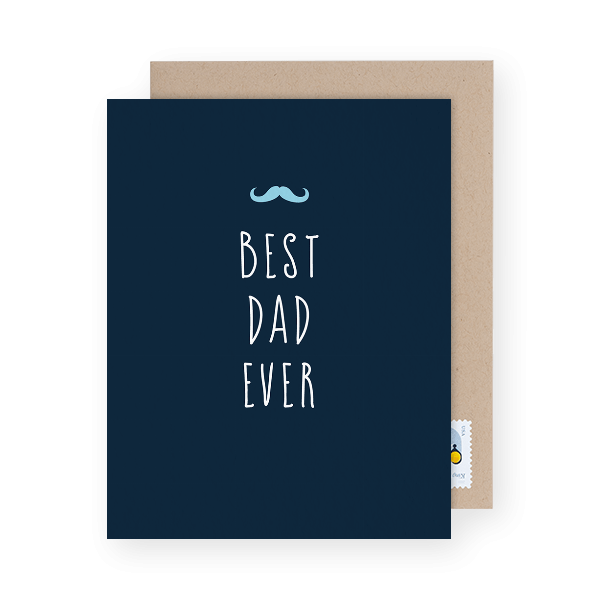 To my rad dad!
Does dad appreciate the simple things in life? Like a good pun? Then this A Jar of Pickles Father's Day card will give him all the feels. We love the simplicity of this design and of course who doesn't love a pun?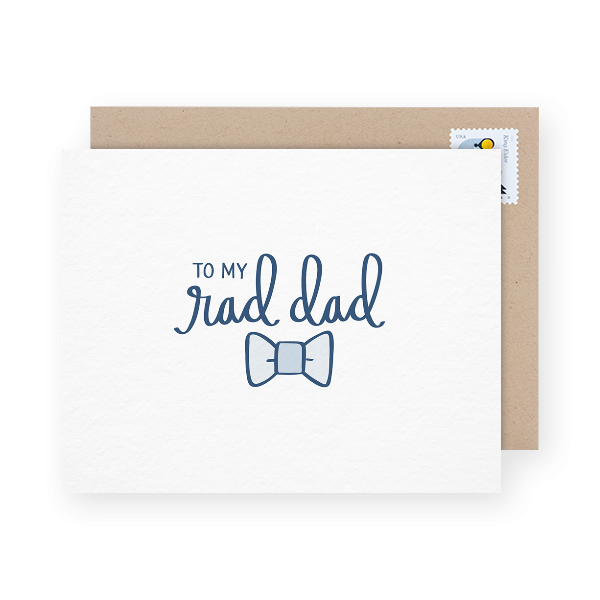 POP!
The puns just keep on rollin' in! Looking for a Father's Day card that's got a little bit more of a POP to it?! This design is colorful and delightfully funny.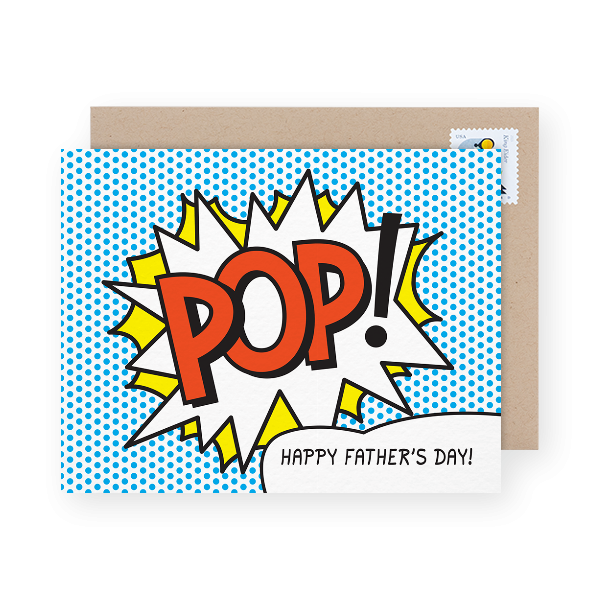 I love you a watt.
A little joke with a lovely thought can go a long way. This really nice card by R. Nichols lets dad know you love him, but also there's a little joke in there too. Who wouldn't like that?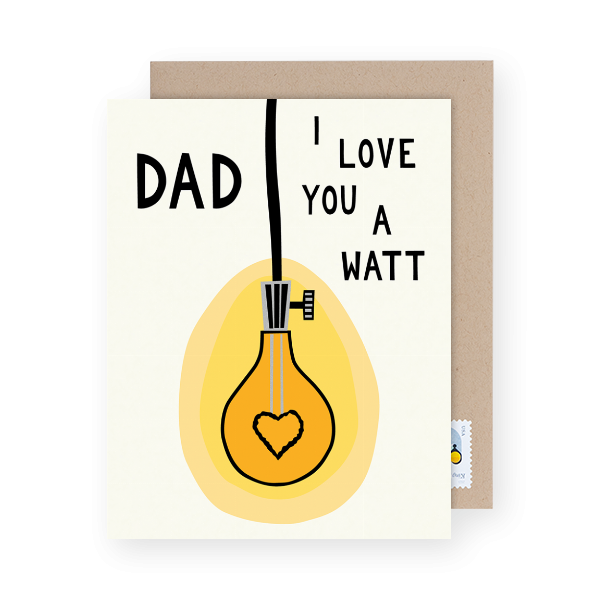 King of Corny
This funny Father's day card is perfect for the dad that has a wide collection of dad jokes that never stop. Seriously, where does he get all of those jokes? Perhaps this card will inspire him to make up a whole new slew of jokes. Maybe they'll be related to corn. What's for certain, this card will give dad a real giggle. That's all that really matters.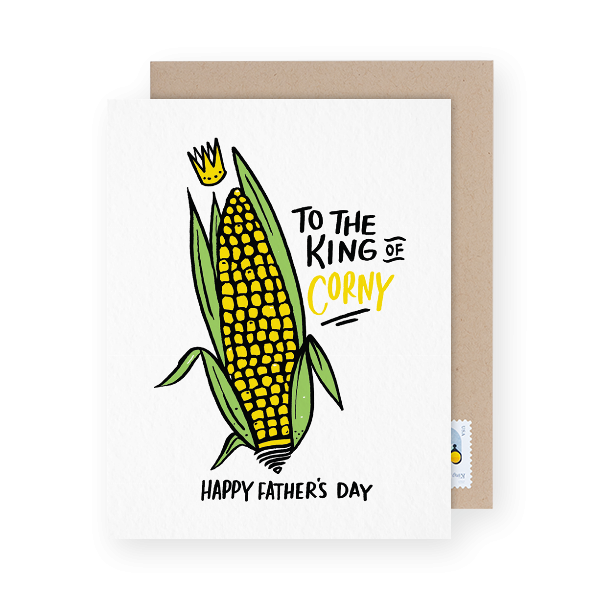 Winning at Parenting
It's not a competition, but you're probably still keeping score. What dad doesn't want to hear that they're winning? And winning at parenting? That's a whole new level of victory! Seriously, it's hard work. Send dad this funny Father's Day card and you'll make his day extra special. Side note: winners typically also get prizes, so be sure you're getting dad a father's day gift as well as this card.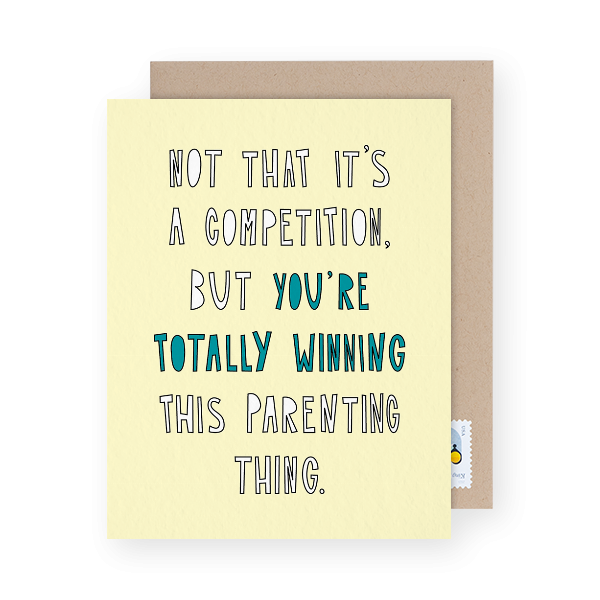 I moose say…
Another pun for the win! This adorable hand painted card by Leveret Paperie has everything you'll ever want in a greeting card. It's whimsical, funny, and lovely to look at — all in one small package. Who knew that was even possible?! The moose illustration is perfect with an adorable little tie and the accompanying pun.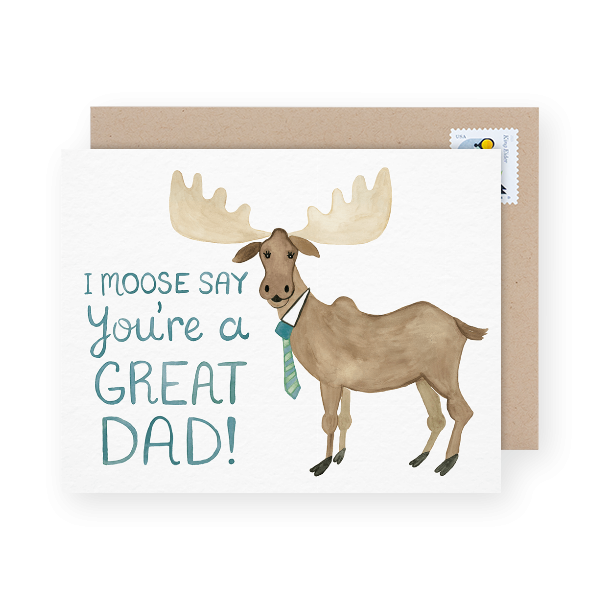 The Original Hipster
If you think about it, dad really was the original hipster. Ironic, effortlessly cool, and somewhat grumpy. It's really best to give credit where credit is due, right? This funny illustration pretty much says it all.
Dad rocks.
Oh, the puns! Seriously, is it even funny without a pun? How adorable are those little rocks aka fathers? Elaborate on the inside to tell dad all the ways he's been rocking all these years! All the puns. All the time.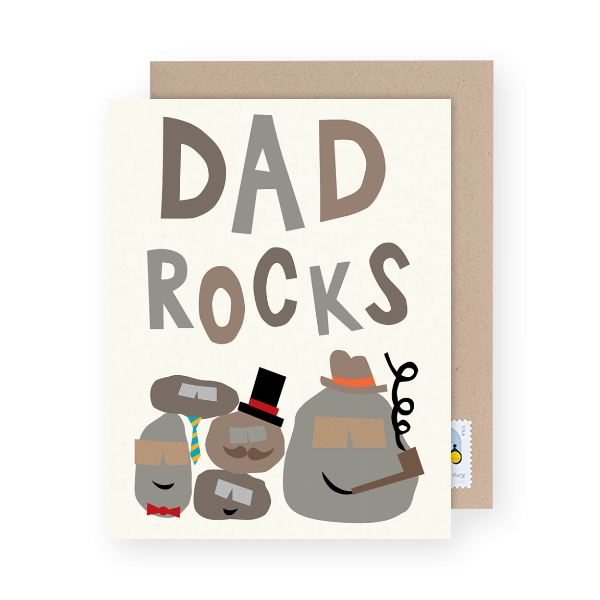 Daaad
This quirky illustration by none other than TYLRE is frame worthy. The dads in your life may even want to put this little bad boy on their fridge or share it on Instagram — if they're into that sort of thing. Surely dad will get a giggle from this punny father's day card.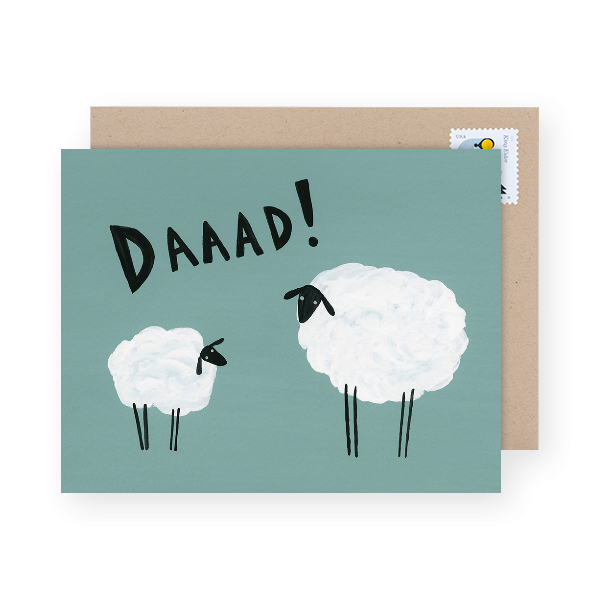 Thanks for raising me, dad.
If you think we've had enough puns, you were wrong. Another adorable hand painted masterpiece. The little details make this design even more special. This card would be perfect for the dads that love to get dirty in the garden.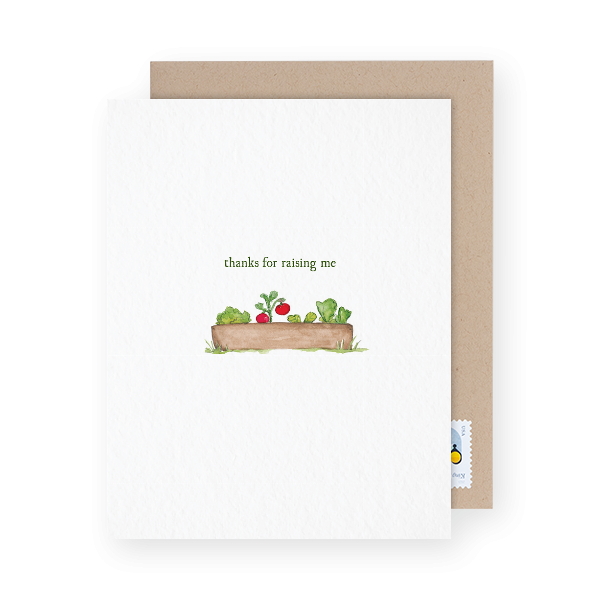 No one measures up.
Onto the next pun! This funny Father's Day card is perfect for the dad who never goes anywhere without his tools. On that note, perhaps dad's tools could use a pick-me-up. Why not pair this card with a set of some shiny new toys for dad?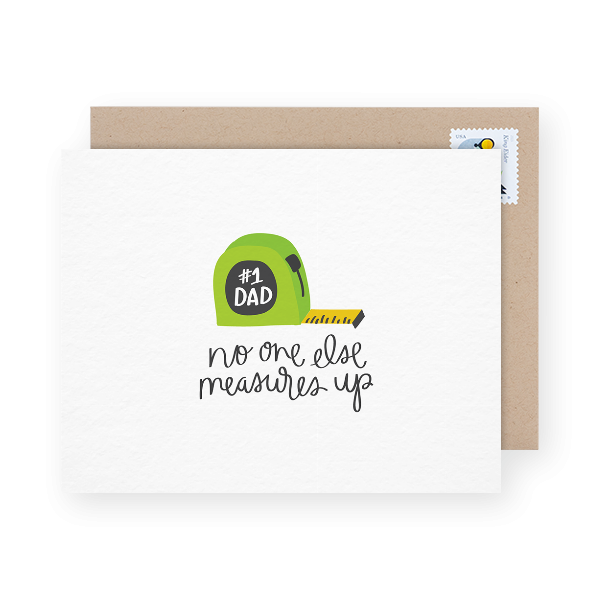 Dad to the Bone
Is your dad the baddest dad there ever was? Let him know how cool you think he is and make his day with this funny card. Don't be bad yourself and forget to send it on time!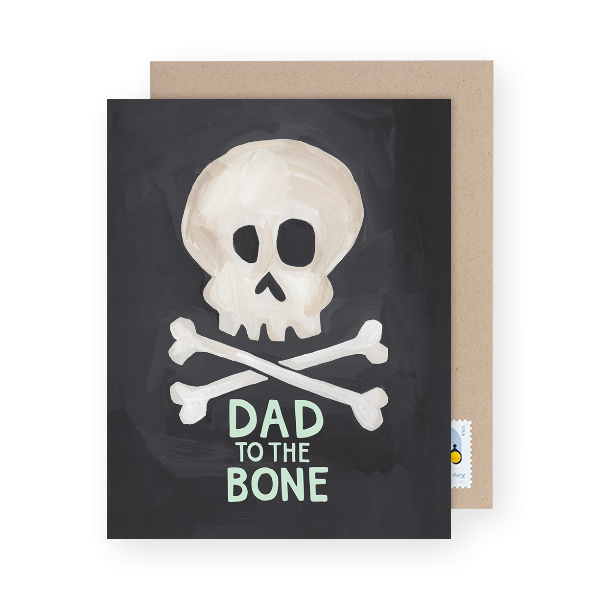 Number One Dad
As much as we LOVE this Bench Pressed masterpiece, we think it'd be wise of you to consider if dad will actually get a good laugh out of this instead of heading for the hat shop. However, if you know dad has a stellar sense of humor and will get nothing but kicks out of this funny Father's Day card… What are you waiting for?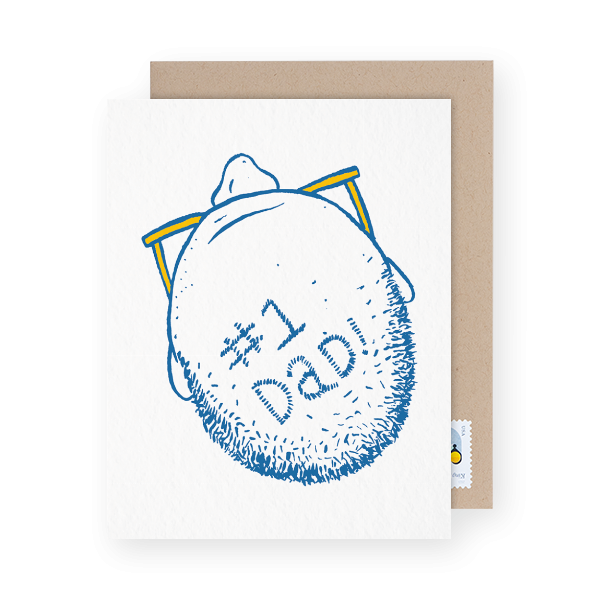 Favorite Parent
Some folks just know how to hit it on the nail each time. The famous Sam Kramer, the mastermind behind Near Modern Disaster, is at it again with her quirky phrases. This one is no exception! Funny father's day cards never stood a chance.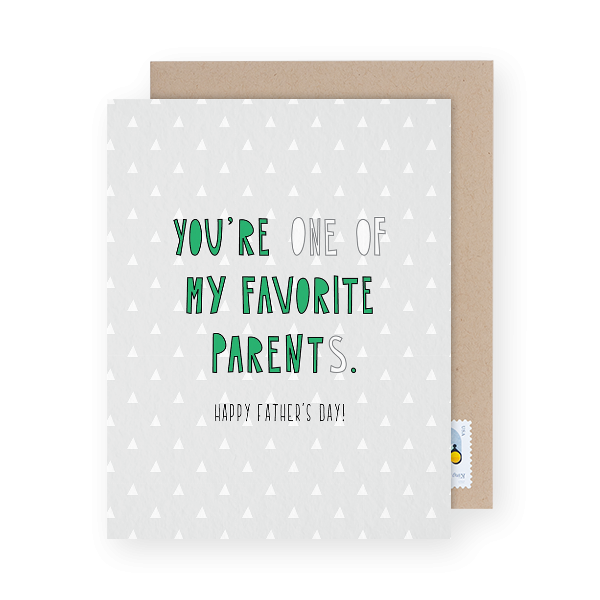 Dog Dad
Give dad a chuckle and warm his heart all at the same time with this custom photo Father's Day card. The little dog bone illustration will give him a smile and his dog baby on the front cover will give him all the feels.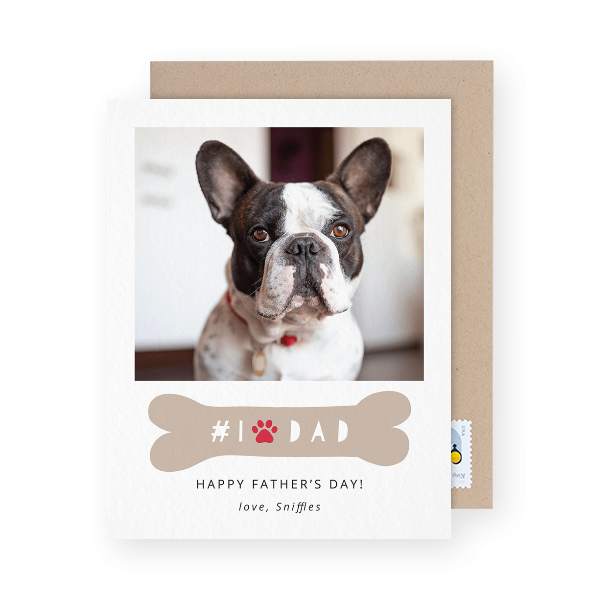 Super dad to the rescue!
Every dad is super, but yours is probably extra super. Another custom photo template, this funny Father's day card lets you upload your own photo of dad's face so you can help him feel like the superhero that he is. Customize your name at the bottom and give dad a good chuckle.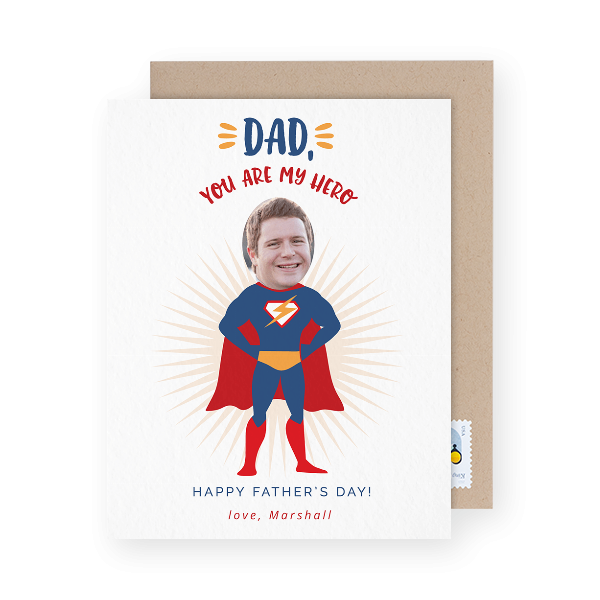 DADDYSAURUS
The greatest play on words there ever was. Regardless whether dad fancies himself a dino fan or not, he'll have a hard time not laughing at this design by Rock Paper Scissors.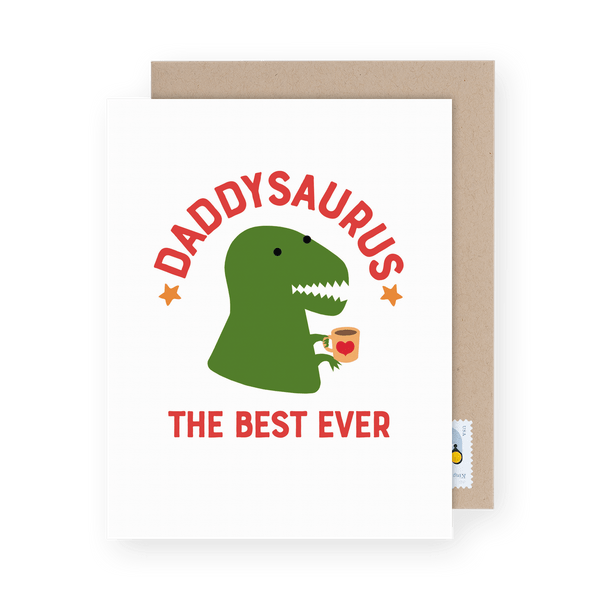 Whaley great dad, indeed.
We said there'd be puns, but did you think we'd go this far? This delightful Erika Firm creation is certain to make dad smile.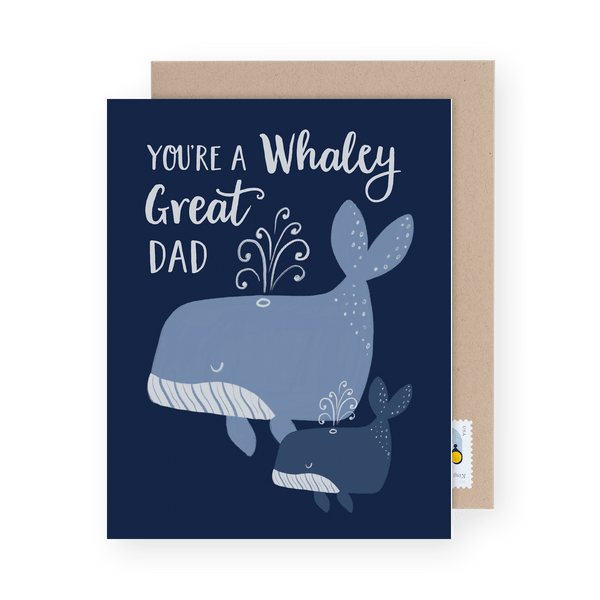 G.O.A.T Dad
Dad really is the greatest of all time so why not make sure he knows it? The added bonus of a funny little goat illustration makes this card giggle-worthy and heart warming all at once.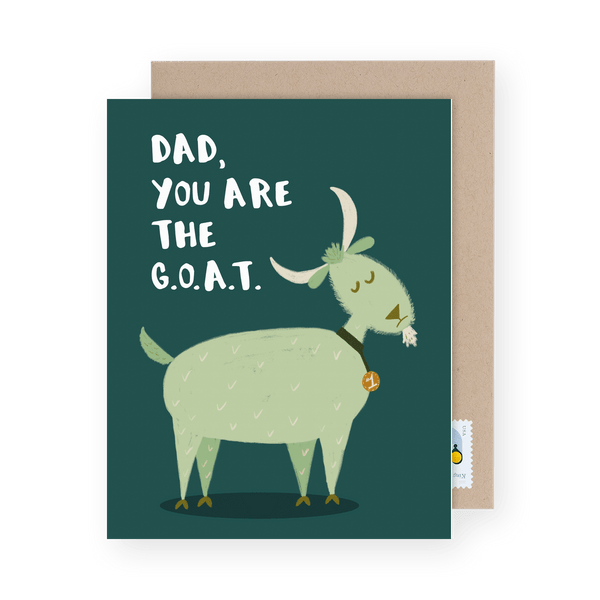 Dad, you're the shizzle.
In true Rumble Cards fashion, this greeting card will have dad LOL-ing.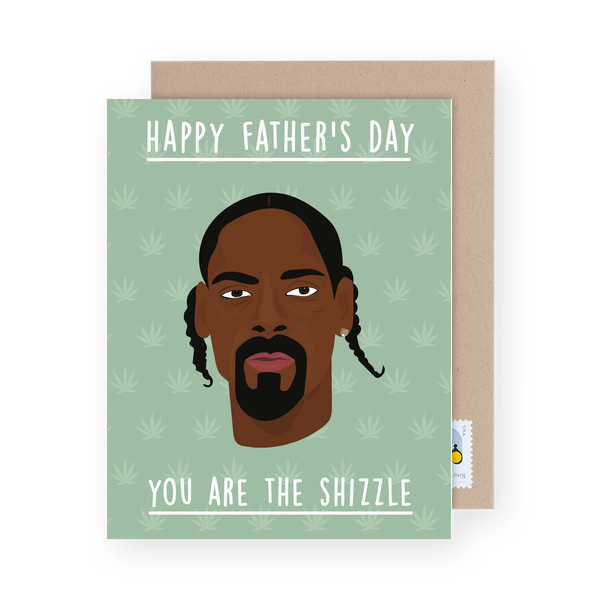 Everything I know
Has dad shared his all knowing wisdom with you over the course of your life? Don't forget to let him know how grateful you are for all his knowledge and guidance with this adorable and funny little raccoon illustration.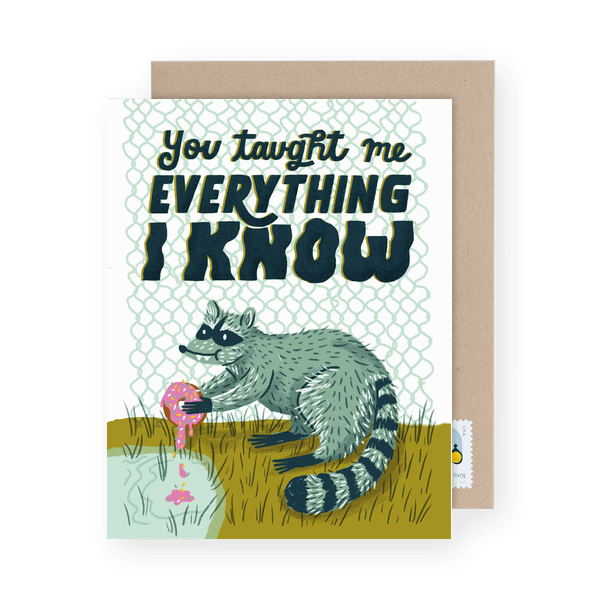 Exotic Father's Day
Did dad go on a Tiger King binge-fest last year (like the rest of us)? He'll definitely get a good laugh or two from this Rumble Cards Father's Day design.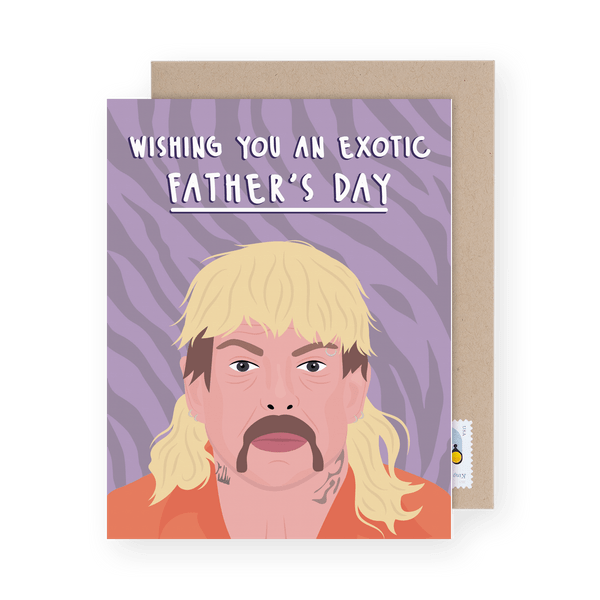 Dam Good Dad
If you didn't just let out a giggle, we'd be a little concerned. This very true to form E. Frances Paper illustration gives us all the giggles even before we notice the pun. And yes, the puns are back!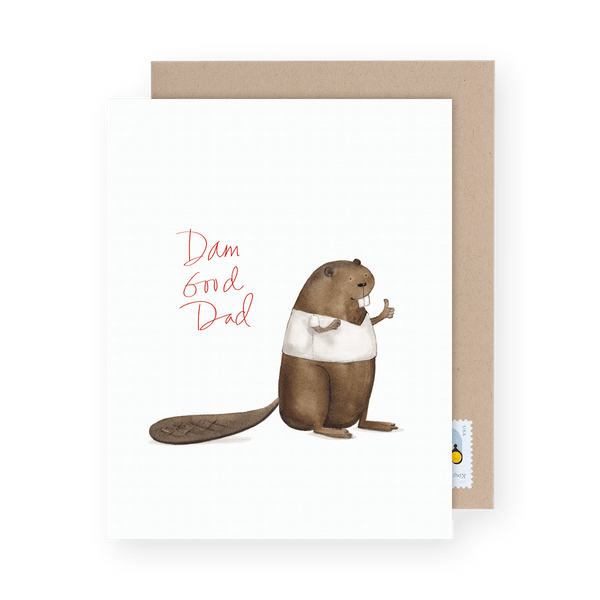 I turned out great.
If you're feeling extra proud of yourself, this Hello Paper Father's Day card is the perfect way to brag a little while still showing dad some gratitude. He'll get a kick out of your not-so-humble ways.
Sorry for being an asshole.
Having to deal with a teenager is next-level kind of love so be sure to thank dad for putting up with your antics.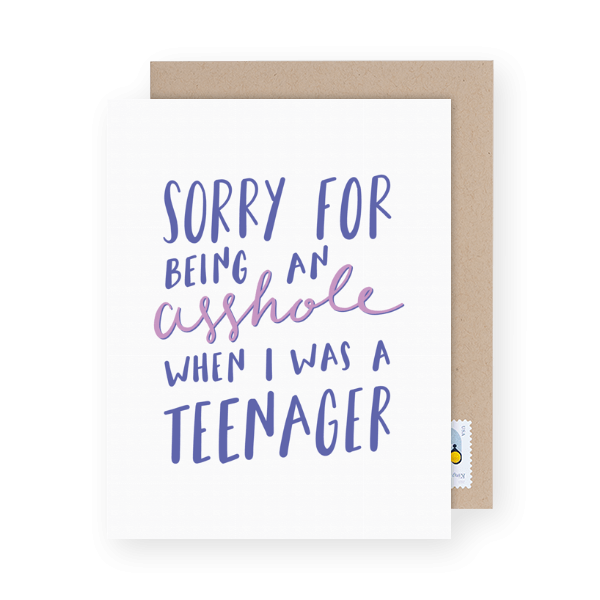 Road Tripping Dad
Take dad down memory lane with one of your favorite family road trips with this funny Father's Day card by Old Tom Foolery.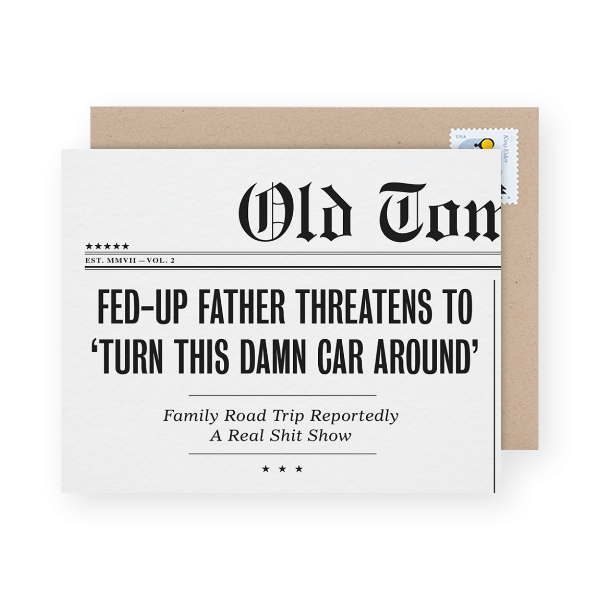 Some Adorable Father's Day Cards
If none of those funny Fathers Day cards tickled your fancy, then one (or more) of these adorable designs will be sure to have something your dad will love. While sending dad a good laugh is always a great idea, sending dad a Father's Day card that warms his heart is equally as great.
Remember, you can write your Father's Day message and send any of these cards right now without so much as lifting a finger — except of course to lift your finger … to click send!
You can send a real Father's Day card in minutes without leaving your home. Postable will print, address and mail it for you.
You're a cool dad.
Dad will love this adorable illustrated card by Small Adventure. Bonus points if your dad actually rides a motorcycle. If that's the case, then why look any further? This is obviously the one.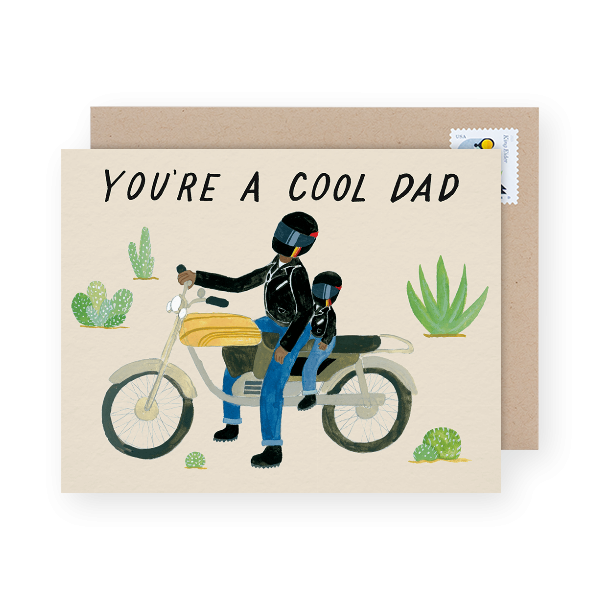 Dad, you're # 1.
Want to make dad feel like he's the MVP of this whole fatherly game? This Father's Day card by Ashkahn will absolutely tell dad just how much his fans really love him. And by his fans we mean you.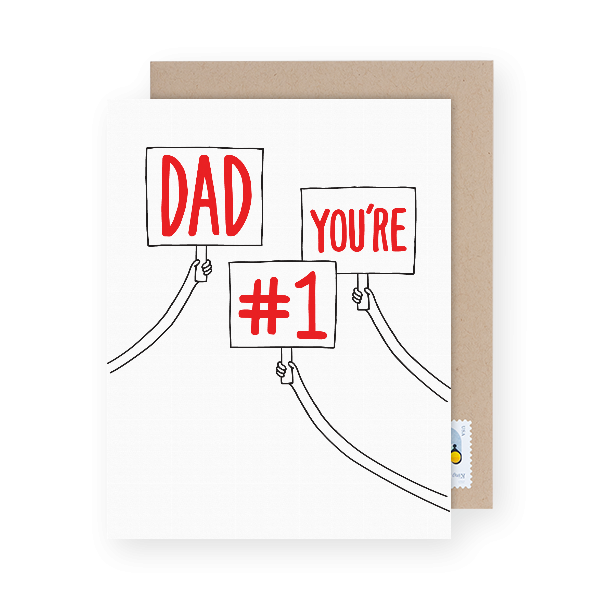 Best Dad Ever
Telling dad he's the best just got a whole lot cuter. This robot Father's Day greeting card by There Will Be Cake is out of this world adorable. We're in love with the color scheme and dad will be too! Be sure to tell him why you think he's the best. Write your loving message and send this card right now.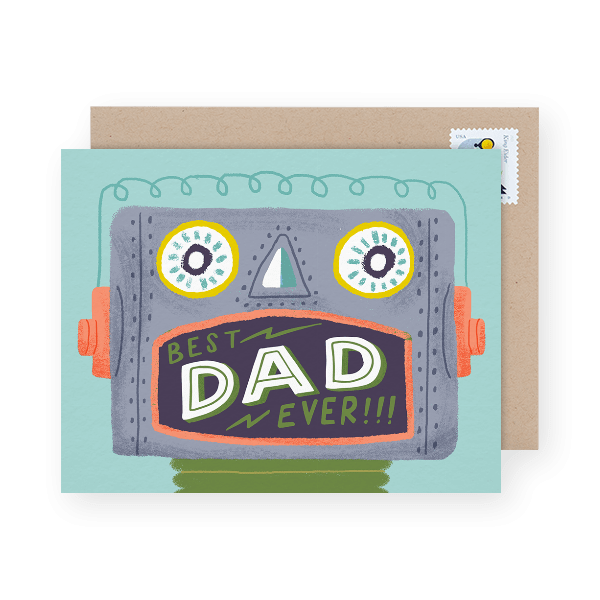 Dad's Tastes
If your dad has good taste, then this Father's Day card by Small Adventure is perfect. This illustration has all the markers of a dad with good taste. Make sure he knows his influence on you wasn't wasted. Tell him how much you love him (and his taste in music) with your personal message and send this card right now.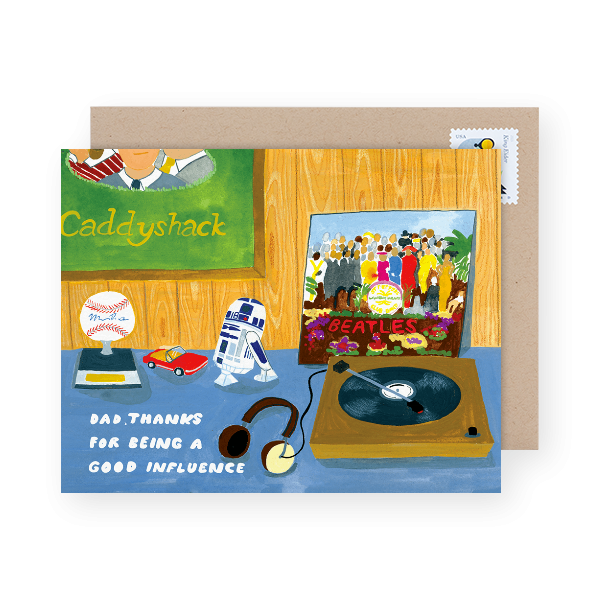 Dragon Father's Day
Some greeting cards are funny while others are so classy they'll never go out of style. Then there's this Father's Day card by There Will Be Cake which could be mistaken for a piece of art. It's so beautiful dad will have a hard time looking away. Write your father's day message and send this card without leaving your couch.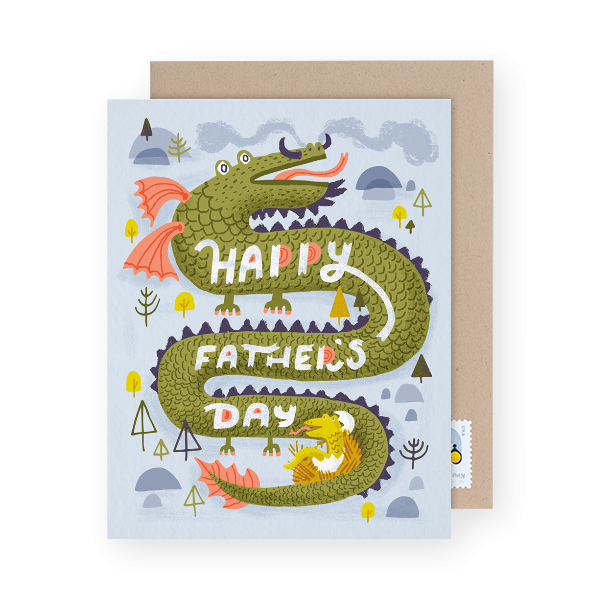 Fishing Adventures
Does dad love a good fishing trip? Then this hand-painted card by Forage Paper Co. will be perfect. He'll appreciate the personalized touch. Make sure to wish him a great Father's Day inside the card with your own words.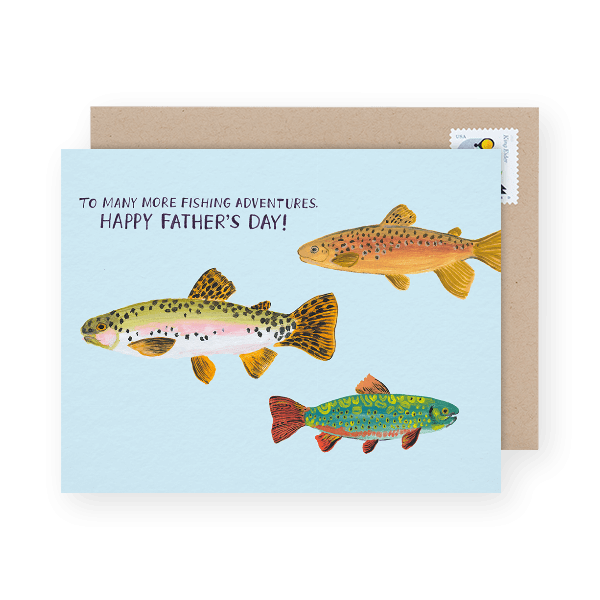 Dad Hero
How many times has dad come to the rescue? Seriously, probably more times than you can count. If that's true then this Father's Day Card by Goodputty Design is the winner. Make sure dad knows just how important he's been in your life with this delightful illustration.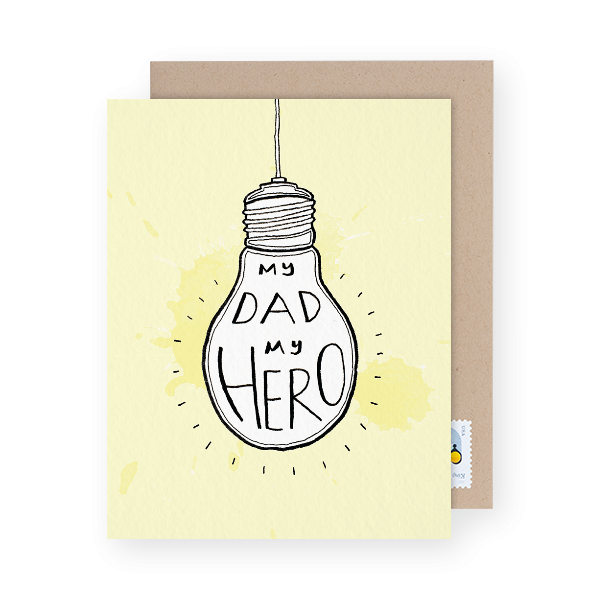 BBQ Dad
Got a dad who loves his grill almost as much as he loves you? Ok, maybe that was a stretch — but you get the idea. If your dad enjoys a sunny day out on the porch grilling up a few hot dogs and sipping on some brews then this Father's Day card is perfect. Write your dad a loving message straight from your phone!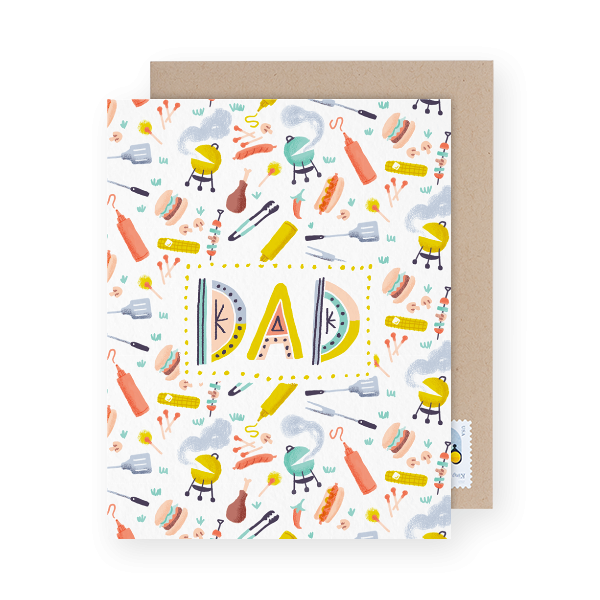 Pro tip: Schedule your Father's Day cards in advance and avoid forgetting to send dad a card. (Postable will print, address, and mail it for you.)
Gardening
Does dad enjoy his weekends out in the back digging in the dirt and growing the family tomatoes? Then this garden Father's Day card by Small Adventure would suit him well.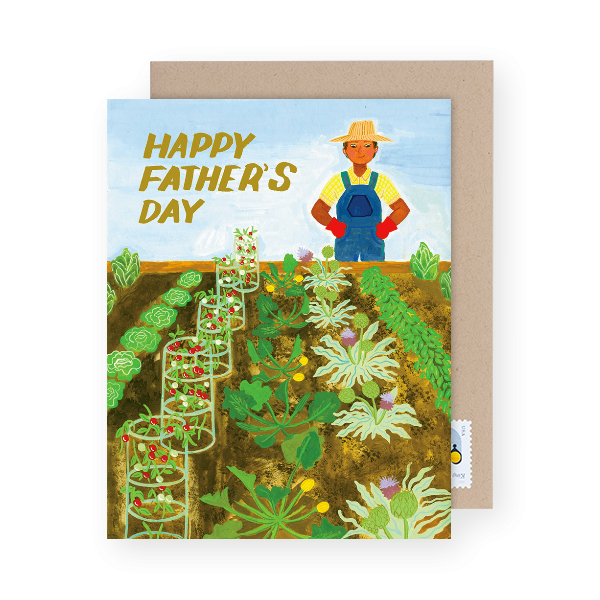 Best Dad in the Universe
Do you think you have the best dad in the universe? That's a thing a person would definitely like to know so be sure to let dad in on the secret. Tell him in your own words how awesome he is within the message.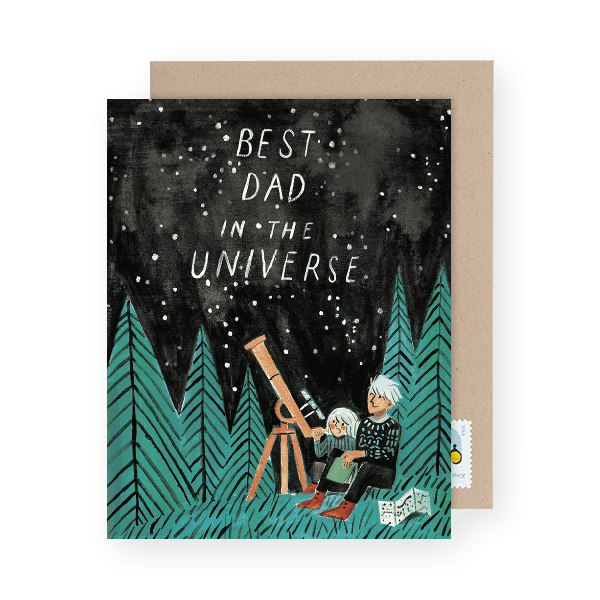 A Gentleman and a Scholar
Does dad appreciate the finer things in life? Does he refer to himself as a gentleman? Then look no further — this 55 Hi's Father's day card is utterly perfect. The design is immaculate and the typography matches perfectly with the sentiment. Tell dad you love him inside this card.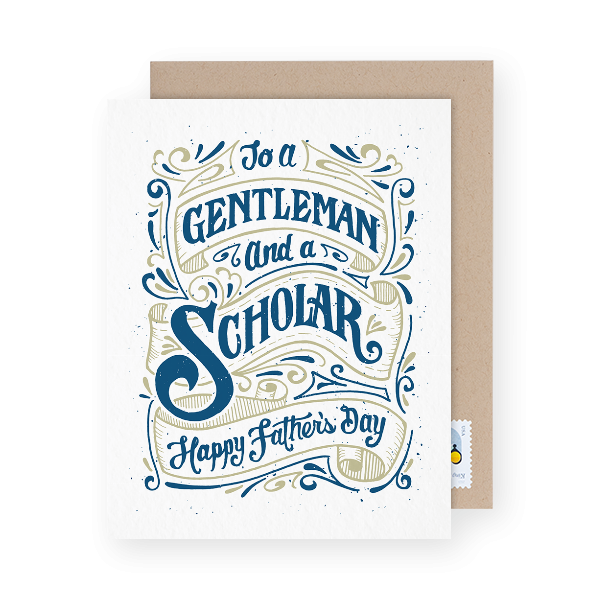 Best Dad Ever
Have you received a trophy for being number one? Doesn't dad deserve a little trophy for being the best dad ever? We think so. This trophy card by Emma Trihart will be just the thing to make sure he knows he's the best.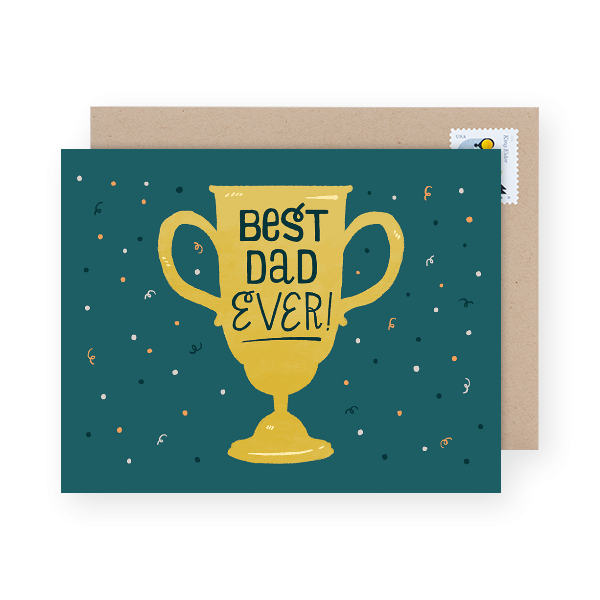 Thought Bubble
Want to combine the delight of the giggle-inducing designs with a photo? This card has it all. It's adorable and funny AND it has a place for you to upload your own photo. Upload your smiling face and send this to dad right now.
The Dad Card
Gotta love this design by Quill and Fox highlighting the delightful dad stance. Coffee in one hand, arm at the hip and don't forget the tie. We love this delightful and light-hearted Father's Day card.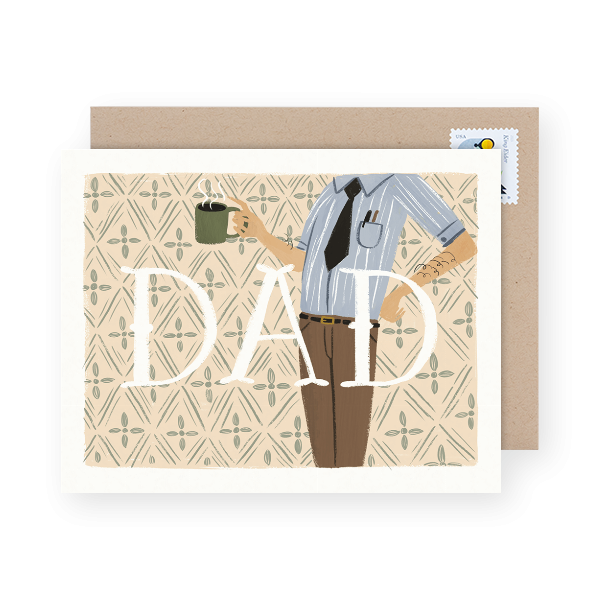 Papa, you are amazing.
Have you seen a more adorable Father's Day card? We didn't think so. We're obsessed with this Rock Scissor Paper design and think dad will be too.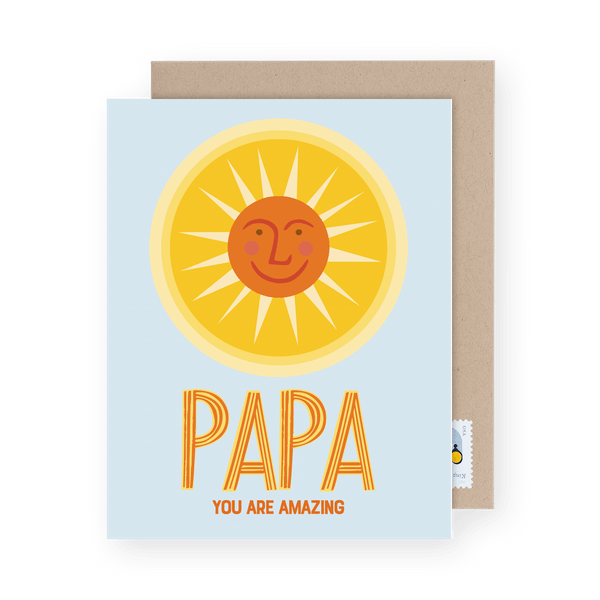 Thanks for the adventures, dad!
Thank dad for all of the adventures he's taken you on over the years with this loving Father's day card.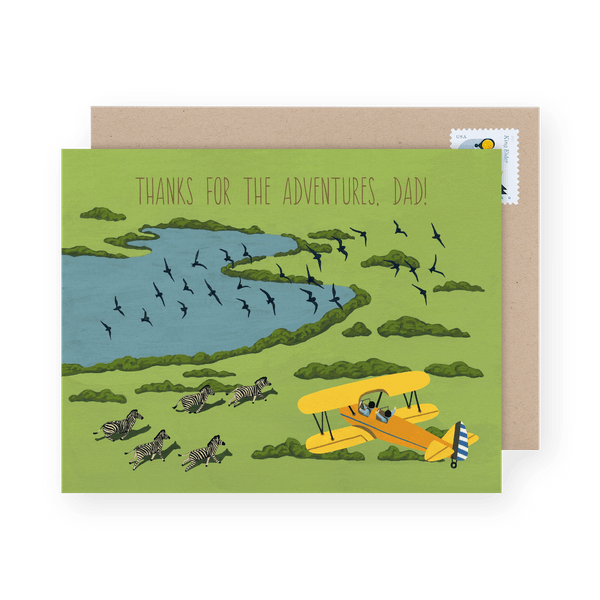 With so many different Father's Day cards to choose from you've got no excuses — make sure to send dad a card in time for Father's Day!
You can send a real Father's Day card in minutes without leaving your home. Postable will print, address and mail it for you.