Looking for the perfect way to plan your beach wedding? Does your dream wedding day contain waves lightly crashing in the distance, warm sand beneath your feet, and the love of your life staring deeply into your eyes? Luckily this doesn't have to stay a dream for too much longer. Your beach wedding is about to become a reality, and we're here to give you the inside scoop with the nitty gritty details to help you plan the best beach wedding anyone has ever seen. Before you get knee deep in picking floral arrangements and cake flavors, there are several things to consider if you're serious about planning a beach wedding. There are things to consider that you wouldn't need to if your wedding was being hosted indoors. We've asked wedding experts for advice on the most useful beach wedding ideas so that your dream can come true without any unwanted surprises.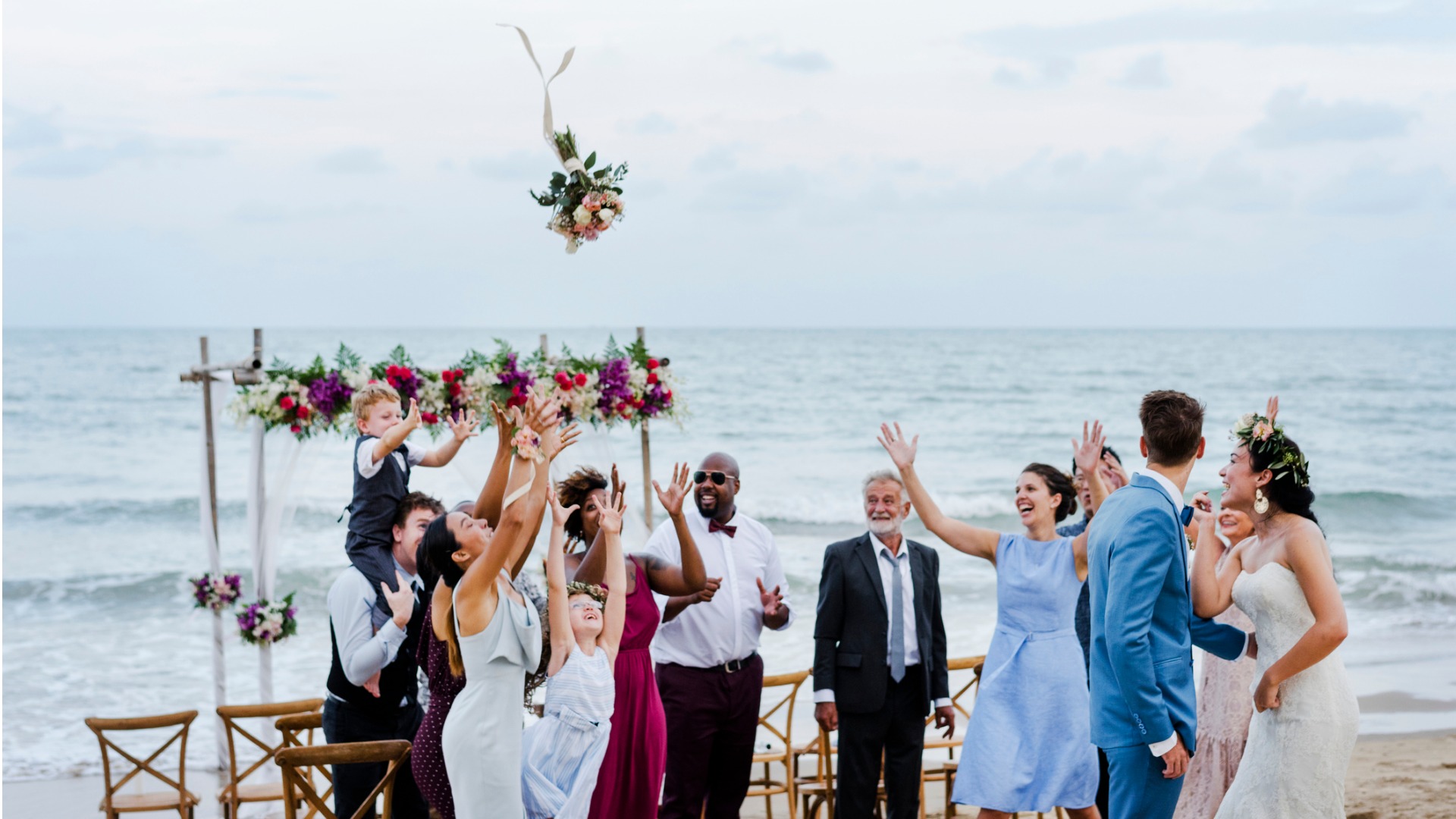 Consider this your go-to guide on planning the loveliest beach wedding anyone has ever seen!
Need to collect your wedding guests' addresses? Collect 'em all in 5 minutes with Postable's *free* collection tool and address book.
Consider the beach when choosing your wedding gown.
Take care of the prized jewel aka the wedding gown and plan accordingly for the beach. Everything from the length of the dress to the train needs to accommodate the location. And since many beach weddings tend to be destination oriented — take caution when transporting your gown.
Be sure to take the hemline of your gown one half or full inch shorter than you normally would. This will allow for a more of an effortless walk down the aisle if marrying on the sand.

Many brides decide to go barefoot when on the beach. If the plan is to change settings from the waterfront ceremony to a more controlled reception area, flat shoes are the only option to switch into. The gown will be tailored specifically to your natural height sans shoes; any heel taller than a flat, and the dress will be noticeably too short.

Any gown that has a train WILL get dirty. Plan on this inevitable factor when deciding on your bustle. It is important to communicate with your seamstress that the underskirt of the train should  not be visible when bustled for the reception. It has been my experience that a french bustle (extra length functionally tucked under the skirt), is more ideal than an American bustle, (skirt draped upright.)  Better yet, go without a train to avoid the hassle.

If the beach destination requires a flight, never check in your gown. Contact the airlines beforehand and ask if there is room in the captain's closet for a hanging bag containing the wedding dress. If this is not an option, fold the gown carefully in a sealed, opaque garment bag and place into the top storage bin.

Contact the resort or hotel prior to the trip and inquire about a possible staff member on site that would be able to press or steam your gown upon arrival. It will inevitably require a touch up after travel. However, do not let the gown out of your sight. Even the nicest of resorts and hotels have been known to lose or damage laundry. Explain that your would prefer the gown pressing to occur in your room, or you will be accompanying your gown to the laundry location.

– Lacy Pool, a 15 year seasoned bridal stylist and buyer with UnfussyHussy.com
Be kind to the environment.
Having a beach wedding means your venue is the beautiful outdoors. Keep this in mind when planning every aspect of the ceremony (and reception if you choose to keep things going on the sand). Have someone come by after the space has been cleared to make sure there are no traces that your party was ever there.

Confetti makes for some lovely and exciting pictures, but also for a great deal of litter.

If you have anything being thrown during the ceremony make sure it is biodegradable, such as petals or bubbles, as opposed to something which you will need to be raked up later, such as paper confetti.

– 

Meghan Moloney, DC Engaged

Make sure you have permission to host your wedding on the beach.
Not all beaches allow events to take place without a permit, so make sure you check with your venue and local township to understand the permit requirements for your nuptials to take place.

— 

Daulton, a wedding planner and owner of 

The Refined Host
Consider and plan for any special beach rules or regulations.
Once you've gotten the go ahead with a beach permit, look even further into any rules and regulations that may prevent you from carrying out all of your plans.
Determine what time all guests must be off of the beach, if open fire is permitted for a bonfire as an after party, alcohol liability policies and so much more.  The more information you are aware of, the less challenges you will face on the day of the wedding!

– Kristen Gosselin, KG Events & Design
Work in the confines of the beach.
Speaking of the environment, you'll have to take the good with the not so good. The beach is not a closed room where everything can be controlled so plan accordingly. The wind is going to be a huge factor.
The last thing you want to happen is the wind taking front and center of your big day. Prepare accordingly.
Be sure to use concrete blocks when putting up an arch or chuppah since heavy winds, which are common on a beach, can pull the poles of an arch out of the sand.

– 

Meghan Moloney, DC Engaged
Make sure your beautiful ceremony is heard by all of your friends and loved ones over the crashing waves.
The view of the ocean in the background will be stunning, but it can also be noisy if  there are waves, so plan to have a microphone for your officiant, yourselves and ceremony readers with proper speakers to ensure your guests can hear the ceremony.

– 

Daulton, a wedding planner and owner of

The Refined Host
Do your tide research.
It is imperative to know when the tides change and to stage everything in location where the water will not risk reaching guests or equipment.  

– 

Kristen Gosselin, KG Events & Design
Plan ahead to create a comfortable setting for your guests.
Hosting a beach wedding sounds absolutely magical, but as we've already gone over there are some challenging aspects to the magic. While you're making plans to avoid fly away flowers and amplifying the sound — make sure your guests are well taken care of.
SHOE CHECK
On a similar idea to a coat check, set up an area before the sand starts for your guests to be able to take off their dress shoes and swap them out for flip flops. Providing custom shoe bags with the couples monogram will ensure that their shoes do not get damaged, while also doubling as a favor.

WATER/COOL TOWELS
If your ceremony is taking place while the sun is still shining, provide mini bottles of chilled water so your guests can stay hydrated. Also, consider passing frozen towels that have been enhanced with eucalyptus or lemon. You definitely do not want your guests to be agitated while sitting through the most important part of the wedding day without any means to cool down.

– 

Daulton, a wedding planner and owner of 

The Refined Host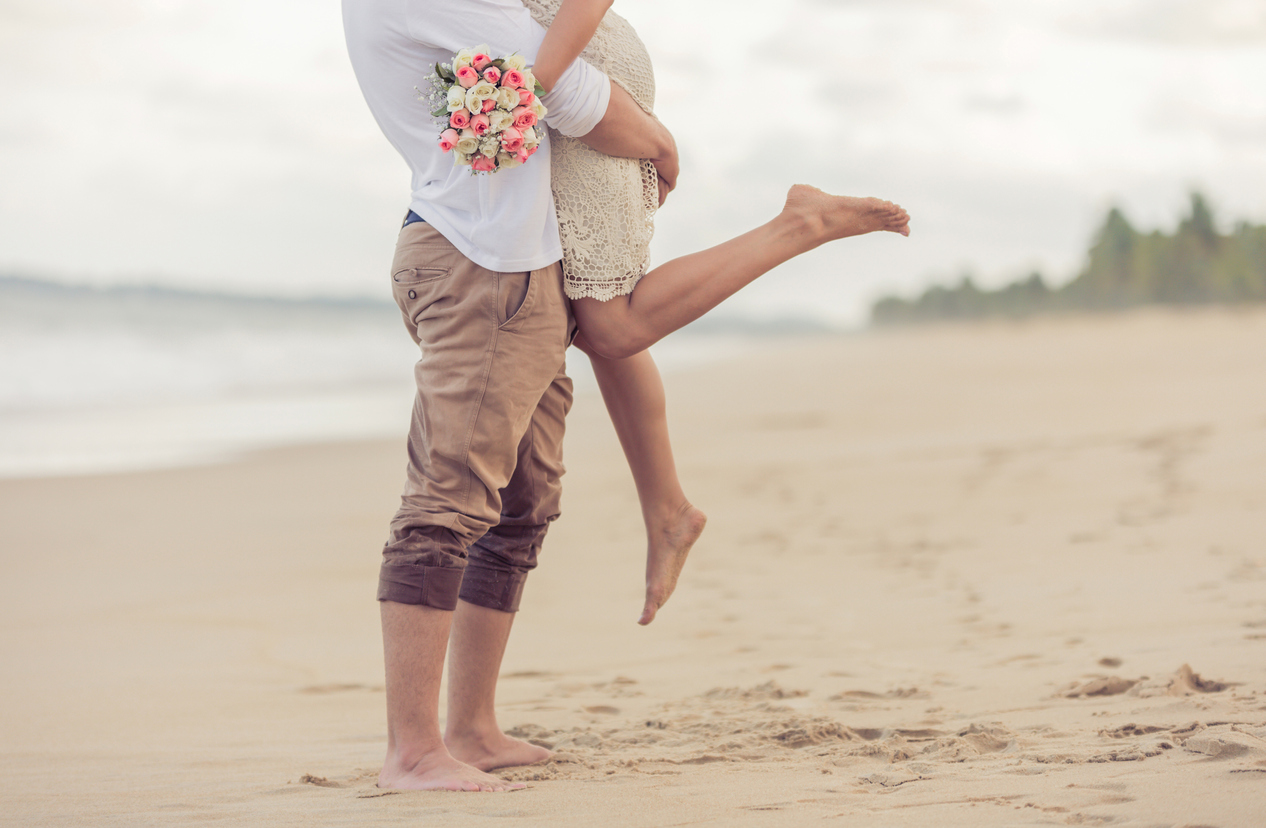 7 Bonus beach wedding ideas to make sure your day is perfect.
Here we have 7 bonus ideas to think about while planning your big day. Irene St. Onge — a NYC-area based event planner and owner of Soirée Special Events, has planned countless beach weddings — giving her a unique perspective on the topic.
1. Have a contingency plan.
This is the Number 1 important tip for any outdoor wedding ESPECIALLY on the Beach. When researching your beach locale and venue and prior to booking, you need to envision the WORST CASE SCENARIO ( Hurricane, Tsunami, Monsoon anything AND everything) and have a back up plan for it – indoor structure, tent or new locale and be 100% OK and on board with it. Sometimes, I have a Plan B and a Plan C. If you are OK with the WORST CASE then you can proceed.
EXAMPLE: PLAN B: UNEXPECTED CHILL – RENT SPACE HEATERS. PLAN C: DOWNPOUR – RENT TENT(S)
2. Price Out your Plan B/C.
A lot of times this involves a tent – perhaps 2 tents for ceremony/ and flipping to reception and one for cocktail hour. You need to have realistic costs of what these could potentially be before moving forward. Otherwise, you could be setting yourself for sticker shock and huge unexpected last minute costs. Speak with your tent company about when is the deadline or last potentially day you can let them know you are moving forward with one. Sometimes in a very busy June wedding/graduation season a deposit to hold the tent is in order.
3. Notify your guests.
Notify your guests that the ceremony and/or reception will be outdoors on the beach so they can plan appropriate dress. This can be listed on your website and at the very least your invitation. You can also list it in your dress code "Beach Chic" or "Summer Cocktail Attire" "Shoes Optional" etc.
4. Gifts for the guests.
A generous touch is to have some gracious gifts/favors for guests on arrival and not just in the restrooms to prepare for a ceremony and/or reception outdoors. What you put in your basket may depend on the weather but popular items I like to include can be: sunscreen, festive sunglasses that can be found in bulk on amazon, flip-flops, parasols to help with shade, blankets or pashminas if a Fall wedding.
5. Themed cocktails.
Greet Guests with a festive cocktail based on the locale. For a New England wedding we served Cape-Coders and Dark n Stormy's for a Montauk wedding it was a "Montauk Summer Rose" on arrival and a Rum Punch. I mean who doesn't LOVE a festive drink umbrella!? It makes you instantly happy.
6. Play up the beach theme.
I love to play of Beach-Theme when it comes to ambiance and décor. For cocktail hour entertainment, consider Bongos or a Steel Drum Band. For place cards Sand Dollars or Oyster Shells are amazing options and can carry through to your centerpieces. Use the surrounding outdoors and natural element for your décor elements.
7. The finale.
And Finally, end on a good note. I love a Beach Bob-fire, after party with S'mores. You can go beyond the traditional even with different types of chocolate, Nutella, cookie butter, etc. Your guests will never forget it and thank you on their way out!
Beach wedding save the dates.
Having a dream beach wedding is something you're excited to share with your friends and family. What better way to introduce your big uniting celebration than with a lovely beach wedding save the date. Start with the beach theme from the get-go when you ask your friends and family to save your important date.
We've collected a few of our favorites here. Click on any of the links associated with each design to play around with your own details — no need to commit to anything. See which card showcases you and your fiancé's name and date most lovingly. If you find a design you love, simply fill in the details and click send. Postable can print, address and mail your beach wedding save the dates out for you. This way you can get back to planning the big day without the headache. [Of course you can also choose to get a box of the cards mailed directly to you.]
Tropical Palm Trees Save the Date
This modern design will get all of your guests excited to bask in the sunlight. We love the neutral tones and the pop of gold font with your wedding details. Customize and send this card here.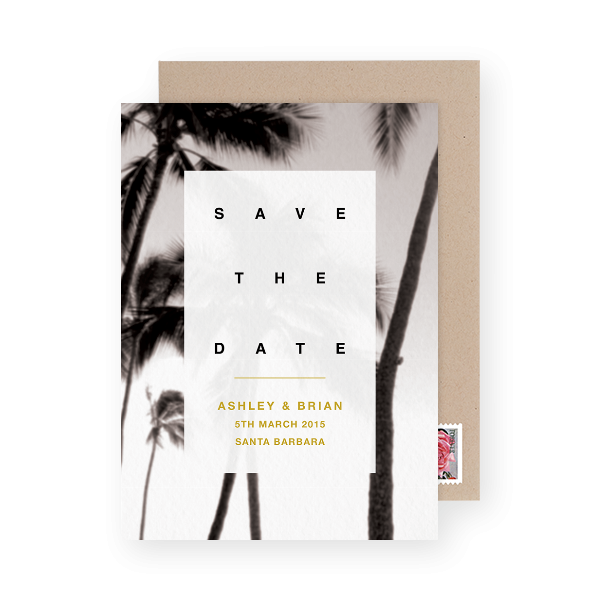 Blue Tides
For something a bit more playful and simple, we love this delicate starfish save the date. Customize and send this card here.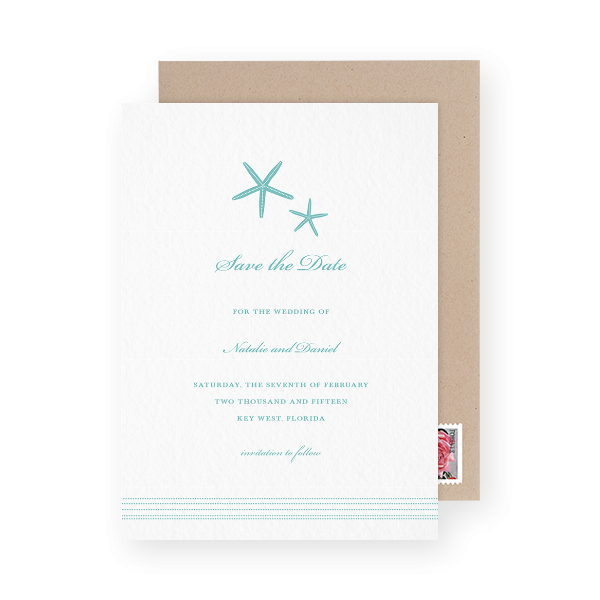 Sunburst Save the Date
Looking for something even more playful? We adore this colorful save the date — perfect for a couple bursting with good energy. What beach wedding is complete without a load of sunshine?! Customize and send this card here.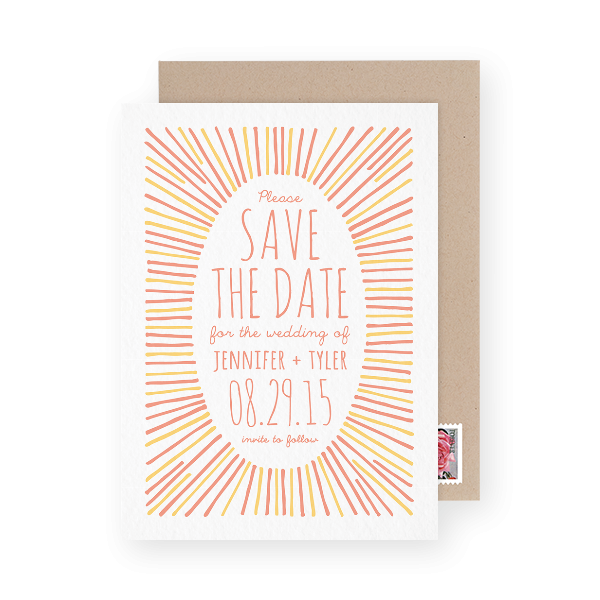 Hand Painted Blue Waves
It goes without saying this hand painted save the date is stunning. Perfect for just about any couple planning a wedding of their dreams with blue waves as a backdrop. Customize and send this card here.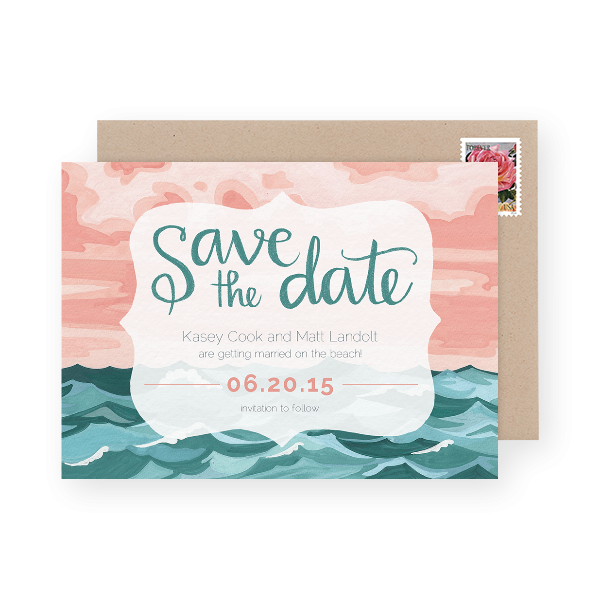 There you have it — the everything you'll ever need to know about planning a wedding on the beach. Your ultimate guide, if you will. Now, it's time to start making moves and start planning the big day!
Need to collect your wedding guests' addresses? Collect 'em all in 5 minutes with Postable's *free* collection tool and address book.