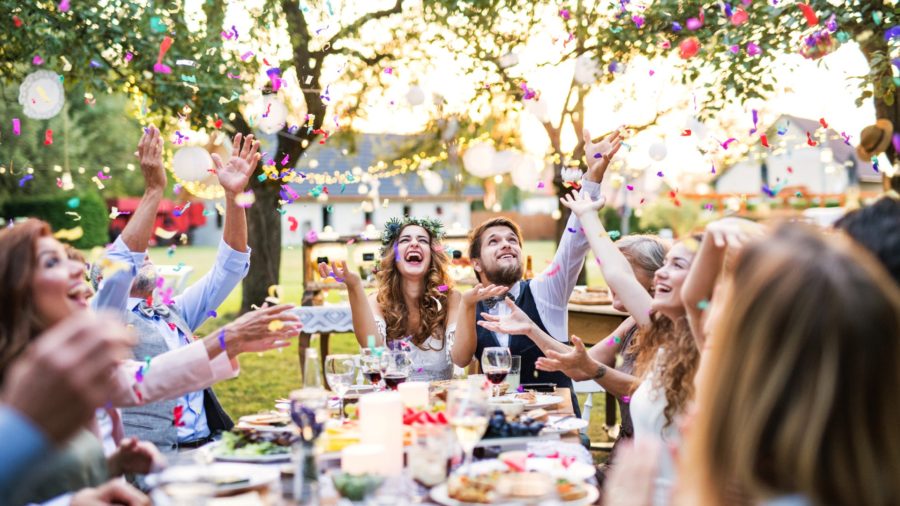 So you want a summer wedding, but the last thing you want for your special day is a sandy aisle runner and the sound of waves muffling your vows. You're not a beach babe and you're not sorry. Well, you shouldn't be. Beach weddings can be trickier than they sound (though we're all on board with those who are up for the challenge). Luckily summer wedding ideas don't always have to include the beach.
You've got your hearts set on the summertime to celebrate your love and get married while the entire family is out for the summer. And why wouldn't you! Summertime is a glorious season to host the special day. You've got plenty of options — beach weddings are definitely not the only way to utilize the summer.
Summer wedding ideas that have nothing to do with the beach.
Enjoy the warm breeze of the sunshine, the lush greenery and beautiful outdoor views of the summer while staying totally sand free. Save the beach for the honeymoon!
We've got 11 really lovely summer wedding ideas you can use for your special day to get you all sorts of inspired!
1. Use a tent and string up ALL the lights!
via Brit n co
Summertime and outdoor ceremony and receptions go hand-in-hand. As your wedding planner will likely tell you, having a plan B in case the weather isn't cooperating with you is key. However, if you choose to plan on using a tent you can be outside without any worries even if rain starts to pour. Use lighting to play up the tent and tie it into your decor.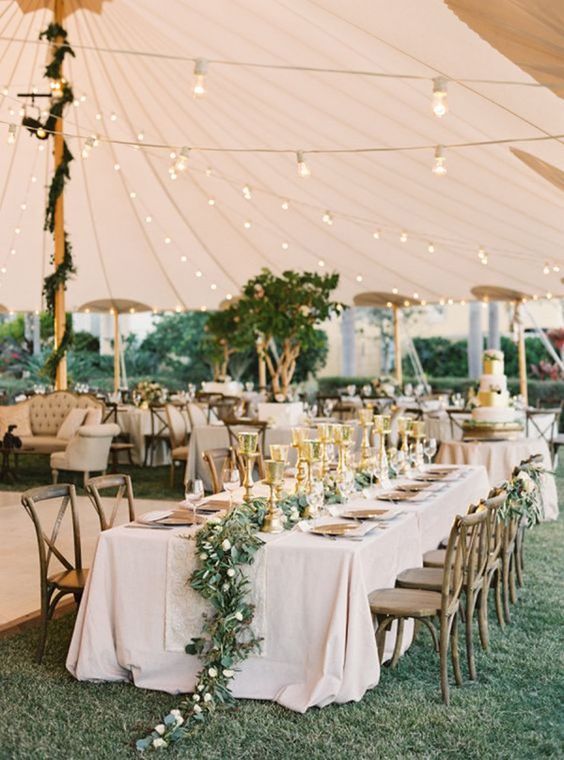 2. Apple Orchard Weddings
via Postable
Apple orchards are a dreamy place to get married so why not go for it? These are especially great for smaller intimate weddings. We love this summery apple save the date which you can use to tie your wedding theme in early.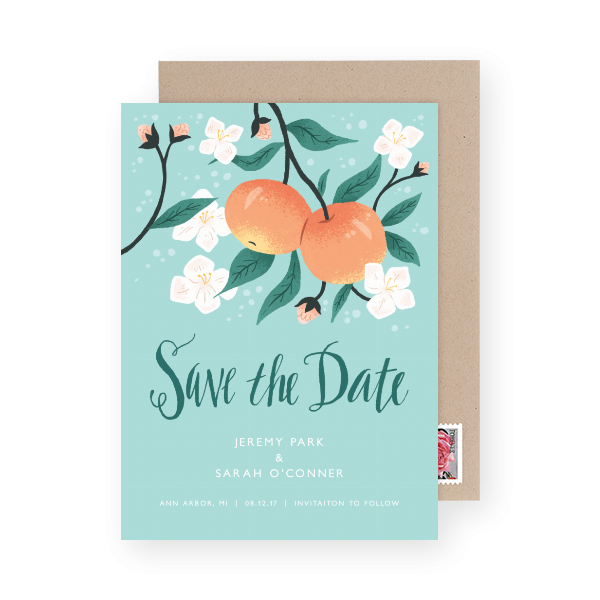 3. Outdoor seating
via Mel Wiggins
Speaking of apple orchards! This single table in the middle of an orchard looks absolutely dreamy. Not ideal if you're planning on a larger wedding, but for the smaller receptions this location is a dream.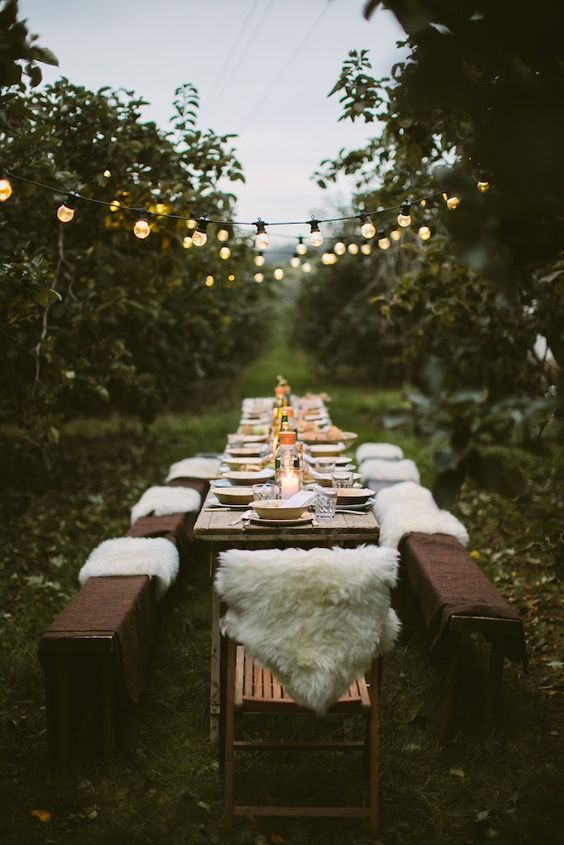 4. Floral-up your wedding cake
Summer is all about the blooms! Add your wedding florals to your wedding cake to add color and make your cake really pop! Perfect addition to a summer wedding cake that's got a simple frosting/outer shell.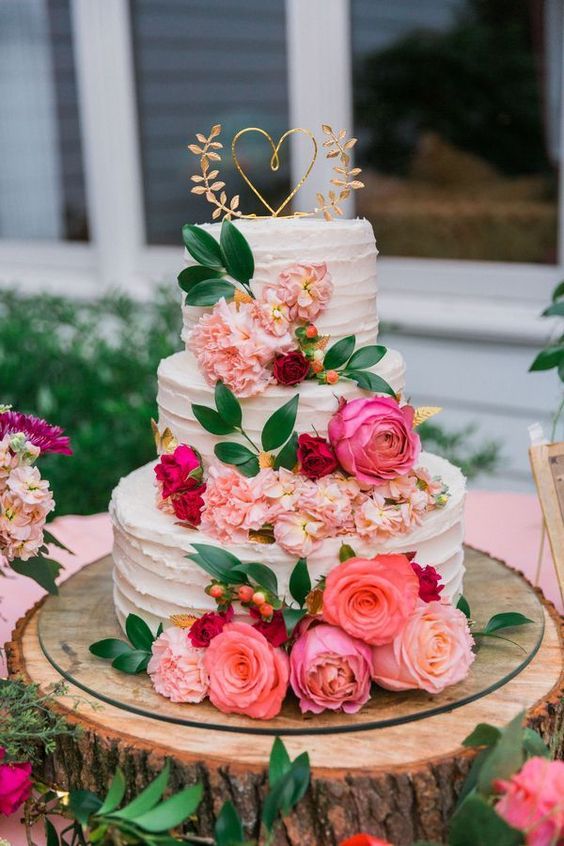 5. Summer florals wedding invite
via Postable
Speaking of flowers! You can totally make this the theme of your summer wedding. We're in love with this florals save the date by Clap Clap. It's hard to take your eyes off something that pops this much!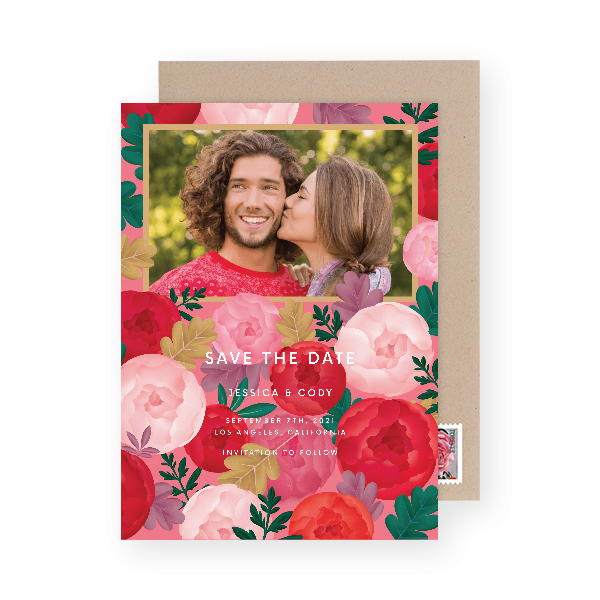 6. Have a Prosecco bar
via Love My Dress
You've heard of mimosa bars, but how about a prosecco bar?! Get your guests into the summer spirit by letting them get a little creative with their summery cocktail!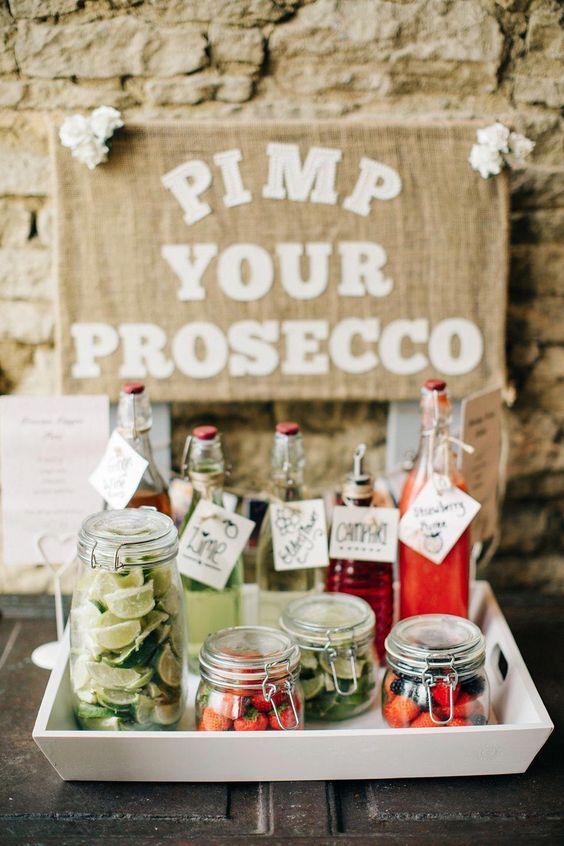 7. Floor seating for a lovely summer casual vibe
via Crazy for Us
Ground seating at an outdoor summer wedding just seems so dreamy! If you're ok with taking the formality level down a notch then this seating option will make for some lovely pictures and even better memories! Make sure to advise your guests of this so they can dress appropriately.
Another option is to have this seating as voluntary seating during cocktail hour instead of the ceremony.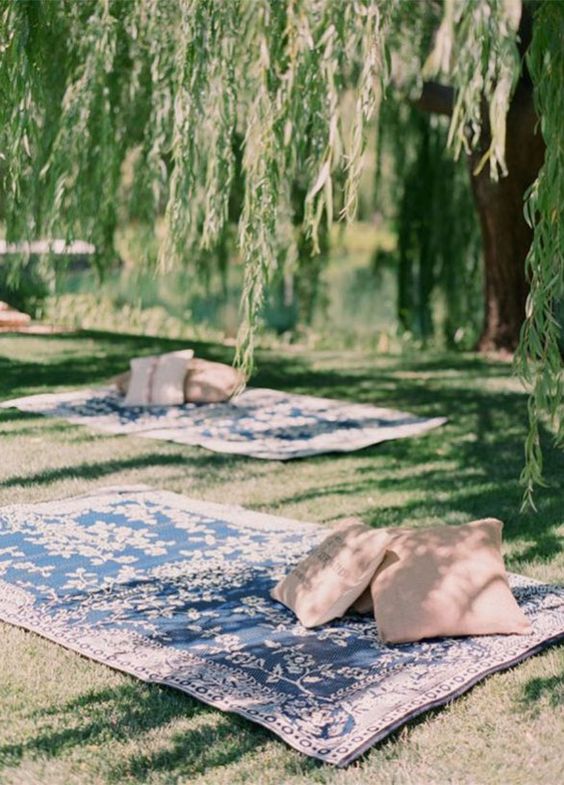 8. Open air seating with one long table
via nouba
Love the idea of sitting on one long table outdoors, but still want a slightly larger wedding party? No problem. Perhaps an apple orchard wouldn't be the best fit, but you can still set up a long seated table outdoors in a garden or a big field. Everyone will feel like one giant family.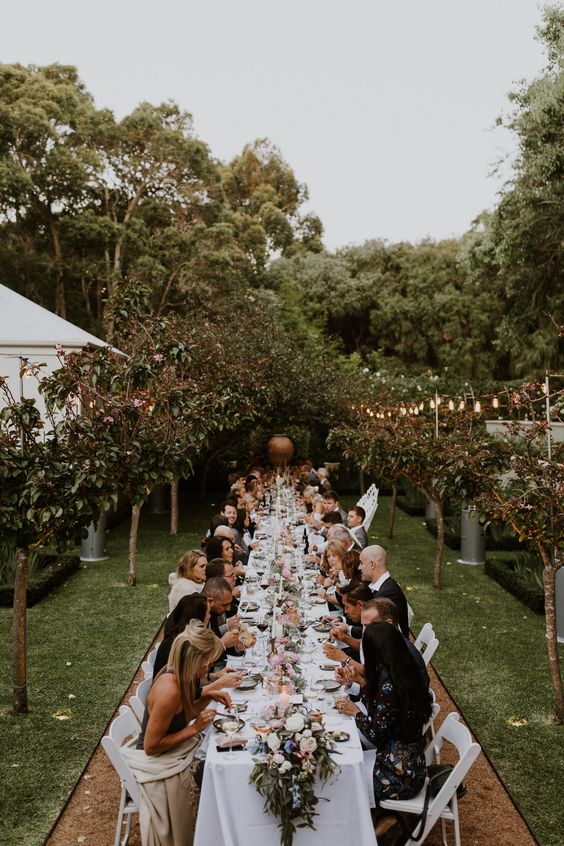 9. Mountain wedding vibes
via MODwedding
Summer weddings can take you just about anywhere outdoors and what better place than the mountain air! Unlike the beach or city summer wedding — holding your ceremony & reception in the mountains will provide some relief from the summer heat. You'll actually enjoy being outdoors.
Plus, who needs decorations when your venue looks like this? You can keep your florals and decor to a minimum and let your eyes feast on the surroundings.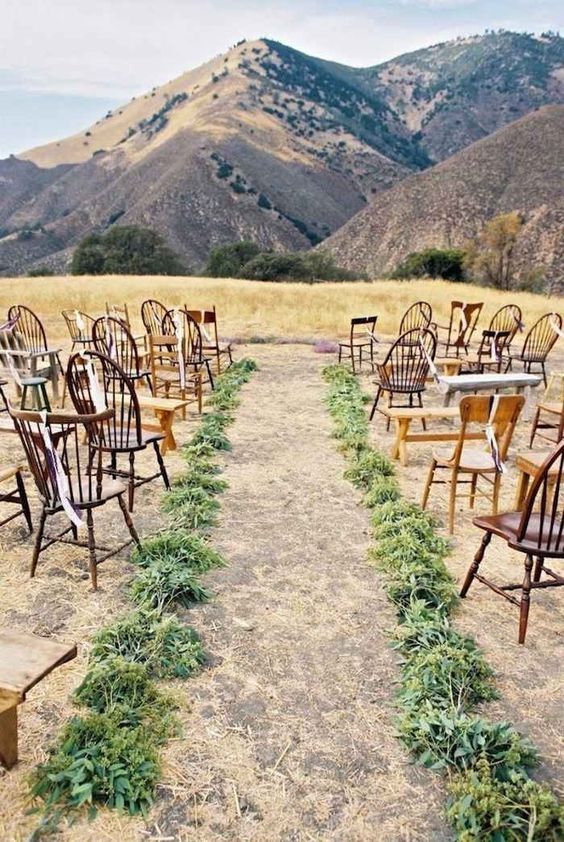 10. Mountain wedding — mountain cake
Holding a mountain wedding? Why not loop your wedding cake into the theme? We're absolutely obsessed with this gorgeous mountain cake — it's elegant and simple and yet colorful!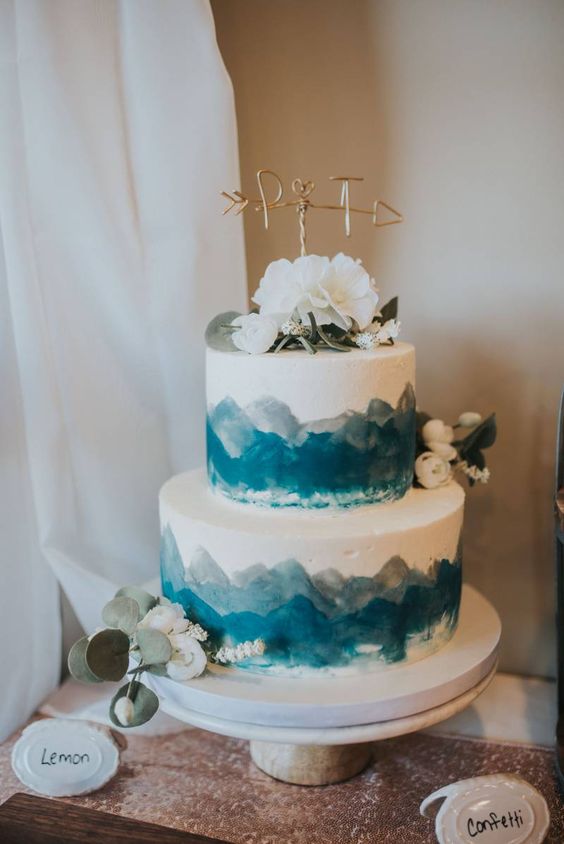 11. Outdoor lighting is key
via Barn Weddings
Wherever you choose to hold your wedding — outdoors is likely where you'll be. Just be sure to have proper lighting.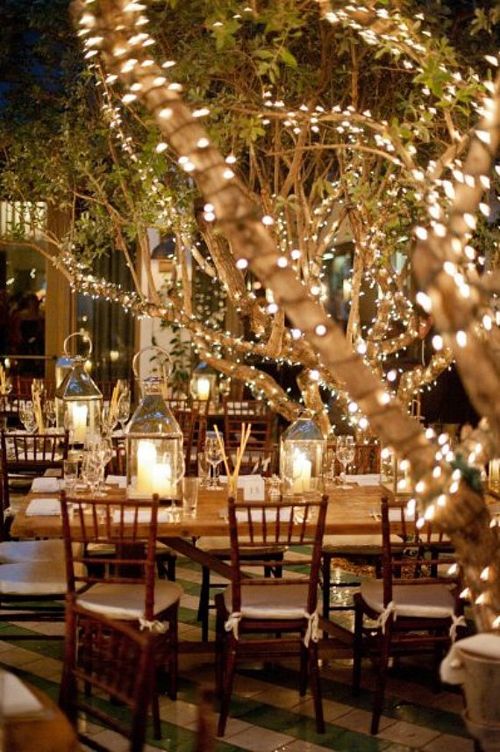 Now that you're full of lovely summer wedding ideas, here are some tips to get you in a more logistical state of mind.
Unexpected summer wedding tips!
Hosting a wedding just about any time of year can be tricky, but each season comes with its own set of challenges. Summertime is no different.
Everyone knows organization is key to planning a wedding, but what are some unexpected* things that may come up? We decided to seek advice from the folks who plan weddings on the daily (so to speak). Here are some unexpected summer wedding tips you can use for your big day!
Above all else, consider the weather.
If the annual forecast predicts over 90 degrees, then do yourself and your guests a favor and host your event indoors. Keep in mind, you can still take advantage of the beautiful outdoors for your pictures, but you and your guests will appreciate partying in an air-conditioned space.

Amy McCord Jones, a 12 year veteran wedding planner — Flower Moxie
Send out Save the Dates with plenty of notice.
The summer is usually a season when people plan and book their holidays one year ahead. Inform your guests about your wedding by sending them save-the-dates and invitations far in advance.


Anna Bessonowa, Magic Day Luxury Experiences
Colorful, fruity signature cocktails.
Sure, you can serve all the red wine you'd like, but offer a cold, bright cocktail, and your guests will be refilling their glass all evening long.

Amy McCord Jones, a 12 year veteran wedding planner — Flower Moxie
Cheap sunglasses & sunscreen.
Handing out sun-beating goodies like bulk-ordered sunglasses and sunscreen samples along with the wedding programs will be a godsend for many ill-prepared guests.

If you buy in bulk, you'd be surprised at how inexpensive these goods can be on a per-item basis.

Remember, these guests opted to spend their day celebrating your wedding, and it doesn't hurt to go above and beyond to treat them well.

Caroline Allec, Wedding Consultant at Money Done Right
Avoid creamy & cheesy dishes.
If you're serving refreshments between the ceremony and the reception, it's best to steer clear of creamy and cheesy dishes.

This isn't only due to the melt factor, but also because most people simply don't enjoy, say, a warm piece of cheddar cheese.

Instead, opt for snacks such as fruit kebabs, frozen drinks, and smoothie pops.

Caroline Allec, Wedding Consultant at Money Done Right
Have a backup boutonniere.
Back-Up accessories are a plus in any wedding but many people forget the importance of a backup boutonniere. Taking pictures before or after the ceremony could call for the need of an extra boutonniere. Wilting or frail blooms don't make the best wedding photos and can take away from the handsome appearance of the groom and groomsmen. The boutonniere isn't like the bouquet because it is worn throughout the entire ceremony and will encounter the impact of heat, hugs and other forms of contact. The back-up will come in handy whenever the initial is clearly growing tired of its duties.

Olga Reznikova, Wedding Forward
Plan around the heat for photos!
I use TimeandDate.com to calculate sunset time, and then help my couples design a timeline that allows for portraits without mid-day heat and harsh light. Saving bride & groom portraits for the 30 minutes just before sunset allows you time for gorgeous portraits without melting in the heat!

Sarah Bradshaw, DC wedding photographer
Invest in a pro makeup artist.
Hire a professional makeup artist who specializes in airbrushed makeup. It holds up to heat and humidity SO well, and won't melt off your face if your ceremony happens to be outdoors!

Sarah Bradshaw, DC wedding photographer
Late night lighting needs more than string lights.
If you're planning for a reception that will carry on into the evening, make sure that your tent or event space has plenty of light to keep the party well-lit. This is especially important for any late-night catering or clean-up crew as well, not to mention the safety hazards of combining tipsy guests with dark outdoor terrain. Depending on how late the reception lasts, string lights won't necessarily cut it in most cases. It's best to ask the venue manager what couples have done for lighting in past weddings, especially for certain lakeside or mountain wedding locales where electricity may be limited.

Kevin Dennis, Fantasy Sound Event Services
Every summer wedding starts with a date — so, what's yours?
Have you picked a date for the big day? Are you ready to mail out your wedding save the dates?
Let Postable help make the process about a million times easier! Pick your favorite design–and there's a bunch to choose from– enter your details, click send and voila! Your save the dates will be printed, addressed and mailed for you.
Easy Peasy.