You may be wondering: what are dog greeting cards? If you're the kind of person that is more likely to run after a puppy than run in your local 5k, then you're likely going to vibe with this post very well. Dogs, after all, are what make the world go round.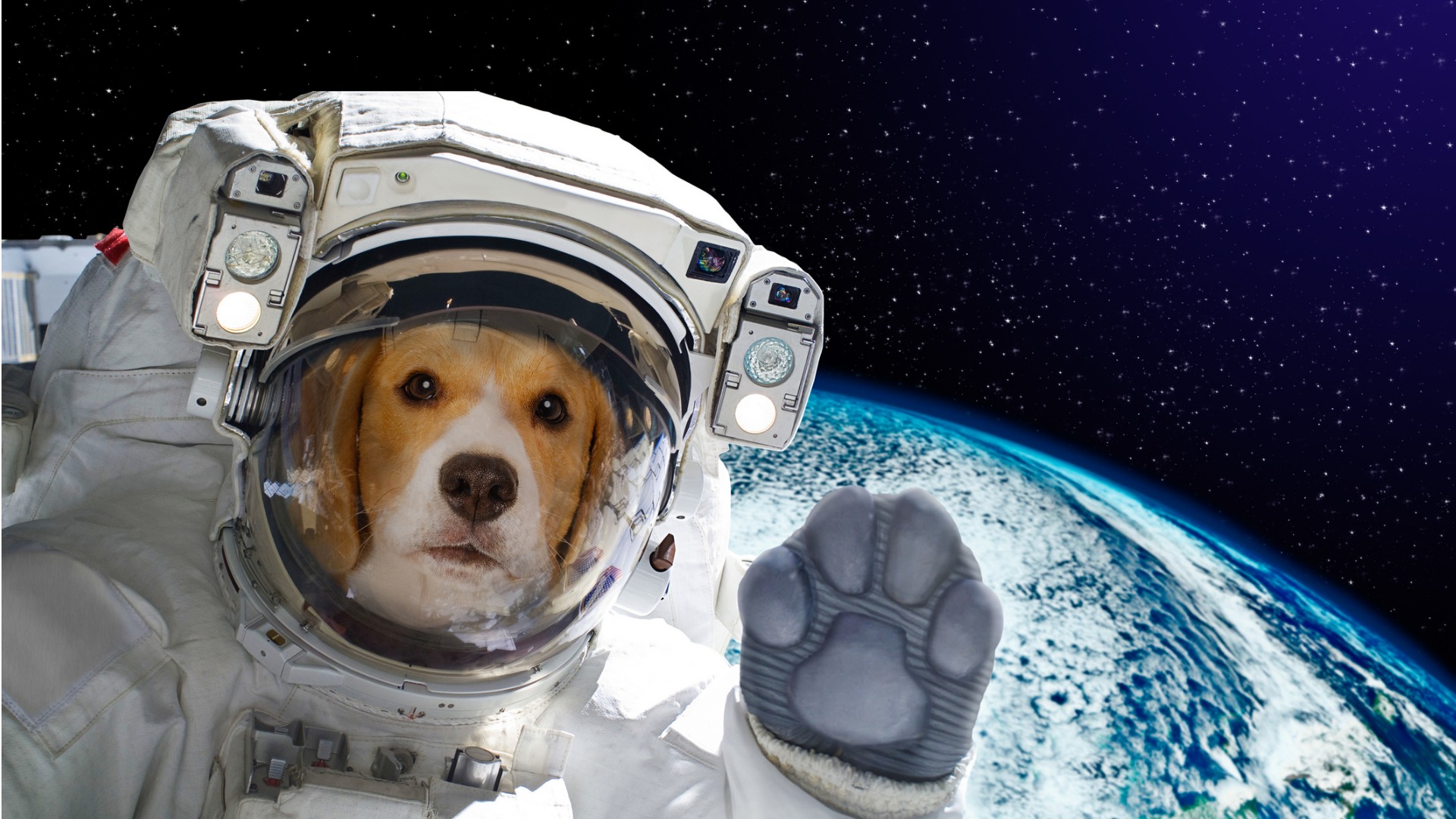 Of course, we're aware that dogs can't read. Although we're convinced if you read the cards to them, they'd totally comprehend. This list of dog greeting cards are meant for those folks in our lives that would rather play with the puppy than mingle with humans at just about any gathering (pre-social distancing 2020 era). We all know that friend. Heck, we are that friend. They probably have a furry little friend of their own. These cards are not only designed for these people — they're designed by them. So — if you have a friend of this liking in mind, they're going to love you that much more after you send them a delightful dog birthday card. Even if you don't 'get it', they will. And they'll love you for it.
[And if you're more of a cat fellow, we've got just the list of cards — here.]
Don't forget, all these delightful dog greeting cards can be mailed within minutes without you ever having to leave your couch (or change out of your PJs). These cards are out of this world adorable AND easy as can be to mail.
Just choose the card that really tickles your fancy, write your message and click send. Postable will print, address and mail your dog card for you. If that's not woof-ing awesome, we don't know what is.
Bring on the puppies!

Just to say hello dog greeting cards.
There doesn't always need to be a huge life-altering event like a wedding or a big birthday for you to mail someone you love a card. And you certainly don't need a reason more than just wanting to say hello and brighten someone's day in order to send one with an adorable puppy adorned on the front.
Here are some dog greeting cards you can mail your favorites whenever the urge strikes… You know, just to say hello.
Best Dog In the World
For those moments when you wish your dog could read. Or speak. You could mail them this card and just read it to them because you know they totally understand you. This dog greeting card by Bench Pressed is the perfect design for our bestest of friends (or you know, your friend's pup).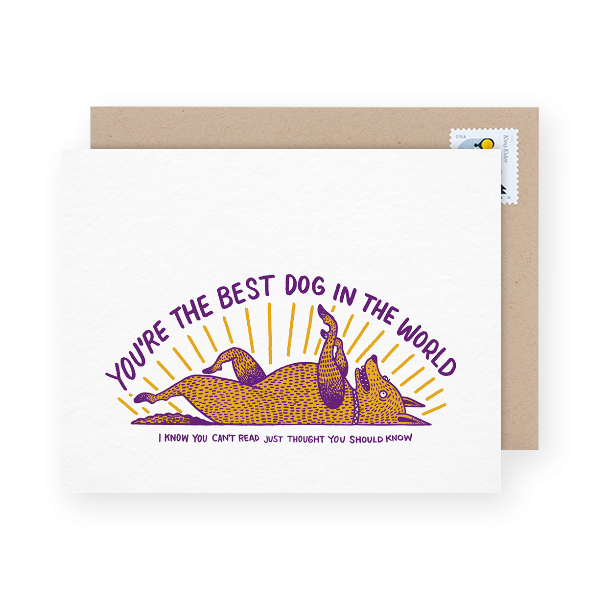 Hellooooo
Ok so perhaps writing a card for your own dog seems a little out there. Maybe. But unlike our pups, the human friends in our lives can read and would totally appreciate a lovely hello from you. This Hello card by Shauna Lynn is adorable and any dog loving friend [or foe] would totally agree. Brighten their day with this bright card!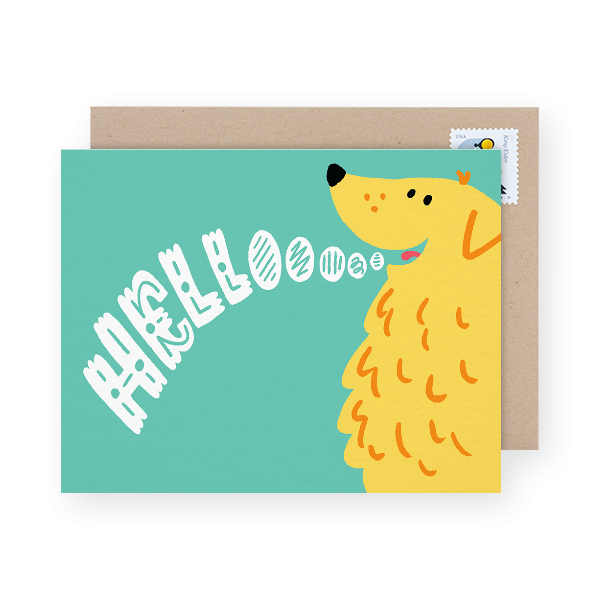 Hot Dog, You're Great
You don't always need a reason to send a card. [Although if you feel like you do here's 67 Reasons to Send a Greeting Card.] Sometimes sending someone a card to tell them just how great they are is reason enough. And if you have a certain someone who appreciates a good pun AND is a fellow dog lover, then this card will be the perfect meeting of both worlds. Make their day (or week) with a delightful little note on how much they mean to you.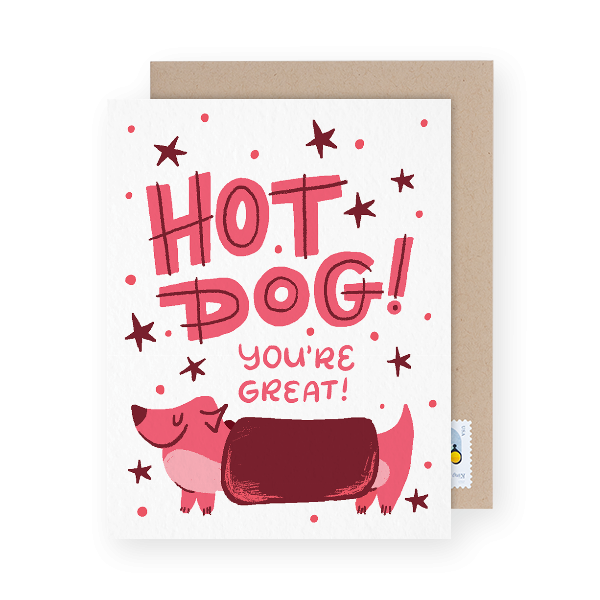 Favorite Companion
Picking favorites may not be necessary, but this card by Small Adventure pretty much settles it. Our dogs are our utmost favorite companions. No contest. The next best thing? Humans. Of course. This lovely hand painted creation is the perfect pick-me-up for your bestie when they're having a particularly difficult week — or really any time at all.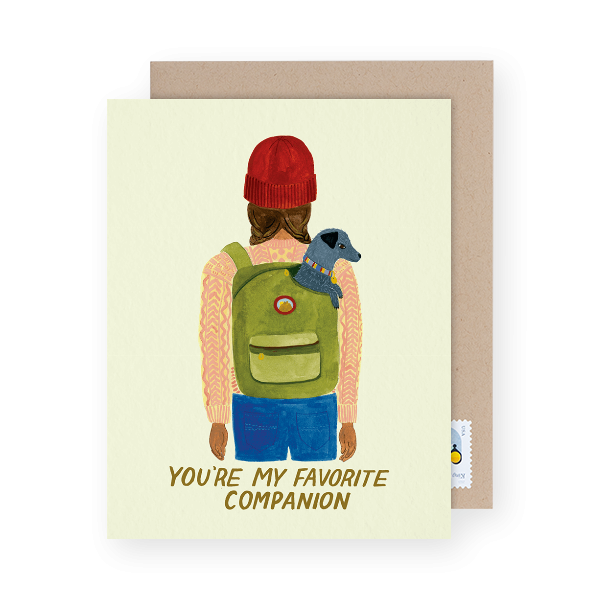 Love You To the Moon & Bark
Another puppy inspired creation by Shauna Lynn. Starting to catch on to her theme? Dog greeting cards are kind of her specialty and we're not sorry about it. We cannot get enough of this colorful puppy pun design. Whether you're looking for the perfect Valentine's Day card to or simply send someone a random reminder — this love card is perfect.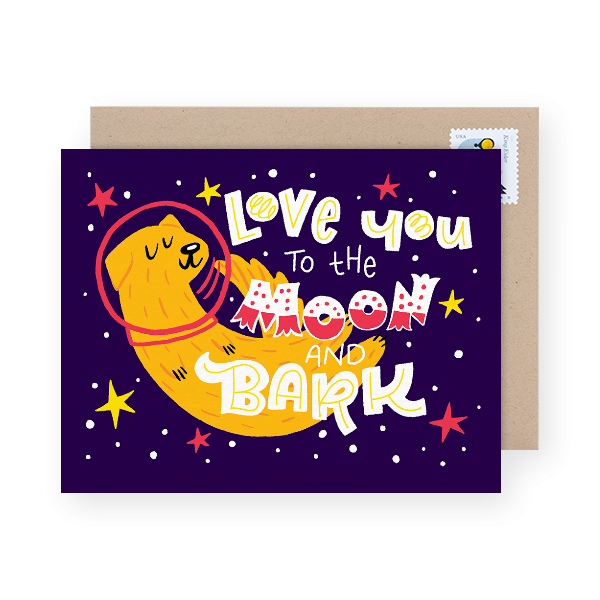 I Wuff You
Another love card inspired by our imPAWsibbly adorable friends. This hand painted card by Quill and Fox makes for the perfect Vday card.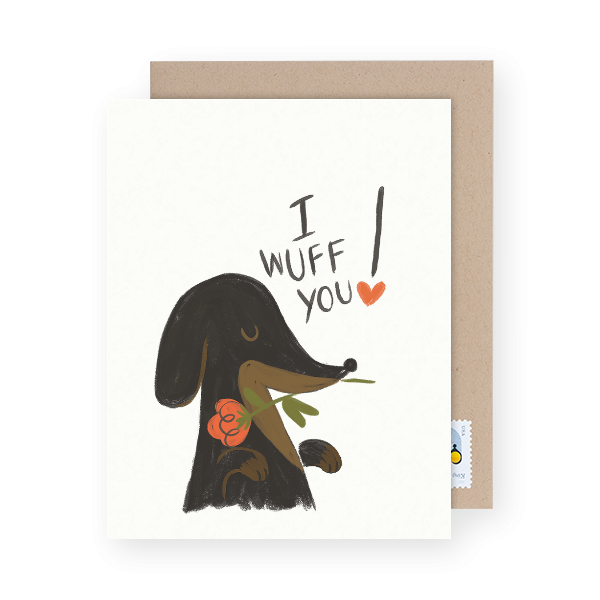 Best Dog Mom
We all know someone who treats their dog much like 'normal' people treat their toddlers. Who wants to be normal anyway? Send that special friend this delightful card by Knotty Cards and wait for them to tell you how much they loved that you noticed!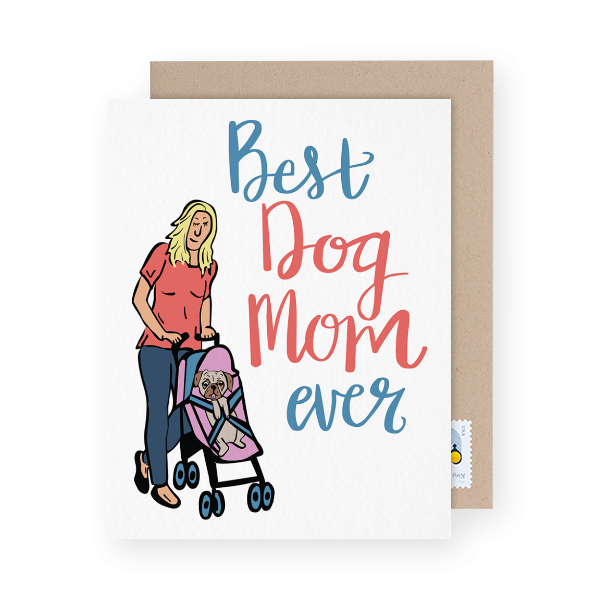 Woof Being Friends
Maybe you have a friend that needs a little reminder of how much your friendship means to you. This extraordinarily adorable creation by Wild Ink will no doubt get the job done.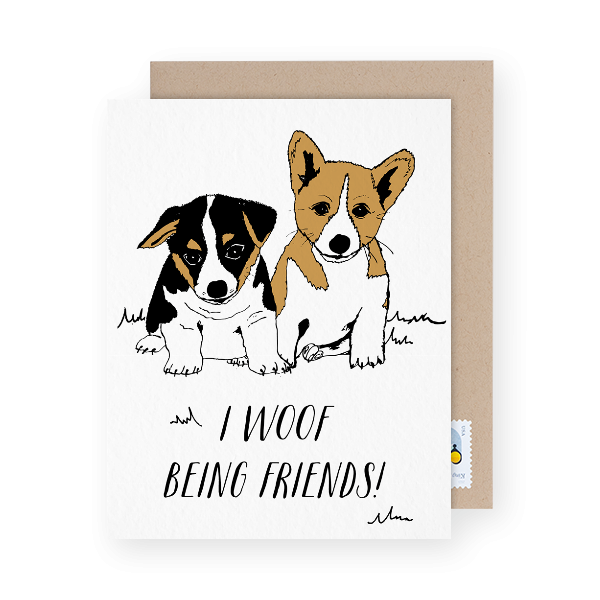 Dog thank you cards
Nothing says thank you like hand painted puppy on a designer dog greeting card. Express your gratitude with one of these delightfully dog-gie designs! And as much as your recipients will love the front of their thank you note, make sure you write something sincere on the inside. A well-written thank you note goes a long way!
Hey, tanks!
A little Pomeranian AND a pun?! Well, that's almost too cute. We did say 'almost'. This adorable pup thank you card will surely brighten their day.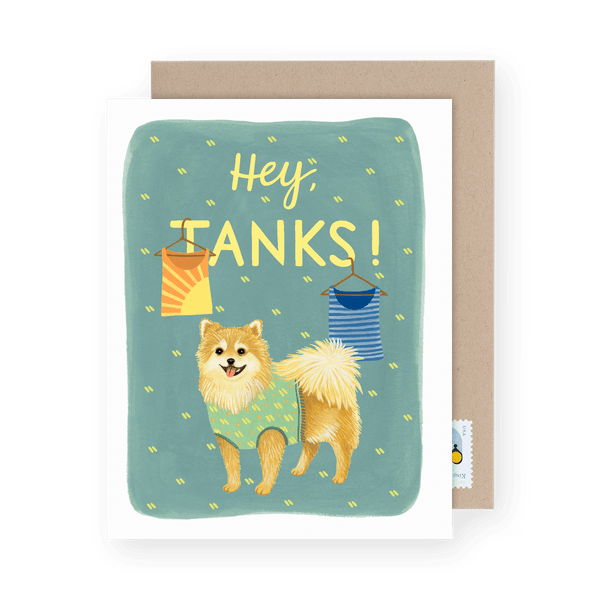 A little dog plaid action.
For those moments when you need to send a thank you card, why not send a dog thank you card?! Not sure what occasion calls for such a card? [See 7 Scenarios Where Thank You Cards Take the Cake]. We love this silhouette design from One Canoe Two and the colorful plaid background… Really, just everything about this thank you card is perfect.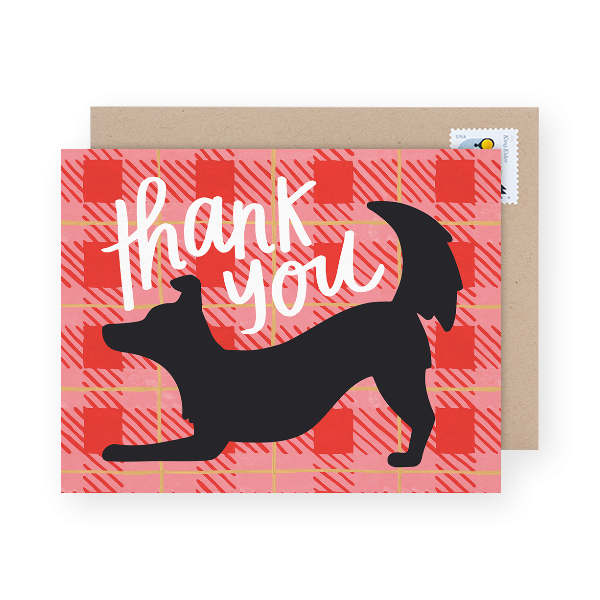 Frenchie thank you
Feeling fancy? Try this classy number on for size! Whatever heartfelt message you plan on writing on the inside of this thank you note will surely seem extra special coming in the form of this card.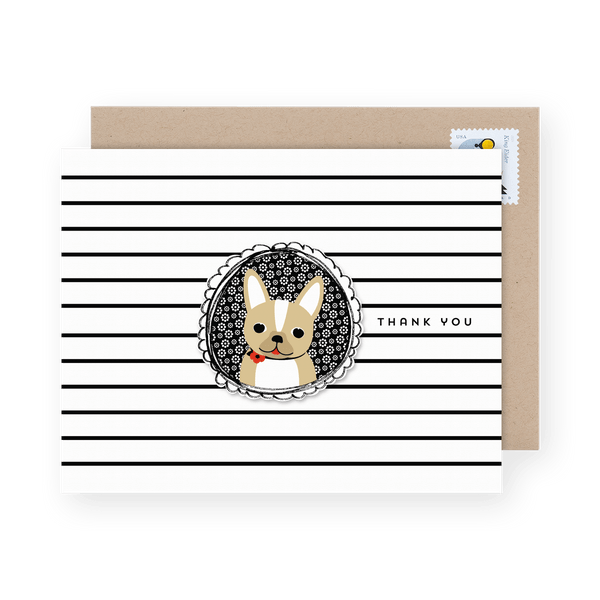 Dog pack thank you note
If you love one pup, you'll LOVE a whole slue of them! This adorable R. Nichols creation is the perfect design for your dog loving friends and family.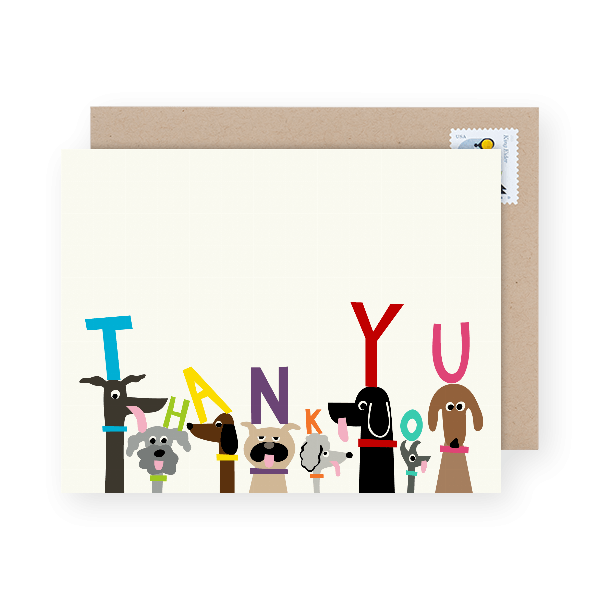 Dog Birthday Cards
Those people in our lives that truly cherish their furry little friends are also the same friends that absolutely adore anything and everything puppy related. Which is basically everyone we know. And everyone we know will eventually have a birthday. What better way to wish our dog loving friends and family members than with some cute dog birthday cards?! Next best thing from actually gifting them a dog. Ok, maybe not the next best thing — but somewhere in the same vicinity.
We love these next birthday designs.

As though your dog wrote it.
Wish your friend, roommate… Whoever has a dog in your life a happy birthday with this delightful card. As a bonus write the message as though the dog said it for an extra giggle.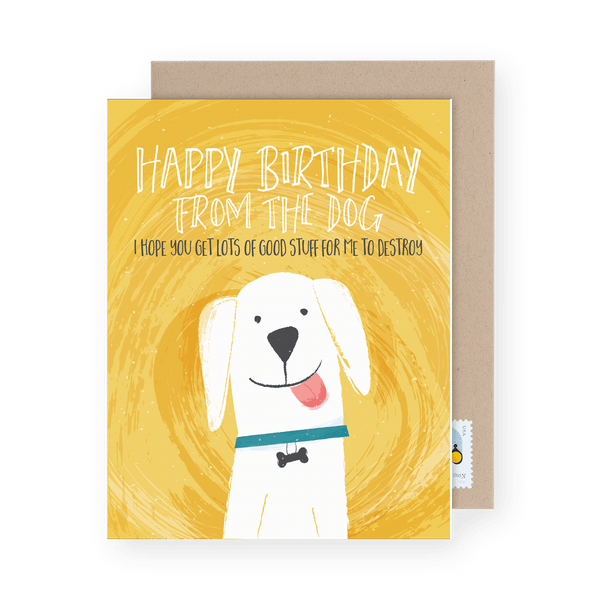 Go Shorty, It's Your Birthday
The perfect birthday card doesn't exi…  Send your loved ones some serious giggles with this Shauna Lynn creation. Everything about this birthday card will send them giggling — the fun and bright colors, the adorable illustration and the WORDS. If there ever was a perfect greeting card, this would be it.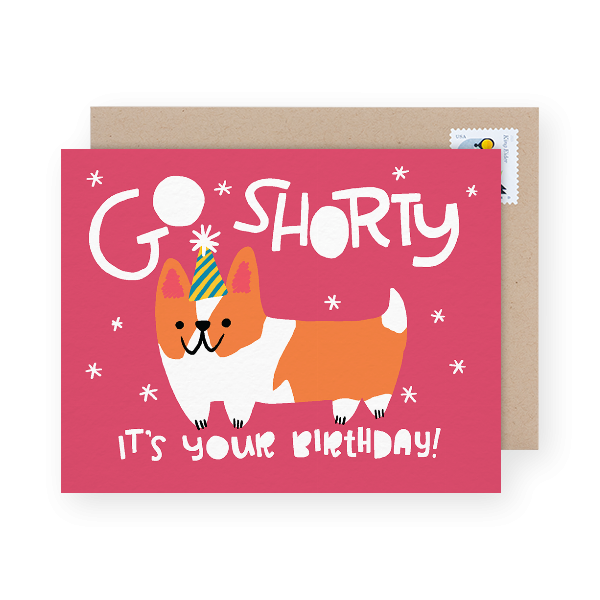 Birthday dog.
Sometimes you just want a simple and fun design, but also dog-it-up. So here you have it.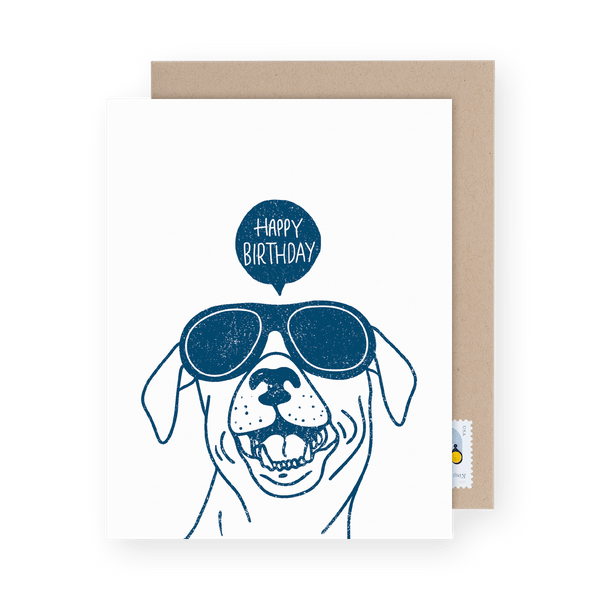 Party Animal
Have a pug mama or dad in your group of friends? This fabulous design by Mai Ly Degnan could not be a more perfect birthday card. They'll appreciate your attention to detail (see, you do pay attention) and also what's not to love?!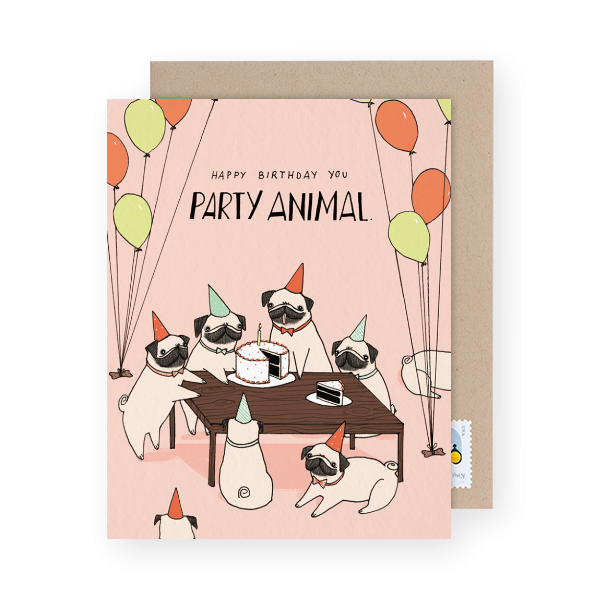 Puppy Birthday
Looking for a dog birthday card that has little frill and a lot of dogs? This is it. You've found it. How can you not love this adorable — and beautifully done — creation by Forage Paper Co.?! It's simple and cute all at once. CAUTION: May cause serious need for petting dogs.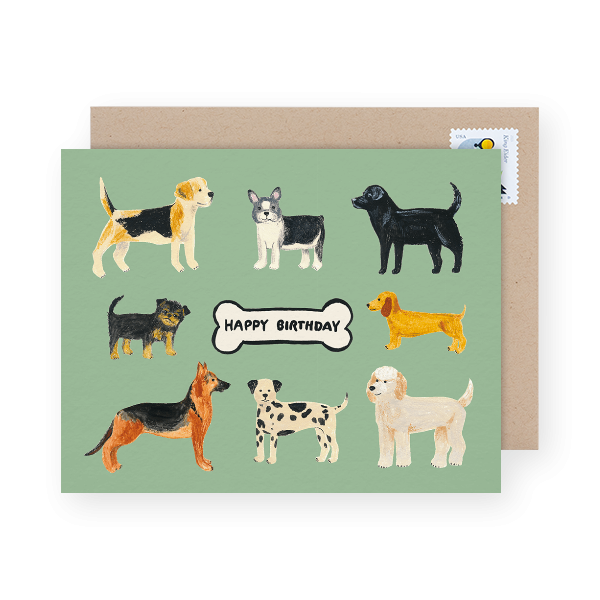 Corgi Butt Birthday
Guess what? Corgi butt.
If there was a cute-o-meter, this Corgi card by Katie Pea Studio would be sending the meter into a frenzy. Just look at those little loaf butts! Sending this dog birthday card is likely the best thing you could do for your Corgi-loving friend on their birthday.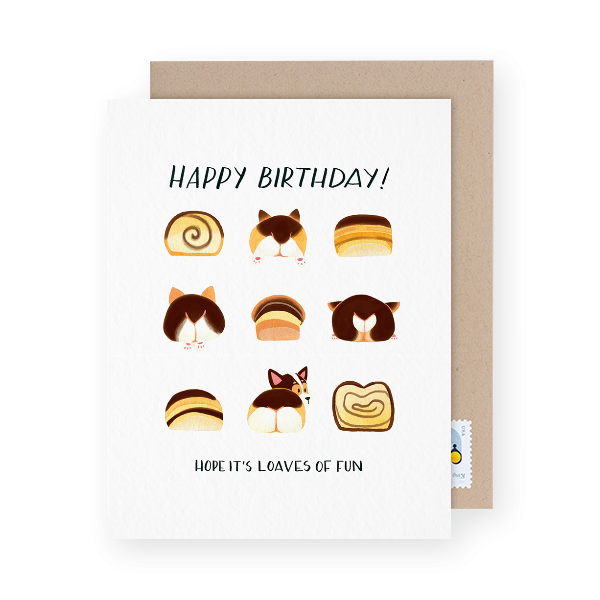 Dog Holiday Cards
While we totally stand by the fact that you do not need a holiday as an excuse to ever mail a card, that doesn't mean you shouldn't send one when one actually rolls around! The holidays are kind of a big deal and dog holiday cards makes them ever so joyful.
And while there's a whole bunch of delightful pet holiday cards to go around, we've picked out some of our dog holiday favorites here! And as always — Postable can mail these for you via USPS!
Go ahead and enjoy!

Pugs and Kisses
This Quill and Fox creation makes us want to hug the next pug we see. Which is just about every single time. Just look at those adorable little pug eyes! Send this dog holiday card to everyone you love and sprinkle some doggie love.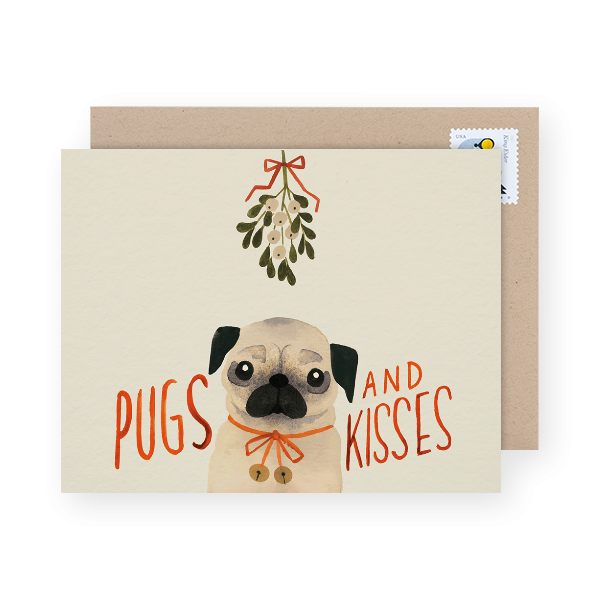 Dogs, sweaters and Christmas.
What else could you ever want in a holiday card besides a whole bunch of dogs and doggie sweaters?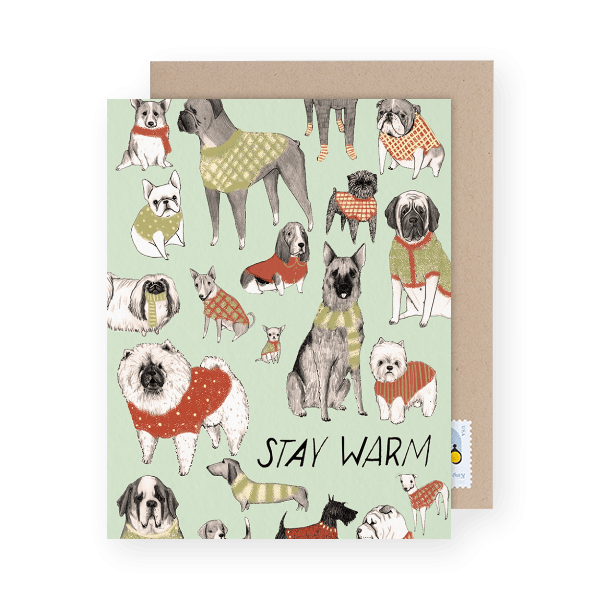 Dog sled.
Wish your friends, family and all those far out acquaintances you've left on your holiday card list for the past 5 years this delightful hand painted dog holiday card… And they'll all love you for another merry year!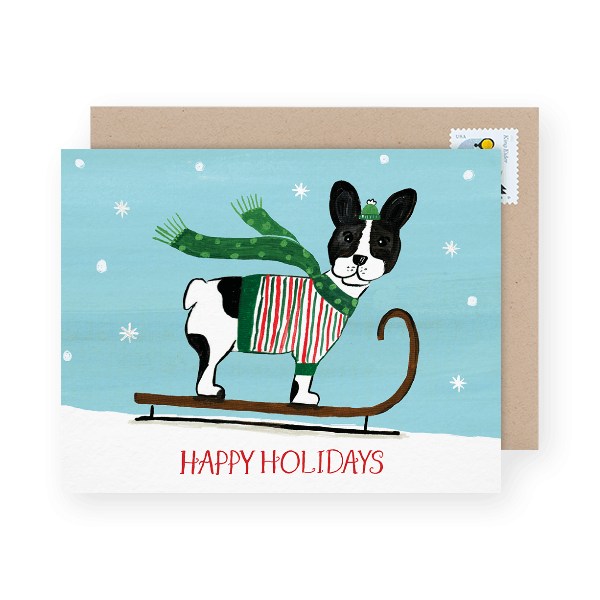 Poodle Season's Greetings
Another Quill and Fox creation (what is it about their ability to really capture to essence of a pup?!) — this too-cute-for-words dog holiday card is giving us all the festive feels. We're also digging the vintage flare on this design and who doesn't love a pup with a hat!?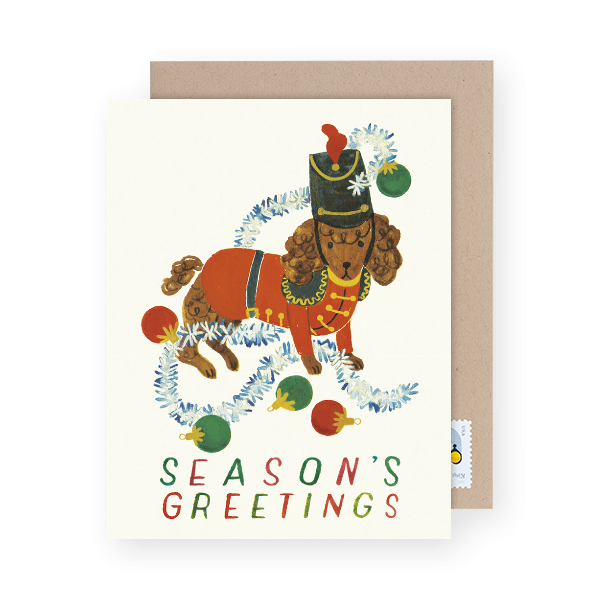 Doggie Gifts
Ok so you've sent your dog loving friends and family all the puppy inspired greeting cards known to man-kind. Now what? You want to gift these friends and family something extra special inspired by their love for their paw-having furry friends. We've got just the list to get you inspired with the most adorable gifts for your dog owner (and loving) friends.
Ok so you've sent your dog loving friends and family all the puppy inspired greeting cards known to man-kind. Now what? You want to gift these friends and family something extra special inspired by their love for their paw having furry friends. We've got just the list to get you inspired with the most adorable gifts for your dog owner (and loving) friends.
Pretty doggie collar
Who says pups can't have style? Have a dog owning friend that's always donning the latest fashion? They'll likely appreciate this adorable (not to mention stylish) doggie collar for their bestest friend.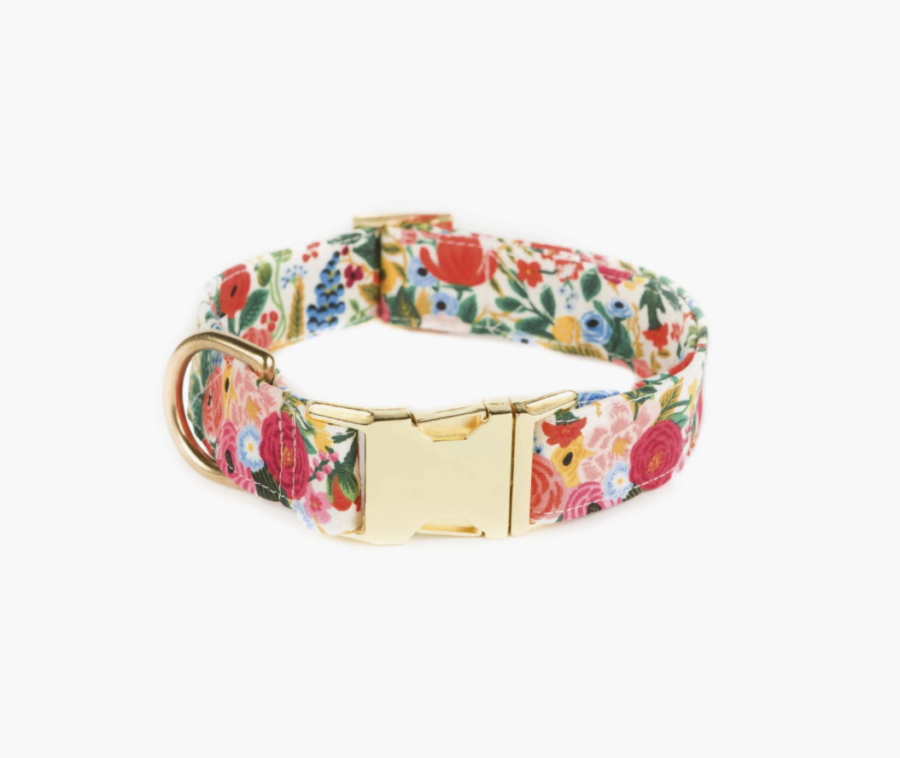 via Rifle Paper Co.
Dog inspired Tee
Dog owner or not — it's likely just about any one of your friends would relate to this adorable tshirt.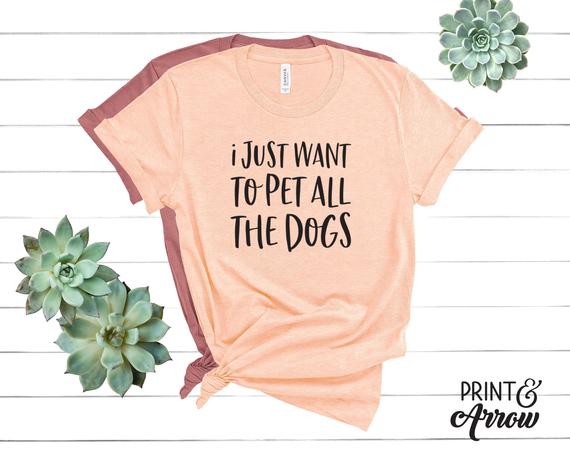 via Etsy
Beware of Wiener
Know someone who adores their Weiner pup as much as most people adore their children? This little puppy sweatshirt would no doubt make them very happy. You want to make them happy, don't you?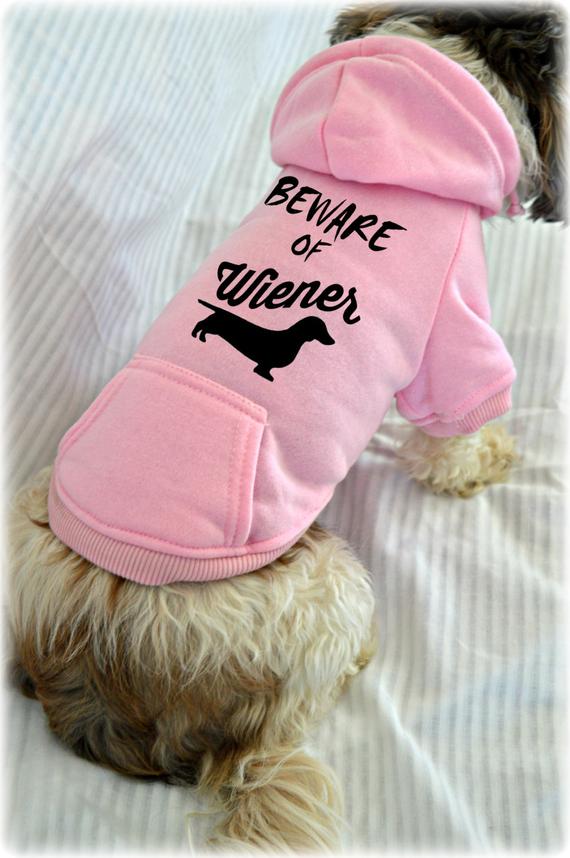 via Etsy
Schnauzer pillow
A little doggie inspired home decor goes a long way with the dog loving folks in your life. This little throw pillow is also quite pleasant to look at — win win.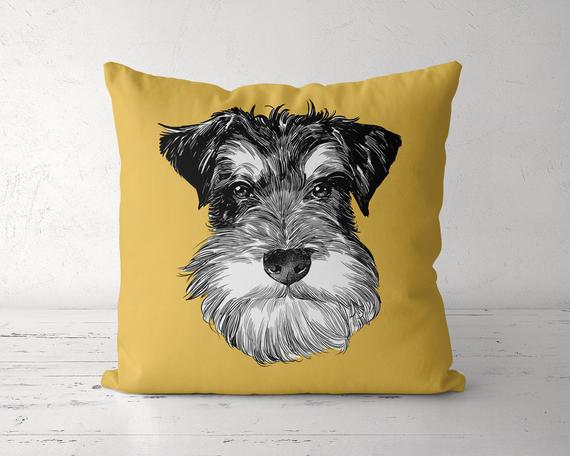 via Etsy
Paw rolling pin
Have a dog loving baker in your life? Who would have ever thought those two things could ever be combined into one delightful little gift?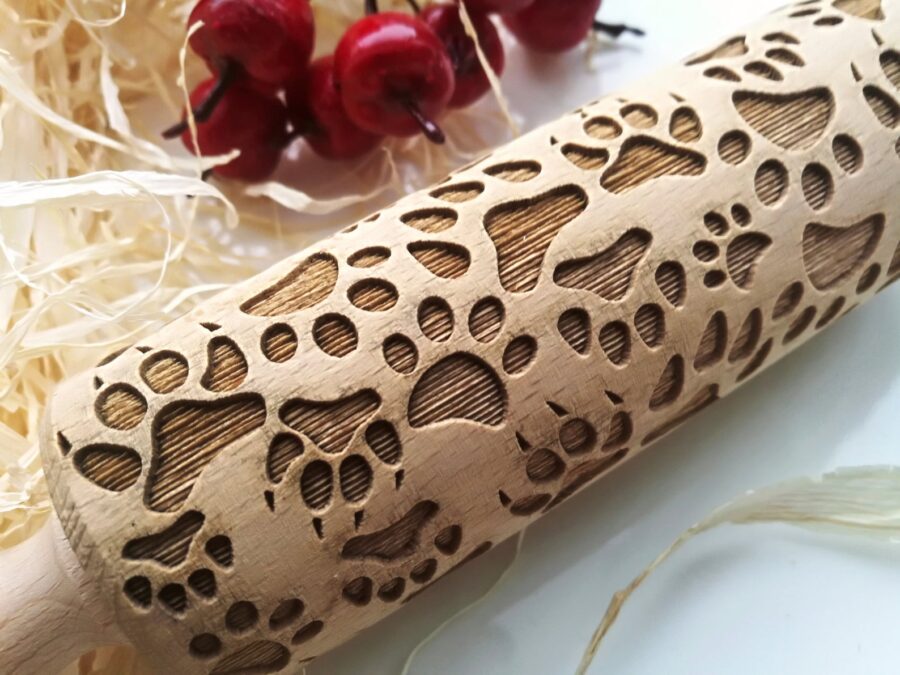 via Etsy
Doggie art work
Art prints make great gifts for just about anyone in your life, but this one will surely make your dog loving friends extra happy.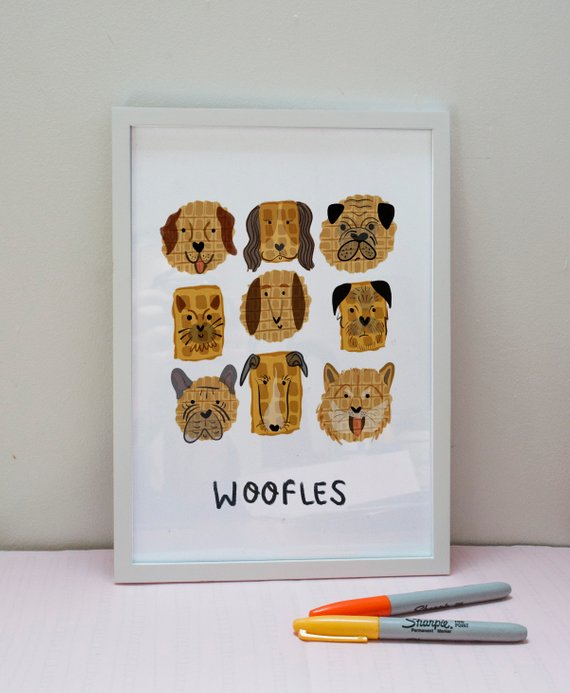 via Etsy
Had enough puppy love?! Never!
Tell us, which dog greeting card and gift will you be sending your loved ones?!