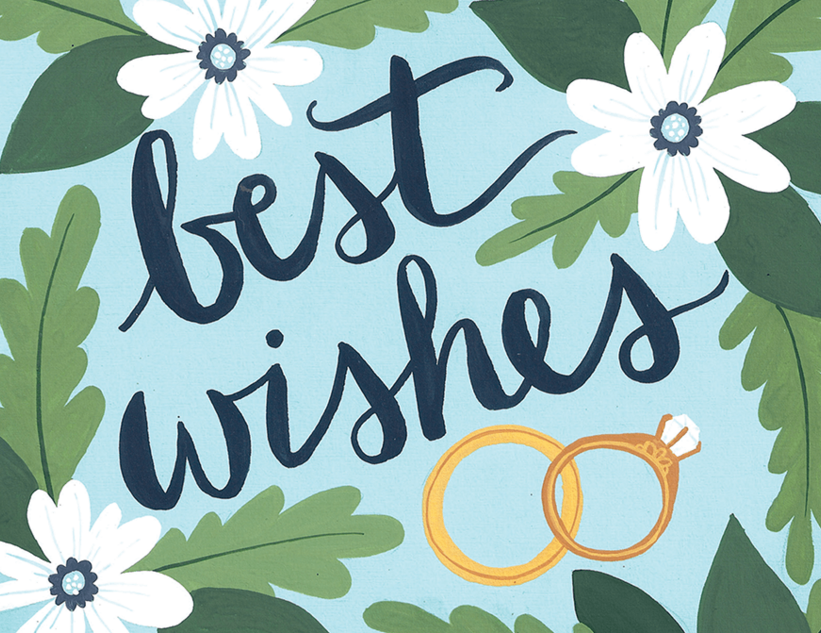 Everyone knows the holidays are a popular time for engagements (and if you didn't know, now you do). The cozy fireplace, the comfort of family, fluffy white snow, all that new year champagne! The romance is practically suffocating… unless you've gotten engaged. It was the loveliest time of the year and many of you out there probably have a new shiny ring on your fingers that wasn't there just a couple of months ago. CONGRATULATIONS! The time post-proposal (if you can get yourself to stop thinking about it for a minute) can be a tad overwhelming, we know. The endless questions of when, what, and how don't quite do the trick when it comes to calming those nerves. Of course, you're excited. Who wouldn't be?! But sometimes there comes a point where is all becomes a tad overwhelming (understatement of the year).
Not to worry. Seriously. Don't worry. Checkout these 5 simple ways to keep calm and not become overwhelmed after getting engaged.
1. Get excited & enjoy the moment!
You just got engaged! Take a second to just bask in the glory and float on your newly engaged cloud. For real though. This is one of the most exciting times in your life, push all that other stuff out of the way and take a second to enjoy it. Pamper yourself while you're at it… getting those nails done may be the way to go right after the proposal (all the attention is about to be coming your way). When family members (we're looking at you, moms) begin to overwhelm you with all the wedding planning questions, just ask them to take a breather – in your own nice way (don't go making anyone mad on our account). It's totally ok to postpone the wedding planning process while you enjoy those first couple of weeks of feeling out your newly made commitment.
2. Think Big. [The Big Day question answered]
Picking the exact date is crazy overwhelming… out of all the years of all the 12 months and all the 365 days, picking the one may feel impossible. Take a step back and think of the bigger picture. Think about what season or time of the year you'd like the Big Day to take place and just answer the big question with a month instead of a day. This will at the very least satisfy most of the folks who will be firing off the when is the big day question. For a little while, anyway.
3. Communicate & have fun
You're going to have a great deal of help planning your wedding so take some solace in knowing you're not alone. At the same time, the amount of help being thrown your way may very well get overwhelming very quickly. If you're going to hire help, do some research and do so early on. If you're taking the reigns for yourself then make sure your core team of helpers are communicating with each other. And please, don't forget to have fun! Make some hot toddies or mimosas to accompany all the upcoming wedding planning  get togethers you'll be having.
Here are some easy cocktail recipes
to make your wedding planning nights a bit more exciting.
3. Budget.
Figure out what you and your partner want to spend and go from there. Try to be as realistic as you can and remember there are wedding hacks all over the world wide web at your finger tips!
4. Speaking of hacks. Let Postable send out your wedding mail.

While you're busy planning your bridal shower and thinking up fun theme schemes for the wedding celebration, getting overwhelmed with postage and handwriting should not be part of the process. Customize everything from bridal shower invitations, bridal shower thank you cards (you can even write them online… and yes they're all personal), Save the dates, wedding invitations, wedding thank you cards and literally everything in between. The best part is you never have to leave your comfy bridal slippers because we'll mail them all out for you. Talk about a stress reliever?!

5. Relax.
Make sure you're taking time really enjoy this moment in your life. Even after all the crazy stressful wedding planning has started, don't forget to relax. Like… a lot. Planning a date night weekly with some much needed quiet non-wedding-planning time is so necessary. Sip some wine. Read a book. Do whatever you must to just spend some time relaxing. (Here are some 5 minute relaxation ideas)