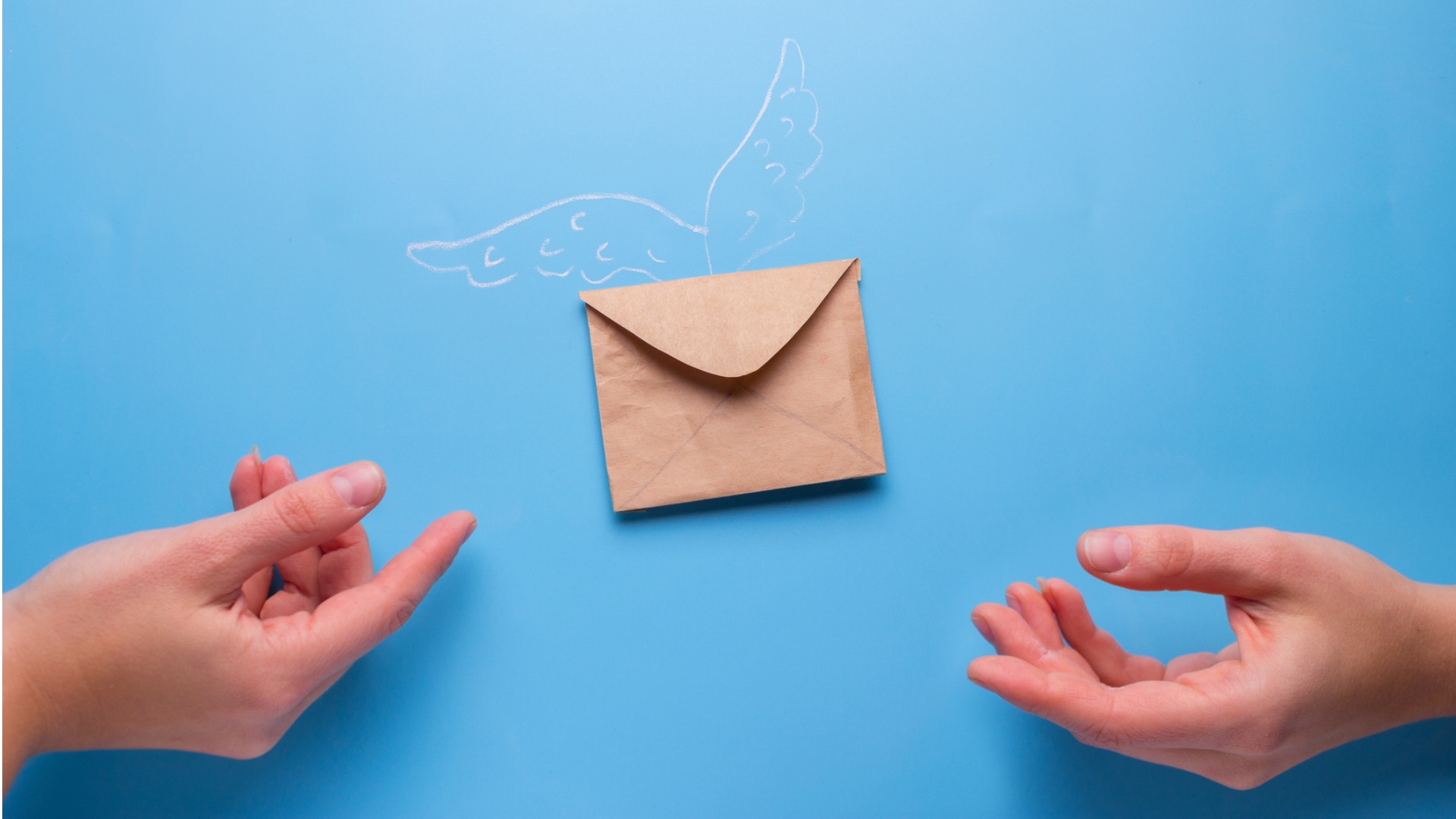 Are you lucky to have a spectacular Valentine for this year's Day of Love aka Vday? But not so lucky to have them be far away? Long distance relationships are hard af and we're not going to pretend to know much about them. We will, however, say this — sending Valentine's Day cards for long distance relationships is kind of a must. If that's not already obvious, it really should be. Is your significant other far away for Valentine's Day!? Don't forget to send them a little reminder that you're thinking of them with a delightful little card. Pick a card that speaks to the nature of your relationship (aka long distance love) or just the two of you and write a personal message filled with all sorts of loving goodness. Not sure what to write? It's cool — we'll have a few tips below to get your romantic wheels turning. 
This is your chance to remind your long distance lover of just how amazing and wonderful you are. Maybe you won't get to spend Valentine's Day together, but they'll know that you're thinking of them! And we're no experts on long distance relationships, but something tells us that's kind of a must in these situations.
Distance is not a problem.
And if you're already falling behind with a busy schedule (or if you simply want to make sending your Valentine's Day cards as easy as possible) we've got just the solution. Postable (hey, that's us!) will print, address and mail your cards for you. And bonus — all the cards are out of this world beautifully designed by incredible artists so the convenience isn't over powering the quality. Write your own message and click send. Easy peasy.
Now to the cards…
Your Whole World
No matter where in the world they are, let them know they mean the world to *you*. This design by Katie Pea Studio will pop right off the card and jump directly into your Valentine's heart. Also, the colors are just awesome! Write your personal message and send this card here.
Miles Apart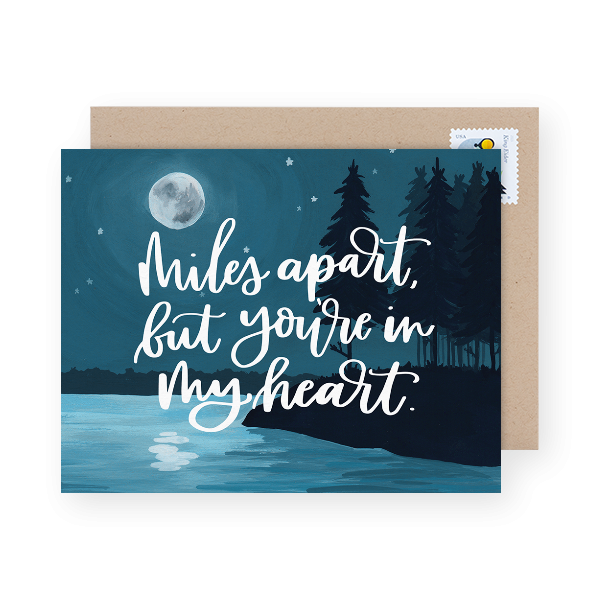 Talking about speaking directly to your audience. It's like One Canoe Two had exactly the perfect long distance couple in mind when creating this beautiful deep blue card. It's got the perfect amount of romance — hello moon — and the perfect missing you memo. Write your personal message and send this card here.
Happy Valentine's Day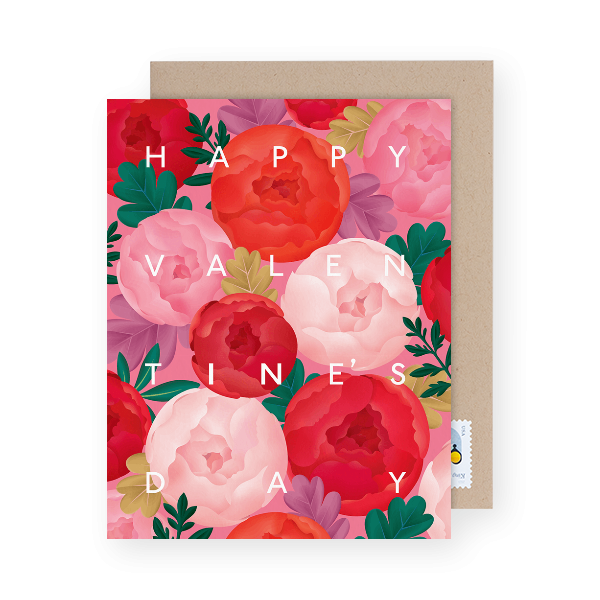 Sometimes a straight forward 'Happy Valentine's Day' card is really all that's called for you. This design by Clap Clap will no doubt bring all the loving feels to your long distance sweetheart. A bouquet of flowers will wilt in a couple of days — this card will stay stunning forever. Write your personal message and send this card here.
A Love Spin On the Classic I Love You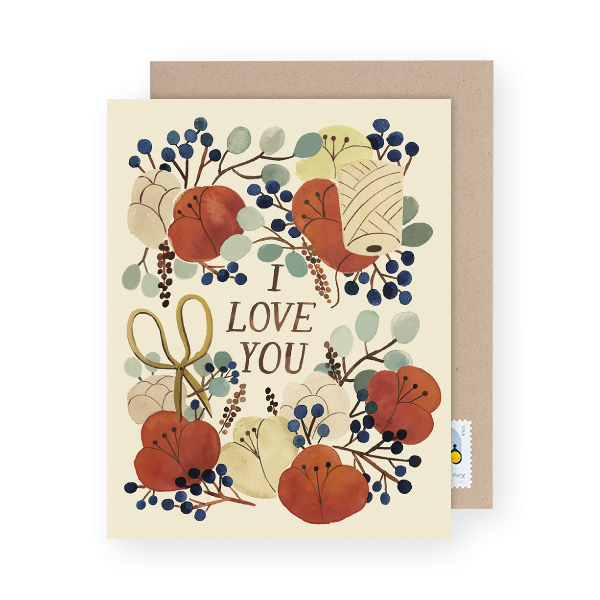 A traditionalist keen on mixing it up a bit? This gorgeous painted design by Quill & Fox takes the traditional 'I Love You' and mixes it up. Write your personal message and send this card here. 

Sending You Lots of Love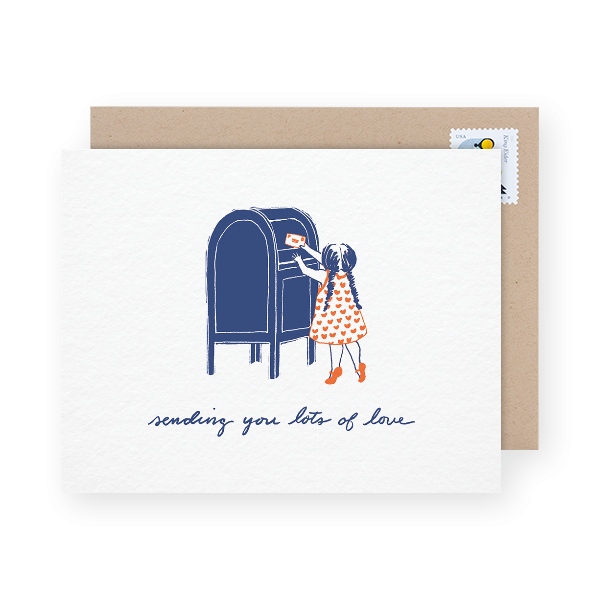 This simple and adorable design by E.B. Goodale will make for the perfect little love letter. Write your personal message and send this card here.
The I Miss You Camper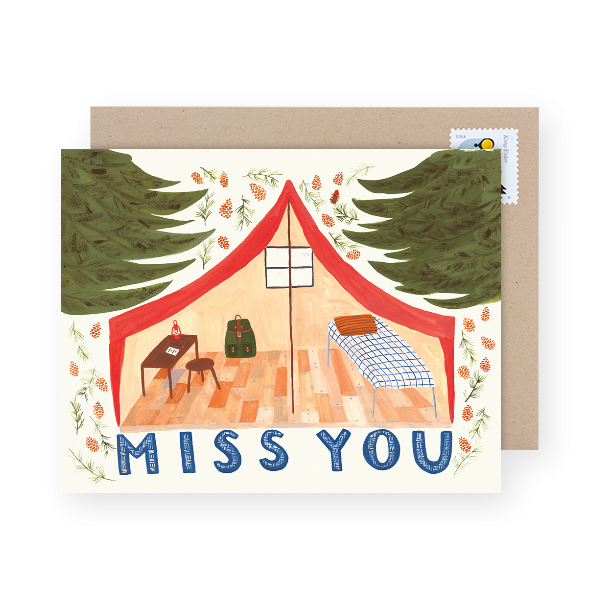 The perfect Vday card for the long distance sweetie that has a sweet spot for the outdoors. This card by Small Adventure will make the two of you want to start creating plans for a future romantic camp date. Write and send your card here.
Wish You Were Here — Undies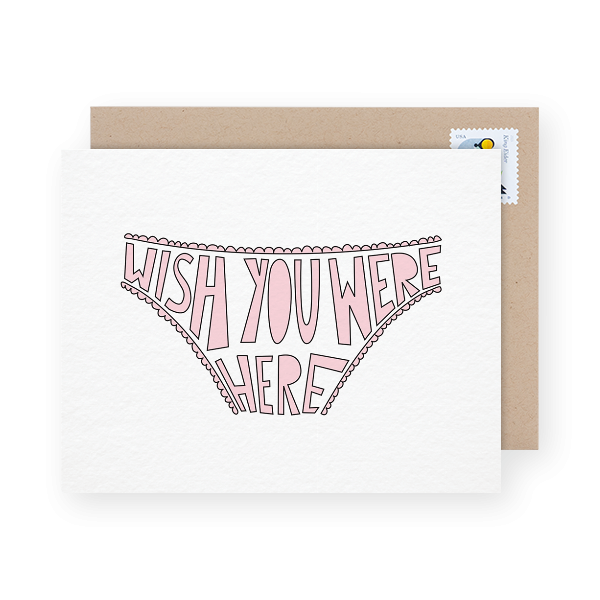 Honest & funny — two qualities of just about every Near Modern Disaster creation. Send this delightfully saucy Valentine's Day card to your lover this year. Write your personal message and send this card here.
No, You Hang Up First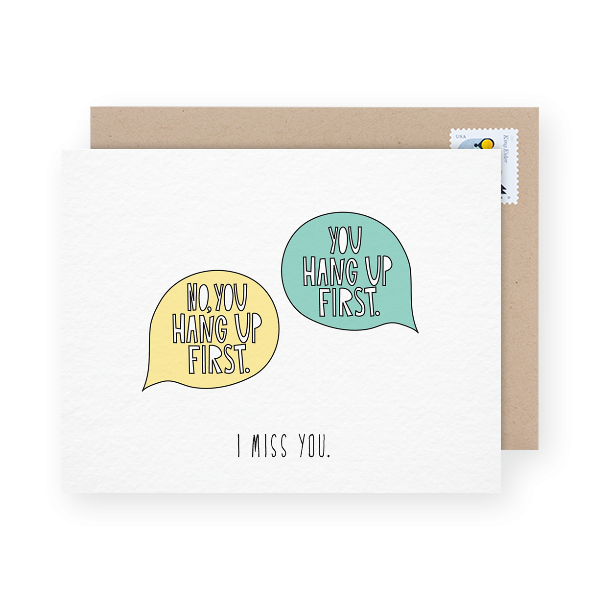 Another fun design by Near Modern Disaster. If you're rocking the long distance romance chances are, you've found yourselves in this very conversation multiple times. Write your personal message and send this card here.
Cannot Wait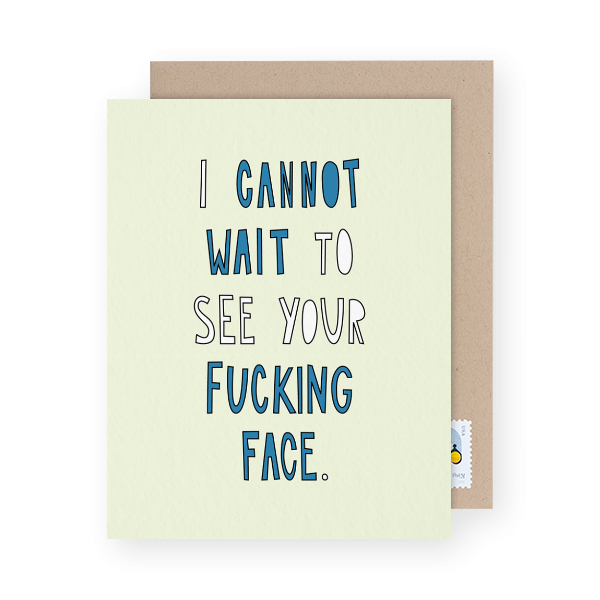 If you aren't quite as eloquent as you'd like, sending Valentine's Day cards by Near Modern Disaster will do all the speaking for you. All you gotta do is click send here. Ok maybe do add a little something personal.
Volcano Hot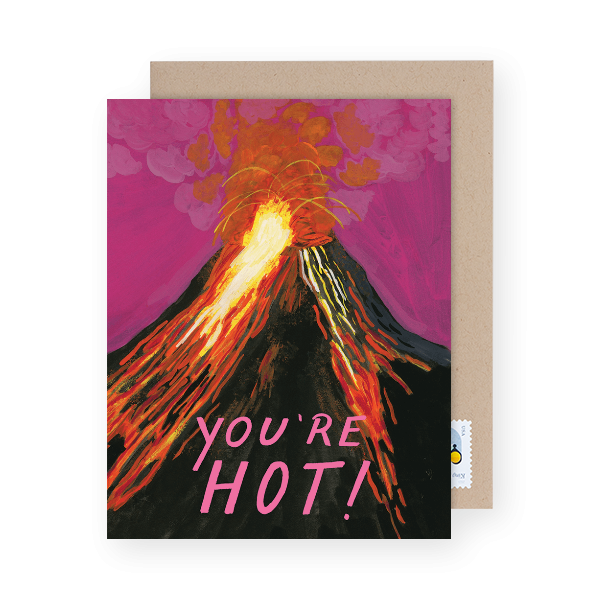 You're hot like a volcano (or something to that effect). This card by Small Adventure will flatter and may cause a few pun-induced giggles. Write your message and send this card here.
Traditional I Love You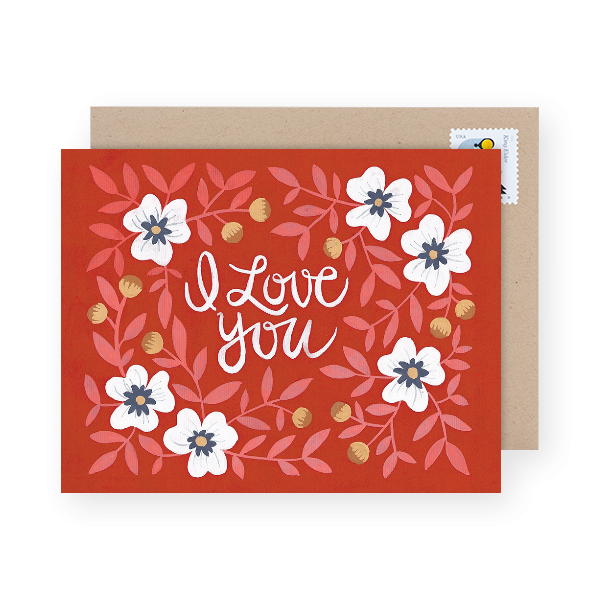 Sometimes you want bells and whistles and sometimes you just want a traditional 'I Love You'. This beautiful card by One Canoe Two is just that. Write your message and send this card here.
A few tips on what to write in your Valentine's Day card for a long distance relationship.
Keep it short and sweet. [As with any card message, remember that you're not writing a novel. Get to the point in the limited space that you have.]
Express your feelings. [Being far apart often means your partner doesn't get the same affection they're used to. Make sure they know exactly how much they mean to you. In this case, words definitely speak louder.]
Make plans for the future. [Ok, we don't mean serious plans. But either suggest or make plans for the two of you to get together so that there's something tangible to look forward to.]
Avoid any negative talk. [Telling them you miss them is a win, but pouring your heart out about how awful life is without them is not.]
Still unsure what to say? Here are a few sweet quotes you can include along with your own sweet words — 16 Love Quotes for Valentine's Day Cards..
Ok, so you've got a great selection of cards to choose from. You have some great tips on what to include in your personal message and you don't even have to leave your house to send the card. The balls in your court.
Easily send your Valentines Day Cards for those long distances sweethearts with a few clicks with Postable!
Which card will you send?