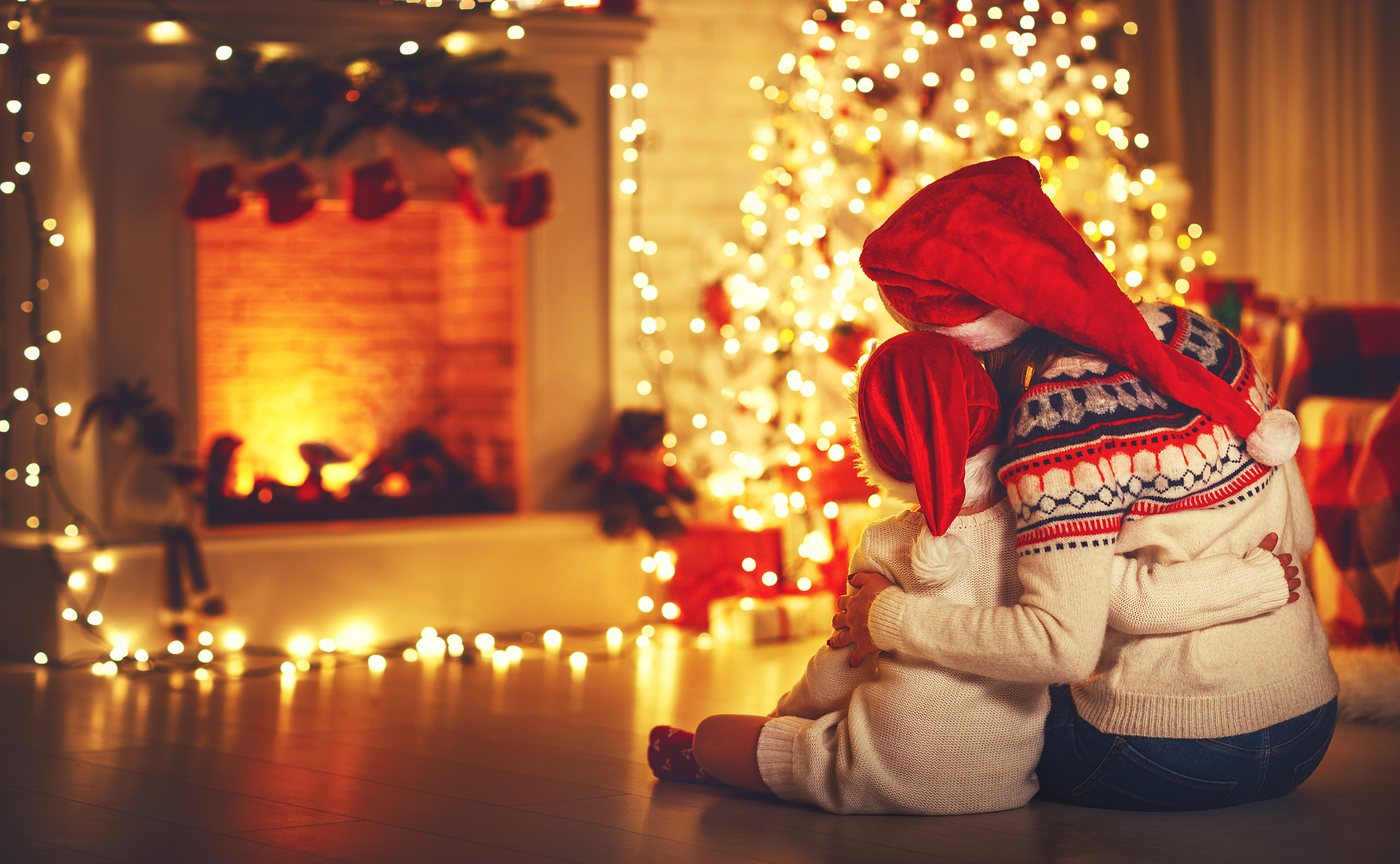 Get those cameras and festive sweaters ready! It's time to take that perfect family photo you can proudly share with your friends and family on this year's Christmas cards! Capturing the perfect moment to create the perfect photo is tough, but we know you can do it. Whether you're hoping to capture smiling faces staring back at the camera, something a bit more candid, or a funny staged shot — here, we've listed a bunch of great ideas for your browsing pleasure. The internet is full of them.
But who's got time for that?
Beautiful custom Christmas cards. Post-consumer recycled paper. AND Postable will mail them for you!
The holiday season tends to lengthen the to-do list. Which is why we've decided to do the leg work for you. Searching far and wide for some of the internet's greatest Christmas card photo ideas, we brought them straight to you.
You're welcome.
2022 has really kicked our butts (picking right up where 2021 left off), but that doesn't mean we shouldn't still enjoy what's left of this year. Plus, the holidays are the best part! And taking Christmas family photos is all part of the fun. So, if you're taking your own Christmas photos this year (hellllooo self timer!) you can still get yourself in the holiday spirit with these delightful ideas! 
[RELATED: How to Get the Best Family Photo For Your Christmas Cards]
A note on quality.
Before you send your family Christmas photo off to the print shop, double check that the image quality is high. Just because it looks great on your screen — doesn't necessarily mean it will print that way. Make sure the resolution is around 300 dpi.
RELATED: Tips to make your own card look spectacular
30 Awesome Christmas card photo ideas.
To get you inspired and excited about your family photos check out the following list of unbelievably awesome Christmas card photo ideas (courtesy of the world of Pinterest).
1. In action
Matching aprons and sweet cookies for the win! One way to make the photo shoot process much easier for everyone involved– especially the kids — is to have some sort of activity they can partake in while the photographer (or a series of self-timers) takes the photos. Having the kiddos bake and decorate cookies is a great example. Just make sure the area is well lit (notice the lighting in this photo is really even without any harsh shadows).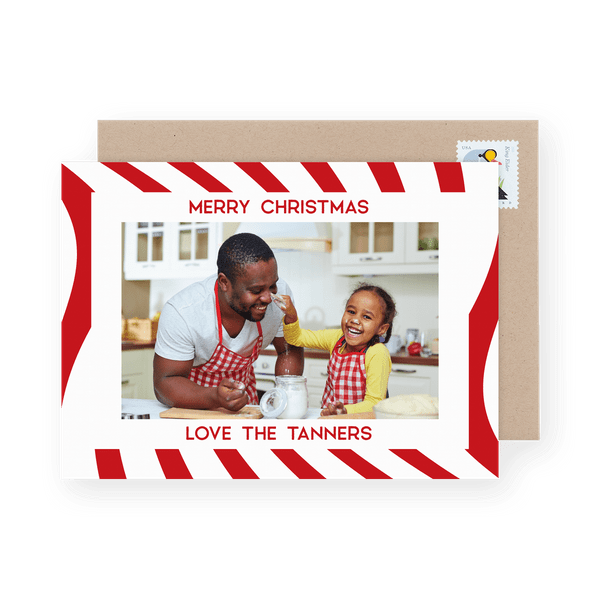 2. Getting cozy under a blanket
Give your Christmas cards that cozy feel by taking your family photo of you all sharing one cozy blanket in the outdoors. If you have a family quilt, this is a great time to use it. Otherwise, go for colors that pop like this red one.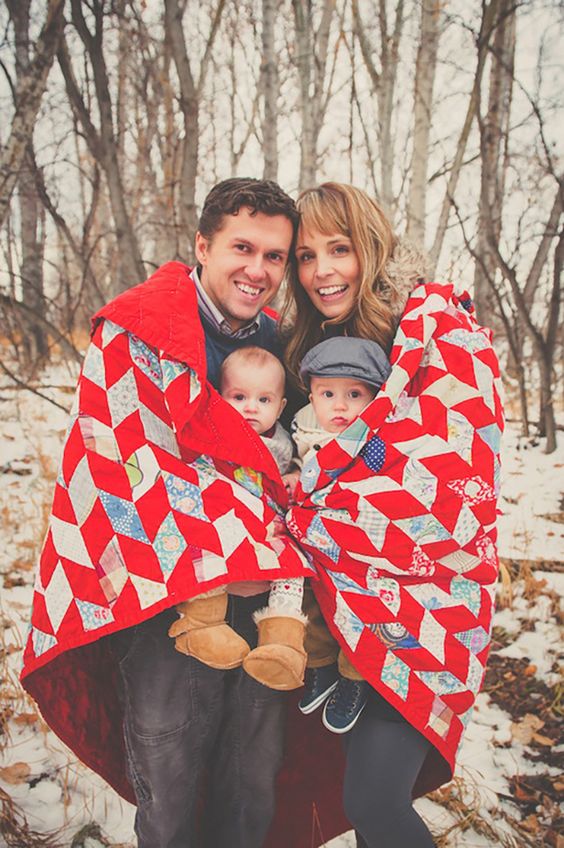 via Brit+Co
3. Squishy Cheeks
Delight your entire Christmas card list with your baby's adorable squishy face. This photo is easy to recreate — all you need are two kisses and one set of adorable baby cheeks. You can even make this happen without any extra help — just make sure whatever camera (or phone) you use, the image quality is high enough to print well.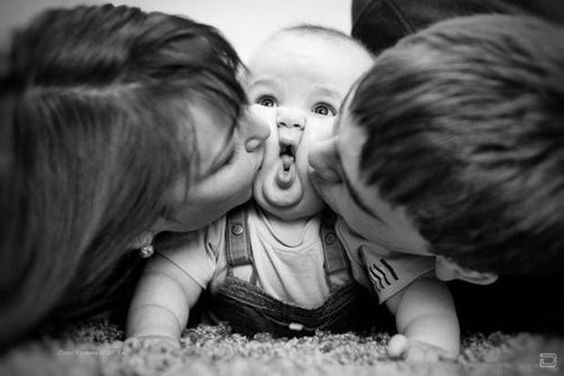 via my life and kids
4. Cozy pajama party
Matching PJs and Christmas trees?! What could be more jolly? This is a simple way to bring the whole picture together! Also, how adorable are the tiny PJs?! You could go with a traditional plaid or spice things up with something like these cheeky gingerbread Pjs. Whatever you choose — just keep them matched up and your family Christmas photo will be the talk of the town.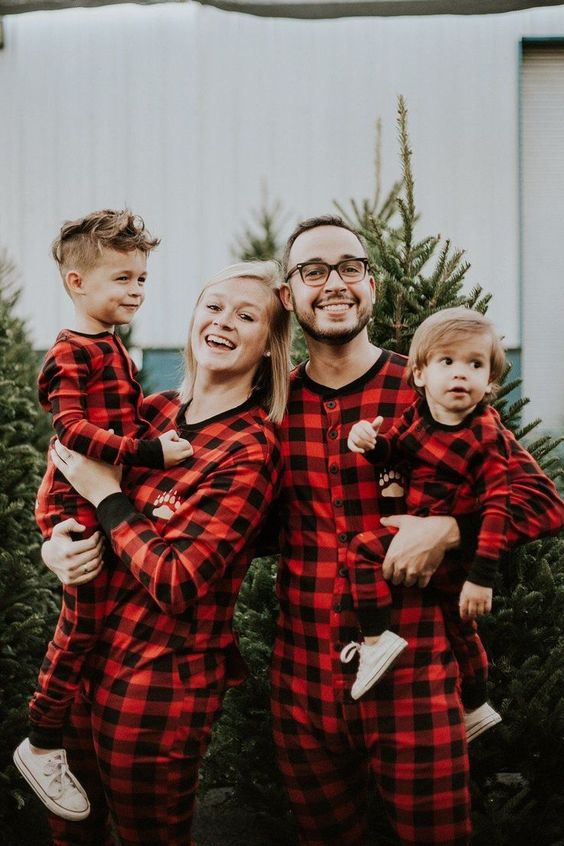 via little trend setter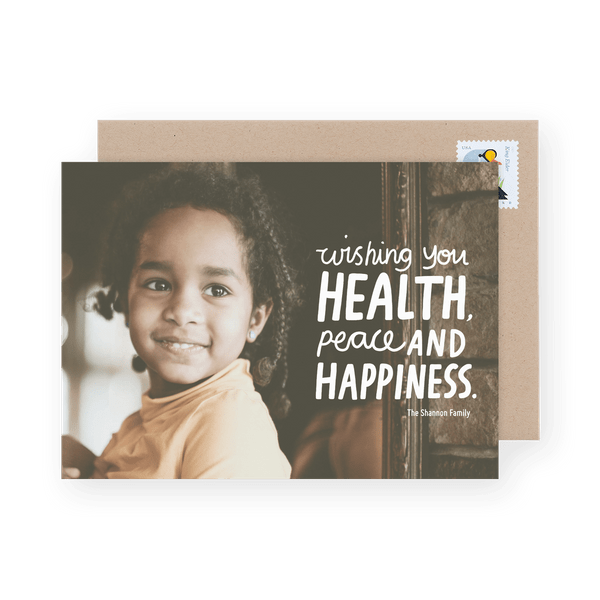 5. A Florida snowman
Ok, so maybe you're in Hawaii and not Florida. If you live anywhere that calls for a beach day mid-December this Christmas photo idea will be perfect for you. Just add some holiday themed props like Santa hats, and you've got yourself a Christmas photo!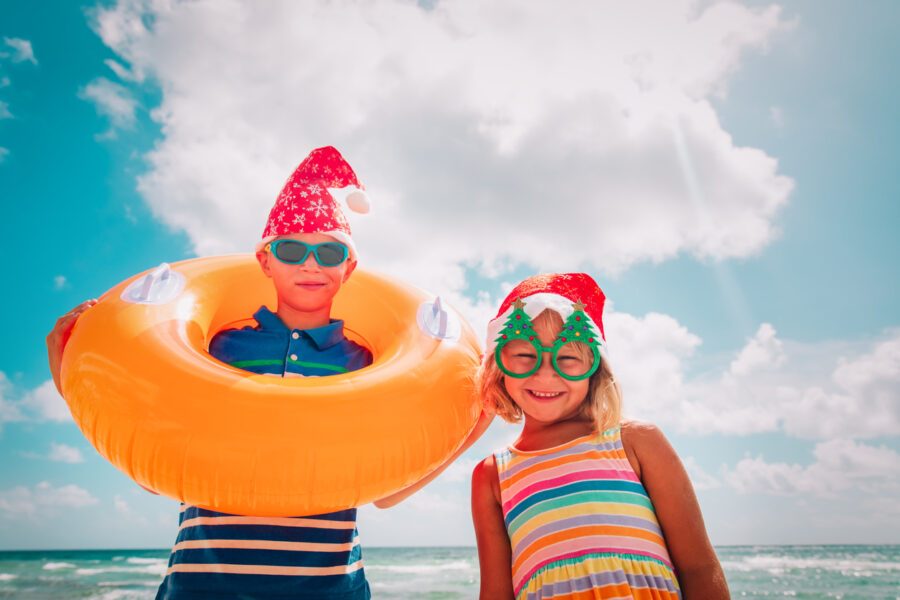 via Istock
6. Silent Night
Want to make your friends and family giggle this season? This funny take on the traditional Silent Night will definitely do the trick.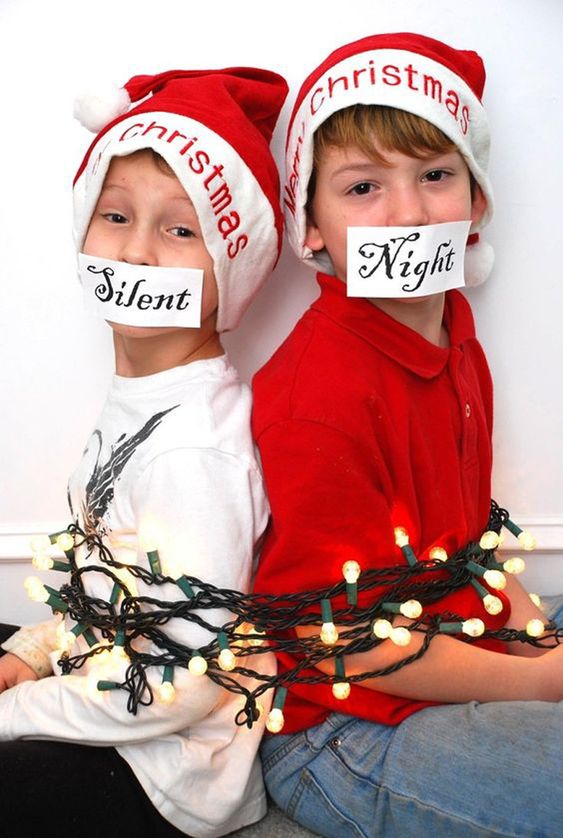 via craft mart
7. Modern simplicity
Who says you have to stick with the Christmas theme? Nobody. If your family vibes more with a simple modern feel than stick with that. A great approach to modern family photos has a color or pattern scheme, without strict matching items. For example, this family chose a casual plaid theme creating a family photo that feels put together without feeling stuffy and even has a pop of color. A simple backdrop like this one adds to the modern feel.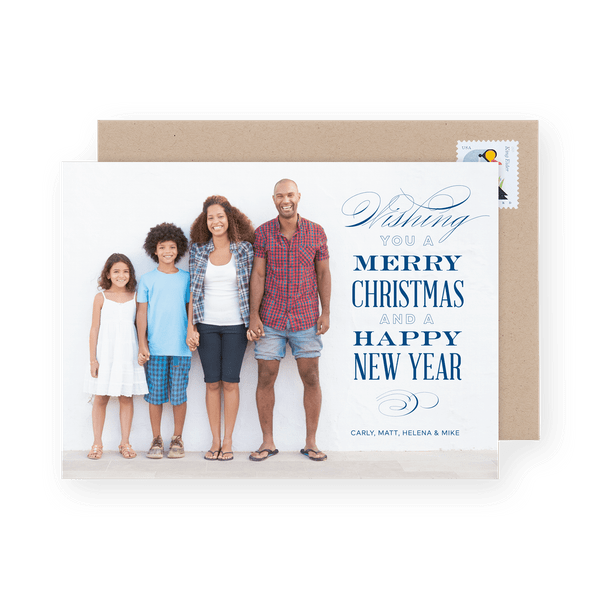 8. A no-humans approach
Perhaps your furry little family member is the baby of the house. If you'd rather show your friends and family the little fella on your Christmas cards this year — go for it! We love the airy lighting in this photo and the bit of sparkle in the background! Just add an ornament and you're good to go.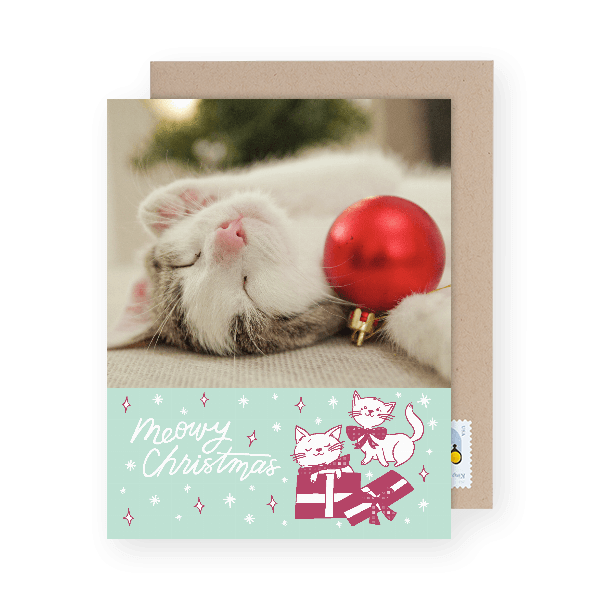 9. A twinkling Christmas photo
Less is often more. As in the case of this Christmas photo idea… A couple of joyful faces backdropped with an overflowing amount of twinkling lights. The background here is key. Put up as many Christmas twinkle lights you can, shine a very soft light on the smiling faces and don't forget the Santa hats!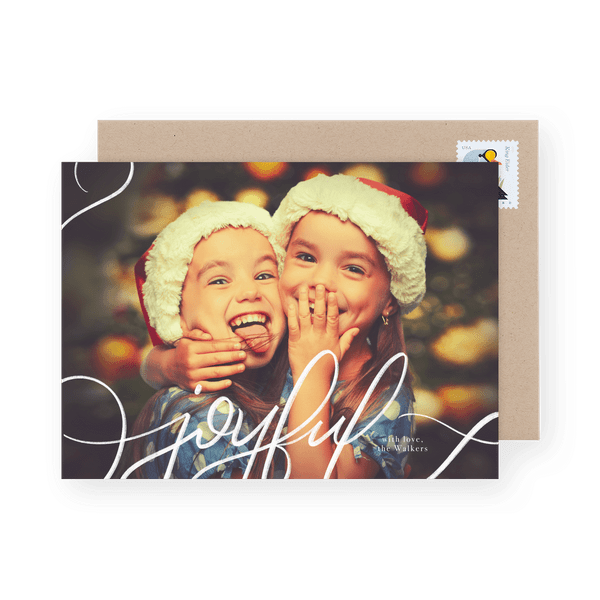 10. A creative perspective
Everyone loves a teeny foot photo! If you'd like to try something a bit more creative with your Christmas cards this year, nothing says CUTE quite like a shoe shot with a tiny pair of booties. The Christmas lights in this photo are a nice touch. The seasonal feels are all over this picture and we love the pop of color from the leg warmers.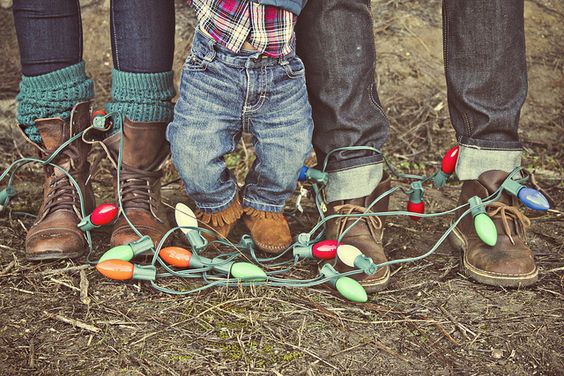 via Flickr
11. The Babe-Mobile
Using props can produce the perfect Christmas photo. This tiny red car with a tiny Christmas tree is too cute for words. If you want to stick with just the little one on your Christmas cards this year — a photo like this will surely be a winner. Don't forget the adorable baby hat and snow. There's something extra magical about the reflection of each snowflake so be sure there's snow in your picture — even if you have to create it yourself.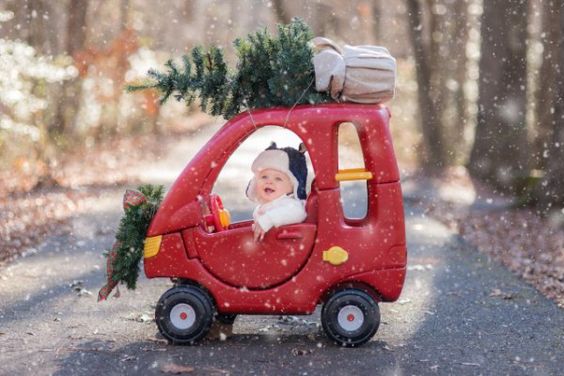 via Red Tricycle
12. Snow kisses
Playful activities always make for the best photos. We love this before and after photo. You can use real snow, fake snow or even some sort of confetti to recreate this picture. Don't forget the festive background!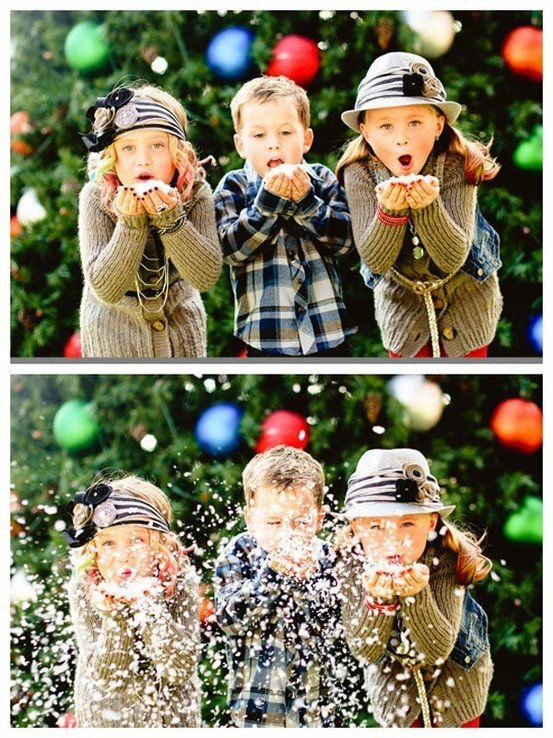 13. Christmas lights & couples
For a brand new family of two — the first Christmas card is kind of a big deal. We love this romantic, yet totally festive approach to a couples shoot. A simple prop like Christmas lights can go a long way in photos. Just be sure you have a way to plug them in so that their colors glow. Capture a series of these types of photos and use a multi-photo Christmas card or pick your favorite photo & highlight it with a simple photo Christmas card.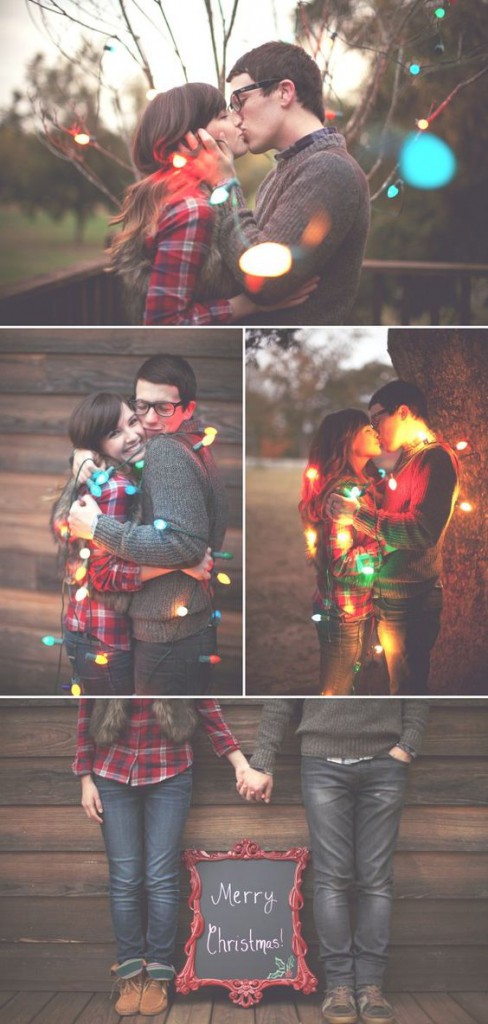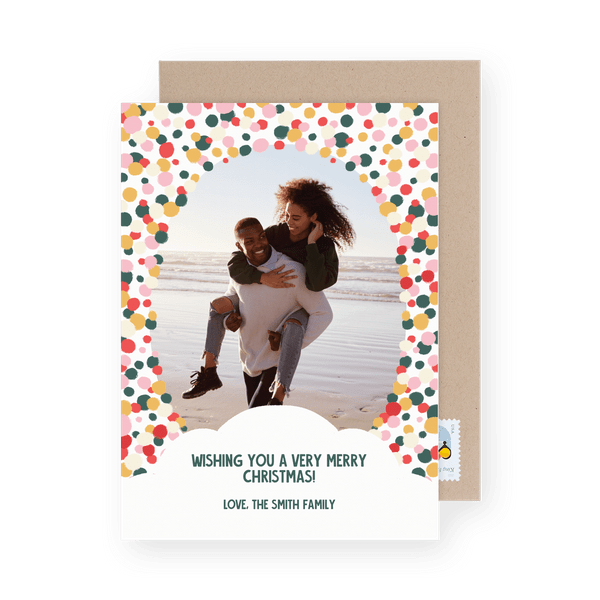 Beautiful custom Christmas cards. Post-consumer recycled paper. AND Postable will mail them for you!
14. Ornaments & babes
Pretty much any photo that includes a Christmas tree and ornaments qualifies as a Christmas photo. Taking an action shot near a try that captures your family bonding will make for a lovely Christmas card. If you're keeping a low profile this year and social distancing, this option is great since you can do it yourself at home just about any time.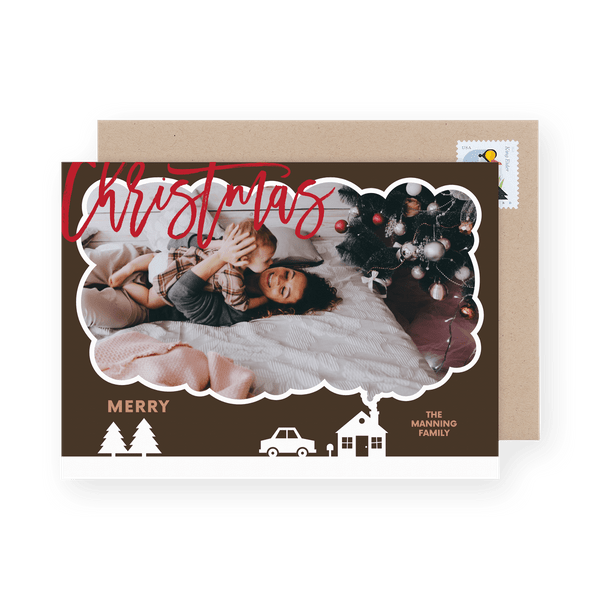 15. Simplicity
Don't feel like you have to get all sorts of creative just to capture the perfect family Christmas photo. This simple approach is a perfect example. Use a backdrop with only one focus item, like the holiday wreath, and avoid crazy backdrop colors. Include the family pup — because that's always a favorite. And think about using a step stool for the little ones to keep the faces all in the same general area.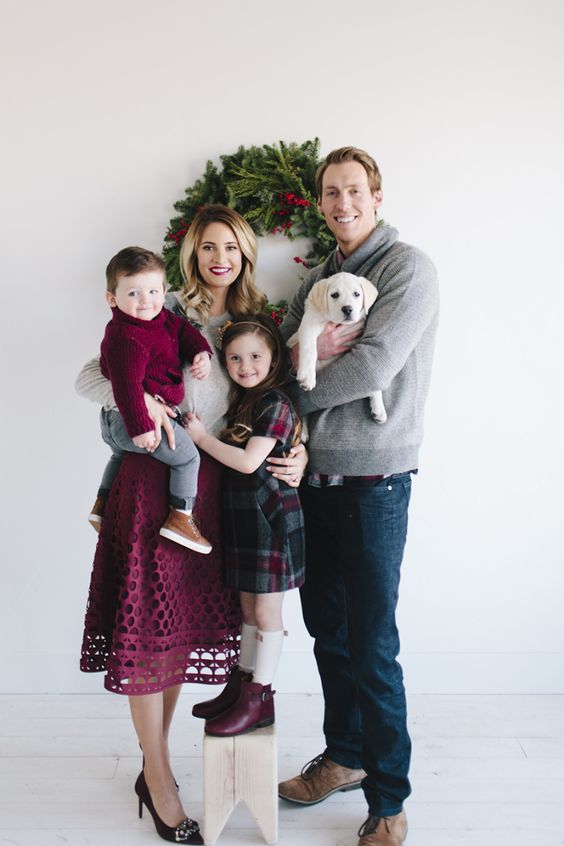 via theivorylane.com
16. Christmas Decorating
Put the kids in some matching PJs and get the camera out as the magic of decorating the Christmas tree commences. The key with photos is to have proper lighting. To create the same kind of magic as this photo clearly has, put up as many Christmas lights as possible, the more the merrier! In addition, have a soft light directed at the kiddos as they decorate the tree. This will keep the magic on their faces lit while giving that magical feel all around them with twinkle lights.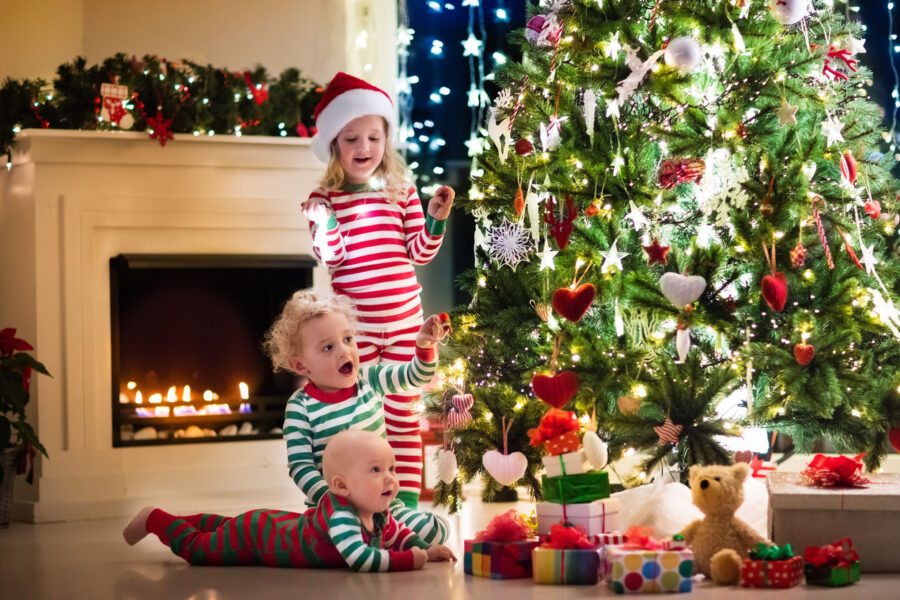 via Istock
17. Christmas babe
The little ones make the funniest of faces so if you can manage to capture one such reaction — you'll get what is sometimes called 'the money shot'. Create the perfect cozy setting and remember to light it well (including the background). You can try to stage a photo just like this one — perhaps if the book is engaging enough — or simply try to have the little one play with something until you capture the perfect photo.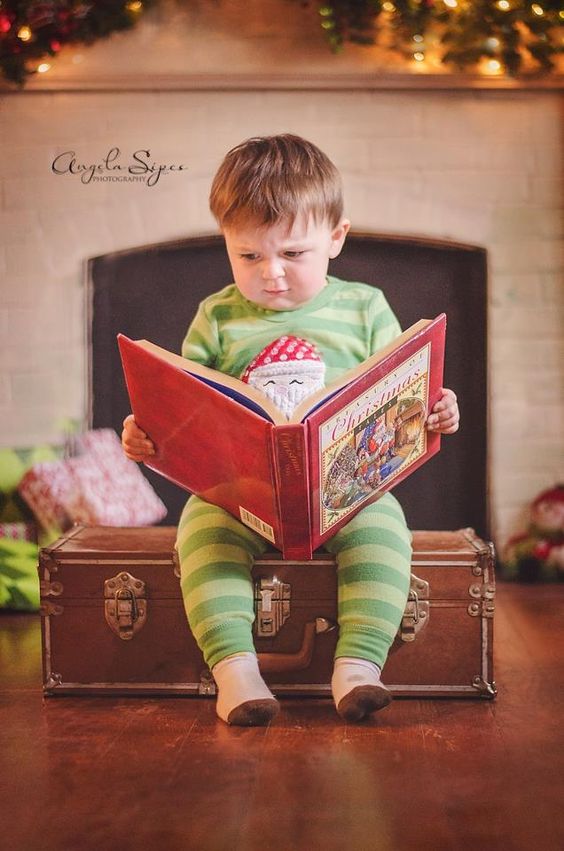 via confessionsofapropjunkie.com
18. Photoshop with the jokes
We're dreaming of… buckets full of snail mail! If your family appreciates a good joke here and there — you could take this year's Christmas card opportunity to bring some giggles to your friends and family. A simple photo like this with a few thought bubbles is a great example. Upload your image to a blank canvas card, just make sure the quality is high.
19. Action shot
Nothing says Christmas quite like picking out the Christmas tree. Especially great if this is one of your family's beloved Christmas traditions. You can stage this photo or simply bring your photographer along for the trip.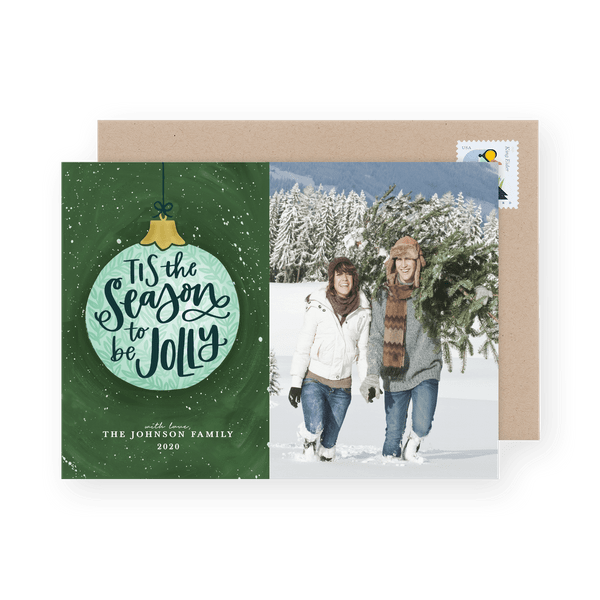 20. The family dog
There's something truly special about the bond between a little babe and the family pup. The two babies in the family. Something as simple as posing the two alongside the Christmas tree makes for a very magical photo. Add a cozy blanket and candle for good measure.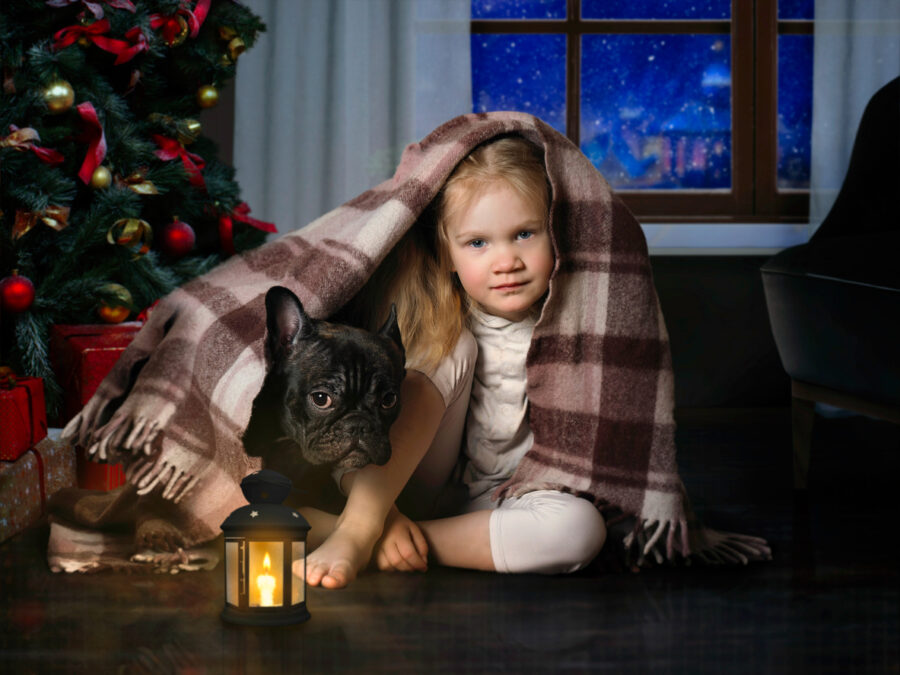 21. A blanket, tea mugs, and snow. Cute. Cute. Cute.
Nothing too complicated here. A simple backdrop to a cozy moment makes for a perfect first Christmas photo.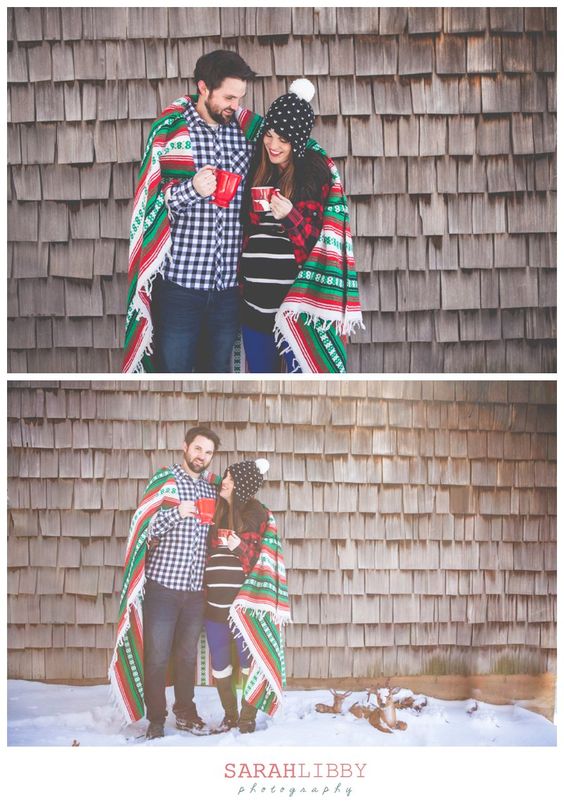 via youtube
22. A baby & a Christmas tale
A glimpse into the future… finals week. Also, a simple way to capture the magic of Christmas all in one photo. Capture your sleeping babe with your favorite Christmas words.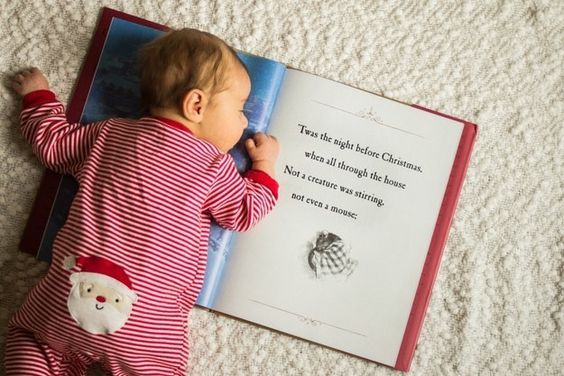 via Diply.com
23. Christmas mischief
If you're looking to add a little humor to your Christmas cards this year — this idea is perfect. You'll probably need an extra hand or two to help stage this one.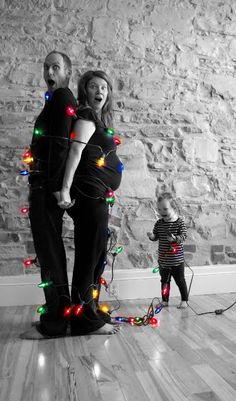 via My Life & Kids
24. Funny Christmas
If you can figure out how to re-create this scene — all the power to you. This will definitely be a funny one and the kids will have fun making it.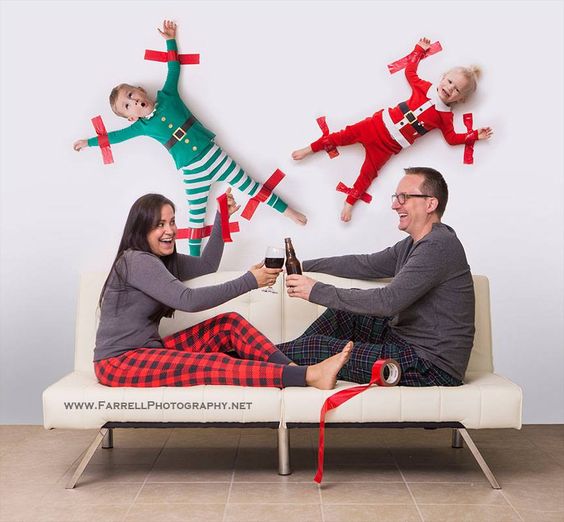 via Farrell Photography Sacramento Wedding photographer
25. The Christmas gift
A simple and adorable Christmas photo. Put your little one in a small red box and don't forget the Santa hat! The lit up Christmas tree in the background is really key to making this photo so magical.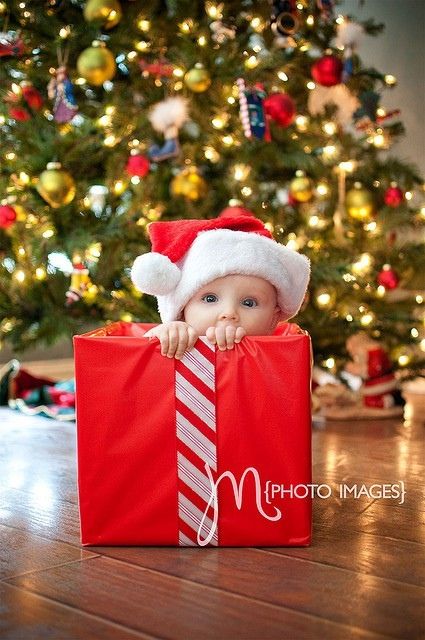 via Babble
26. Santa's Gift
Too precious. Work with a professional to re-create the magic in this Christmas photo.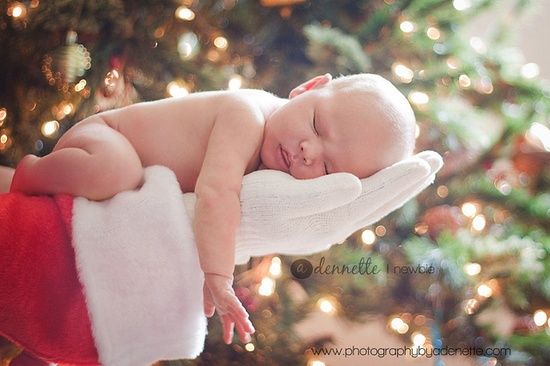 via dishmonusa.com
27. I saw mommy kissing…
Christmas family photos are great when shot outdoors in the natural light. We love this action shot with the mistletoe. The red matching hats are total winners too!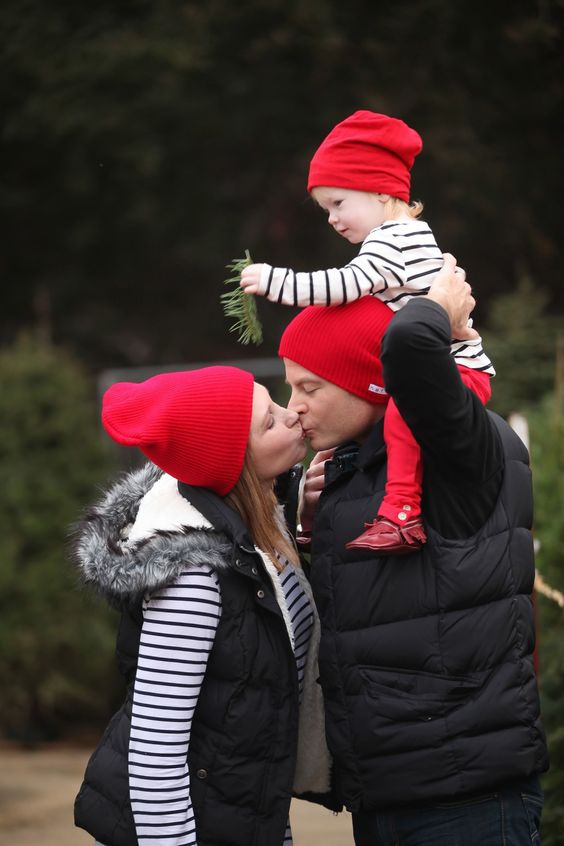 28. Every day captured
Who says you have to go somewhere special to get the perfect Christmas family photo? You don't. Capturing your family simply enjoying joyful moments together is more than enough. We love the idea of capturing a family dance party for the Christmas family photo. Might be one of our favorite Christmas card photo ideas yet!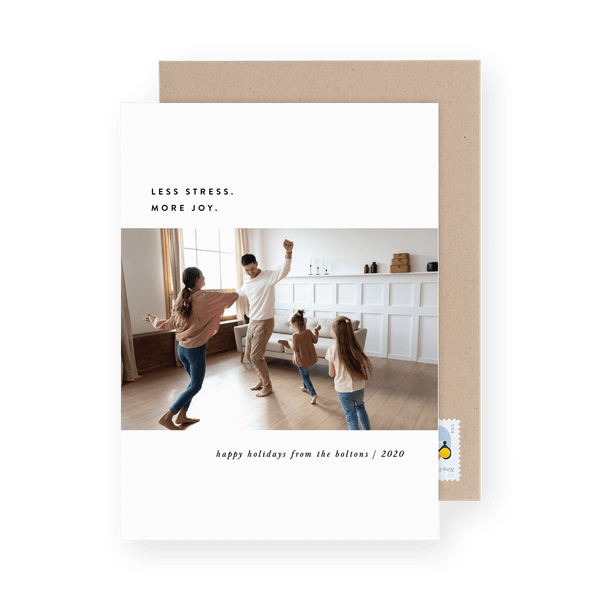 29. Dear Santa
Use a chalkboard & get creative!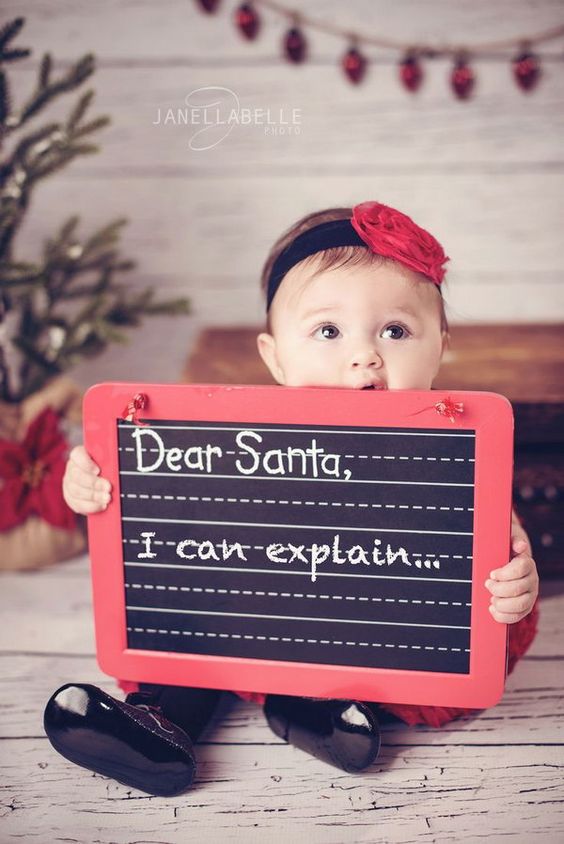 via Have
30. Back-facing family photo
This Christmas card photo idea is ideal for families that don't particularly love being in front of the camera. It allows the photo to capture the whole family in its loving glory without having to force any uncomfortable poses or jump through any hoops. This may be the simplest idea of them all, but it certainly does deliver. Don't forget to include the dog!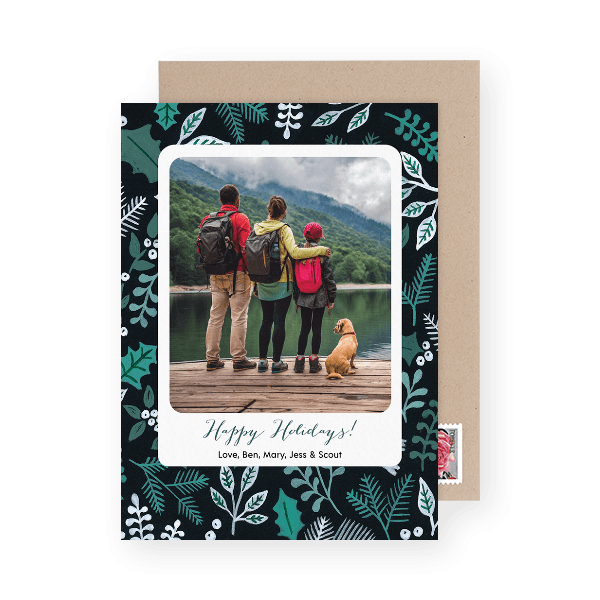 Had enough Christmas card photo ideas?!
Ready to try your own family photos in a real Christmas card?