If you had to write out a list of things that makes you a good friend, we'd guess that wishing your the people in your life a happy birthday would be somewhere on the list. Right? We hope so. Birthdays are kind of a big deal (by which we mean yes, really a big deal). Wishing your friends a happy birthday is just part of the deal — if not you, then who?! And while simply sending your wishes is a start — sending a simple 'Happy Birthday' text message just doesn't cut it. If you're thinking that writing an email or posting on your friend's Facebook wall is any better — guess again.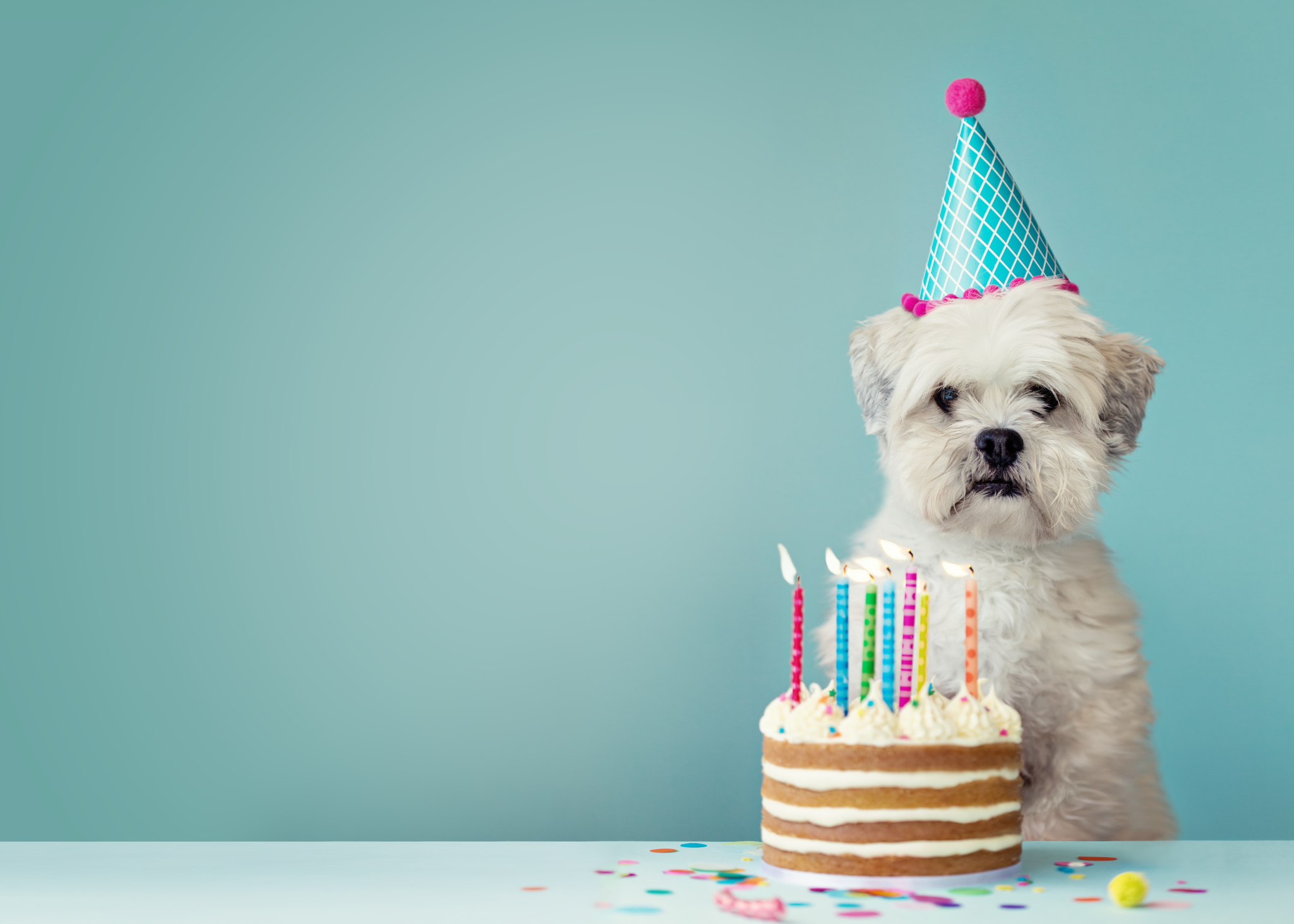 If you want your friend(s) to really feel special on their birthday you'll send them a card. It doesn't take much effort (a few minutes — max), but it makes such a big difference in their day. Who wouldn't want that?! Aside from being a kind gesture, sending birthday cards for friends can be fun! Picking out the card design that totally speaks to your friendship is kind of like a treasure hunt. Lucky for you, there's a ton of great birthday cards for friends to choose from and we've compiled this fun list so you don't even have to go searching for them. Go ahead, browse through this epic list and see which card(s) pop out for each one of your friendships.
And if you're thinking — this is all great and dandy, but I'm so short on time I'll never be able to do this! Don't worry. We got you. Sending birthday cards to your friends is as easy as sending an email. Yes, really. Just choose the card you like, write your personal message (everyone loves a good inside joke) and click send. Postable will print, address and mail the card out for you. You're welcome.
1. The I'm So Happy You Were Born Birthday Card
How much do you love this design by one of Postable's newest designers — Meera Lee Patel? Aside from the fun little saying on the front — it's so pretty! We love the water color look and the palette is right on target! Something tells us there's a friend in your life that needs to read this.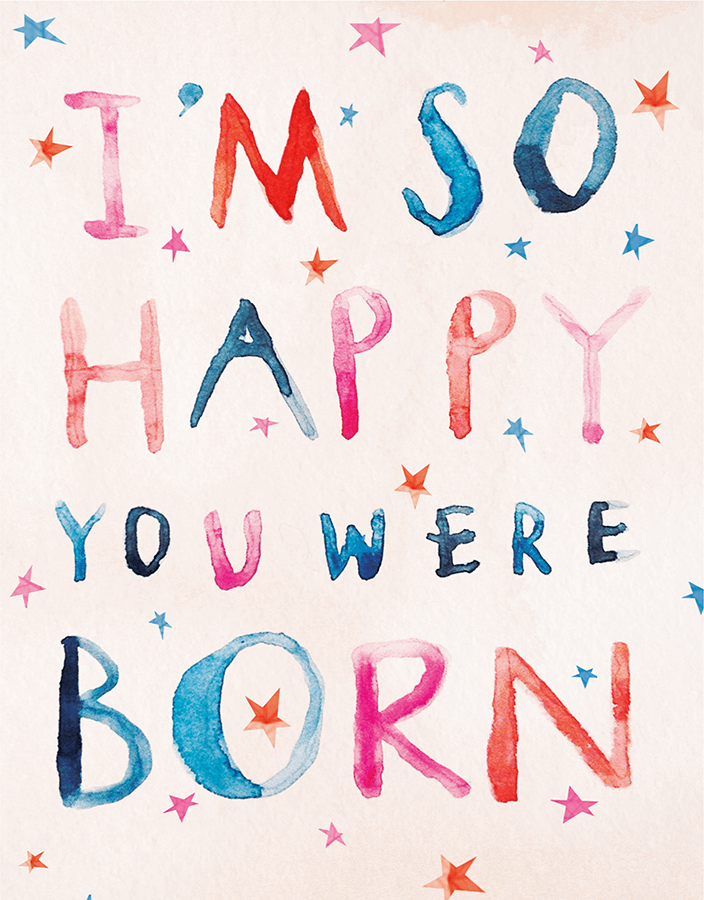 Send this card here
2. Puppy Birthday Card
Have a friend who can't get enough of the puppies?! We can totally relate — all the puppies all the time. Send them this card by Forage Paper Co. and bring the biggest smile to their face on their special day.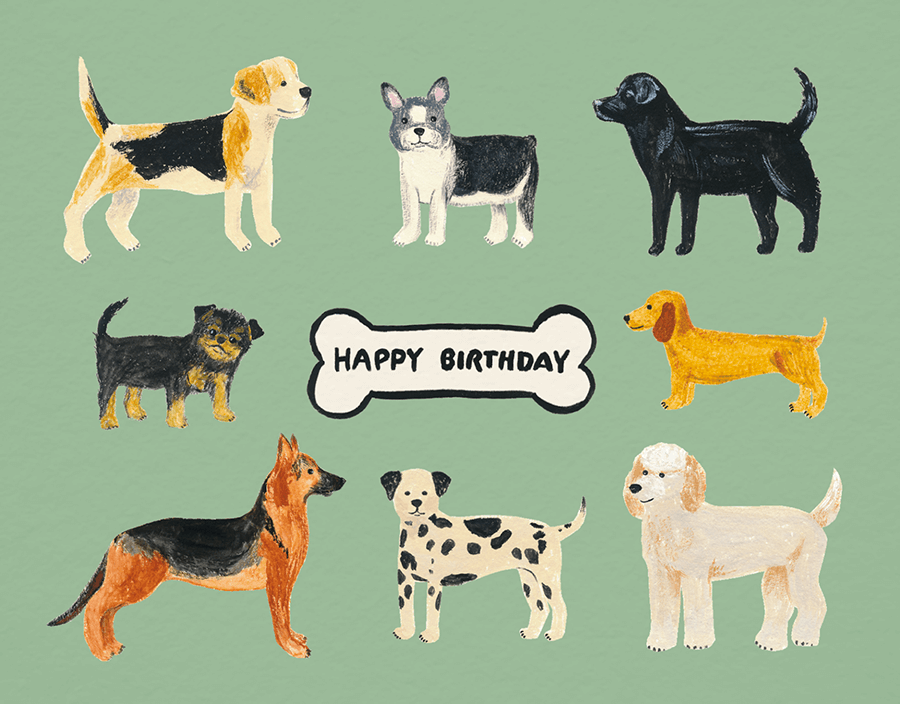 Send this card here
3. Dog Years Birthday Card
This little doodle by Bench Pressed — while hilarious — should be sent to a friend with a delightful sense of humor.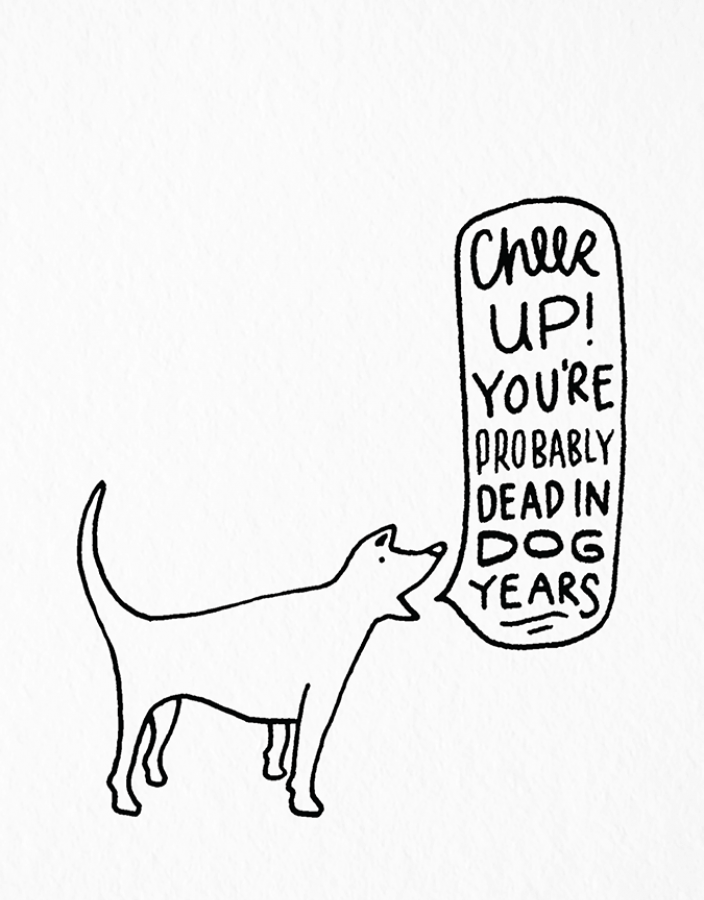 Send this card here
4. Super Spectacular Birthday
For the friend that loves all things colorful. We can barely pull our eyes away from this card  by Night Owl Paper Goods ourselves! It's so fun and spectacular!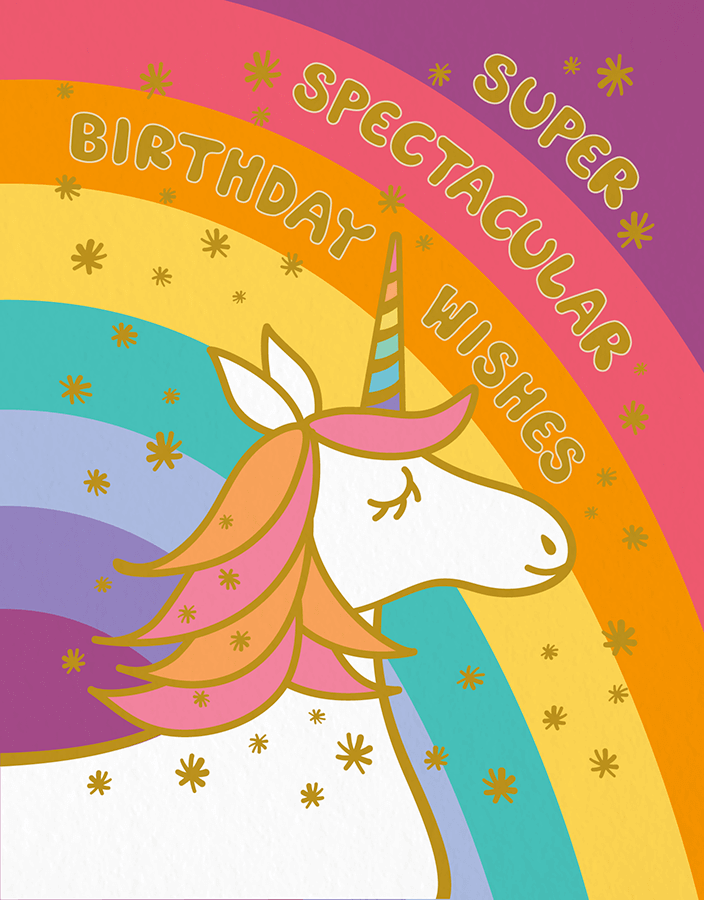 Send this card here
5. Figgen Good Birthday
Everyone loves puns, right? This birthday card is both cute and funny. Send your friend a giggle on their birthday and they'll adore your forever (or at least until next year).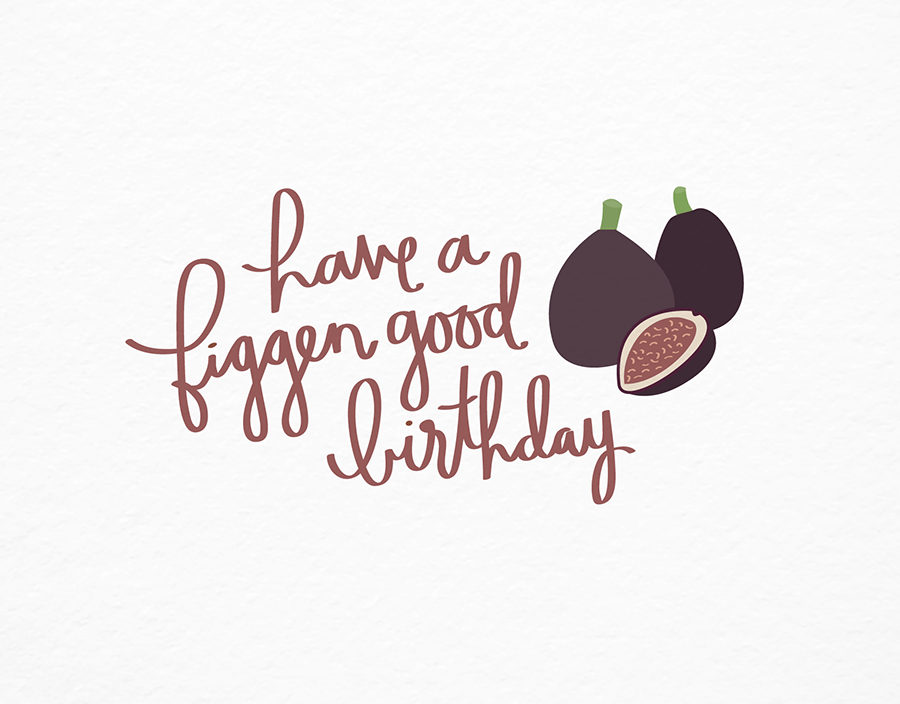 Send this card here
6. Surfs Up Birthday
For the friend that would rather be out on the waves. This adorable hand painted design will be perfect!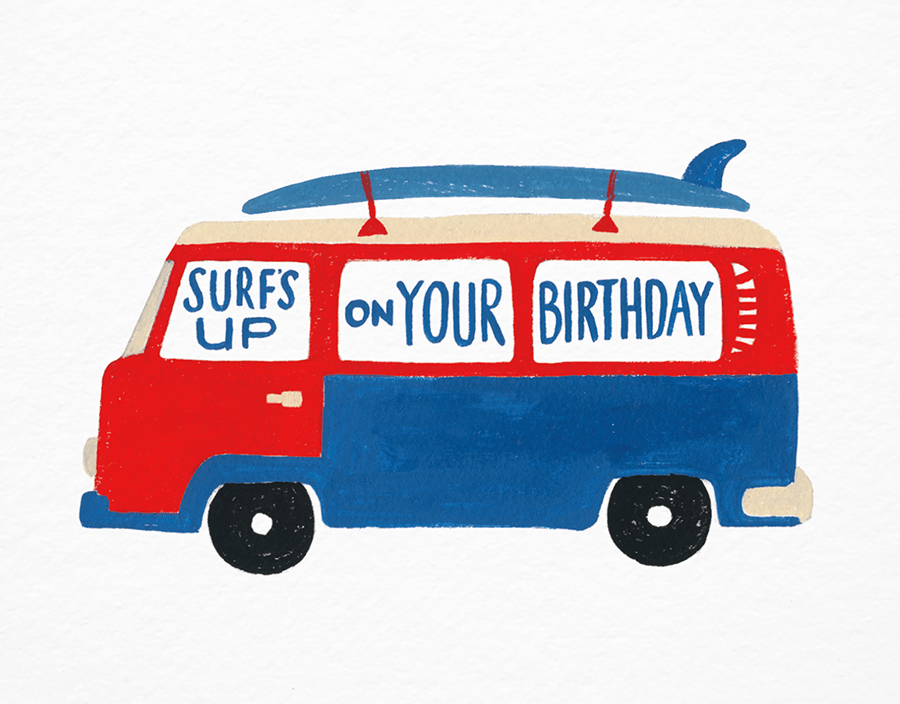 Send this card here
7. Best Pal Birthday
We love this fun colorful design by Thimble Press! Your best pal deserves to have the best birthday — right?! While sending them a birthday card is definitely a must, perhaps think about other ways you can make your bestie's birthday the best day ever.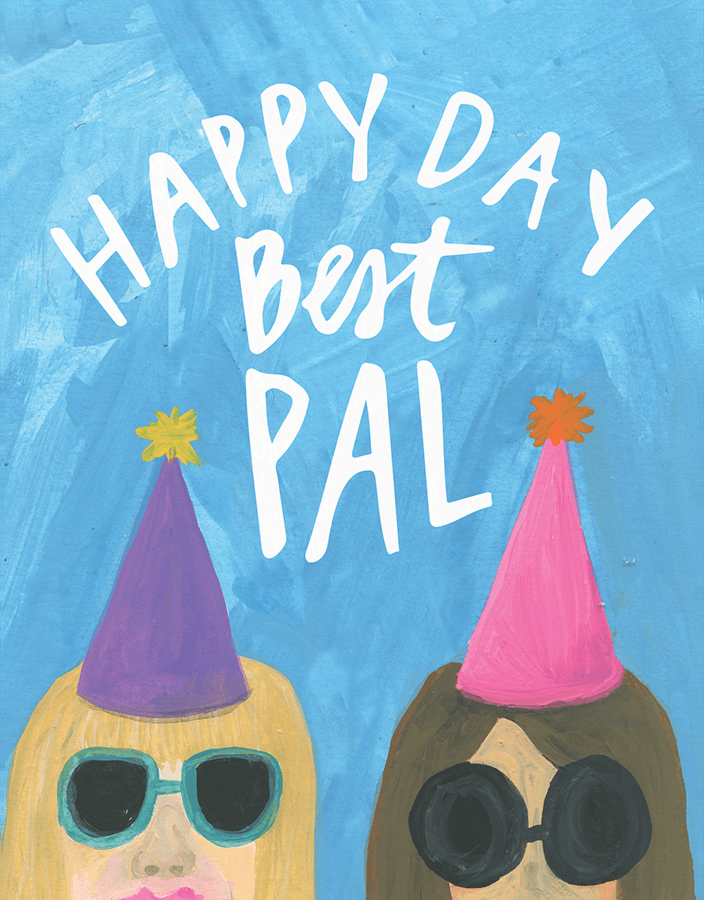 Send this card here
8. Let's Party Dog Birthday
Another pup birthday card for the win. This design by Hello Paper Co. is simple and straight to the point — send it to a friend that's exactly like that.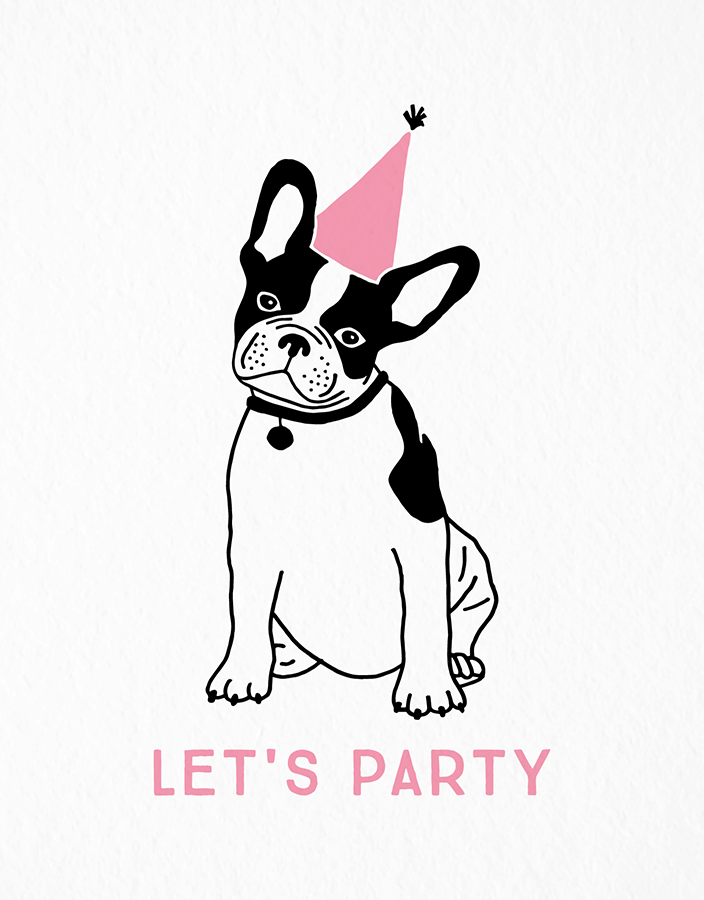 Send this card here
9. Floral Happy Birthday Card
This one is just plain beautiful. Seriously, just look at those colors! This design by Clap Clap will be the perfect thing to bring a smile to a friend's face.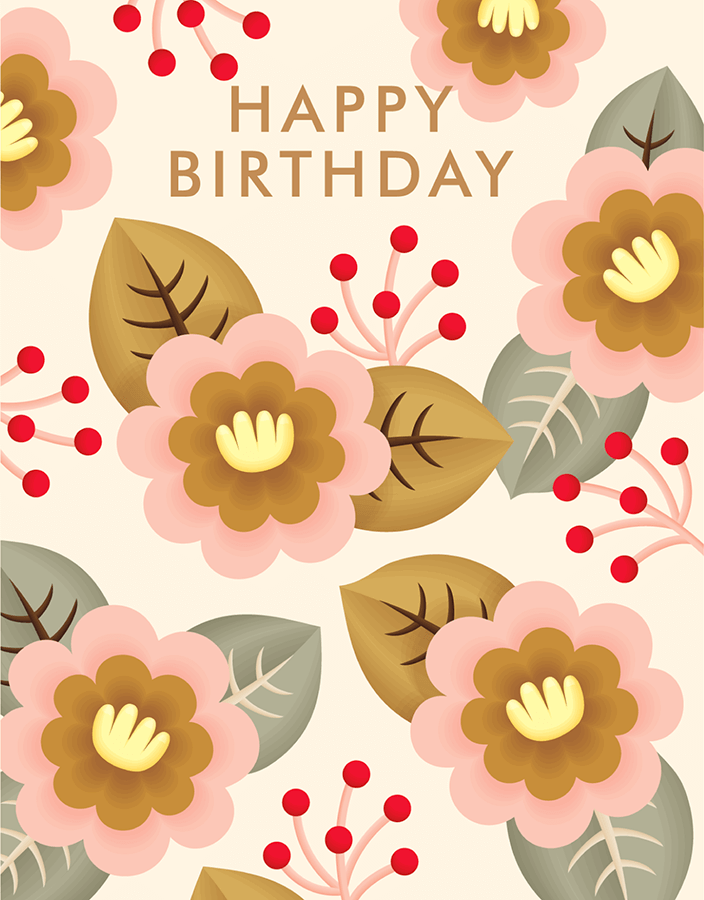 Send this card here
10. Just About Anything Birthday
This design by Knotty Cards just about says it all, right? Maybe add a few suggestions of all the fun things you guys can do to celebrate (except for the obvious previously mentioned meth doing).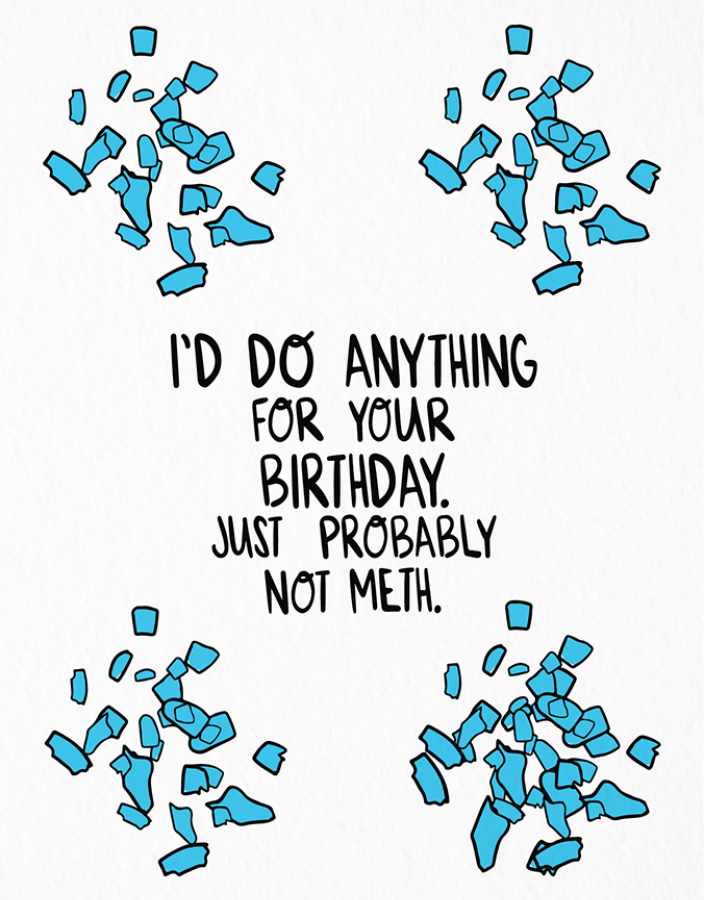 Send this card here
11. New Terrain Ahead Card
This delightfully hand painted birthday card from Small Adventure is the perfect birthday card to send to a friend with some big changes ahead.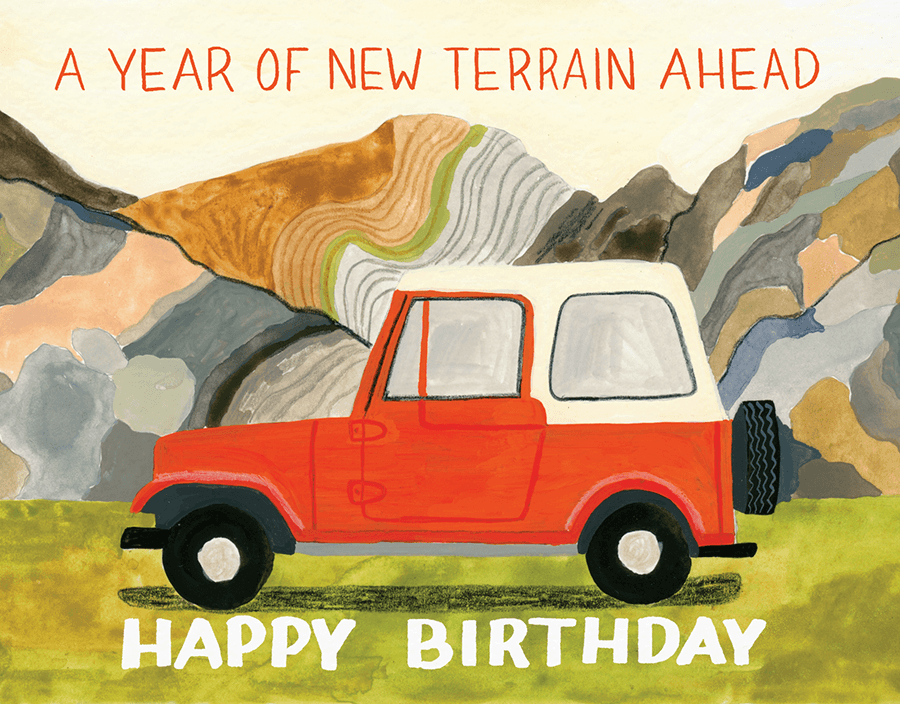 Send this card here
12. Super Chill Birthday
For the friend that just likes to chill. A lot. A chill birthday card for a chill friend.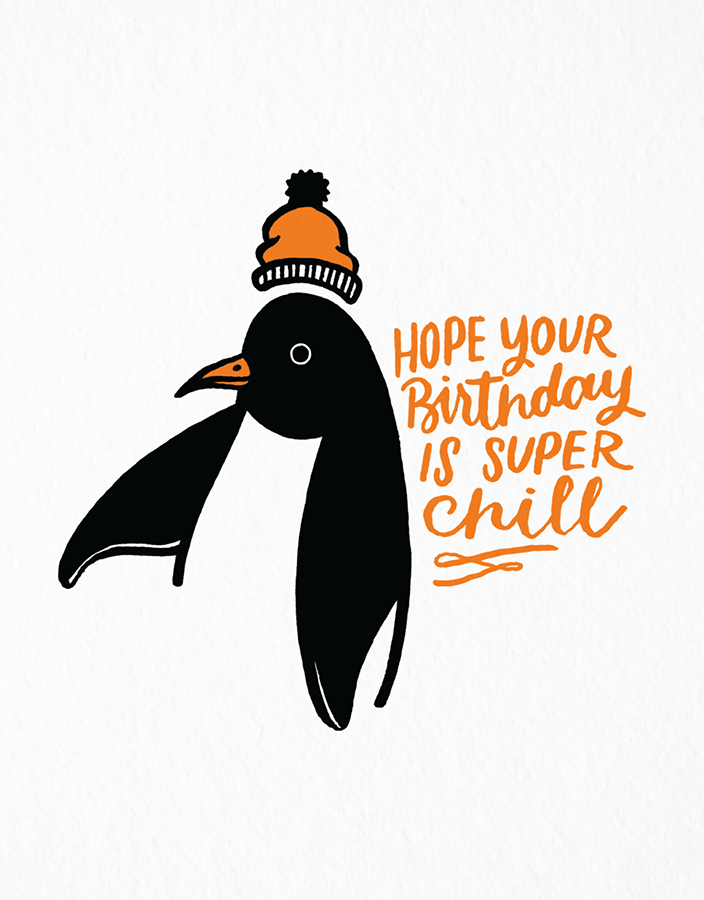 Send this card here
13. Polaroid Birthday
If you have an adorable picture of you and your friend — this birthday card template will be perfect! Just upload your photo and customize the text at the bottom. They'll love seeing the personal touch.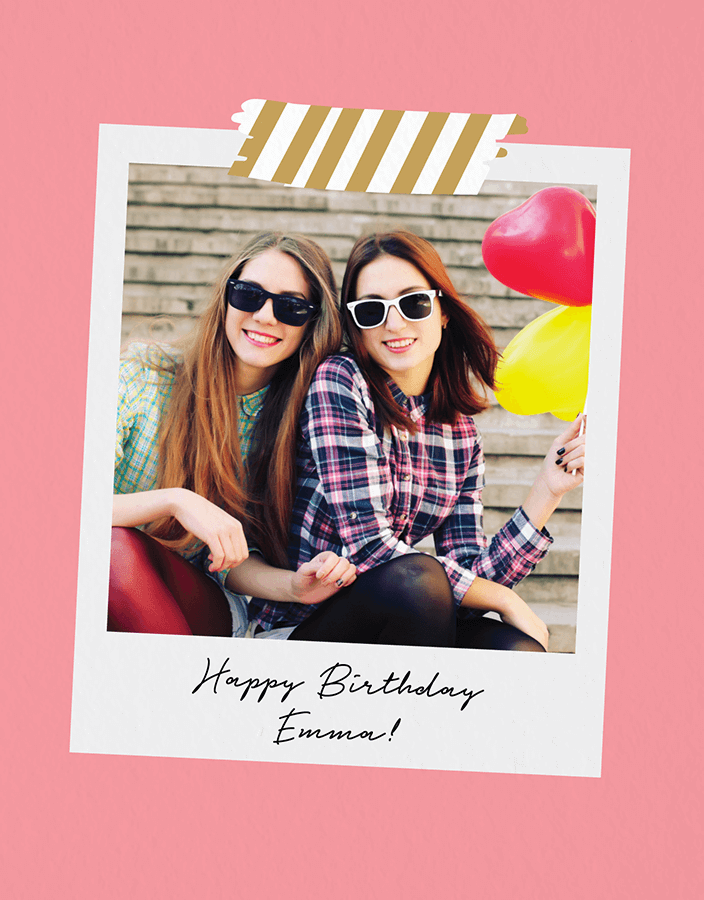 Send this card here
14. House Plant Birthday
For the friend with a green thumb. This simple and bold design is perfect for the friend that has more plant babies than anyone you know.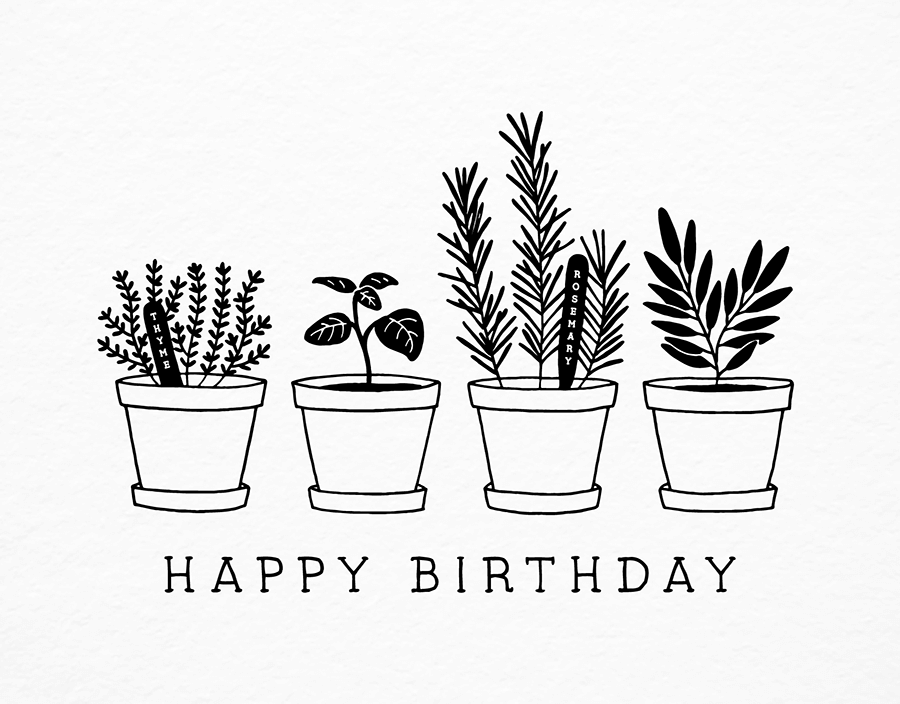 Send this card here
15. Cat Glasses Birthday
For your cat loving friends.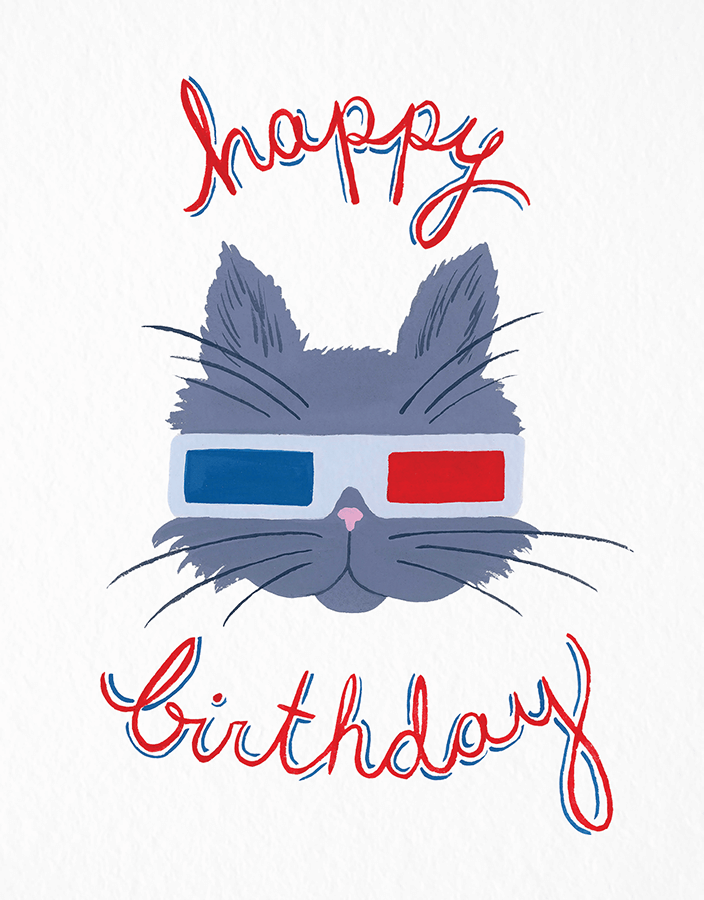 Send this card here
16. Ice Cream Cone Birthday
For the friend that loves their ice cream… Or just about anyone really. Just look at how cute this design is! We love the pastel colors and the sprinkled background. Consider showing up with an ice cream cone for the birthday girl/boy and you'll have really made their day special!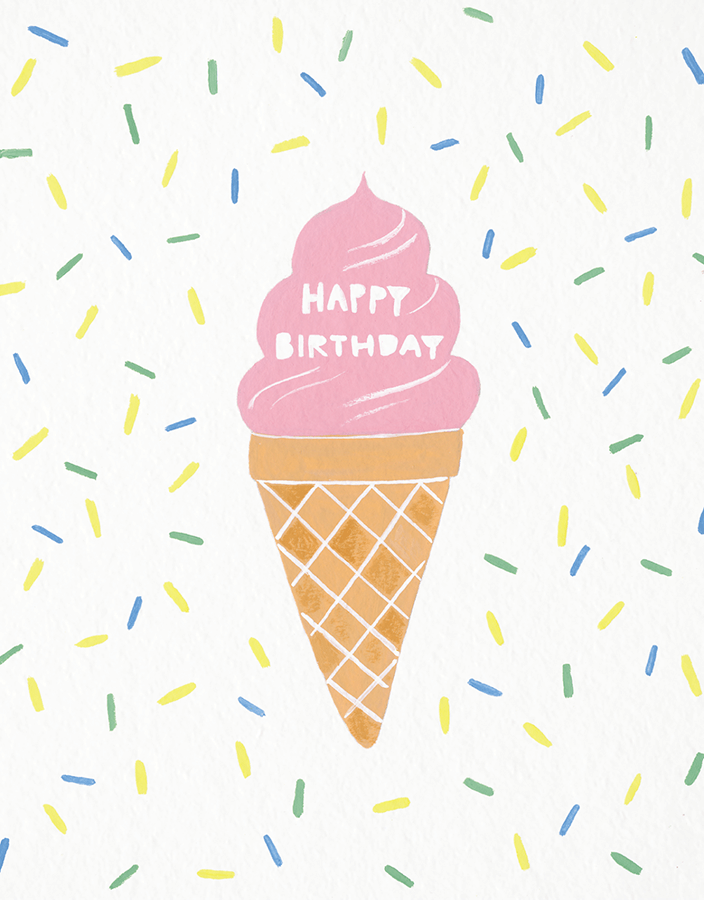 Send this card here
17. Alpaca Birthday
This quirky and colorful design by TYLRE is hard not to love. Easily bring a smile to your friend's face with this card.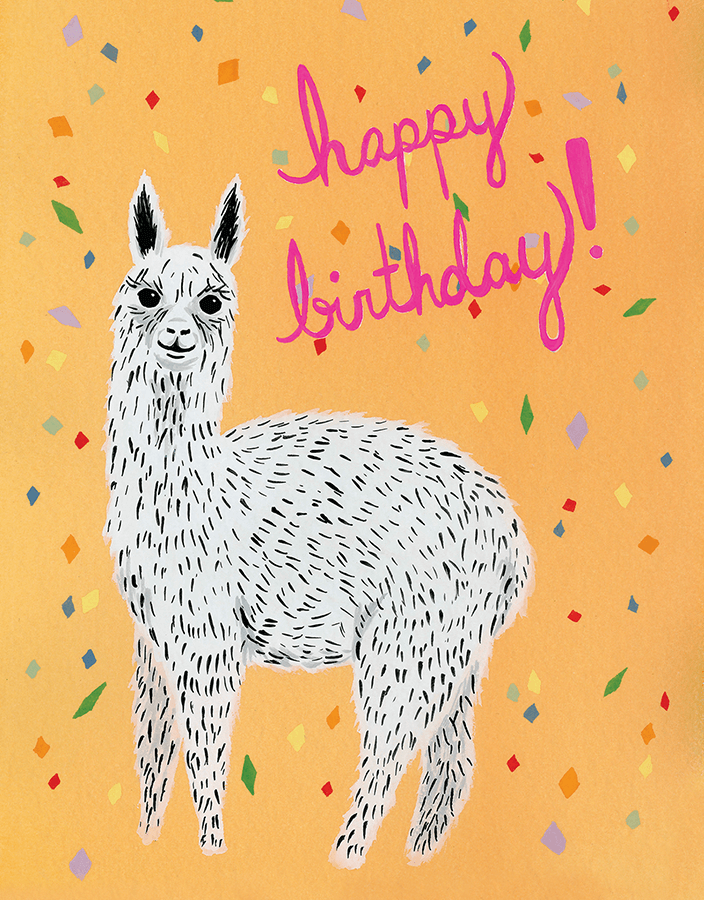 Send this card here
18. Cat Birthday
This delightful card by Sussie Esse is perfect for another one of your cat-loving friends.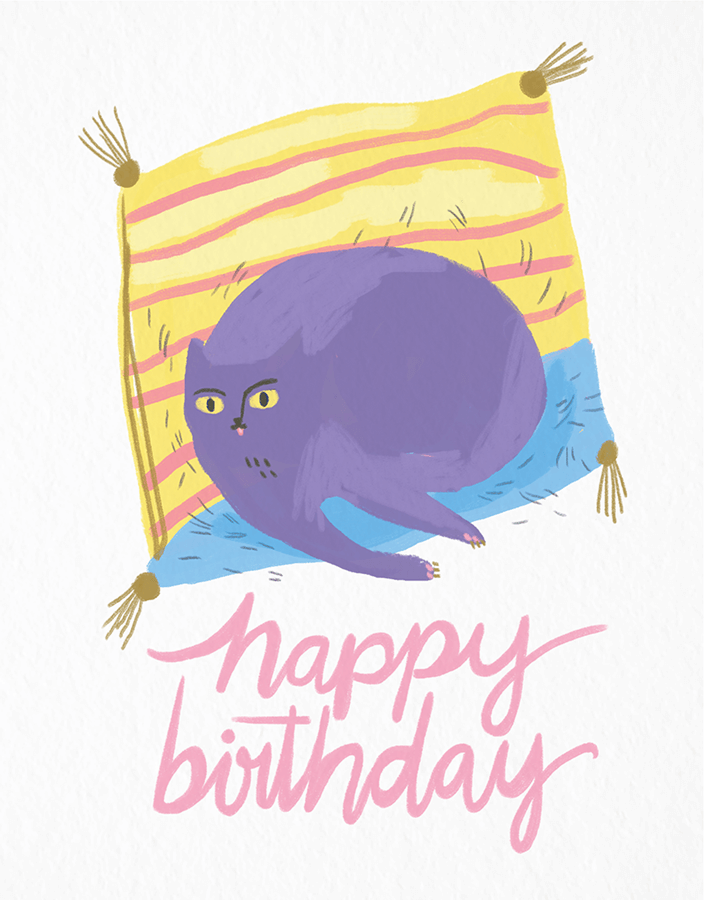 Send this card here
So which one will it be?! If you're thinking it might be way too early to plan a birthday card for you friends, you can schedule all of your cards now so that you don't forget to send them in time, later. Yup, you can do that!