The 2022 holiday season is just around the corner. Realtors from every market are eagerly making plans to show their gratitude to the those clients who had the pleasure of working with them through the strange housing market that was 2022. Mailing end of the year holiday cards is always a good idea, but during the current climate it's a no brainer.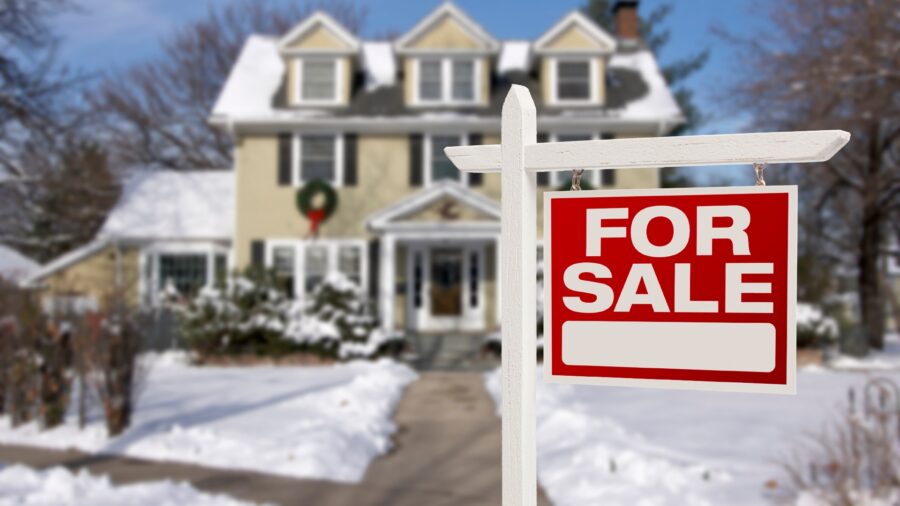 Really nice real estate holiday cards, mailed for you in minutes.
Realtor holiday cards increase customer retention and strengthen client relationships.
Real estate business is about building connections. You'd be remiss not to take advantage of bonding over the struggles as well as victories that 2022 brought us all by sharing your gratitude with your clients. The holiday season has come at a time when we're all still in murky waters and many of your clients may be experiencing a great deal of uncertainty so make sure they know how much you value their loyalty and business. 
Word of mouth builds clientele.
If you hope to continue building your list of clients into 2023, you're likely working very hard to market your services. Your clients — who presumably already know and love your work — will be attending one holiday party after another. Staying at the forefront of your clients' minds will help them to recall your business when conversation ultimately shifts to real estate. Let them do the marketing for you.
So while most any business holiday card can be used by real estate agents here are some picks especially geared for this area of business.
Home themed realtor holiday cards
Real estate agents are in the business of finding homes for clients — whether literal new family homes or a new home for a business. Whatever HQs you were able to help your clients find in 2022, the following real estate holiday cards were inspired with some form of a home in mind. 
No Place Like Home
Wish all your clients a happy holiday with this delightfully green Realtor Holiday card made with real estate in mind. The design simple, but still manages to incorporate a real estate theme with a wintery flare.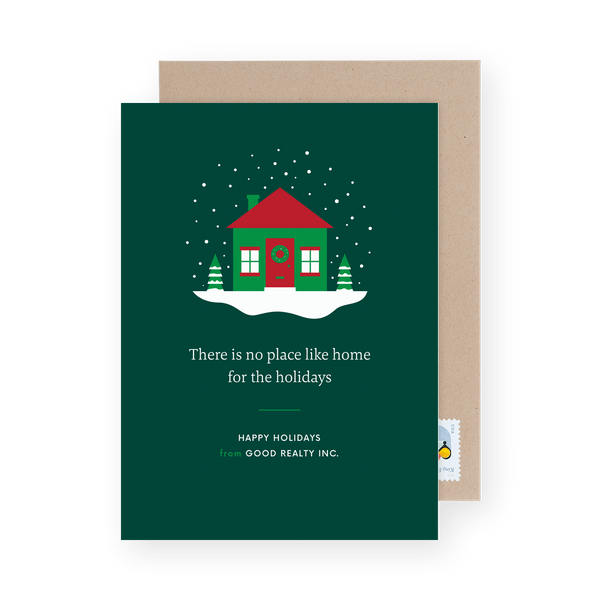 Staying Home for the Holidays
This Yeppie Paper design is certainly not simple, but if you're in the market for something festive this home themed holiday card doesn't disappoint. We love the attention to detail and we're sure your clients will too.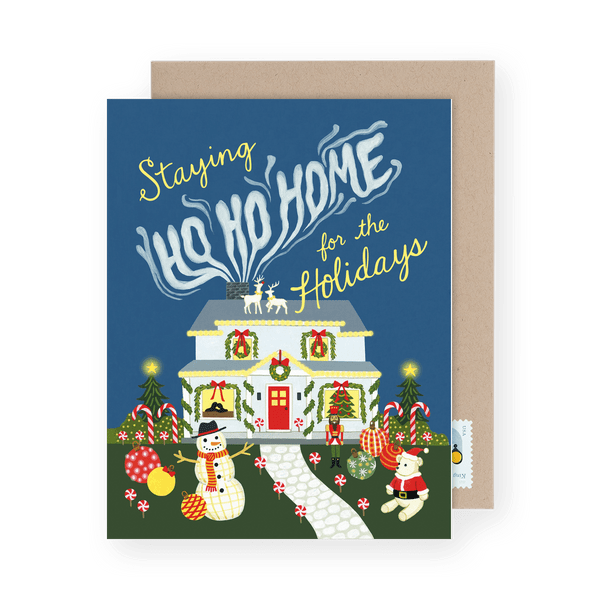 Merry & Bright Home
This Realtor holiday card has a little of both worlds — it's got a bit more detail and illustration while still managing to balance the design with plenty of white space. The cozy feels practically jump off the card.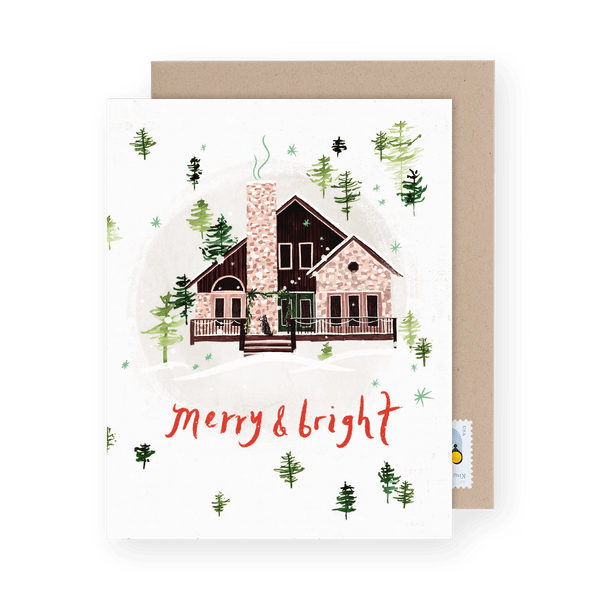 Season's Greetings Skyline
This Season's Greeting card is perfect for a city Realtor. Remind your clients of their lovely city apartment (that you helped them find) while wishing them a festive holiday season.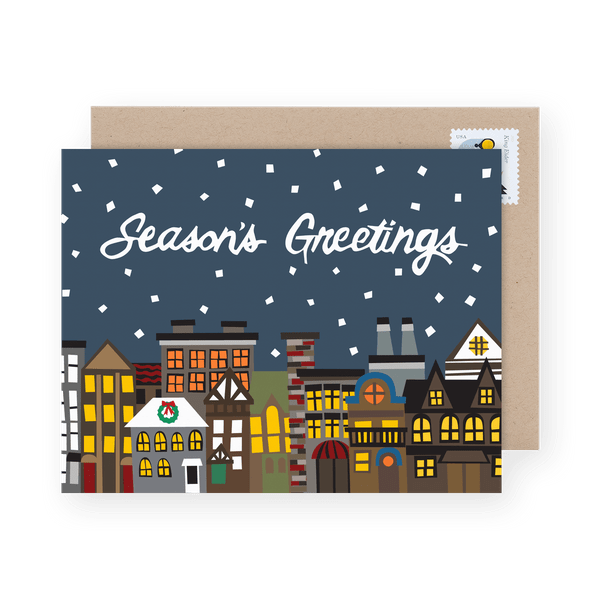 Cozy Warm Wishes
Looking for something extra cozy? This beautiful lavender holiday card by Paper Raven Co. will do the trick. Make your clients swoon with this design and help them cozy up in their newest digs.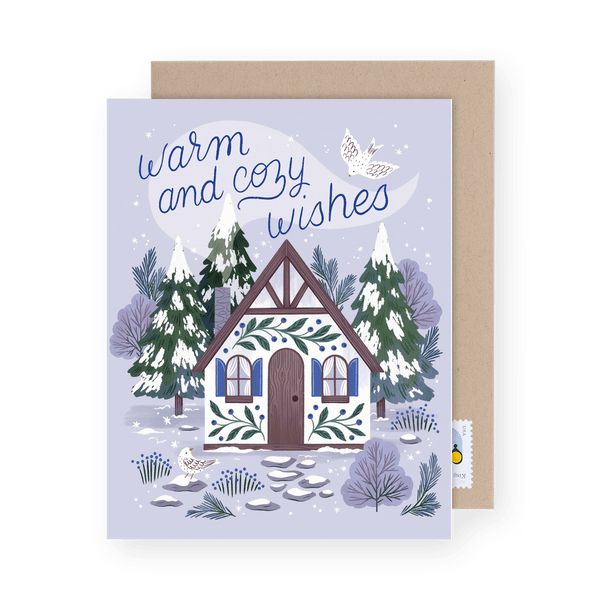 Snowy Homes
As with all of his creations, this Silas Tom design is a treat for the eyes. The little details are what your clients will remember. Especially great for real estate agents — the illustration on this design will speak to the new (and soon-to-be) homeowners.
Blue Skyline
Another Silas Tom creation, this card practically exudes the holiday spirit. The white snowflakes against the darker background gives this realtor holiday card a lovely cozy feel. Perfect for city real estate agents. This design also gives you the option to add your company name at the bottom for a bit of extra customization.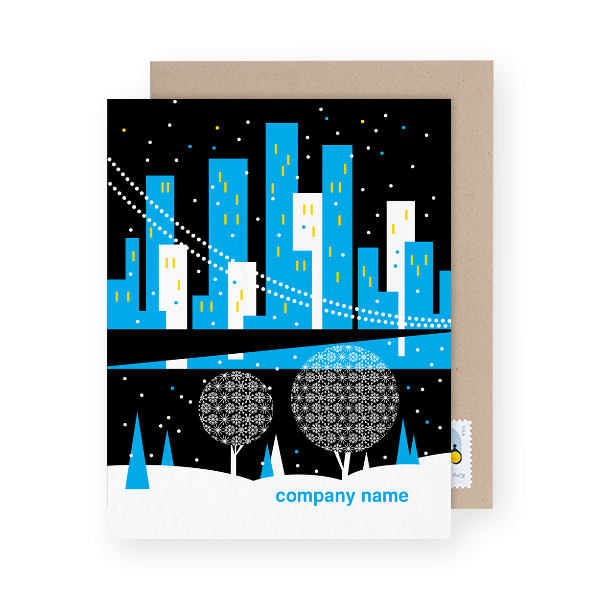 Snowman Realtor Holiday Card
Who says holiday cards for real estate agents have to be boring? This festive snowman design will remind your clients the snow-filled family time they've been enjoying was in part thanks to you! Add your company name at the bottom.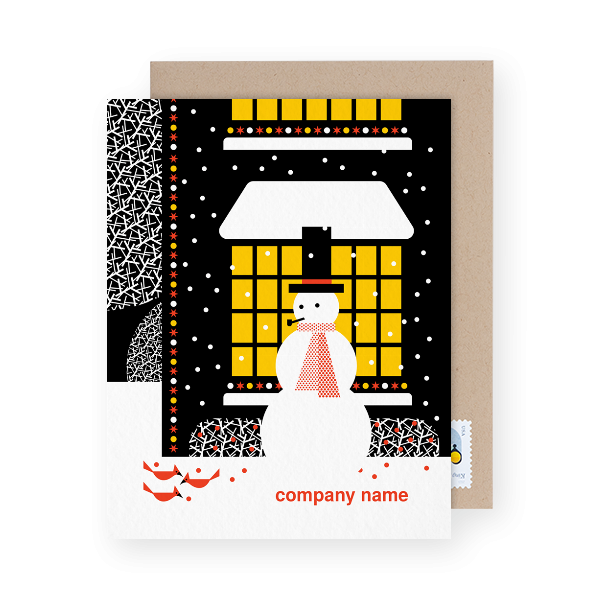 Cozy Cottage
Were you able to help your clients find the getaway home of their dreams? The cozy cottage illustration on this delightful holiday card will certainly remind them of the lengths you've gone to help make their dreams a reality.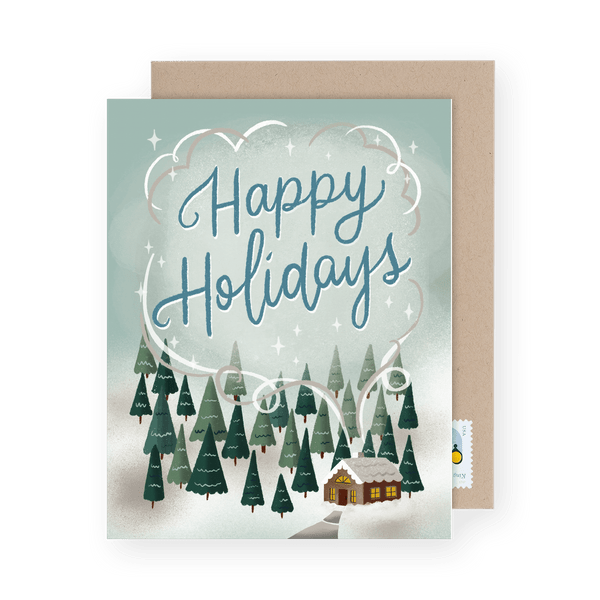 Gingerbread Houses
Holiday cards for your real estate business don't have to be 100% realistic. We love the play on words and the holiday theme of this gingerbread house holiday card by Noteworthy Paper & Press. Plus, it's adorable.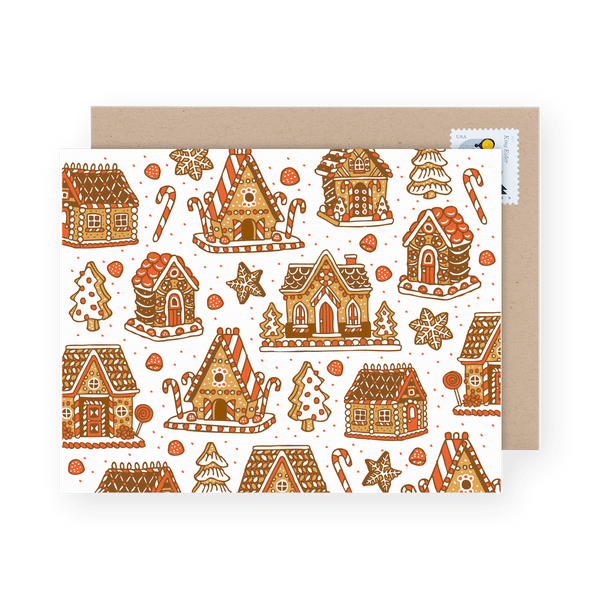 A Snowy Window
Nothing feels quite as cozy as looking out the window of your new home into the snowy abyss. Certainly sounds cozy. If your real estate branding is more modern and bold, this black and white design by Hello Paper Co. will perfectly align with your branding.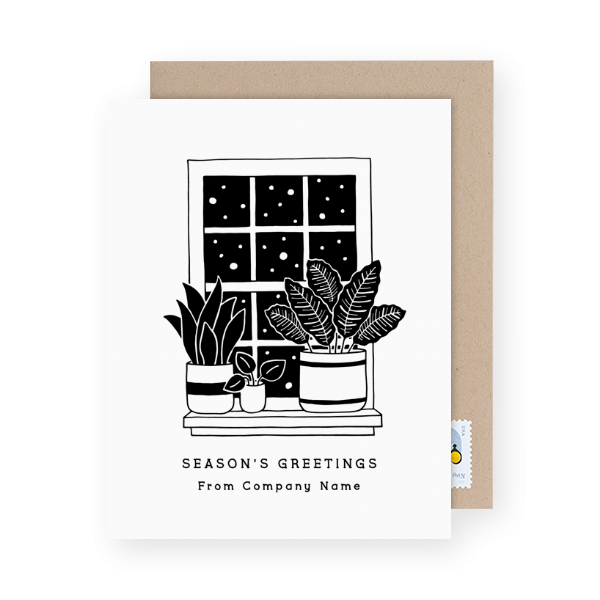 Snowy City Apartments
If your work takes you into a city — especially a grand city like New York — you know the heart and soul oozes from apartment windows and fire escapes. This festive Silas Tom design will have your city clients grateful to have chosen you as their search-and-find apartment guru.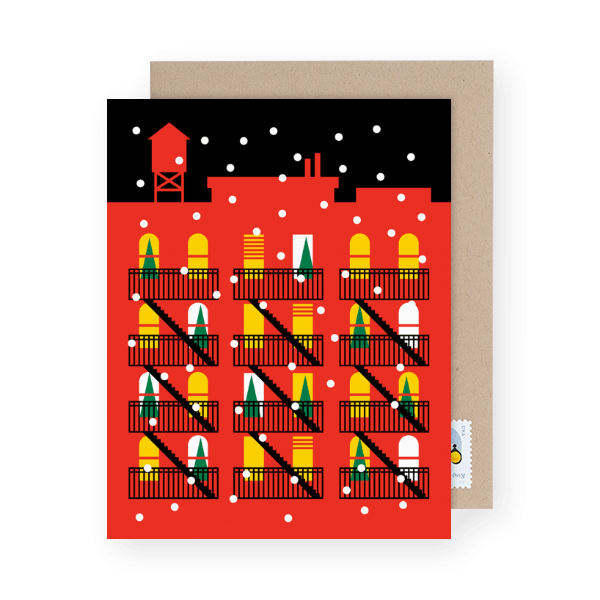 Christmas wreath realtor holiday cards
Nothing says welcome home for the holidays like a good old fashioned holiday wreath hanging on the front door. Your clients have you to thank for helping them find their dream front door on which to hang said holiday wreath. So why not use that as this years' holiday card theme? Give them all the fuzzy feelings with one of these Christmas wreath holiday cards.
Rose & Gold Holiday Wreath
Although this card uses classic themes like the wreath, candles and candy canes, the bright and colorful design will pop right out of your clients' mail boxes. If elegant with a touch of pizazz is your goal — this holiday card is a great choice.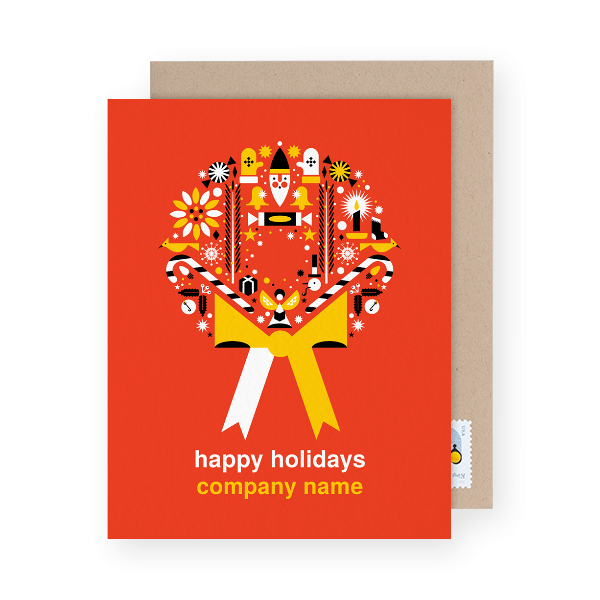 Gray & Gold Holiday Wreath
Same deal as the previous design only a toned down color scheme.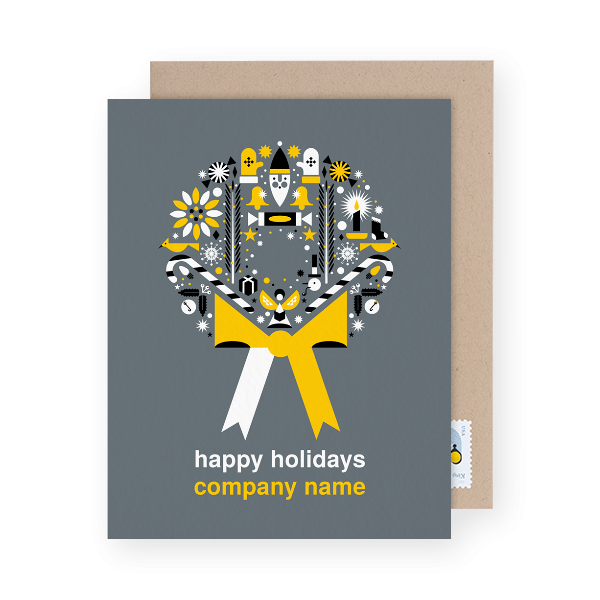 Classic Christmas Holiday Wreath with a Logo
If you're looking for classic Christmas colors and a design that will accommodate your real estate business logo — this card will do the trick. Perfect for the minimalist who want to have a *little* festive fun.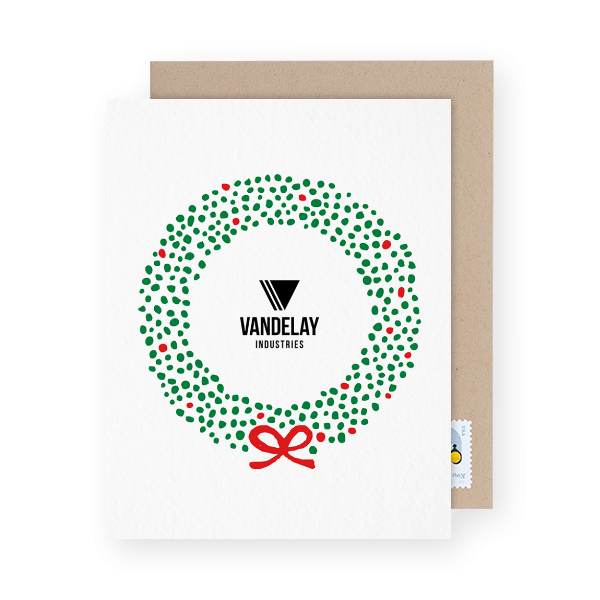 Black & Red Holiday Wreath
This design keeps the color scheme even more simple, in true Hello Paper Co. fashion. A touch of color with a red bow and the ability to customize the text at the bottom to include your company name makes for the perfect realtor card. The message on the inside — as with all of these holiday cards — is totally up to you.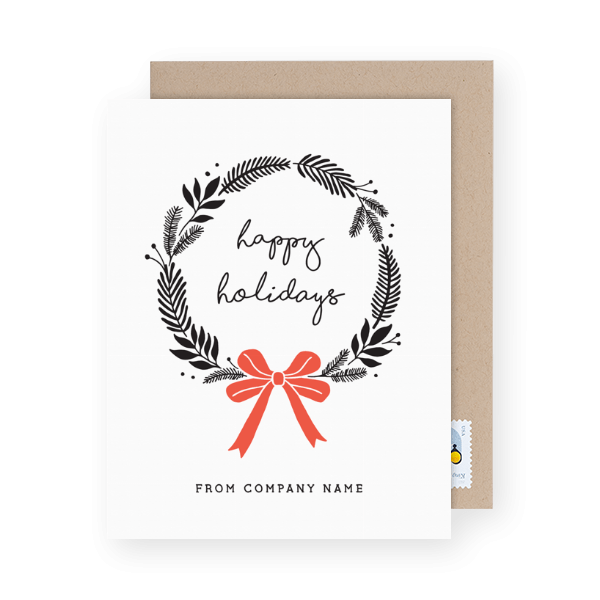 Hand Painted Business Wreaths
Want to send something truly unique this holiday season and remind your real estate clients just how creative and thoughtful you are? This card by 1canoe2 will certainly help you make that happen.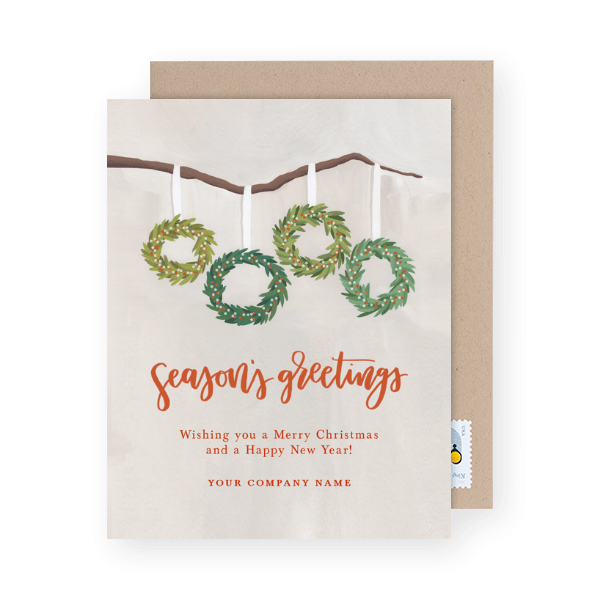 Photo holiday cards for real estate agents.
What better representation of you and your real estate business than your smiling face? If you're keen on bedazzling your holiday cards with your image, we say — go for it! You are the key in building successful relationships with your real estate clients. Choose an image that represents your brand and don't forget to write something personal inside.
Really nice real estate holiday cards, mailed for you in minutes.
Any one of these photo holiday cards for real estate agents will do the trick.
Vertical Photo Holiday Card
As with any of the photo templates, you'll be able to customize the design with your company logo so go ahead and test out which template fits best with the photo you're hoping to use.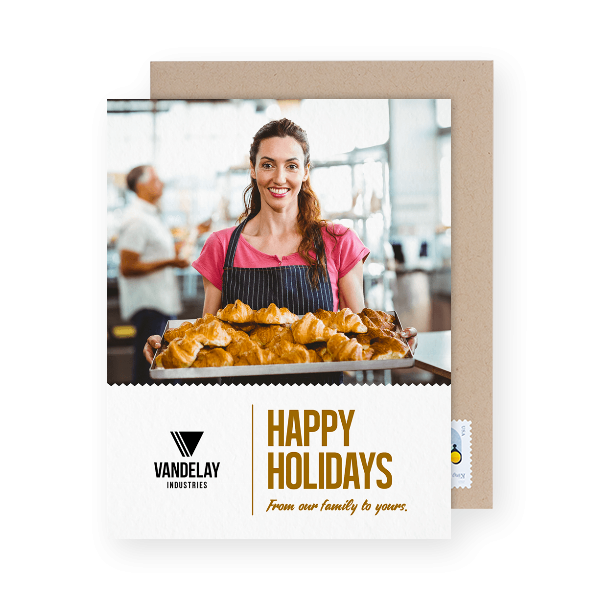 A Simple Photo Card
This template really lets your photo be the focal point of your holiday card so choose a photo that represents your brand well.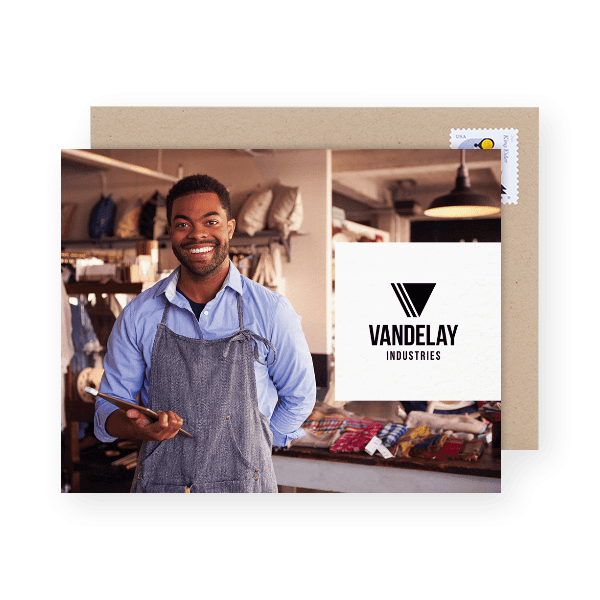 Season's Greetings Photo Card
Hoping to combine your company photo with something that has a bit of a design element to it? The season's greetings script on this template will help you achieve that very feel!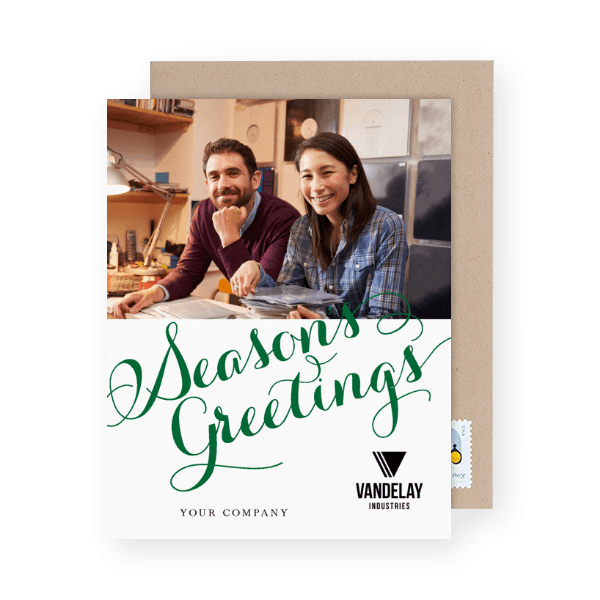 A Very Merry Realtor Holiday Photo Card
Combining a bit of color with a modern and minimal feel while still allowing the space to highlight a photo, this template achieves the perfect balance. Play around with the wording on this template to make sure your messaging is coming across exactly as you'd like.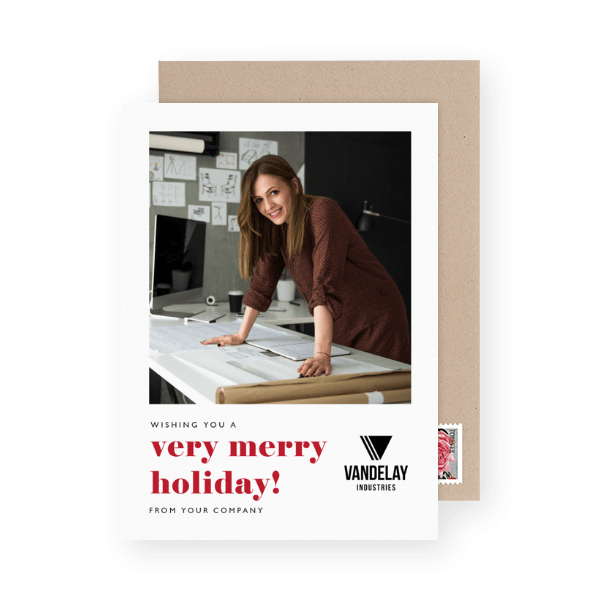 Classic holiday cards for real estate agents
If instead of focusing on real estate themed holiday cards, you're looking for something a bit more classic — we got you covered. You don't have to have your logo and face up front and center (unless you want to of course). These beautiful cards will speak for themselves, but definitely don't forget to write something personal.
Magical Season's Greetings
Ok, so maybe the color scheme on this holiday card isn't the most classic but we're nevertheless in love with it. Can you blame us? Your real estate clients will love receiving this Season's Greetings card!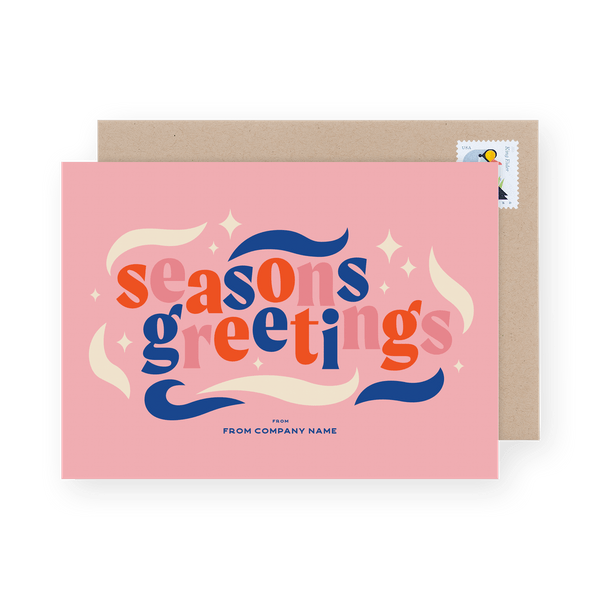 Christmas Tree Card For Real Estate Agents
Looking for a Christmas card to mail out to your real estate clients in 2022? The fun color scheme is balanced perfectly with plenty of white space to avoid having the design be overwhelming. In fact, the Christmas tree almost feels as though it's actually lit up.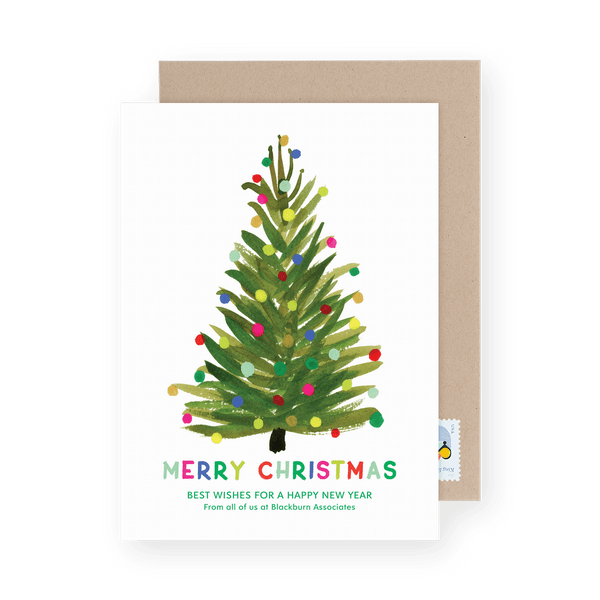 Gold Plaid Season's Greetings
A classic, indeed! This plaid season's greetings holiday card will certainly give your recipients some classic jolly feels.
Classic Season's Greetings Calligraphy
It doesn't get more classic than this. A simple black and white design perfect for the real estate agent looking to mail elegant holiday cards in 2022.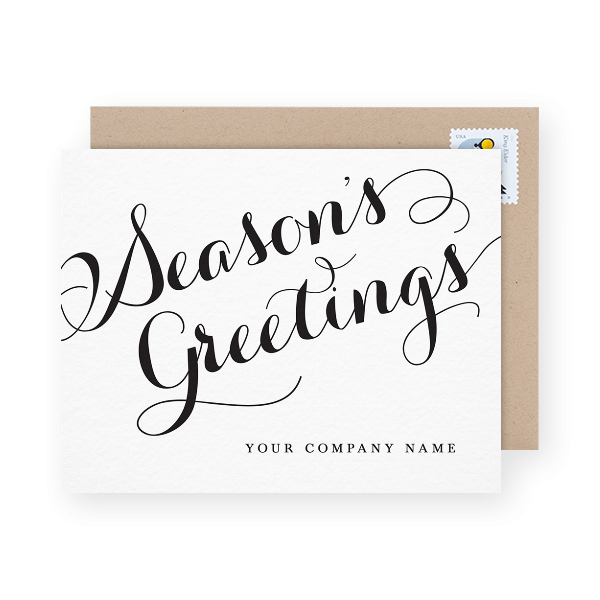 How to mail realtor holiday cards.
If you're already beginning to stress about the timing of everything and wondering how you'll ever get your realtor holiday cards mailed out with everything else you've got to do — not to worry. You don't need to spend a million hours. Postable makes holiday cards for real estate agents easier than you thought possible. You can literally take care of all your cards in minutes. And no, that's not an exaggeration.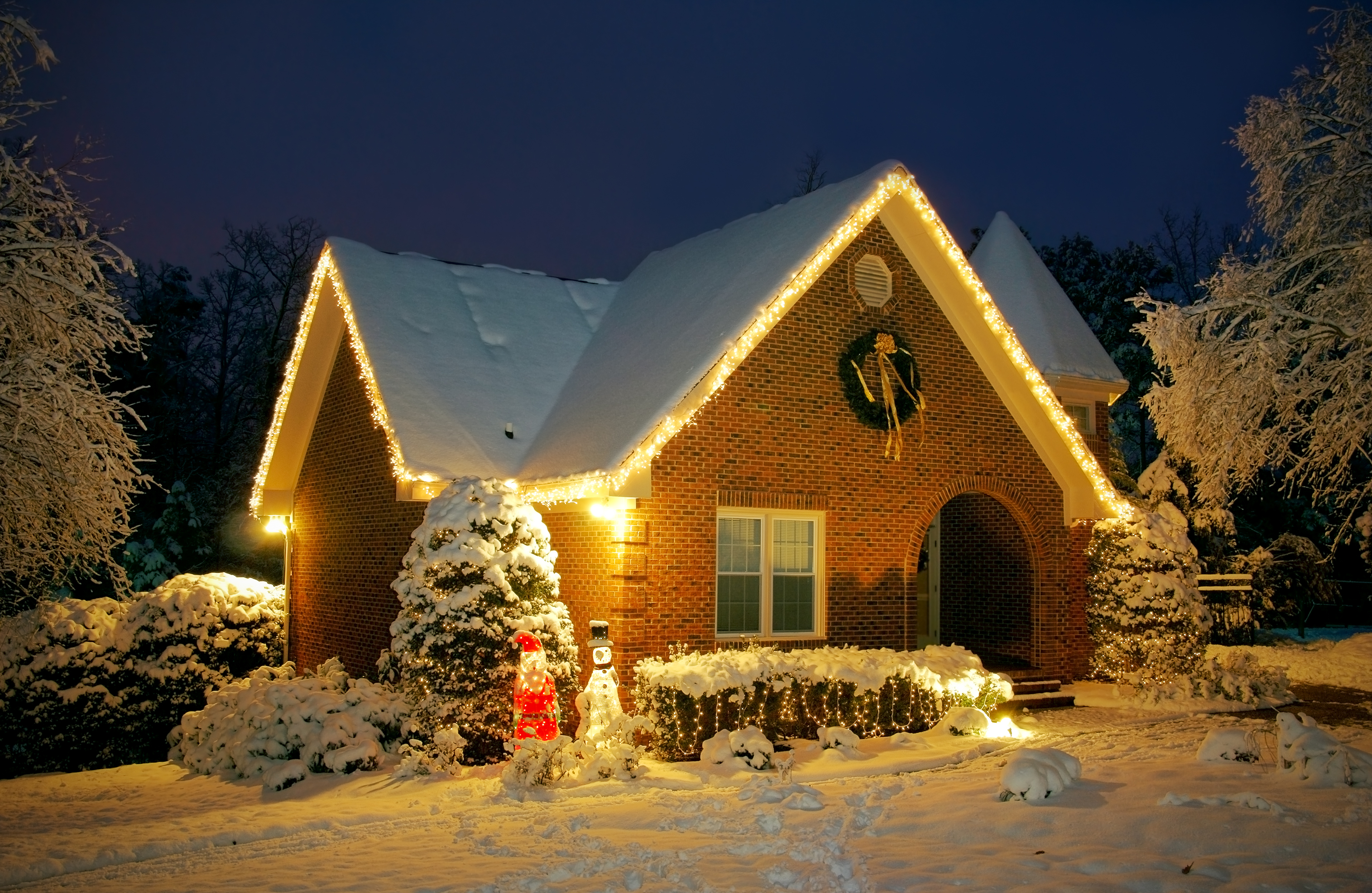 Steps to mail out your realtor holiday cards out on time:
Import a list of your clients.

Choose and customize a holiday card.

Write a master message and click send.
Postable will take care of the rest — printing, addressing and mailing all of your cards for you.
Really nice real estate holiday cards, mailed for you in minutes.
Import a list of your clients.
Have your clients' mailing addresses on a spreadsheet? Cool, just upload the list into your free Postable Address book where the names and addresses will get organized instantly. Don't have your free account just yet?
Choose and customize a holiday card.
After browsing the list above, you've probably got your eye on the perfect holiday card. Great! All you have to do now is customize it — just click on the card of your choosing and follow the easy instructions.
Write a master message and click send.
Using Postable's Carbon Copy tool, your master message will be applied to all the recipients while automatically personalizing the salutations with their first names. Handy, huh?
Once you've written and approved the message (personalizing further wherever you'd like) — click send!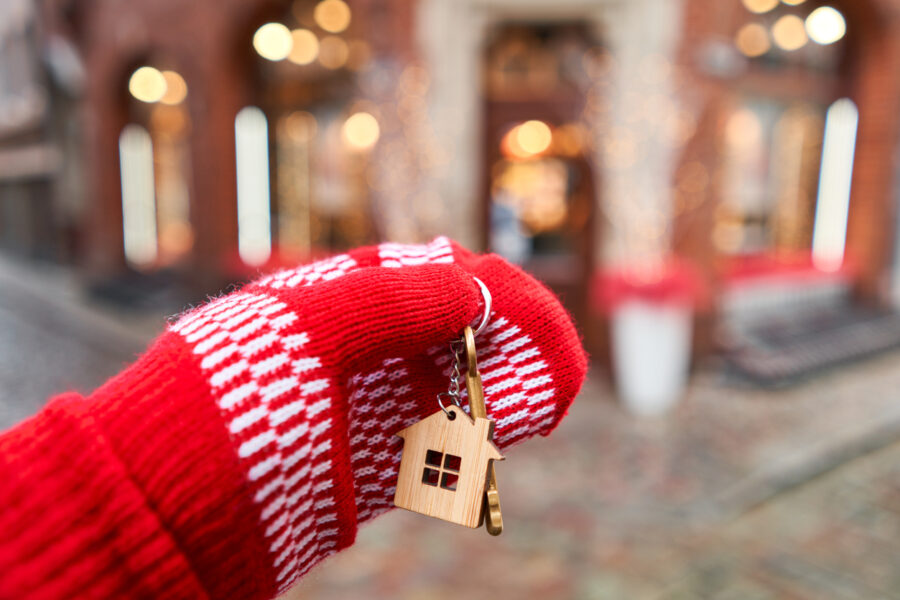 What to say inside your realtor holiday cards?
Are you at a loss for words? Not sure what to say in your business holiday message? Here are some tips to get you thinking:
The cards are going to be smaller than your typical letters so don't try to fit in a business report or bullet point all of your current listings. Keep your message short and sweet.
Send your warmest wishes.
Keep your messaging personal without getting too specific on the holidays. Unless you know exactly what your customers celebrate — simply wish them a happy holiday or season's greetings.
Acknowledging the difficulties that many have continued to experienced this year, add a short note thanking them for sticking with you during 2022. This will keep your services at the top of their minds when they may need it again.
Need help?
Remember, if you need any help setting up your realtor holiday cards — feel free to email info@postable.com for assistance.
Checkout the entire list of company holiday cards that will work for real estate agents —
here
.