Looking for summer party ideas that are unique and out of the box, but still totally doable? We got everything you're looking for right here. Summer doesn't last forever so hosting a summer party before fall shows up is something you definitely will not regret. Regardless of whether you have private space indoors or outdoors or if you want to host your summer party in a local park, we've got the ultimate summer party ideas that are sure to create some stellar sunshine-filled memories.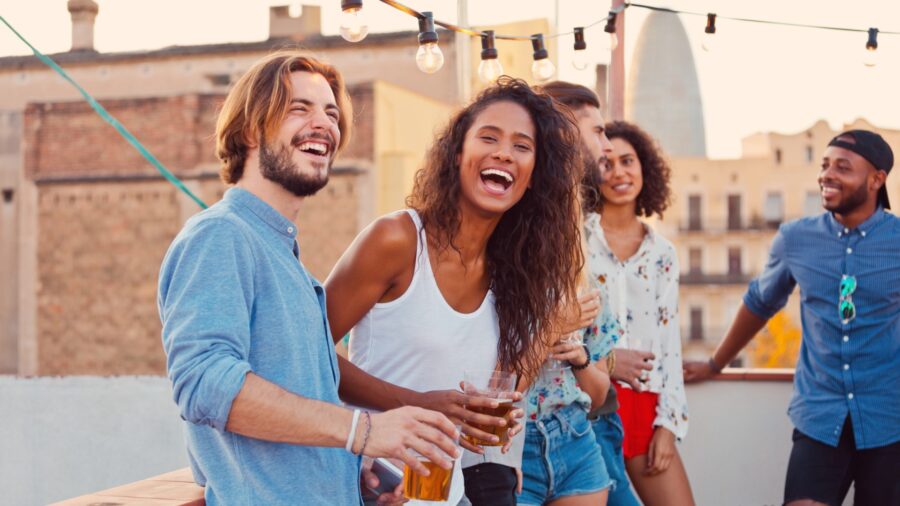 Skip your way to a specific section:
Summer Party Ideas
Before we jump into more occasion-based summer party ideas, let's remember that we don't need a special occasion to throw a party. Every day is a special occasion so why not celebrate? And of course, all the party ideas in this post can theoretically be used for a special occasion like a birthday.
Moonlight Movie Night
Many cities will host free outdoor movie screenings during the summertime in some public park or green space. If you have a backyard or even if you manage to scoop up some space at a park, you can create your own moonlight movie night. You will need a projector, but they're making them more and more accessible these days.  And there are plenty of summer movies to choose from. You'll also need a giant white sheet or a large clean white surface. String up some fairy lights, lay out the blankets, and add some pillows. Don't forget to supply the snacks (popcorn is an obvious choice).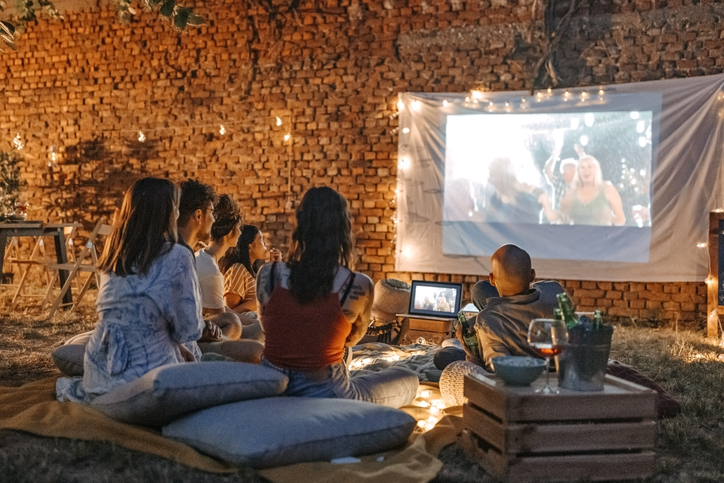 Summer Cocktail Party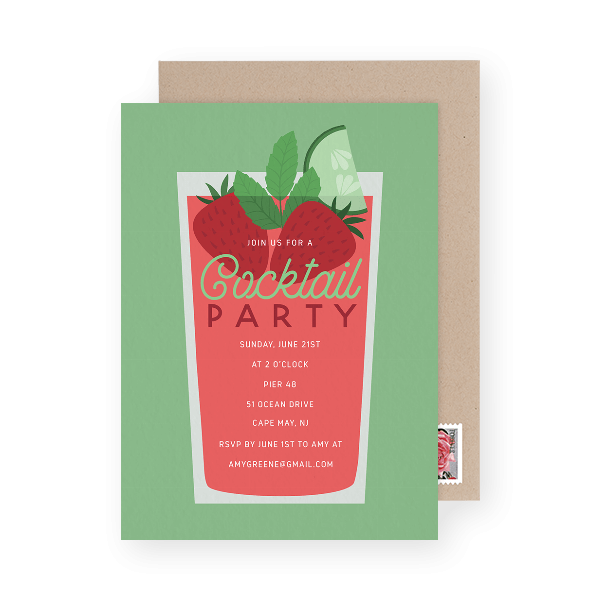 Dress it up or keep it casual. Host the party during the day or in the early evening (though keep in mind if you host the party at or close to dinnertime you should plan to serve food). A really lovely way to keep the theme of the cocktail party front and center is to create a signature summer cocktail. Don't feel like making a commitment to just a single drink? No worries, pick a few signature cocktails to give your guests some options. Simplicity in this case is definitely a winner so while we have nothing against going all out on the cocktail recipe, consider having at least one that is no more than 3 ingredients.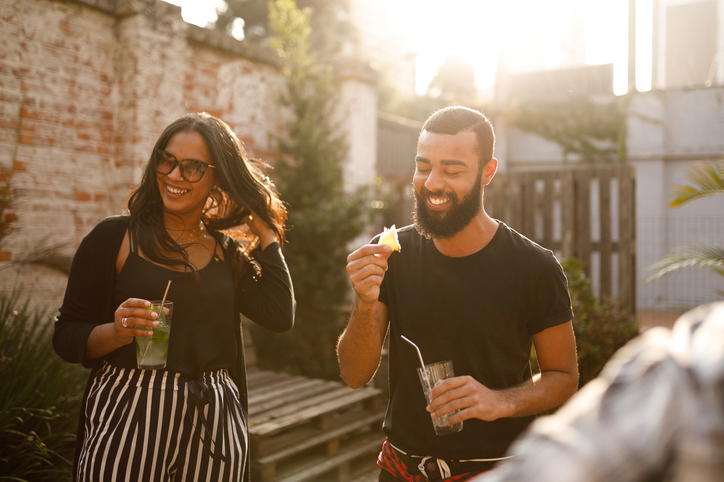 Summer Pool Party 
Nothing says summer more than a day chilling by (or in) the pool. If you have a pool then throwing a summer pool party is almost your responsibility. All your friends and family are just waiting for it. The best part is you don't have to do much (the pool itself kind of does it all). Of course if you want to go all out, do it! Create a signature poolside drink with those tiny umbrellas, stock the pool with fun floaties, and don't forget the coolers of beverages to keep your guests hydrated.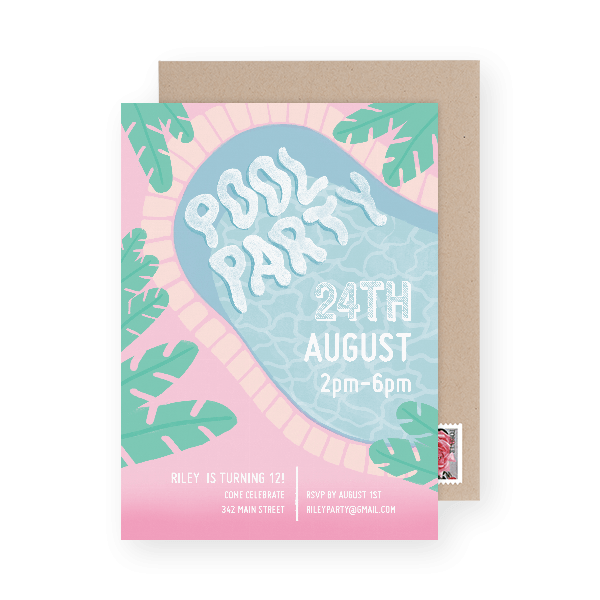 Bring Out the Fun Floaties
If you're throwing a pool party, it's a good idea to provide at least a few different floaties. Some of your guests may bring their own, but quirky pool floaties serve as great decor items while still being totally functional. Plus, you can save them for later.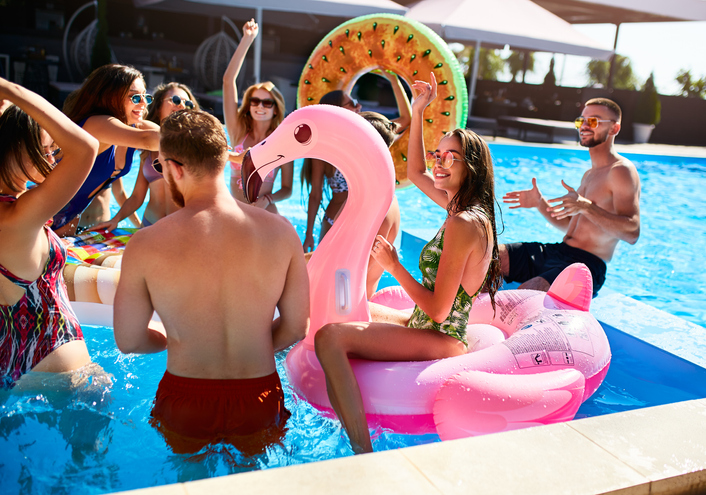 Summer Pool AND Movie Night Party
Talk about the ultimate summer party ideas! You can pair just about any of the ideas on this list and get creative with the type of summer party you host, but this combo is pure genius. Have all the fun in the sun during the day and then bring out a projector to watch a flick straight from the pool.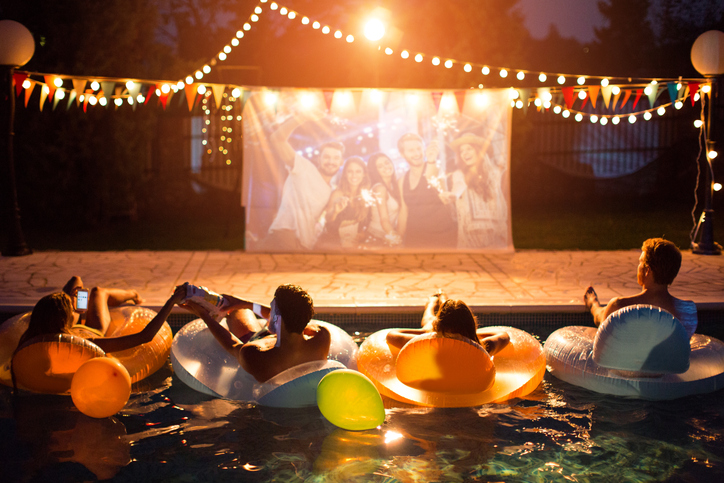 Entertain With Games!
There's nothing quite like engaging in a bit of friendly competition to really take your summer party into high gear. Plan to host a few different games to give guests options to pick and choose (and opt out). Consider the number of guests when making plans. For example, you don't want to play a game of tug of war unless you have at least 6 to 8 people actively playing. So if you're only planning on hosting about 6 people, plan to play something else so that all 6 guests don't feel obligated to participate.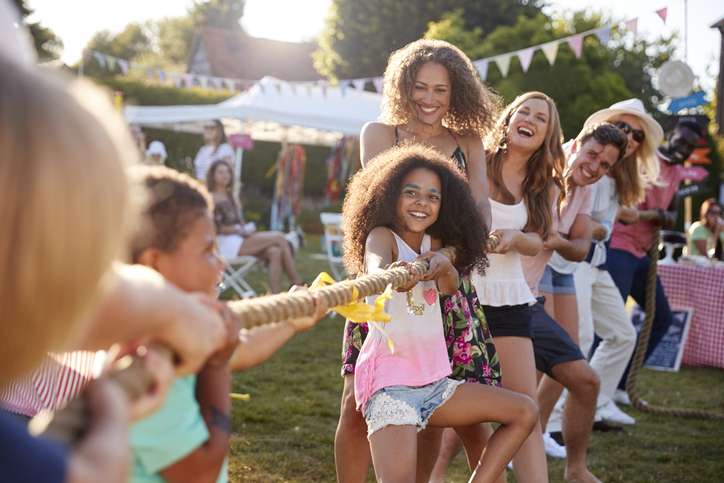 Summer Kickball Party
A unique summer party idea would be to host an event completely around one sport or game. For example, rent a local baseball or softball field and host a summer kickball party. This way your guests will know exactly what they're signing up for when they RSVP yes. Serve snacks and beverages that pair well with lots of physical activity, but don't be afraid to include some alcoholic drinks for after the game.
Summer Backyard Brunch
Everyone loves a good brunch so why not take advantage of the delightful summer weather and take it outdoors. Set up a long table (or combine some small ones) and have fun dressing it up for your party. Consider adding small floral arrangements and bowls of fruits to make the table pop, but leave room for the actual dishes (these will be the final touches). Keep it casual or create signature drinks in beautiful pitchers. String up banners to add even more festive flavor to your backyard brunch!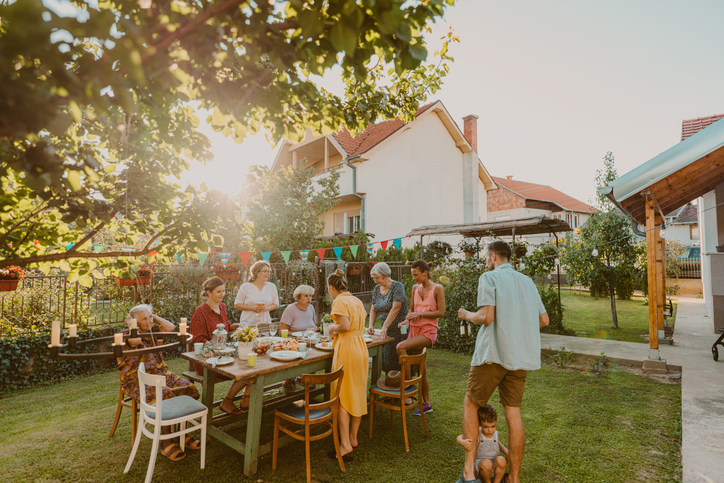 Summer Birthday Party Ideas
Ok now that we're in the summer party groove, let's dive into some ideas that will work really well as birthday parties.
Summer BBQ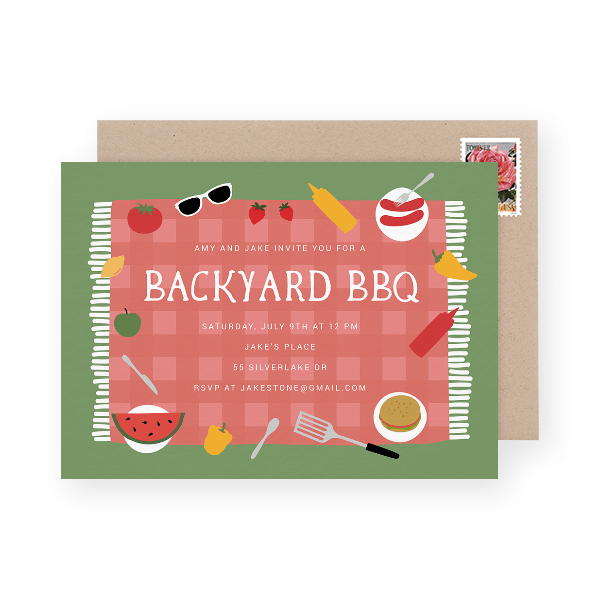 Summer BBQs are a staple so why reinvent the wheel? Bring out the grill, various grilling meats (variety is key) and veggie options to meet every guest's dietary needs. To really take it up a notch, string up some banners, serve the drinks in something festive, and bust out the tunes. In lieu of a birthday cake, the birthday person can blow out a candle on top of a steak for a truly unique party touch.
Birthday Pool Party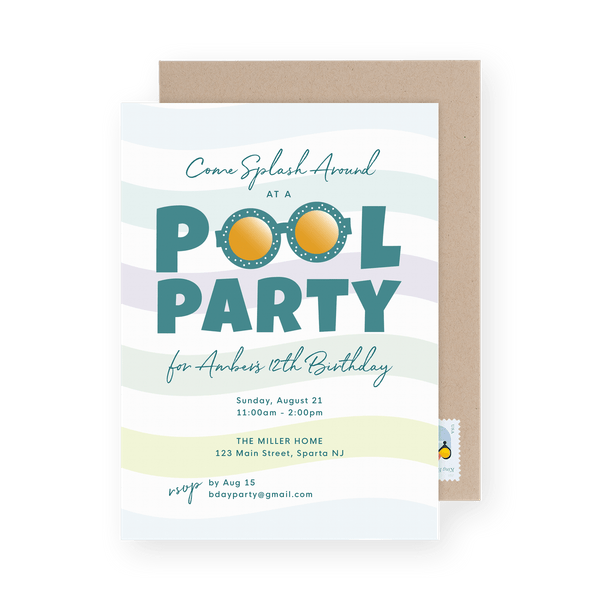 We love summer pool parties so much we've included it twice! That's mostly because pool parties are extra great for birthday celebrations. And though these work really well for kids' birthdays, adult pool parties are equally (if not more) fun.
Birthday Gal/Guy Floatie
If you're throwing a birthday pool party, we'd suggest getting the birthday gal/guy their own special birthday floatie thrown. This is just an extra little detail to help make them feel extra special on their extra special day.
RELATED: How to Make Your Bestie's Birthday EPIC
A Colorful Birthday Party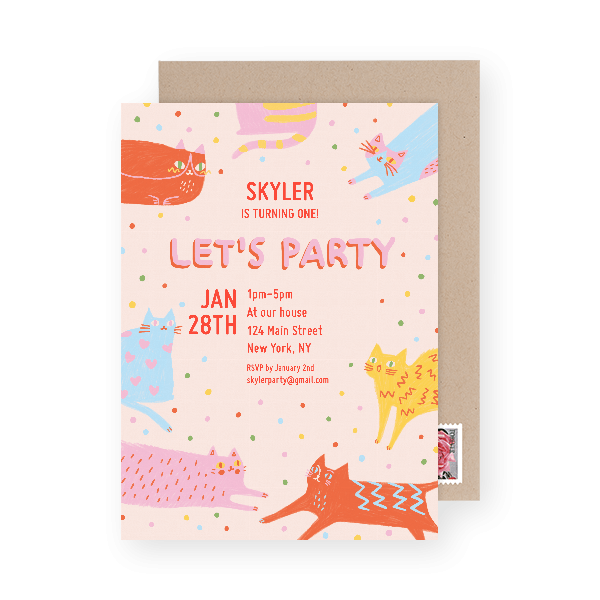 Not every summer party idea has to have a traditional summer theme. You can throw a summer party and simply use super fun colorful tones as your theme and still give it that summery feel.
Confetti!
Use confetti and props to make your colorful party POP. Just make sure it's compostable or biodegradable.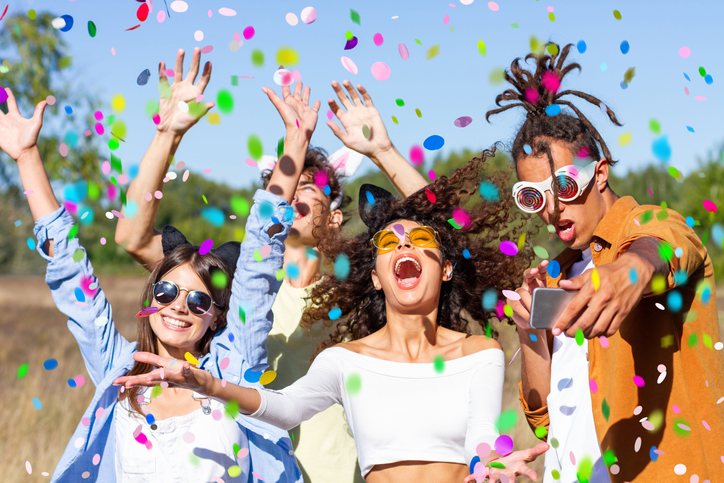 Summer Dance Party
Bring out the tunes – whether on a stereo or a hired band (think local musicians) – string up some sparkles and get groovy. The best part about a summer dance party is getting to dance barefoot in the grass and under the sun.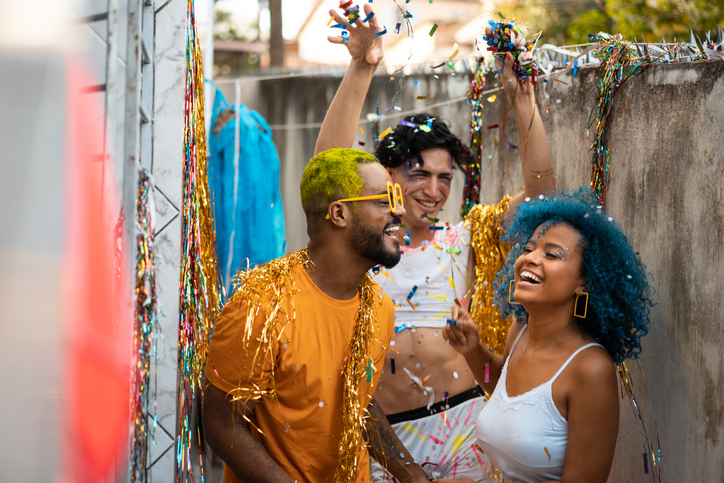 Summer Dinner Party Ideas
Dinner parties are all the rage during the colder months when you can't be outdoors, but we say bring on the fancy dinner plates (but make it summer-y).
Summer Nights Backyard Party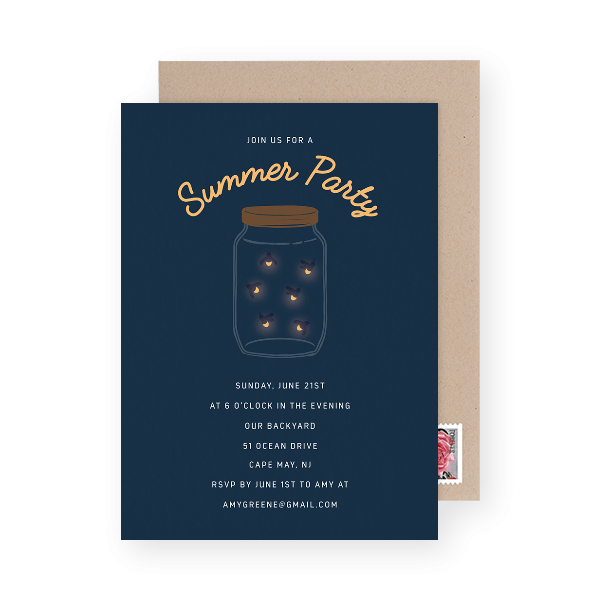 Just as with the outdoor brunch party, simply set up a few tables out back and have at it. The tables themselves don't need to be fancy – folded ones will work! Just use something nice to cover and class them up. Add personalized table settings and a classy centerpiece.
Lighting as Ambiance
A simple way to class up your summer night dinner party is to use some string lights and candles to create a warm glow. The more lights, the better.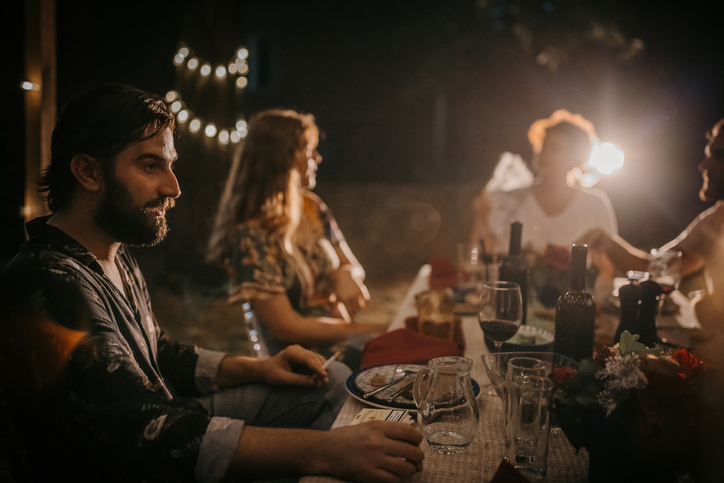 Sparklers Really Are Snazzy
And they aren't just for New Years either. Bring out the sparklers with the dessert to give your guests a little spark of fun. Plus, they'll look great in pictures and add to the ambiance of your summer night party.
Summer Party Food Ideas
Ok, we've listed some pretty epic summer party ideas you can use to host your own gathering. Now let's turn to the best part of any gathering– the food. Here are some simple ways to incorporate a little extra summer flare into your party using the menu.
Use strawberries… everywhere.
They're bright, colorful, and sweet as can be. They're also a symbol for the sweet summer time! You can use them all throughout your summer party whether it's in the dessert or the savory dish like a strawberry tostada (perfect for a summer BBQ).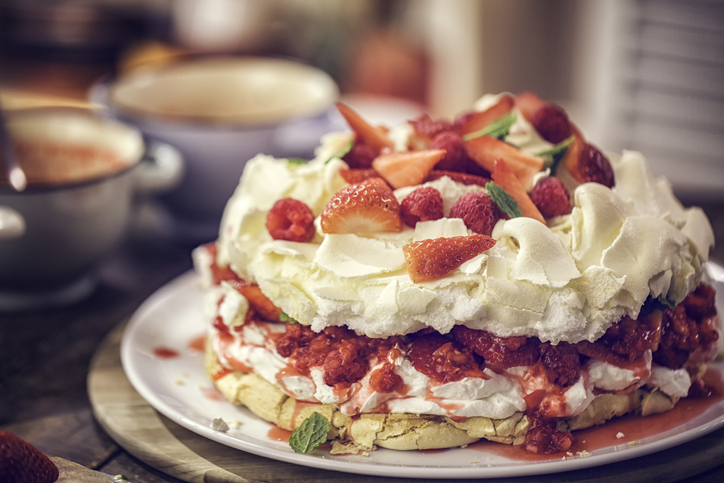 Have a pineapple theme!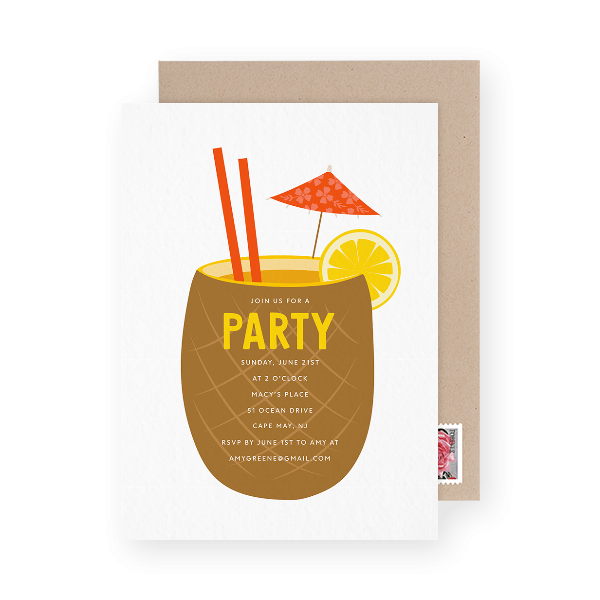 Take the pineapple theme as far and wide as your heart desires. It's easy to do and will really tie your party together. Add pineapples into your decor by serving the drinks in giant pineapples (real or plastic will do) and adding pineapples around the party area. Serve them in various forms from grilled, to dried, to booze. It'll be a pineapple fest!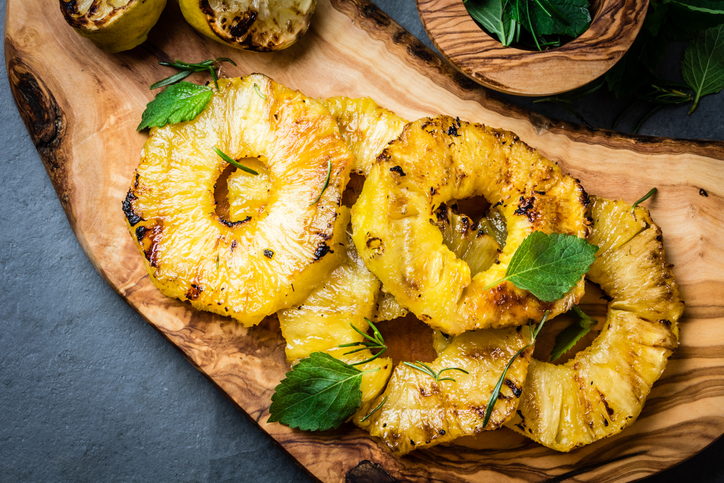 Rosè, but make it extra fancy.
Yes, we all know that rosè makes for a great summer beverage, but if you want to add a touch of elegance to your summer party you can serve rosè champagne. Use champagne flutes instead of regular wine glasses and drop a raspberry and a sprig of rosemary into each flute. Creating a signature cocktail with a few steps like these is easy and instantly adds some extra class (if that's the tone that you're going for).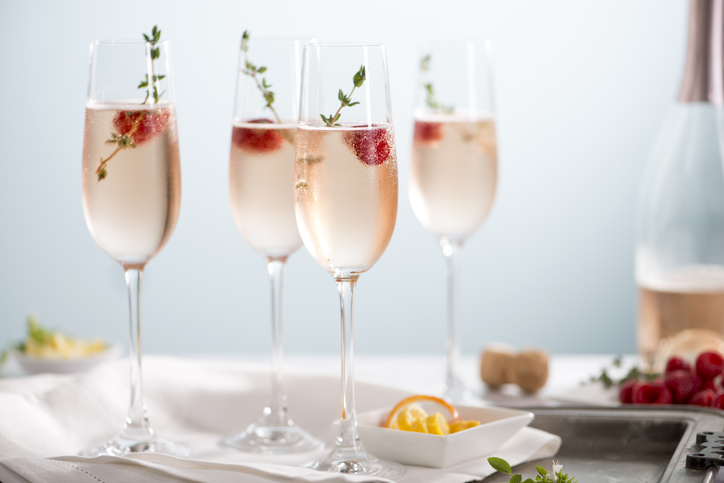 Can't spell summer without s'mores.
Nothing is quite quintessential summertime as the s'more. If you have a fire pit and you're hosting a nighttime summer party than roasting marshmallows and making s'mores is kind of a given. If you don't have a fire pit, there are a few great s'mores to-go kits you can buy.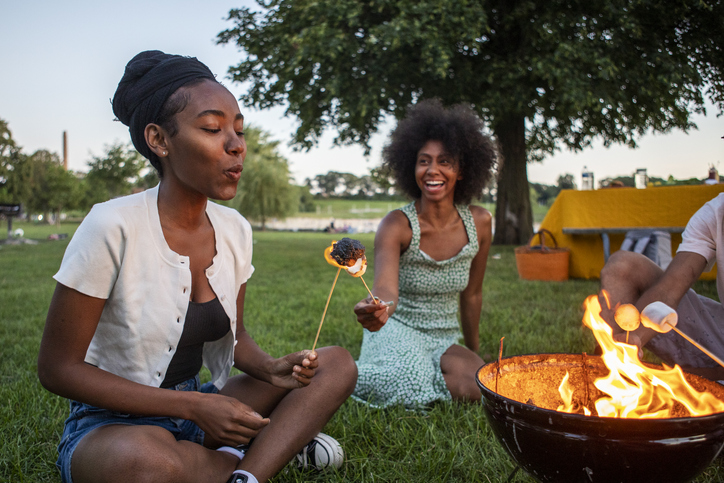 Cool off with popsicles.
Another summer treat that's bound to be loved by all of your guests is the popsicle. It's refreshing, it's sweet, and it's easy to make or buy ahead. You can also create a batch of champagne popsicles for the adults.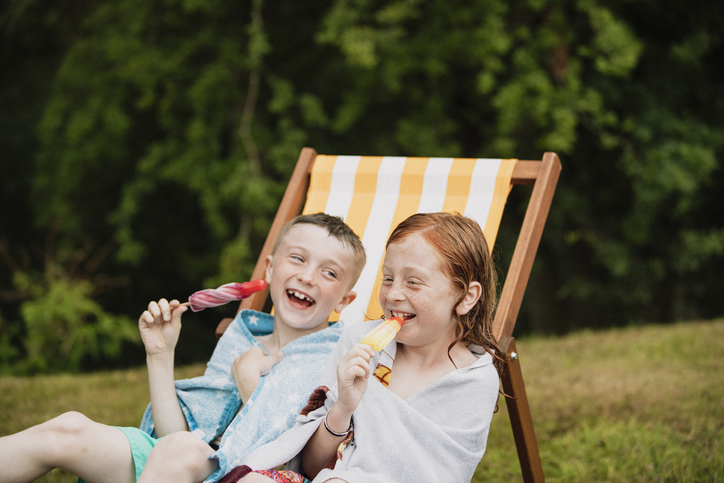 OR create an ice cream bar.
Popsicles are yummy, but they're no competitor for a good old fashioned ice cream cone. Serving ice cream at your summer party will definitely score some epic bonus points from everyone involved.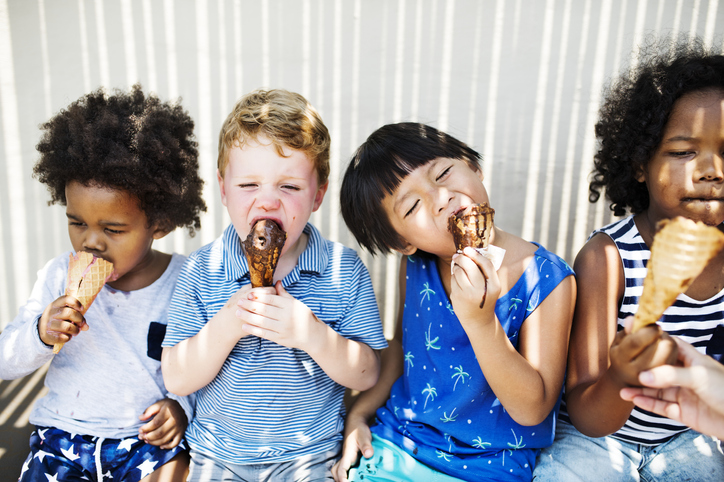 Watermelon.
Last, but most certainly not least we've got the watermelon. The summeriest summer fruits there ever were. Options for serving watermelon at your summer party are as varied as are party types. If you're hosting an elegant evening dinner party then you may consider preparing something a little creative and elevated like this fresh mint Granita with watermelon and raspberries.
On the other hand, you don't need to get creative if your party's vibe is more casual. Simply cut up some slices and let your guests dig in. The fruit itself serves as a beautiful centerpiece and is yummy all by itself.