Why send your best friend Christmas cards? Our best friends are our own personal super heroes; they have always been there to help navigate this crazy world and 2023 was no exception. That's why we're sending our best friends the greatest Christmas card in the universe. If you're looking to do the same, you're in the right place. We've got best friend Christmas cards for days. Whether you want to make your best friend giggle uncontrollably, feel all sorts of cozy vibes, or simply get mentally prepared for the booziest holiday of the century — there's inspiration here for you.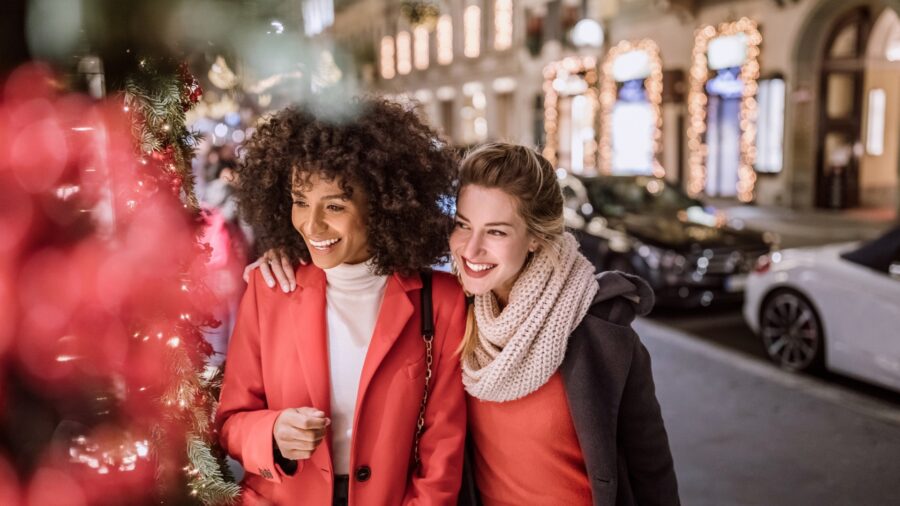 Send really nice Christmas cards to everyone on your list in minutes. Postable prints, addresses, and mails the cards for you!
Why send your best friend a Christmas card?
Our besties help us get through this life like nobody else ever could. Sending best friend Christmas cards is a very small and simple way to send them a little love and thoughtfulness that only their bestie could. It's a give and take and in this case it's our turn to give. 
Sending a Christmas card to a best friend isn't a big deal, but it does have a big impact. When we receive something in the mail that's not a bill or a sale flyer, we get excited. That's no coincidence. Sending snail mail to someone you care about often makes their day. It shows that you've taken a bit of effort to send them something special and unique. Christmas cards are a magical and simple way to spread joy during the holiday season. It really is that simple.
What should I write in my best friend's Christmas card?
Writing your best friend a Christmas card is an easy way to spread some extra joy to the person that's likely brought you lots of the stuff in the past. But when it comes to the question of what you should write in your best friend's Christmas card, it's possible to get a little stuck at first. But don't worry, we got you. Here are a few simple steps to get you inspired on what to write inside a Christmas card for your best friend. First, let's think about making an outline.
Elements to include in your best friend's message are as follows:
Salutation
The core message
The sign off
Simple enough, right? Let's dive into each one.
The Salutation
To kick off a great Christmas card to a best friend, don't overthink it. Do give it *some* thought, though. You could easily just go with a simple classic like "Dear NAME," — that'll definitely do the trick. The other option would be something a bit more personal (yup, even more personal than their first name). Think about a nickname that your bestie goes by or one that only you use to refer to them. Maybe consider a nickname you've used for them as an inside joke (something they've perhaps forgotten, but will undoubtedly recall upon seeing the name). If you have something along those lines in mind, you could just start your message with that nickname and skip 'Dear' altogether to give it a more casual tone.
There is one caveat to using a unique nickname in a Christmas card for a best friend, however. Make sure this nickname isn't something that's offensive to your bestie or something that they wouldn't appreciate. No need to start your Christmas message with something hurtful.
Send really nice Christmas cards to your bestie in minutes. Postable prints, addresses, and mails the cards for you!
The Core Message
Again, we'll reiterate: no need to overthink this. You're not writing your thesis dissertation or the latest holiday novel. Keep the message short and sweet and to the point. Here are a few elements you could include:
Wishes of a Merry Christmas or a Happy Holiday
More specific well wishes of health, happiness, and love etc.
A personal note about the holiday season or something that's happened recently or something that's about to happen next year
Look forward to something in particular
Starting your message with a Merry Christmas or well wishes of Happy Holidays is a great way to get straight to the point (remember: short and sweet). If you'd like, you could add a short sentence wishing them something more specific like good health.
Since this is your bestie, you have an inside look into their lives so go ahead and add a short sentence about something personal to them. This will help make your message and the card uniquely yours. This is your chance to make your best friend's Christmas card extra special. Perhaps your bestie accomplished something really important in 2023: mention this in your card to bring them some extra joy. Perhaps they're about to enter a new chapter in their lives: mentioning this will have a similar effect.
Finally, look forward to the future. Whether 2023 sucked or rocked for you two, don't forget to wrap up your message by looking optimistically into the future. You can mention looking forward to your next brunch date or the next time the two of you travel together or really anything that touches on your lives.
Send really nice Christmas cards to your bestie in minutes. Postable prints, addresses, and mails the cards for you!
The Sign Off
Finally, to end your message you'll want to sign off with something casual and personal. You can use 'Love,' or something more holiday related like 'Festively Yours' or 'Hugs and Eggnog' — whatever you feel most suits your personality. This message is to one of the closest people in your life, make it uniquely yours.
Best Friend Christmas Card Message Example
Here is a simple example of what it could look like if you put all of those elements together:
JennyBeans,
Merry Christmas you filthy animal, you! Sending all the warmest, coziest, healthiest vibes to you this holiday season as you prepare to take on the world in 2024. I am so proud to call you my bestie, especially after all the butt you've kicked this year in Med school. March 10th has a big ole' red heart on my calendar and I can't wait to see you then. 
Get some extra sleep this Christmas; you'll need it.
Love you,
Marge
Best friend Christmas card ideas to spread the joy in 2023.
Ok, so you understand why it's important to send your besties a Christmas card and you've got some idea on what you will be writing inside. Now let's jump right into some festive examples of Christmas card ideas for friends that you can send in minutes.
Wait, what? Minutes? Yup.
All of these cards — designed lovingly and with a great deal of festive spirit — can be mailed directly to your best friends in minutes. We're talking real, hold-in-your-hands Christmas cards mailed for you. Simply click on the green button below each card to start customizing and in just a few minutes you'll be on your way to sending all sorts of love and joy to your besties.
Send really nice Christmas cards to your bestie in minutes. Postable prints, addresses, and mails the cards for you!
My Friends Are Flakes
Got flakey friends? What better way to call them out on their stuff while showing them you still care than sending this delightfully funny best friend Christmas card?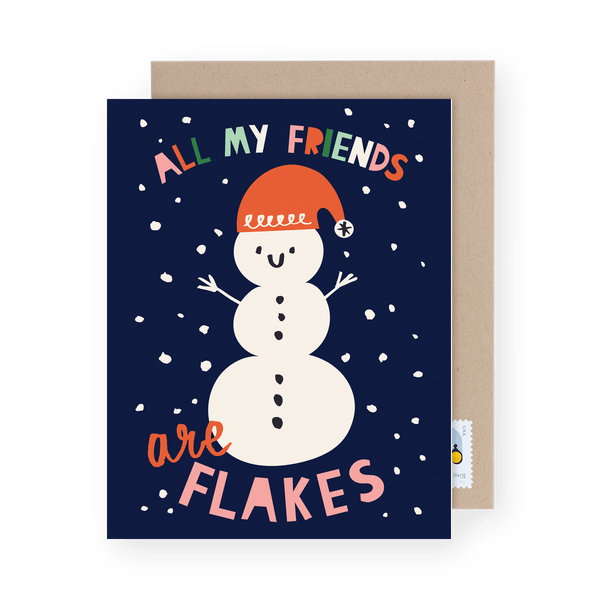 Good as Hell Christmas
Is your bestie a Lizzo fan? You really can't go wrong with this homage to the queen herself.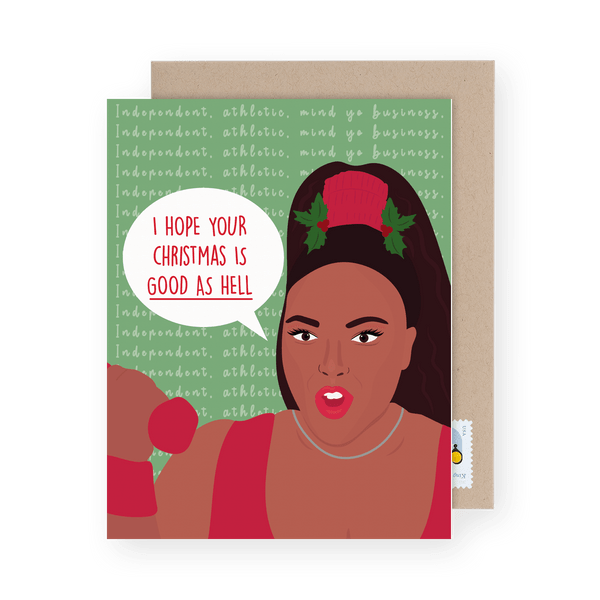 Merry Christmas Ya Filthy Animal
Did you and your childhood best friend spend the holidays wrapped in blankets watching the Home Alone movies? Still do? Sending this Christmas card to a best friend will certainly send joy and a whole lot of nostalgia their way.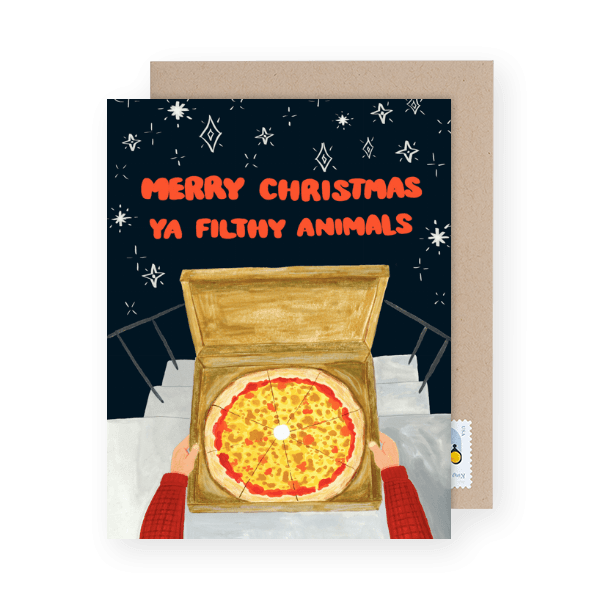 Christmas Yeti
Is your best friend relentlessly pun-tastic? This pun Christmas card will surely make them smile.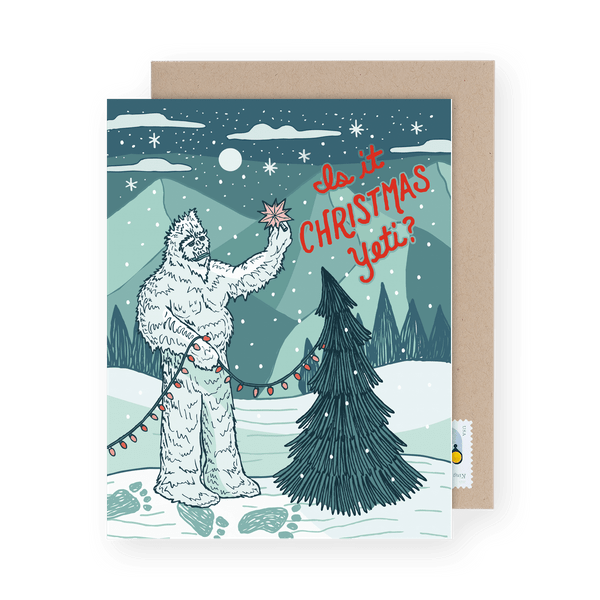 Gingerbread Christmas
Channel your inner child besties with this delightfully colorful gingerbread Christmas card.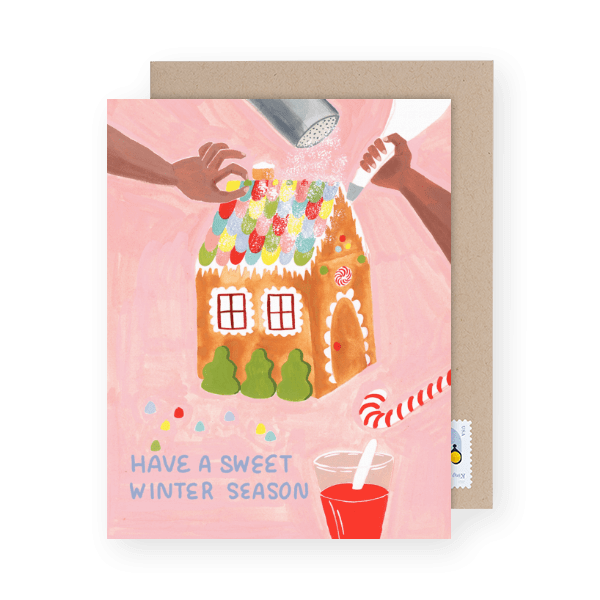 Holiday Plants
Is your best friend the best plant momma in the world? This delightful holiday card will show them you're not only aware of their green thumb talents, but totally support their undying love for their succulent collection.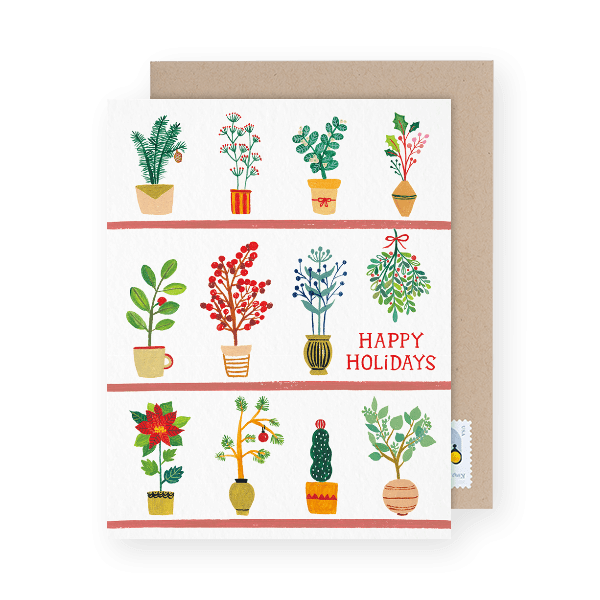 Christmas Carbs
This card speaks for itself. Not that you or your bestie needs permission to love and consume as many carbs as your hearts desire, but this on-the-nose Christmas card will allow you both to celebrate your combined love of all things bread-y.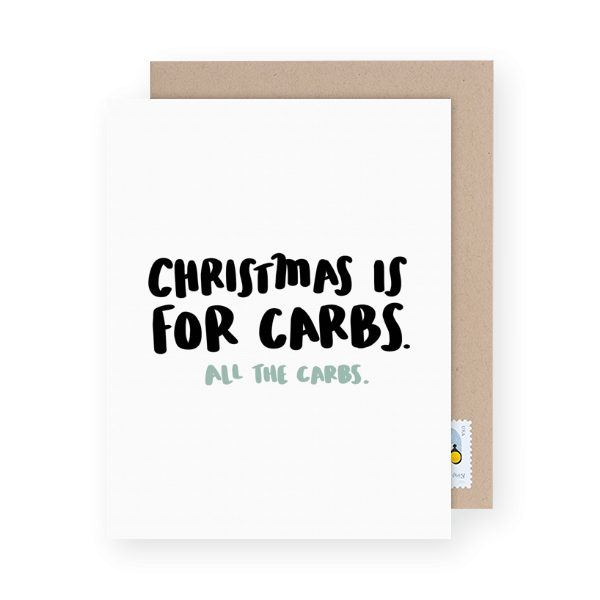 Smiling is My Favorite
Have a yearly tradition of watching Elf with your best friend? Or maybe you should start one? Either way — this E. Frances Paper card would be the perfect Christmas card for your best friend.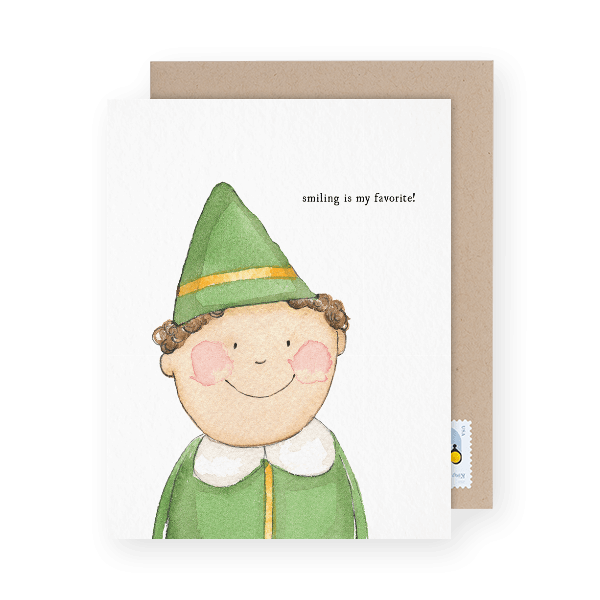 Merry and Bright
Nothing says Merry Christmas than reminiscing about the good old days over a few cocktails. Send this beautiful Christmas card by There Will Be Cake to your bestie and set a date for your next cocktail gathering while you're at it.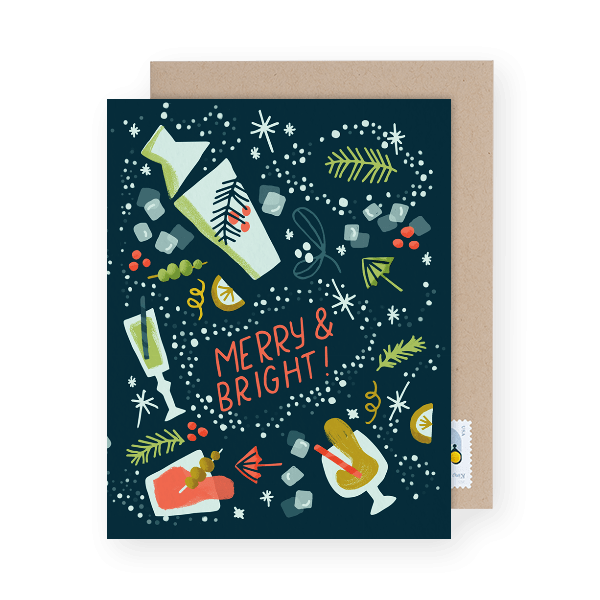 Santa Namaste
Is your best friend a yogi? Then this card would be perfect for them this holiday season.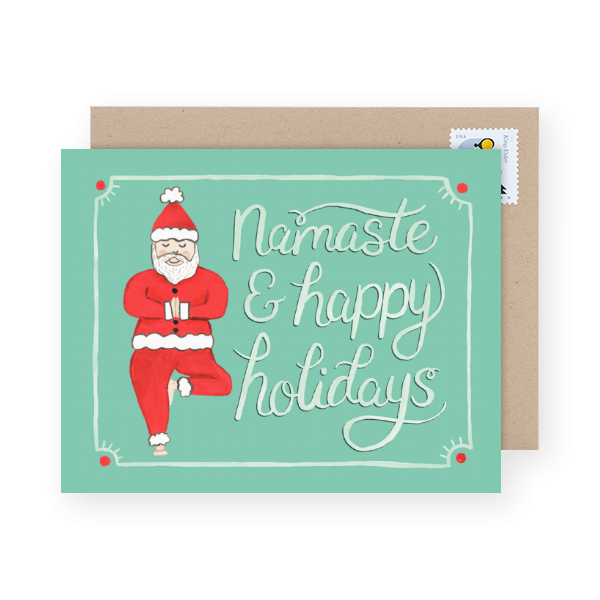 Two Cats and Two Friends
If the two of you have discussed in great detail the cat lady lives y'all will lead in the future (side by side) this delightful cat Christmas card would be the perfect little nod to that conversation.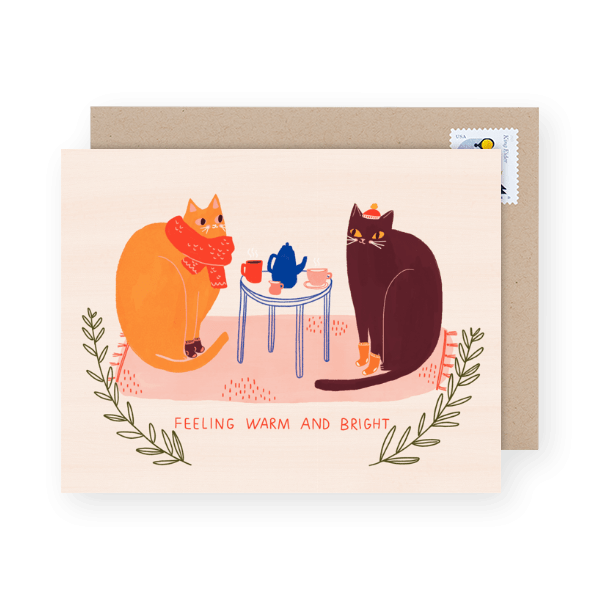 RELATED: 18 CAT CHRISTMAS CARDS FOR YOUR FELINE LOVING FRIENDS & FAMILY
Santa and the Gingerbread Man
Two peas in a pod only Christmas style… This whimsical illustration by Scotch & Cream will channel all the bestie vibes this holiday season.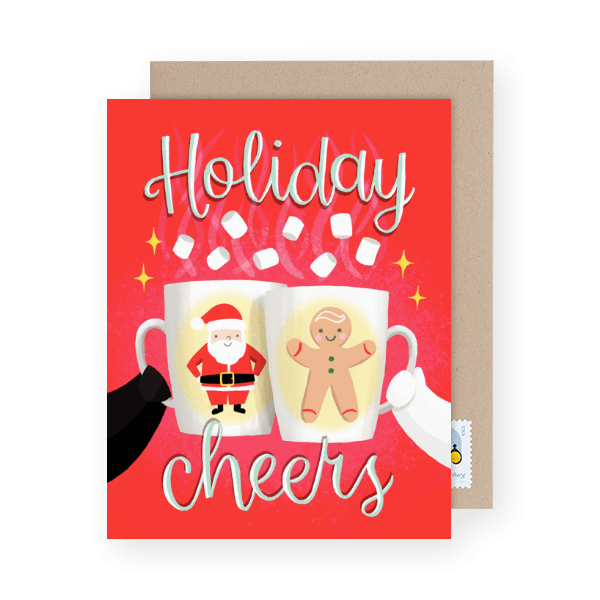 Floral Photo Best Friend Christmas Card
If you and your best friend have been brewing on the idea of sending Christmas cards together, there's no year like 2023 to kickstart a new holiday tradition. Upload a photo of the two of you frolicking in the meadow or baking Christmas cookies or whatever other bestie activities the two of you enjoy together and voila! You've got yourself one of the most delightful Christmas card ideas to send to your friends. Way to think outside the proverbial Christmas card box.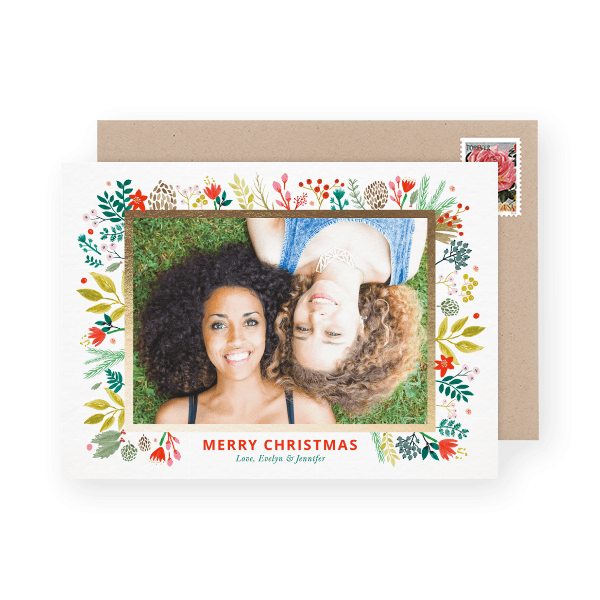 Getting Lit
Got plans to light up the town with your bestie this holiday season? Perhaps the two of you only get to see each other during the holiday break. This fun Christmas card by Paper Raven Co. will certainly get your bestie excited and ready to reunite.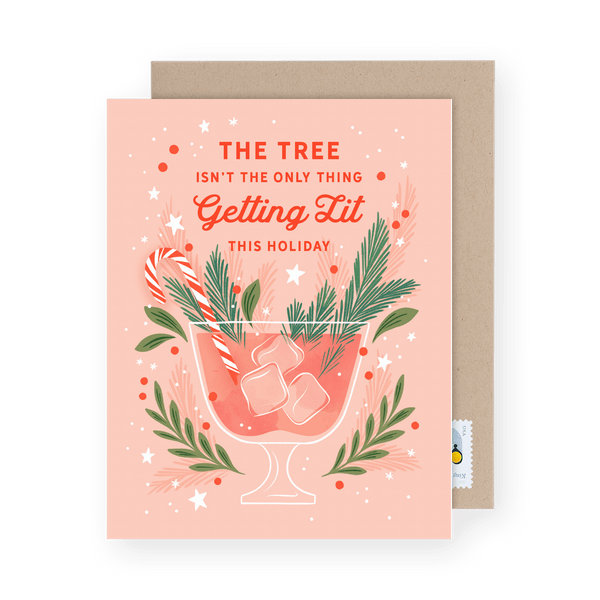 You Deck the Halls…
One more booze-inspired best friend Christmas card. Tell your bestie to get ready for a lit holiday season (after all, gotta make up for last year's absence).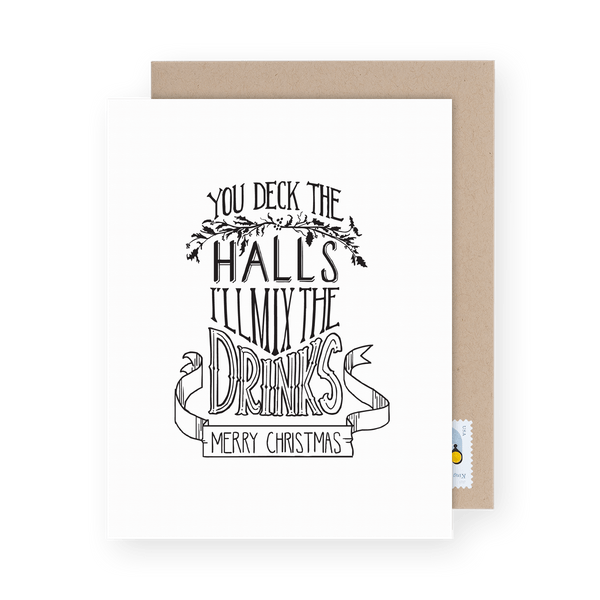 Extra Grateful For You
Honestly though… Aren't we always extra extra grateful for our besties? This year hasn't been easy despite all of our optimism. Our best friends have added so much love and joy into 2023. Letting them know how grateful we are is definitely a must.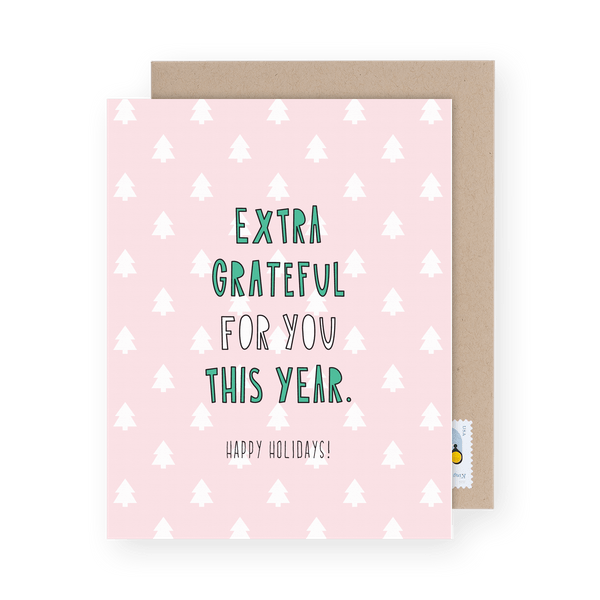 Not seeing the perfect best friend Christmas cards for you and your better half?
Don't worry, there's plenty more where these came from. Postable's collection of Christmas cards is ridiculously diverse, well-designed, and customizable. And you can mail them in just minutes.
Send really nice Christmas cards to everyone on your list in minutes. Postable prints, addresses, and mails the cards for you!