Want to send your feline friendly family and friends an unfurgetable card this holiday season? Purrhaps you've found the right place! This list of cat Christmas cards will not fail to delight and deliver. And yes, we mean that litter-ally since you'll be mailing them via USPS. Here at Postable we're friends of all creatures and have shared our enthusiasm with other cat greeting card lists in the past. After a year like 2021, a bit of extra feline fun is exactly what the doctor ordered!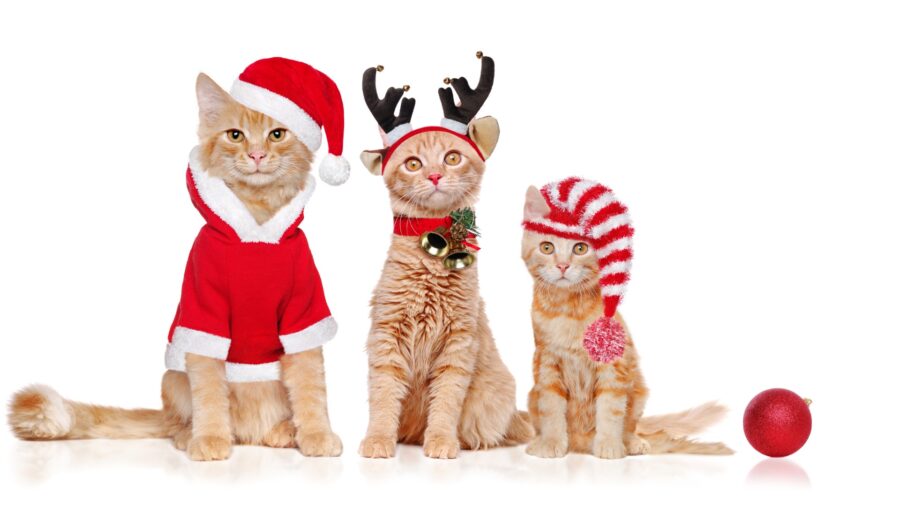 What makes these stellar cat Christmas cards impawssible to resist?
The onslaught of cat videos and famous cat influencers (a true 21st century phenomenon) have truly distinguished the cat — any cat — in a favorable light. Even self proclaimed non-cat people have changed their ways to embrace the feline frenzy. This, of course, has resulted in the creation of all things cat related (think: cat themed pajamas, cat embroidered sweaters, cat mugs, and today's main attraction of cat Christmas cards). So given all of the options for all things cat related, how do you know this selection of cat Christmas cards are impawssible to resist?
Send really nice holiday cards to everyone on your list in minutes. Postable prints, addresses, and mails the cards for you!
All of these delightful cat Christmas cards can be mailed for you!
Yup. Whether you choose a customizable design or a one of a kind designer creation, you can choose to have these cards mailed directly to your recipients for you. That way, you have more time to cuddle with your real cat and less time developing carpal tunnel while writing mailing addresses.
Photo Cat Christmas Cards
First up, let's take a gander at some of the world's most delightful photo cat Christmas cards. These templates allow you to upload your own image — the perfect opportunity to showcase all those adorable photos you've been capturing of your own little kitty.
Meowy Christmas
This cat Christmas card is the perfect combination of a modern design with a few color accents. The photo (presumably of the family cat in some capacity) is the focus of this Christmas card.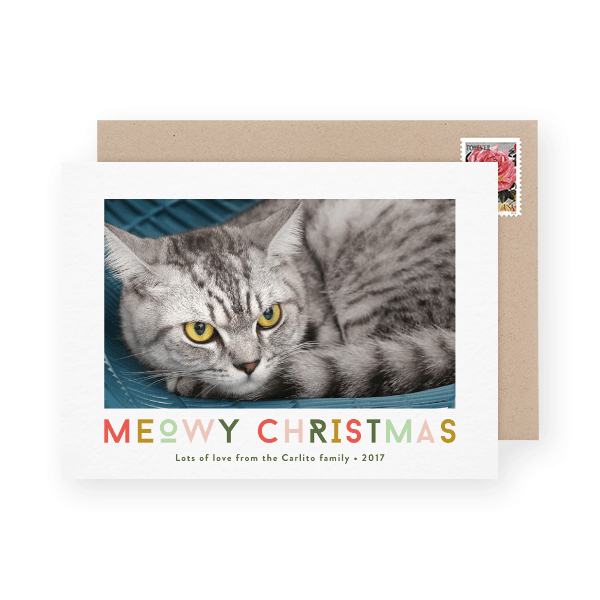 Merry Kittymas
This delightful card by Night Owl Paper Goods adds a little more design elements to the card, while still keeping the main focal point as the photo.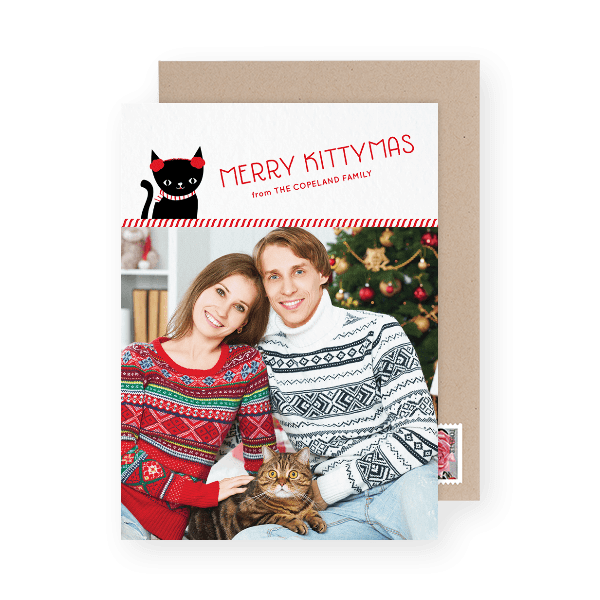 Meowy Catmas
The holy grail of multi photo cat Christmas cards, this cat spin on a classic design will have your Christmas list swooning into the new year. We love the use of classic deep red tones with a few gold twinkles to really spruce up the design. And of course with four photo slots, you'll be able to upload all those photos you've been dying to share.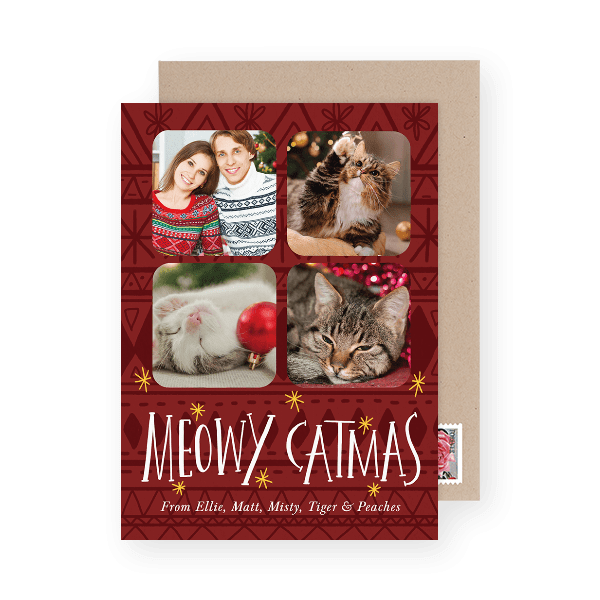 Meowy Christmas
Take the extra illustrated design elements, but keep the main photo focal point and you've got yourself this lovely Good Twin creation. This is the perfect balance between illustration and simplicity.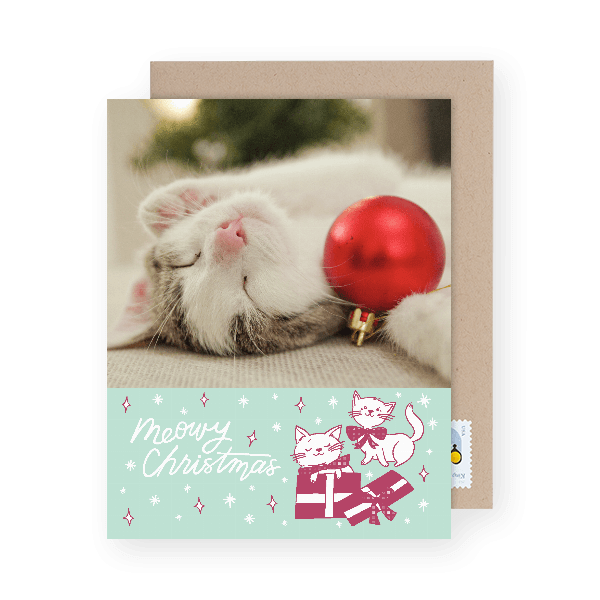 Non-photo Cat Christmas cards
If those cards tickled your whiskers, just wait until you see the rest of these purrty designs. If you're in the market for cat Christmas cards without a photo, then surely one (or all) of these cards are destined to be mailed to your friends and family on your behalf.
Send really nice holiday cards to everyone on your list in minutes. Postable prints, addresses, and mails the cards for you!
Snow Cat
One of Sussie Esse's newest cat Christmas cards, this delightful take on the traditional snowman will bring a smile to just about anyone's face.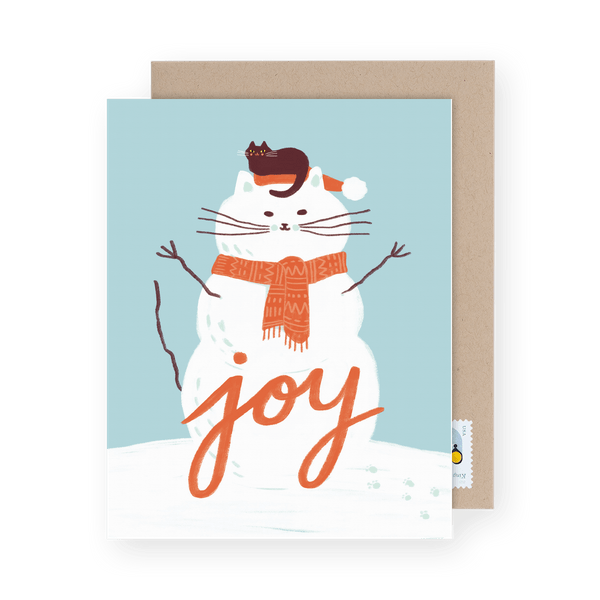 Nativity cat
Another Sussie Esse creation (she's got a thing for cats and we couldn't be happier for it), this Christmas card touches on the true meaning of Christmas with the use of a cat.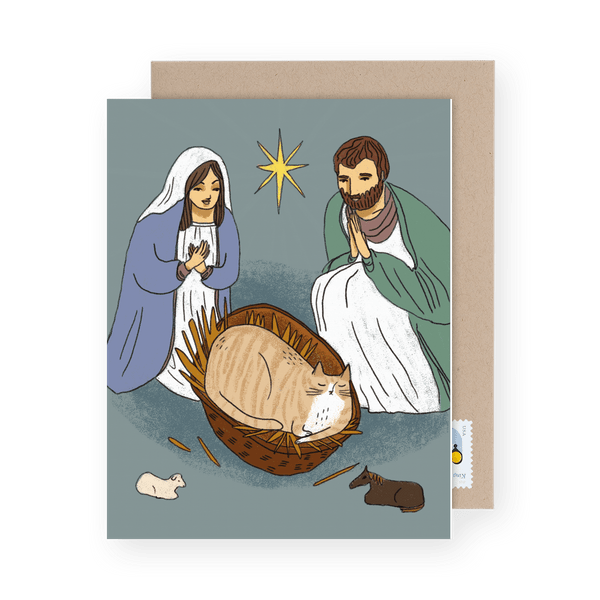 Warm and Bright
Channel all of your coziest, warmest, Christmasiest feels with the snuggiest Cat Christmas card of all time.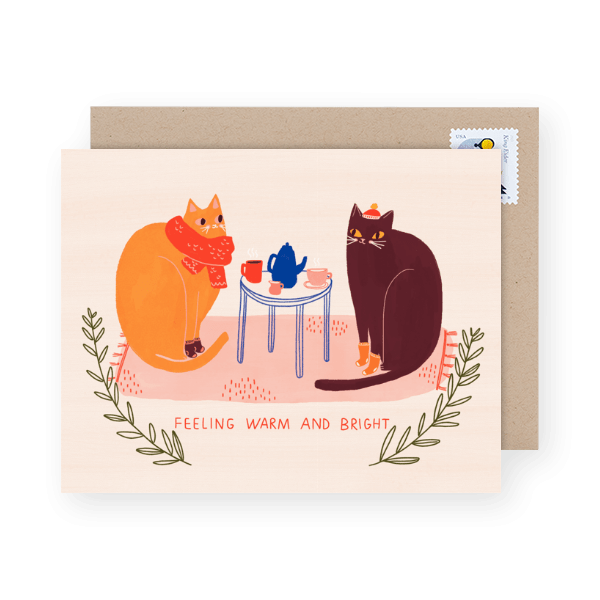 Take Naps, Be Merry
If cats were to give us some life advice to keep us happy and healthy, they'd be right on the money. Another Sussie Esse creation for the win.
Cat Christmas Sweater
As all cat lovers know, we don't pick the cat — the cat picks us. And it seems this cat has chosen its sweater.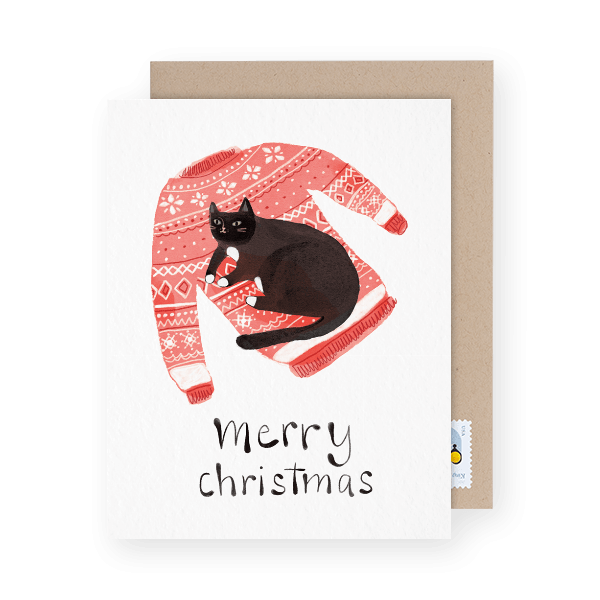 Cat Holiday Plants
Cats and plants are pretty much the two single greatest living objects in the universe and this card happens to capture them both so well.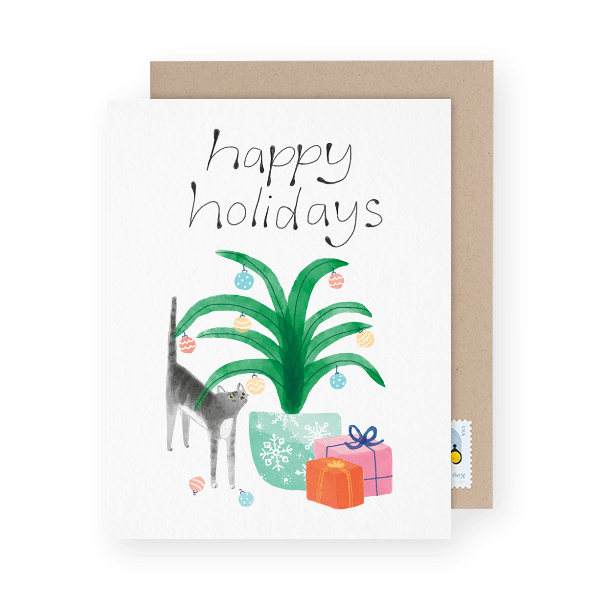 Meowy Christmas
Sussie Esse, it seems, is not the only cat loving designer around. This whimsical cat Christmas card creation by Live Love will bring a smile to everyone on your list.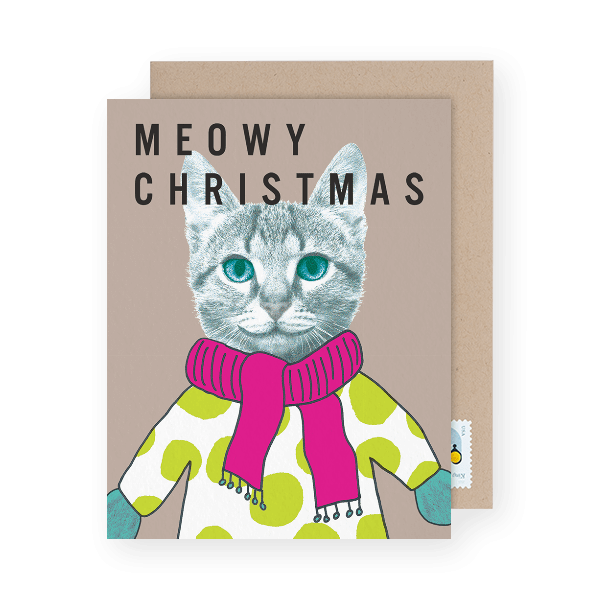 Purrfect Holiday
Cozy feels with a side of interior design inspo, this Isabel Davis creation is cozy cat heaven.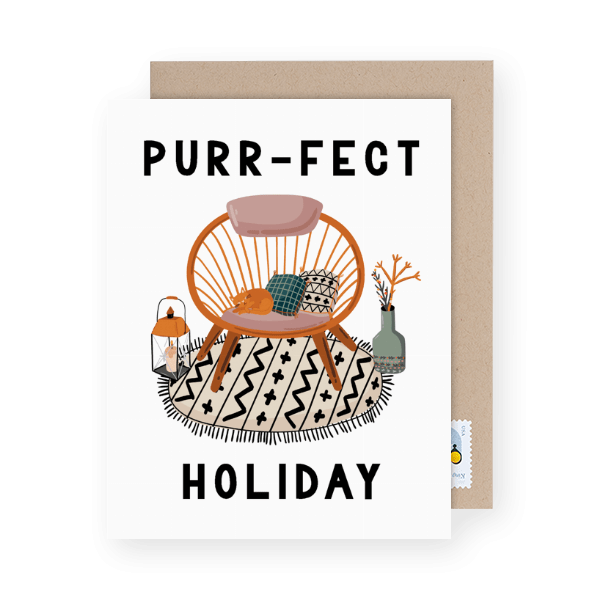 Holiday Warms
Get your holiday warms on with this cat Christmas card (yes, by Sussie Esse).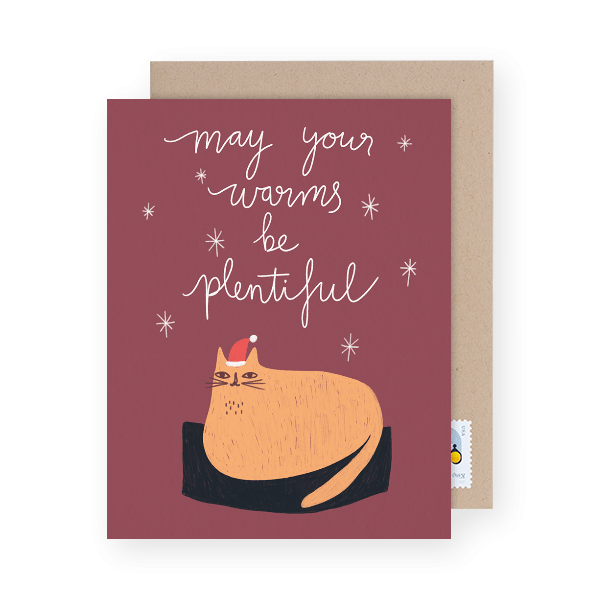 Naughty Kitties
They're naughty, but they're mostly nice… To their owners. Send this Noteworthy cat Christmas card to the cat owners on your card holiday list to give them a smile.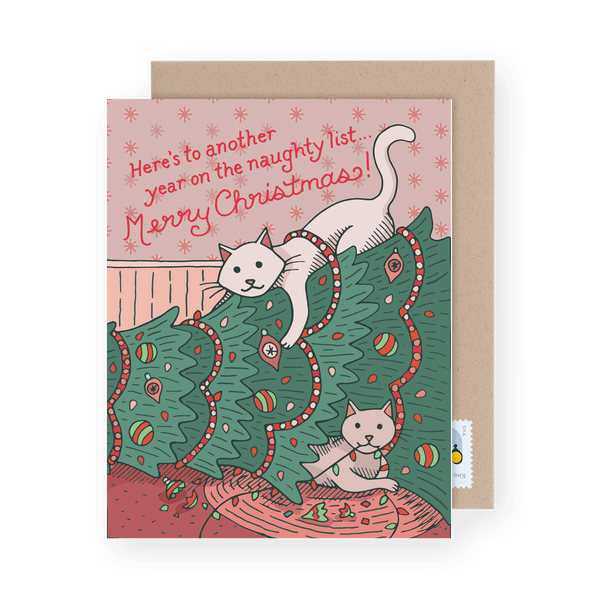 Cat Sled
It's hard not to smile at this Susie Esse creation. Two cats and a sled… What more could you want?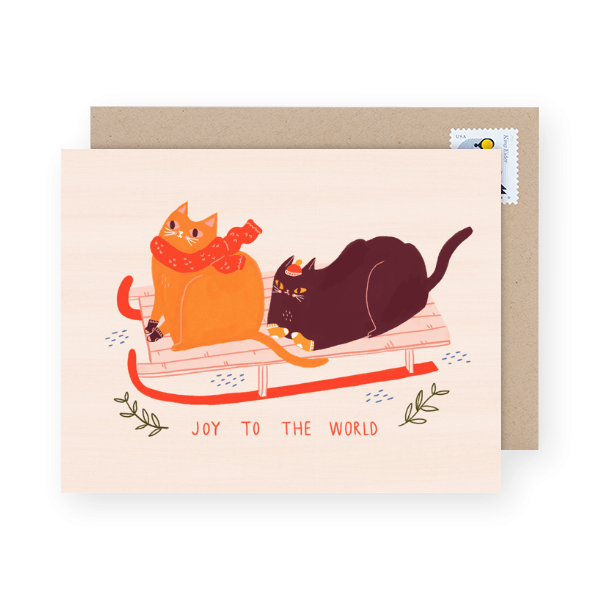 Warmest Wishes
All the furry creatures on one card? Yes please!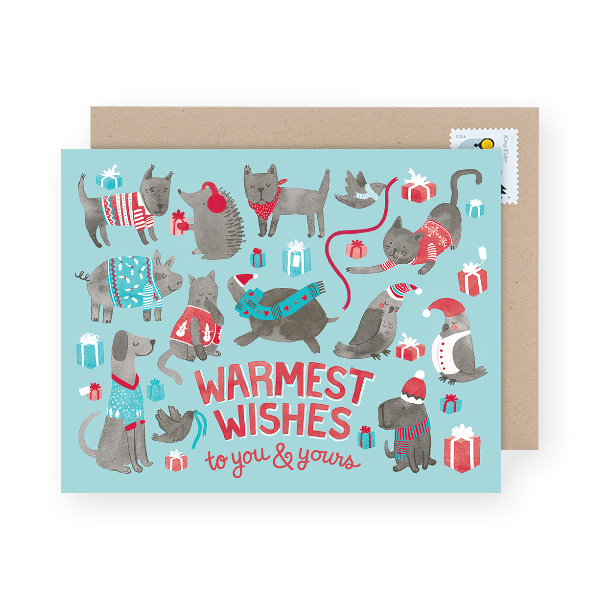 Tree Gazing Kitties
Scotch & Cream created this classic Christmas scene and we're definitely about it.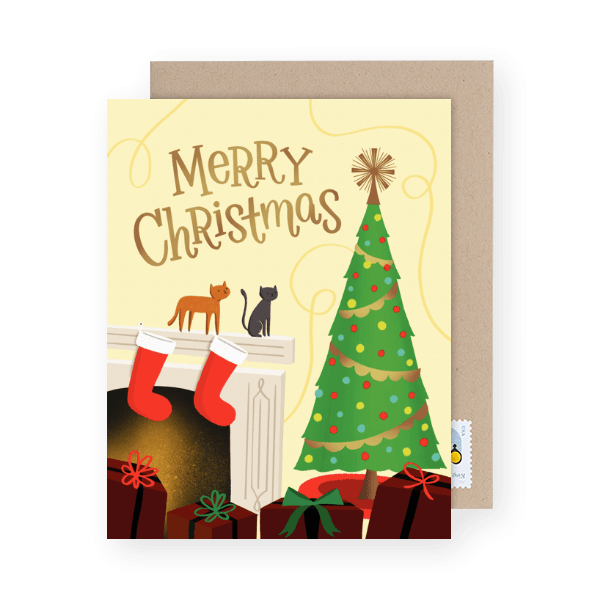 Customizable Merry Kittymas
Want to customize the text on the front design? This Night Owl Paper Goods creation lets you do just that! You can edit the words 'Merry Kittymas' to write whatever version you'd like.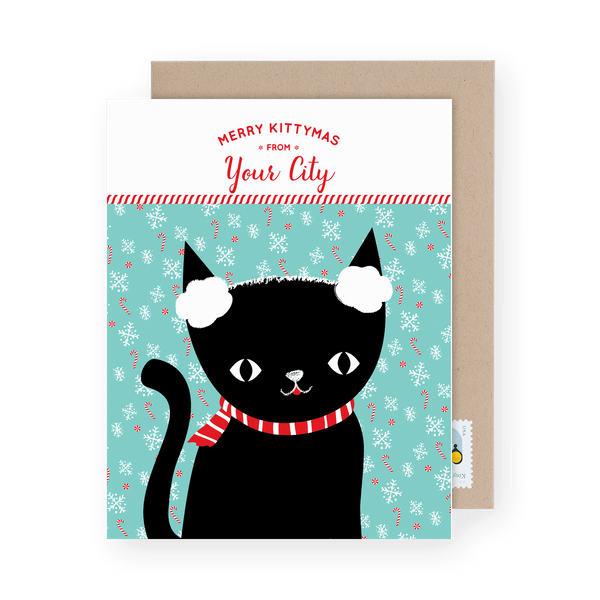 Merry and Bright
This Cat Christmas card certainly is bright and we're very much here for it. The bright background makes the Christmas lights pop and the little kitty in the midst of it brings it all together. Rock Scissor Paper nailed it!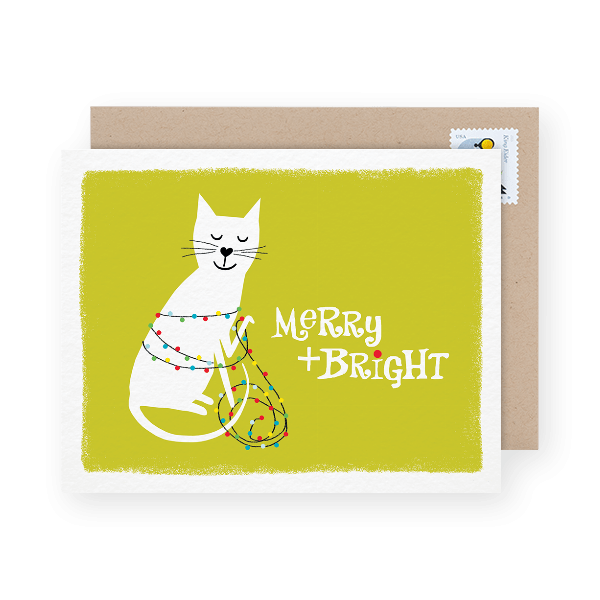 Don't forget to mail your Cat Christmas cards early this year!
There's a good chance the post office, as in 2020, will be slowing down significantly in 2021 so it's a good idea to get your cards in the mail sooner than later. And definitely sooner than you'd normally do it.
On a typical non-holiday day, it'll take about 3-7 days for the USPS to deliver our mail. On a typical non-apocalyptic holiday season, it'll take about 5-14 days for the USPS to deliver holiday mail. With 2020 as a general marker, it can take even longer so be prepared by mailing early.
Send really nice holiday cards to everyone on your list in minutes. Postable prints, addresses, and mails the cards for you!