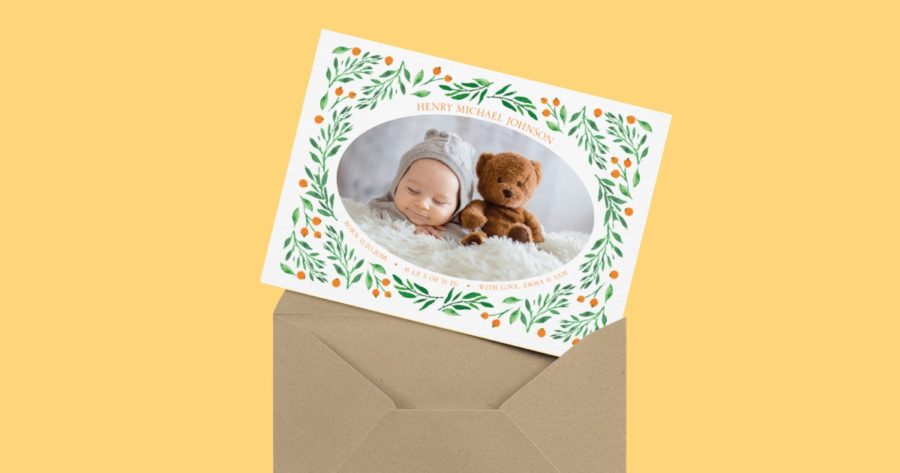 A new living, breathing, pooping machine has graced you with its delightful little presence and has made you a brand new parent. Congratulations! That's no small feat. And while you're completely head-over-heels in love with this new little creature in your life, you're out-of-this-world tired from the non-stop go go go. You love the idea of introducing the little babe to your friends and family with birth announcements, but let's get real — what new parent has got time for that?!
Easy birth announcements you can mail in minutes.
Luckily, we've got just the solution. Mail beautiful hold-in-your-hands birth announcements in minutes without leaving your couch.
Yes, really.
All you have to do is customize your favorite design, upload a spreadsheet of addresses and click send.
Postable will print, address and mail your birth announcements for you. Your new family member will be getting loved on by all of your friends and family in no time!
Don't have addresses? Not to worry.
Use the free address collecting tool (also easy as pie) to collect addresses first.
1. Tropical birds birth announcement
If you're in the mood for the tropics, this delightfully pink design with yellow and green accents will melt your heart immediately. The leaves and birds will perfectly border your baby's photo in just the right imperfect way (who needs straight edges anyway). Customize and send this card here.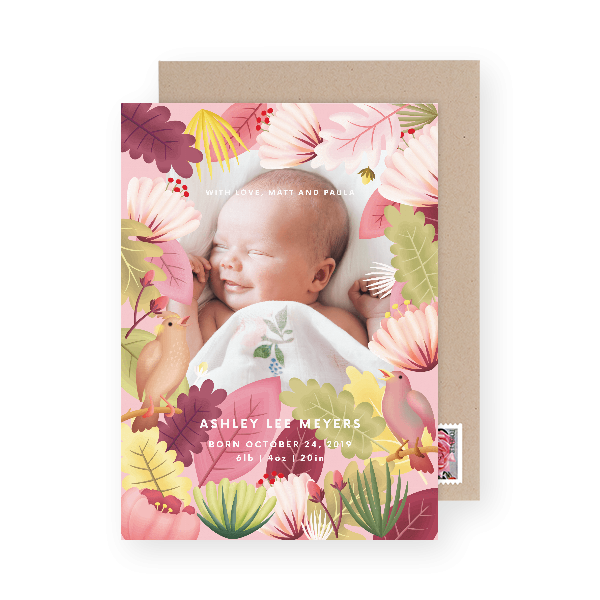 2. Seaberry birth announcement
Looking for a more classic photo border feel? This beautiful green and orange design has a more classy tone, but incorporates a lovely water color illustration. Customize and send this card here.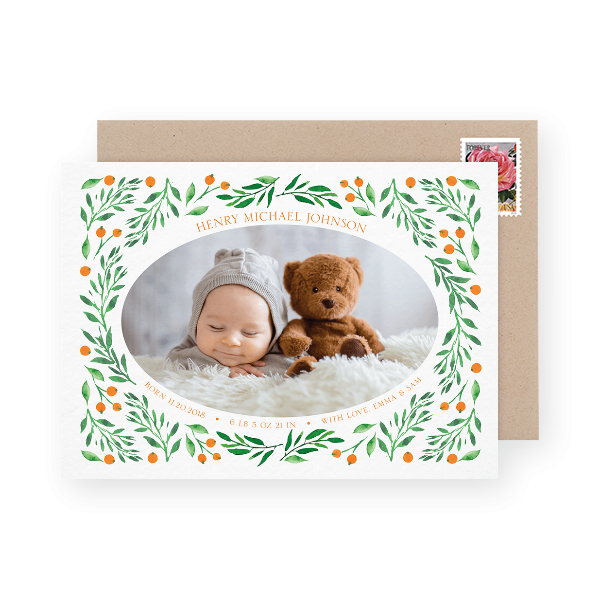 3. Whimsical tropical birth announcement
Another unique creation from Clap Clap design, this birth announcement will be hanging on all the fridges in town in no time! This fun photo birth announcement has it all — color, animal, floral patterns and the perfect spot for your very own photo! Customize and send this card here.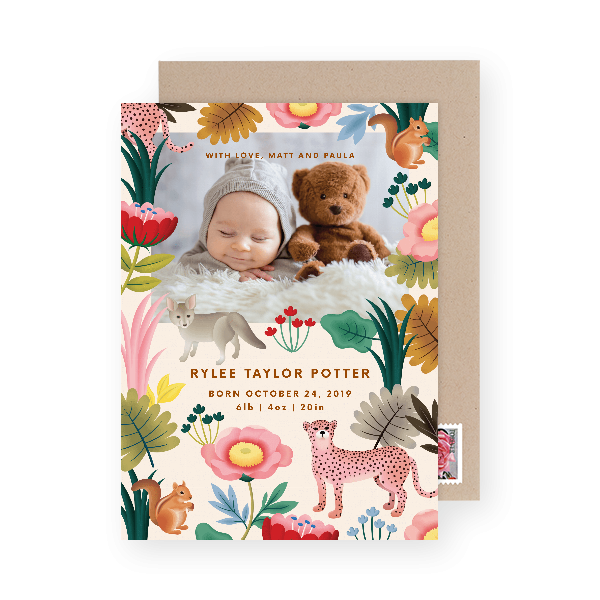 4. Pine branch birth announcement
Want a design that's a bit less extra? Something more minimalistic perhaps? Then this classic rectangular photo birth announcement will be perfect. There's just a tad bit of color without making it feel overwhelming. Customize and send this card here.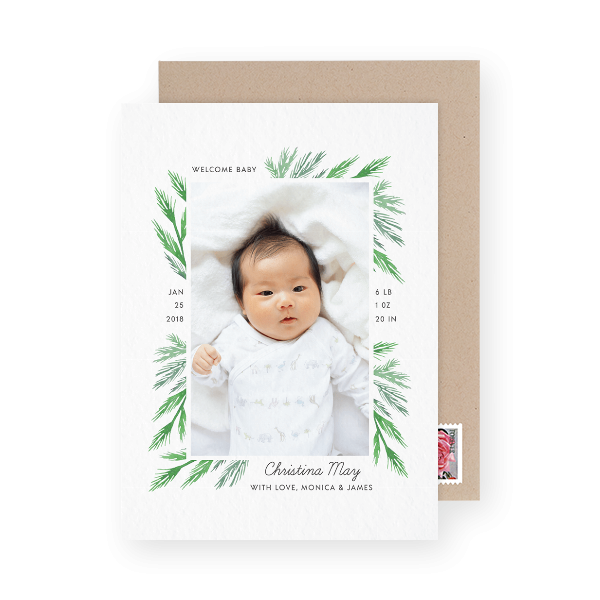 5. Simple foliage birth announcement
Another delightful birth announcement with a bit more white space on the design to help your eyes focus on the main attraction– the photo. With a lovely yellow foliage bordering the photo, your friends and family will swoon over your little one as soon as they open their envelopes! Customize and send this card here.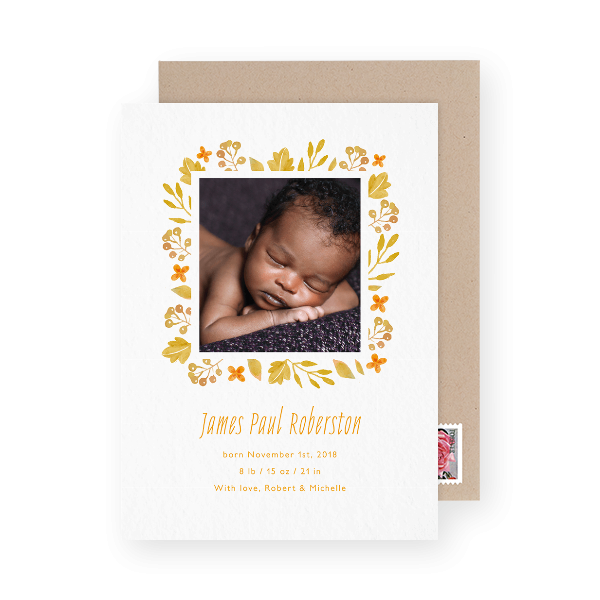 6. Oh baby birth announcement
A lovely combination of an illustrated design and a focus on the photo, this beautiful birth announcement has the best of both worlds. The adorable bear mama and the lovely scripted font is beyond delightful, but leaves plenty of space for your baby's photo. Customize and send this card here.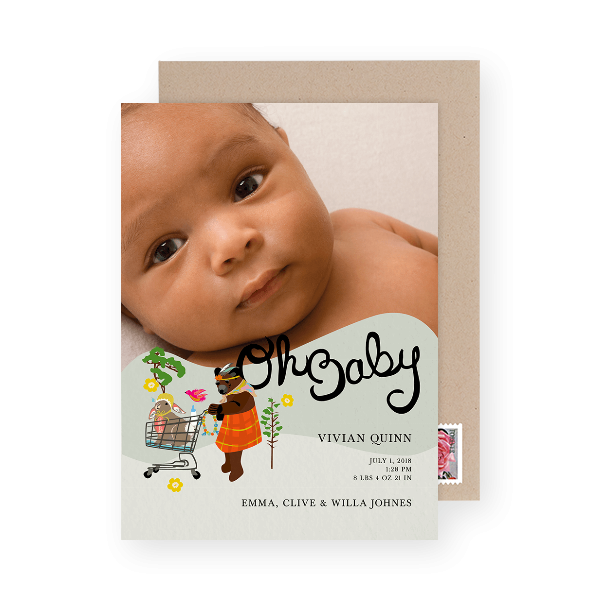 7. Welcome baby twins birth announcement
Got twins?! Holy moly — a double congratulations to you! Use this minimalistic design to introduce your babes to the world. Customize and send this card here.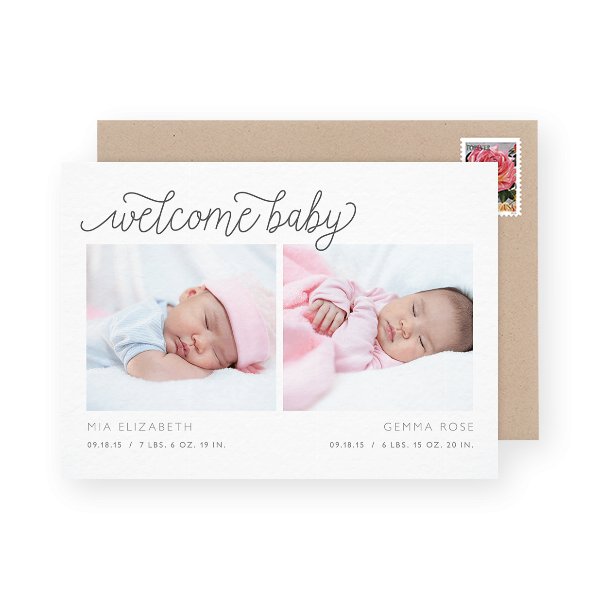 8. Simple branches birth announcement
Another brilliant usage of white, green and orange. We love this color scheme and the lovely use of branches to bring the focus to the photo. Customize and send this card here.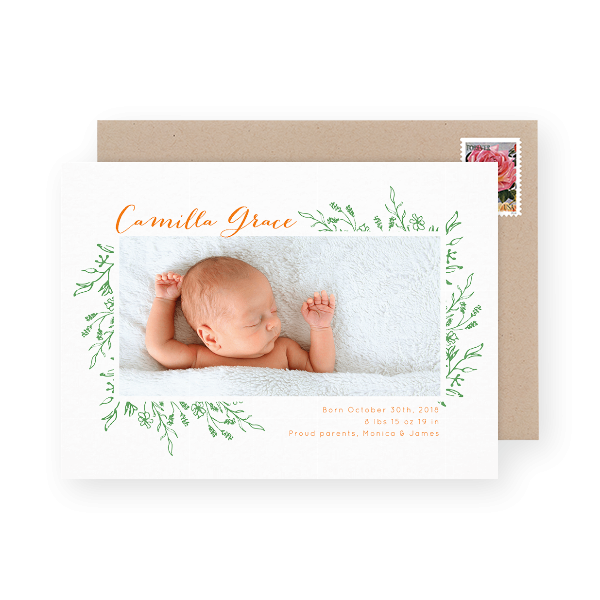 9. Baby lion birth announcement
Last, but certainly not least — a baby lion! This adorable illustration is perfect for your own little lion. We love the playfulness of this design that leaves plenty of space for the photo. Customize and send this card here.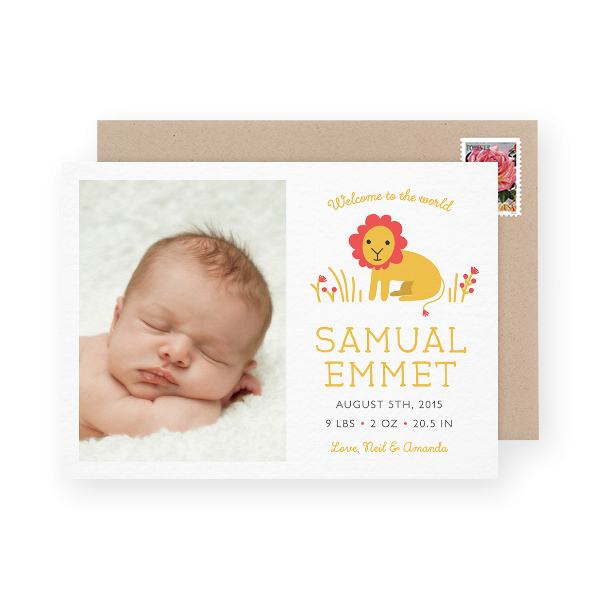 Not quite seeing the birth announcements that are right for you? Don't fret, there's plenty where these came from.
There's more…
Postable's selection of birth announcements is bewitching AND varied. We've got everything from classic designs to more modern unique approaches. We even have birth announcements without photos in case that's what floats your boat.
The best part?
They'll all be mailed out for you so you can take care of what really matters. The new family member!
[See: How to Easily Mail Birth Announcements in Minutes (and More Tips for New Parents)]