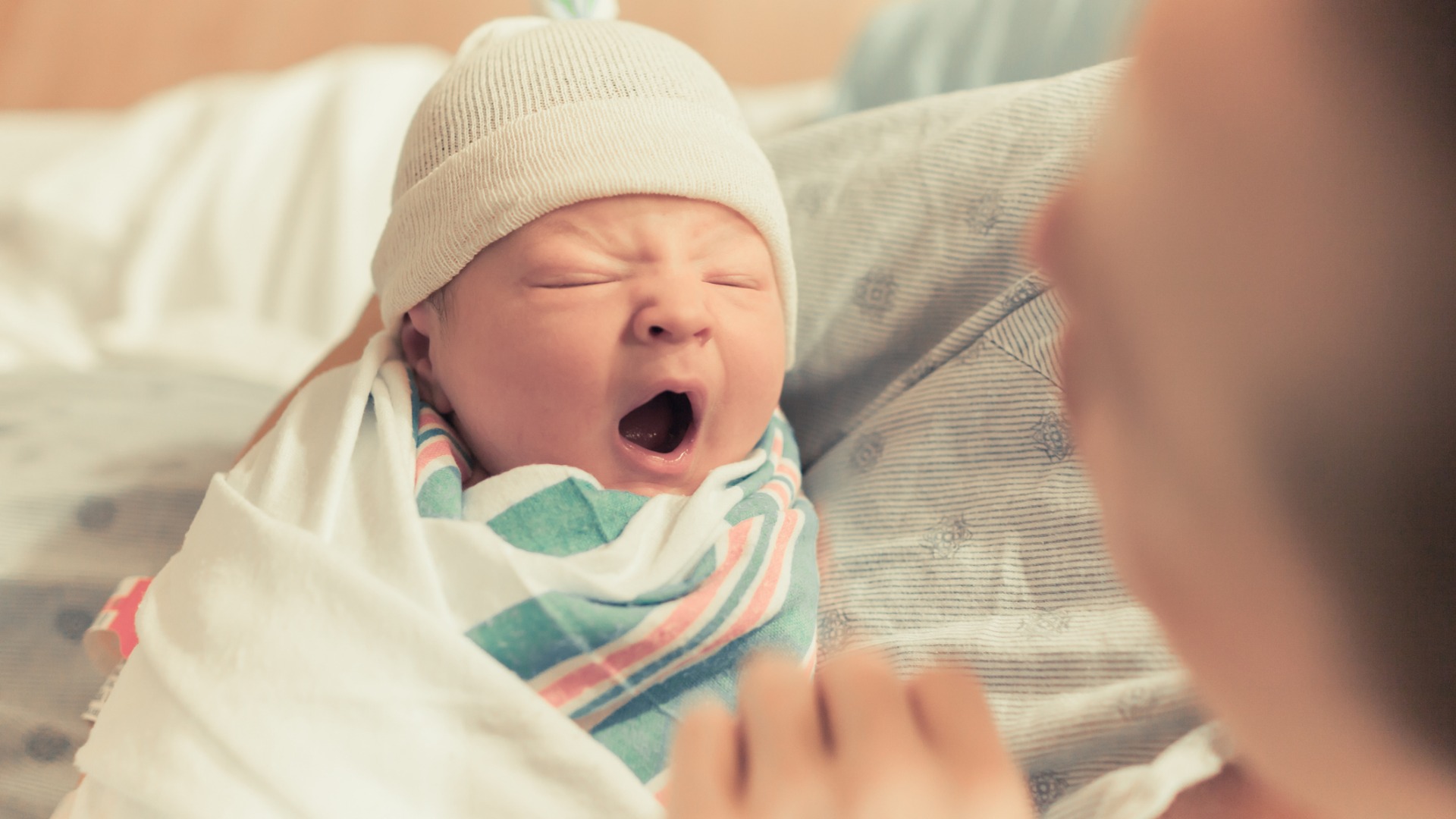 Being a brand new parent is hard work. Sleeping becomes a priceless commodity, daily tasks are no longer looked after and a whole bunch of other things that nobody tells you about. You'll probably find yourself having to schedule in time for things that typically just happened — eating, for example. Needless to say, mailing out a set of cards to introduce your newest family member — aka the star of your show — takes a back seat to things like showering. At the same time, you want your family and friends to meet the new little human. Birth announcements don't have to take up all of your very precious time. Being a new parent is hard work. No need to make it even harder. Although we haven't found any hacks to changing diapers, we do have a pretty neat hack to sending your birth announcements.
In fact, you could make and send birth announcements in all of 5 minutes. Yes, really really. You don't have to spend your showering time licking envelopes or writing down mailing addresses that you may not remember (see free address book with easy address collector). You probably don't have the patience to learn any new programs either. Not to worry… You can spend 5 minutes with Postable's easy-to-use site to send your beautiful birth announcements and spend the rest your time loving on your little gem (or you know, breathing).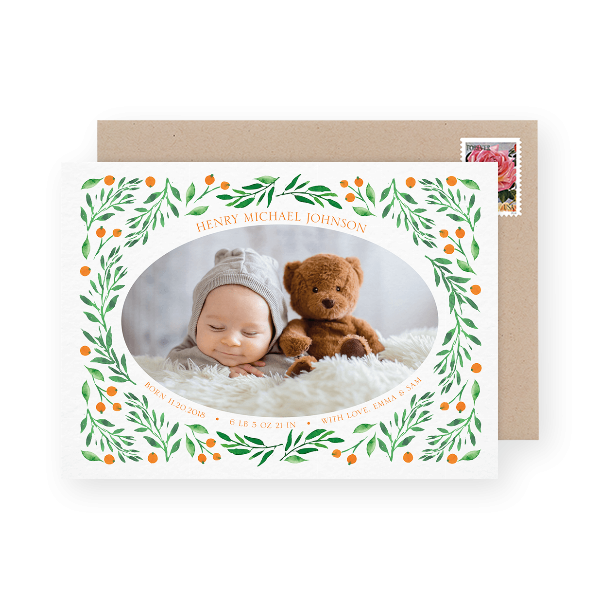 See Postable's collection of Birth Announcements here
But HOW?!
Here are 3 easy steps to get those birth announcements into the mail in minutes:
Step 1. Collect Addresses
Use the handy (and free) Postable Address Book to easily collect your friends' and family's mailing addresses. Or easily import a spreadsheet if you already have them.
Step 2. Pick a card — here
Postable has a bewitching collection of Birth Announcements. If you've been snapping photos of your new born like crazy, you could use a photo birth announcement template (pro tip: make sure the photo is high res for best print quality). If you're laughing at the thought of having time to snap any good photos, not to worry — there are plenty beautiful non-photo birth announcement templates to choose from. Whatever birth announcement template you choose, make it your own. Upload a photo (or don't) and customize the template with your own info
You can choose to mail your birth announcements as post cards or flat cards in envelopes. If you choose the flat card in envelope, you'll have the option to write a message (and/or add more photos) on the back.
Step 3. Select Recipients and checkout.
If you used the free Postable Address Book to collect mailing addresses, these recipients will already be in your address book. All you'll have to do is select the individuals you'd like to receive your adorable birth announcements and checkout.
Postable will take care of the rest. All the printing, stuffing, stamping and mailing is done for you.
We weren't joking… It really is that easy. Once you have all of your mailing addresses ready to rumble, you'll have those birth announcements on their way to folks in no time. If you ever feel like maybe you need some additional help, simply send us a shout at info@postable.com — we'll be happy to help!

Ok, so you got your birth announcements taken care of. Phew. That was way! Now how about the rest of the million things on your to-do list still piling up — main one being sleep. We asked some parenting experts for tips for new parents to make their lives a little easier. Here are 5 tips to get you started.
1. A
sk for help!
"Get help. Accepting help and also asking for it are really important for new parents. Ask a friend to set up a meal train service in your community so friends and family can drop off meals. If a friend or family member offer to come over and help clean, cook, or hold the baby, say yes! Accepting help will make you feel less stressed and frazzled."

– Melissa, Licensed Marriage and Family Therapist, co-founder of the Honest Mamas blog and the mom of 2 boys
2.
It's better to try and let your baby sleep.
"Some parents believe that by keeping their newborn awake more during the day, they can ensure a peaceful night's sleep, but typically this won't work and is detrimental to your child's health and happiness. Your baby needs lots of sleep, more than you probably think. Aim for 90 minutes of awake time followed by a nap.

Babies cry in their sleep – This is a fun fact to take note of because many parents actually wake their babies up reacting to "sleep" cries. You don't need to rush immediately to your child's aid at the first sound of crying. Take a minute and if the crying persists, you can then go to them."

– Caitlin Hoff, a Health & Safety Investigator at ConsumerSafety.org
3. Save yourself some cash with re-usable items.
"One piece of advice that I tell new parents is that just because your baby is new, doesn't mean that all your baby stuff needs to be. Babies are notorious for growing out of clothes quickly. Because of this, you'll undoubtedly end up with *very* lightly used clothes that your child will never wear again.

Other parents have this same problem which is why you should look on Craigslist first when looking for most baby clothes/products. There are some items that you should buy new; bottles, pacifiers, diapers ;), etc. but for the most part, your baby won't know the difference between a lightly used onesie and a brand new one.

Save yourself some money and stress by accepting hand-me-downs and buying used clothes for your new baby."

– Caden Rhoton, blogger at Dime Dad
4. Plan out your weekly meals to get ahead of the game.
"Have a meal plan every week so you know exactly what is for dinner every day. This helps you know exactly what to get from the store and saves you time at the end of the day because you know exactly what you are making."

– Larisha Campbell, blogger at We're Parents and mom of 2 daughters
5. Break up the chores.
"It's a healthy and helpful realization to accept the fact that the house will be messier. It's okay! It's alright that the sink is full of dishes, the bed isn't made, and the laundry is piling up.. You won't be able to dedicate two straight hours to cleaning when you have an infant to care for. Instead, do one load of laundry or a few dishes at a time. Breaking up what seems to feel like huge projects into smaller tasks can help you overcome feeling overwhelmed. The household chores can wait; they will always be there (unfortunately)."

– Maria Lianos-Carbone, the author of "Oh Baby! A Mom's Self-Care Survival Guide for the First Year:Because Moms Need a Little TLC, Too!" and publisher of amotherworld.com, a lifestyle blog for women.
Have some tips of your own? Share with others in the comments below!