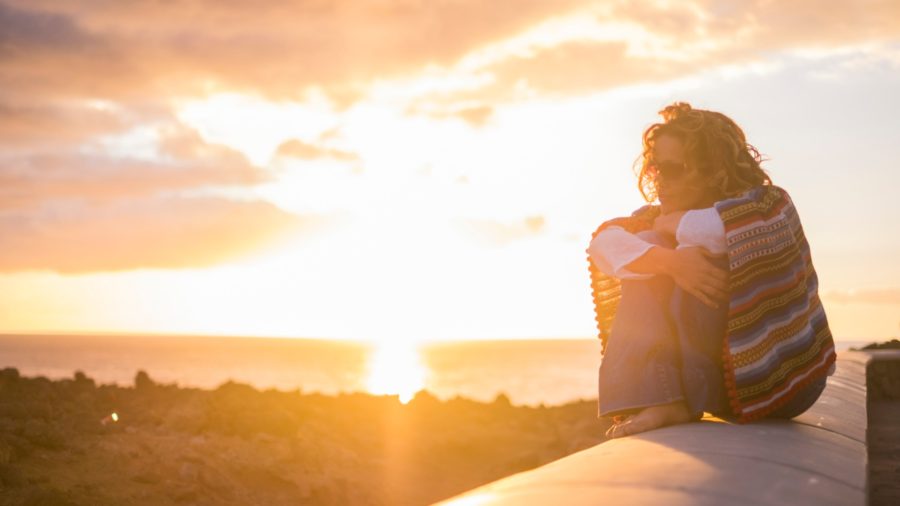 You're thinking of them. They're thinking of you. Why not bridge the gap with some adorable thinking of you cards? Be the first one to reach out and let them know they're on your mind.
When to send thinking of you cards…
It's never [not] a good idea to send a greeting to a friend or loved one. It's a lovely way to brighten someone's day. Your card will give them that extra little bounce in their walk and remind them that they're loved. But if you're wondering what specific events would prompt a thinking of you card, keep reading.
It's been a while since you've spoken.
Now, if it really has been too long and you're wondering if it's even worth sending the card. It is. Go ahead, reach out. They're probably wondering the same thing.
Someone you know is going through a rough time.
Perhaps someone in your life could use a little moral support. These thinking of you cards will do just that. Let them know you have their back and that they're in your thoughts. Sometimes something as simple as a greeting can go a long way.
Thinking of you cards for every type of situation.
Whatever the reason, there's an appropriate thinking of you card. And don't worry, you don't need a stamp to get these bad boys mailed out.
Because Postable will do it for you. No, not e-cards. These thinking of you cards are real hold-in-your-hands kind of greeting cards that you can mail without ever leaving your computer.
Mail your long lost bestie your card with a few clicks. Type your message inside the card, enter the mailing address and click send. Postable will print, address and mail your thinking of you cards out for you.
Question is, which card will you choose?
1. Long time no see.
It's been a while. No better day like today to let them know it's been too long. This adorable — and oh so colorful — long time no see card will bring some color and cheer to anyone who reads it. Send this card here.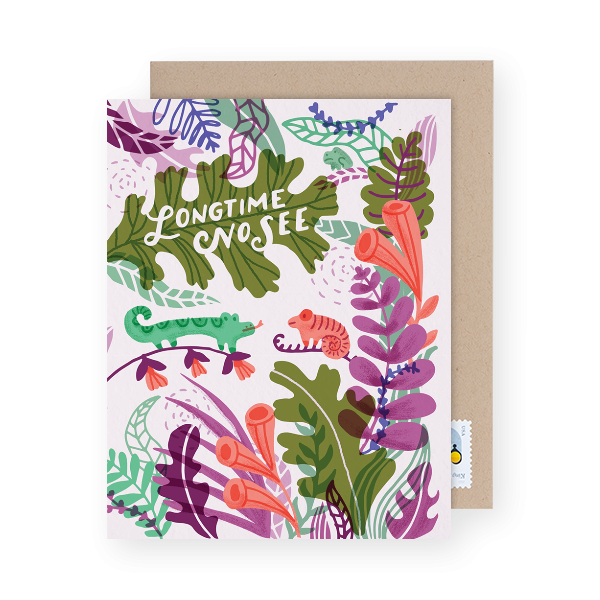 2. Journal thinking of you.
For a more down to Earth feel and approach, this card by Quill and Fox will be perfect. We love the Earthy tones, the hand-painted illustration and just about everything there is about the organic feel on this design. Send this card here.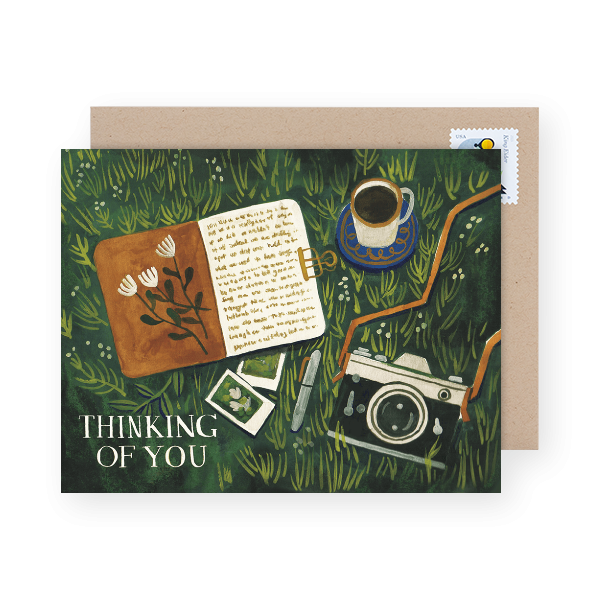 3. Things I need in my life RN.
If you fancy the simple things in life (like caviar :), this card by Ashkahn has your name written all over it. Or it will once you sign your name. If you can't even remember the last time you and your girlfriends hung out it's time for an intervention. Or a simple fun loving thinking of you card like this one. Send this card here.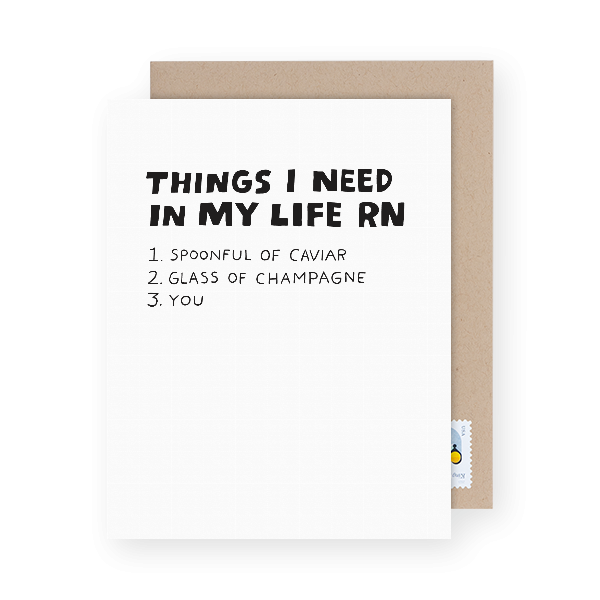 4. Thinking of you… Mostly in the shower.
Missing your special someone? Perhaps they've been on that work trip one too many days than you can bare (get it?). Send them this adorable (and a tad bit naughty) thinking of you card by Near Modern Disaster. Don't forget to write something on the inside! Send this card here.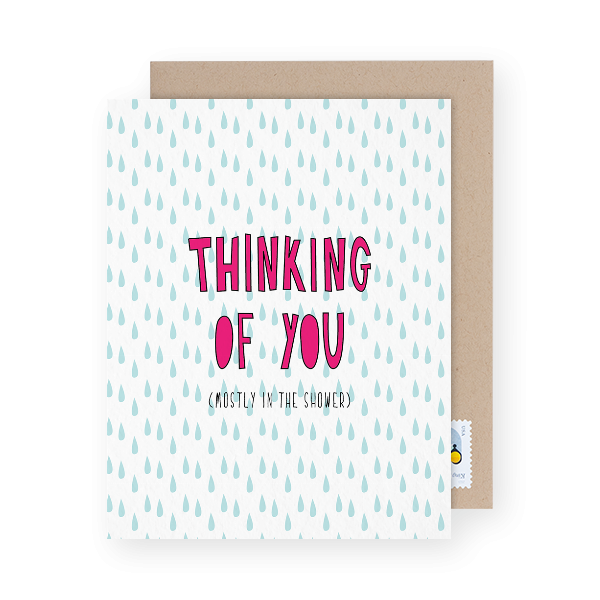 5. Things are weird without you.
That's one way of letting someone know their presence made things seem normal. This adorable card with tiny little monsters illustrated all over it will have them smiling ear to ear. Send this card here.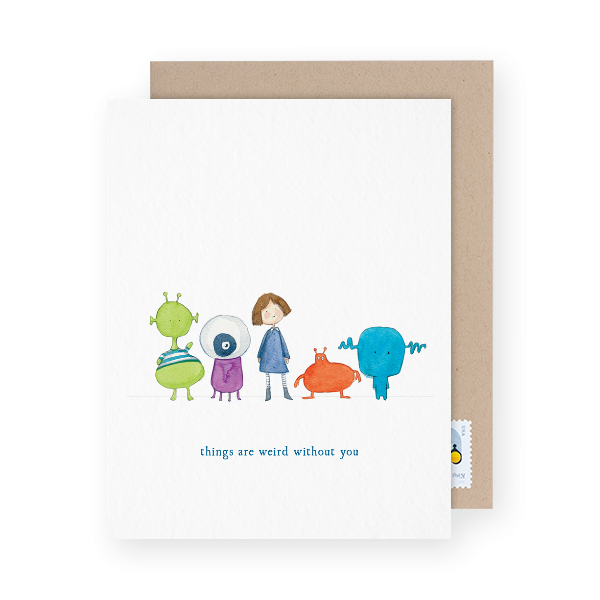 6. Thinking of ewe.
Everyone loves puns. They make even the more serious situations less hard to hold. This funny (and oh so adorable) thinking of ewe card will get them giggling in no time. Send this card here.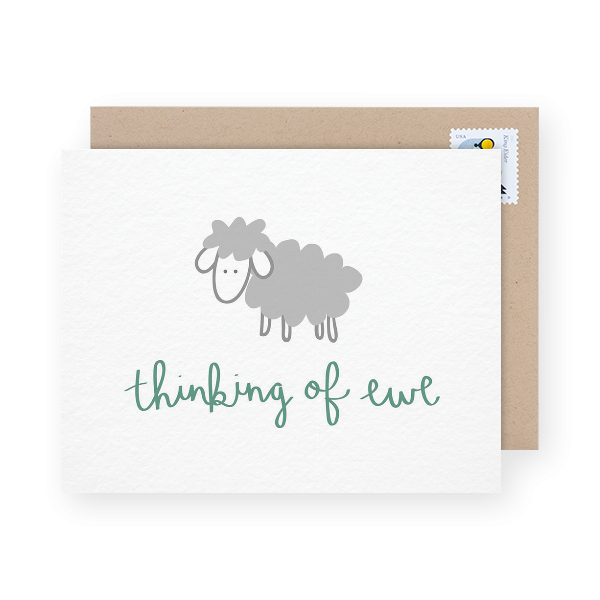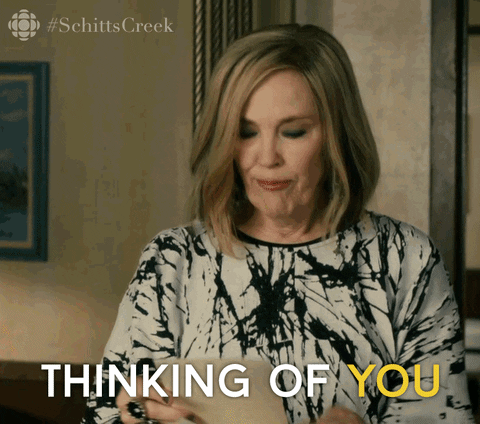 Well, what are you waiting for?
Tell them they're on your mind with a card. And if none of these designs are doing it for you…
Take a look at this entire collection here.