You've made it to the finish line, holy moly! Congratulations. Making it to graduation is no easy feat, but you did it! All those late nights at the library, group projects and crammed in finals week are finally over. Seriously, how did you ever get through it all? If you're anything like us, you'll probably have an urge to run around screaming "I'm Done" to anyone who'll listen, but we've got a better idea. Let the people that love and care about you most know about your recent accomplishment with graduation announcements. What better way to share your big news other than in the utmost official manner? You could probably send everyone an official document, but graduation announcements are prettier. Also, that would be weird.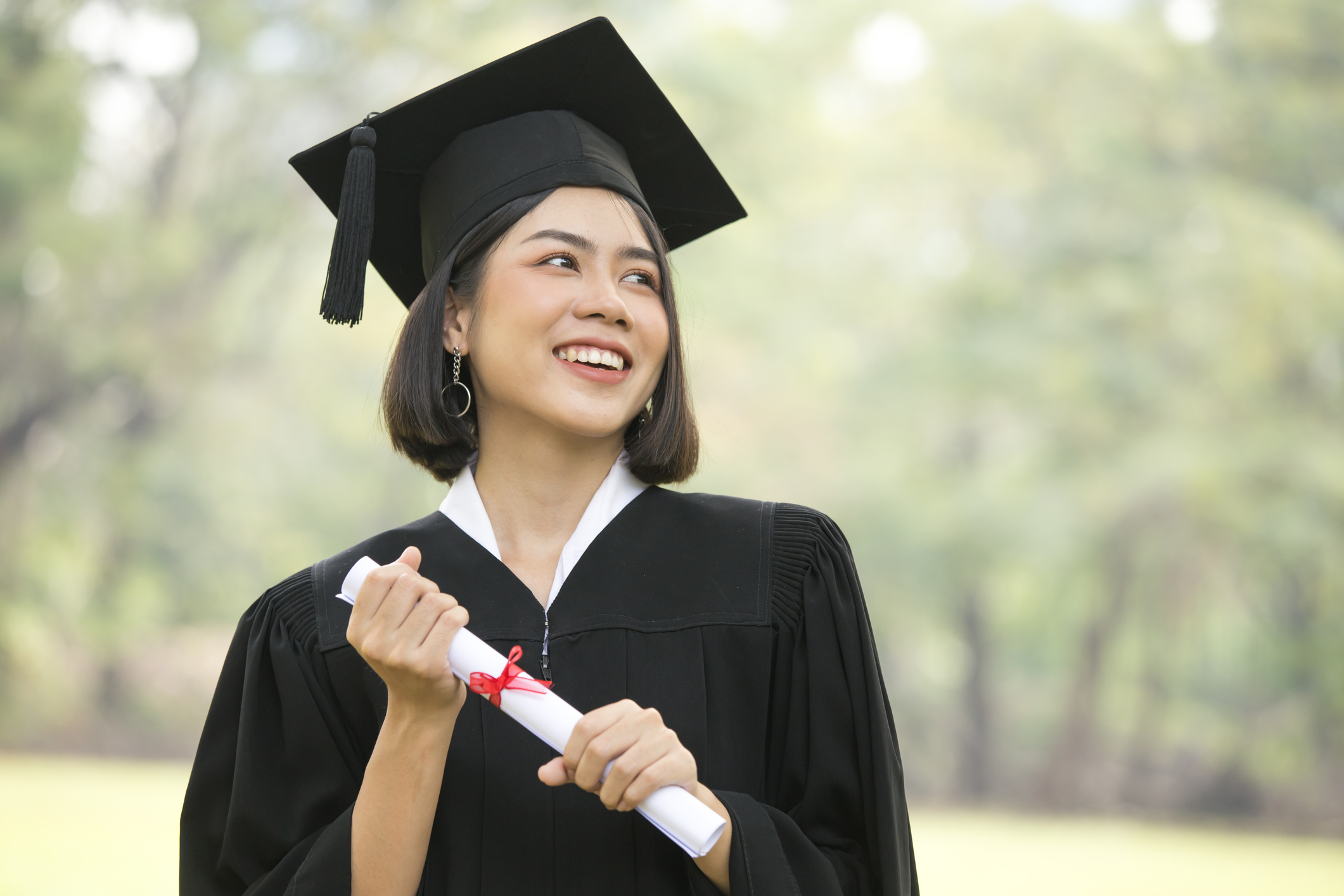 If you've taken some graduation photos already, you'll have a million new photos to choose from. We've compiled 6 of our favorite photo graduation announcements — all of which you can have mailed without leaving your computer — for your viewing pleasure. You can click on the link below any of these card designs and play around with the templates with your own photos and information. Once you have the right combo, simply enter mailing addresses and click send. Postable will mail your graduation announcements for you. Magic!

If you haven't already gotten your grad photos, we've got some pretty great ideas for you to browse. We've searched far and wide (but mostly on Pinterest) to bring you some fun graduation photo ideas to get your wheels rolling. You can even decide what kind of graduation photos you'd like to get done based on the graduation announcement that you like most.
1.  Grey Lettering Grad Announcement by Postable
This simple and chic graduation announcement works great with wide horizontal images. The main 'graduate' headline uses a pretty script font matched with a simpler font for your name and graduation details. This design will also work really well with neutral colors.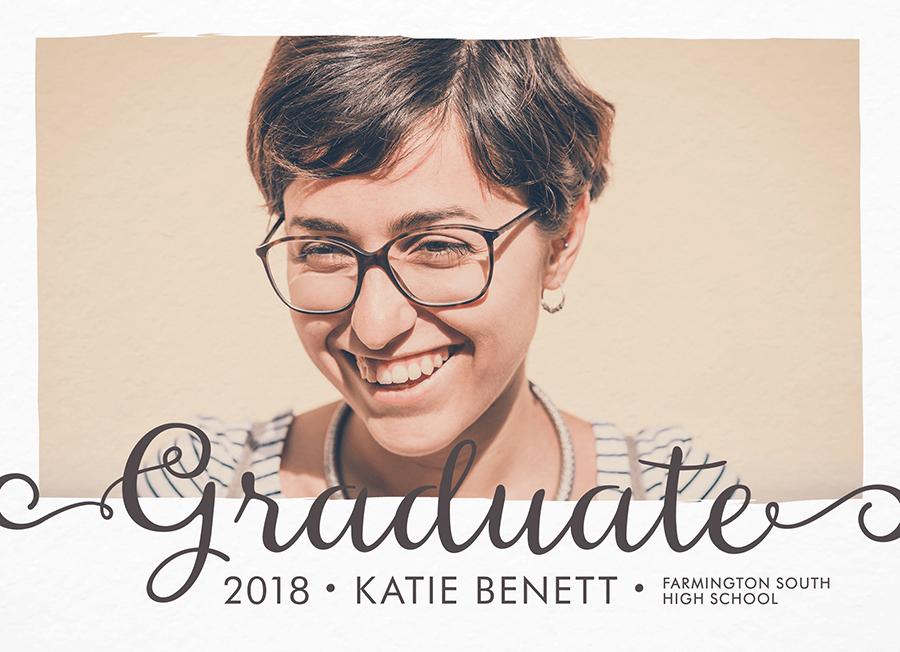 Test your own photo here
2. Graduation Brush Script by Swell & Grand
We love the fun brush script font at the bottom of this template. Use a vertical photo and make sure nothing important is at the bottom (or it will get blocked by the text).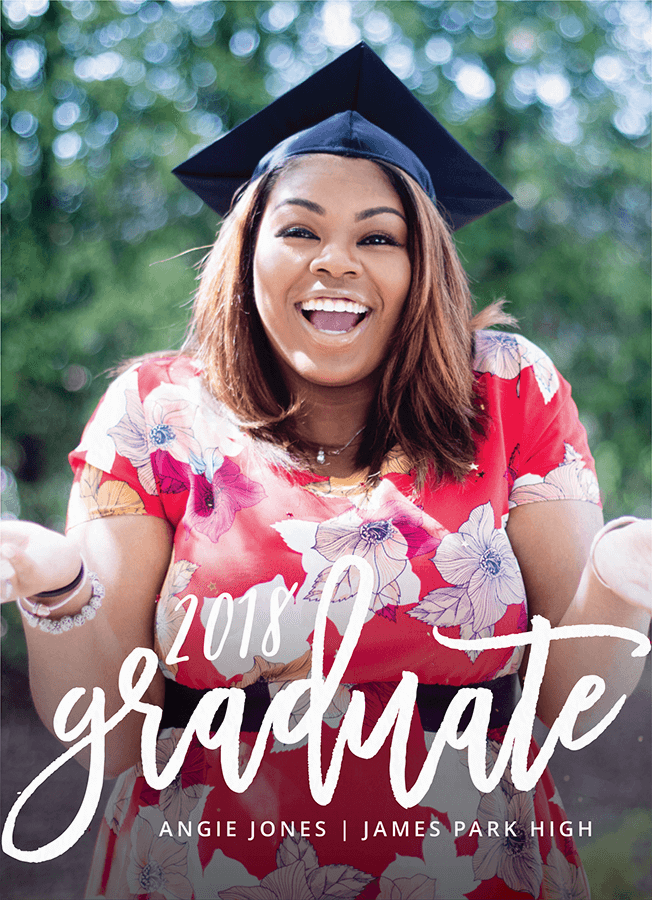 Test your own photo here
3. Simple Statement by Postable
This photo graduation announcement would work great with just about any school. Use a photo that can fill the entire space and that won't have anything important on the right.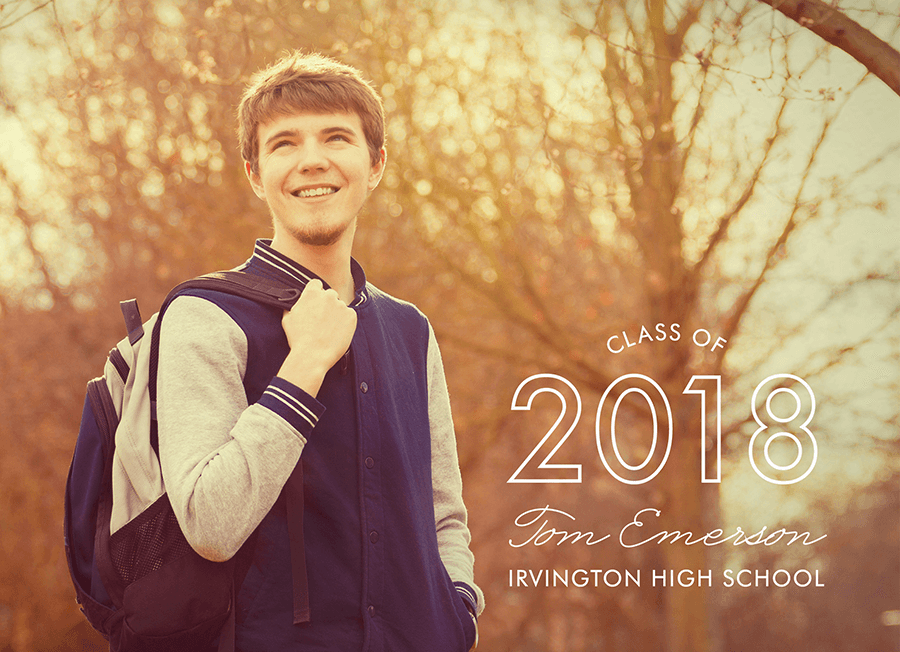 Test your own photo here
4. Collegiate Grad by Postable
This bold graduation design would be perfect for someone with a bold personality. Use a horizontal graduation photo and remember you can always add more photos and text on the back (if you choose to send a flat card in an envelope).
Test your own photo here
5. Laurel Graduation Announcement by Swell & Grand
This designer graduation announcement is classy and trendy all at once. The graduation cap with the delicate laurels are the perfect touch. There's also matching thank you note because you'll probably have a bunch to be thankful for after you send your announcements.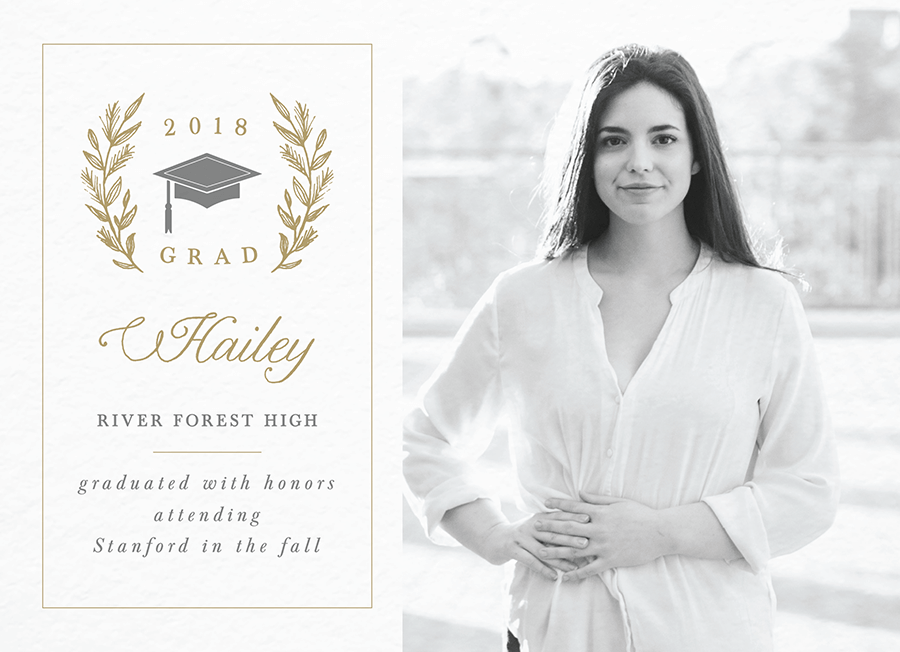 Test your photo here
6. Our Type Graduation Announcement by Swell & Grand
This text overlay graduation announcement is simple and can go with pretty much any school graduation.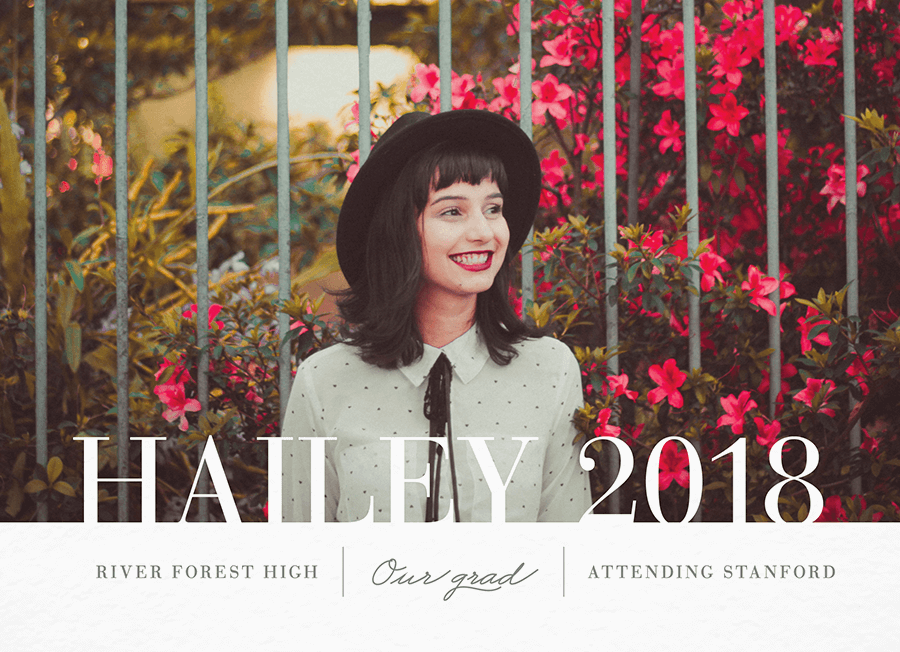 Test your own photo here
These stellar graduation announcements are really versatile so you can really customize each one to work for you. The highlight of each announcement, of course — is you. Your graduation photo is the star of the show! If you're still planning on getting your photos taken, we thought we'd give you some fun ideas on what you could do that would also work really well in these photo graduation announcements.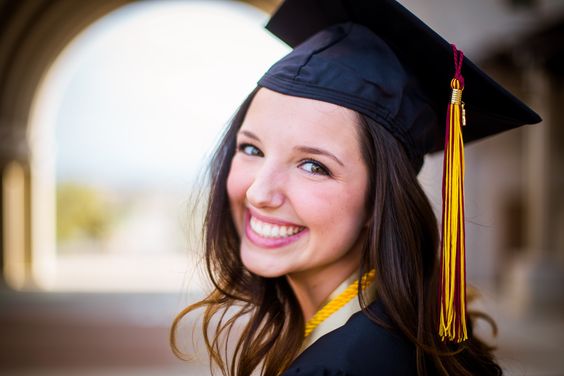 Photo via Pinterest
A good ole' close up with your cap and gown will definitely do the trick. Looking back and saying goodbye to your past with a big ole smile that says hello to your future!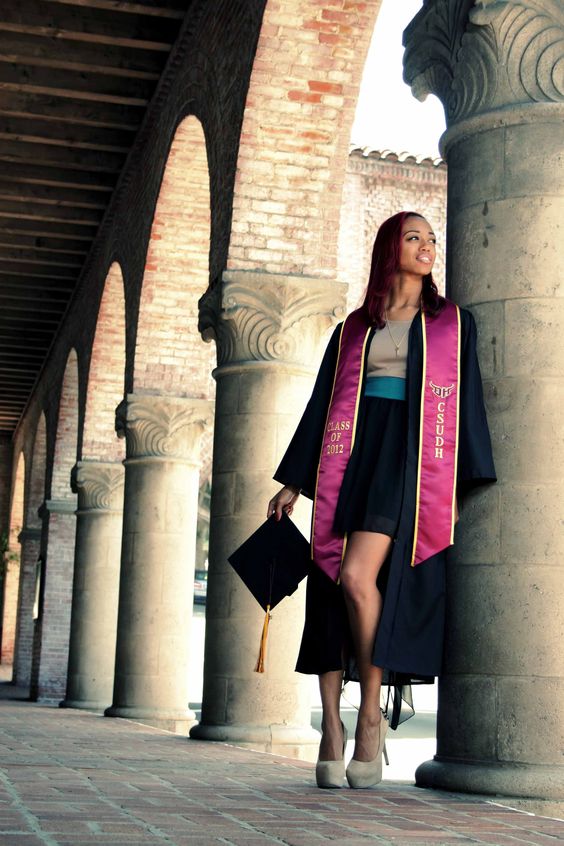 Photo via Pinterest
Make use of your school's architecture. Many college campuses resemble the old world beauty filled with big columns and elaborate buildings. This type of photo would do well in a vertical graduation announcement.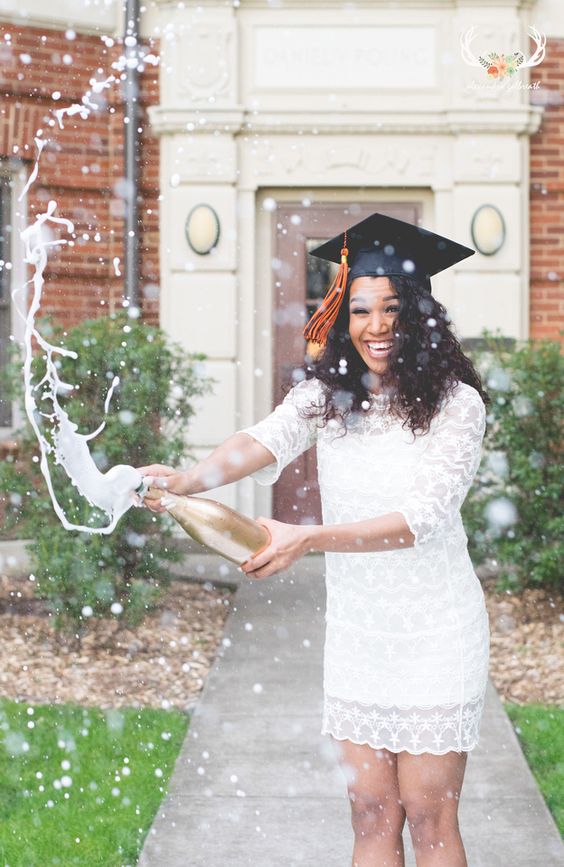 Photo via Pinterest
Champagne is yummy, yes, but it also makes for a super fun photo opp. Make sure the photographer knows what you want and is at the ready with the shutter when you pop open the bottle. Timing is everything, so be ready as soon as the bubbles start popping! Keep your cap on to keep in the graduation theme — looking back on the photo.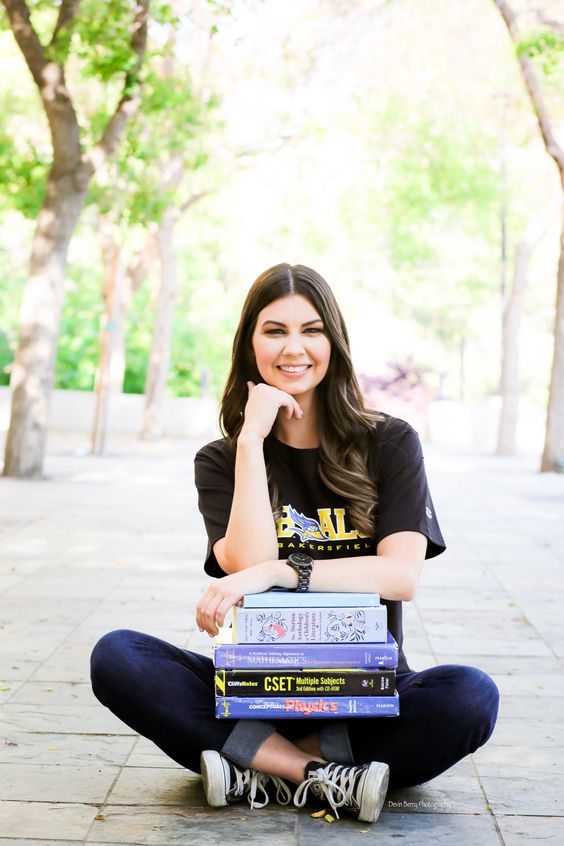 Photo via Pinterest
What says college grad more than a stack of giant textbooks? You've been studious AF the last 4 years, show it off with your textbook collection. Also makes for a super cute photo.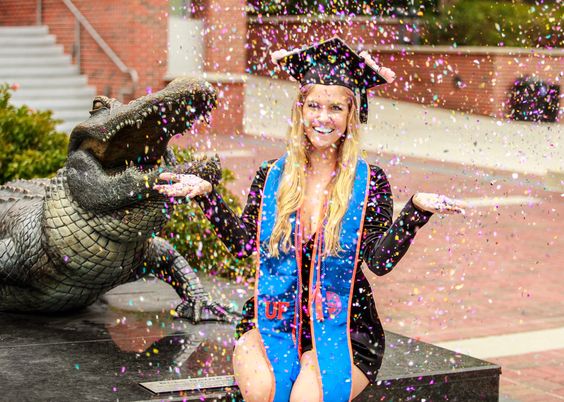 Photo via Pinterest
Use props. We've already mentioned the champagne bottle and the stack of textbooks, but what about confetti?! Definitely brings more pizzazz into your graduation photos. Bring a small broom along so that you can try to avoid littering on your beloved campus.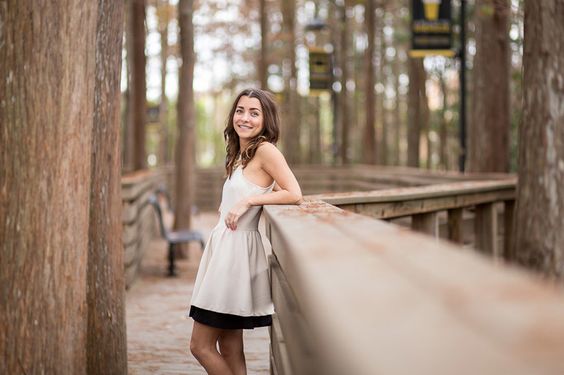 Photo via Pinterest
Again, use your campus. Some campuses are full of beautiful old architecture and others (like this one at UCF) are home to beautiful natural scenery. Walk around the campus, but have some pre-thought ideas of where you'd like to take your photos so that you have a mapped out plan in mind.
Ok, so you've graduated, taken your graduation photos and chosen your favorite photo graduation announcements. Now what? With all the stuff you have to do now that you're getting ready to start a new chapter in your life, you're probably real busy. Thankfully, Postable will print, address and mail your graduation announcements for you. You can share the big news with your friends and family in an official manner without having to take up too much of your time.
Get ready to write your graduation thank you notes — a nice byproduct of sending out your graduation announcements. And just like these grad announcements, Postable can help you write and send your grad thank yous in minutes. Being a grown up is hard work, sure… But some tasks don't have to be.