Looking for a fun [and easy] way to make someone you love laugh? Maybe you're the king of good jokes and can easily make everyone in your life giggle uncontrollably. But if you're like the rest of us, you may need a helping hand to make the folks in your life instantly cheer up. Funny greeting cards are the solution!
Good news — it couldn't be easier!
Here's our pick of 41 funny greeting cards to send someone with a sense of humor (or not).
We all have those friends and family members that just love a good joke. There are also those friends that absolutely adore their share of punny-goodness, so why not send them some pleasant-ness in a card. Let's be honest, funny greeting cards are the quickest route to the heart.
The best part? You can mail all of these cards right now — without ever leaving wherever it is you are!
Postable will print, address and mail all of these delightfully funny cards for you!
1. Oh shit.
There are a number of ways to go about announcing your pregnancy. You could post it to Instagram with a nicely staged photo, get creative with a huge announcement activity or simply mail this funny greeting card with a due date written on the inside. Mail it now.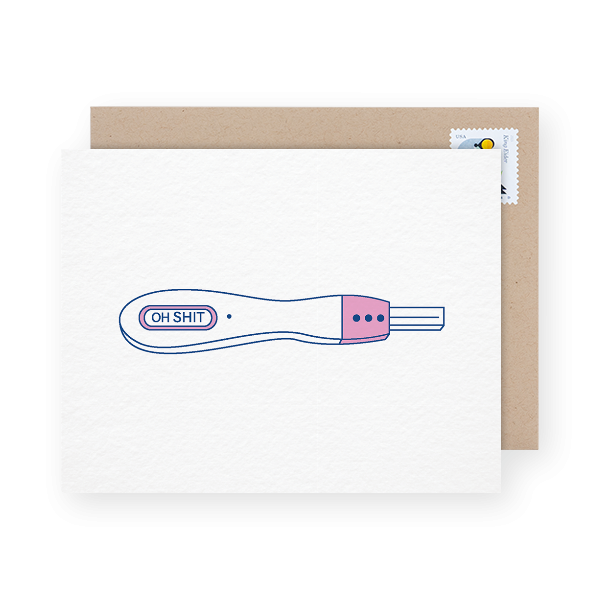 2. I remembered… That I forgot.
So you forgot their birthday… Why not make a joke of it and send them a belated birthday card anyway? Just make sure this someone is actually going to get a kick out of the silly card instead of getting upset. Mail it now.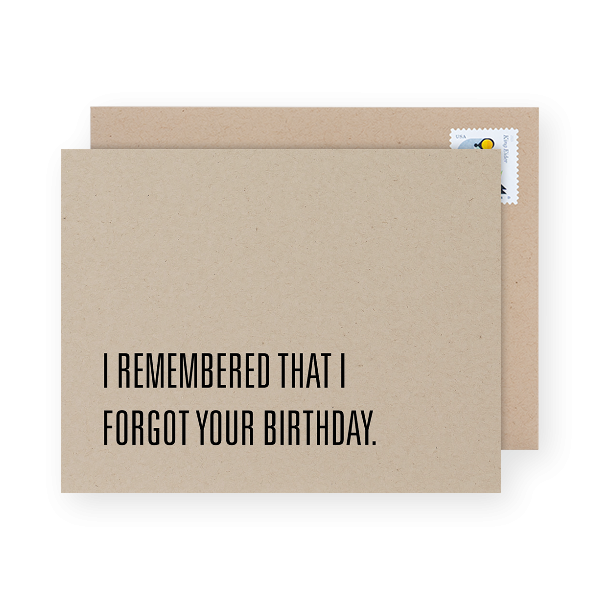 3. Burrito-making skills.
Let your friends know you believe in their parenting abilities with a bit of humor. And go get yourself a burrito! Mail it now.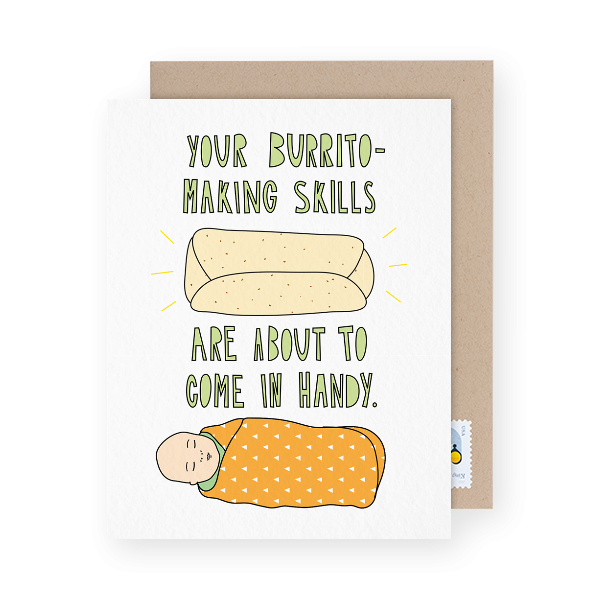 4. Happy open bar!
The open bar at weddings is probably the greatest invention since the light bulb! Send your wedding congratulations with poise and honesty. Of course, you're excited for the happy couple, but at the end of the day, the open bar is really what you're all-too-giddy for. And who wouldn't be? Mail it now.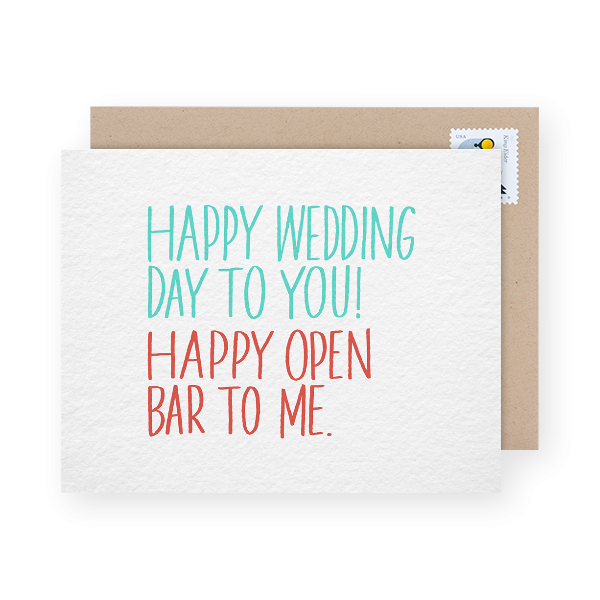 5. Never sleeping again!
This card will be funny until the baby is born and reality sets in. Be careful they don't blame you for predicting the future! Mail it now.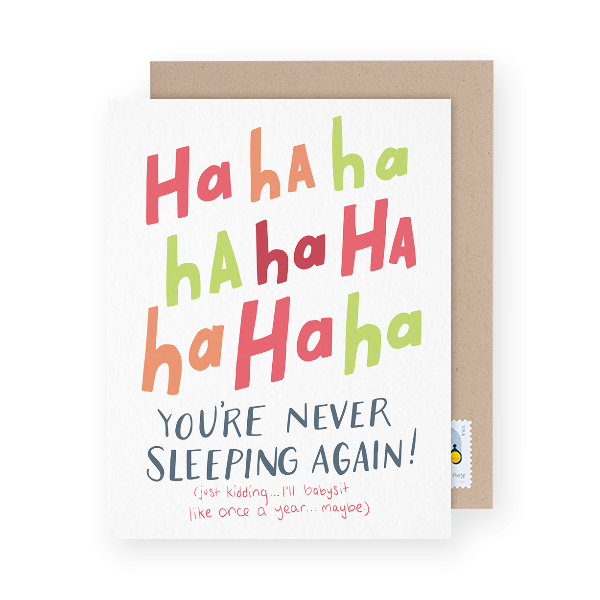 6. Wish you were here.
Let em' know you're thinking about them… Mail it now.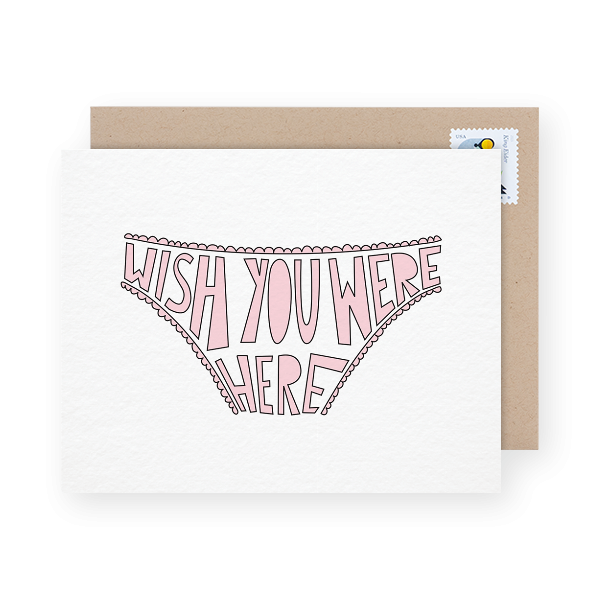 7. Happy Birthday, asshole!
We all have pet names for one another. Maybe re-think sending this to grandma? Mail it now.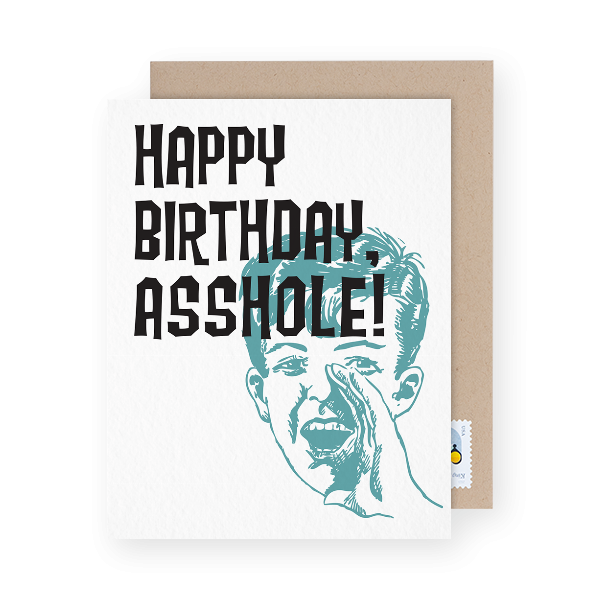 8. #shit
Screw up? No need for a long apology, just send a short (and sweet) hashtag and they'll know exactly just how sorry you are. [On a side note, you should probably elaborate a bit inside the card.] They'll be so delighted by the tiny poop non-emojis on the front of the card that they'll be quick to accept your apology! Mail it now.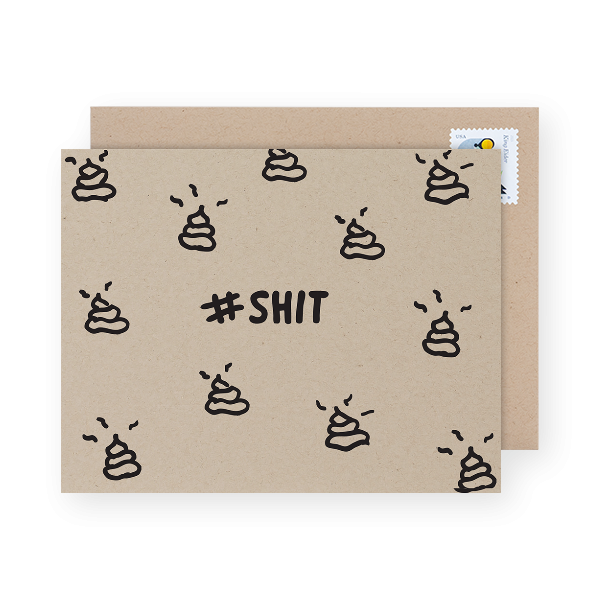 9. Bear cake!!!
Send this funny birthday card to that friend that can devour a cake almost as quickly as you. Mail it now.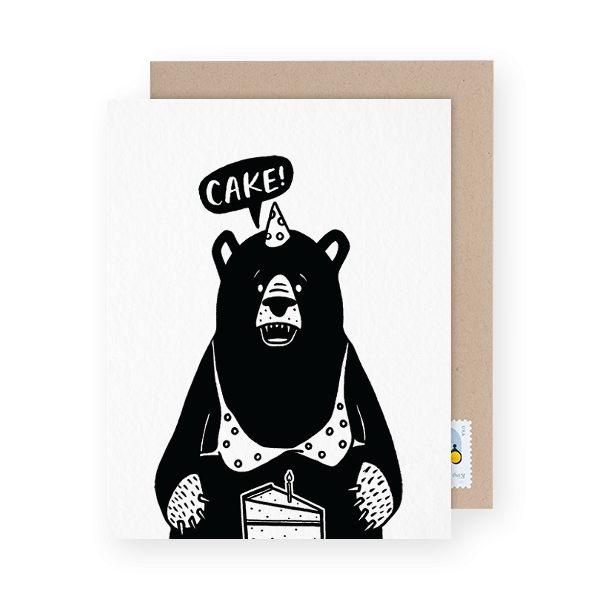 10. Finally!
Seriously though, what took so long? Mail it now.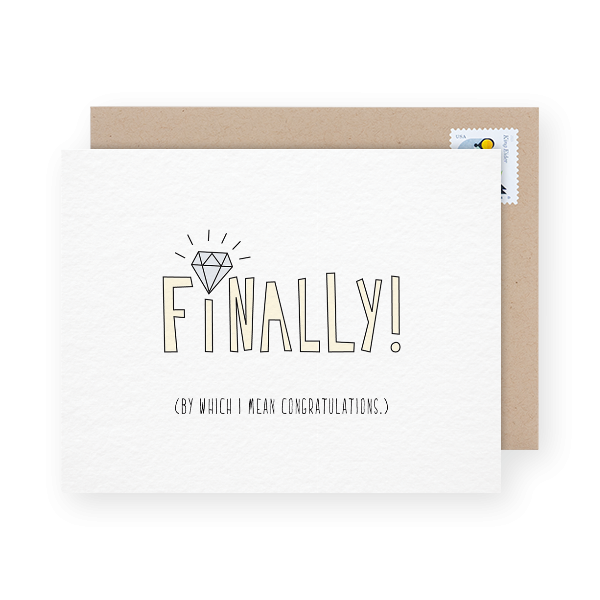 11. Miss ewe.
Having a friend live far away sucks. Sending a text here and there to keep in touch is one thing (and probably a must), but sending a random miss you card may even start a chain pen-pal reaction. How fun would that be?! Mail it now.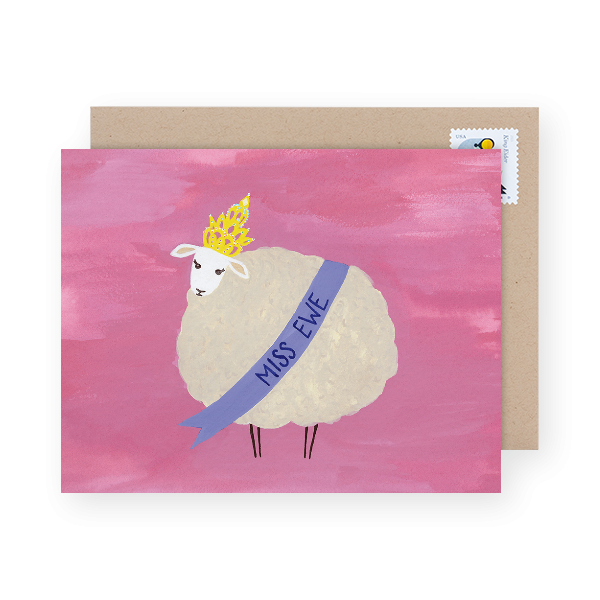 12. It was your birthday!
Better late than never. At least you were honest. Mail it now.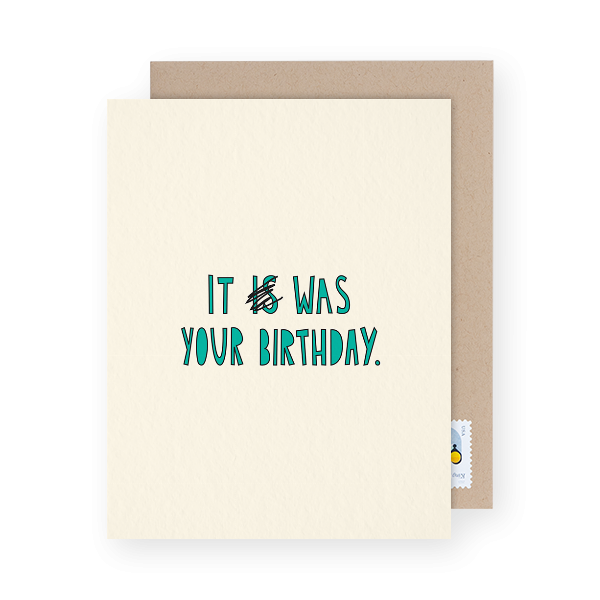 13. Thank you…
Our work besties are true unicorns. Why not send them this funny work-related card by Knotty Cards. Chances are, it will make them giggle. Maybe consider mailing this to their home address. Or don't. Whatever. Mail it now.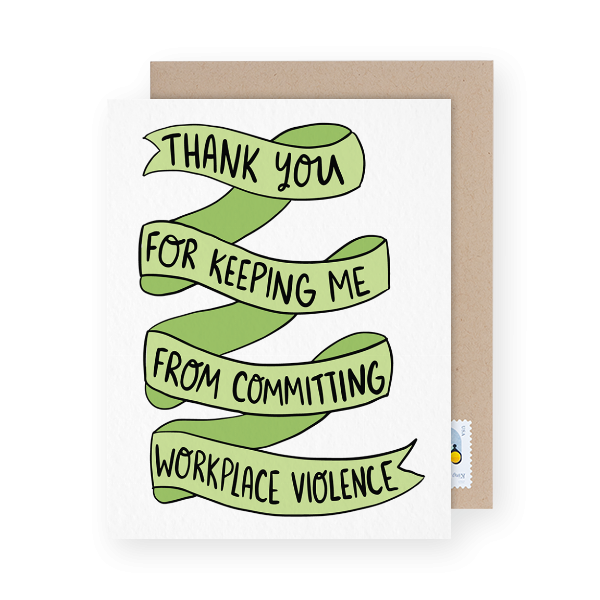 14. I spaced!
Uh oh… At least the belated birthday card is cute as buttons! Mail it now.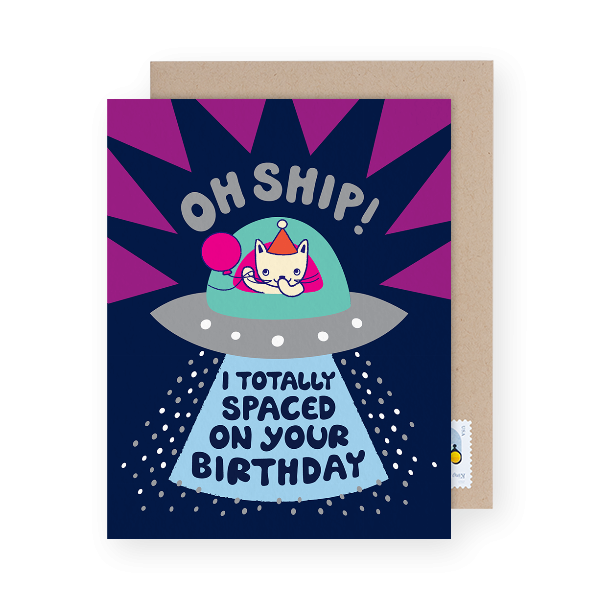 15. Me and my fancy manners!
Try to be on time with this one. With all your manners and all. Mail it now.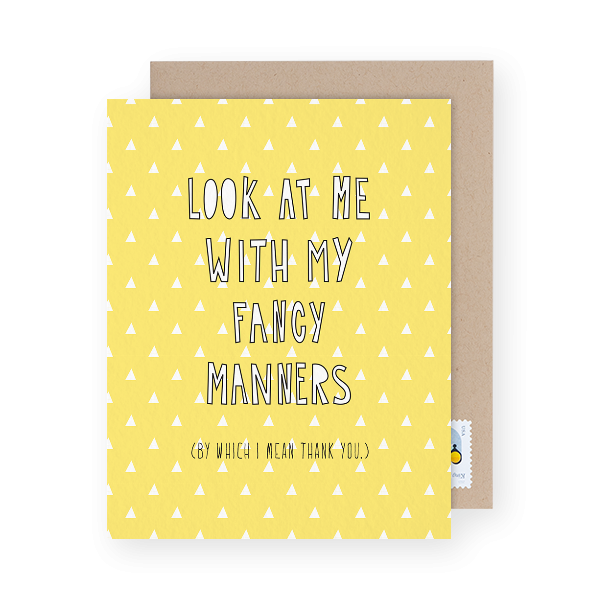 16. Favorite thing to do.
Naughty love card for the win. Spice things up with a little love joke. Mail it now.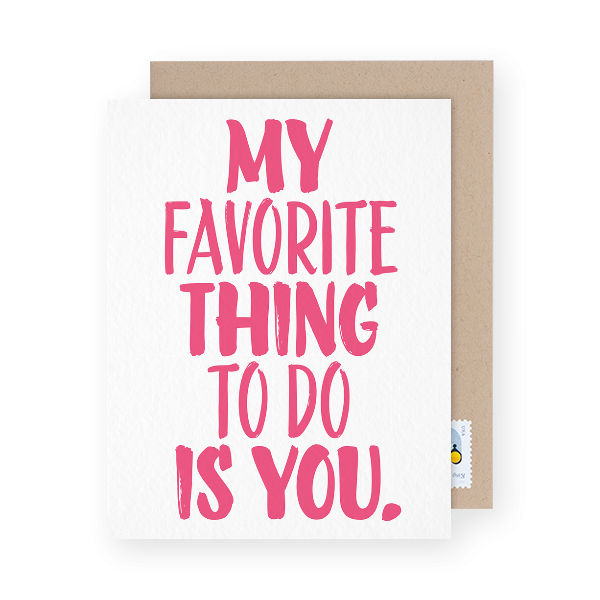 17. Happy Birthday!
As the number of candles on our birthday cakes gets bigger and bigger, the most important present we can get is laughter. Go ahead, send em' a giggle! Mail it now.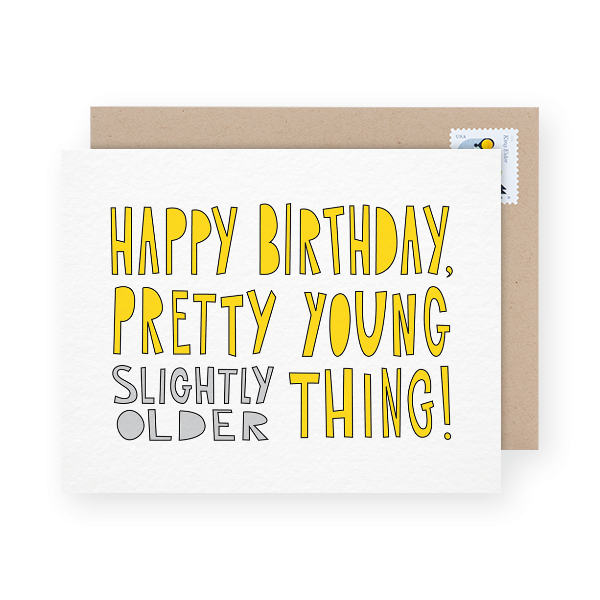 18. Tiny poop machine!
Ahh. Success. Mail it now.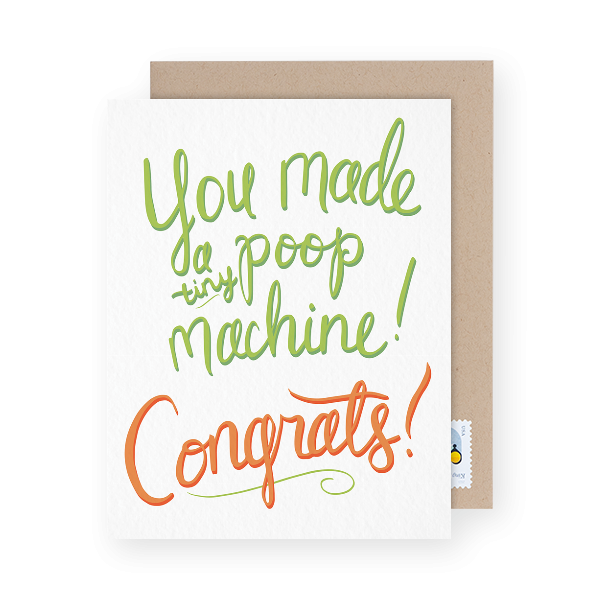 19. From your favorite child.
Don't tell my brother. Mail it now.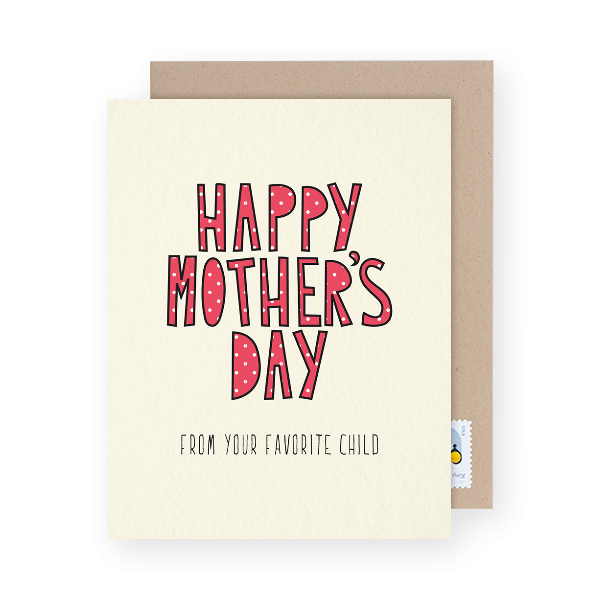 20. Thanks for the support!
When you're having a tough time, the support you have makes ALL the difference. It also doesn't hurt to laugh a little. Mail it now.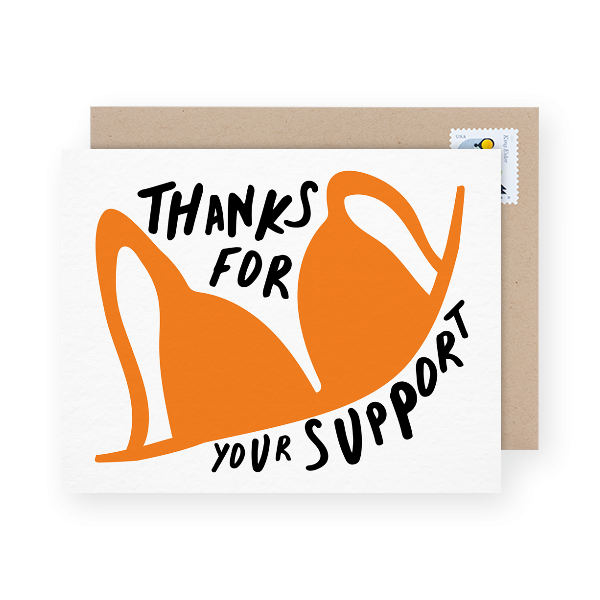 21. What was I thinking?!
Get straight to the point with this funny apology card. They'll be too busy giggling to stay angry. Mail it now.
[See: 7 Reasons to Send an I'm Sorry Card]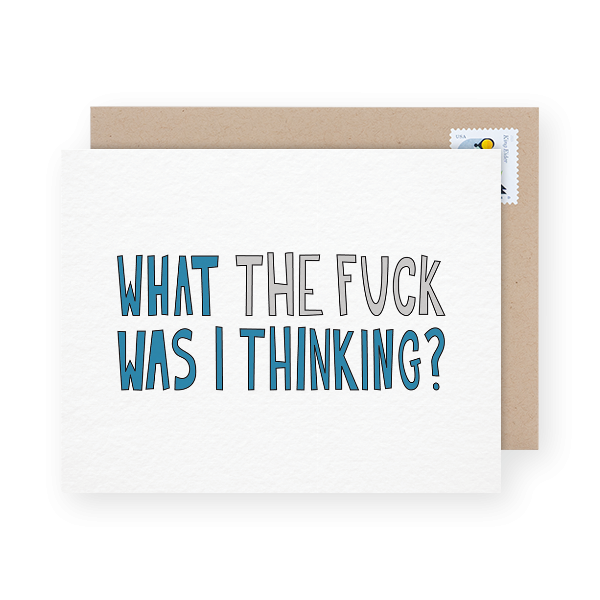 22. I remembered!
Nothing says Happy Birthday quite like the color yellow. And the fact that you actually remembered! Mail it now.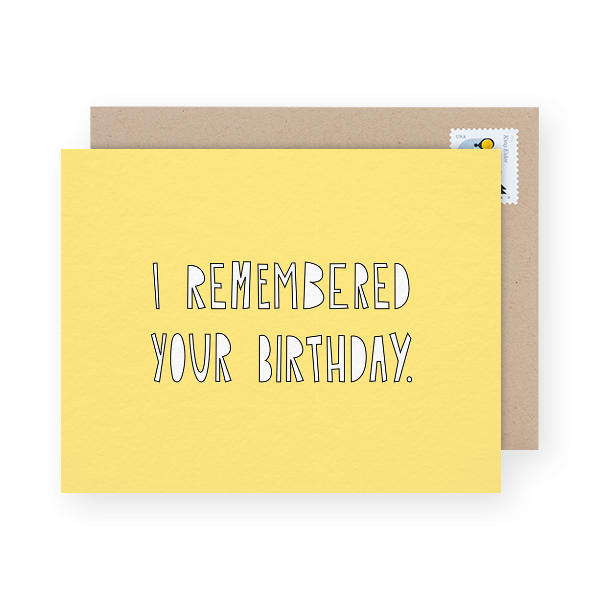 23. Iguana be just like you!
This adorable Iguana pun card from A Jar of Pickles is perfect for mom or dad or even a big sister. Send this card to your grandparents (because they are the coolest) and make their day! Mail it now.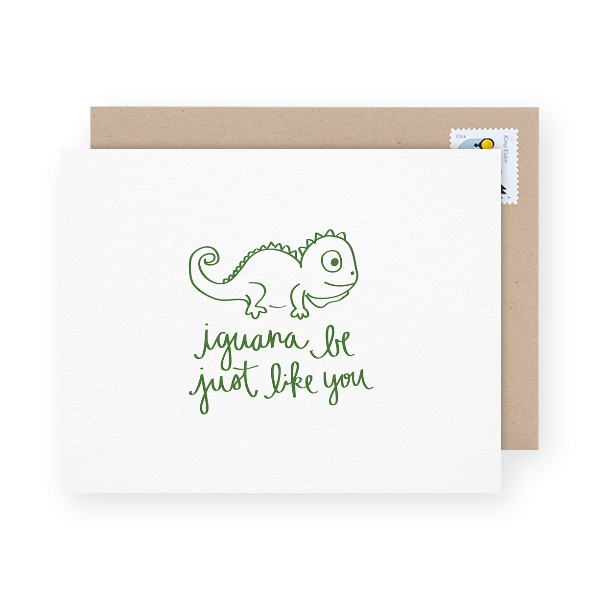 24. You're g-r-a-t-e!
Everyone loves cheese. Everyone loves puns. The two worlds collide and you get this funny greeting card by Wild Ink. Send this funny card to the cheese lover(s) in your life — aka everyone. Mail it now.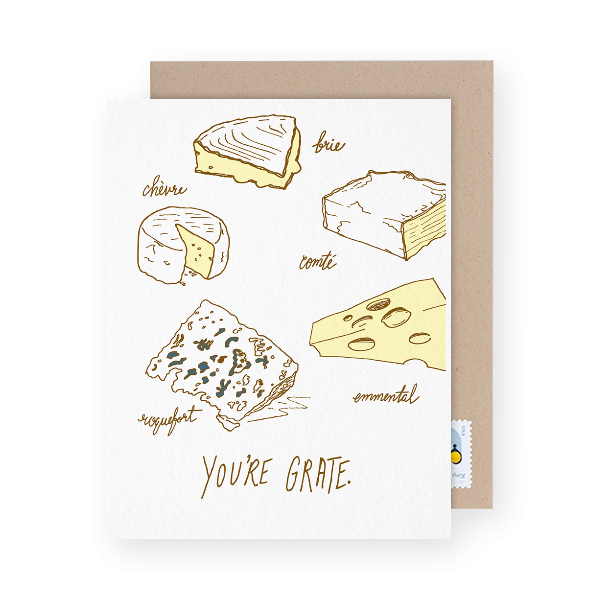 25. Let's kick it!
Have you been so busy lately that you've totally missed out on hanging out with your squad? Skip the text and send your friends a funny greeting card invite — doesn't have to be anything special. Just a card inviting your friends for a night out (or in) or a day of brunching it up (now that Spring is here and what not). This funny pun card by Hello Paper. Co. will definitely make your friends forget how MIA you've been lately. Mail it now.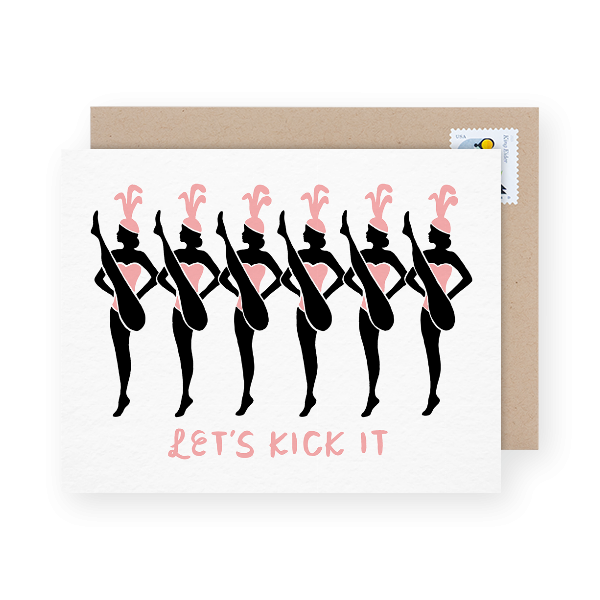 26. Stupid birthday.
It's important that the person you send this to actually does have a sense of humor. Mail it now.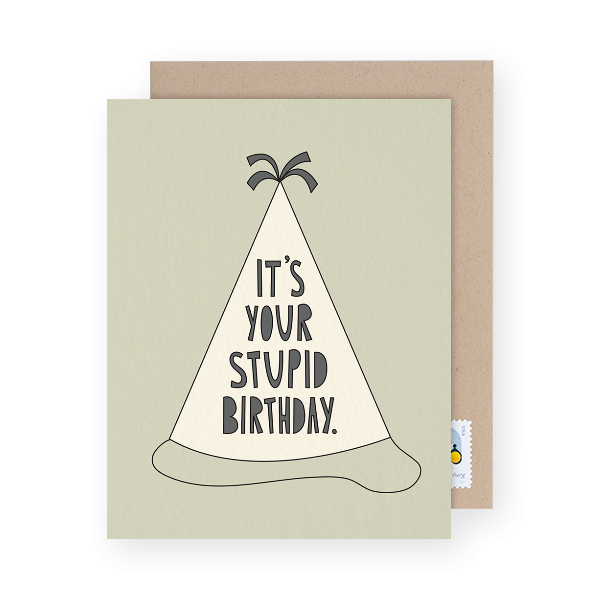 27. Congrats on being (re)productive!
Complimenting is always a good way to go. Mail it now.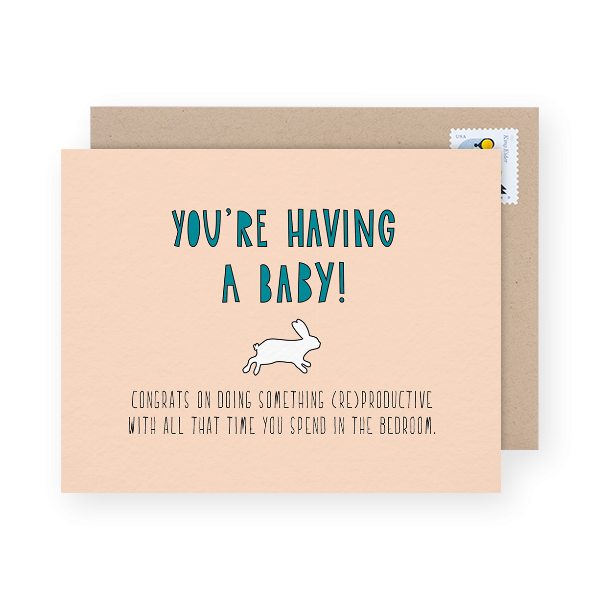 28. Get well, drinking buddy!
Honesty is key. A get well card with a focus on alcohol… they'll know it came from the heart. Mail it now.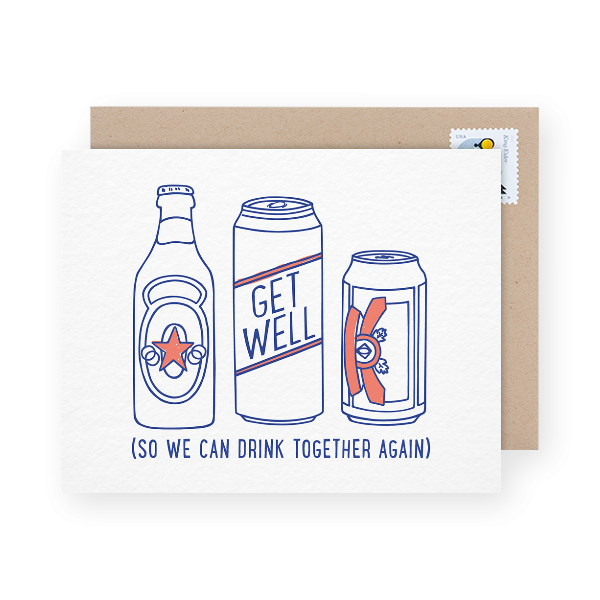 29. Let's talk-o soon!
For that friend that you haven't seen in a while… and loves tacos? Mail it now.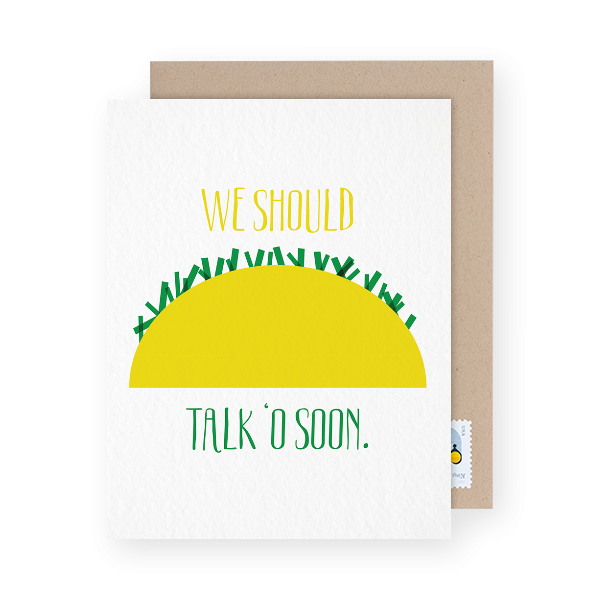 30. Checking you out!
You know, in case they forgot. It's always a nice reminder. Mail it now.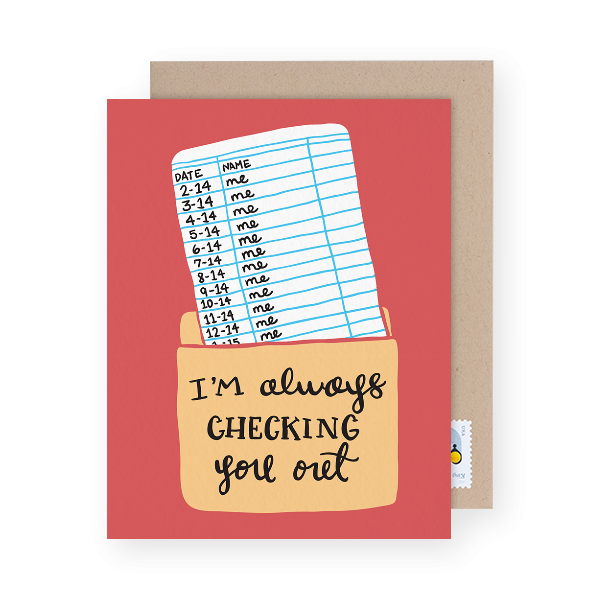 31. You are old.
Another funny greeting card to send with a bit of caution. Do they *really have that kind of sense of humor or are you about to pull a Chandler?! Mail it now.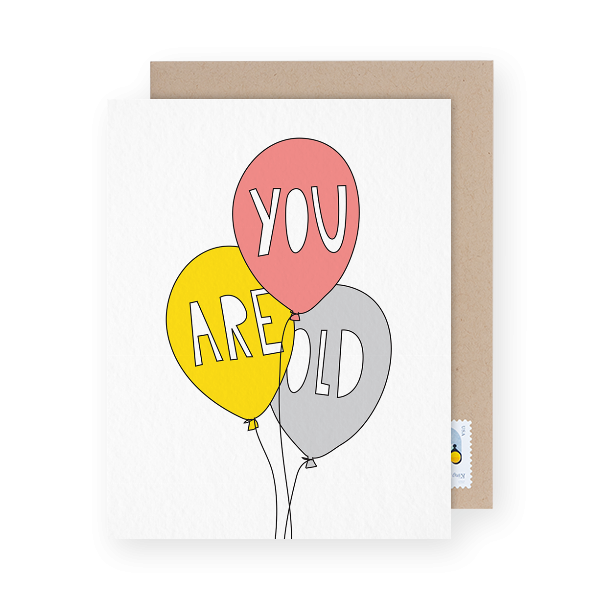 32. Ctrl + z
Funny birthday cards for those not-so-sensitive friends. Mail it now.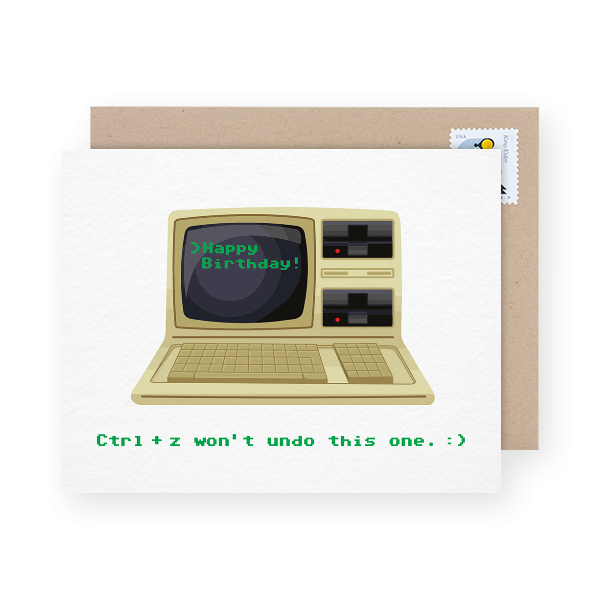 33. Love you butt tons!
Don't keep that kind of stuff inside. Share it. Mail it now.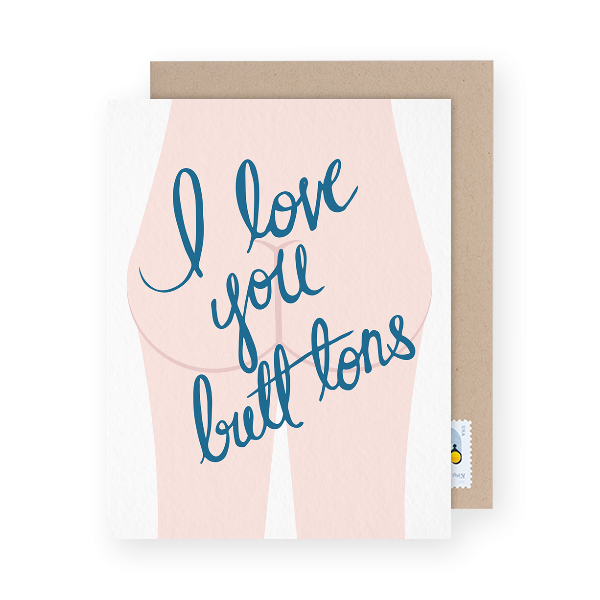 34. Happy 29th birthday!
So what if they're turning 29 for the 8th year in a row? Mail it now.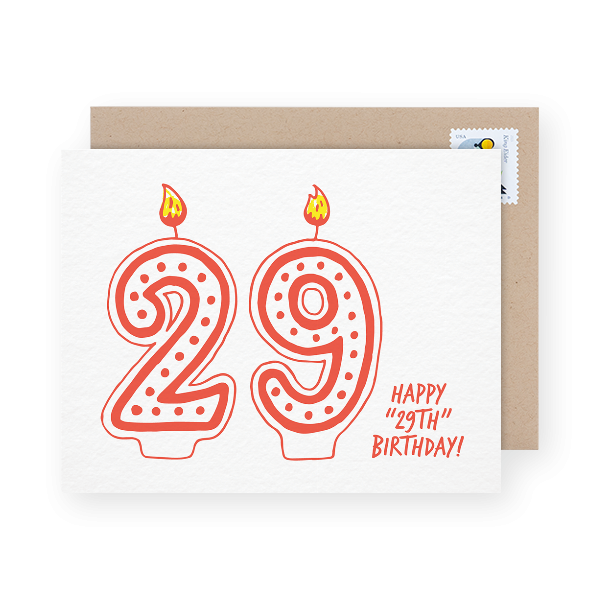 35. I turned out pretty great…
Give credit where credit is due. Funny greeting cards can make mom giggle on Mother's Day too! Mail it now.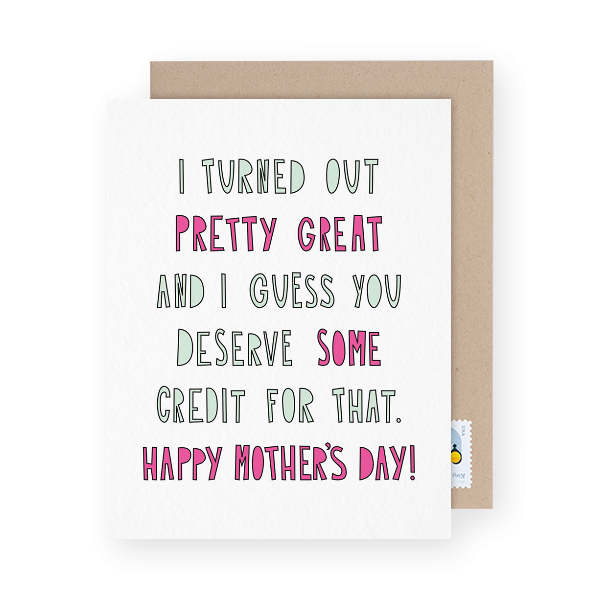 36. Can't wait to drink!
Everyone knows who will be the life of the reception. You. That's who. Mail it now.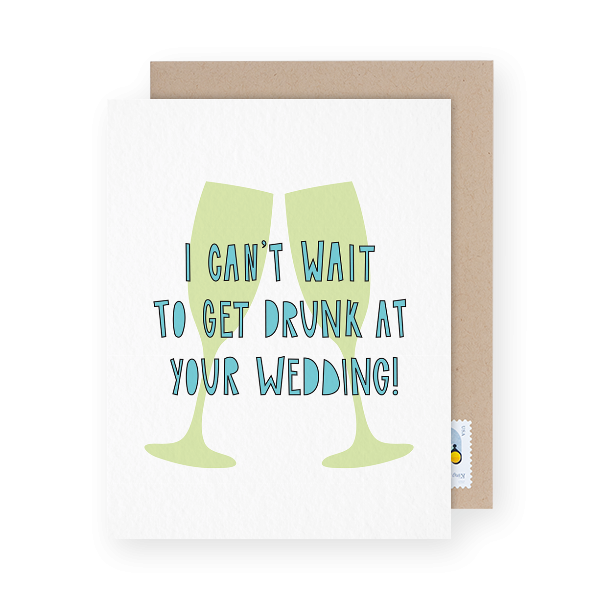 37. I'd get really hurt for you!
Hey, at least you're being honest. Mail it now.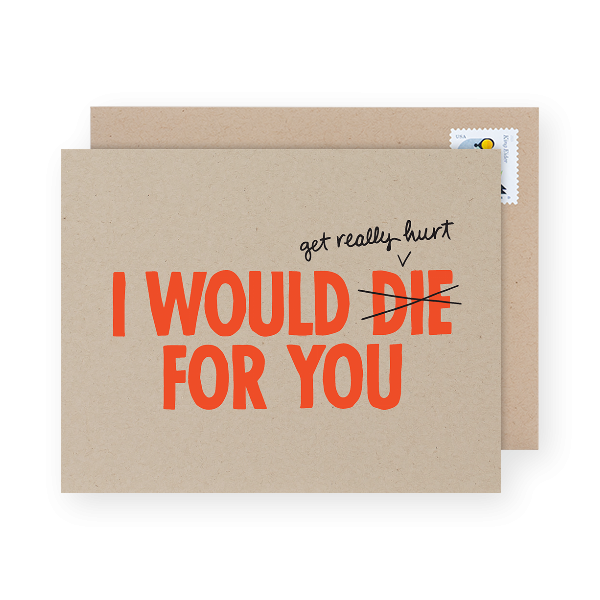 38. Not a grandpa.
This funny greeting card by Knotty Cards is one hell of a joke. That's one way to ask for some money. Or maybe just give dad a mini-heart attack. Mail it now.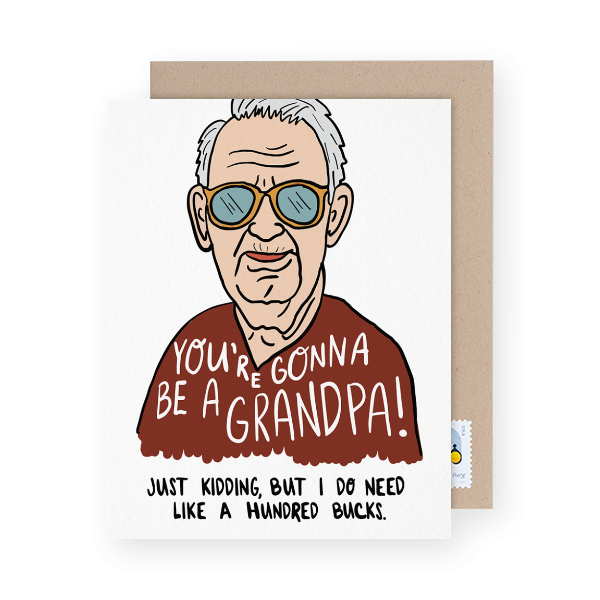 39. I could eat your teeth.
Mmm. Tasty. Mail it now.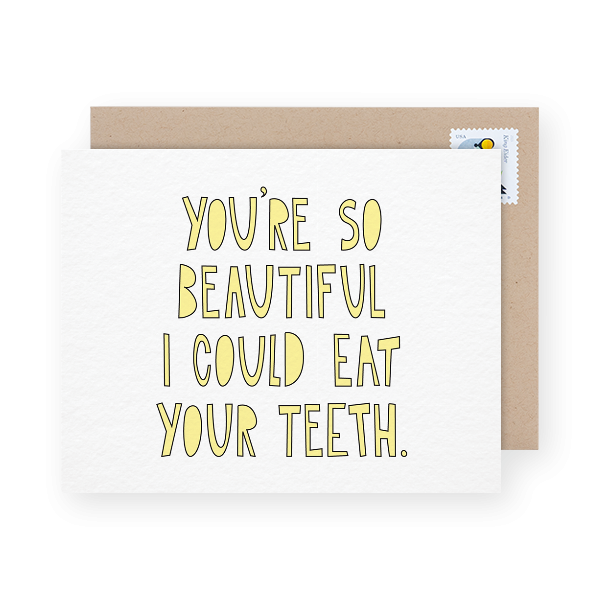 40. Nacho week.
Sincerity never felt so real. A sorry card with a tinge of humor can really go a long way to making your buddy feel a whole lot better. Mail it now.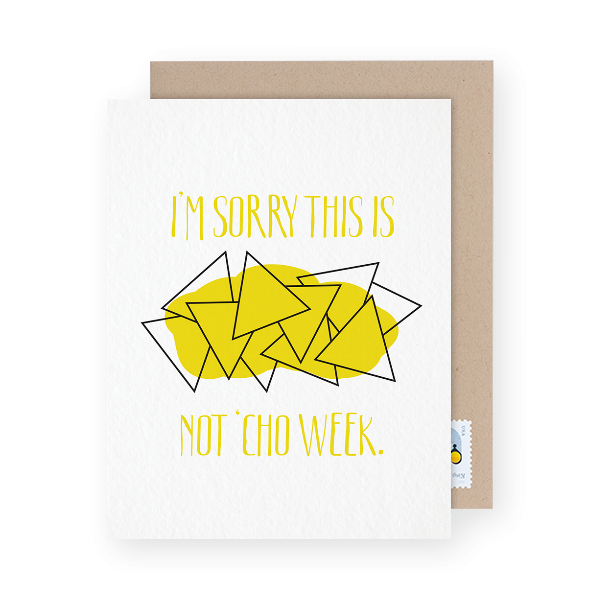 41. I've been a prick.
Own up to your mistakes with snail mail. Mail it now.
Which card would you send? Share with us in the comments!
With so many funny greeting cards to choose from, which card(s) will you send? Your friends and family will definitely appreciate the extra thought you put into them that day — but they'll never know that it only took you a few minutes to write and send them that funny card!
Remember: Postable will print, address and mail the cards for you.