You've probably heard the words Jingle Bells or Rudolph sometime today. It's practically impossible to escape the holiday frenzy at this point, but then again why would you want to? This is the most joyous time of the year and we legit could not be more thrilled. The holiday season has begun and what better way to celebrate than with a laugh or two at these deliriously funny holiday cards. Before we get into it — let's ponder on something for a moment: what makes a funny holiday card… funny? Is it a good pun. Obviously. Perhaps its a funny illustration or a puppy. Puppies are funny, right?! What about custom photo cards with a fill-in-the face illustration. Hard not to get a giggle out of those!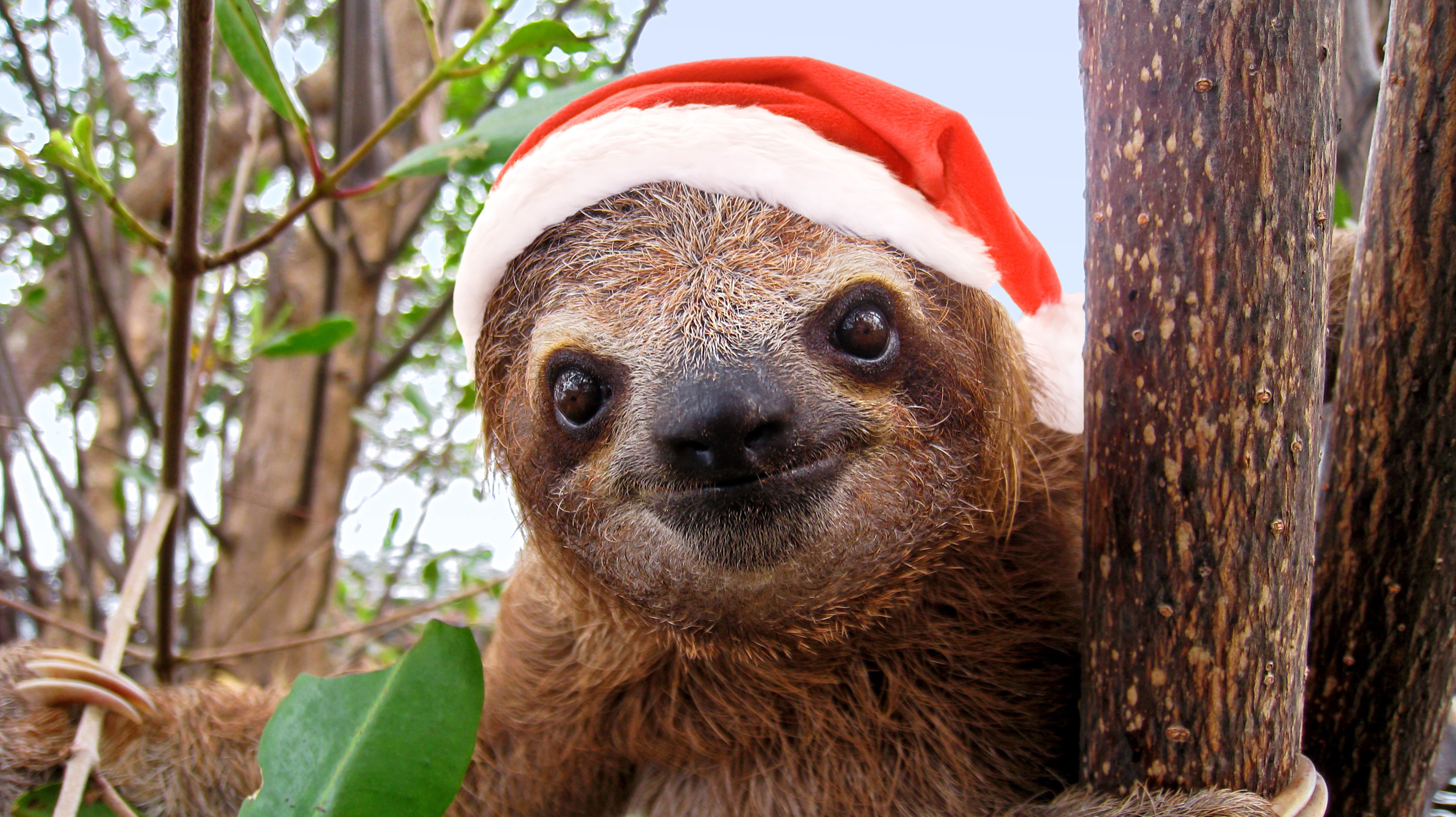 If your spirits have managed to fall, not to worry this list is bound to perk them right up! After all, who doesn't love funny holiday cards? And once you've browsed the list, let us know what you think! We want to know: which card did you think was funniest? 
[Pro tip: You can send each one of these holiday cards within minutes without leaving your computer. Postable will print, address and mail them for you. So go ahead, giggle away — and if you want to send someone you love a giggle or two; we'll do the legwork for you.]
Ok, now for the legitimately funny holiday cards.
1. Fleece Navidad
Starting off the list with a good old fashioned pun. This list — as you'll soon see — is pretty heavy on the puns so hold onto your punts. Get it? Ok. Maybe we'll leave the puns to the masters like A Jar of Pickles. This Feliz Navidad card is funny AND adorable. What more could you possibly want?
Send this card right now
2. Happy New Beer!
The holidays are a great time to enjoy some festive booze — pumpkin ales anyone? We all have that friend that would likely appreciate this card a bit more than say — grandma. Nevertheless, most everyone can appreciate good ole' play on words.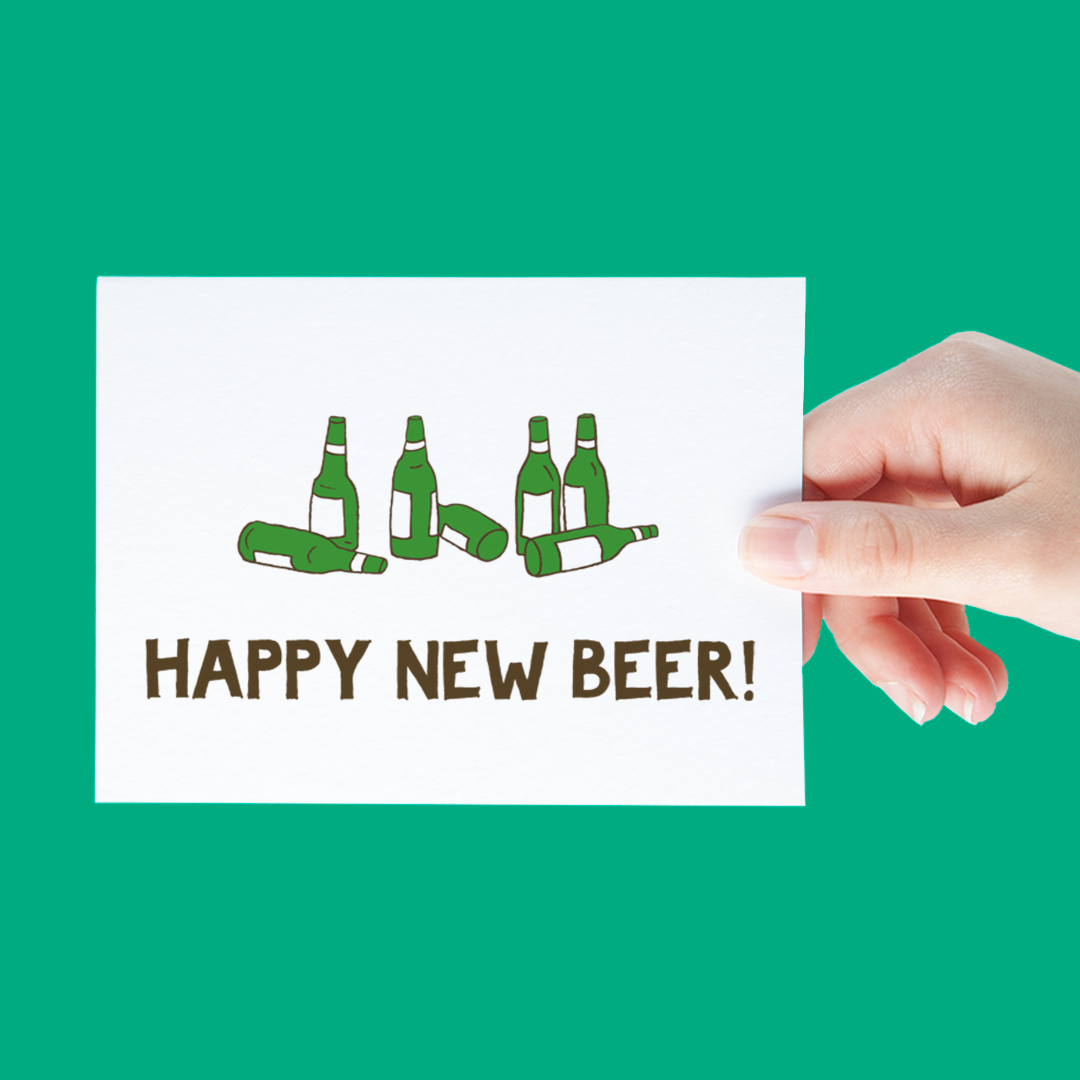 Send this card right now

3. Bah Humbug
Bah humbug indeed.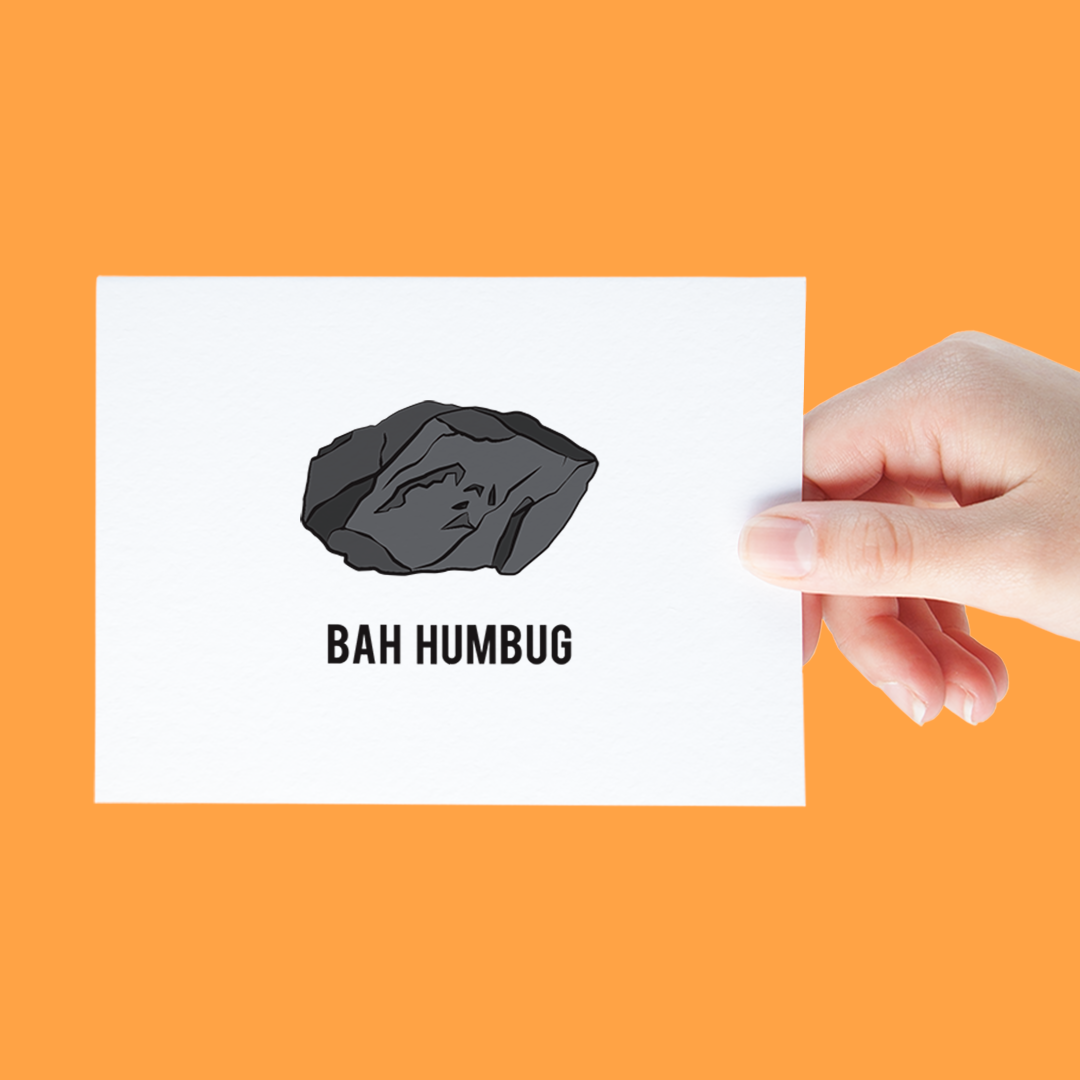 Send this card right now

4. All I Want for Christmas…
Near Modern Disaster has a special way with words. At the very least it's an honest sentiment. Know someone who would get a crack out of this?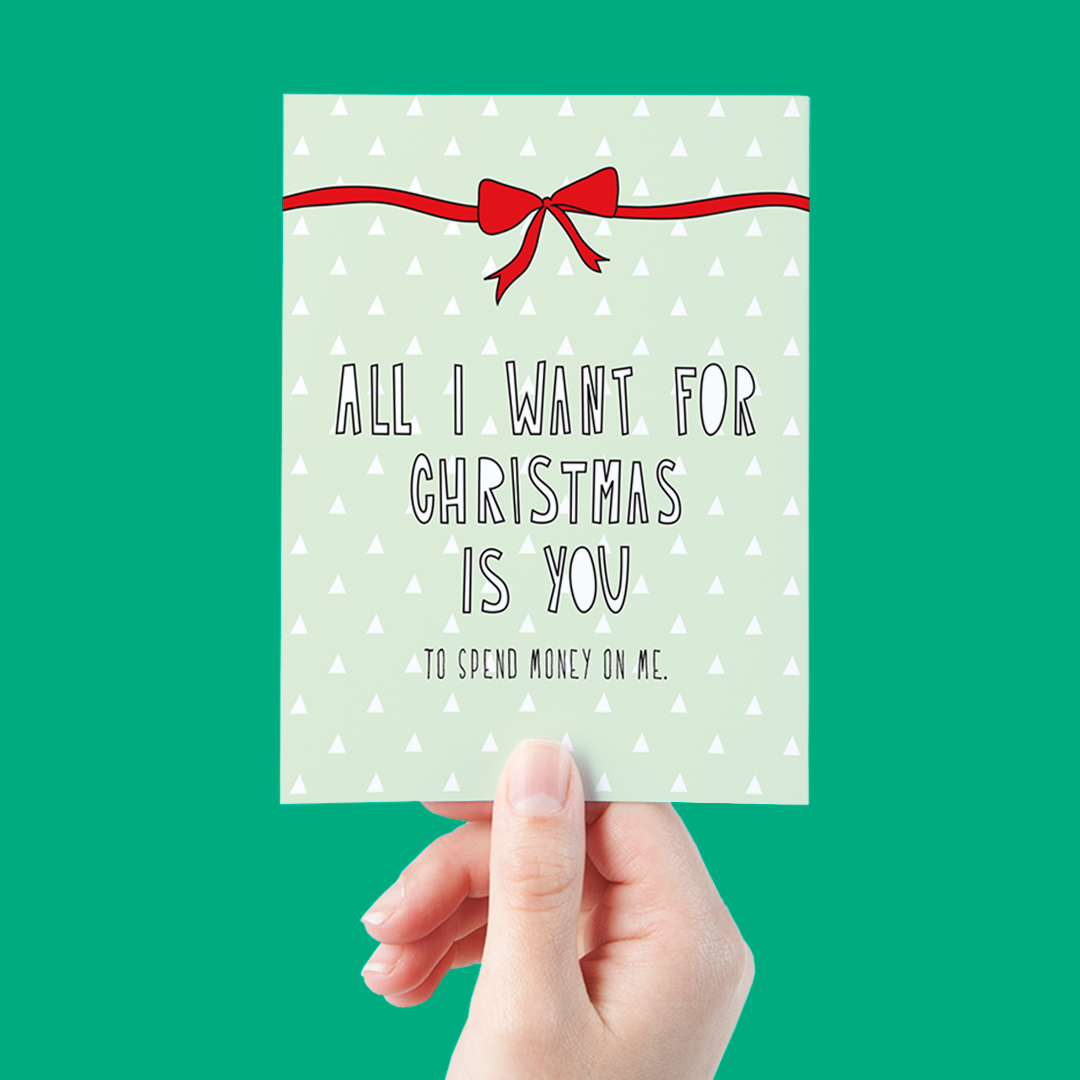 Send this card right now
5. Merry Chrismukkah
When you're just not sure what the right move is… Why not wish allll the wishes?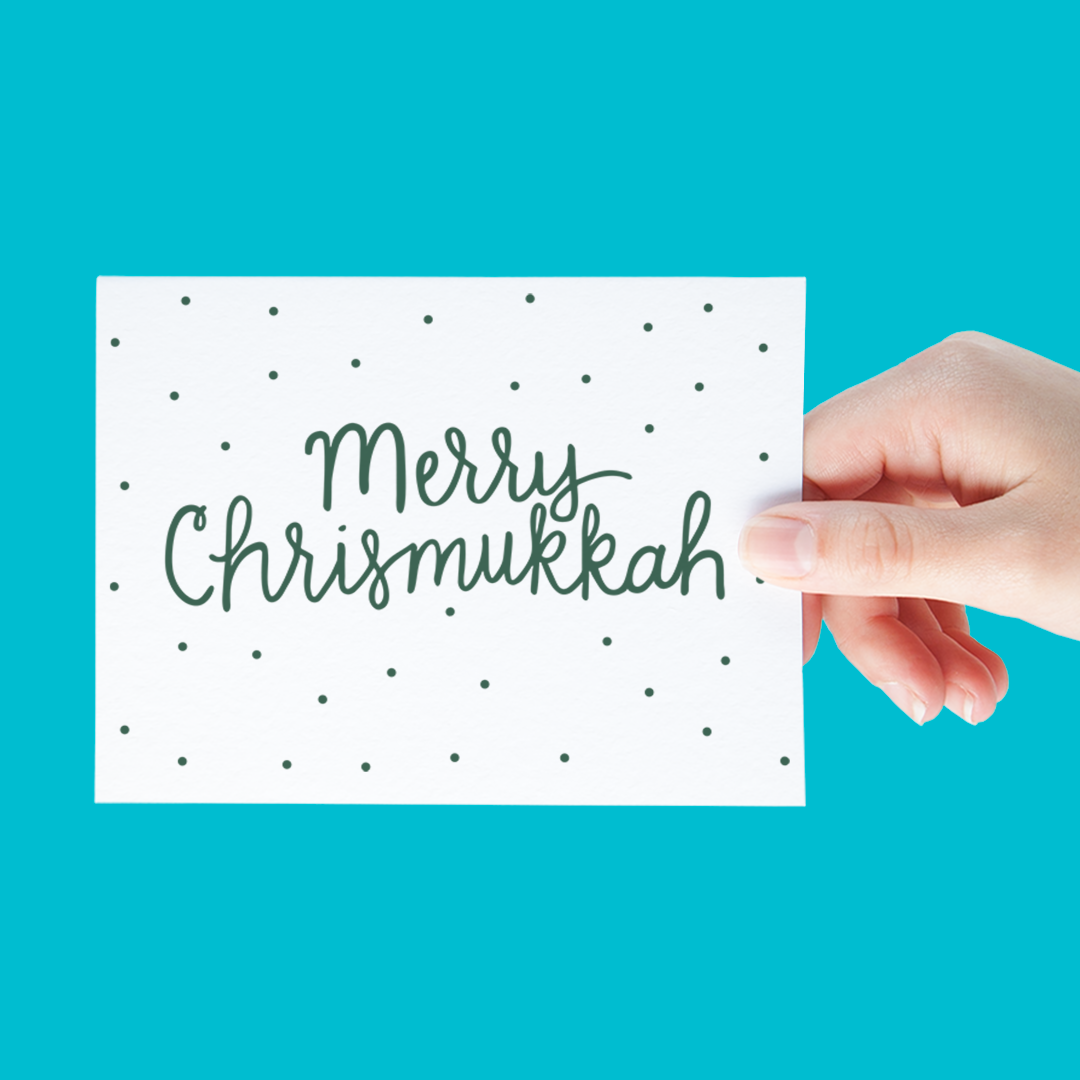 Send this card right now

6. Tis' The Season For All the Drinks
There's hot toddies and apple cider and egg nog and… Wait, what were we talking about?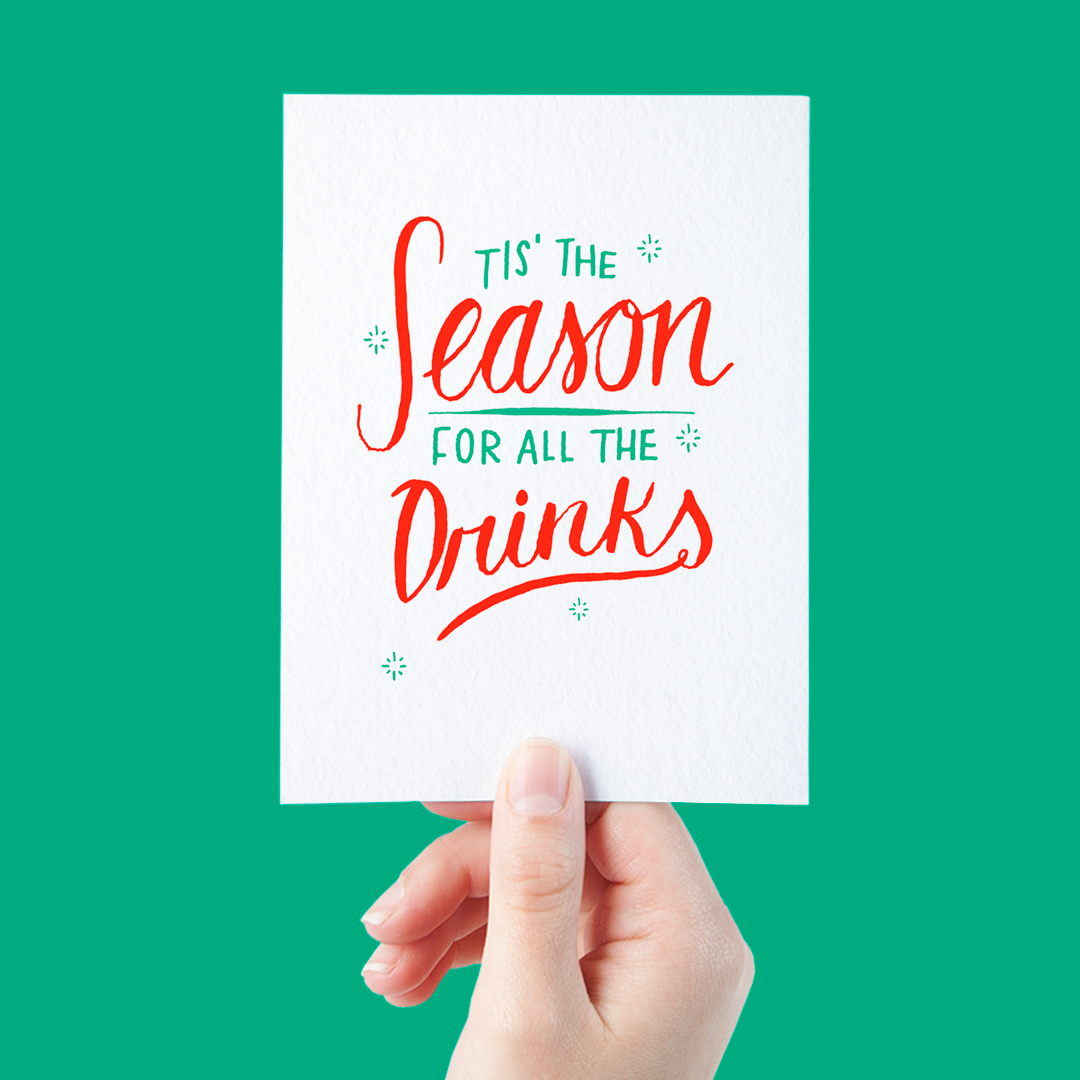 Send this card right now

7. Ho Ho Hos
Because this Bench Pressed holiday card totally just made you laugh out loud. And you probably already know someone who would appreciate it as much as you just did.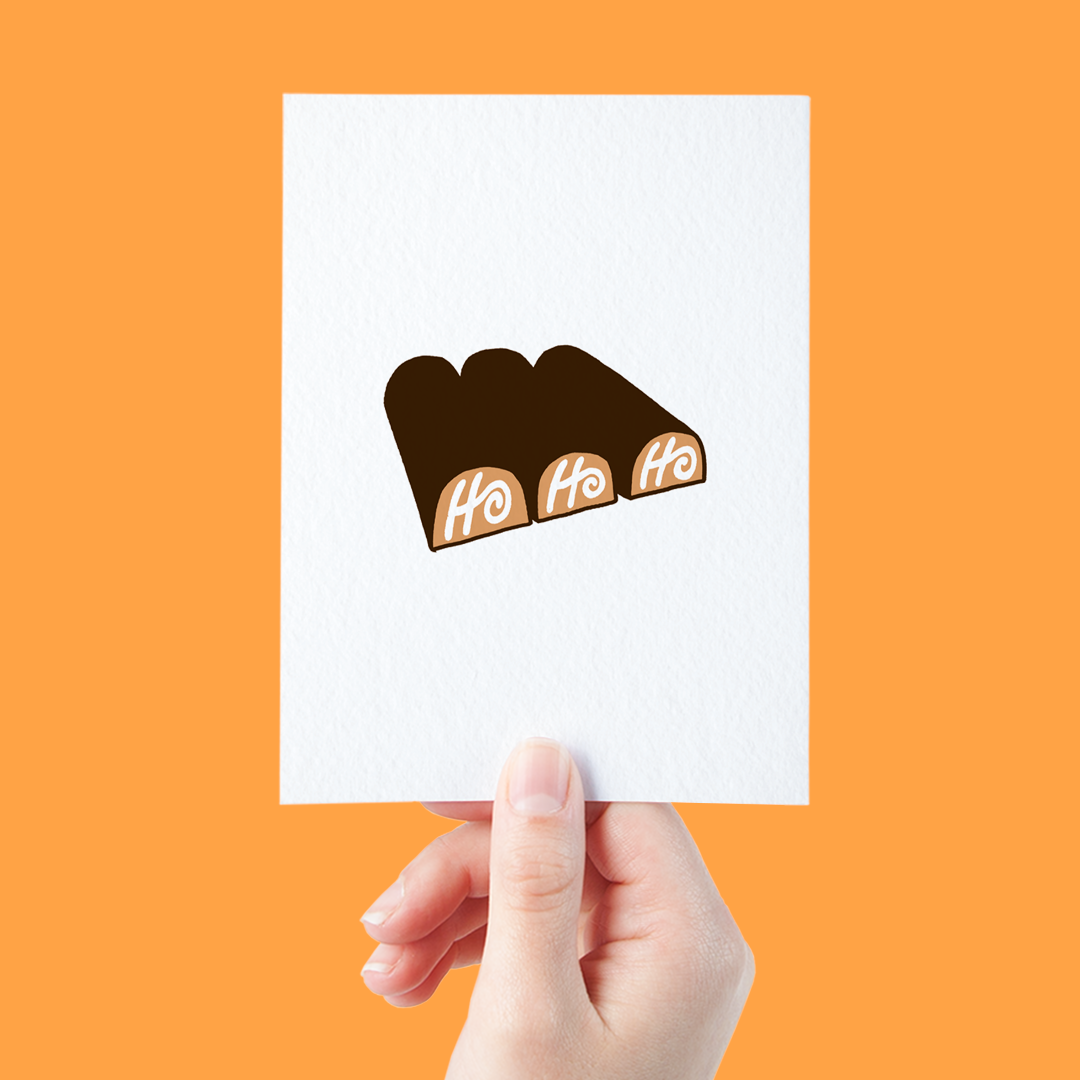 Send this card right now

8. Tis' The Season
Another way to state the obvious. Who doesn't love a good warm alcoholic beverage to go along with their festive feast?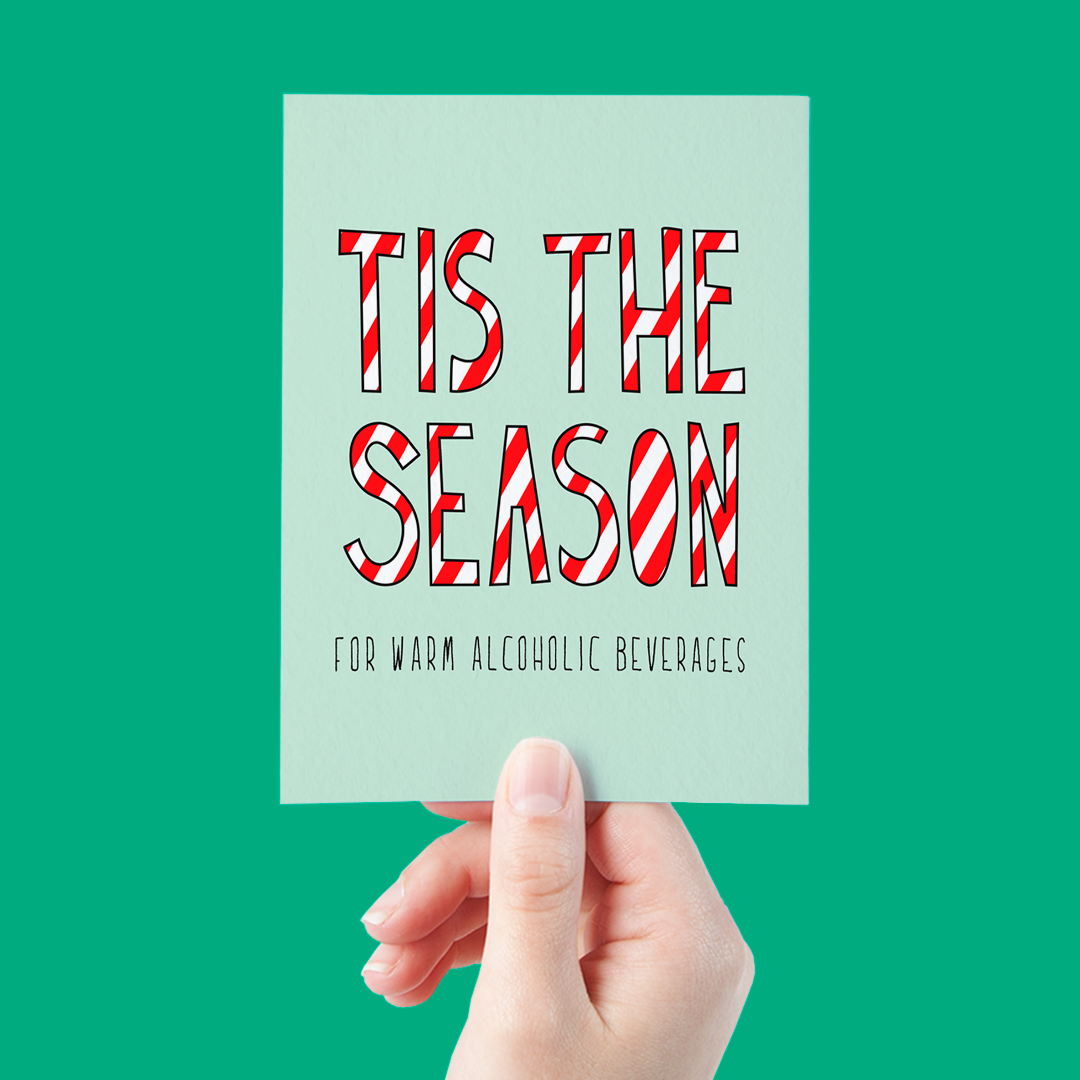 Send this card right now

9. The Reindeer Pet
Have a pet? This card is the perfect way to share their adorable little faces with the world. You can also send one of the many Holiday cards for pets if that's your jam.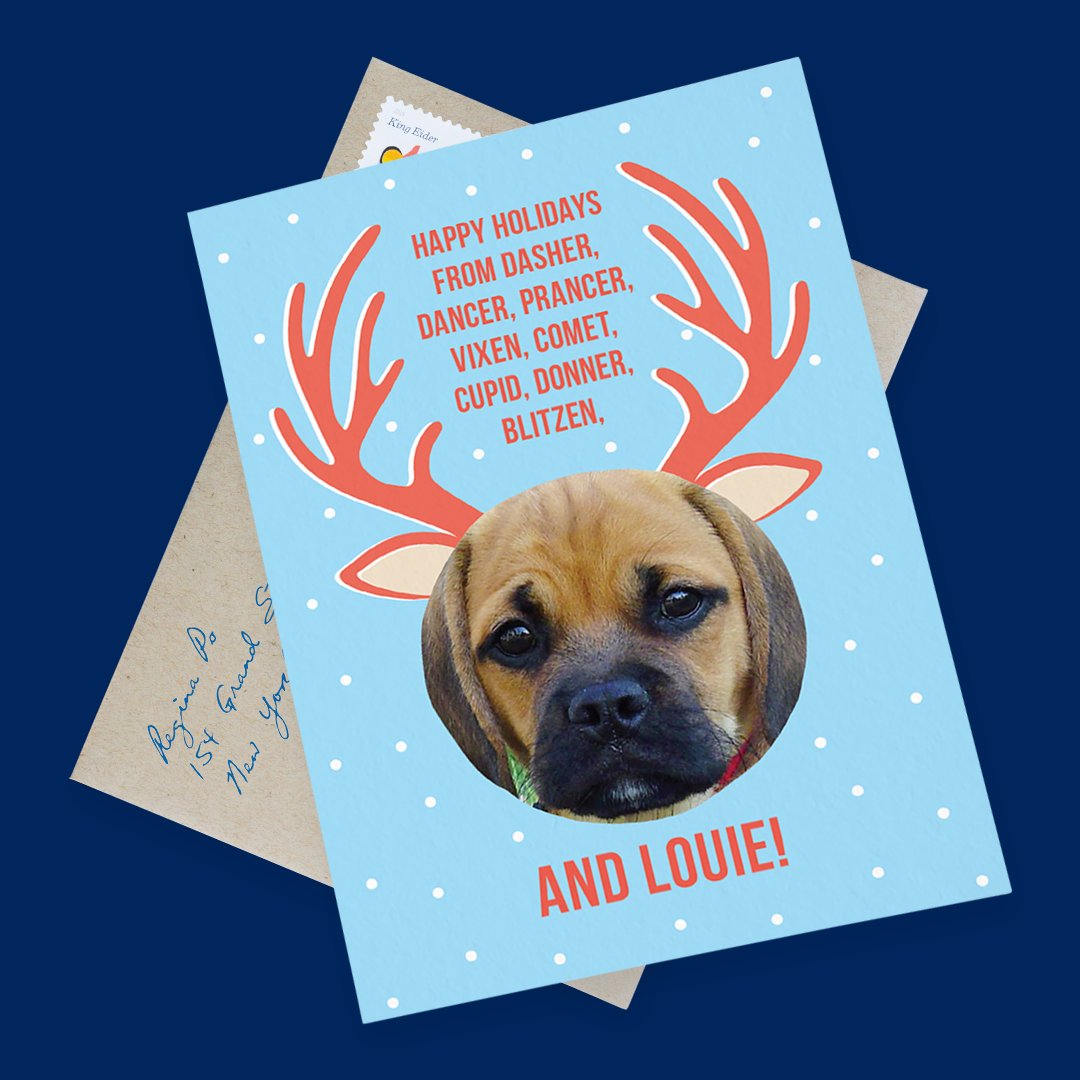 Send this card right now

10. Ho Girl Holiday
Hey girl. Ho Girl. It's all the same. And it's always funny… Especially if you know a Gosling fan.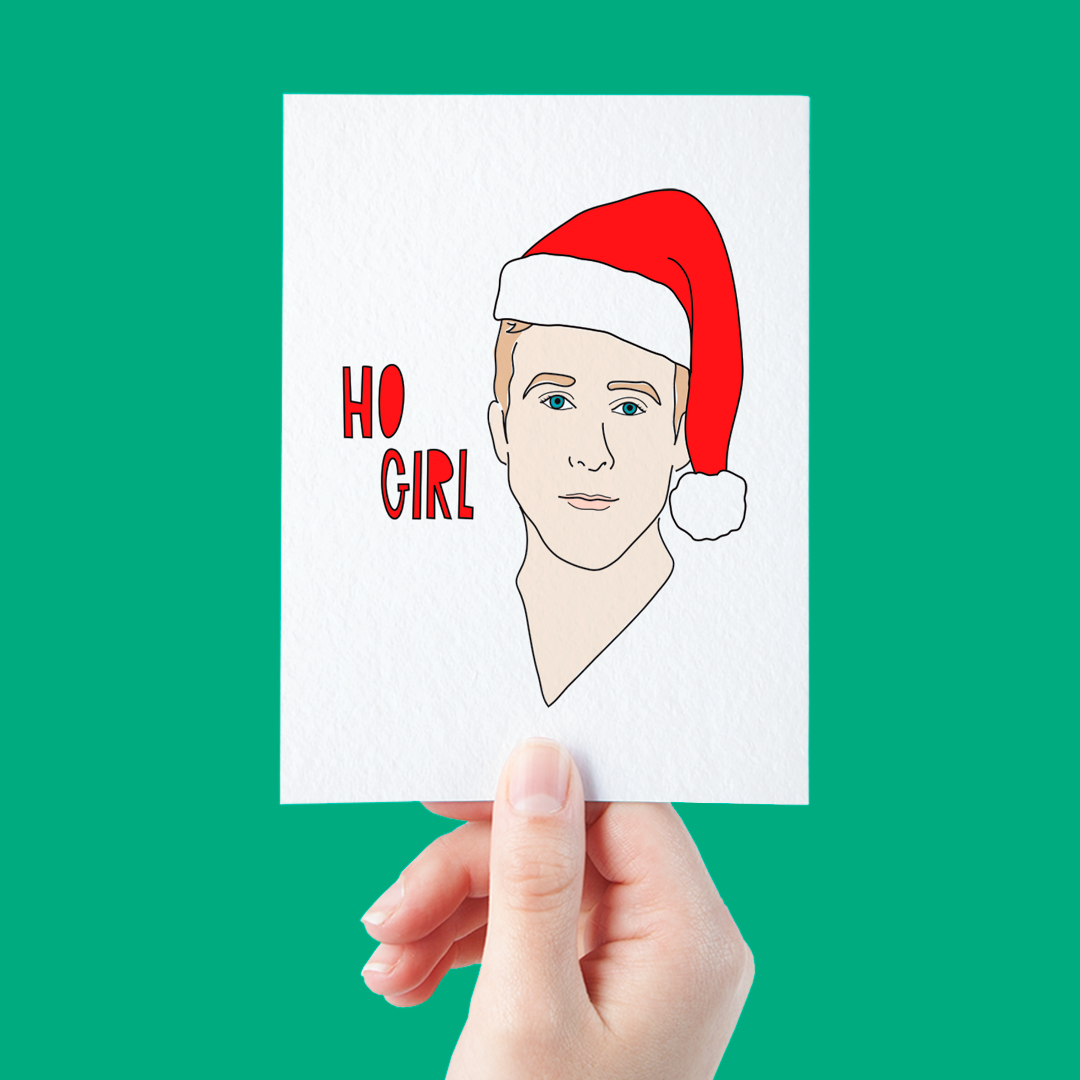 Send this card right now

11. A Latke Love This Holiday
Gotta love a good Hanukkah pun. Not only is this little diddy funny — it's also quite pleasant to look at. Hand painted by One Canoe Two — this delightful little card will likely make anyone giggle.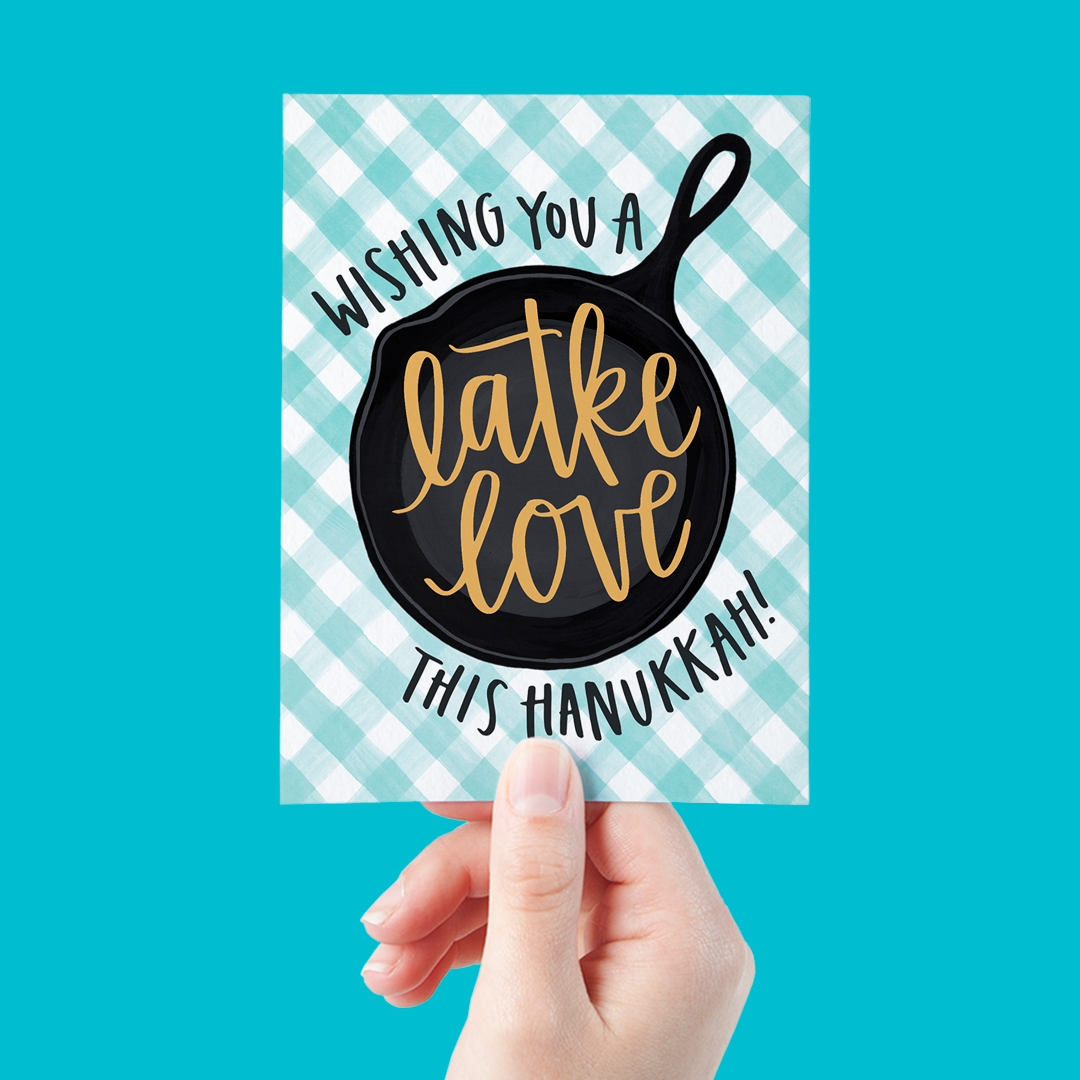 Send this card right now

12. Eat Drink Be Drunky
Are you sensing a theme?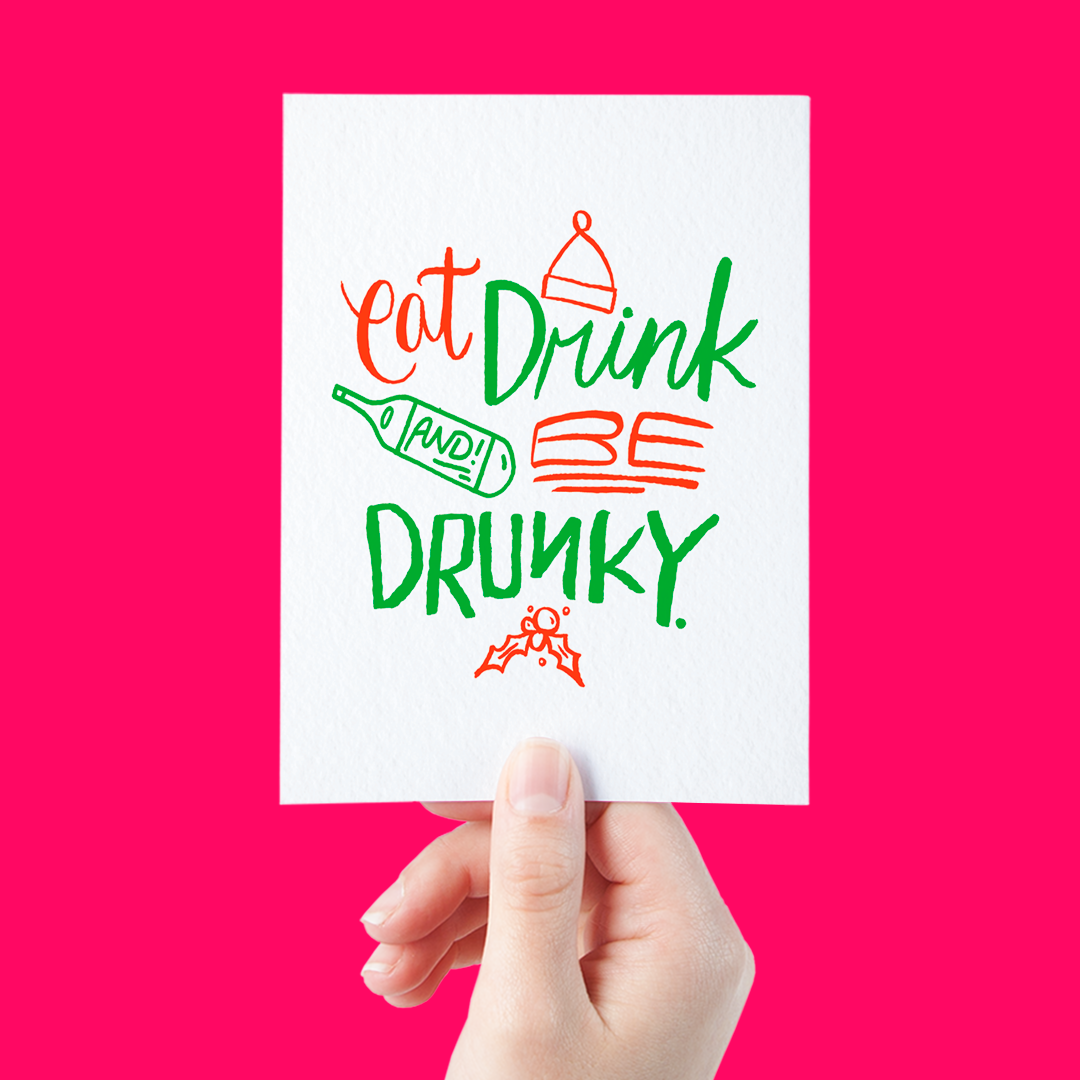 Send this card right now

13. Peas on Earth
Yup, you guessed it. Another pun for the win. Don't even try to hide it — this card made you laugh out loud.
14. Baby Snowman
Sure, snowmen by themselves don't exactly make for a good giggle. But stick a cute baby face instead of a snowman face and you got yourself a funny little card. Put your own smiling photo in the custom slot and send your family and friends a card they can hang with a smile. Literally.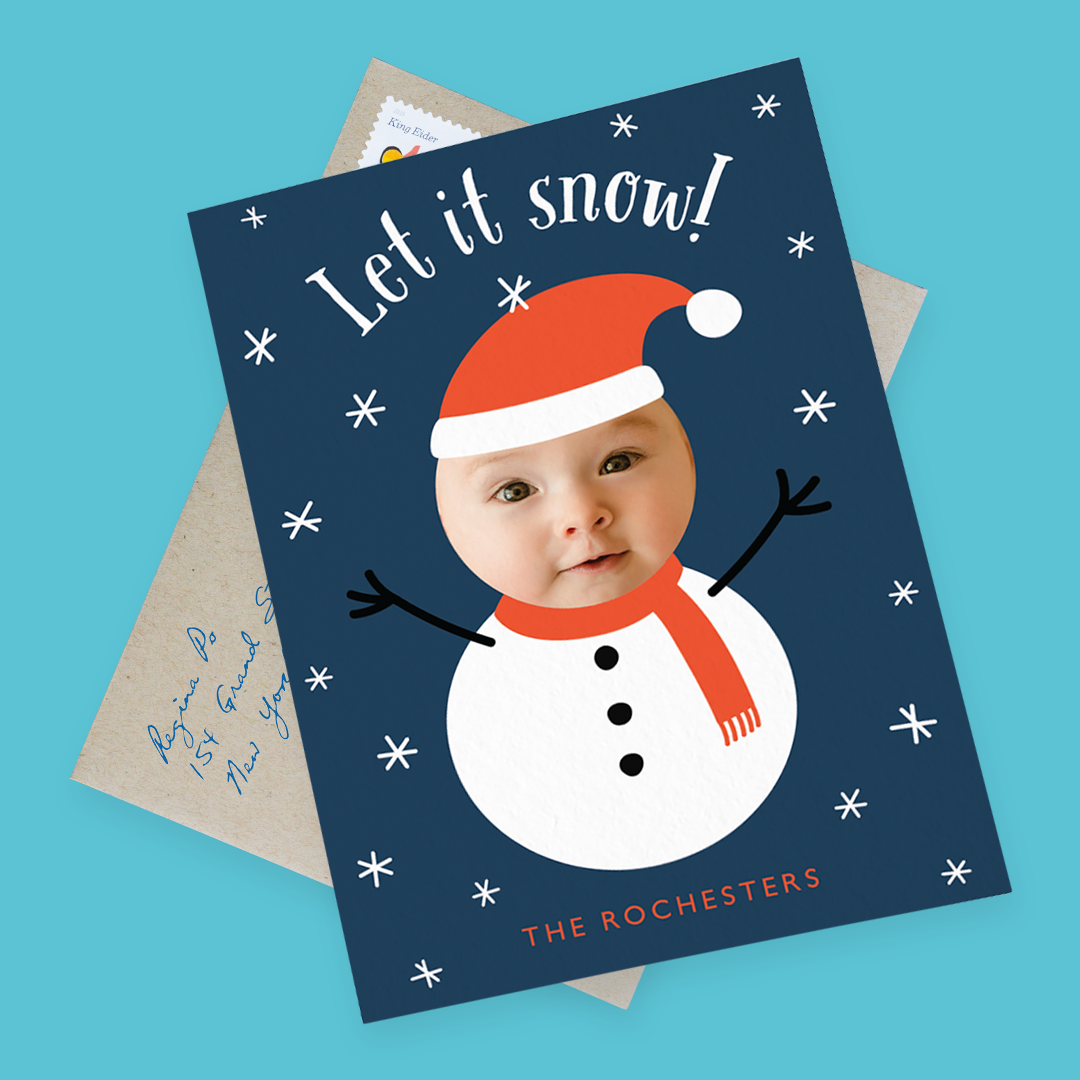 Send this card right now

15. Holla!
Because you can never have too many puns. Never.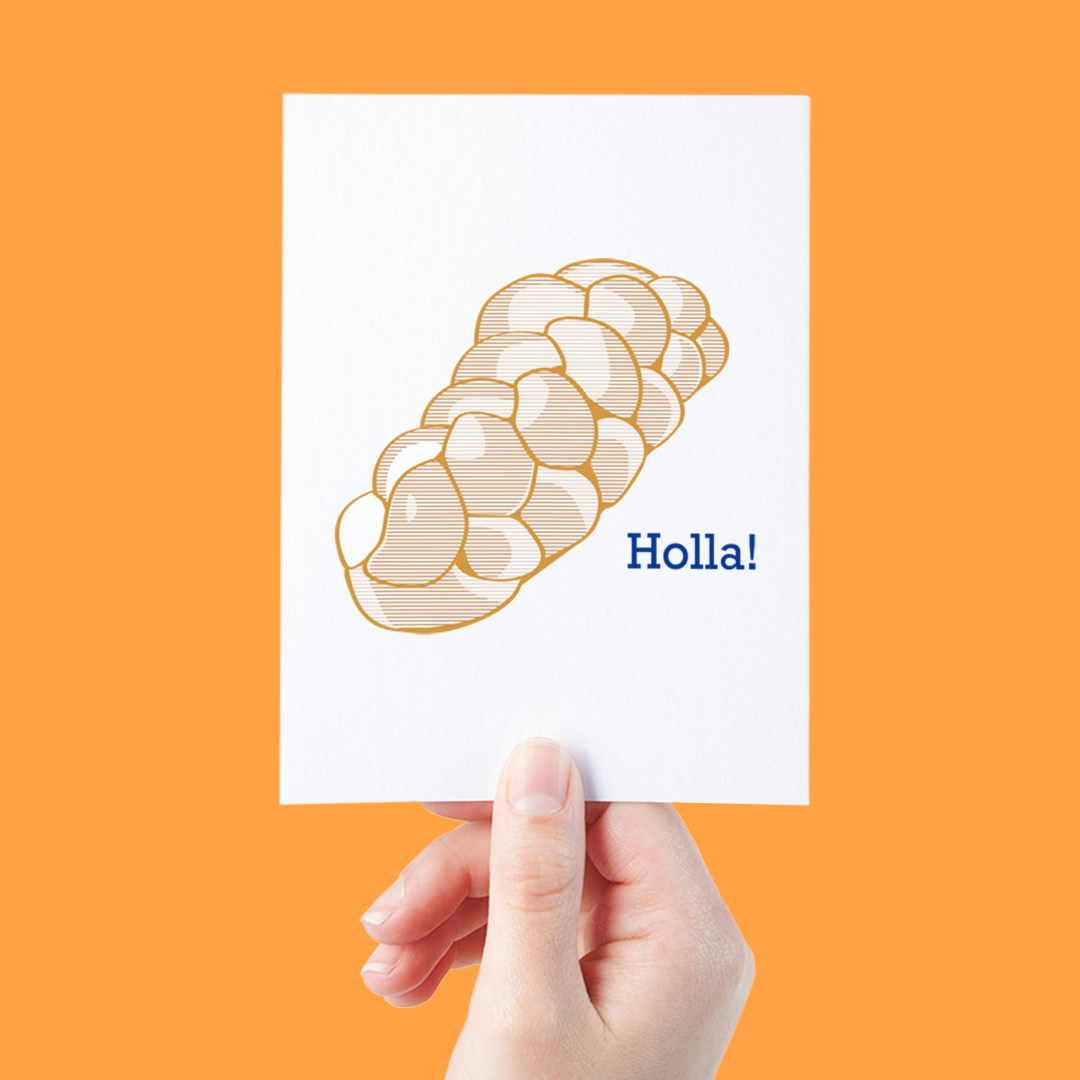 Send this card right now

16. Tis' The Season
For more booze.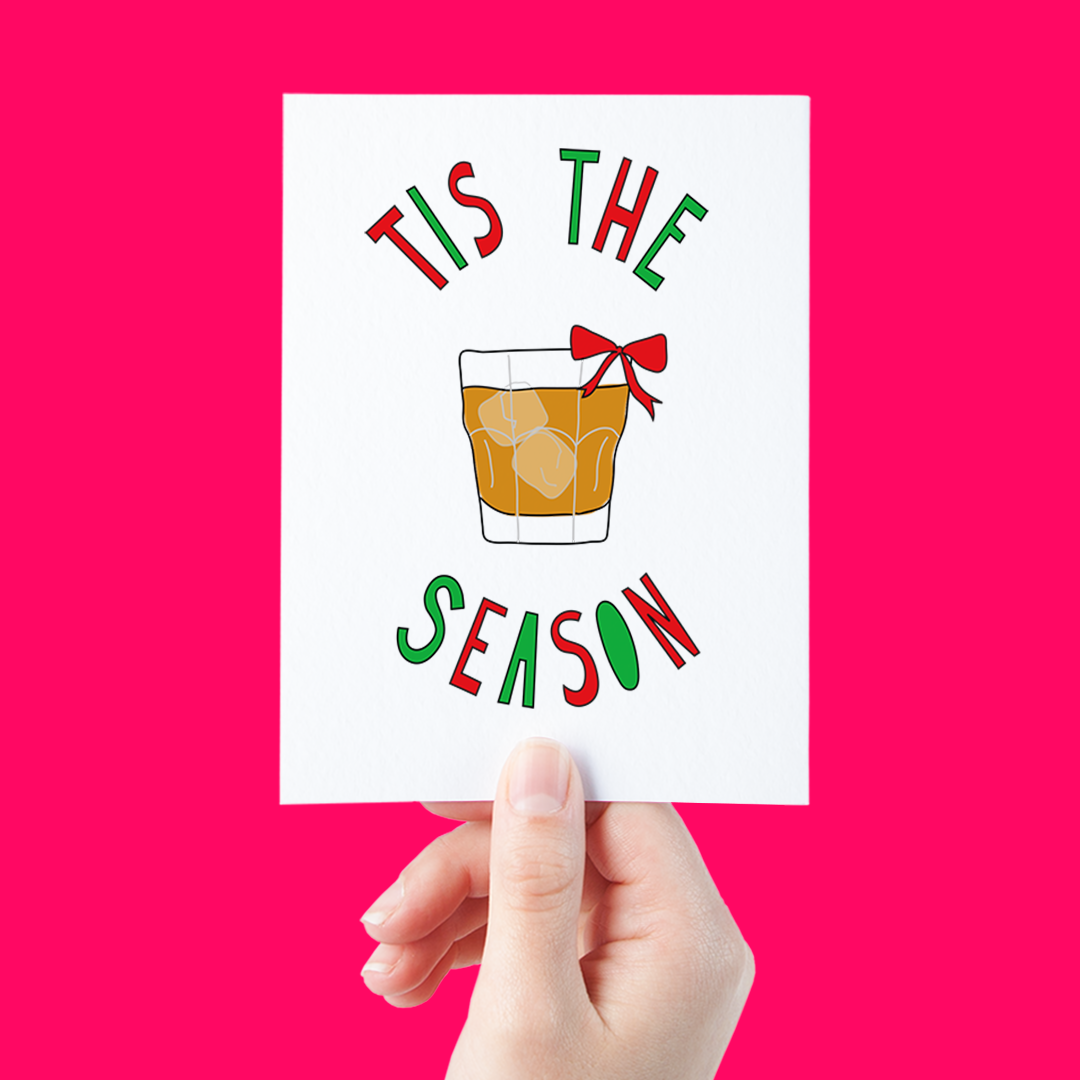 Send this card right now

17. Berry Merry Christmas
Besides being punny, this adorable hand painted card is also too cute for words. So we'll just leave it at that.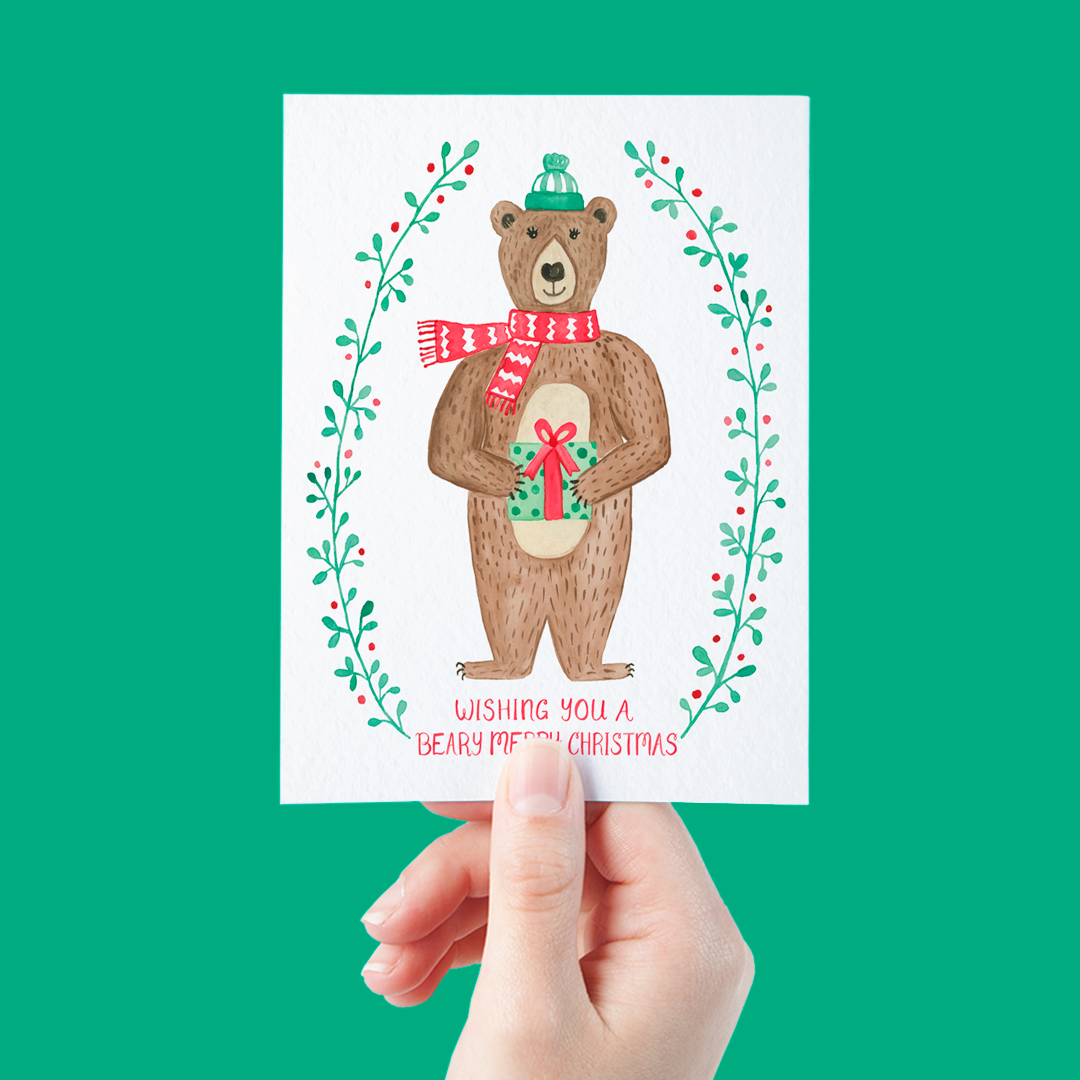 Send this card right now

18. Highbrow Holiday Cheer
For your highbrow friends this holiday season.
19. Merry Christmoose
Another pun for the win by A Jar of Pickles.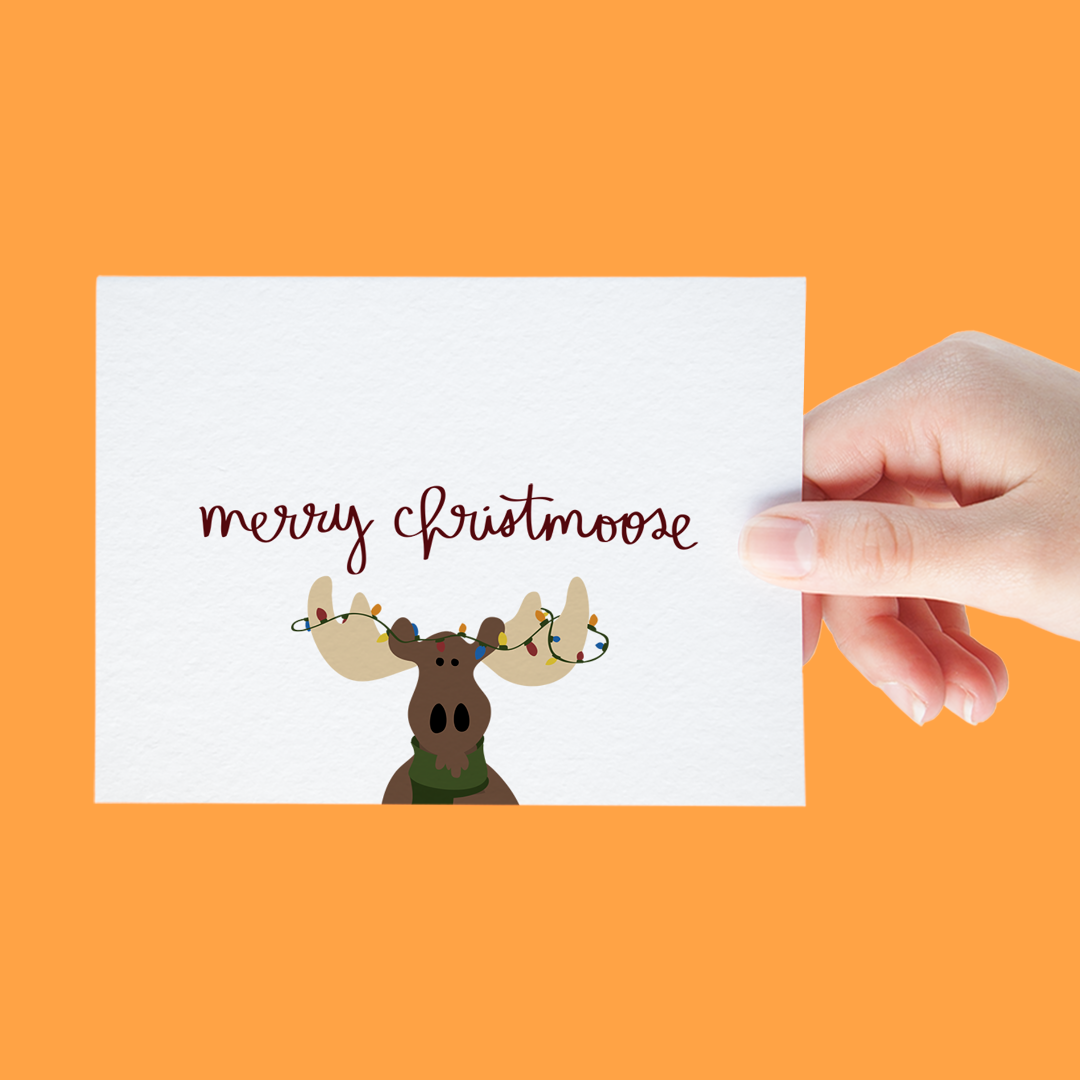 Send this card right now

20. Dog Christmas
For the puppy lovers in your life. It's hard not to love this card with all those adorable little mugs! And the doggie sweaters! Gotta love a doggie sweater!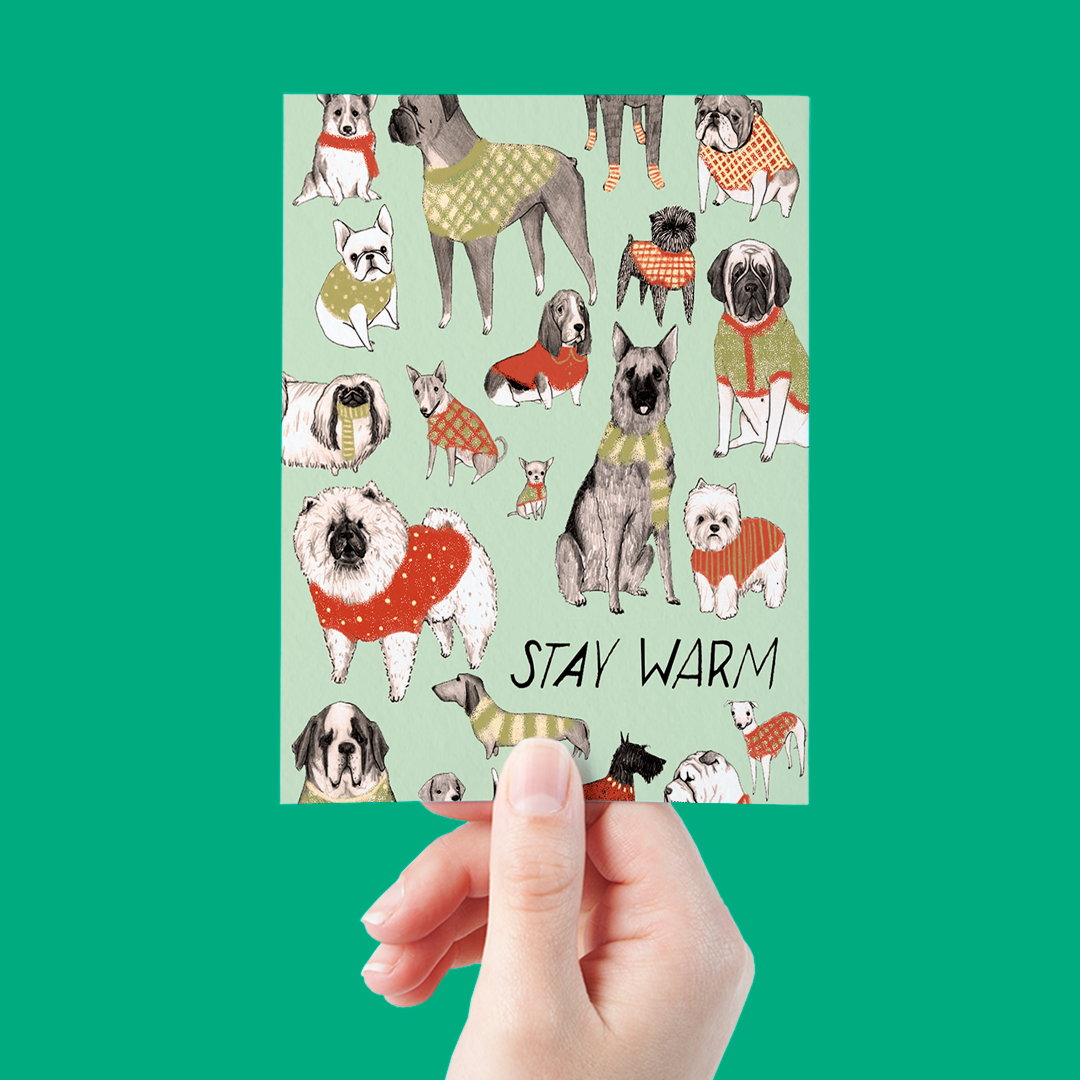 Send this card right now

21. Moo-ry Christmas
Isn't it a-moo-sing?!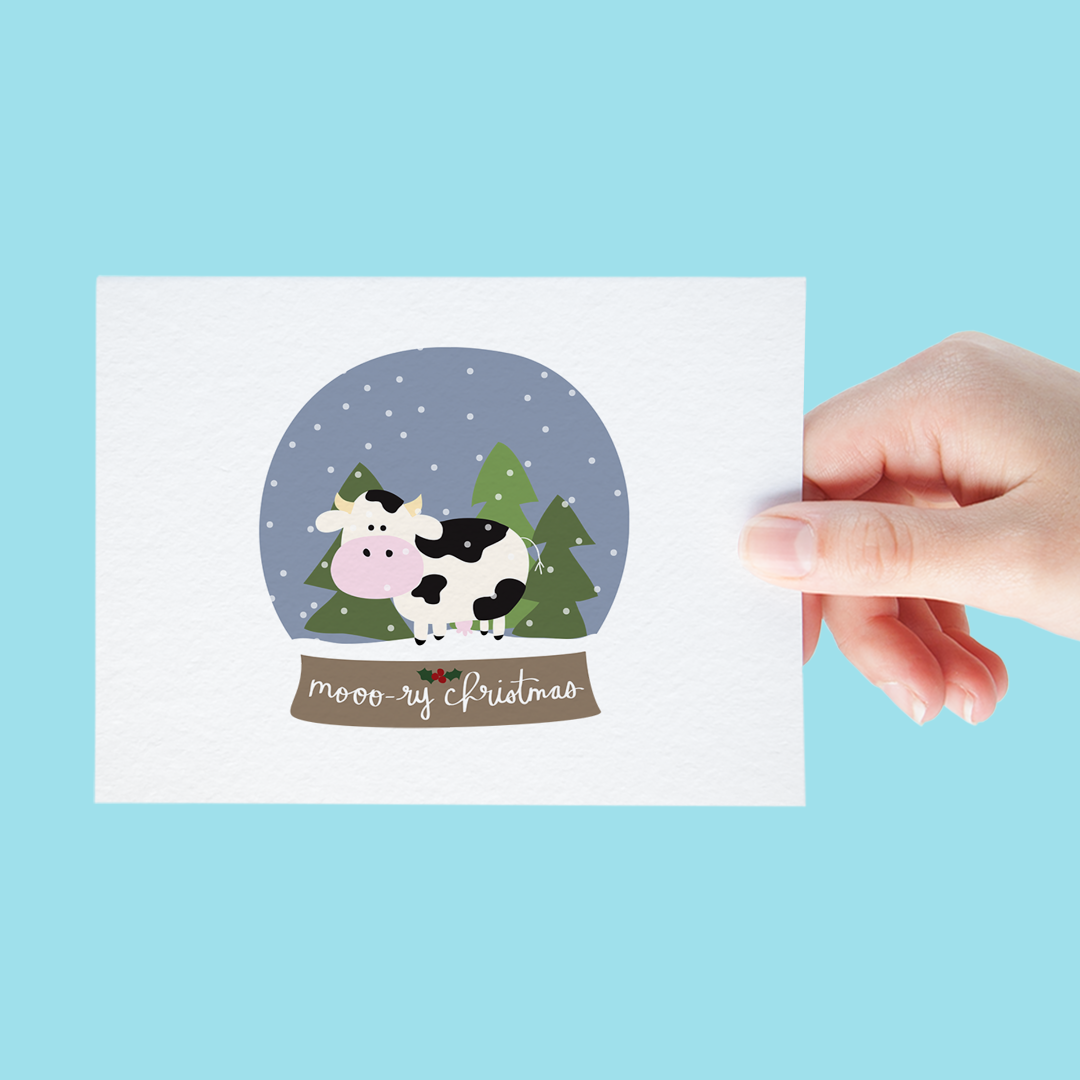 Send this card right now

22. Season's Greetings
A design pun — still counts! Still funny.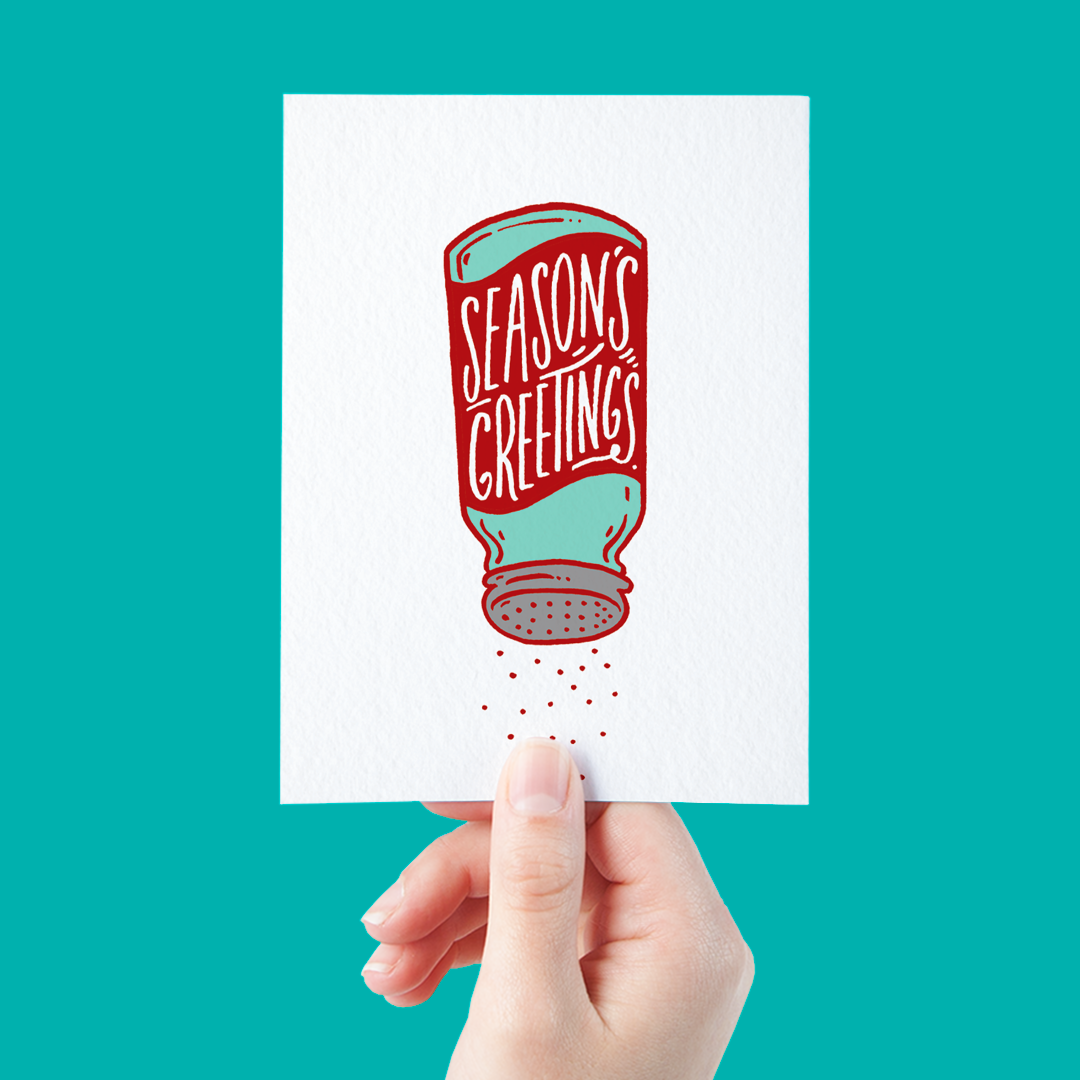 Send this card right now

23. Hoppy Holidays
For the beer lovers in your life.
24. Party Hat Pup
A pup. A bow tie. And a party hat. What's not to love?
25. Happy Challahdays
Last, but certainly not least — the Challahdays. Started with a pun and so the list comes to an end with a pun.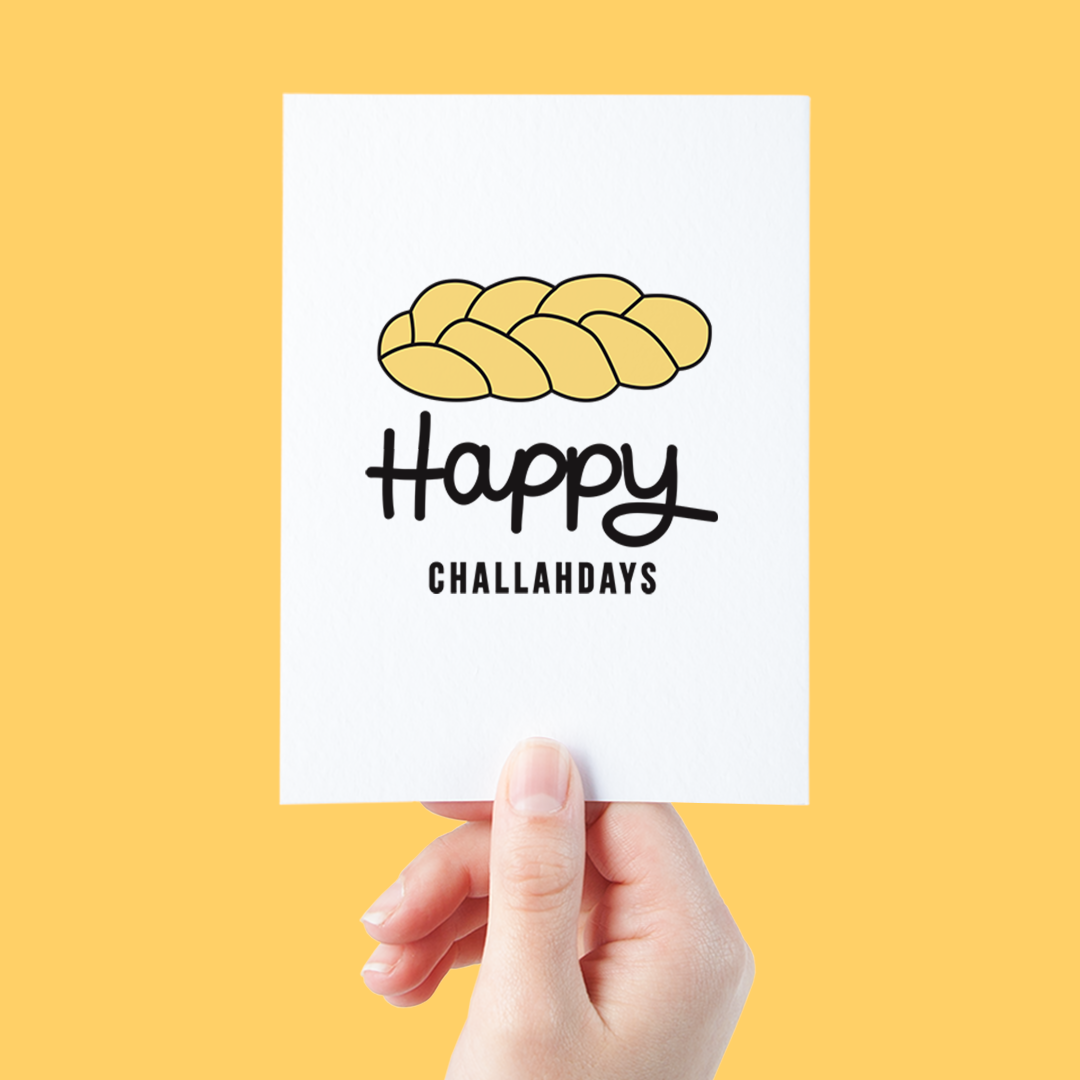 Send this card right now

Had enough laughs yet?
What if we told you there was more?! So. Much. More.
The Postable holiday card selection is full of delightfully funny (and most certainly punny) card designs that are constantly being added. In fact, there's probably some new funny holiday cards coming your way right this very second.
Check out all the holiday cards right here.