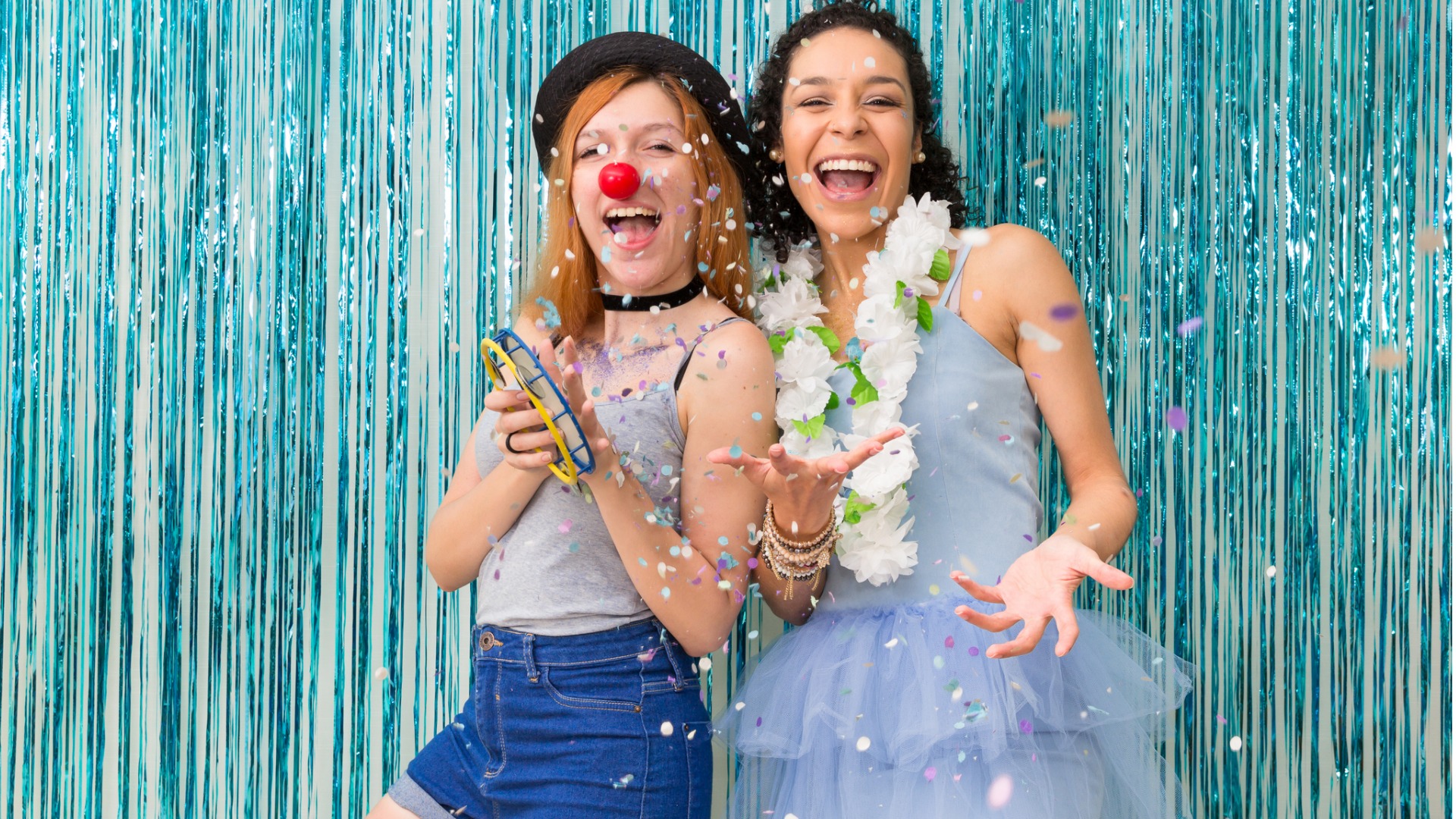 It's the middle of February and winter has officially made itself comfortable (unlike the people having to weather this weather). Spring is still ages away and summer is nothing, but a very distant dream. Seems like a bleak (and cold) future if you ask us. Winter blues are real and there's really no denying them. Luckily there are things we can all do to make life suck a bit less during these brutal winter months. And we don't mean a one way flight to the Bahamas (although if that's an option you should probably do that).
Basically whatever tricks your mind and body into thinking the sun is shining — do it. Crank up the heat, mix yourself a Piña Colada and put on your favorite summer outfit. Go ahead, pretend it's summer time. Better yet, invite your friends, your neighbors and really anyone that would stand to benefit from a faux summer day — and throw a summer themed party.
Crazy!?
Maybe.
But also, how fun does that sound!? Don't wait for summer to make it's triumphant return, make it come back (if only just for one day) right now. If you're really itching for some sun, this social get together will be a great way to do just that!
But how?!?! [You may be asking.] And we're here to tell you all about it. From simple tips to genius decoration ideas you'll want to use for the rest of your party throwing years. You'll have everything you need to know about throwing a summer-themed party during the winter by the time you finish this post.
So, let's get to it.
Make some room.
Fitting everyone into your home may take a bit of jig-sawing. Move your furniture around so that the bulky stuff is against the wall — leaving the center of the room(s) empty. And if you're thinking of how much space that leaves for an epic dance party — we love where your head is at.
And if a bunch of free space for an epic dance party is not your thing, cover the empty floor with beach towels. Create a real summer-y beach vibe by spreading out some beach towels and foldable beach chairs. Not the most elegant, but it'll definitely get you and your guests into the beach-y mood. Not to mention the extra seating arrangements. It's easier to forget about the blizzard happening outside when you're sitting among beach inspired decor.
If sitting on beach towels doesn't sound all to comfortable, add some pillows and voila!
Kiddo pool.
Turning a drab winter day into a summer blow out will take some creativity. If you have a bit of extra space, think about adding a kiddie pool to your shindig. Crazy? Maybe. But hear us out.
Blow up a small kiddie pool (do this while already inside) and fill it up with tiny plastic balls. Use it as a place to store the drinks (exchanging the plastic balls for ice) — a creative summer approach to serving drinks if there ever was one. OR better yet — use the kiddie pool for some added fun. You and your guests can take turns lounging in the pool — making it that much easier to pretend it's just another summer day.
If nothing else, this little addition will be the source of many silly (and memorable) Instagram photos.
Turn up the summer tunes.
What's a party without some killer tunes to set the mood. It may seem trivial now, but making sure to create a playlist ahead of time will keep the summer vibes going without any weird intermissions.
Make your playlist to go along with your theme — summer good vibes — and make it longer than you think you need. Avoid songs that elude to the winter, are slow or dreary in any way shape or form. You're trying to boost spirits here. Think Beach Boys and Jack Johnson. Songs specifically about summer are also perfect — "The Beatles' "Good Day Sunshine," Michael Franti's reggae-tinged "Sound of Sunshine," "Summer Nights" from "Grease".
Not only will this keep the party going and set the mood, but it'll also be one less thing you'll need to worry about when you start hosting. You want to be able to enjoy your party and time with your friends, not worry about finding the perfect songs to play.
Flowers galore!
Nothing says summer time like the sweet scent of flowers and sunshine. But since there's a serious lack of the latter, you'll have to make up the difference with the former.
How you go about adding flowers to your party decor will depend mainly on how much you want to spend along with the rest of your chosen decor. And remember — while fresh flowers are always going to be better, we're not above using fake florals to add a bit of colorful pops to any party.
Fill your space with some bright florals, but avoid anything too serious. Roses scream Valentine's Day not summertime. They're also expensive. Go for sun flowers, daisies or anything yellow and white.
Balloon it up.
Speaking of decor — big balloons are all the rage. Why not use them? If you have a little extra in the budget department, you could use the big giant gold letters to spell out something fun & summer-y like 'Fun in the Sun' or 'Hello Sunshine'.
Or simply have one giant sun balloon to temporarily replace the missing piece of the puzzle.
We also love these summer inspired balloons that would add a whole lot of fun to the decor. The colors alone will add a ton of pop to whatever space you're hosting in!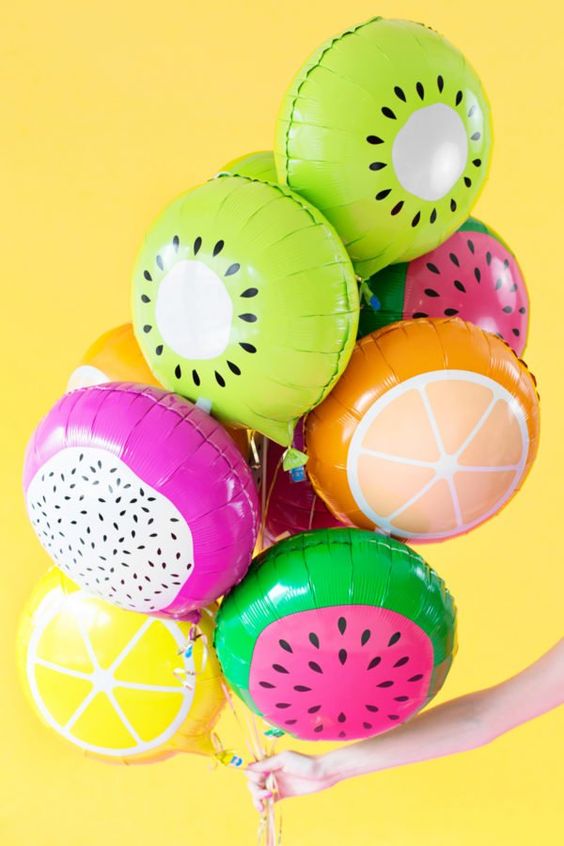 via Pinterest
The dress code.
Speaking of summer colors — ask your guests to rock summer vibes with their clothes. Everyone loves a good themed party and summer in the middle of winter is quite enticing. If you ask nicely, we bet your guests will oblige more than willingly.
Of course avoid getting too harsh on this one, but if everyone decides to rock their best Hawaiian shirts (under that comfy sweater), your party will be that much more cheerful. You can add this on your invites as a suggestion.
Get Creative.
If you really want the summer theme to hit home with your guests (and yourself because let's be honest — you need sunshine as much as the next guy), get creative. Add tiny little umbrellas with the cocktails and greet your guests with leis.
Allison Carter, the creator of Allison Carter Celebrates, says getting creative with the decor will go a long way.
It is all about the decor you choose, especially backdrops. When you have a backdrop for your table or a main focal point of your party, you are transporting the guests with their eye. You can cover up that bookshelf in your living room with brightly colored fabric and pink tulle with feathers if you want a flamingo party. Or what about an assortment of colored tablecloths hanging from a cloud-like white balloon garland to bring the rainbow indoors? A little creativity goes a long way!
Meghan Maloney from DC Engaged says using a portable heater may help set the summer vibes right off the bat.
Have a few rooms where people can remove their winter clothes when they first come in!  A coat room is always important for a winter party, but if you want people getting their summer gear out, they probably will have a lot of layers to take off and they may not feel comfortable stripping down in front of other people! You may also want to include a mirror in each room so everyone can check to see if their hair is windblown.
Summer Sweets.
Take your guests into the future of all their summery dreams with some ice cream. It may be cold and frigid outside, but it's summertime at your party and nothing beats the summer heat like some sweet cold treats!
While good ole' ice cream scoops are good with a smaller crowd, these can get time consuming and messy (melted ice cream) when serving a bigger group.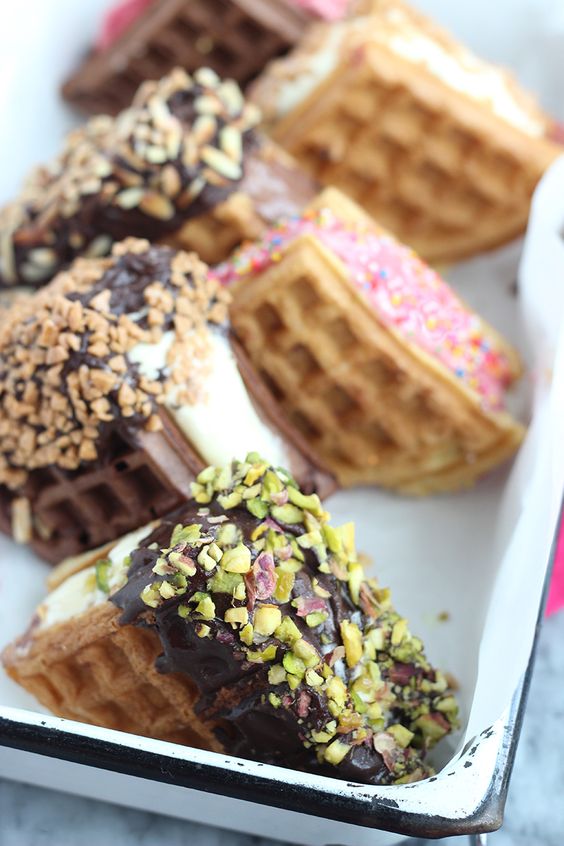 via Pinterest
If you're feeling extra crafty and want to impress your guests you could pre-make ice cream waffle sandwiches or fruity pebble ice cream treats to simply handout.
Or you know, just buy some ice cream sandwiches at the store– that totally works too.
Get practical.
Meghan Moloney, the lead event planner at DC Engaged, has some practical tips to make your summer themed party go as smoothly as possible despite the weather.
Have a few rooms where people can remove their winter clothes when they first come in!  A coat room is always important for a winter party, but if you want people getting their summer gear out, they probably will have a lot of layers to take off and they may not feel comfortable stripping down in front of other people! You may also want to include a mirror in each room so everyone can check to see if their hair is windblown.
It's always about the snacks.
The food at a party is usually the center of attention. Or maybe that's just our parties because food is the center of our universe. This party may be a bit different. If you're the type to go all out and spend hours prepping in the kitchen for your get togethers — don't let us stop you. Go for it.
Aside from serving up the cold treats already mentioned, if you're looking to serve food — nothing says summertime like the warmth of good ole' tacos! The ingredients shouldn't be too much harder to get during the winter as they are in the summer (unlike watermelon). Tacos are also a great self-serve party food. Just set out a taco bar (if you have the space) and let your guests go at it.
And if you don't feel like cooking up a storm, simply serving guac and chips will do the trick this time around. The real winners here are the decor and attention to detail as you're trying to recreate a feeling everyone will no doubt be in dire need of.
Booze.
What's a party without a little (or a lot) booze? Think about what you'd like to serve — will it be beer, cocktails or something different? Perhaps you'll do a little mixture of all three.
Beer is an easy drink to serve, just put a bunch of bottles or cans in a giant bucket filled with ice and you're done. When choosing the types of beer, think of the fan favorites and add a few summer inspired options (something citrus-y and light).
Think about adding a cocktail option (or two). Pina coladas and strawberry daiquiris are great items to get everyone in the summer-y spirit and super easy to make. Just set up a station for yourself (or the 'bar tender' for the evening) where you can easily make big batches at once.
Another fun option would be to set up a mimosa self-serve bar and fill it up with some goodies your guests can decorate their drinks with.

Real paper invites
If you're looking to really make an impression and get your guests excited about coming to your party — send real paper invites. [GASP!] Sending a quick text or a Facebook event is not going to have the same effect. If you're going to go through all the trouble of setting up the perfect space in your home with beach towels, adding tiny umbrellas to the drinks and creating the perfect playlist — why not seal the deal from the get go. The invitations set the tone for the entire event so make them count with real hold-in-your-hand party invites. Sending real invites also makes it that much more likely that your guests will actually show up — it's much easier to forget that evite that got mixed in with all the others.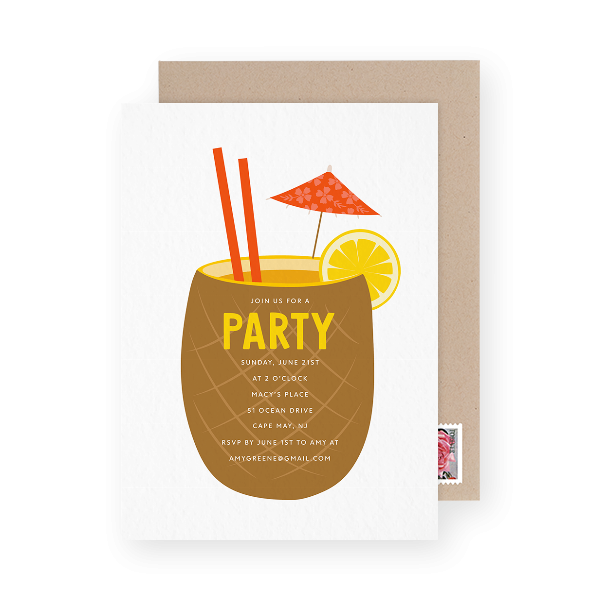 If you're running low on time, Postable can mail them all out for you so you don't have to lift a finger. Just pick out your favorite design by customizing it with your own party details, add some recipients and click send. Postable will print, address and mail them out for you.
[Pro tip: Mail your invites about 3 weeks prior to your party date. This will give your guests the two-ish weeks notice they'll need to make proper arrangements.]
So there you have it — winter party ideas never sounded as good as this summer-themed bash!
Get started by sending your party invites here.