Backyard birthday party ideas for adults are way more fun and exciting than many give them credit for. Just because it's adult doesn't mean it has to be boring. Even the classiest backyard birthday party ideas on this list have something extra snazzy to make the experience something everyone will remember as unique and fun. Here at Postable, we're what you'd call birthday connoisseurs. We love having them. We love throwing parties for them. We love sending birthday cards. That's why we decided to create this unique list of ideas that only Postable could really come up with  to  share with the world. Because birthdays are meant to be shared.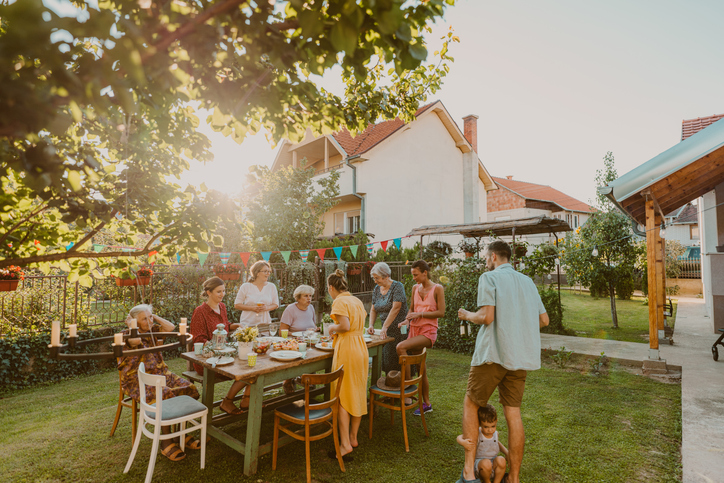 Send real hold-in-your-hands paper invites in minutes. Postable will print, address, and mail them for you.
What are good party themes for adults?
Before diving into the list of ideas (though do feel free to skip on down) let's chat about adult birthday party themes. For some odd reason the world seems to think that when the number of birthday cake candles reaches a certain point, all the fun has to be sucked out.
That's just not the case.
Adult birthday parties should be fun. Why in the world wouldn't you want a fun party? They can take on similar themes as the ones from your adolescence or even childhood depending on your level of creativity without being inappropriate. When considering what theme to use, keep in mind what your guest list will look like. Will you be inviting whole families or just the adults? Will grandma be joining? These should definitely inform your decision – you wouldn't want to invite everyone to a beer pong championship party right? But don't worry, this list has ideas for everyone.
RELATED: 24 SNAZZY [& GROWN UP] ADULT BIRTHDAY PARTY IDEAS
All that to say, don't limit yourself. You can have whatever party theme you want.
So, let's dive in.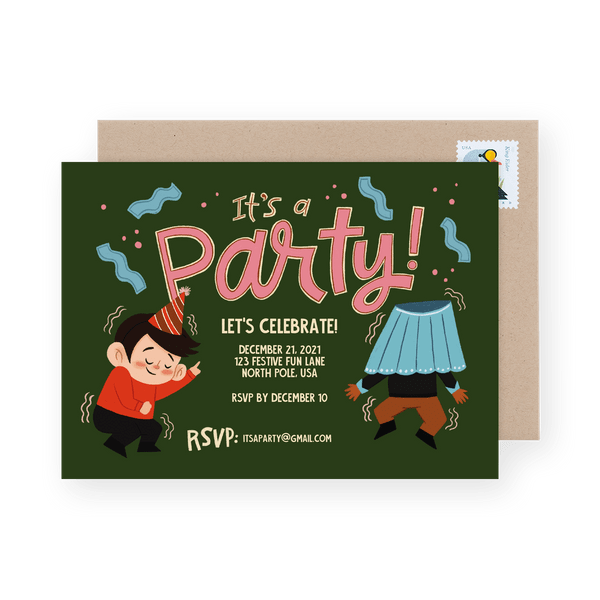 12 Backyard birthday party ideas for adults that are actually fun.
These party ideas, though designed to work swimmingly well in a backyard, are easily applicable to just about any outdoor setting. So if you don't have access to a backyard you can still use most of these ideas in a local park or any outdoor space.  
Charcuterie Potluck Birthday Party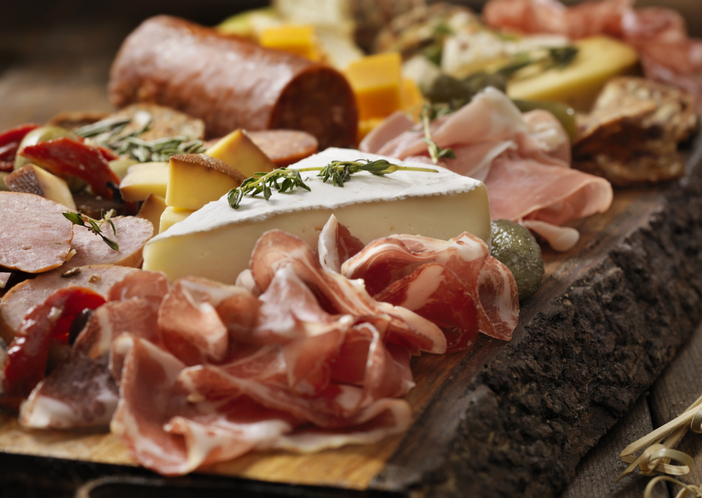 Woof! We're hitting the ideas hard and fast right off the bat. You've heard of a potluck right? But have you heard of a charcuterie potluck?! We told you these would be unique.
This backyard birthday party idea for adults is part dinner soiree, part art project.
Set up a long table (think feast level long) and cover it with brown paper (you can get a single large roll and use however much you need). As the host, you start things off by adding the beginning touches to the board with whatever you'd like. The fun part comes in when your guests bring their favorite charcuterie addition and play with how they want to add it to the board.
To avoid having only meat or only cheese or only what-have-you – separate your guest list into groups and ask them to bring their favorite from whatever category they belong to. Some categories you may want to have:
Meats
Cheeses
Veggies
crackers/breads
Fruits
Dried fruits & nuts
Misc (this is where the fun comes in) 
You'll end up with the worlds' largest charcuterie board and everyone will have fun creating it together. Don't forget the wine!
Take it up a notch:
Hire a local string musician to play classy tunes in the background.
Backyard Adult Field Day Party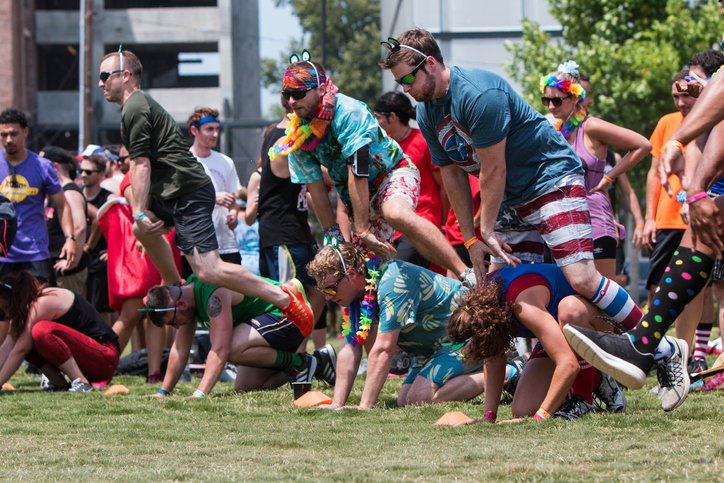 Did you love getting out on the field with all your friends to compete in fun games as a kid? Who says you can't do it again? Invite your friends for a day of friendly outdoor competition. Make sure to have some prizes ready for the winners and as well as some hydrating drink options!
Some games you can prepare to play:
Tug of war
Water balloon toss
Sack Race
Obstacle course
Take it up a notch:
Hire a facepainter. Your adult friends will love being transported to another time.
Include a beer pong station to give your field day a real adult spin.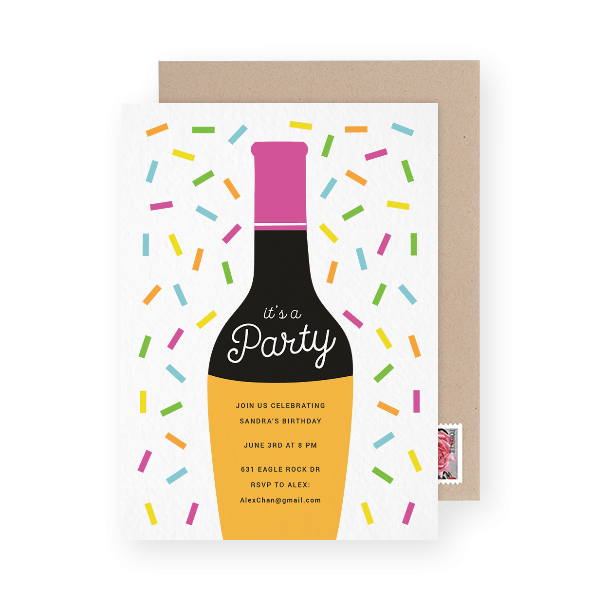 Adult Finger Painting Party
Yup, you read that right. Hear us out. Take it back a few decades by indulging in some tactile creativity. You'll remember just how fun it can be to forget about the rules and get colorful! Seriously, whoever said adult birthday parties were boring never attended one of ours. Finger painting and booze – your backyard birthday party will be remembered for a long time.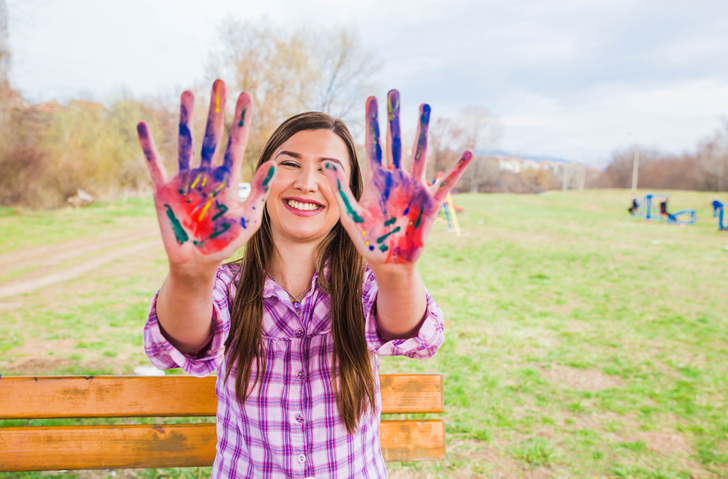 Buy one or two large wood panels along with as many colors of non-toxic pain you can find. Lay out large tarps you won't mind getting paint all over and on top of the tarp lean the two boards against a fence or a backing of some kind. And there you'll have yourself a giant wood canvas on which to play and get creative. You can alternatively string a large sheet instead of using wood (this will certainly be easier to remove and store). Of all the ideas, this may be the most unique backyard birthday party ideas for adults ever.
Warn your guests to wear items they won't mind getting paint *all over. At the end of your party, you'll have a masterpiece.
Classy Backyard Cocktail Party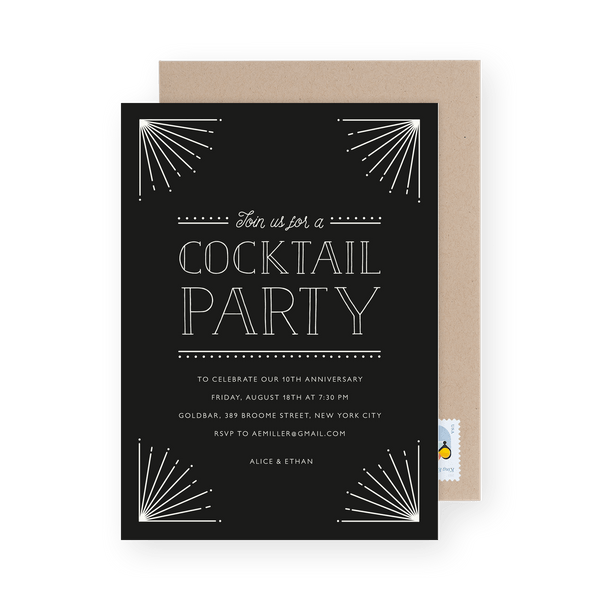 And if finger painting just isn't up your alley, let's go the complete opposite route with a classy cocktail party. Set up a bar with large iced pitchers of pre-made cocktails OR hire a bartender for the night. Create a signature cocktail with a couple options for something different. Use fairy lights to create a lovely ambiance and transform any backyard into a classy affair. Use candles for extra mood lighting.
If you really want the party to have a mature feel, you could include a dress code on your invite.
Take it up a notch with:
Hire a harpist or some other string musician to play in the background. 
Rent several high top tables with matching table cloths so that everything has a consistent and seamless aesthetic.
Backyard Birthday Yoga Party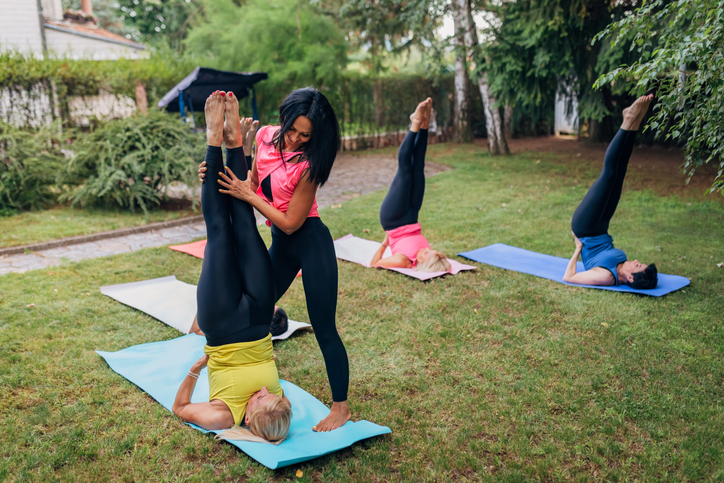 If you're into wellness and all things yoga, why not host a party around that central theme? Start off with a light pre-yoga hydration mixer – serve cucumber water and zen vibes while guests trickle in. Hire a local yoga instructor to teach a private class and make sure to communicate your needs and expectations. Many instructors will be happy to accommodate certain themes and physical expectations of a yoga class, but be sure to give them room to use their expertise.
After the yoga class, consider laying down some blankets for a light post yoga picnic.
Backyard Movie Night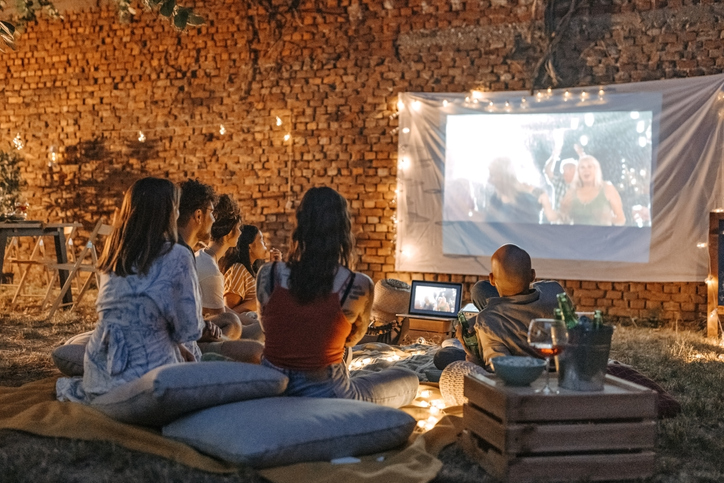 You'll need a projector and a large white sheet (or white wall). You can pull the sheet over a large wall or string it up (just make sure that it's taught). String up some fairy lights, lay out some pillows and you've got yourself a lovely movie night set up.
Don't forget the snacks. Set up a popcorn bar with various toppings your guests can help themselves to.  
Crawfish Boil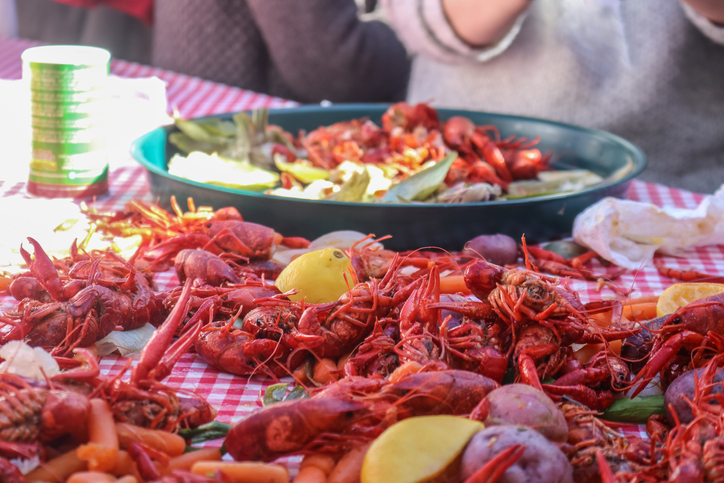 Even if you're not in New Orleans, you can still host a crawfish boil. It's a fun spin on a dinner party. Your guests will love the unique experience.
Backyard Birthday Party BBQ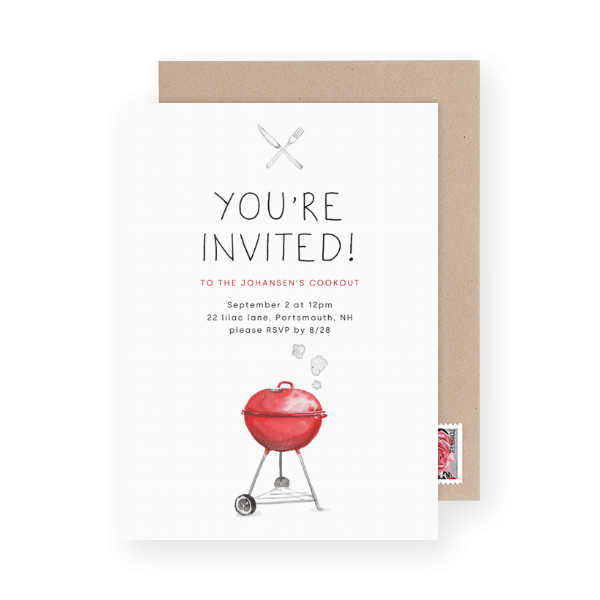 And on that same note of eating outdoors, if you don't want to go too far outside of your comfort zone a good old fashioned birthday BBQ may just be the perfect backyard birthday party idea for you. Pick up your favorite grilling meats and veggies – be sure to get enough for the number of expected guests. You'll want plenty of variety and options for guests with varying dietary restrictions as well.
It's a birthday celebration, so make sure to string up some banners and maybe add a few balloons. You can even incorporate a sunny theme since the party is outdoors.
Take it up a notch with:
Have fun colored sunglasses set out for your guests (make for a great photo, plus your guests leave with a goodie they'll actually use).
Birthday Pool Party
Another classic, the birthday pool party rarely disappoints. Pull out the floaties – consider having a special one for the birthday person – and the sunscreen. Have some large coolers around for easy access to drinks and don't forget the tunes!
Instead of a birthday cake, you could serve boozy popsicles!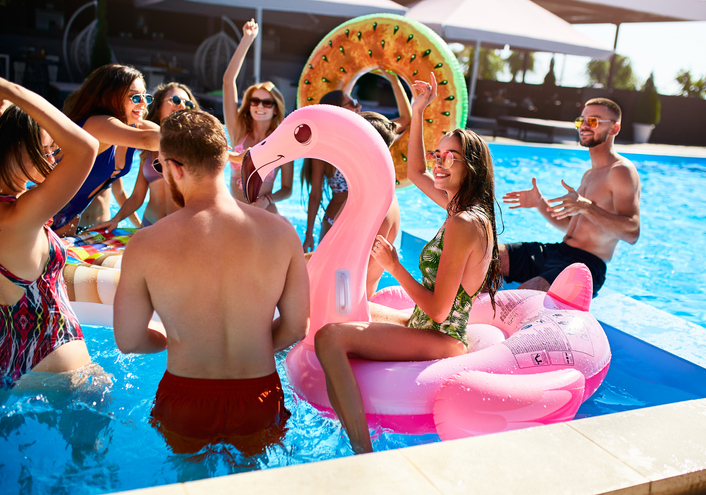 Taco Party!
We all know and love Taco Tuesday, so why not take the theme and roll with it for your backyard birthday party idea? Set up a long table that will serve as a build-your-own taco line. Make sure to have plenty of topping options and don't feel restricted by only the traditional stuff. You can even have a dessert taco table with fun fillings like ice cream and crushed oreos!
Take it up a notch with:
A hired bartender to mix up fresh margs for everyone!
Backyard Birthday, but make it *Mystical*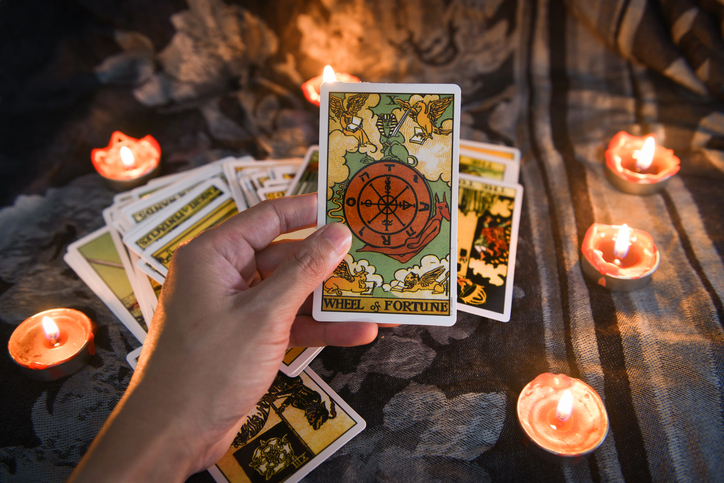 Who says only October birthdays get to host spooky parties? If the spooky theme is something you vibe with, we say go for it anytime of the year! Candles and black lace make for stellar spooky decor (just be mindful of practicing fire safety first). Hire a local palm reader or tarot card reader for a truly unique experience for your guests. 
Serve up spooky drinks and ask your guests to conform to the spooky attire with an all black ensemble.
Backyard 90's Dance Party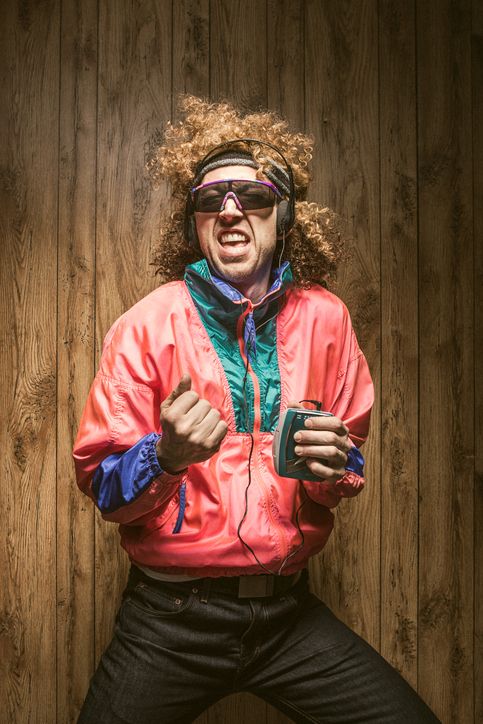 Last, but not least – get bold with a 90s dance party. Hire a local band or simply create your own 90s playlist to get the party going. Ask your guests to come in full 90s costume to get the full experience – think bold colors (for example lime greens, pinks, and yellows). Have a giant basket of glow sticks your guests can grab as they make their way onto your outdoor dance floor.
Take it up a notch with:
Set up a photo booth with 90s props.
And so the question becomes, of all these party themes — which backyard birthday party ideas for adults will be THE one?