Have you ever been THIS excited to wish a year farewell? If there's one thing we can all agree on it is just how thrilled we are to say goodbye to 2020. And just as 2020 wasn't a typical year, this list of 2020 themed New Years cards isn't your typical list of cards. Whether you're choosing to mail New Years cards for the first time ever or you're a holiday card sending pro, chances are you're looking for something a little unique this year. We're all in the same boat and we're all in need of a little extra connection right about now and bonding over the garbage fire that was 2020 is sure fire way to bring us all a little closer. So let's raise a glass and send a card wishing this year a big ole' sayonara!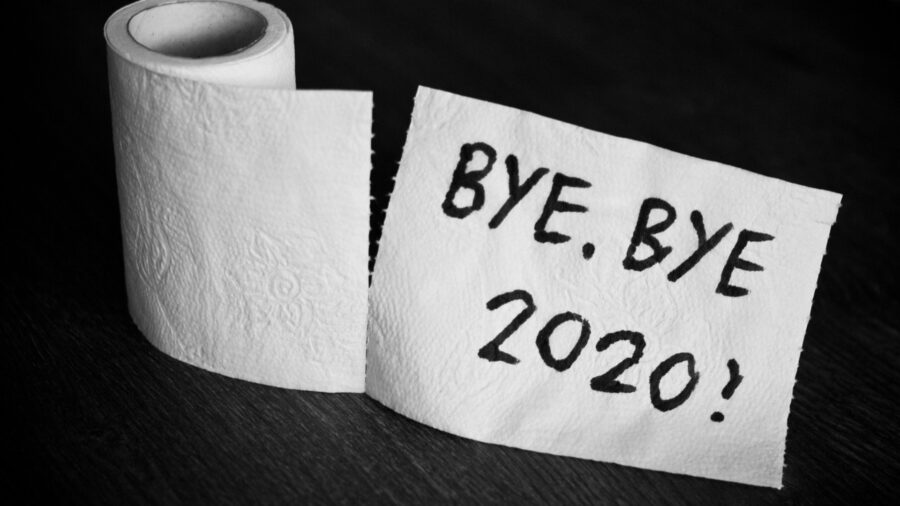 Here are some of our favorite uniquely 2020 themed New Years cards for your viewing and sending pleasure. But before you dive in can we share a quick secret? You can mail all of these New Years cards straight from your phone or computer *right now.
No waiting for them to arrive in a box. No writing out endless mailing addresses. No stuffing envelopes or licking stamps. Postable will print, address and mail all of these delightfully 2020 themed New Years Cards for you via USPS using First Class stamps.
Photo 2020 Themed New Years Cards
Just because you want a New Years card that helps to make light of the sh*t storm that was 2020, doesn't mean you don't want to showcase a traditional photo of you and the family. These delightful 2021 New Years Cards allow you to customize them with your own photo (make sure to upload a high quality photo for best print quality). Your recipients will feel the love seeing your faces while getting a good laugh from the 2020 themed design.
Thank God It's Finally 2021
Indeed! This TGIF 2021 card is perfect for the minimalist looking for a funny twist on their New Years card. And if you'd like to customize the text further, you can alter the messaging to say whatever 2020 joke you'd like. Upload your photo and don't forget you can also customize the back of the card with more text and photos (varying options available).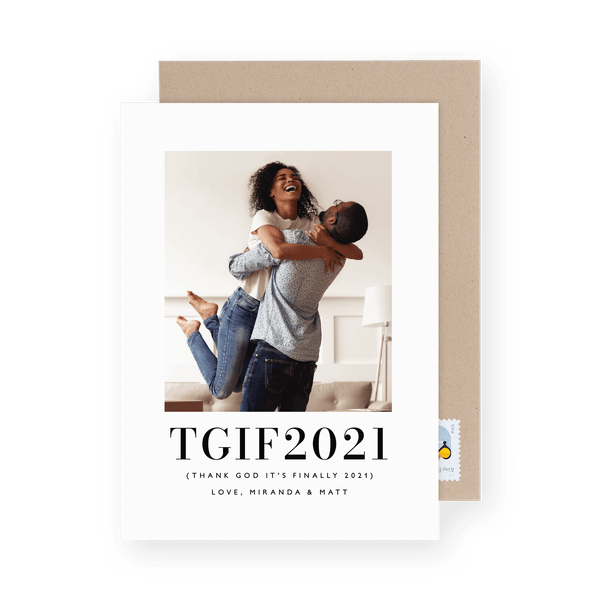 Goodbye 2020!
The perfect New Years card if you're looking to keep it simple, but still add a little pizazz with a lovely script font. Make sure to use a high resolution photo that will take up the whole horizontal front design.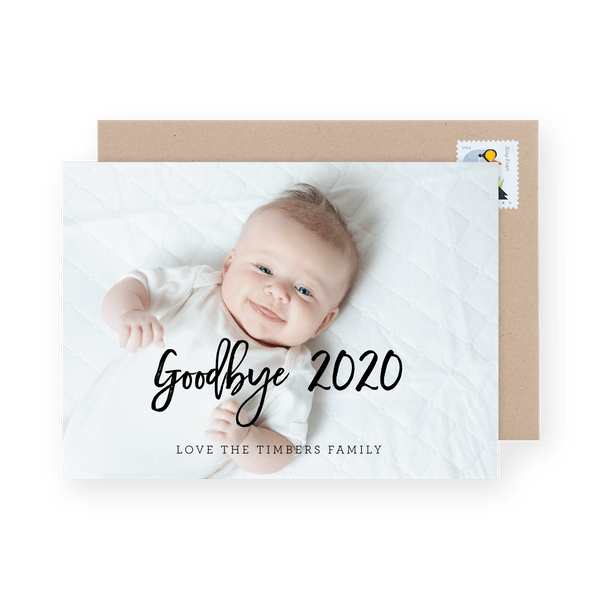 Less stress, more joy.
Yes, please! Another great option for the minimalist lover. You can keep the 'less stress, more joy' sentiment — honestly, we can all use more joy — or customize this text to say whatever you'd like.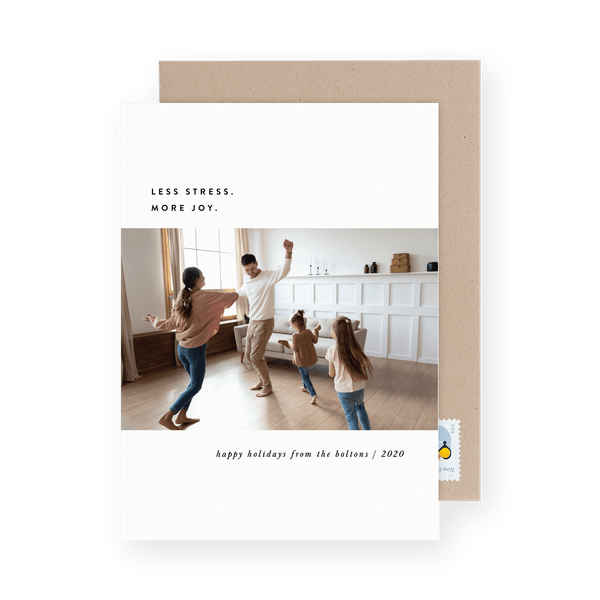 Sending extra love in 2020!
This design by Sandra Picco Design allows you to upload 4 different photos to showcase your family finding the joy in the little things in 2020. This 2020 themed New Years card isn't outright funny, but would nonetheless be appreciated by everyone on your list. After a year like 2020, we could all use all extra love!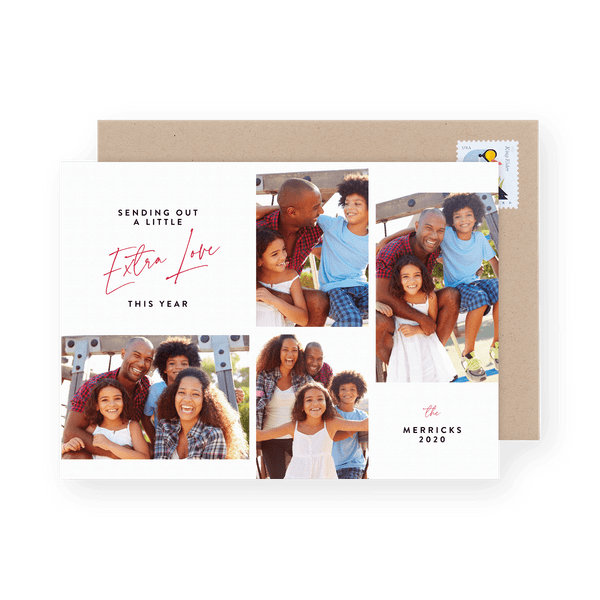 Finally 2021!
This design by Paper Raven Co adds a little more color and design elements to a 2020 themed New Years card your friends and family will love. We can all relate to that scripted 'finally' and the little touch adds that uniquely 2020 element.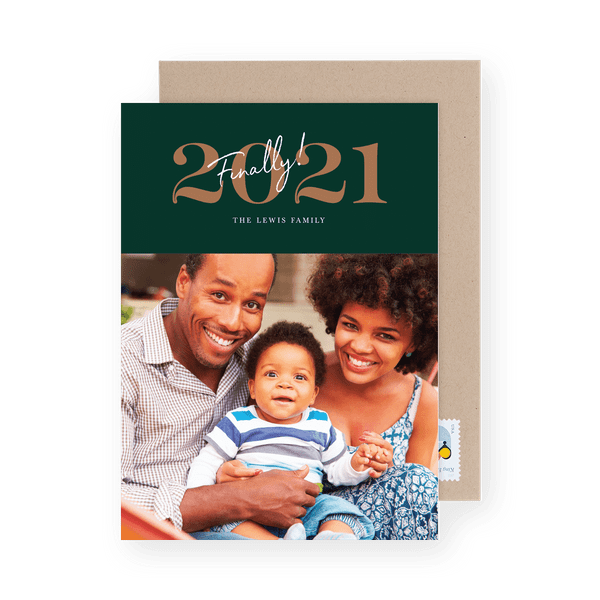 Lemonade What a Year!
If you're looking to add some sunshine to your New Years Card, this delightfully bright card will do the trick. Reflect on the craziness that 2020 has been while bringing to light the positive possibilities of 2021 with this New Years card.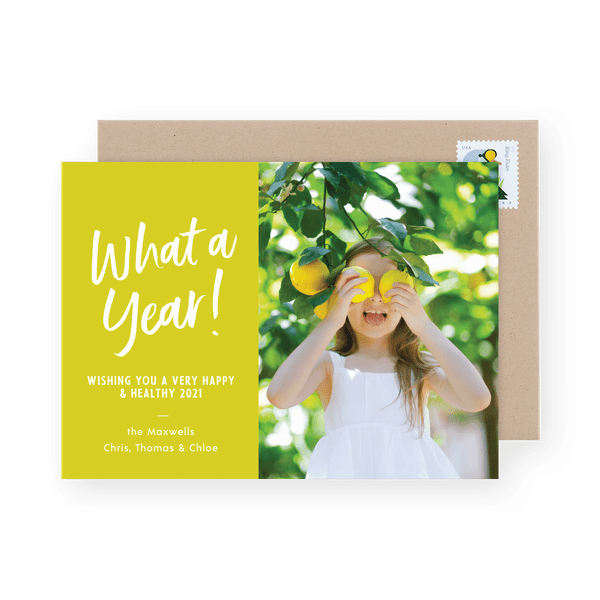 Simple What a Year!
Same sentiment with a minimalist touch. Not a big fan of color or maybe you're just trying to keep things simple after the complexities of 2020. Whatever your reason, this simple What A Year New Years Card puts all the attention to the main photo of your choosing. Remember — the backs of these cards are also customizable.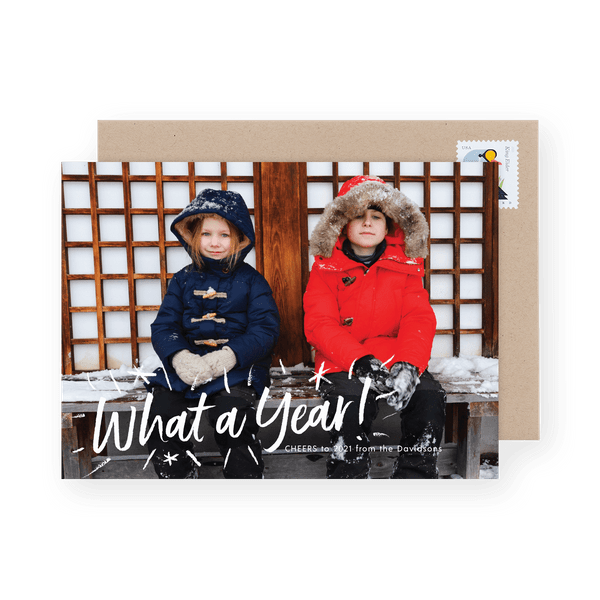 Season's Screenings
Ok, so not necessarily a New Years Card exactly, but the holiday season is still alive and well during the New Years Celebrations. And the best part? No matter who's on your list of recipients, they'll all be able to relate to this sad, but funny Zoom-themed card. If we have to celebrate virtually this year, let's make sure it's fun!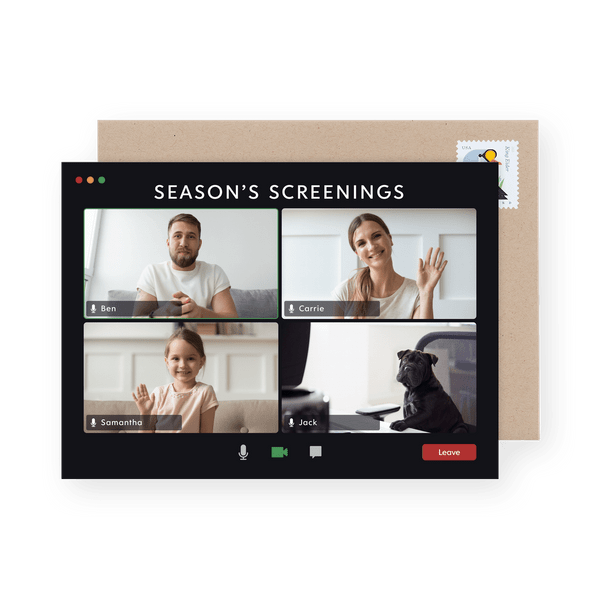 Goodbye 2020 Globe
Want a 2020 themed New Years card, but still have a cute and positive feel? Not to worry. This delightfully innocent snow-globe themed New Years Card will do the trick. Add your own photo and spread the New Year joy.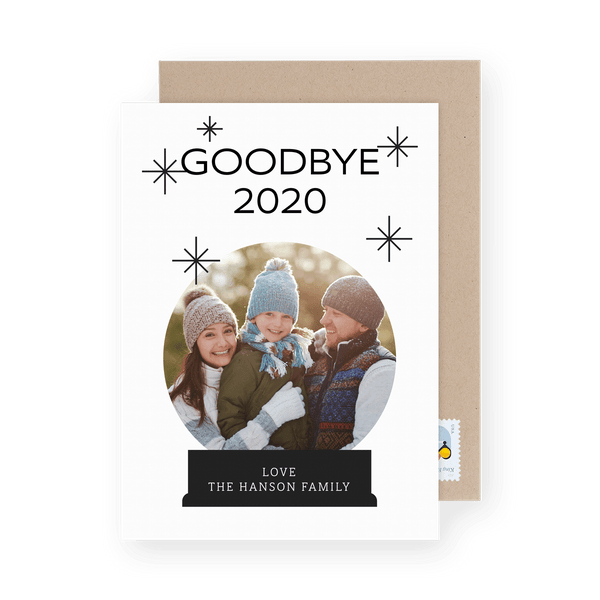 Goodbye 2020 Border
Another innocent take on 2020 themed New Years cards. The blue dot border on the design is a lovely touch.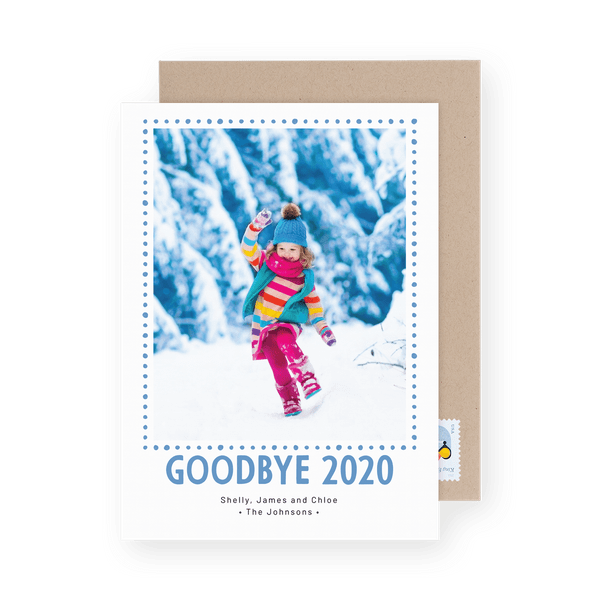 A Better Year Ahead!
Oh boy, sure hope so. What goes down must come up — that's the saying, isn't it? Spread some hope amongst your friends and family with this cheers to a better year in 2021.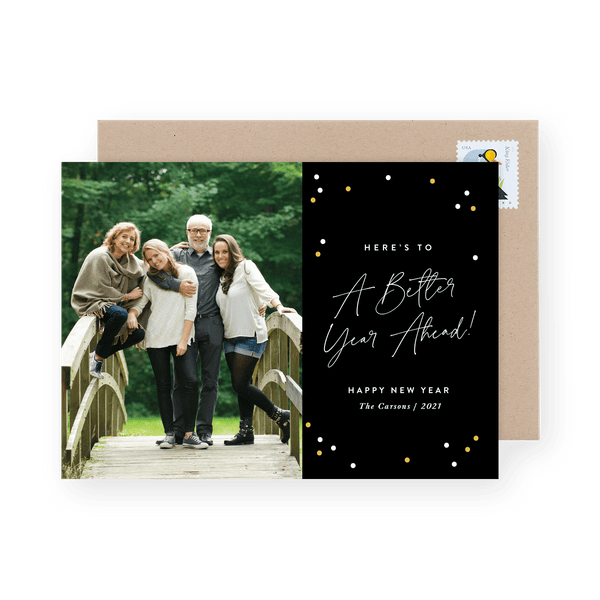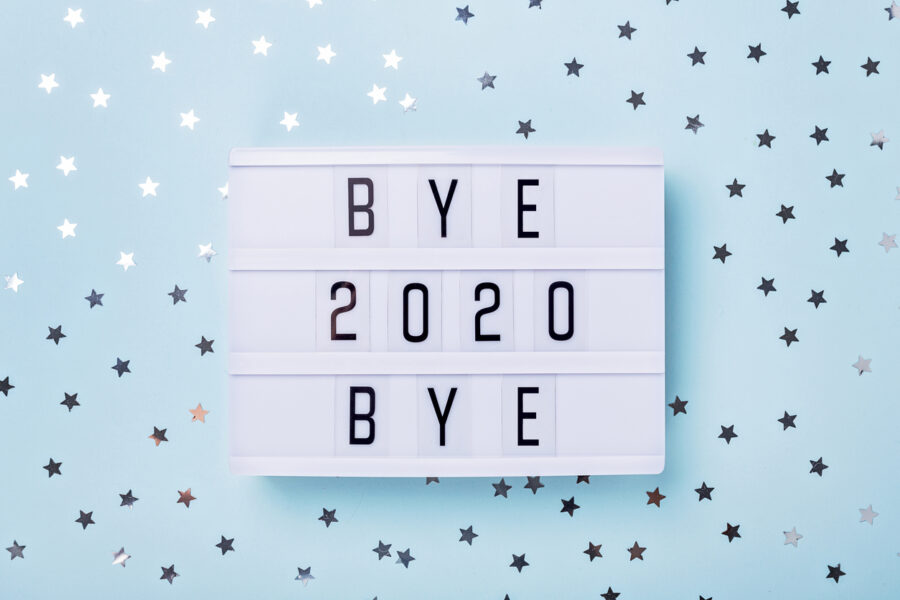 2020 Themed New Years Cards Without Photos
Want to wish this strange year a farewell without uploading a photo? Perhaps you're in the market for something a bit more artsy and a bit more on the nose when it comes to 2020 themed jokes? No problem. These 2020 themed New Years cards were all uniquely designed to give you a good giggle (because everyone could use one right about now).
All of these cards are folded allowing you to write your personal message on the inside.
Pro tip: Use one of Postable's unique smart handwritten fonts to write your personal message. Play around with the different fonts to see which one fits you perfectly.
Bite Me 2020
We're all thinking it… Leave it to Hello Paper Co. with her bold and simple designs to create this little masterpiece.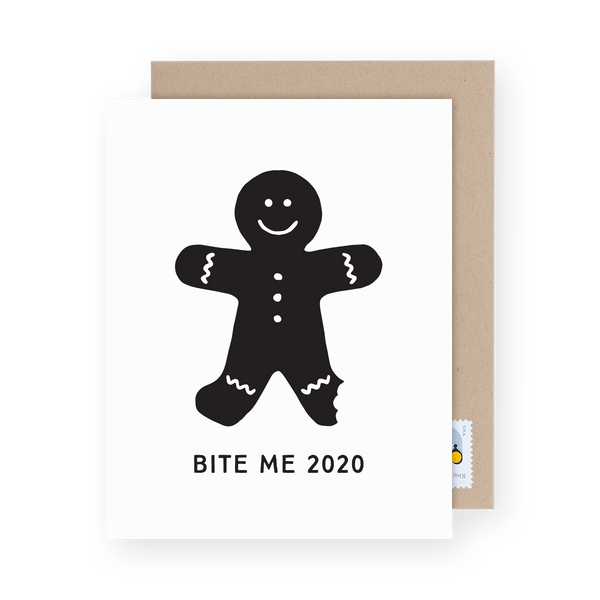 This is the year (2021)…
On a far more positive note, this Power & Light Press design brings the sunshine and hope for the new year. Spread some joy with this card to everyone on your list.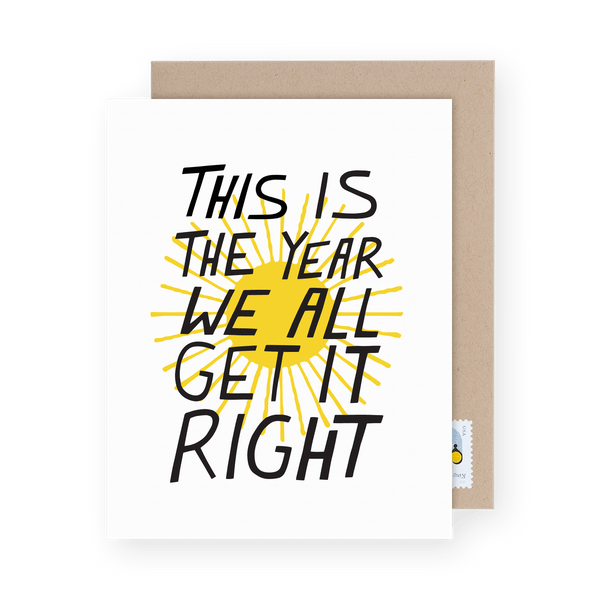 Wow, 2021 already?
Power & Light Press really can do it all with this not-so-positive-but-oh-so-funny take on this year's New Year card. Is it us or was 2020 like a decade long? Certainly felt like it. That's why this funny 2020 New Years card hits it right on the nail.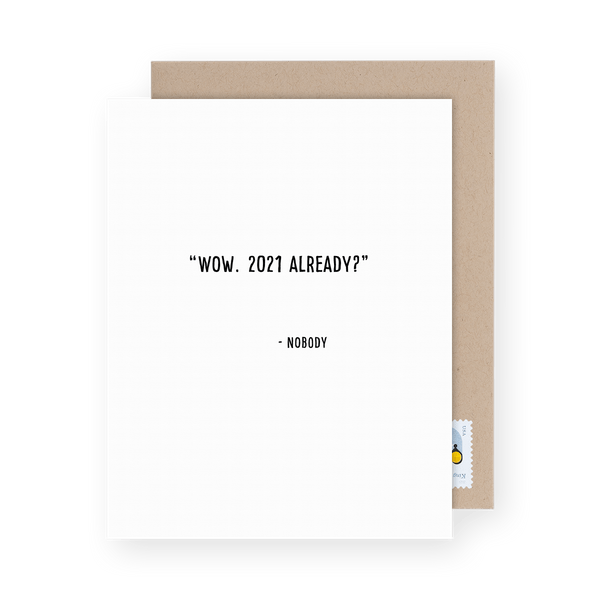 2020 You Tricky Bitch
Goodbye indeed. Send this delightfully funny and bright New Years card to everyone on your list and get ready to hear just how much it made your recipients' days!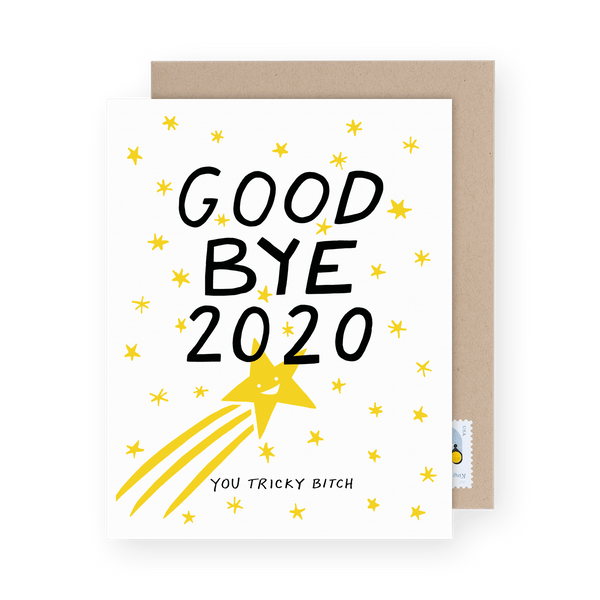 Is it over yet?
But, really… We're all more than ready to move on from 2020 and this card by Near Modern Disaster really says it all. Plus there's the confetti.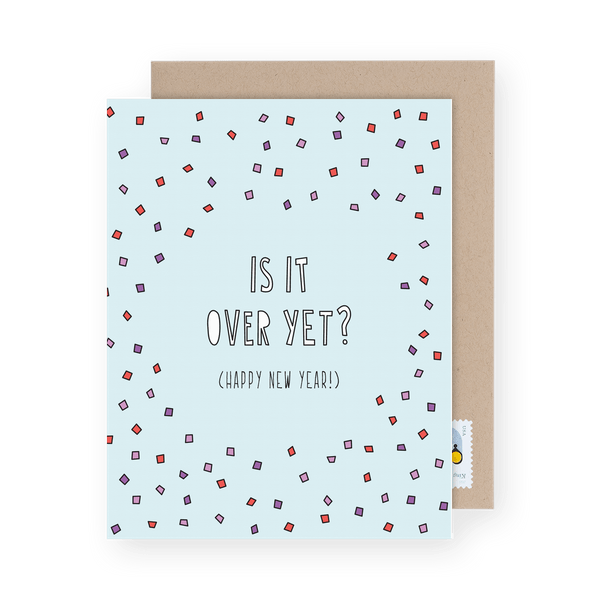 2020 Fire
Near Modern Disaster saying all the things we're thinking. Though we'd really like it if 2021 didn't try… We're ready for a break.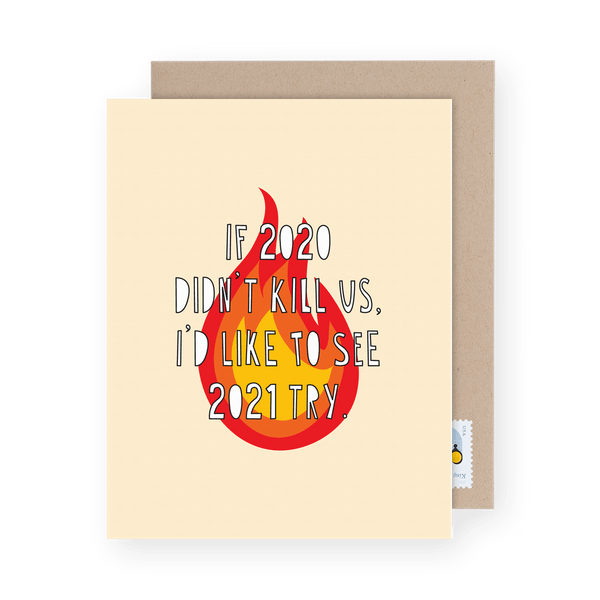 F*ck 2020
When there are just no other words… Maybe don't send this to grandma though.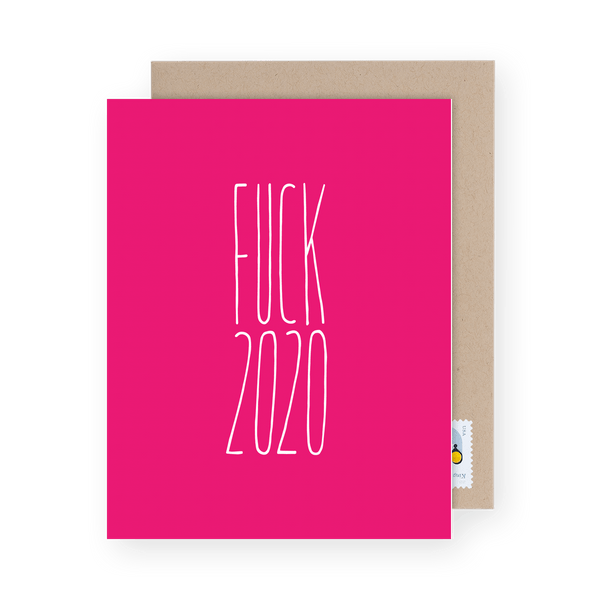 Grumpy Pup
This grumpy looking party-wearing-dog is all of us this year.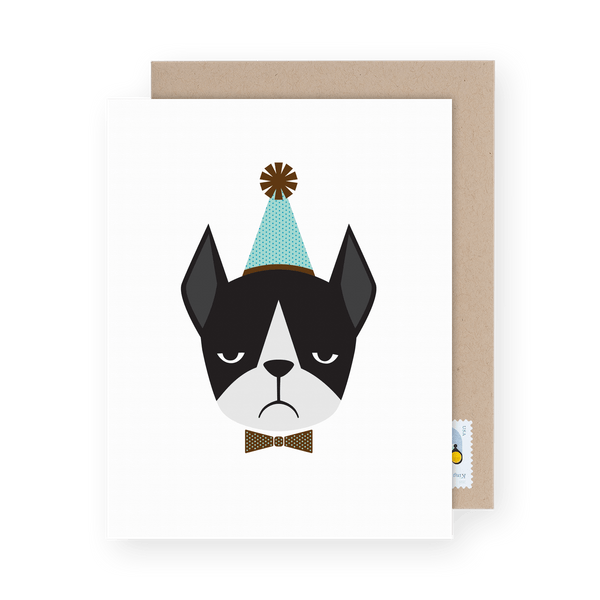 2020 Sucked
In a year like this, it's really just best to say it how it is. This card does just that.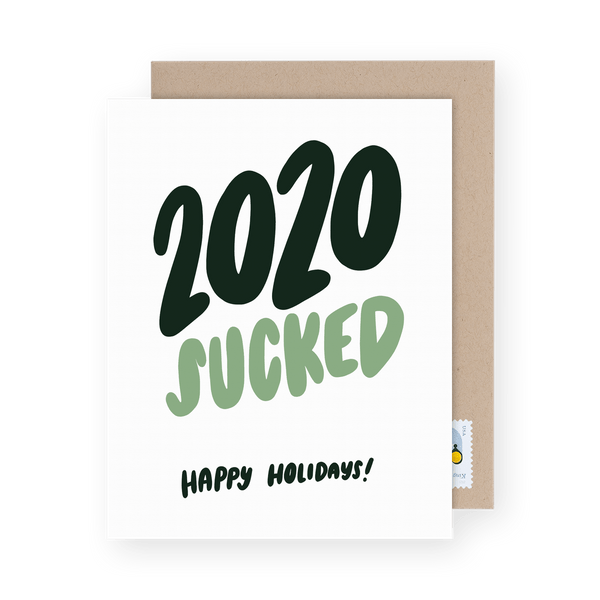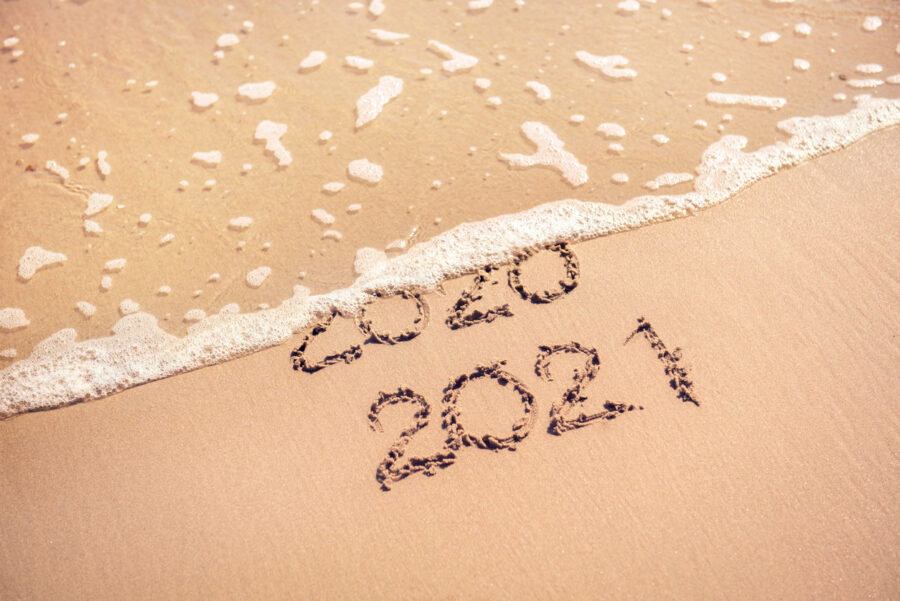 New Years Cards For Those Who Lived Through a Loss in 2020
Even though we're all excited to see the year 2020 go and welcome the New Year with a light-hearted card, keep your recipients in mind when choosing the design of your card. If one of your friends or family members has suffered a loss this year we'd recommend mailing a New Years card that was focused more around 'hope' or 'peace' rather than a joke. You definitely want to make sure to keep this in mind when choosing which card to send to whom as well as the personal message you write inside.
Pro tip: If you use Postable to mail your New Years cards for you, you can easily choose unique cards for each individual so that the appropriate card gets mailed to each person.
PEACE
This beautiful design by Elizabeth Grubaugh has a simple message of peace. The intricate design elements only add to the beauty of this card. Add a photo of you and your family to send some peaceful thoughts to those in your life who had an extra difficult 2020.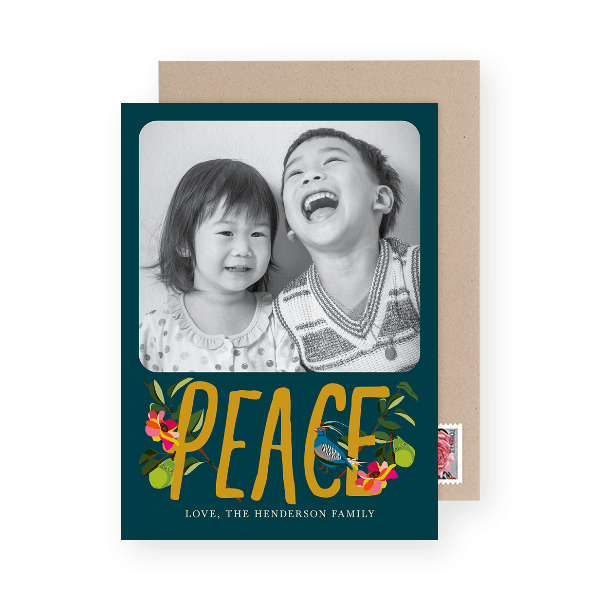 Peace & Love
Another beautiful design highlighting the message of peace & love for those of our loved ones who could really use it this year. We love the traditional wreath design with the toned down color scheme. Add your photo and share the love to welcome 2021.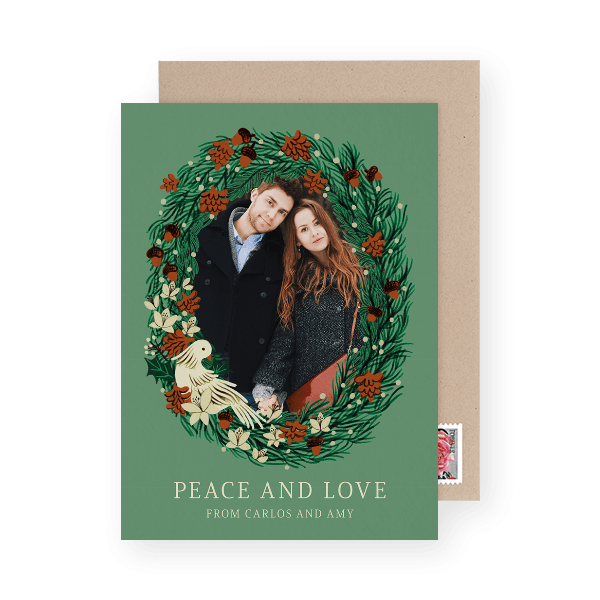 Peace on Earth
If there's one thing we can all use a bit more of in 2021 is Peace. If your loved ones suffered a loss in 2020, sending them a card like this is a better call than something joyful that makes light of 2020. Instead mail them a card that reminds them that they are in your thoughts.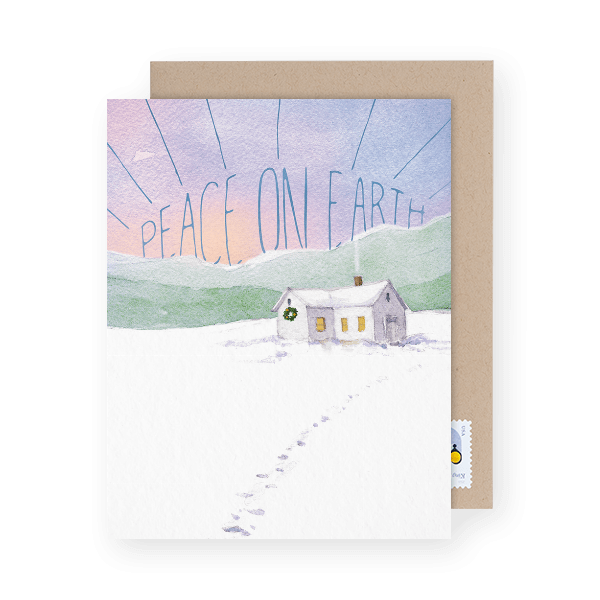 Peace on Earth Dove
Another peace on Earth option only with a different design. Either of these cards will allow you to write your personal message on the inside and let your loved ones know that you are thinking of them. Send them peace to welcome in 2021.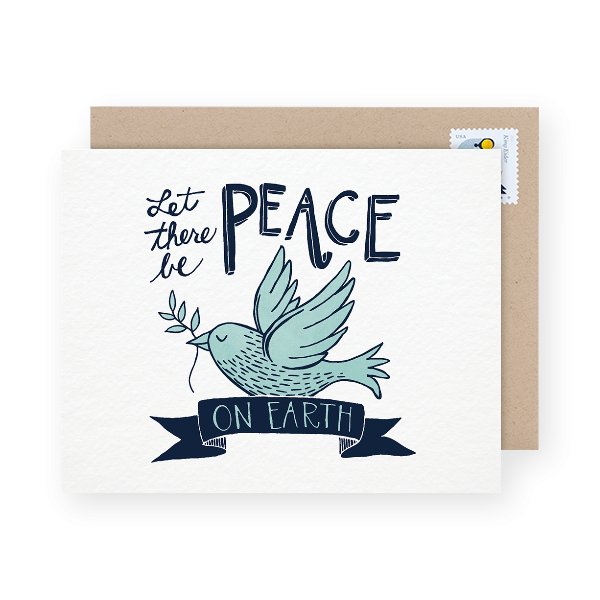 Elegant Peaceful New Year
This elegant photo Peace card can be mailed to anyone on your list. This design by inhouse Postable designers keeps a minimalist approach while adding a touch of decor with a scripted font. Add your photo and send some peaceful thoughts to welcome in 2021.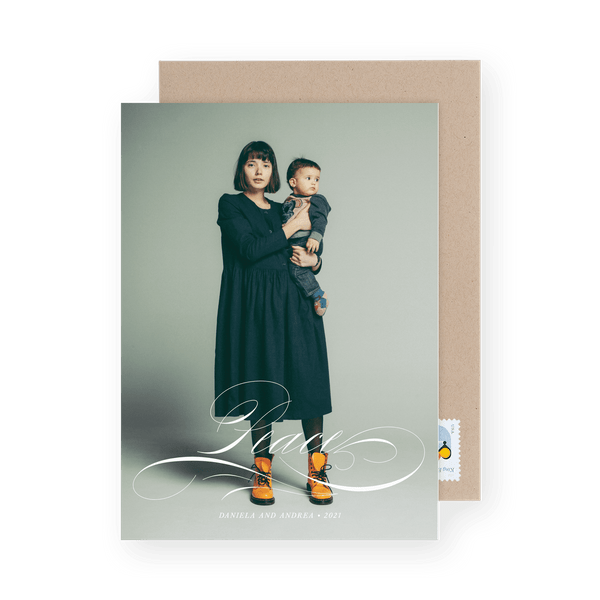 There you have it… 2020 themed New Years cards to help us all welcome in 2021 with open arms.
Want to see more 2021 New Years cards? Remember, all of Postable's cards are addressed & mailed for you!