COVID has rained on everybody's parade in 2020 (and that's just the least of it of course)… Don't let it rain all over your New Year's party plans. Just because we're all doing our part to keep our neighbors safe by socially distancing ourselves, doesn't mean we can't make the most of the situation we've been handed. An online New Years party is definitely not off the table. In fact, we've got some really fun ideas you can implement to actually enjoy yourselves as you say goodbye to 2020 and ring in 2021.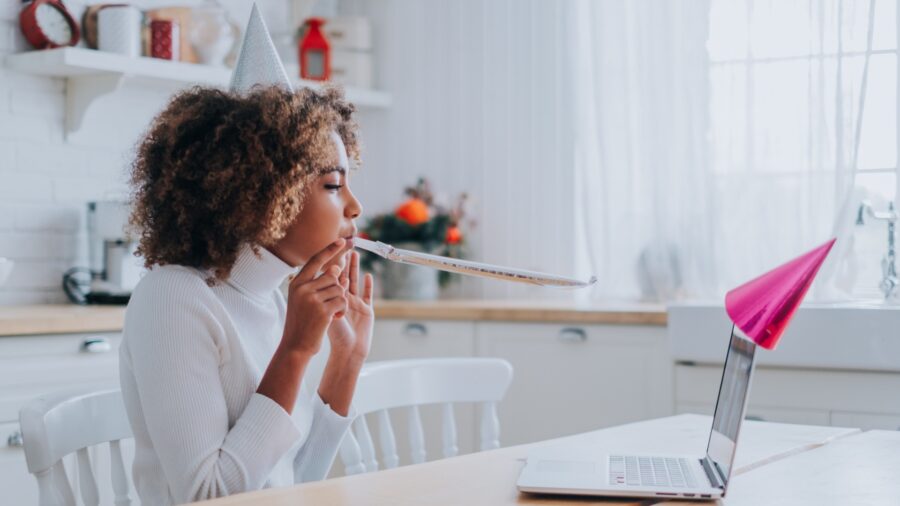 Although hosting an online New Years party will require more planning ahead of time than an in-person event, you can still create a lot of great memories for your friends and family. And don't worry, we've got all the details to make it happen.
Really nice New Years Cards, addressed and mailed for you. While you're planning your party, let Postable mail your cards for you.
Steps to organizing your online new years eve party.
Before diving into unique online new years party ideas, let's cover some basic steps to planning your online event.
Prepare the guest list with mailing addresses.
Decide on a theme.
Send real invitations to your guests.
Prepare the itinerary with the virtual games and activities.
Choose your video conference application & test them out.
Plan how you'll handle decorations & food.
Send a reminder to guests the day before.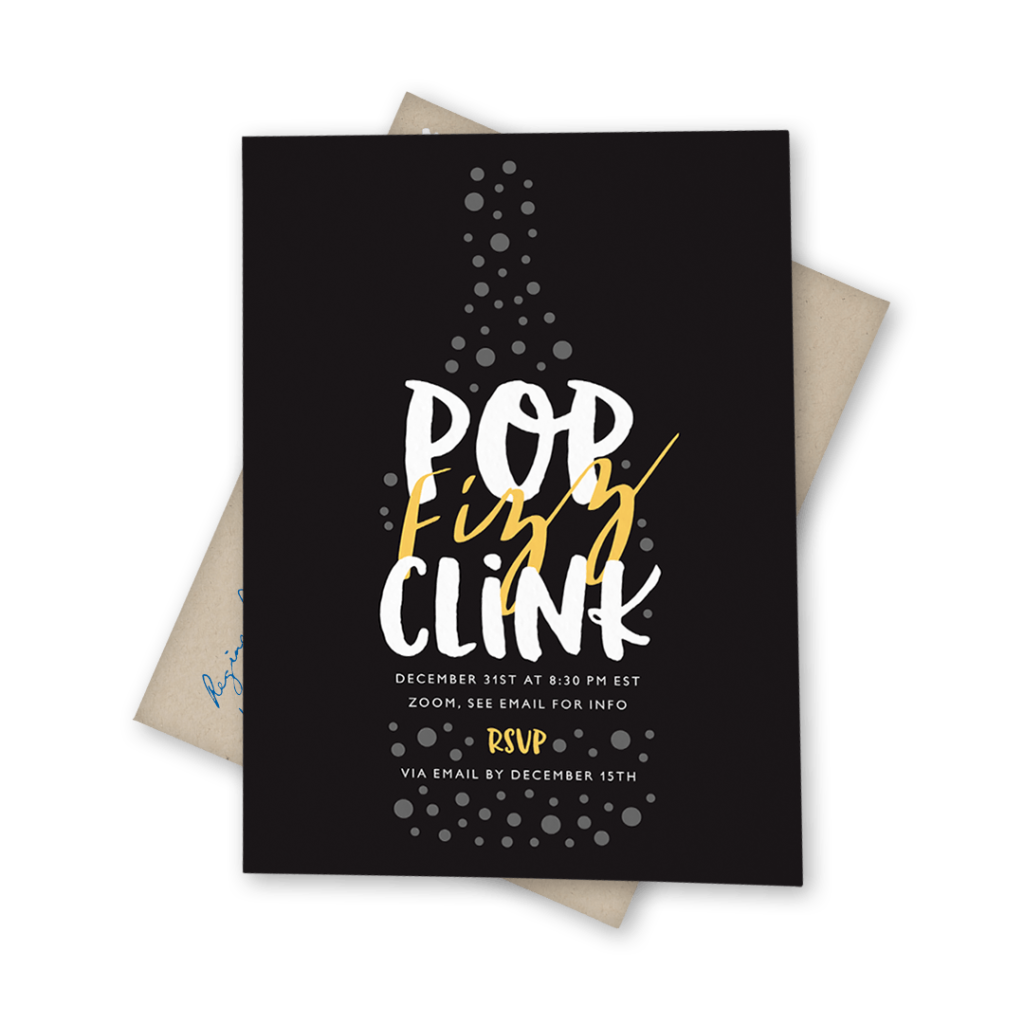 Step 1: Prepare the guest list with mailing addresses.
Yep, you read that right. You're going to want your guests' real mailing addresses and here's why: real invitations AND goodie bags.
We'll get into more details about the goodie bags in just a minute, but whether or not you have a budget for them we'd still recommend mailing real hold-in-your-hands party invitations. Especially important when everything in our world right now lacks that IRL quality.
Collecting your guests' mailing addresses doesn't have to be a whole to-do. There are two ways you can make it happen:
Call/text/email around and compile the addresses onto a spreadsheet.
Use Postable's free holiday address book that does everything for you.
Postable's free address book will give you a unique URL that you can then send out however you'd like (email/text etc.) to your guests. They will then fill out a form and their information gets magically compiled for you in your address book. All the information is completely safe and secure (you can always export).
Step 2: Decide on a theme.
While you're in the process of collecting your guests' addresses, decide on what theme you'd like your party to have. We've got several ideas to choose from below, but feel free to get as creative as you'd like. You're saying goodbye to 2020, nothing is off limits.
This decision will help to inform much of the rest of the planning process so get really grounded in your choice and move on to step 3.
Step 3: Send real invitations to your guests.
Yes, real invitations for your online New Years party. As we've already mentioned — everything right now lacks a connection and a sense of normalcy. Sending real hold-in-your-hands party invitations will help to distinguish your party from every other online happy hour and Zoom meeting call your guests have been juggling for the last 7 months. Real party invites, will also help to level up your online New Year's Party game before it even starts.
Good news, if you're short on time Postable can address & mail your cards for you. Plus, the selection of invitations is pretty stellar.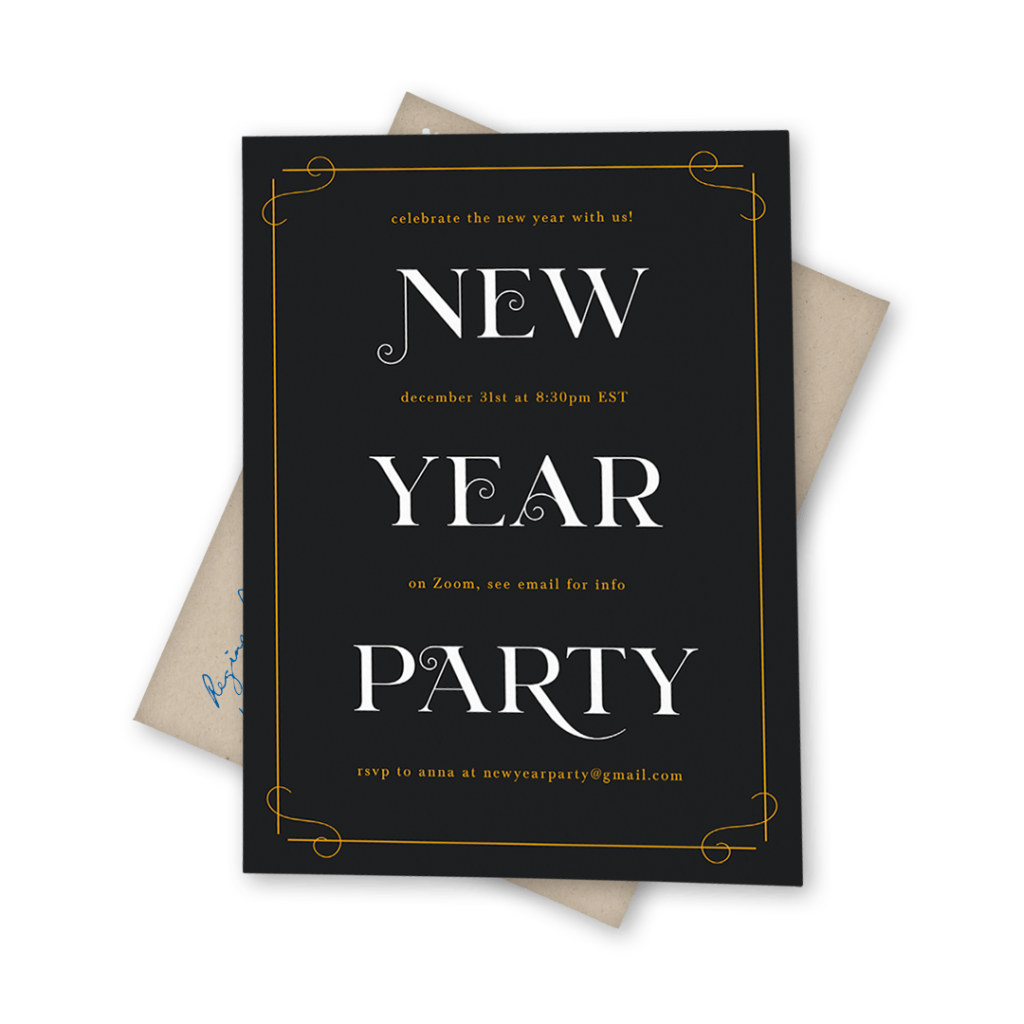 Step 4: Prepare the itinerary with virtual games and activities.
Unlike in-person New Year's Eve parties where you can pretty much stack the booze, turn on the tunes and let the mingling commence — your online New Years party is going to need a bit more coaxing.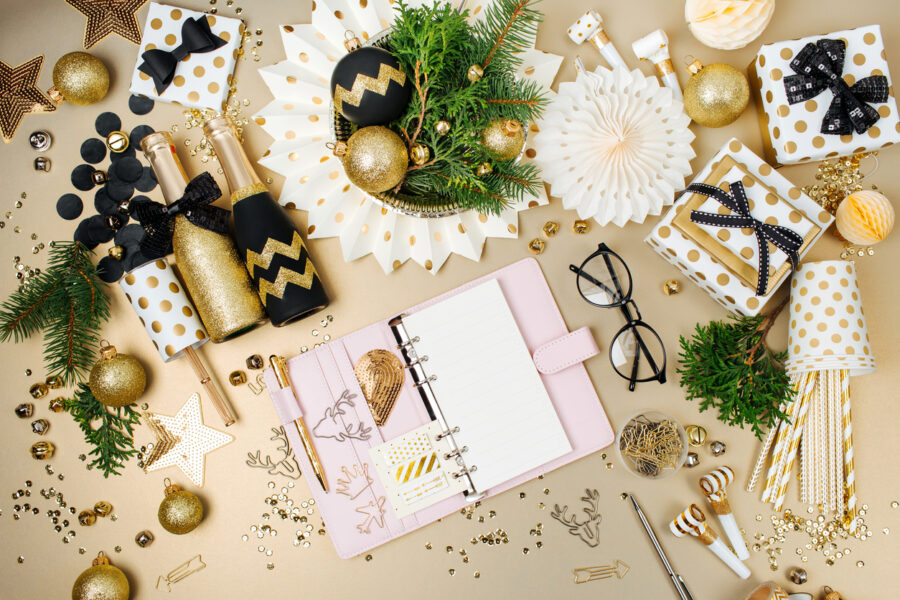 Not to worry. An online New Years celebration is not doomed for a black hole of boring small talk while everyone else barely listens. This is why planning ahead is so important.
As with theme ideas, we've listed out some individual virtual games and activities you can engage in with your guests further down below. And yes, they're actually fun!
Step 5. Choose your video conference application & test them out.
Chances are good that you're pretty familiar with online video conferencing applications by now, but just in case you need a refresher we'd suggest testing it ahead of time. That means figure out which application will suit your needs best and which application you have access to.
Some of your online conferencing options for your virtual New Year's Eve party:
Zoom — Free for 40 minutes (yikes) for up to 100 people. This would be the best option if you have the paid version. Zoom's video quality is superior and the connection tends to be better, but if you're limited to 40 minutes there's really not much wiggle room for an actual party.
Facebook Rooms — Up to 50 people & no time limit.
Skype — Up to 50 people free and no time limit.
Google Meets — Free accounts can host up to 100 people.
Once you've chosen your application, make sure you test out whatever games and activities you plan on including to make sure they'll work on the platform.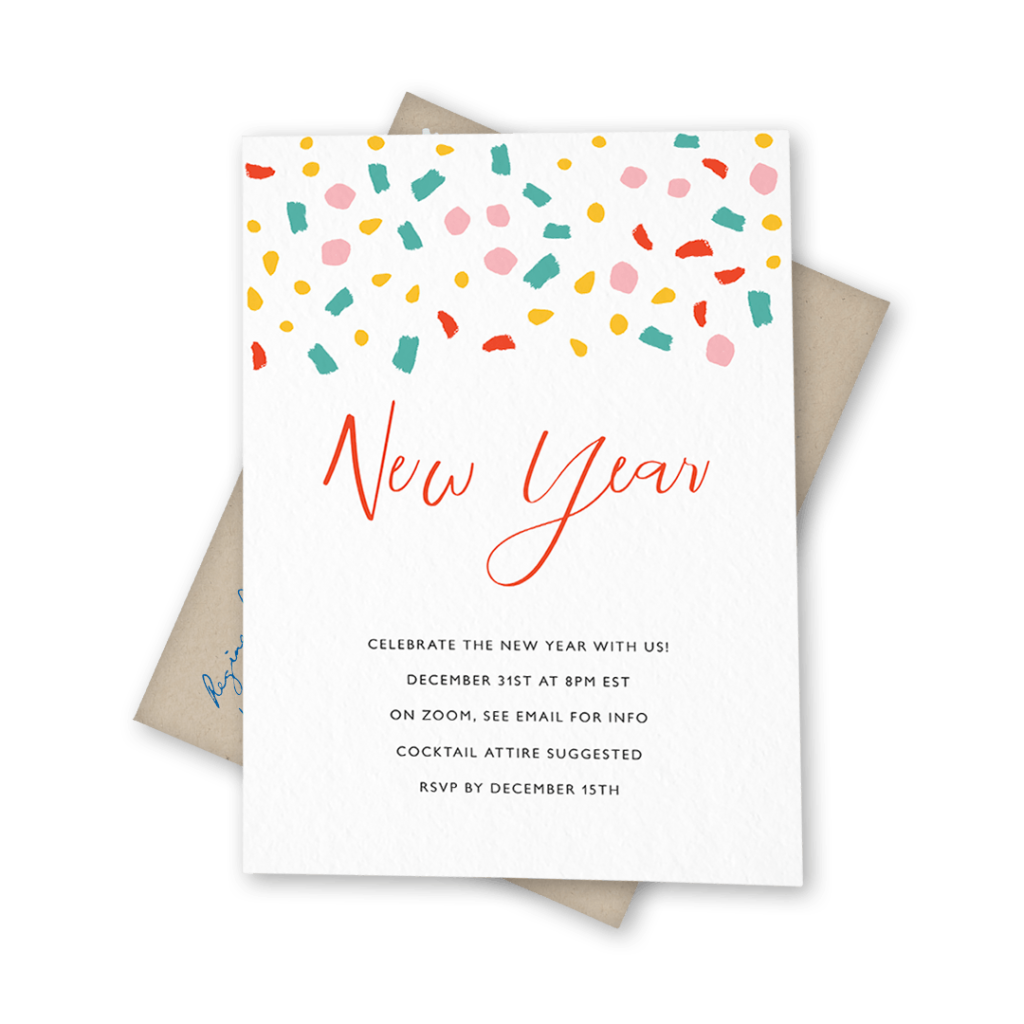 Step 6: Decorations & food for your online New Years eve party.
Decorating for an online party and selecting the menu is a bit trickier. However, not impossible! As with everything else, it just takes a bit of creative brainstorming and planned execution. Depending on whether or not you're working with a budget we've listed out some recommendations on how to handle decorations and food for an online New Year's party.
Suggestions if you have a budget:
If you have a little budget wiggle room, sending your guests a goodie bag in advance of your online party will help to make your event feel cohesive and help your guests have a shared experience. In your goodie bag, include items for both decor and food. Again, how crazy you get will depend on your budget and the number of expected guests. Whatever you send, make sure you stick within your chosen theme to maintain a sense of comprehensiveness. Don't feel like you have to decorate everyone's full home. Just a few small items will make all the difference. Here are some suggestions:
Noisemakers
Party hats
Streamers
Pre-packaged snacks (think finger foods) + a mini booze bottle
Items required for your chosen activity/games (suggestions for each idea listed below).
*Most of the booze will need to be BYOB no matter what and some states don't allow you to mail booze so keep that in mind.
Suggestions for no budget:
If you don't have a budget to work with, but still want to put on a great online New Year's eve party don't worry. You absolutely still can and should! Instead of mailing your guests goodie bags, send them some suggestions so they can choose whether or not to participate and buy their own.
For the decor, send your guests a link with some suggestions on party items that will fit into the theme.
For the food, send the menu so that your guests can choose to duplicate it. You can also just theme it to BYO-Snacks and make it a point to share what everyone is munching on during the party.
Step 7: Send a reminder to guests the day before.
It's 2020 so time always feels as though it's standing still. Even though your guests don't actually have to go anywhere for your party, you'll still want to remind them the day before.
A fun reminder will also serve as a little something to get your guests excited about attending your online event. We're all so jaded at this point about logging on online, but if you make it into something they can look forward to it'll make all the difference.
Creative Ideas for a Virtual New Year's Eve Party
Theme ideas for your virtual New Years party.
Ready to have your mind blown? Here are some unique theme ideas for your online New Year's eve party that are actually fun. Many of these themes will come with their own set of activities that are built in, a list of goodie bag suggestion items as well as an itinerary to get your creative juices flowing.
Superlative Awards
This idea is sure to provide some really great laughs and memories to come. Certainly not a bad way to end 2020. You remember those quirky and fun awards in your high school yearbook? Time to upgrade the categories and bring this theme to your online party! This theme can work with small and large groups of people depending on how big your gathering will be.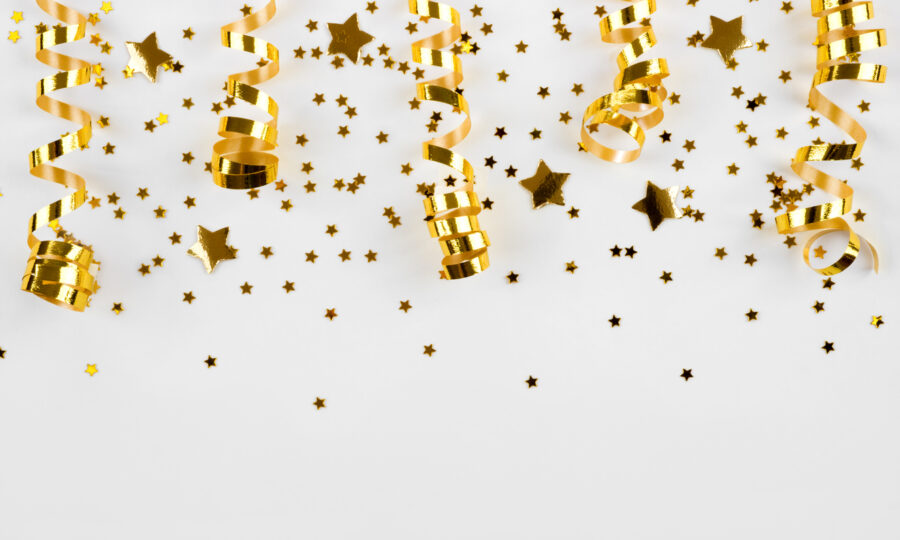 DESCRIPTION: Come up with funny categories like 'Most likely to invent chocolate flying cars' OR 'Most likely to laugh so hard he/she pees a little'. You may also want to add categories like 'Best 2020 laugh-cry moment' or any other 2020 related moments. These categories will really depend on your group of friends and your sense of humor. The more people you have involved, the more categories you'll need to make sure everyone wins something. Get creative!
Once you have the categories, send them out to your friends to vote. Make sure every one of your guests wins at least one category (let's not make anyone feel any worse about themselves by leaving them out this year OK?).
For the actual party, prepare to announce the winners by preparing images in advance (use people's Instagram accounts for sourcing your images). If you have funny videos of the contenders, that would be a plus.
Assign different guests to announce each category to make it extra interactive!
GOODIE BAG:
Sealed off envelopes for the winners that each of the guests will be announcing.
Gold & Black sprinkled cake pops (make them yourself or order from a local bakery that can use your support).
Gold party hats
Confetti poppers
ITINERARY SAMPLE:
Play upbeat music as guests trickle in saying hellos (you may choose to just dance for the first 10/15 minutes).
A toast to end 2020 (giving whoever wants the option to give extra toasts, because why not)
Announce ½ of the awards
Dance break (put on an upbeat song with a great music video. May we suggest Beyonce's 2020 Spirit)
Announce 2nd ½ of the awards
Finish off about 15 minutes before the midnight countdown (give your guests time to take a bathroom break before re-joining for the big 2021 moment)
New Year's Countdown
A toast to 2021!
Close out with hopes/goals/dreams everyone has for the new year.
Self-Care New Year Day
Not every New Years party has to take place at midnight. For those more interested in finding their inner Zen, this self-care online New Year's party theme would be right up their alley.
DESCRIPTION: Gather your friends to start 2021 with a series of self-care good feels — all at the comfort of their own home. Replace champagne with matcha lattes and drunken Bingo with a yoga class. Hire a local yoga instructor to teach a class as the main event.
GOODIE BAG:
Ceremonial grade Matcha
Cooling eye patches
A green-tea cupcake (or some other little sweetness for a post-yoga treat)
SAMPLE ITINERARY:
Welcome everyone in and happy new year!
Introduce the yoga teacher and let them take the lead.
Post-yoga treat — Matcha latte making + cupcake
Virtual New Year's Day Brunch
This version of the celebration would take place on January 1st and be filled with lots of natural light! This could be a great option to celebrate New Years virtually with the whole family especially if you weren't able to all meet in person this holiday season.
SAMPLE ITINERARY (family friendly):
Welcome everyone and invite guests to enjoy their cup of coffee.
Introduce the virtual class teacher and let them take the lead → Fancy Eggs 5 different ways!
*Alternatively if you're low on budget, just pull up your favorite youtube tutorial and have a good laugh trying to follow along.
Enjoy the food + take turns going around allowing people to toast the new year and share their goals/hopes for the new year.
Take a mini break and play a clip of your favorite TV show or music video or something from 2020.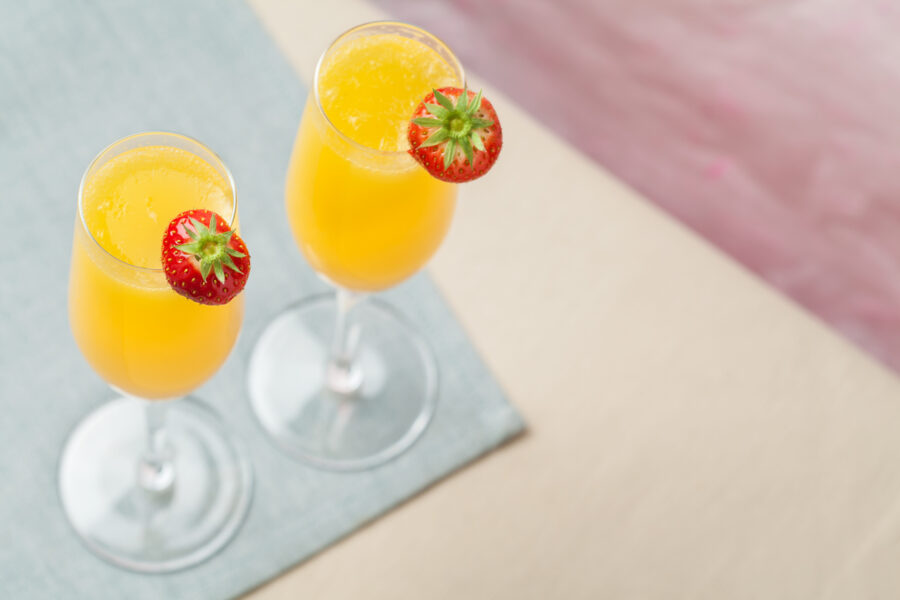 Game ideas for your virtual New Years party.
Engage your guests during your online New Years party with these games and activities. If your chosen theme doesn't inherently come with it's own set of games or activities consider these as additions to your itinerary.
2020 Trivia Game
Not just an ordinary trivia game! Share 2020's most memorable moments (try to put a humorous spin on as much of it as possible) with your guests with this trivia game… At least it's all behind us now.
Create your own questions and answers and prepare to host your very own New Years trivia game.
Goodbye 2020 Bingo
Add this adorable Quarantine Bingo card in your goodie bag as a gift for your guests to use during the game and be able to have for later OR use this card as the invitation itself!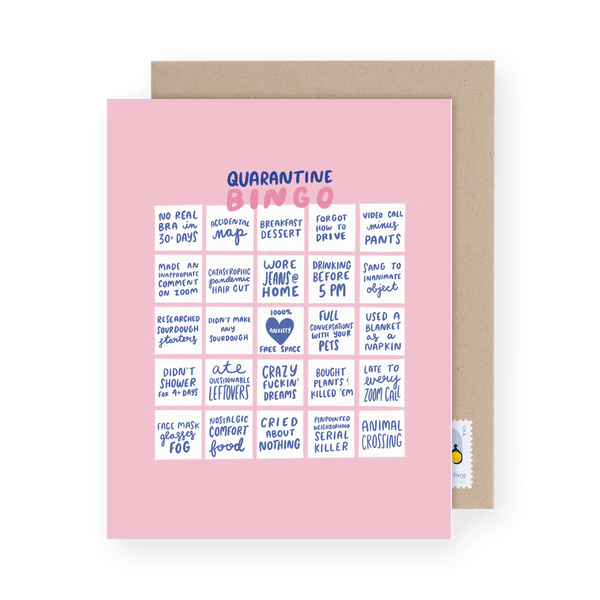 Taking these familiar games and making them 2020 themed will make them feel more special.
Secret Fairy Elf
Everyone loves gifting and receiving so why make gift-giving exclusive for Christmas and holidays? Take the traditional Secret Santa and make it New Years style by giving gifts with the theme of something new. If it's a close knit group of people, the participants will likely have a good idea of what their recipient is hoping for the new year (like starting a new hobby). If not, it can still work. Just have your participants think of something their recipient might like to start or learn about and have that be their guiding principle when choosing their gift.
Have your guests randomly choose their person using a free randomizer tool — making sure to tell everyone to hide their pick once they have their name. Set a price limit and share the mailing addresses (see, told ya these would come in handy later) of everyone involved so that your guests can mail their gifts on time (give them a mailing deadline).
Add a Musical Talent
Have a friend that's in a band or musically inclined? Ask them to perform a song or two during your online New Years eve party. Certainly not suggesting to take advantage of your skilled friends, but asking politely for a song or two couldn't hurt.
Watch the NYC Ball Drop
Everything is going virtual this year, including the New York City Ball Drop. If you don't want to spend your entire party watching the show, just tune in close to midnight.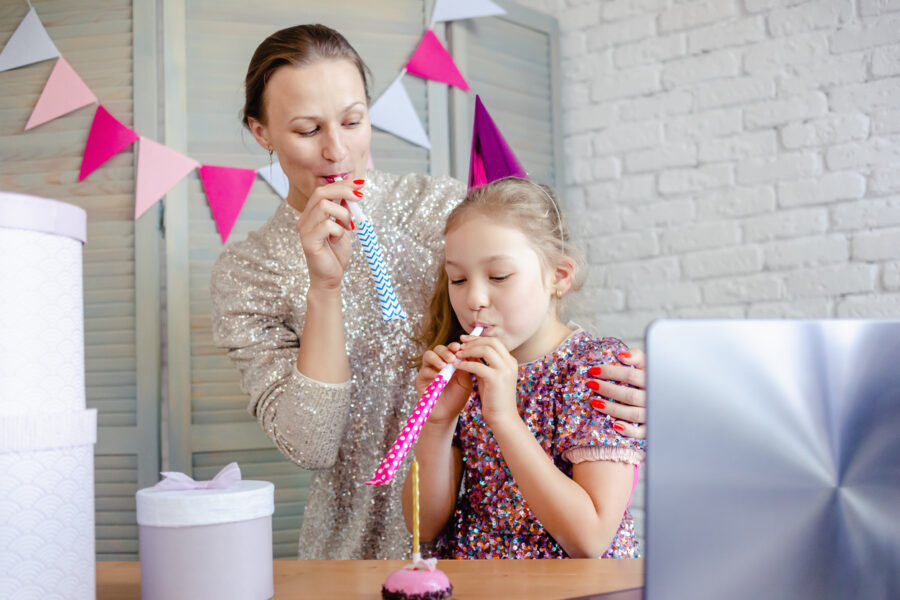 Tips for throwing a virtual New Years Eve Party.
You've got the steps to making this happen and your brain waves are tingling with all the ideas listed above. Now, before you go off on your own and plan the most epic online New Years eve party there ever was, check out these three tips that will help make you an absolute pro.
Stay organized.
Choose a theme that promotes interaction.
Encourage dressing-up!
Stay organized.
In order to execute a fun virtual New Years event for your friends, it is absolutely essential that you stay organized during the entire planning process as well as during the event. If you're hosting, then make sure you have your itinerary in front of you and you keep the games and activities moving along.
You can also choose to ask a friend to host for (or with) you — especially if you have an exceptionally entertaining friend.
Choose a theme that promotes interaction.
Whether you choose something from this fantastic list of ideas or something you brew up on your own — just make sure it's something that contributes to an interactive experience. This will help your guests feel engaged in your event instead of having flashbacks to their latest Zoom happy hour.
Encourage dressing-up!
Go as creative as you want here and use your theme as inspiration. Just keep in mind that everyone is sick of wearing masks and a perk of attending an online New Years eve party is not having to wear one… So maybe save the masquerade ball idea for next year.
You can go as simple as a color scheme or something funky like costumes. Whatever you choose, it'll help your guests feel engaged in the shared experience. Our goal here is to help us all feel as though we've left our couch for the evening.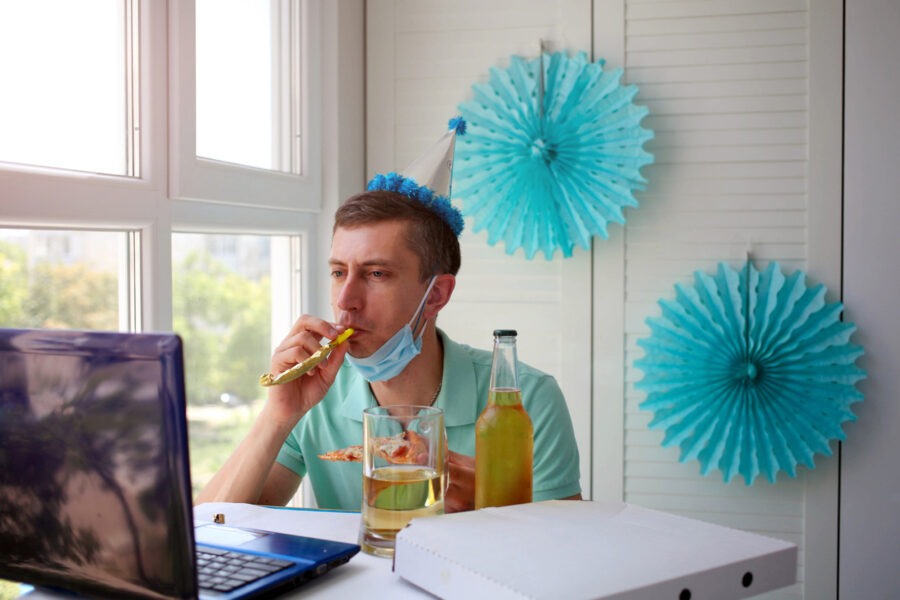 Don't forget the New Years Cards!
You're planning the event of the year, we just know it. But don't forget to mail out your New Years Cards while you're at it. Don't worry, we know you've got your hands full so here's a pro tip: Postable will address and mail your cards out for you.
Yup, a free holiday address book AND the ability to address & mail the cards out for you. (No pressure, you can still use the address book without mailing the cards. We'll still be friends.)
Postable's collection of New Years Cards is pretty spectacular so go ahead — take a look for yourself!