Christmas is the perfect time to spend quality time with your friends and family. To gather around a dinner table, the fireplace or Christmas tree and enjoy each other's company. It's also a great time for laughs! Everyone can use a good laugh during the holiday season and it's never been easier to be the source of said laughter. While sending a classic Christmas card is totally something your sister (or mother or uncle…) will do — something a bit on the quirkier side is more your style. That's why sending funny Christmas cards is what you'll be doing this year. And we're totally on board!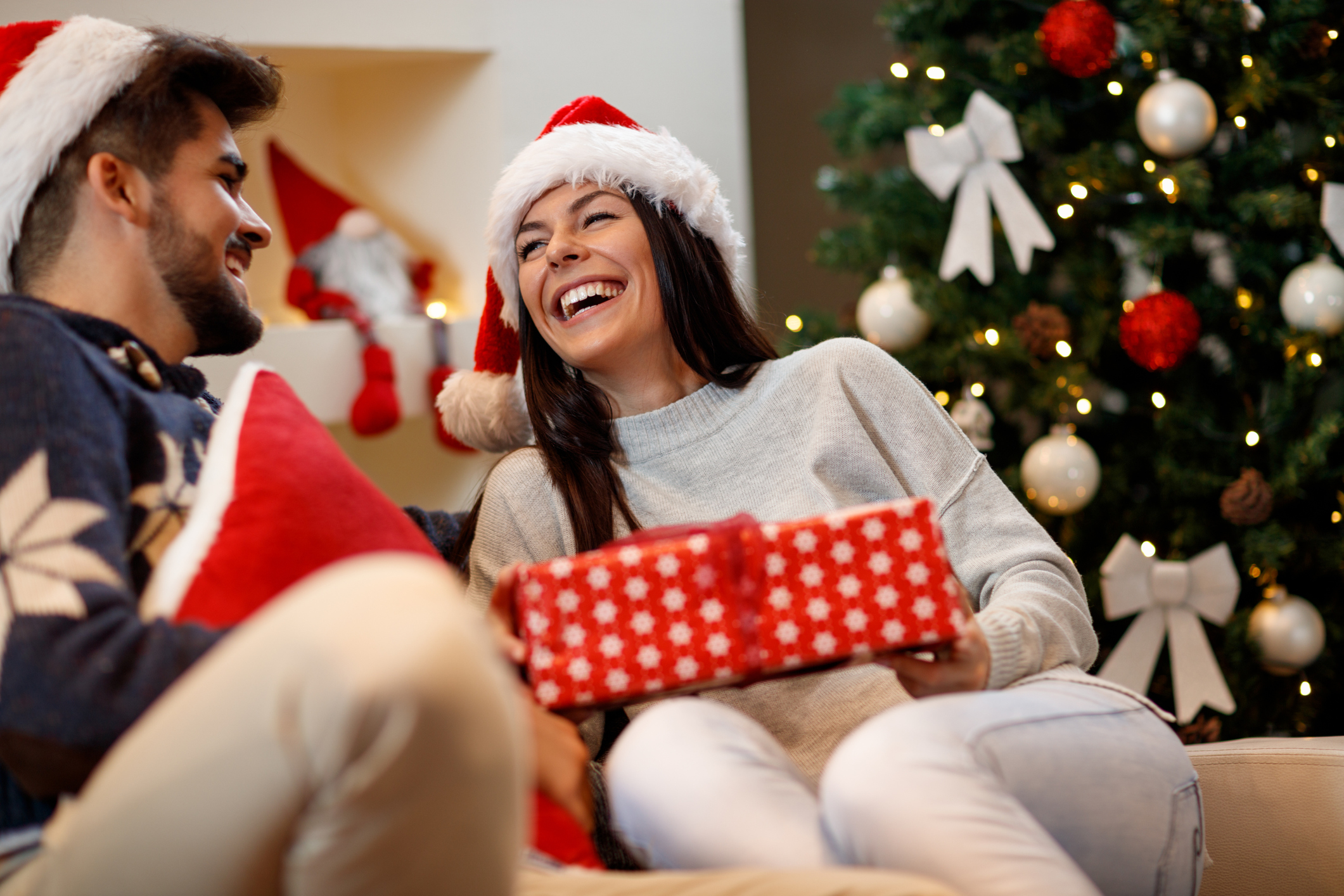 We love a good laugh and nobody said Christmas cards can't be funny! In fact, we've got a whole slue of deliriously funny Christmas cards for your viewing pleasure right here. So take a look and tell us your favorite!
1. Smiling is my favorite!
Ours too. What a coincidence?! But also, who doesn't love smiling? If this E. Frances Paper creation doesn't put you in a great mood — nothing will. This card is the epitome of delightful and will surely make the receiver of this card laugh out loud. Because — well, just look at it! The perfect card for The Elf movie fan or really just about anyone on your Christmas cards list. Send this card here.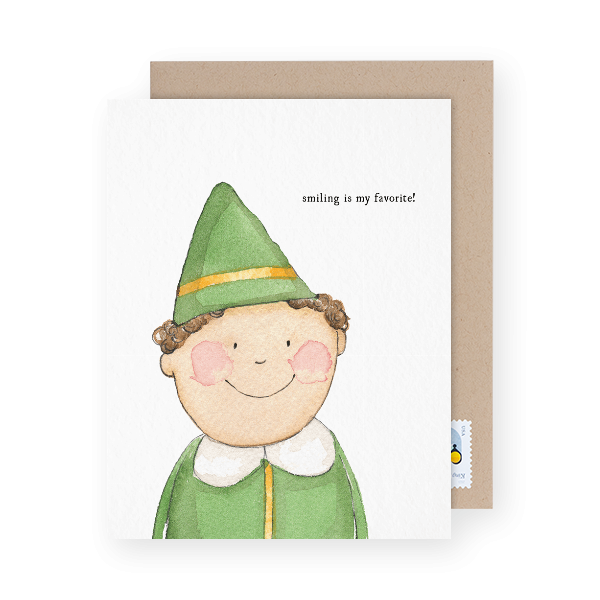 2. Nuttier than squirrel turd.
If you roll with a fun crowd, chances are some of them will be a little on the nutty side. In the best way possible — of course. This Bench Pressed card would be perfect for such a good humored crowd. Be sure your recipients don't take themselves too seriously and they'll totally get a kick out of laughing at themselves this Christmas. Send this card here.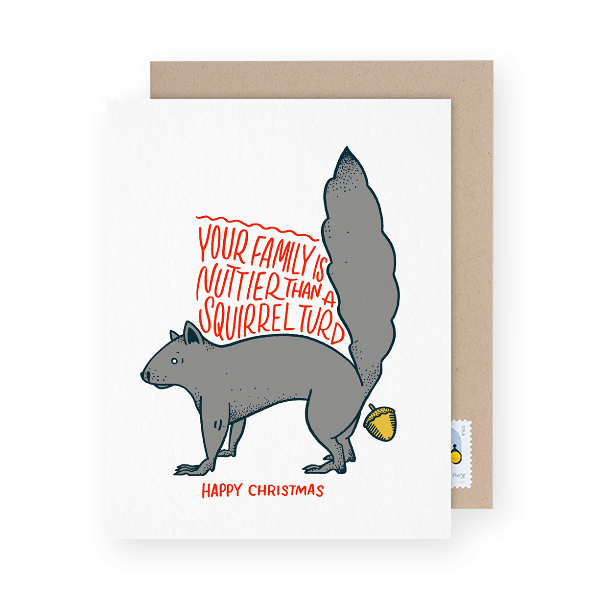 3. Sir Rudolph.
Speaking of not taking things too seriously. This hand painted design by Quill & Fox will be perfect for just about anyone on your list. We love the personification of Rudolph and just look at that mustache! Gotta love a reindeer mustache. Send this card here.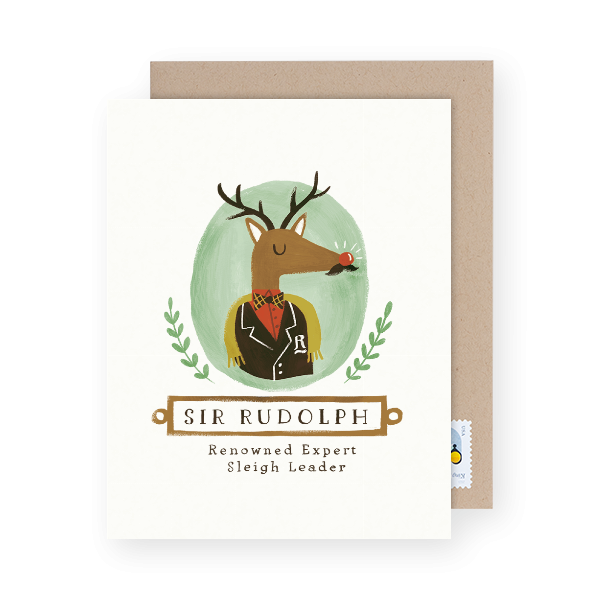 4. Let it snow.
We couldn't agree more. Unfortunately snow is coming whether we like it or not. If you happen to be spending this holiday season somewhere sunny like Florida or the Caribbean or on a sail boat somewhere (lucky you) this card would be perfect. Perhaps don't send it to friends dealing with a snow storm — they may not be your friends for long. Send this card here.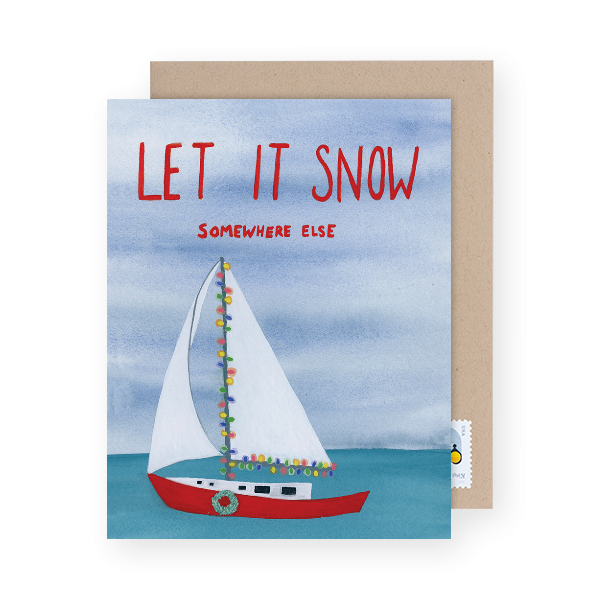 5. Crack some nuts.
Punny Christmas cards for the win! This laugh out loud Christmas card by TYLRE will no doubt give your recipients something to giggle about. Aside from the funny pun, we love the Christmas-y colors on the design and the perfect illustration accompanying the perfect pun. Send this card here.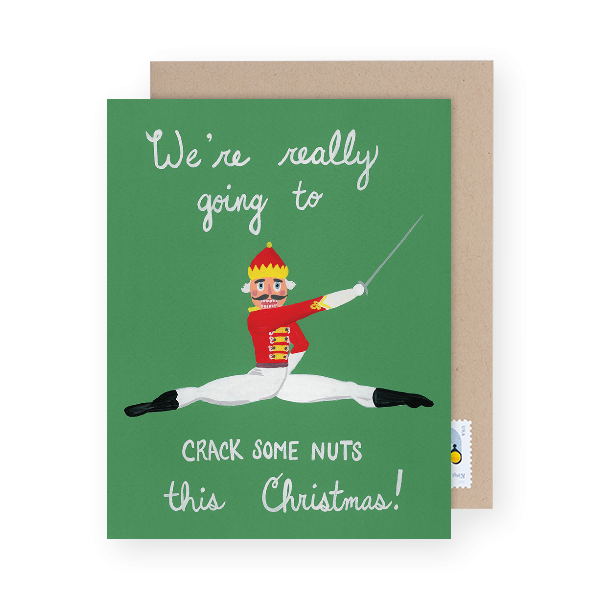 6. Meowy Christmas
Ok, so we like puns. That should be no surprise, but this cat pun card is pretty darn funny. Sometimes a simple pun is all you really need and this pun pretty much takes the cake. The funky design by LIVE LOVE makes the card even funnier to look at. We all know a cat lover or two — make their day with this adorable Christmas card. Send this card here.
7. A whale holiday.
What is it about whales and sweaters that's so funny? This adorable hand painted creation by E. Frances Paper will immediately brighten someone's day and no doubt get a giggle (or ten) out of them. True to E. Frances Paper style, the delicate execution of this design makes the subject that much funnier. Gotta love the reindeer antlers! Send this card here.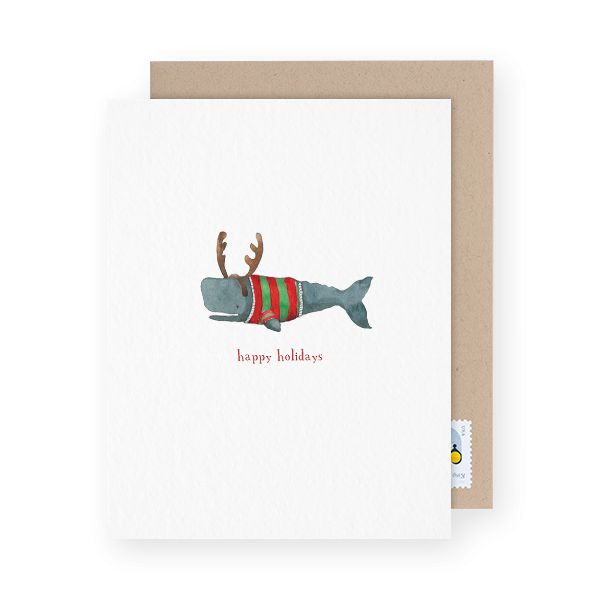 8. A naughty Christmas.
Know someone with a naughty sense of humor? Then this Scotch & Cream card will be the perfect Christmas greeting. We love the royal border around the design — it's all in the details. Send this card here.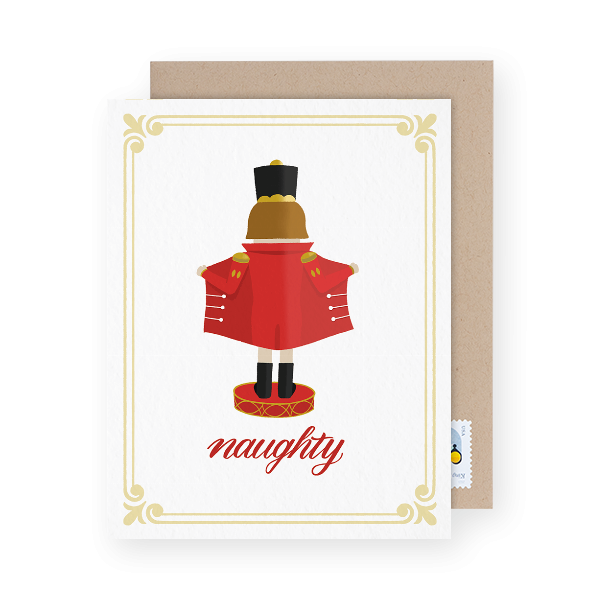 9. Mistle Toad
Everyone loves a good pun! We're big fans of puns around here — if you haven't noticed — and take them quite seriously. Sort of. Ok, not really. But we do get quite the kick out of them! And A Jar of Pickles never fails to bring us the punniest cards of them all. This Christmas card is perfect for the pun lover in your life. Or really just about anyone. Send this card here.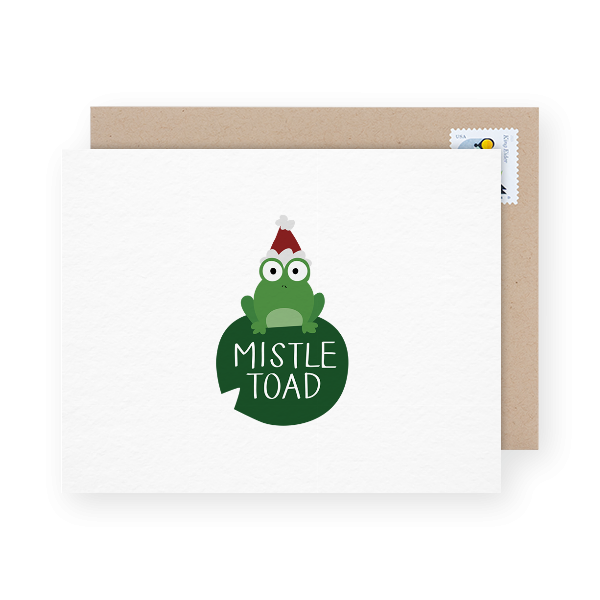 10. From my phone on the toilet.
If this sounds like something you'd say — then you've found your perfect funny Christmas card. As always, Near Modern Disaster has a lovely way with words — and typography. We love the funky style of the letters and the fun use of color to bring focus to the important stuff. It's also hilarious — so there's that. Send this card here.
11. Llet it snow.
Sometimes the fun is in the details. This quirky illustration by TYLRE is the perfect funny Christmas card with a little word play and a whole lot of cuteness. It's a skipping llama — what's not to love? Send this card here.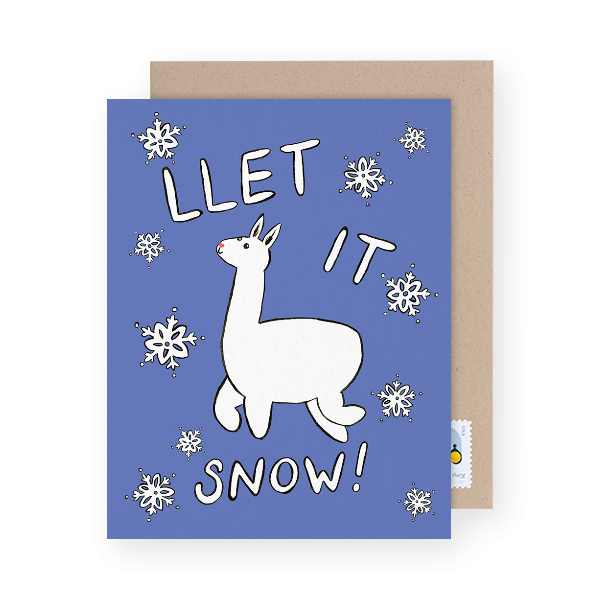 12. Pugs and kisses.
Ok, if this doesn't make you laugh than surely it'll at least melt your heart. This amazing Christmas card by Quill and Fox is the perfect card for anyone who loves to see adorable little pug faces — aka everyone. Gotta love the little bells around the collar! Send this card here.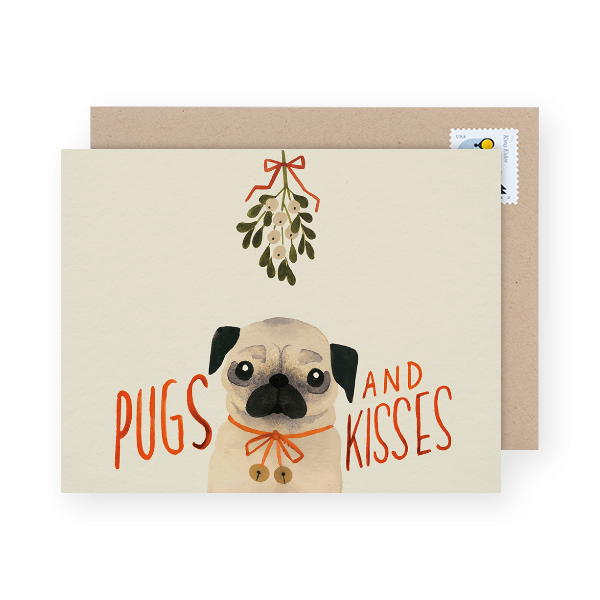 13. 'Tis the season dog.
Simple and adorable, this Christmas card by Hello Paper Co. will surely put a smile on the faces of all of your recipients. Send this card here.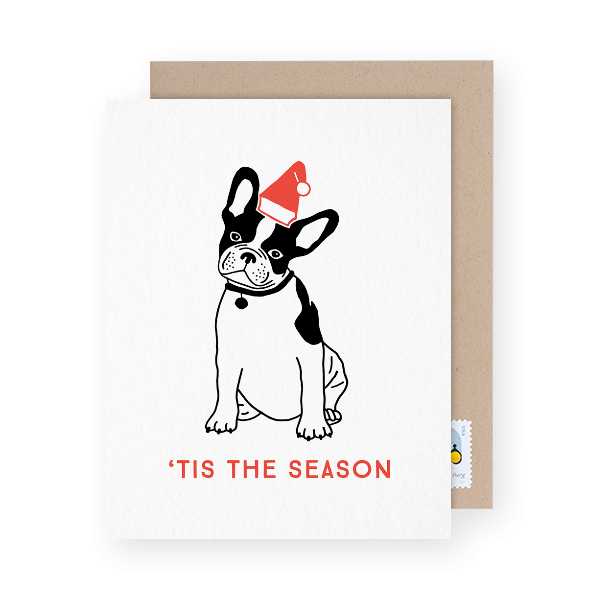 14. Stay warm dog sweaters.
It's a card adorned with adorable dogs with sweaters. Does it get any better? Send this Mai Ly Degnan masterpiece to those you love this Christmas and make them giggle all season long. Make a game out of this one by telling your recipients your favorite dog from the design and ask them to pick one of their own. Send this card here.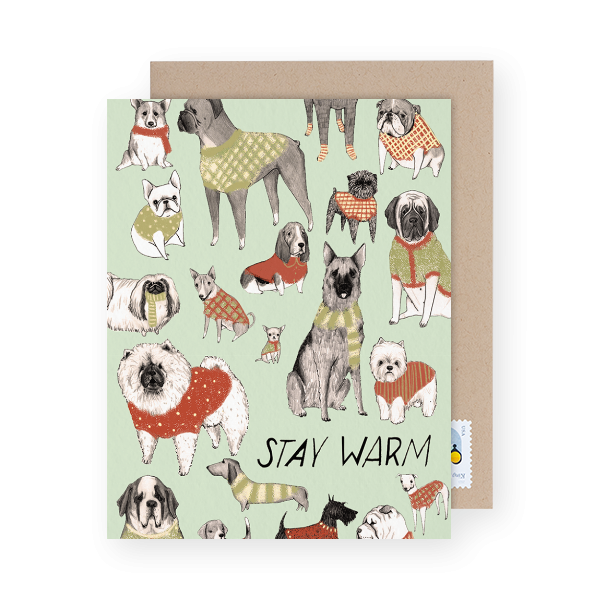 15. Santa is a creeper.
Maybe don't send this to the children on your list. Knotty Cards' delightful sense of humor brings you this hilarious (and a bit disturbing) Christmas card that will no doubt make your friends laugh up a storm. Send this card here.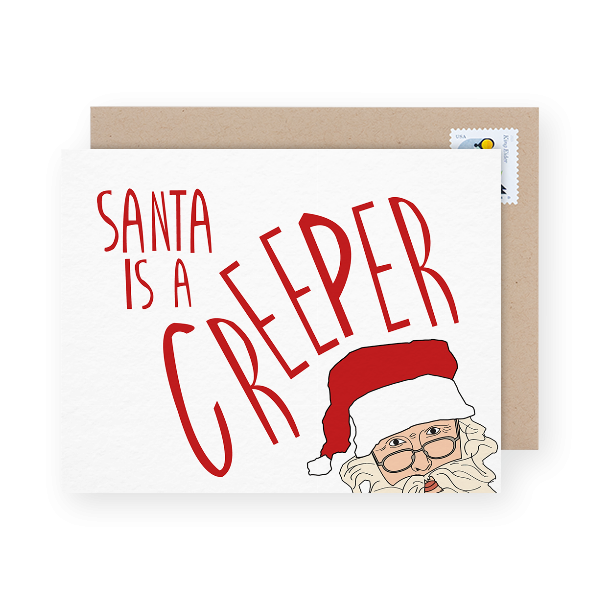 Feeling all laughed out!? Which card was your favorite? Want to see more? Checkout all the Christmas cards here.
Send any of these cards in 5 minutes — yes, really.
As always, Postable will print, address and mail all of your Christmas cards for you.