2020 is finally coming to a close (how can time feel so slow yet so fast) and that's definitely something to celebrate. This also means the holidays are here and Christmas in 2020 may look a little different. If you want to spread some good ole' giggly cheer with funny Christmas cards because your friends and family could use a good laugh (seriously, who doesn't) — you've come to the right place.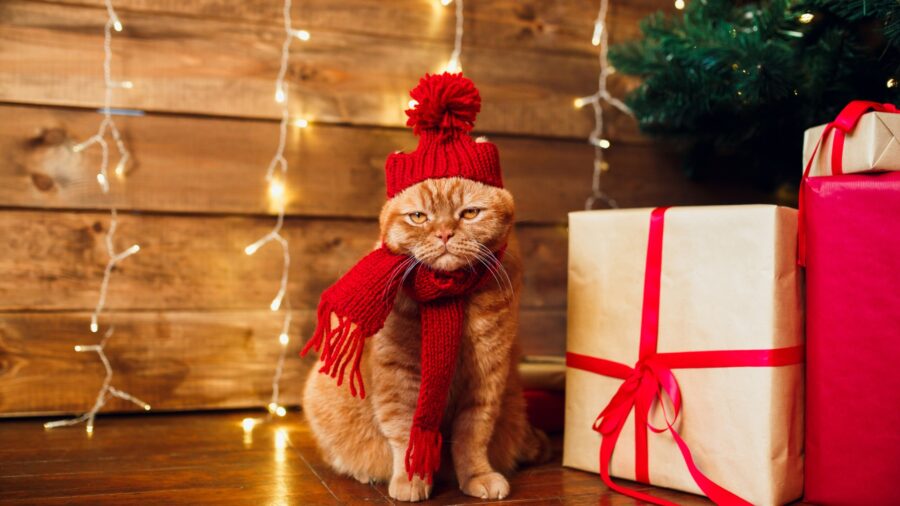 There's a lot we don't know in this world, but creating cards that make people laugh is definitely our forte. That's to say — we're pretty darn great at it! Our collection of artists design funny Christmas cards that will undoubtedly make you laugh out loud! Nobody said Christmas cards can't be funny.
Pro tip: All of these cards can be mailed right now — from your phone — via USPS! Postable will print, address and mail them for you!
Funny dog Christmas cards.
Dogs are funny. It's like an inherent talent they all share amongst all breeds across all dogs everywhere. There's a reason we call them our best friends– nobody can make us laugh like they do. So what better subject to start this list of funny Christmas cards then ones adorned with dogs?! 
Chili-dog
A very chill dog indeed. Definitely not your traditional Christmas card, but if you're looking to brighten someone's day during the festive season this card would do the trick.
Pugs & Kisses
Ok, if this doesn't make you laugh then surely it'll at least melt your heart. This amazing Christmas card by Quill and Fox is the perfect card for anyone who loves to see adorable little pug faces — aka everyone. Gotta love the little bells around the collar!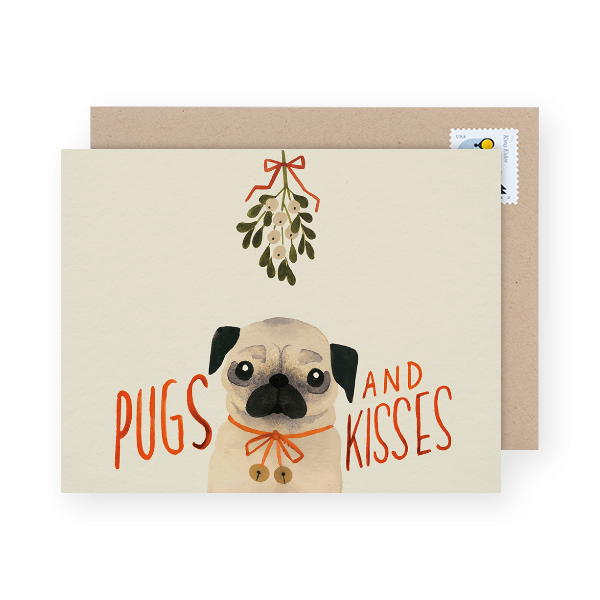 Holiday Pup
This simple design by Hello Paper Co. is perfect for that minimalist friend who can never have enough dogs in their life. Oh, the irony!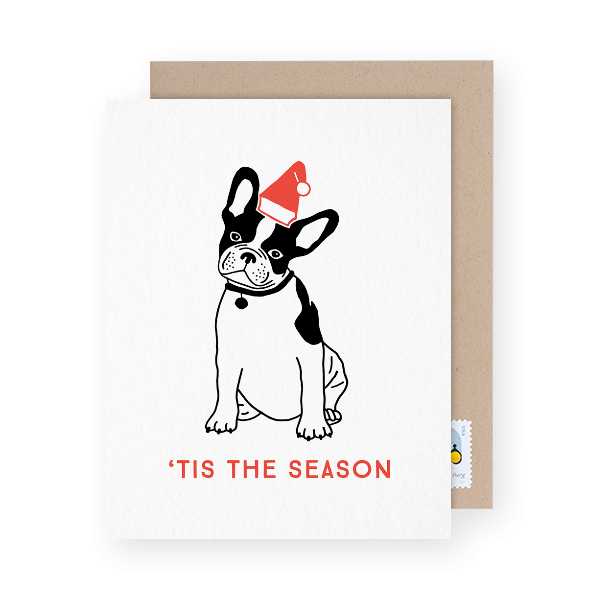 Dog Christmas Sweater
It's a card covered in adorable dogs in Christmas sweaters. Does it get any better? Send this Mai Ly Degnan masterpiece to those you love and make them giggle all season long. Make a game out of this one by telling your recipients your favorite dog on the design and ask them to pick one of their own!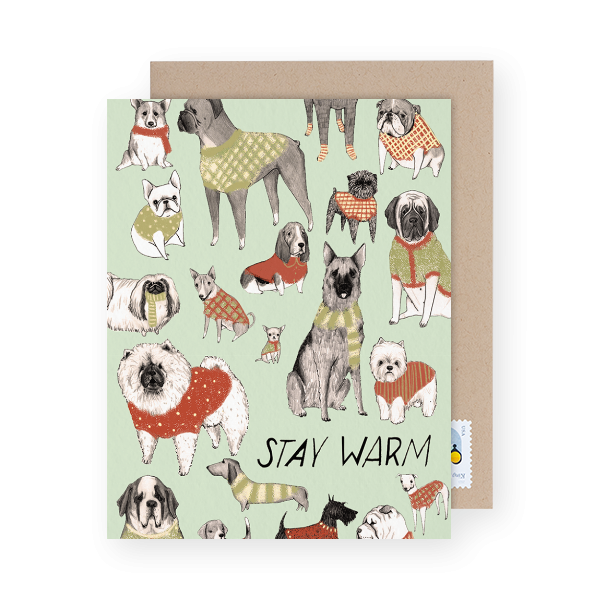 Punny Christmas cards (see what we did there).
Oh puns — how we love thee. There really is no such thing as too many puns. And given that this list is filled with funny designs, it only makes sense to include our punny Christmas cards as well!
Ho, Ho, Ho!
In true Bench Pressed fashion — this card is funny in a touch of naughty kind of way and brilliantly designed! Gotta love the modern feel. Who wouldn't want Santa on their fridge this holiday season?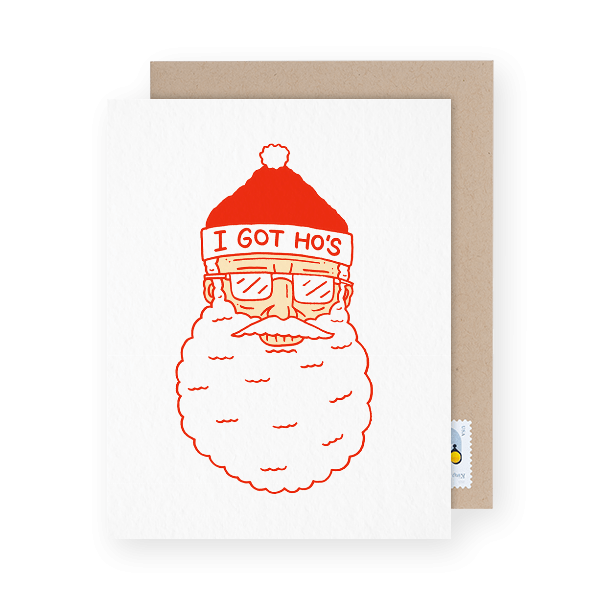 Moose
For something more wholesome, this funny card will certainly make your friends and family laugh out loud.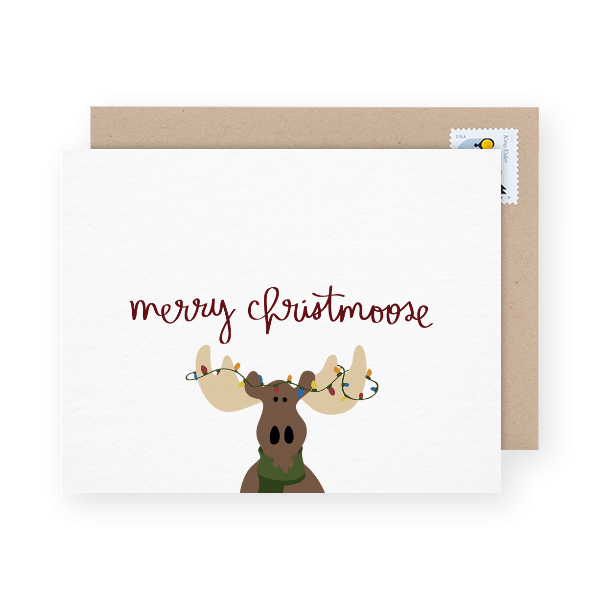 Nut cracker
Punny Christmas cards for the win! This laugh out loud Christmas card by TYLRE will no doubt give your recipients something to giggle about. Aside from the funny pun, we love the Christmas-y colors on the design and the funny illustration.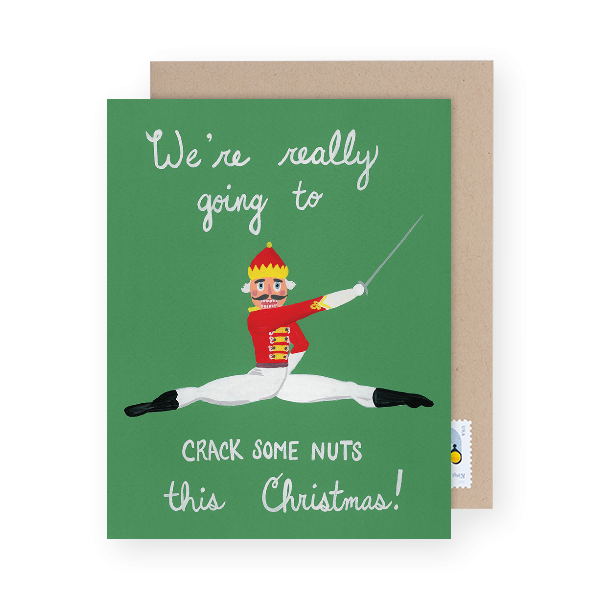 Meowy Christmas
Sometimes a simple pun is all you really need and this one is truly the cat's meow. The funky design by LIVE LOVE makes the card even funnier to look at. We all know a cat lover or two — make their day with this Christmas card.
Mistle toad
A Jar of Pickles, our resident pun-makers, are full of never-ending punny cards we want to hang on our fridge year after year.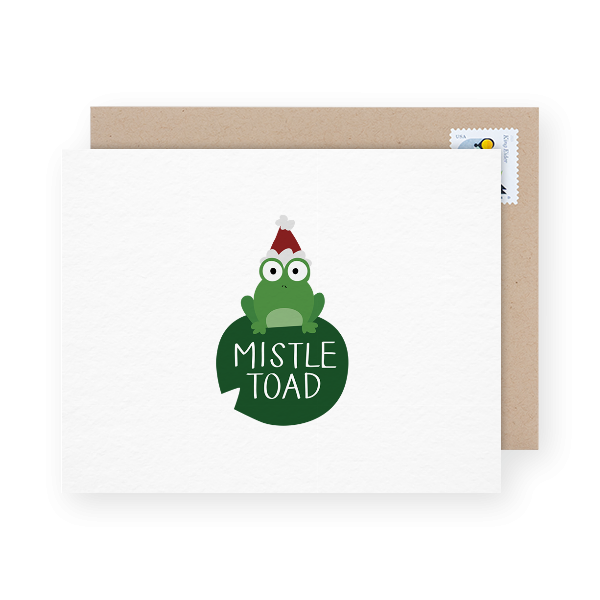 Llet it Snow
Sometimes the fun is in the details. This quirky illustration by TYLRE is the perfect funny Christmas card with a little word play and a whole lot of cuteness. It's a skipping llama — what's not to love?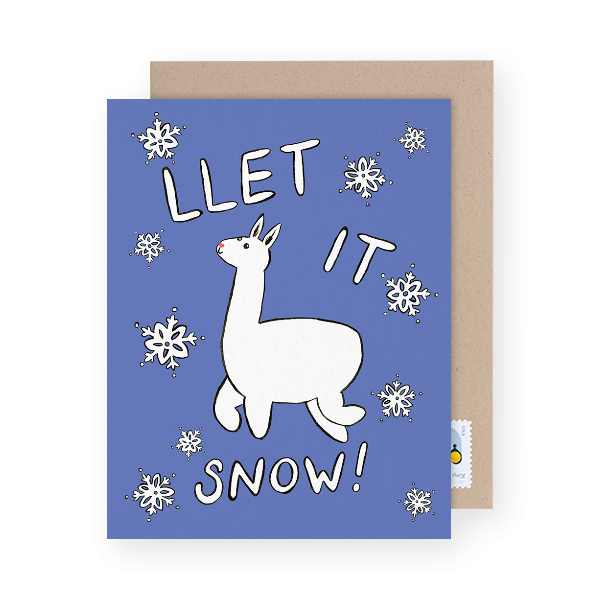 2020 Sucked funny Christmas cards.
Sometimes the only thing to do is laugh at the mess that is (and soon to be 'was') 2020. Making a little fun of the hardships you've gone through this year by saying how you really feel: right on the front. 
With these cards, you really don't even need to go into any details on the inside about how crappy this year has been. Instead focus on the positives of hopefully what is to come!
F*ck this
We did say these designs are still Christmas cards. If this isn't the perfect way to combine how we feel both about 2020 and the holidays… Not sure what is.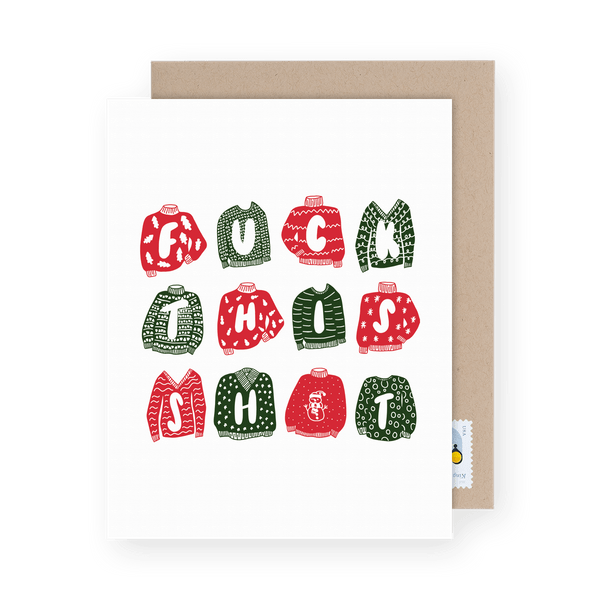 2020 sucked
Straight to the point.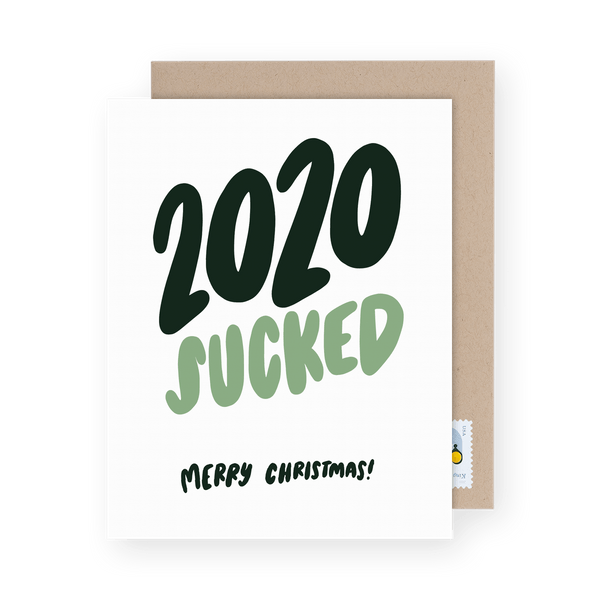 Reasonable government
Oh if only we could just find such leggings!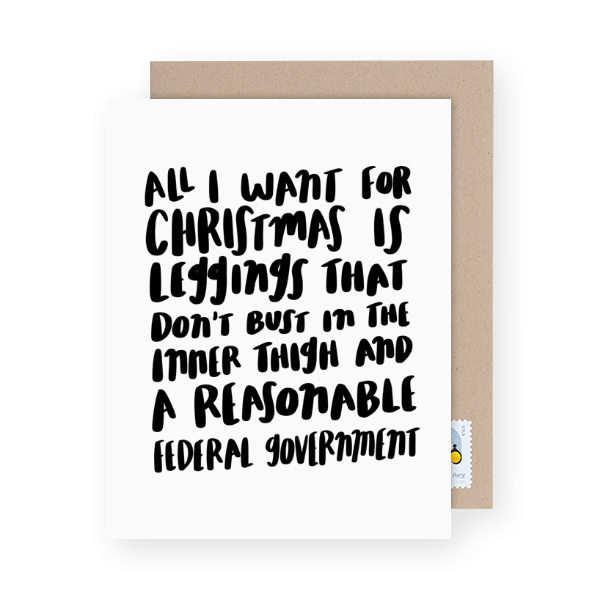 Funny animal Christmas cards.
So we've highlighted some dog themed designs, but there's certainly other types of furry (and not so furry) creatures that make up some truly giggle-inducing cards. Here are some of our favorite funny animal Christmas cards. 
Whale holiday
What is it about whales and sweaters that's so funny? This adorable hand painted creation by E. Frances Paper will immediately brighten someone's day and no doubt get a giggle (or ten) out of them. True to E. Frances Paper style, the delicate execution of this design makes the subject matter that much funnier. Gotta love the reindeer antlers!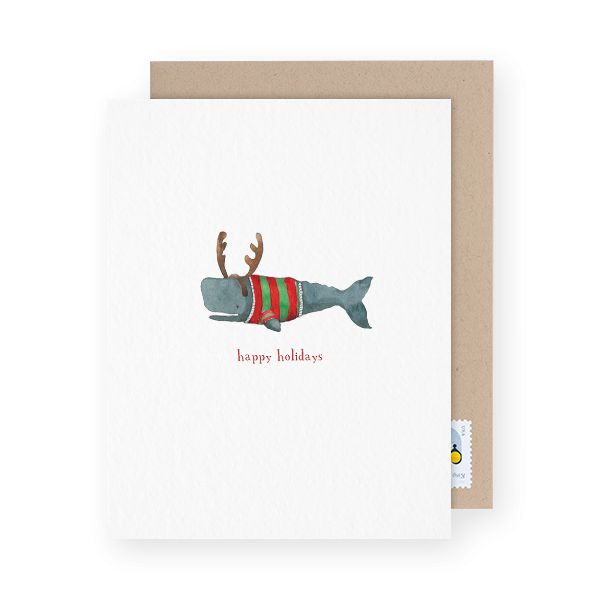 Noel
Bench Pressed is at it again! Perfect blend of a little naughty and a whole lot of nice… design. If this gave you a good laugh, imagine how much your friends will love it!
Cat nap
Anyone else wish they could just be a cat? Nap. Eat. Repeat.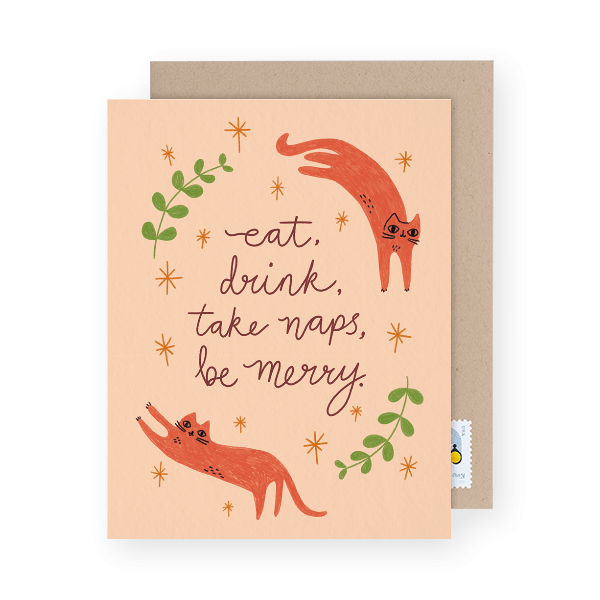 Bear
It's hard not to smile looking at this card by E. Frances. This bear is so darn adorable!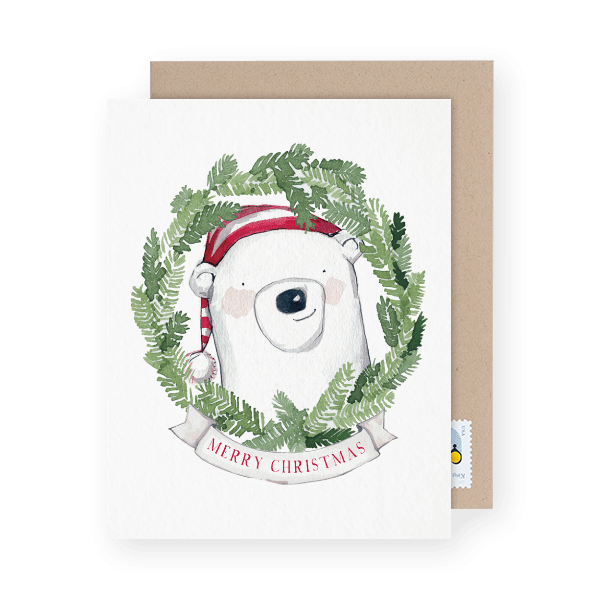 Holiday Weasel
It's a holiday weasel, what more do you need? This design is easily recognizable as a Clap Clap creation and we couldn't love it more!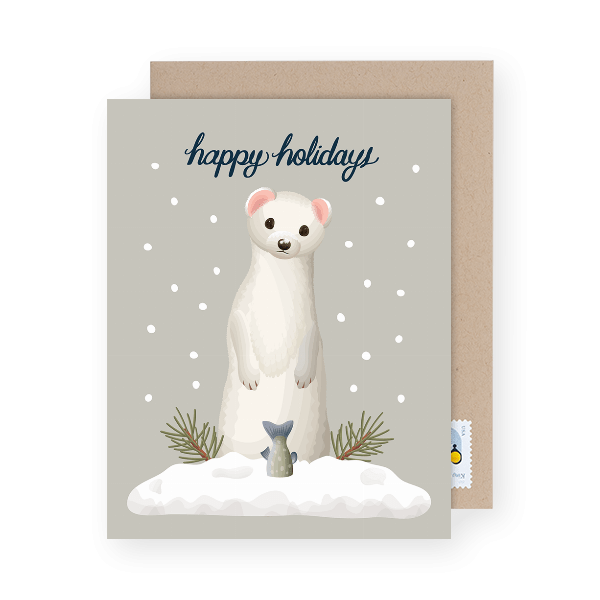 Nuttier Than Squirrel Turd
If you roll with a fun crowd, chances are some of them will be a little on the nutty side. In the best way possible — of course. This card would be perfect for such a good humored crowd. Be sure your recipients don't take themselves too seriously and they'll totally get a kick out of laughing at themselves this Christmas.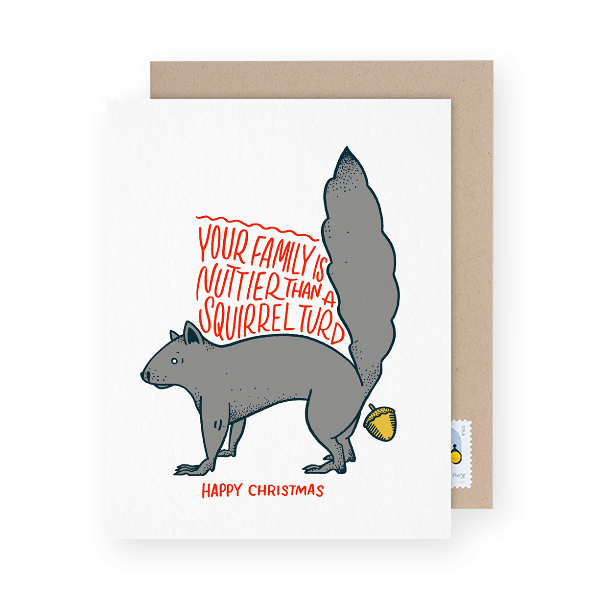 Sir Rudolph
Speaking of not taking things too seriously. This hand painted design by Quill & Fox will be perfect for just about anyone on your list. We love the personification of Rudolph and just look at that mustache!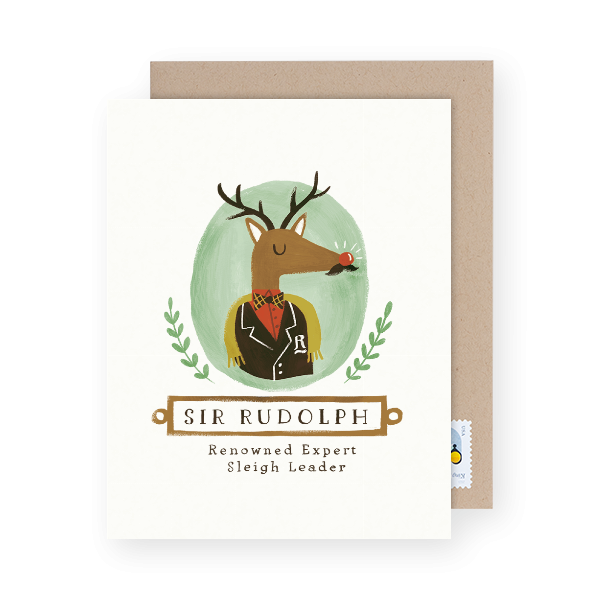 Funny booze & food xmas cards.
The one thing most of us have in common is our love for booze and food — especially during the holidays. This theme is obviously one that's bound to make a few deliriously funny Christmas cards!
Getting lit
It's so lovely, you forget how funny it actually is. Or is that what makes it so darn humorous?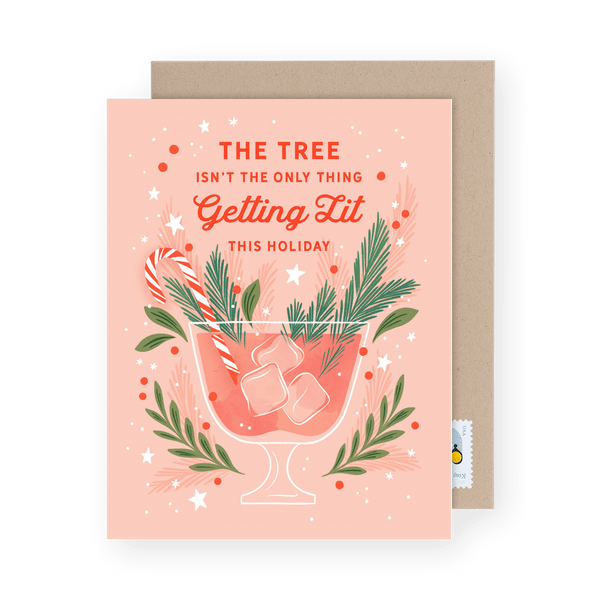 Booze
Well, this one is pretty crystal clear.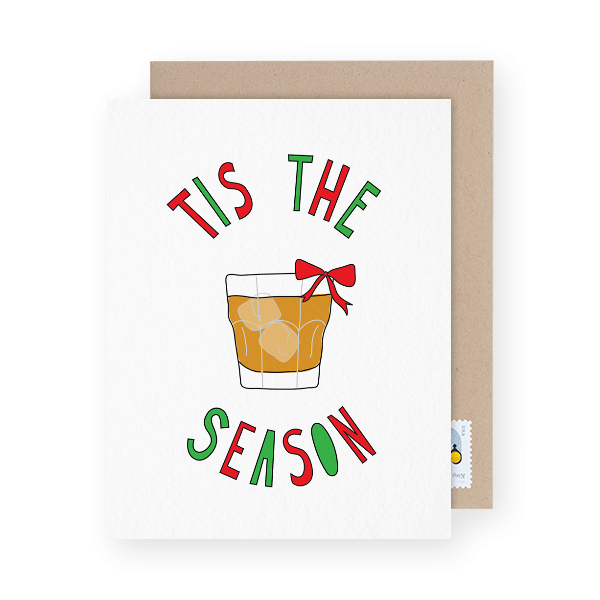 Cold Bloated
Share the sentiment? Send this to someone you know will too.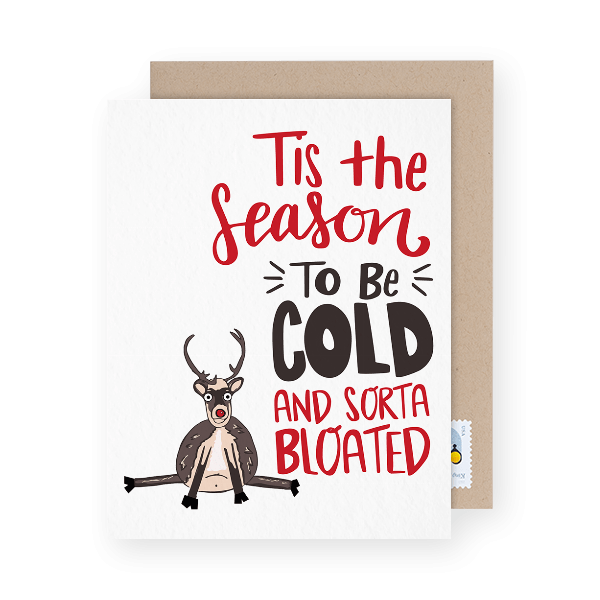 Pizza
Sometimes no words are needed. Got a pizza lover in the family? They'll love this design by Near Modern Disaster.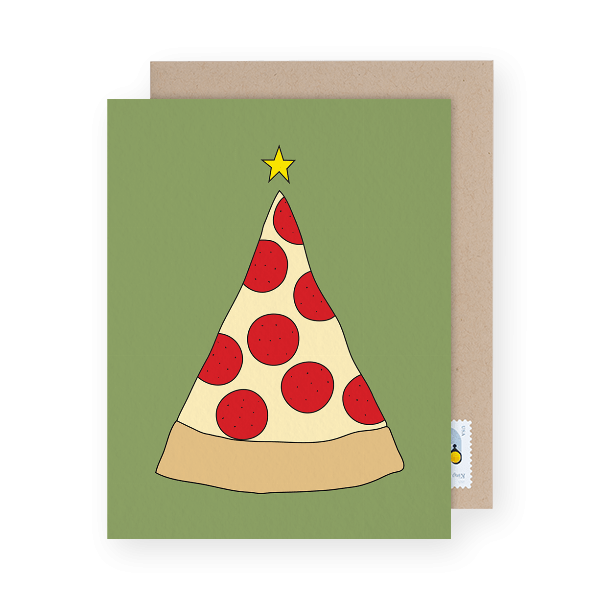 Pizza on earth
Similar sentiment with a pun twist!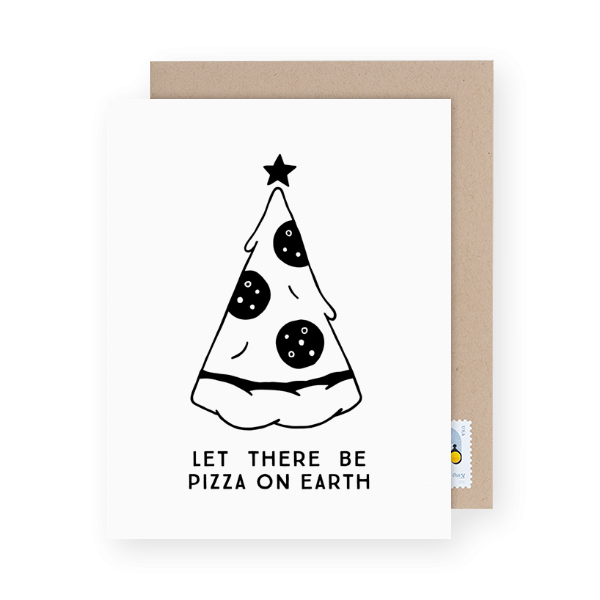 Everything Bagel.
Nothing like a real yummy bagel. Another food pun for the win!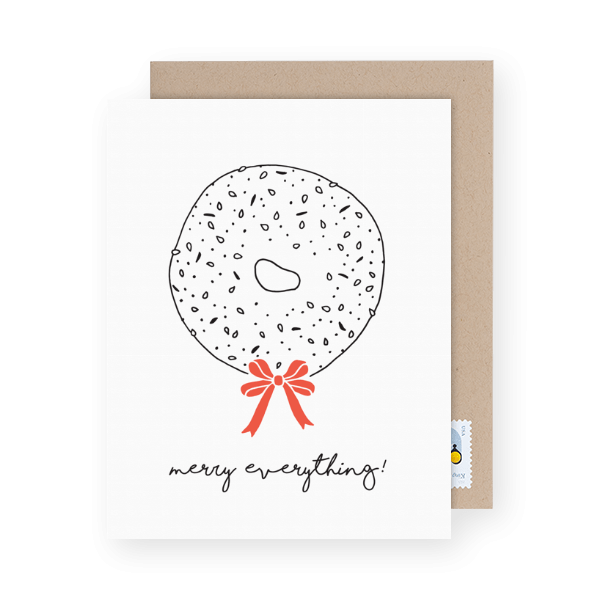 All the carbs.
No truer words have ever been written.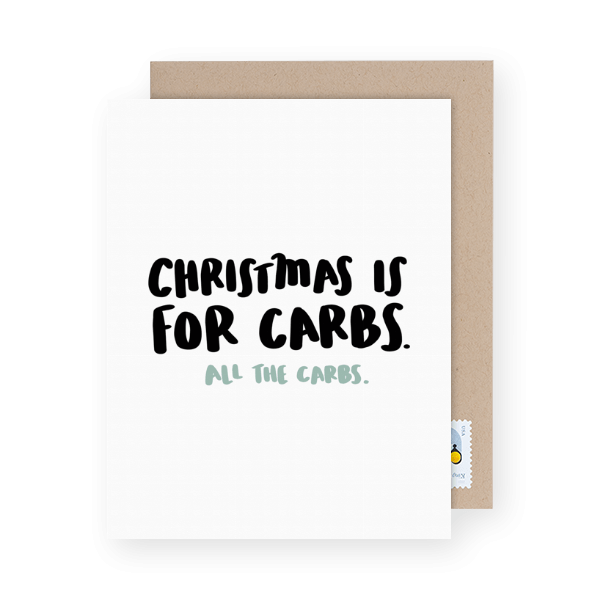 Season's Eatings!
And the puns continue to roll right in. We love how bright and friendly this card is.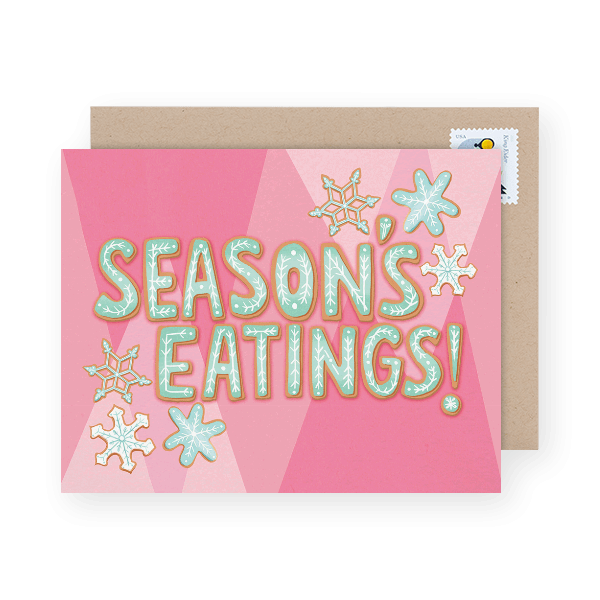 Funny photo Christmas cards.
Want to spread some joy this season with a funny Christmas card that also has a place for you to upload your own photo? Good news — we've got a few templates that are delightfully funny and give you space to customize with your own photo.
Santa hat.
Upload a photo of yourself or your little one and make em' the star of the show on your Christmas card — who wouldn't want to be Santa for a day?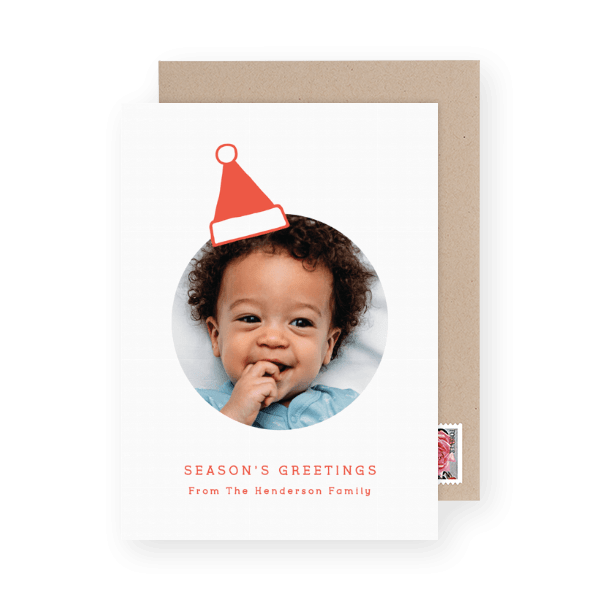 Snowman photo template.
Not digging Santa? How about a snowman? This is pretty darn adorable.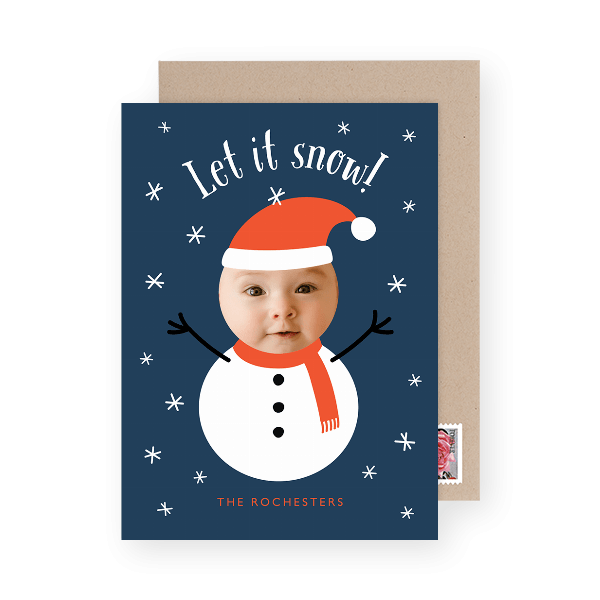 Cute reindeer.
Last but not least we got the reindeer. Like all three? Don't fret — you can customize each of these with a different photo and we'll mail all three cards for you to whomever you'd like.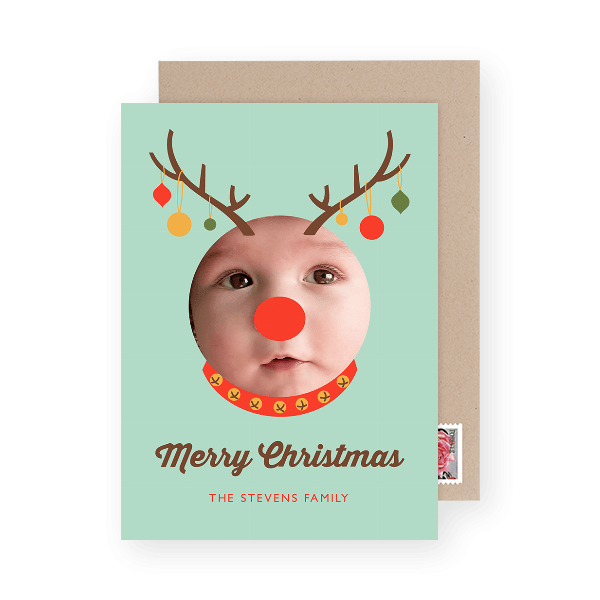 Kitmass
Love your cat enough to make it the center of your Christmas card. You gotta admit, it's a little funny.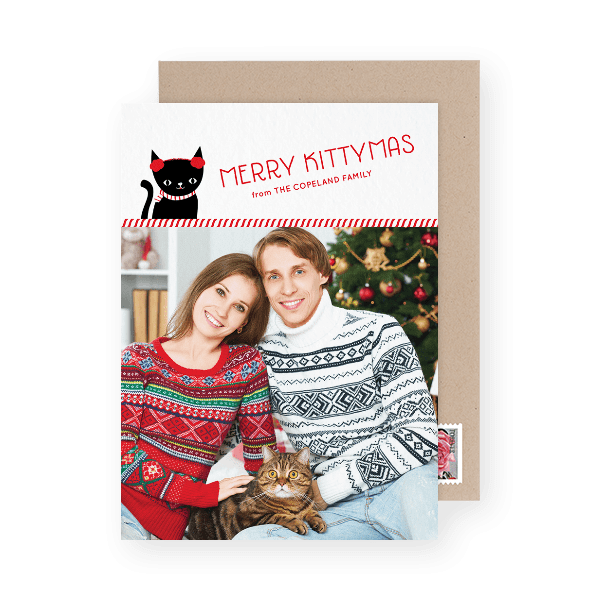 More funny Christmas cards!
There's some things in life that just can't be categorized and these next few funny xmas cards fall into that category. Everything from making jokes about coal for Christmas to a playing on words from classic Christmas songs. These cards are sure to make you chuckle. 
Smiling is my favorite!
Ours too. What a coincidence?! But also, who doesn't love smiling? If this E. Frances Paper creation doesn't put you in a great mood — nothing will. This card is the epitome of delightful and will surely make the receiver laugh out loud. Because — well, just look at it! The perfect card for The Elf movie fan or really just about anyone on your Christmas cards list.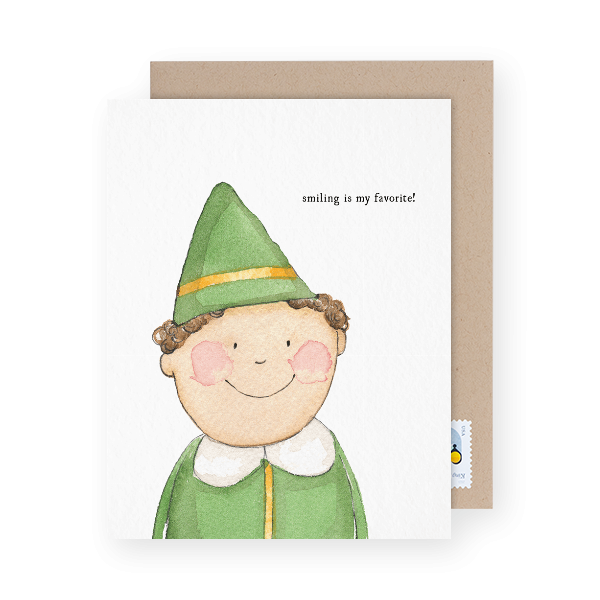 Coal for Christmas. 
Hopefully not for real though.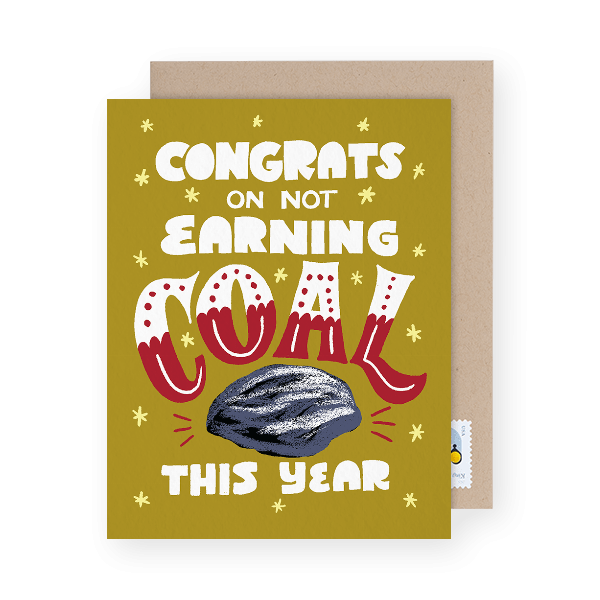 Suckas!
Planning on spending this holiday season secluded somewhere on a sandy beach? Well first, can we come? And second, this silly card will be perfect… Just make sure your recipients aren't too bitter.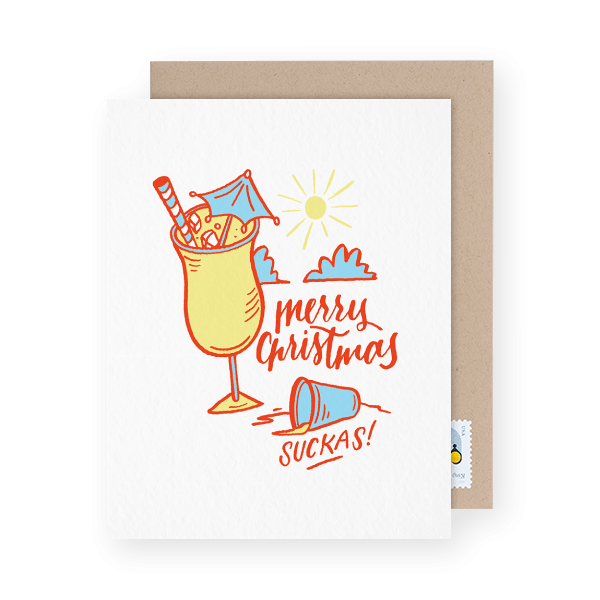 Spoiled.
We'd suggest being real sure your recipients would get this joke.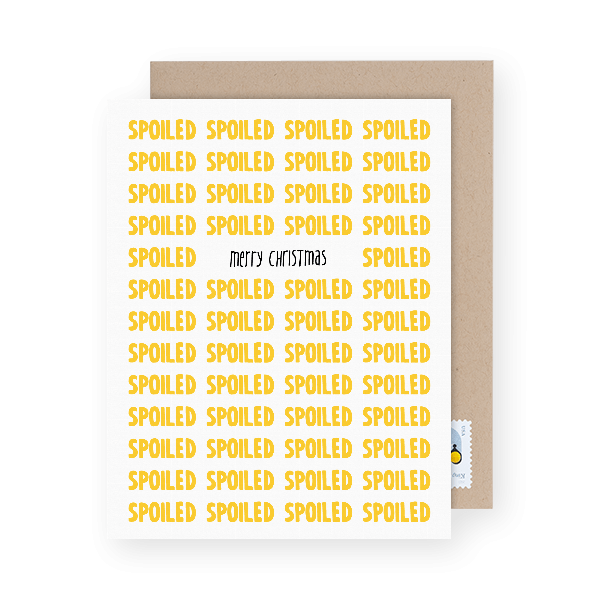 Ya Filthy Animal.
For those Home Alone movie fans… Aka everyone.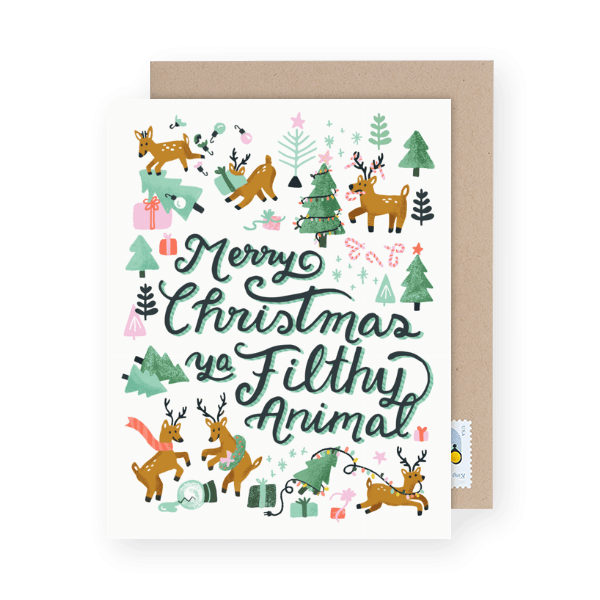 A Christmas miracle.
Is it a miracle you're sending a Christmas card at all? Then this Near Modern Disaster creation may just be a match made in heaven.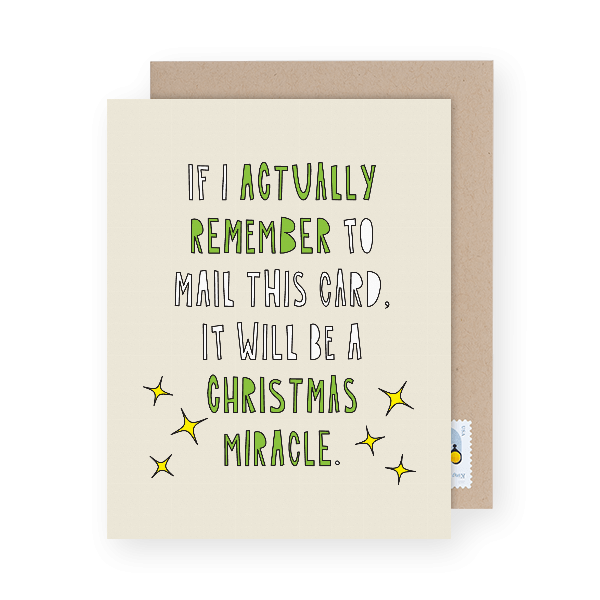 Late
Already a bit behind on mailing out your 2020 Christmas cards? Mailing times, especially this year are a bit tricky to navigate during the holidays. Most folks will be delighted to receive a Christmas card regardless if it comes a few days late, but this creation by Near Modern Disaster will give them an extra giggle.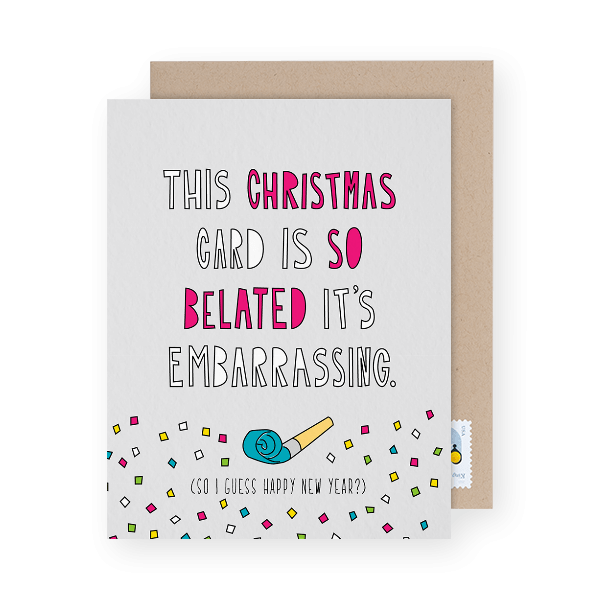 Let it snow.
We couldn't agree more. Unfortunately snow is coming whether we like it or not. If you happen to be spending this holiday season somewhere sunny like Florida or the Caribbean or on a sailboat somewhere (lucky you) this card would be perfect. Perhaps don't send it to friends dealing with a snow storm — they may not be your friends for long.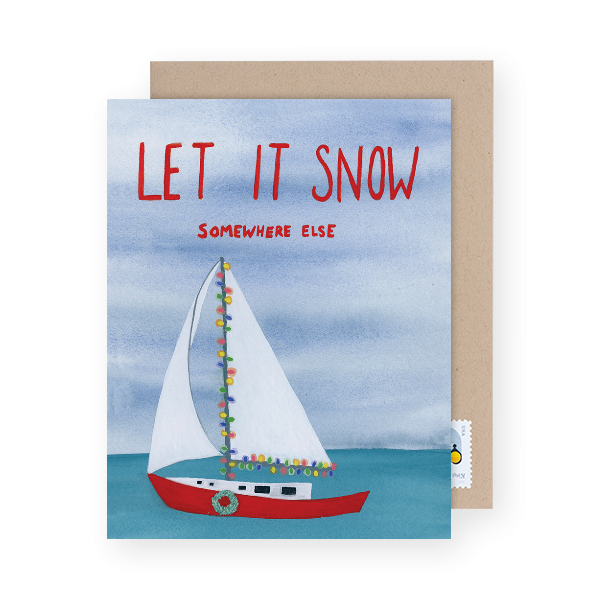 From my toilet
If this sounds like something you'd say — then you've found your perfect funny Christmas card. As always, Near Modern Disaster has a lovely way with words — and typography. We love the funky style of the letters and the fun use of color to bring focus to the important stuff. It's also hilarious — so there's that. 
Who's ready to giggle? Send your favorite funny Christmas cards without leaving your computer — with Postable!