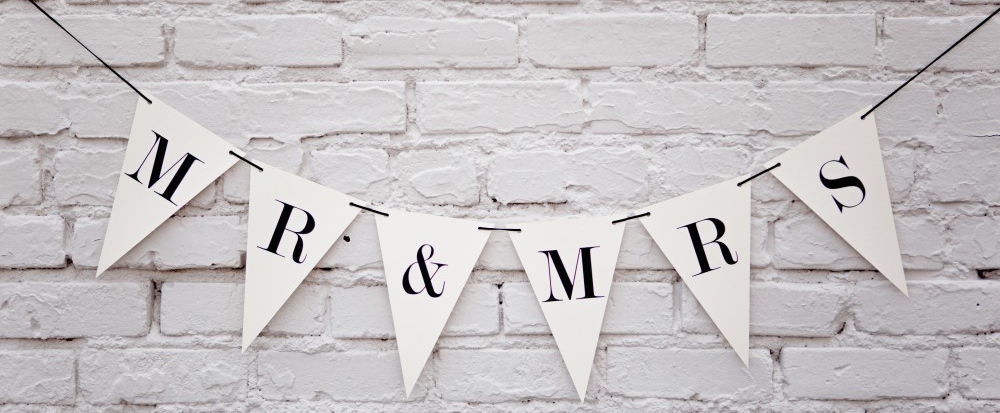 You've walked down the aisle and have vowed your 'I do's'. Congratulations! Planning and then actually having a wedding is a lot of work (probably more than you ever imagined). Did you think that once the big day has come and gone, you'd be done with all the planning and to do lists?
Well, you are! Sort of.
If you're choosing to change your name after marriage you will still need to go through another list or two. The good news? You've made it through planning a wedding — this will be a piece of cake!
Changing your name, while can be tedious, doesn't have to be. Especially with our help!
Name change after marriage checklist.
Taking your spouse's last name? Deciding on hyphenating? Choosing to be "Mr. & Mrs. Awesome"? Not so fast! Legally changing your last name after marriage requires a bit more work than just updating your Facebook profile.
✓  Get a certified copy of your marriage license
To officially change your name you will need your certified marriage license. Most states will automatically send you this after it gets processed, but in some cases, you may need to request a copy.
✓  Change your name on your Social Security card
Your Social Security number will stay the same, but you still need to apply to change your last name.  Just fill out the application for a name change, print it out and send it along to your local Social Security Administration Office.
✓  Go to the DMV and get yourself a new license
Like most trips to the DMV, this will probably be unpleasant. Make it a little easier on yourself and be prepared–you'll need to bring your marriage certificate, new Social Security card, and previous driver's license (you'll need to give it to them in order to get a new one).
✓  Change your bank accounts
The easiest way to do this is to go to one of your bank's branch locations. Don't forget your marriage certificate and a new driver's license. In addition to changing the name on your accounts you'll need to ask for new checks, and new debit and credit cards.
✓  Tell your creditors
Make sure to notify all lenders of your name change. Otherwise, you won't have any credit history under your married name which could pose a huge problem during a credit check. Once you let them know they'll link your credit files under your old name and you'll be able to avoid any distasteful accusations.
✓  Inform your employer and review your payroll and benefits
Make sure you still get paid! Let your employer know of your name change so it will be reflected on your payroll. Check your tax withholdings, insurance coverage, and any other items that might be affected by your change in marital status or added beneficiaries.
A few more things to consider.
Getting your employer up to date is one thing, but don't forget a few other spots where your new legal name is kind of important.
✓  Passport
✓  Utility bills
✓  Alumni association
✓  Voter registration office
✓  Landlord or mortgage company
✓  Investment accounts (and 401(k)s)
✓  Your attorney (to update will)
✓  Physicians
Whew, changing your last name is a lot of work…luckily it's one thing that you can do AFTER the wedding craziness.
Save time after your wedding!
Save yourself some time for important things like changing your name after your wedding by taking care of your wedding thank you notes with Postable.
You don't want to put off writing your thank you notes for too long, but changing your name and all the other life tasks that you're getting back to are equally as important.
Luckily, you can take care of your wedding thank yous in half the time it would normally take you. And no, you won't be sacrificing quality OR your personal touch.
You can write personal messages using one of our beautiful handwritten fonts in minutes using one of the hundreds of stunning designer wedding thank you notes.
Postable will then print, address and mail them all out for you.
Yes, really.