We've all got that one friend who relishes the art of the Zodiac more than we could ever understand. For them, Zodiac birthday cards are the perfect little gesture they're bound to love. Show your friends they are seen by sending them a Zodiac Birthday card that matches their sign or something that would resonate with the inherent nature of their sign. We've consulted the expert opinions of astrologists across an array of online sources to bring you the best zodiac birthday card matches possible.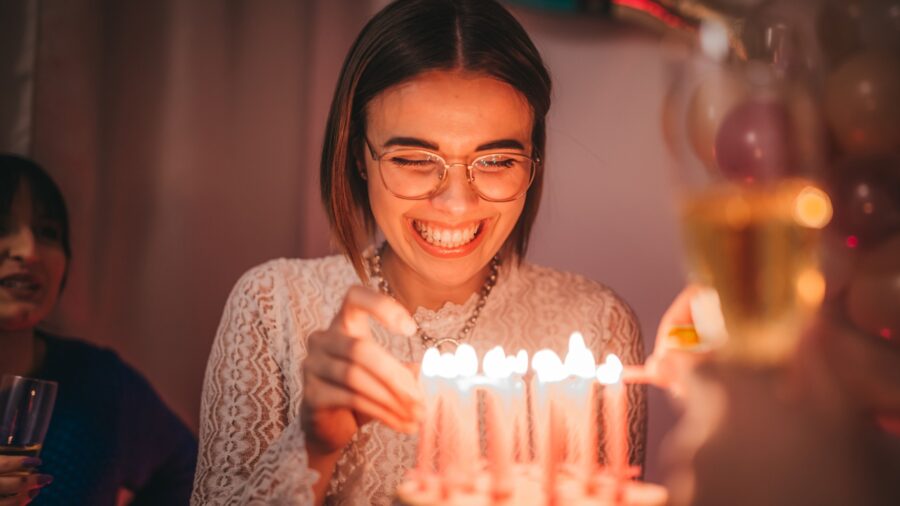 Jump to a specific sign:
Use code ZODIAC for 20% off to send any of these Zodiac birthday cards!
Zodiac Birthday Cards You Can Send Right Now
Each Zodiac sign deserves its own unique Zodiac birthday card and one of Postables' newest artists, Peace Art Love Co, has created them. These cards share a similar retro aesthetic, but have unique language attributed to each sign. We're sure your astrology loving friends will love the retro vibes as much as we do!
We've broken down this list by each sign –as one does when looking at Zodiac birthday cards. Each section starts with one of Peace Art Love Co's unique designs followed by a couple cards selected from Postable's insanely diverse collection of Birthday cards that matches each sign's personality traits as stipulated by astrologists.
So whether you want to send your astrology loving friends a straightforward Zodiac birthday card or something simply inspired by their sign, we've got you covered.
Pro tip: Each one of these cards can be mailed directly to your friends for you by Postable (we'll print, address and mail the cards directly to your recipients).
Wanna see the full Birthday card selection? Postable prints, addresses and mails your cards for you.
Use code ZODIAC for 20% off to send any of these Zodiac birthday cards!
Aries Birthday Cards
We're starting our list of Zodiac birthday cards with the sign Aries which falls during March 21 – April 19. As promised, the Aries Birthday card design is up first.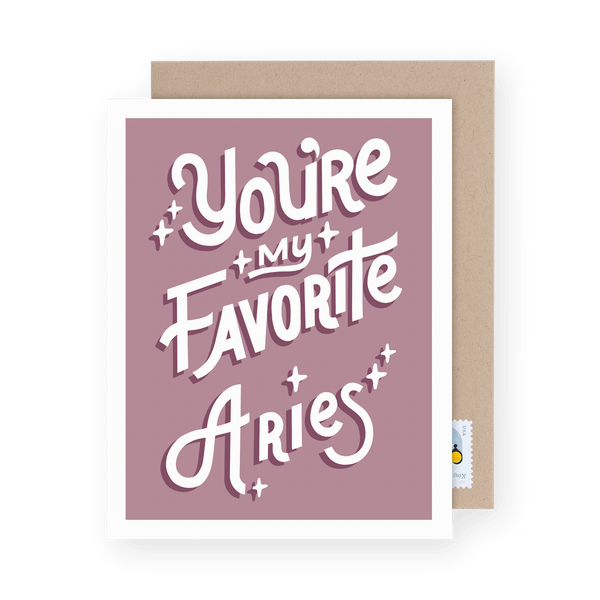 According to astrologer Emma Toynbee as quoted by Well and Good Aries are "individual and unique, pioneers, inventors, innovators, strong competitors, and fierce warriors." For someone with that sense of adventure, strength, and individuality we've chosen the following two birthday cards perfect for this personality.
For the wild Aries
Don't let the delightful adorable design by Katie Pea Studio distract you. If your Aries friend is wild and delightfully adorable (because nobody is just one thing), they'll love this birthday card as much as we do!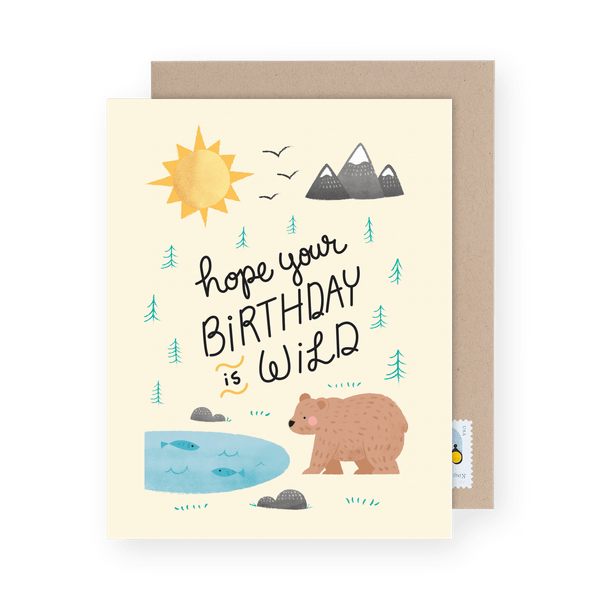 For the badass Aries
What pioneer isn't a badass? We'll wait. Send your wicked cool Aries friend this card (by ​​Brittany Paige) and let them feel seen.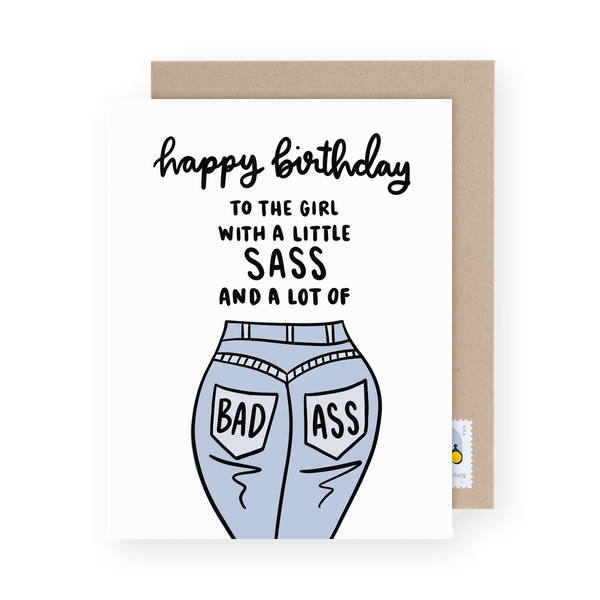 Taurus Birthday Cards
Watch out, we're coming in hot with the next sign on our list: Taurus. If you're friends with someone whose birthday lands during April 20 – May 20, you're lucky enough to know –and love– a Taurus.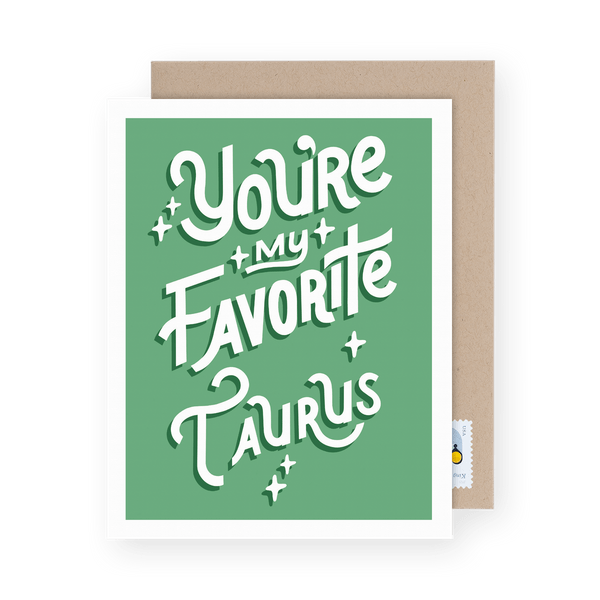 According to Allure's complete guide to the sign, "Taureans would spend all day bathing in a tub overflowing with essential oils." Um, yes… Please! Send the Taurus in your life some serious relaxing vibes with these two birthday cards.
For the relaxed Taurus (take 1)
Bench Pressed is a staple design duo and their cards are always a stand out. We love this monochrome illustration with a retro spin. Oh and hello legs!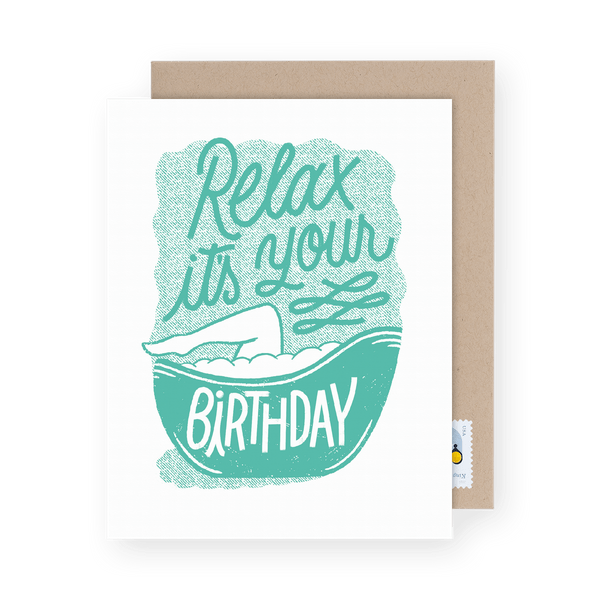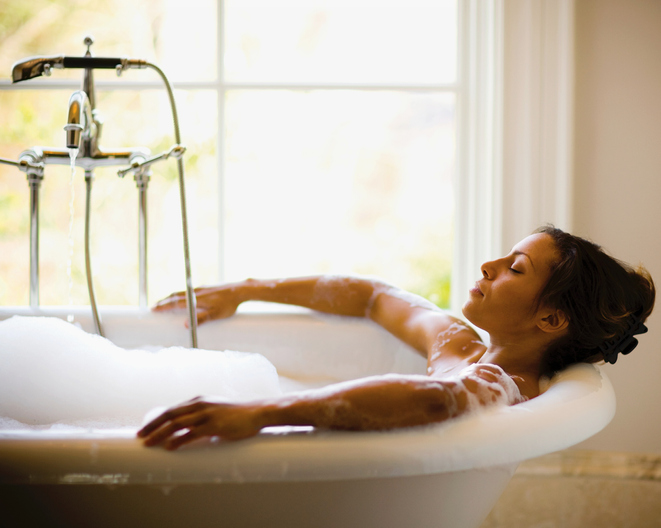 We told you the Postable Birthday card collection is vast and unprecedentedly diverse. So diverse that we've got two 'relaxing' related birthday cards to choose from for the Taurus in your life.
For the relaxed Taurus (take 2)
This relaxing birthday card is a bit more colorful and quirky, perfect for your Taurus friend who likes to live bright.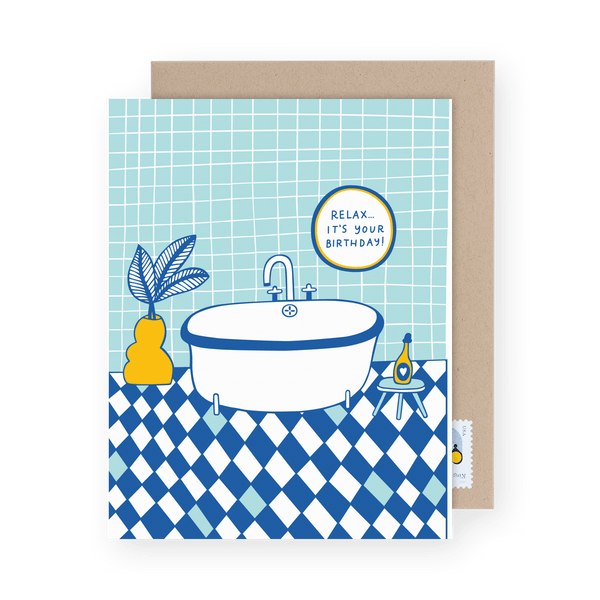 Gemini Birthday Cards
Next up is Gemini. Taking place during May 21 – June 20, this summer sign has us thinking about the sunshine.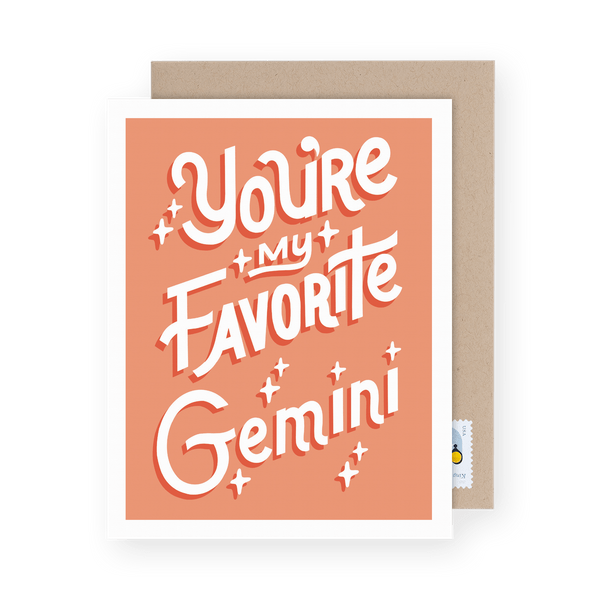 As told to Refinery29, Astrologist Lisa Stardust says Geminis like "talking, having fun, and expressing themselves through clothes and accessories." We can certainly get on board with this fun loving, outgoing, brightening personality and we've got just the cards.
For the stylish Gemini
Does your Gemini friend always look like a million bucks? Do you catch yourself thinking of them when trying to put together the perfect outfit? Well, this birthday card was inspired by just such a personality and we think they'll love it!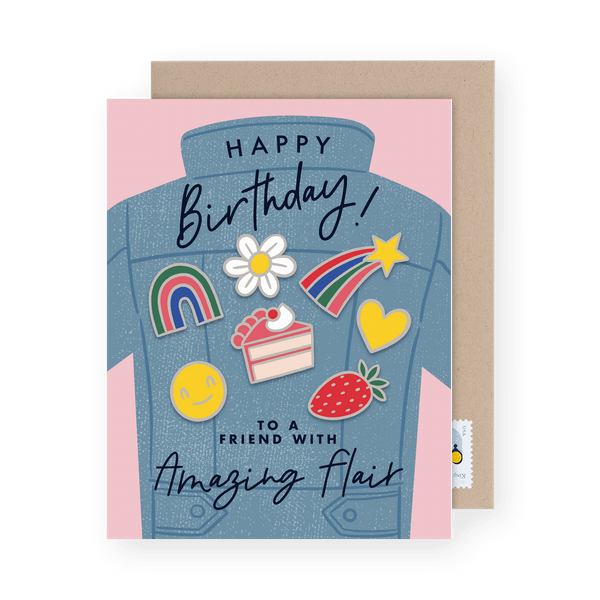 For the baddie Gemini
Is your Gemini friend the most outgoing, social-loving, unbelievably fun person you know? Or even something closely resembling that? Then this card designed by another one of Postable's newest artists, Spaghetti & Meatballs, will be the perfect birthday card for them.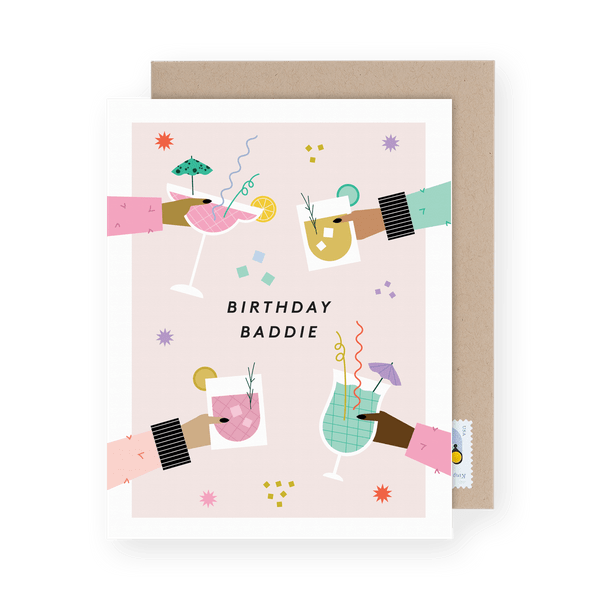 Cancer Birthday Cards
The heat of summer brings us to the next sign in our Zodiac Birthday cards list. Cancer falls during June 21 – July 22 and we're more than ready for the beach, pool or any other form of water available because hello sunshine!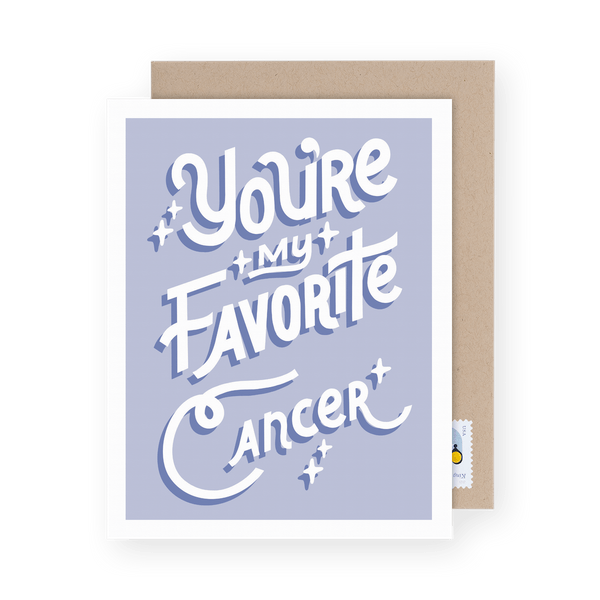 With water being Cancer's ruling element, according to Lisa Stardust, we're highlighting two of our favorite water inspired birthday cards.
For the pool-loving Cancer
Does your friend think that there is nothing better than spending a day lounging poolside? Do they have a delightful, yet subtle sense of humor? This card by Yeppie Paper will certainly bring them some extra love on their birthday.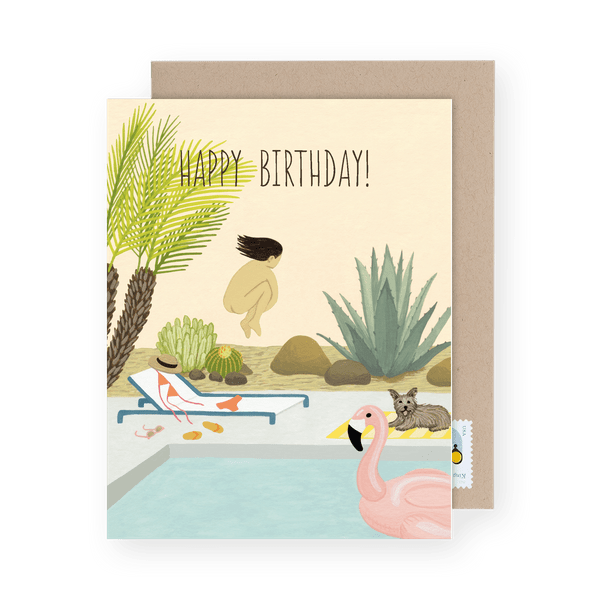 For the quirky Cancer
If your friend is a bit artsy and enjoys a bit of quirk, this whimsical mermaid birthday card by Mai Ly Degnan will be perfect.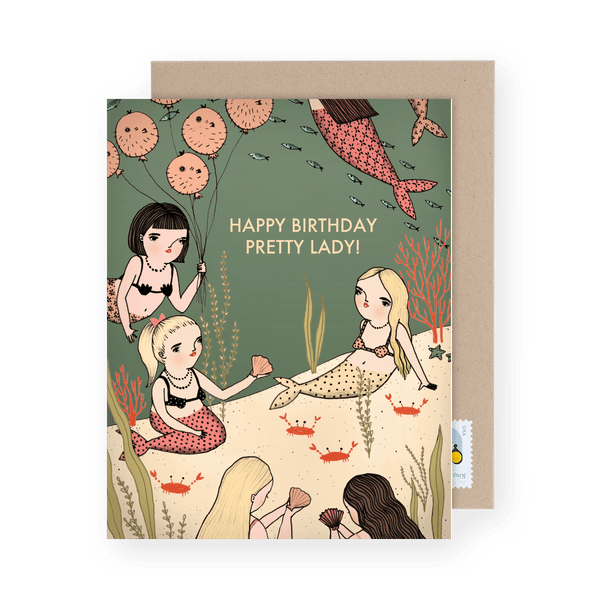 Leo Birthday Cards
Moving on with our summer hits, the sign Leo is next. Taking place during July 23 – August 22, Leo birthdays are hot hot hot.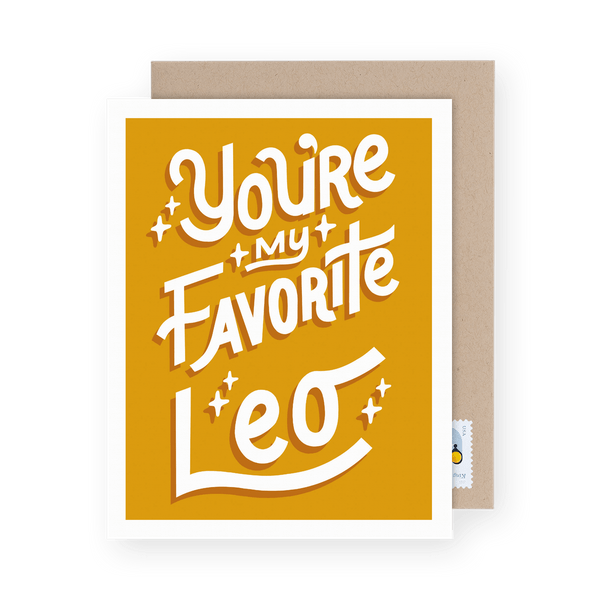 According to Mind Body Green, Leo is "a sign that embodies the fire that lives within us all." And honestly, why are we not surprised? That time of year is pretty much all fire all the time. We're channeling this energy to inspire our birthday card picks for the Leos in your life with two different birthday candle designs – hello birthday fire.
For the colorful Leo
This birthday candle card by One Canoe Two (a legendary stationery designer) is both colorful and glitzy. We're obsessed with the pizzaz of it all and we're sure your Leo friend will be too.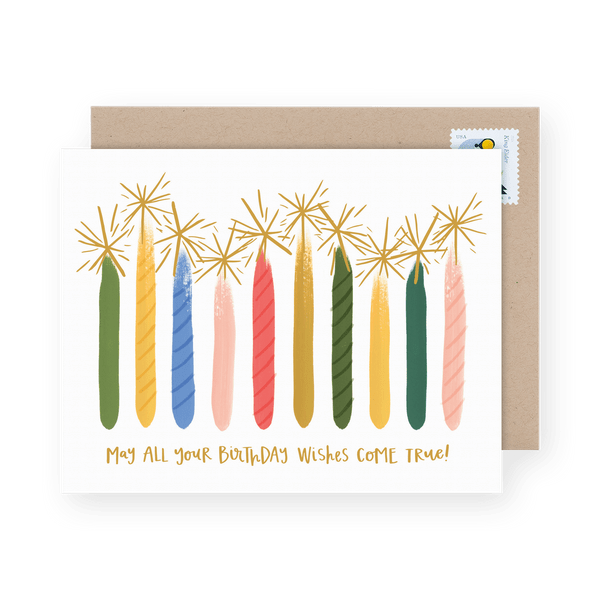 For the minimalist Leo
Just because there's fire within doesn't preclude someone from having minimalist tendencies. And so we bring you this delightfully minimal birthday candle design by E. Frances Paper. How someone can do so much with so little is truly a treat for the eyes.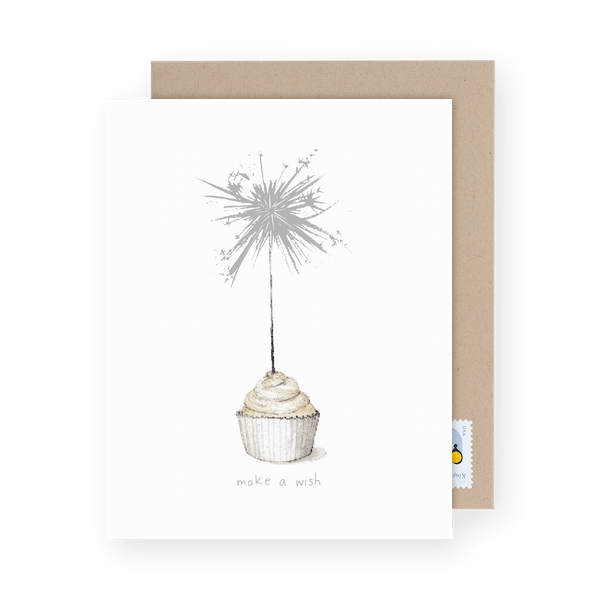 Virgo Birthday Cards
This Zodiac sign brings us some relief from the heat. Falling during August 23 – September 22, Virgo birthdays are next.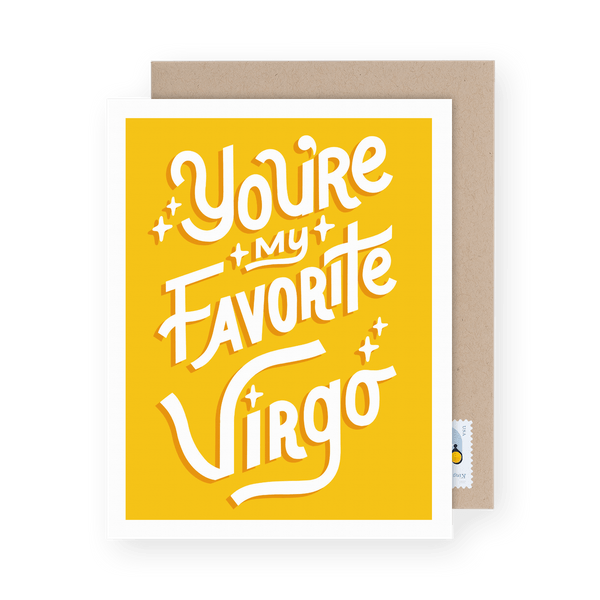 Lisa Stardust, Astrologist, described Virgos as those who "like to meld style and earthiness together with a touch of vintage feels" on Refinery29. Luckily there are plenty of birthday cards that fit that description and we've pulled out two of our favorites.
For the floral-loving Virgo
The Earthy tones of this design combined with the florals and a touch of vintage feels makes this the perfect Virgo birthday card. The hand painted design is also stunning.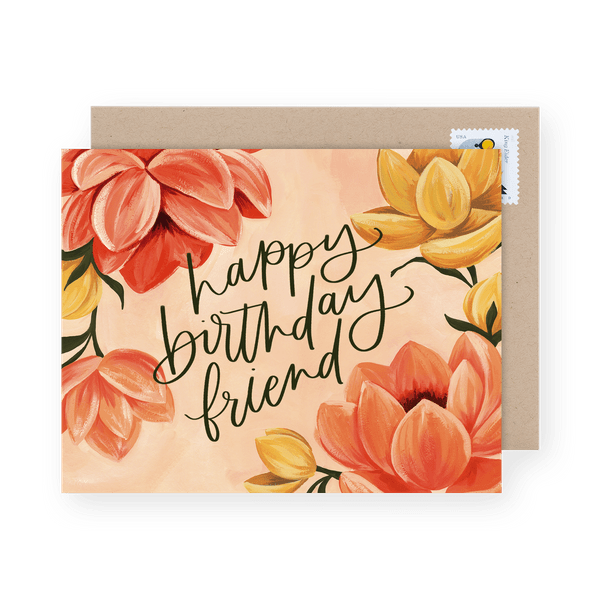 For the outdoorsy Virgo
This Noteworthy Paper & Press design has lots of vintage feels and we're obsessed with the color scheme. If your Virgo friend enjoys a night under the stars (like the ones in this design that are practically popping off the card), they'll love this camp inspiration.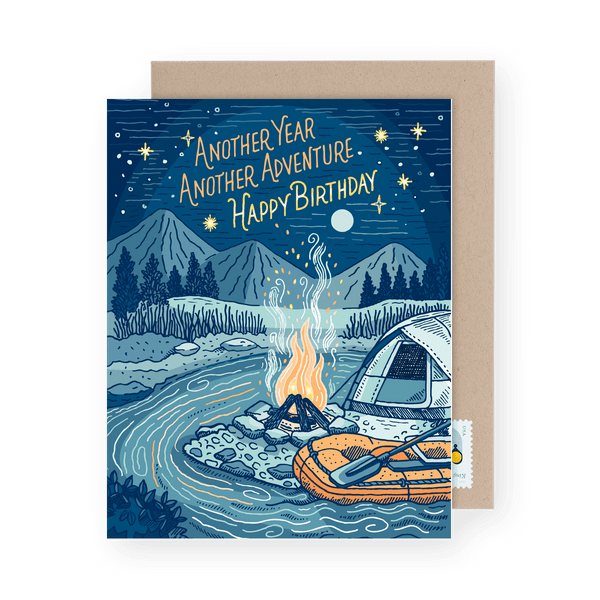 Libra Birthday Cards
The seasons are changing and so are the Zodiac signs as we keep moving forward. Libra is next up, taking place during September 23 – October 22.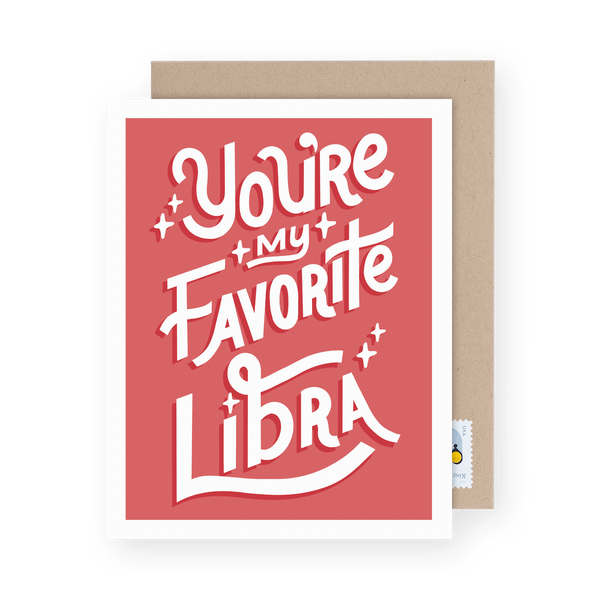 According to Oprah Daily, "Libra is ruled by the planet Venus, which presides over beauty, grace, elegance, food, relaxation, sensuality, romance, art, and relationships." And we've got just the birthday cards to perfectly match the Libra personality.
For the elegant Libra
Nothing says elegance quite like a bouquet of flowers. This stunning design by Clap Clap will delight the Libra in your life (or honestly just about anyone).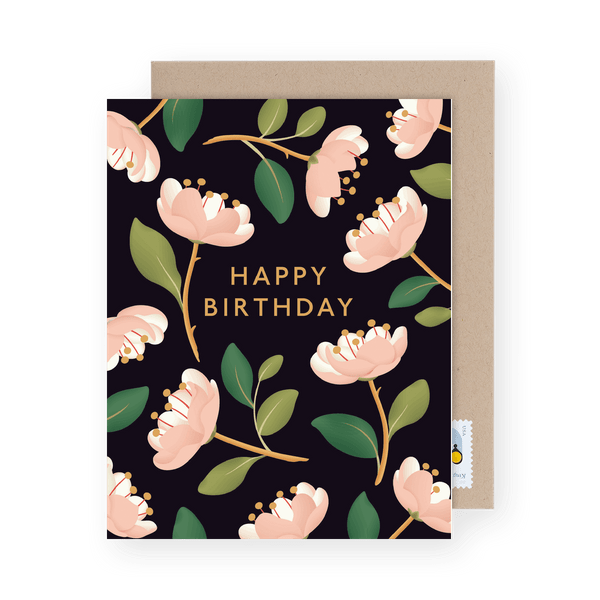 For the elegant Libra (with a touch of vintage)
Another floral design, but this time we chose something with a touch of vintage. This Rifle Paper Co design (aka THE stationery legends) will make 'em swoon.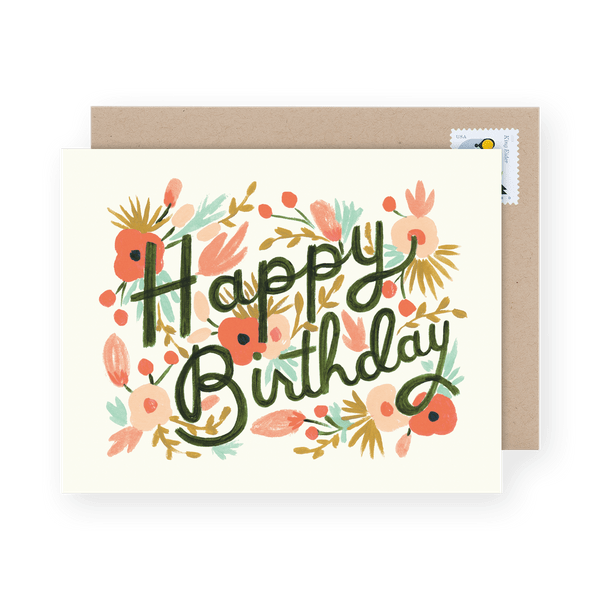 Scorpio Birthday Cards
Bring on the pumpkin spice lattes, sweaters, and scarves because Scorpio season is next. Falling (oh yes, pun very much intended) during the months of October 23 – November 21, Scorpios deserve their own birthday card.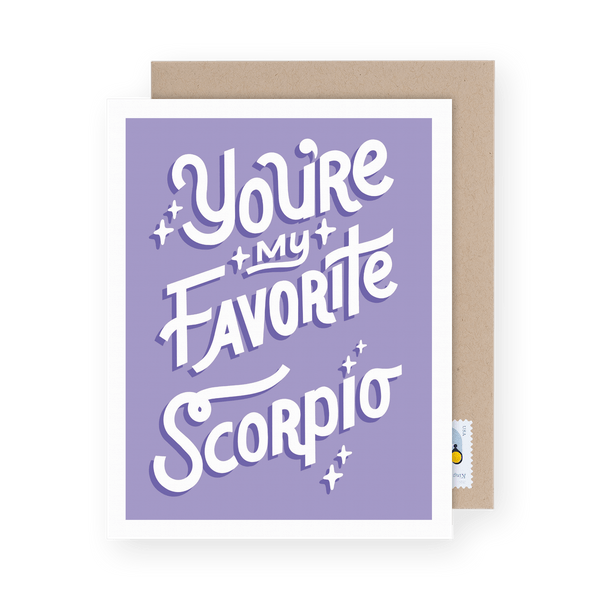 According to Mind Body Green's analysis of the sign, Scorpions have "fearlessness, boldness (thanks to Mars), passion, creativity, and fierce loyalty." Oof if that doesn't sound like someone we'd all love to have in our lives, we don't know what would. And we've got just the epic birthday cards to match the adventurous Scorpio spirit.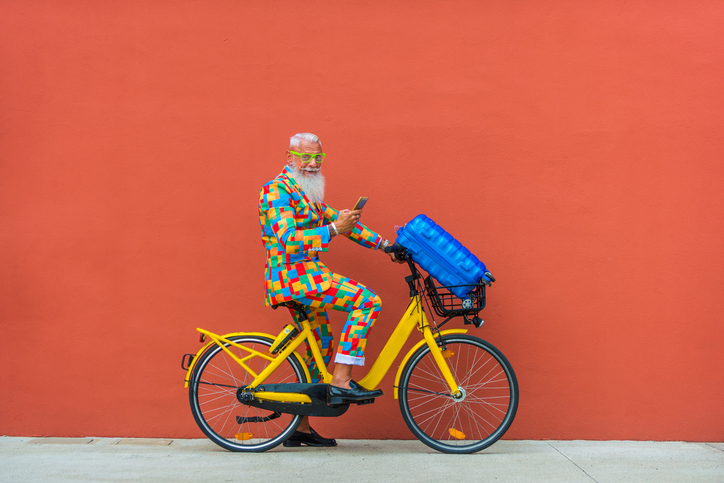 For the bold, colorful, creative Scorpio
You really can't get more fiercely bold than this distinct design by Rumble Cards. The pop of color and silly party horse design would be perfect for that one Scorpio friend that's passionate and creative.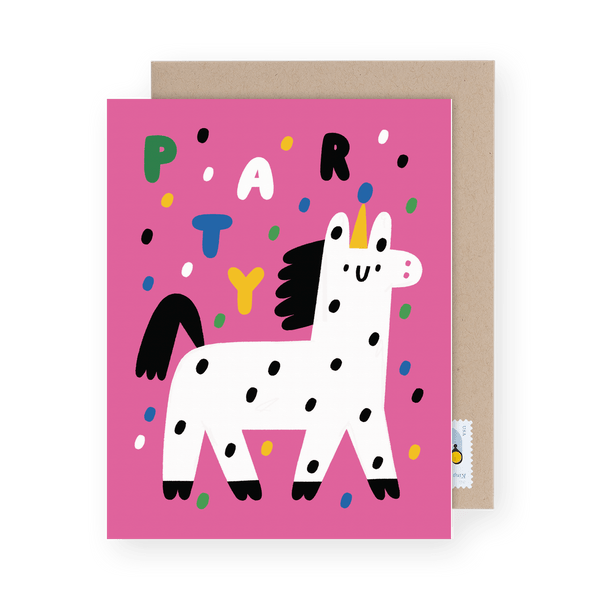 For the fearless Scorpio (or one who just loves a good wave)
Whether your Scorpio friend is a surfing veteran or simply someone whose personality is embodied in this Small Adventure hand-painted masterpiece, this birthday card would be perfect.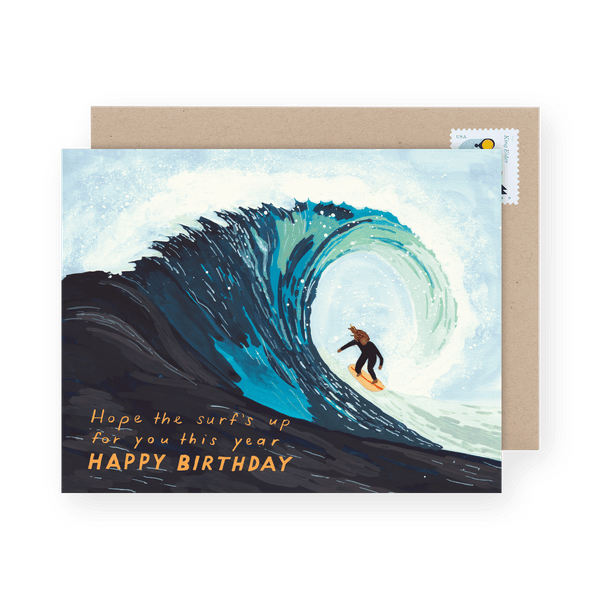 Sagittarius Birthday Cards
Sagittarius season coinciding with the holiday season is no coincidence. Say hello to months November 22 – December 21 by sending your Sagittarius friend a unique Zodiac birthday card.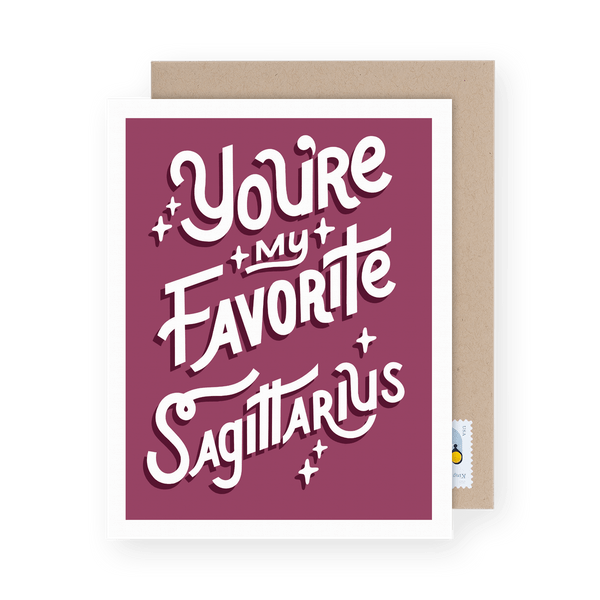 According to PureWow's guide to Sagittarius, these folks are "very, very funny." And who doesn't love to laugh?! If you're lucky enough to have one of these friends, sending them a funny birthday card seems like a no-brainer. Here's two that we absolutely love.
For the Schitts Creek fan Sagittarius
Ok, so very specific with this one, but we couldn't help ourselves. If they're very very funny, chances are they'll appreciate the humor (assuming they've seen the show).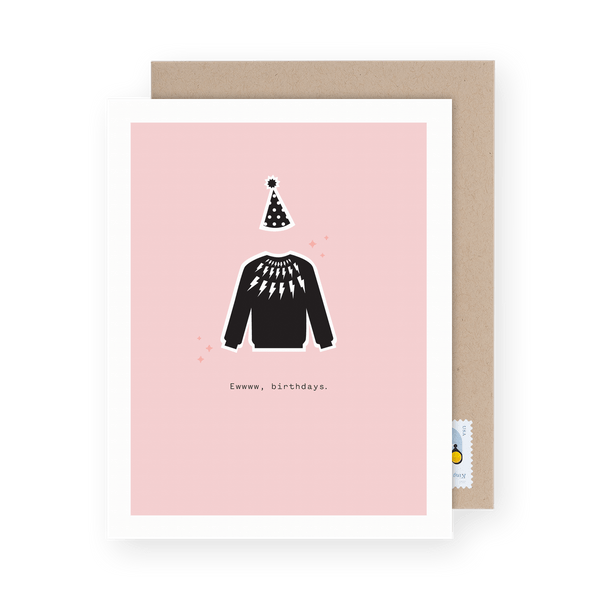 For the pun-loving Sagittarius
If they're very, very funny they'll probably appreciate a good pun (plus who wouldn't love the pup?).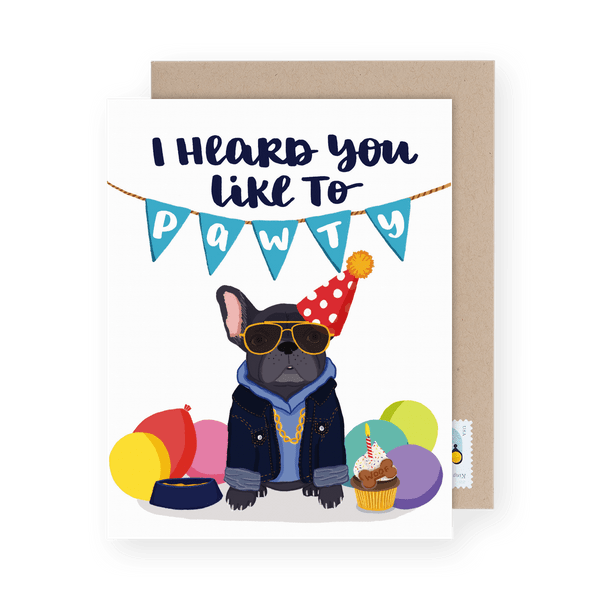 Capricorn Birthday Cards
Bring on the New Year's resolutions and the start (and end) of Capricorn season. Celebrate your Capricorn friends during the months of December 22 – January 19 and send them this Zodiac birthday card.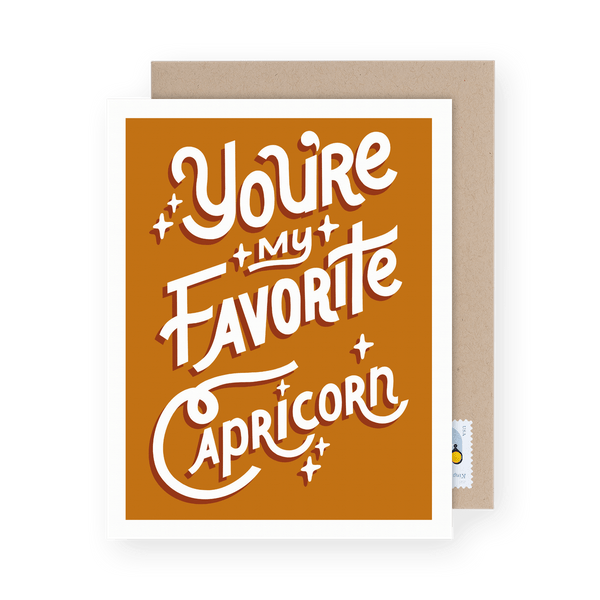 Who doesn't love a goat? And with Capricorn being the sea-goat sign, why not use that to draw on as inspiration?! Here's two goat inspired birthday cards you could send the sea-goat in your life.
For the greatest of all time Capricorn
Is your friend truly the greatest? Why not tell 'em with this delightful birthday card design by Grey Street Paper?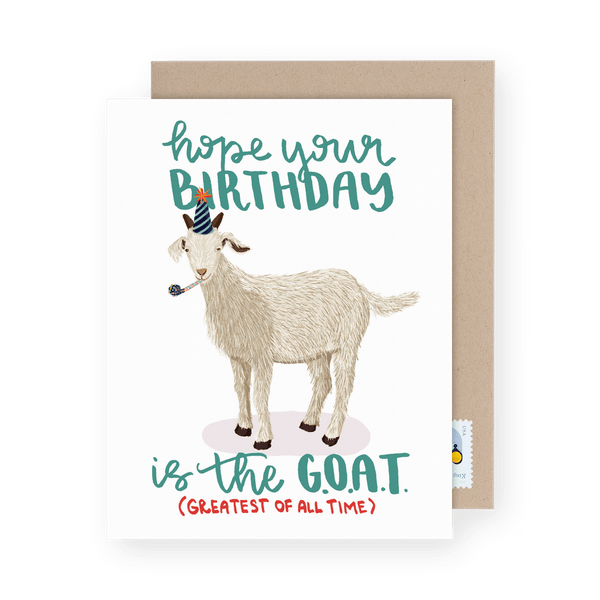 For the kid Capricorn
Is there a little human in your life who was lucky enough to be born during Capricorn season? Send them this delightful goat birthday card and let them know they're very special.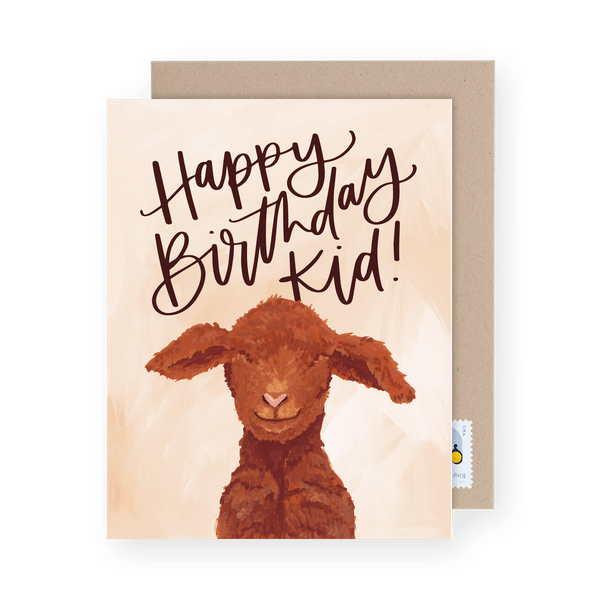 Aquarius Birthday Cards
We've got two more signs to honor on this list of Zodiac birthday cards and we're not even close to losing steam. Falling during January 20 – February 18, the sign Aquarius is up next.
PureWow describes Aquarians as "nonconformist and open-minded by nature." We all know and love that unique Aquarius in our lives and we all know they deserve a personalized birthday card just for them. Here's two!
For the open minded Aquarius
However your friend feels about aliens, this funny birthday card channels that sense of open-mindedness to the universe.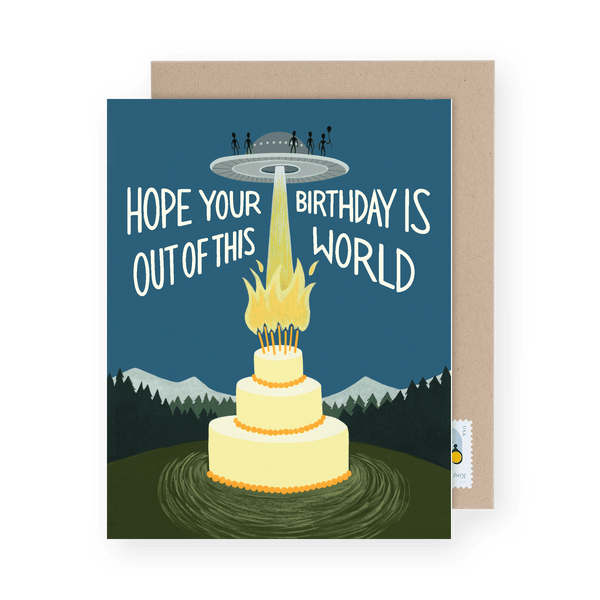 For the bold and funky Aquarius
This Rumble Cards creation is funky, fun, and perfect for your nonconforming Aquarius friends. Plus, the illustration and bold color scheme is incredible!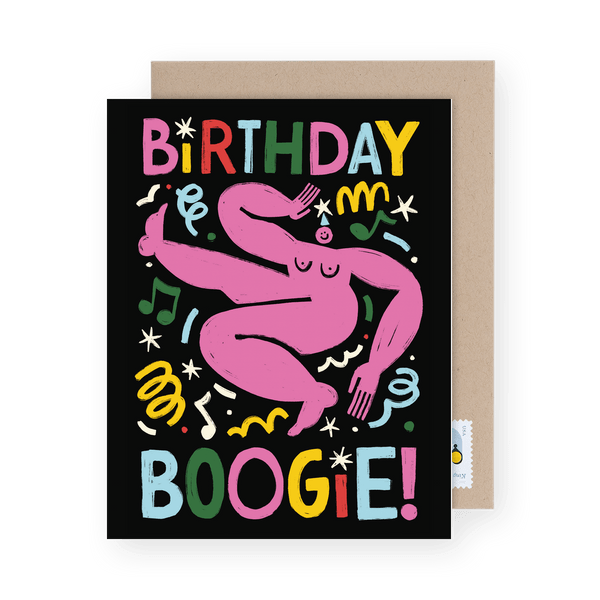 Pisces Birthday Cards
Last, but certainly not least we've got Pisces. The final zodiac sign in this list of Zodiac Birthday cards falls during February 19 – March 20.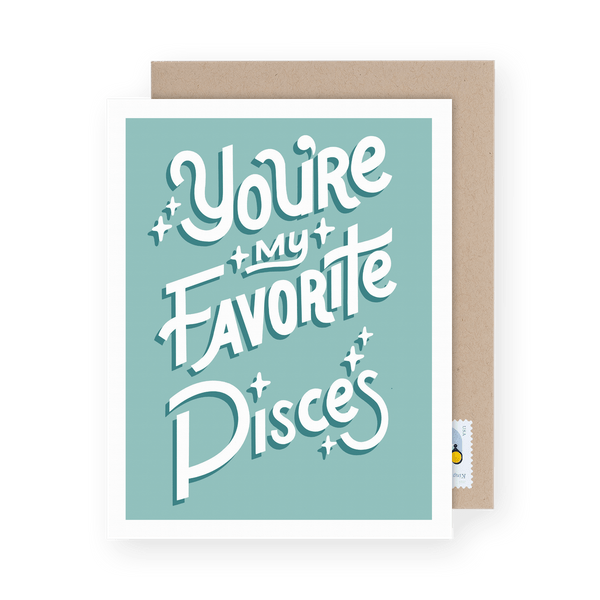 According to Cosmic Rx founder Madi Murphy the Pisces sign "wants us to embrace our sensitive sides, our inner childlike wonder, and our artistic visions." Luckily we've got artistic, childlike birthday designs for days. You'll have no trouble finding the perfect birthday card for the Pisces in your life in our birthday card collection, but we've given you a head start with these two picks:
For the water-loving Pisces
We love this water goddess mermaid birthday card and we know the fish sign Pisces will too.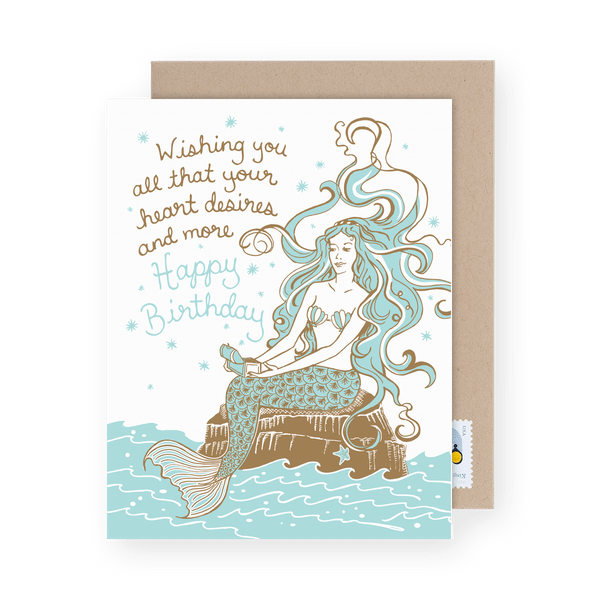 For the artsy Pisces
This delightful Elizabeth Grubaugh design gives us some serious Pheobe Buffay vibes (even though she's just days from actually being a Pisces) and we know your creative Pisces friend will appreciate it as much as we do.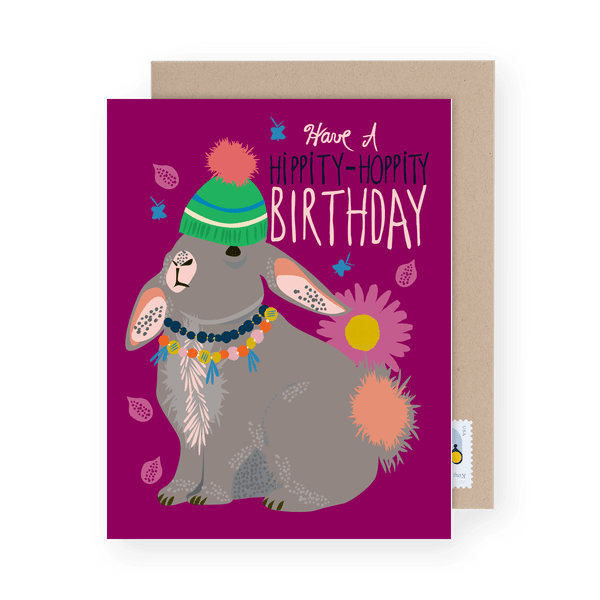 A Nonconforming Zodiac Birthday Card
Have a friend that swears they simply don't fall under any stereotypical Zodiac sign, but love to dive into Astrology? This Small Adventure birthday card will be perfect!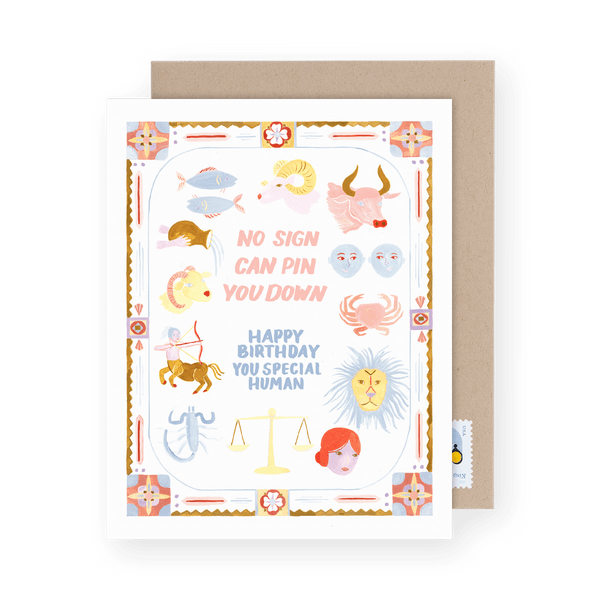 Use code ZODIAC for 20% off to send a birthday card!
Wanna see the full Birthday card selection? Postable prints, addresses and mails your cards for you.