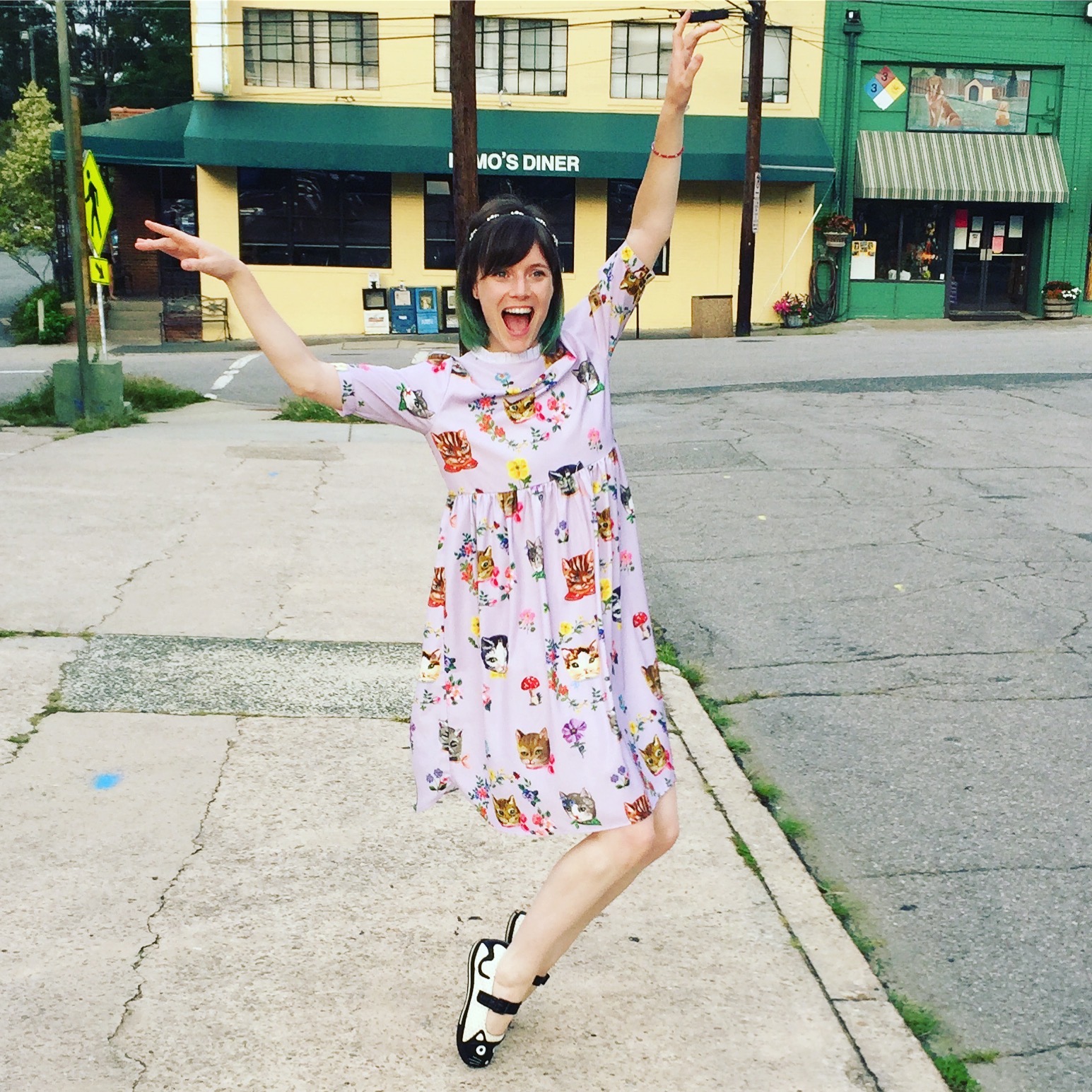 Established in 2015, TYLRE is a stationery brand by illustrator, musician, and engineer Tyler Case. TYLRE features hand-painted illustrations that incorporate Tyler's love of science, instruments, animals, beards, puns, and offbeat cute stuff.
Checkout TYLRE's full Postable collection and send a card to someone you love.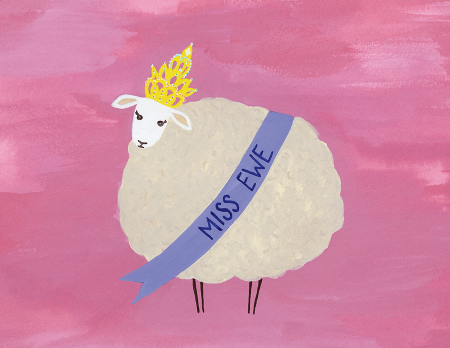 1. What's your favorite book?
Ocean at the End of the Lane by Neil Gaiman
2. Favorite movie?
As a child it was always Sleeping Beauty. I love that it's set in Medieval time. I love that there are castles, a dragon, a witch, and faeries. Even as a little kid I recognized that to me it had the best art style and music of any other movie I had been exposed to. Now, I'm like DUH! Tchaikovsky! Helloooo! Music does not get better! And there's a ballet to accompany it?! Coooool! But back then, I just knew there was some intangible magicalness to it.
3. Favorite TV show?
I really want to tell you some other, cooler show… but honestly it's Gilmore Girls. Other absolutely perfect shows I could (and frequently do) watch over and over include: Parks and Recreation, Mozart in the Jungle, and Bored to Death.

4. Favorite song?
It's absolutely impossible for me to answer this question and not want to change my answer ten seconds later. Music is too huge a part of my life and I have an extremely strong emotional reaction to a variety of genres. That said, there's this studio recording Smashing Pumpkins B-Side of Billy Corgan singing My Blue Heaven and that song pretty much ticks all the boxes for me.
5. Favorite food?
Right now it's definitely tater tots. With cheese. And Texas Pete. Dipped in Ranch… I'm disgusting. I'm sorry. Save me from myself.
6. Drink of choice?
For hydration purposes, I wish I could always drink coconut water straight out of a coconut. I've never had it from any other container. I regularly (about every month, sometimes more frequently) buy coconuts from the grocery store and force my poor husband to saw the tops off for me with our serrated bread knife, then drink all the water from them using a straw. Soooooooo good. For dehydration, I almost always go for red wine.
7. Go-to karaoke song?
California Gurls by Katy Perry
8. When did you realize you wanted to be a designer?
That's difficult to answer. Growing up, throughout grade school, people would always ask me if I was going to be an artist when I grew up. I always felt like, "I'll be an artist no matter what I do professionally! I'm an artist now!" In college, I enjoyed making little cards to send to my friends who went to schools in other states… I shared my drawings and paintings on flickr back when flickr was a thing… but I don't think I really thought I could make anything of it professionally until 2014 when I happened to befriend a girl (Sam Kramer from Near Modern Disaster!) who made stationery and she helped me see how to share my art with people in the form of greeting cards. So… it was a slow burn.
9. Did you go to design school or teach yourself?
I have a bachelor's degree in Chemical Engineering and a minor in French. I have no formal training in art.
10. If you had to describe your style with only three words what would they be?
Pretty. Freakin'. Cute.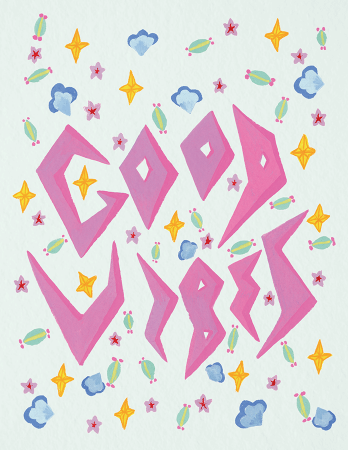 11. When did you start your company?
2015, technically. But shortly after that I got a big promotion at work and found out I was pregnant and my life shifted dramatically away from art. I more officially re-started TYLRE in 2017. Got a business banking account this year and everything.
12. Where is your studio located?
In the formal dining room of our house, which has become mine and my husband's shared office space. I have a giant desk that's a mess of paintings and other items I'm working on, learning from, am inspired by… oh, and bills and likely some trash too.
13. What's your favorite card of yours on Postable?
I think right now it's You Did A Thing… I really like the little guy, I think it's funny and uplifting, and I know (but no one looking at it could know) that I almost gave up on it, and I painted over the guy's face, outfit, and banner to change the colour scheme multiple times before landing on the final colours. To be happy with this design now feels like a significant accomplishment. To see other people enjoy it sends me over the moon.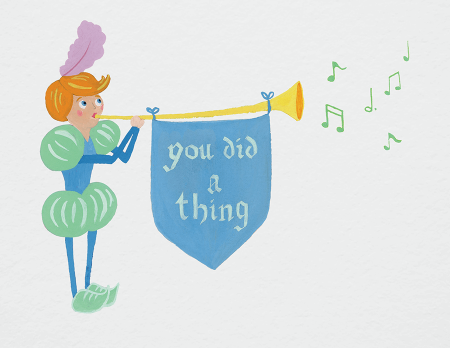 14. What artists, past or present, inspire your work?
I'm not sure my work is really clearly a result of an influence by these artists, but inevitably my love for their work in some way must come out in what I do. Some of my very favourite artists are : Hayao Miyazaki, Nathalie Lété, Anna Emilia, Rebecca Artemisa, Fumi Nakamura, Rebecca Chaperon, Audrey Kawasaki… Van Gogh, Degas…
15. If you had to choose a spirit animal what would it be and why?
Fainting goat… I scare easily… and… severely.
16. When was the last time you laughed really hard and why?
About a month ago (yeah, I don't laugh REALLY HARD very often), my husband and I both had our teeth cleaned on the same day, back to back, by the same dental hygienist and dentist. Everything about the experience was pretty standard, but later that night while we were brushing our teeth for bed I remarked that they always tell me I do a good job cleaning behind my front bottom teeth. Apparently, this can be a tricky spot for many people with teeth. My husband then got kind of bummed and said, "You know, they usually make a pretty big deal of telling me I have a great set of teeth… they didn't say that this time…" (he's 31 and has never had a cavity). Then we started talking about how the flame is gone from his relationship with the dentist, and maybe he should do something to spice it up, you know… keep things fresh for his man… like maybe get his teeth cut short, or wear them up, or even try a little curl… It went on and on… I'm laughing pretty hard alone to myself just thinking about it.Related : Several years ago, while I was at the dentist for a routine cleaning, I was reclining in some giant chair with my mouth wide open letting the hygienist do her thang, and I noticed my tongue was following her hands around inside my mouth. It was like my tongue had a mind of its own and the more I thought about it the less I could control it, and then I burst into laughter and basically CANNOT not think about it when I get my teeth cleaned…You have now seen pretty deep into my soul.
17. How would you spend your dream Saturday?
Wow! A day is long, huh? And I'm dreaming??? Ok… I'd wake up crazy early, before sunrise and magically not be tired. I'd go out in rural Alabama with my dad and photograph light through trees and dilapidated barns, have a good talk and a few laughs with him. After that, I'd magically teleport to Raleigh to spend some happy morning hours with my daughter in our home… I'd drink coffee and practice harp and piano as she climbs on my instruments. Then, out of nowhere, my mom would show up from Alabama and be like, "Y'all, go have a great day! I'm going to watch Silence." My husband and I would then head out SANS BABY for lunch & beer at one of our favourite spots in Durham, then maybe go lay in the sunshine at Duke Gardens and talk about how much we like each other. We'd then go hang out with our daughter in her sandbox which would for some reason be SUPER CLEAN and NOT MYSTERIOUSLY WET and NOT CONTAIN ANY SPIDERS. In the evening, we'd put our daughter to bed and then have a party at our house and a bunch of our closest friends who live all over the place now would for some reason all be in town and available to hang out with us. We'd play that game where you all hold up cards on your forehead but can't see who you are and have to ask everyone questions until you figure it out… we'd take turn playing instruments for each other… we'd enjoy many bottles of bubbly wines… And none of it would result in a hangover, and our ruckus would not disturb the baby sleeping upstairs.
18. If you weren't allowed to work for 12 months, what would you do?
I would move to a French-speaking city, maybe Montreal? Or Paris? And I would focus on becoming fluent in French by immersion.
19. If you could live anywhere in the world where would it be?
Spring in Asheville, Summer & Fall in the Adirondacks, winters in Telluride. A Victorian mansion in San Francisco reeeally wouldn't suck either.
20. Was this questionnaire too long?
No, but I'm afraid my answers may have been!