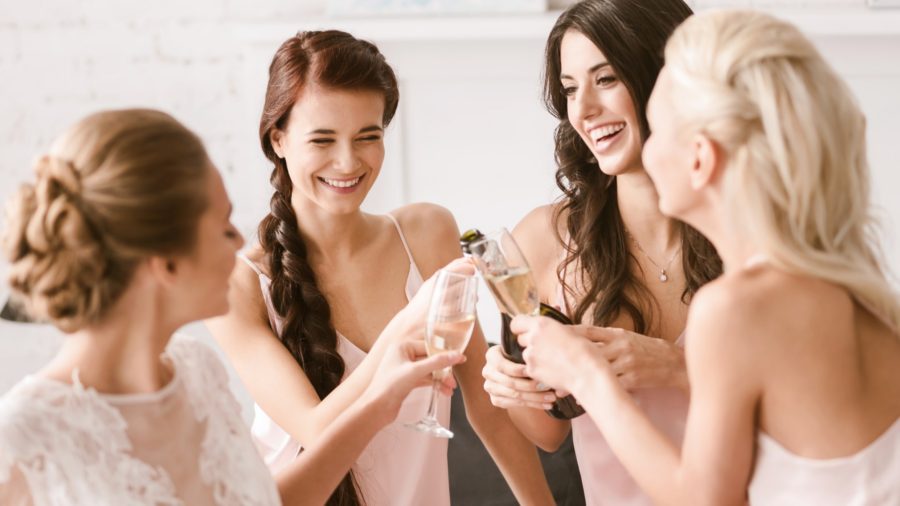 The best part of any wedding — besides the actual vows, love and bridging two families and what not — is getting to celebrate the big day with the people closest to you. The bridal party is a big part of any wedding and if you've chosen to have one you're bound to have a great time! The money and energy that your bridal party will have invested in your big day is no chunk of change so be sure to let them know how grateful you are with some fun bridal party gifts!
But first, did you ask them yet?
The bridesmaid and groomsmen proposal is totally a thing so be sure you make an effort to ask them for their hand so-to-speak!
Bridal party gifts they'll actually use after your wedding day!
There are a ton of great ideas out there on the fun things you can gift your bridal party, but the best gifts are always those they can actually use! So if you want your friends and family to get some use out of your gifts and think of you each time they do — take a look at this list of bridal party gift ideas. We've selected items that they'll love for your big day and many days after!
If you want to gift your wedding party something they'll want to use after your big day, avoid customizing it with wedding related info. We know, it's so much fun to monogram everything from the napkins to the socks with the bride and groom's names (and date), but if you want your friends to use whatever it is after the big day — keep the info off the items.
You can totally still customize the gifts, but only with the recipient's name!
1. Bridal PJ set.
Because the pictures alone will be worth it! Get a matching set of PJs for you and your bridesmaids to wear while getting ready. You'll get adorable pictures and your ladies will have a brand new set of PJs that they'll adore.
This set is from The Paisley Box on Etsy.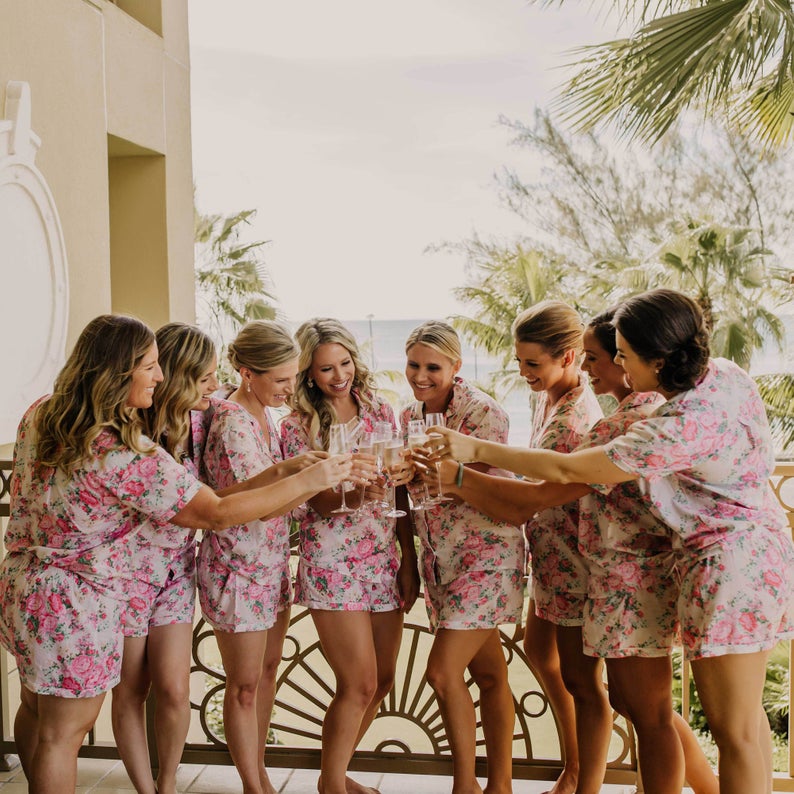 2. Lace bridal robes.
Ok, so maybe PJs aren't really your thing. Perhaps these lace-y robes are more up your alley. They're gorgeous and will make you and your ladies feel like the goddesses that you are! Plus, they'll make for some lovely photos as you all get ready. Your bridesmaids will definitely get some good use out of these even after your big day has come and gone.
These lace robes are from The White Invite.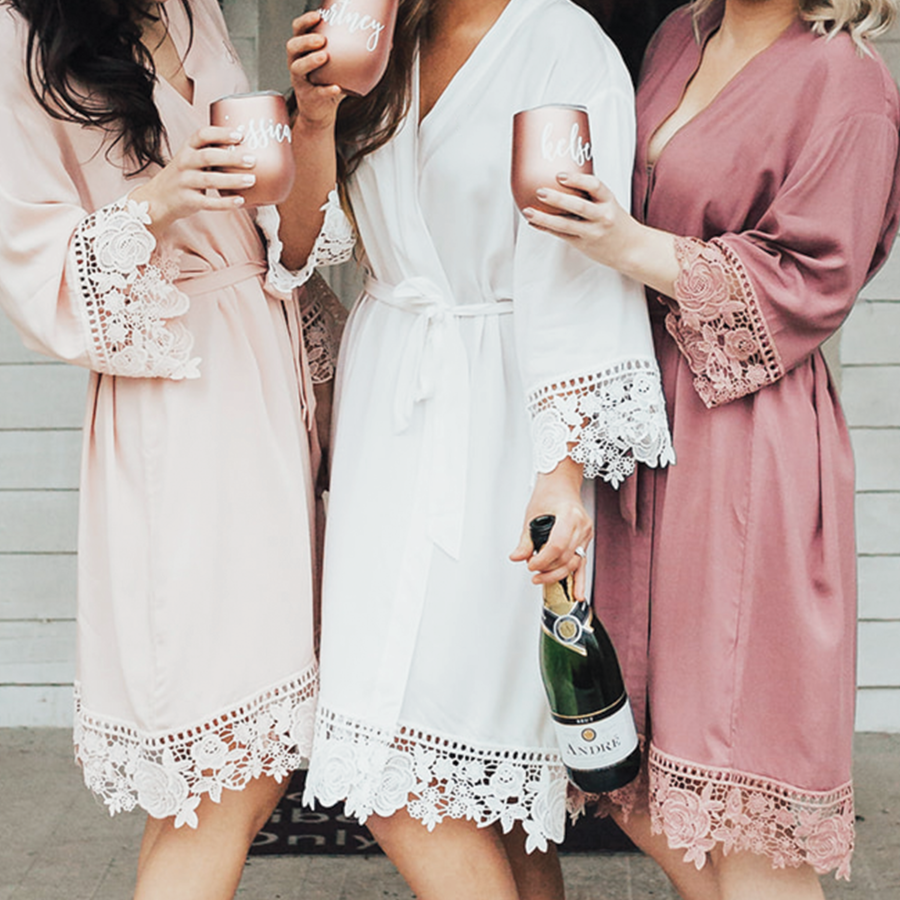 3. Custom tumblers.
The big day is going to have everyone on the go — gift your ladies (and gents) tumblers so they can be sure to stay hydrated through the whole day. Pick colors that match your wedding day and have them customized with each bridal party member's name. They'll love the personalization and will hopefully avoid that unavoidable hangover.
These tumblers are from Paola Brown Shop on Etsy.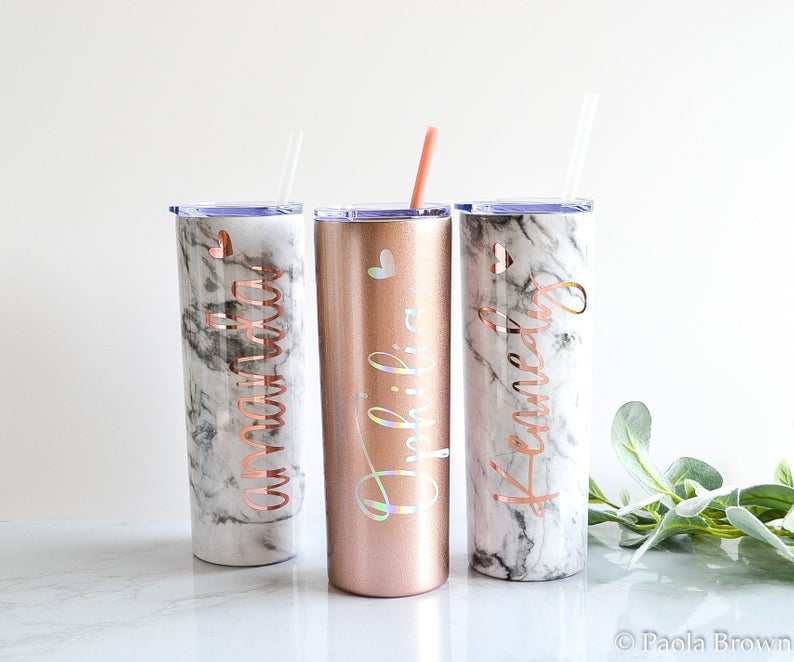 4. Matching onesies for the whole bridal party.
If you're the type to stray from the norm, then skip the matching PJs and go for the onesies. You can't imagine how comfortable these bad boys are and they're perfect for getting ready. These work great since they zip up and down so they won't ruin your hair and makeup. Bridal onesies would work best in cooler weather months — the last thing you want is to be a sweaty mess while getting ready. You can be sure your wedding party will be using these bad boys at home and getting all sorts of cozy later on!
via Pinterest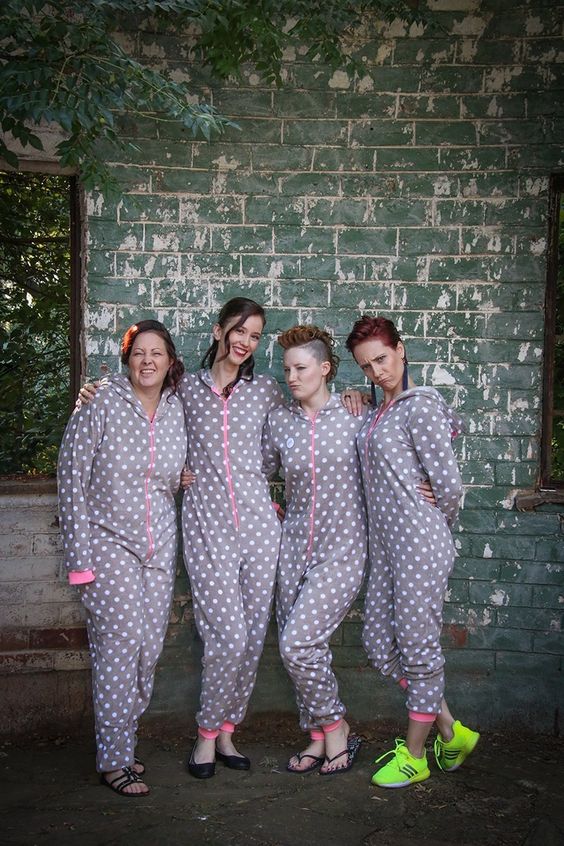 5. Custom jewelry box.
Wearing jewelry for the big day? Why not gift your bridesmaids lovely custom jewelry boxes? It may be a bit more than usual, but it's also a gift they'll be able to cherish for a long time.
This lovely custom box is from Z Create Design on Etsy.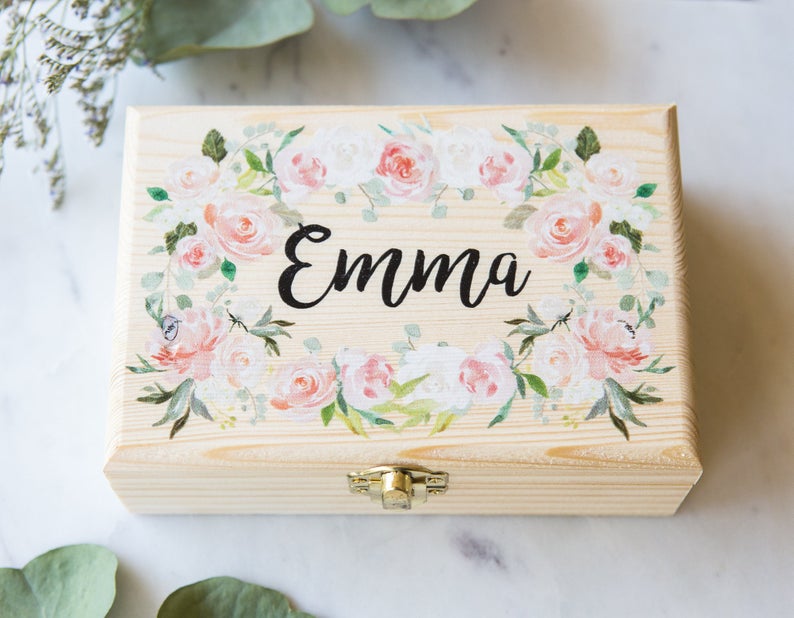 6. Custom water bottles.
Remember that hydrating thing we mentioned? These custom matching water bottles are another great way to keep your bridal party from getting too wild before it's time to actually party. Both the groomsmen and bridesmaids will be able to use these after your wedding has come and gone and they'll think of you every time they're getting hydrated!
These custom bottles are from Names Design on Etsy.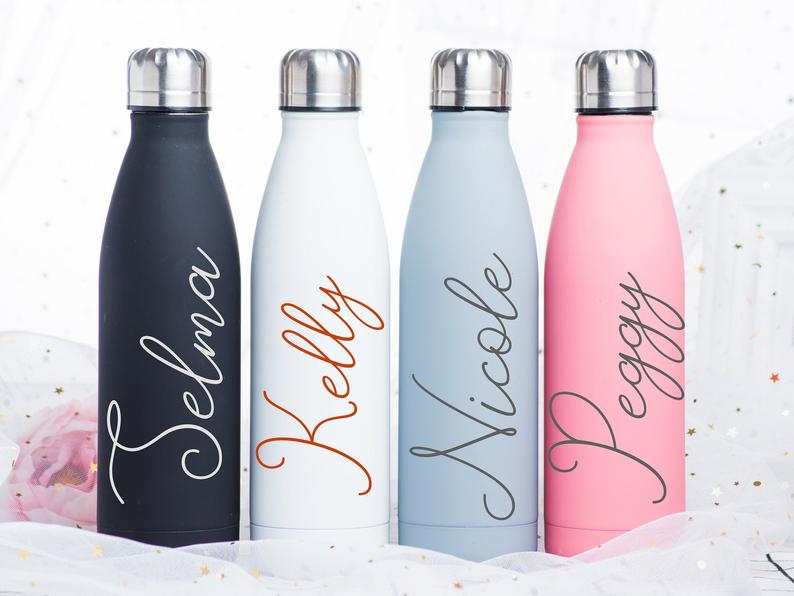 7. Bridal party tote bag.
You'll need something to put all those bridal party gifts into… Why not make it a gift of its own? We love the idea of a simple custom tote that you can tie into the wedding by using the wedding colors! And unlike the other items, you could include a message on the inside of the bag (pictured) that relates to the wedding day. Use this space to write your thank you or just include your wedding dates. This is a cute way to monogram your bridal party gift without making it too specific for wedding use only.
This tote is from The Personal Wedding Co. on Etsy.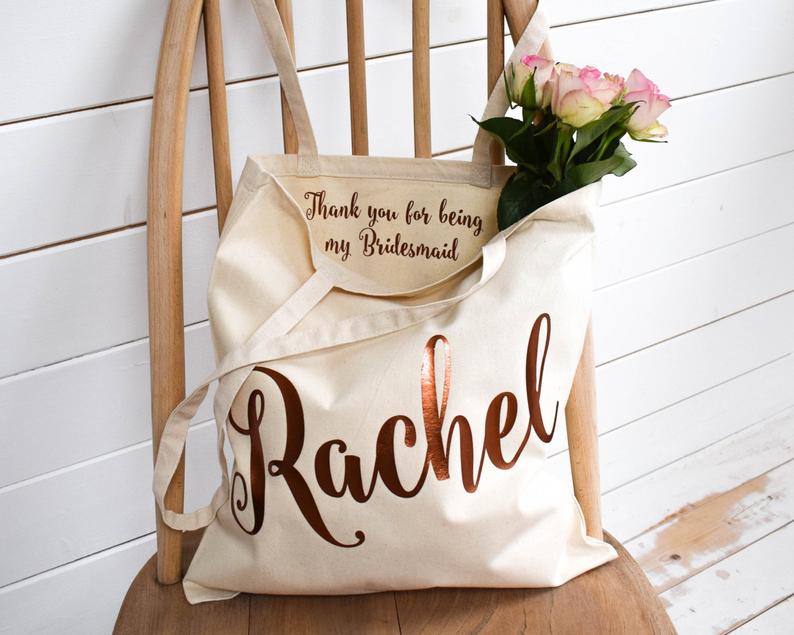 8. Round bridal flasks!
Speaking of staying hydrated. If you prefer to gift your bridal party a little something they can use to spice up the moment, these adorable flasks will do the trick. They're simple, cute and can tie in with the wedding through the color scheme. Add their name or initials to the flask to personalize it even more!
This flask via Candy Cake Weddings.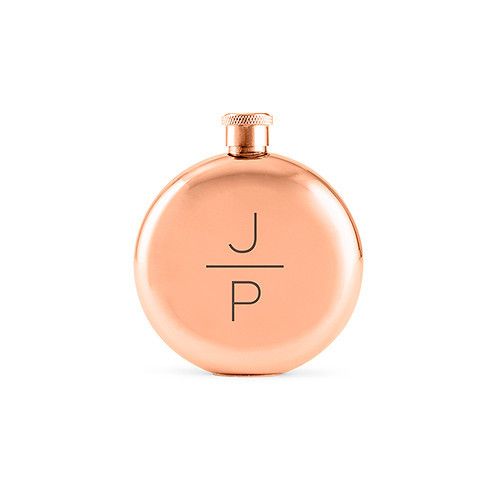 9. More flasks!
If you're more of a traditionalist, you could stick to the good old square shaped flask. Keep it neutral with a color like black and just include the initials at the bottom. It's the perfect bridal party wedding gift that they'll get use out of later on.
This flask is from Great Little Favor Co. on Etsy.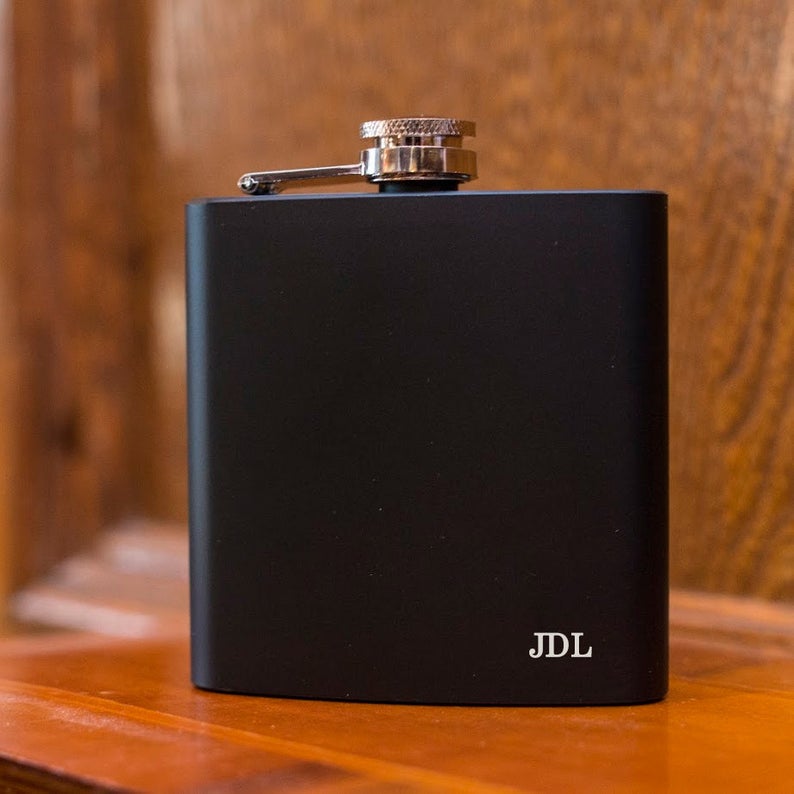 10. Custom bottle openers.
Speaking of booze… Why not gift your bridal a custom bottle opener they'll love? These bottle openers are so pretty it's hard to look away! They're simple in design, but will still be customized with the bridesmaids and groomsmen's names. Perfect for a wedding that's keeping the design simple and earthy.
These bottle openers are from Z Create Design.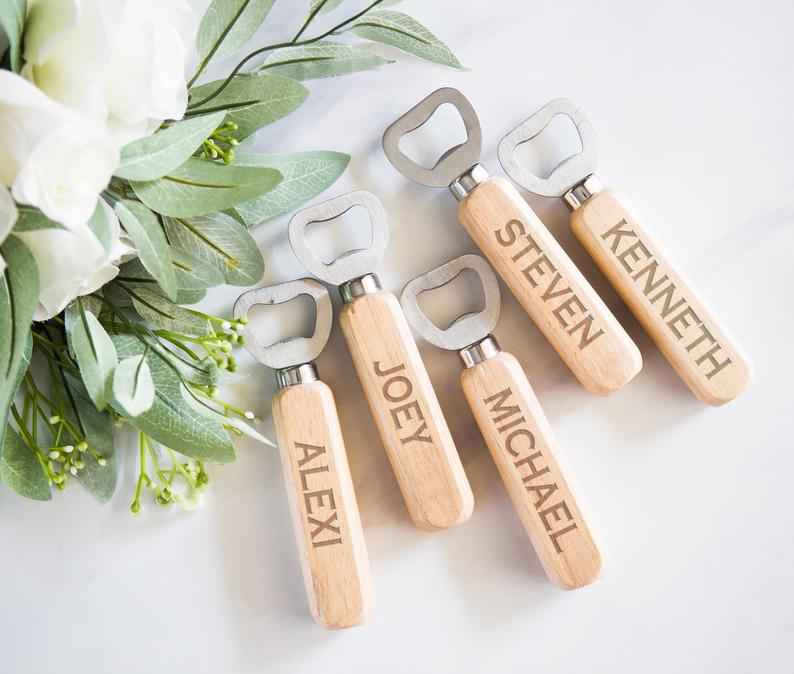 11. Custom suspenders.
Want to get real classy? Gift your groomsmen these custom leather suspenders and you'll all feel like the classiest fellas at the ball. Ok, but seriously — how nice is this groomsmen gift? Your guys will definitely love this gift even if some of them may need a little tutorial.
These engraved suspenders are from Natural Leather Shop on Etsy.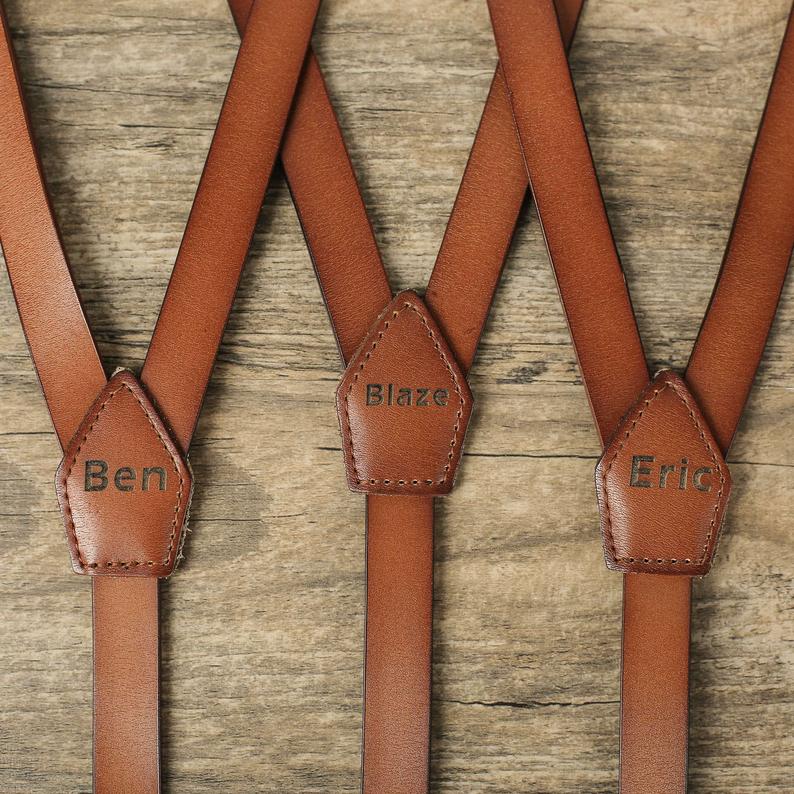 12. Groomsmen socks.
It's simple and oh so useful. Everyone needs socks, right? This is the perfect example of where not to put your wedding info (IF you'd like the gifts to be used after the wedding). Get matching socks for the men in your bridal party and get these custom sock wrappers — that you can totally customize with your wedding day details!
These sock labels are from Jules and Joy Gifts on Etsy.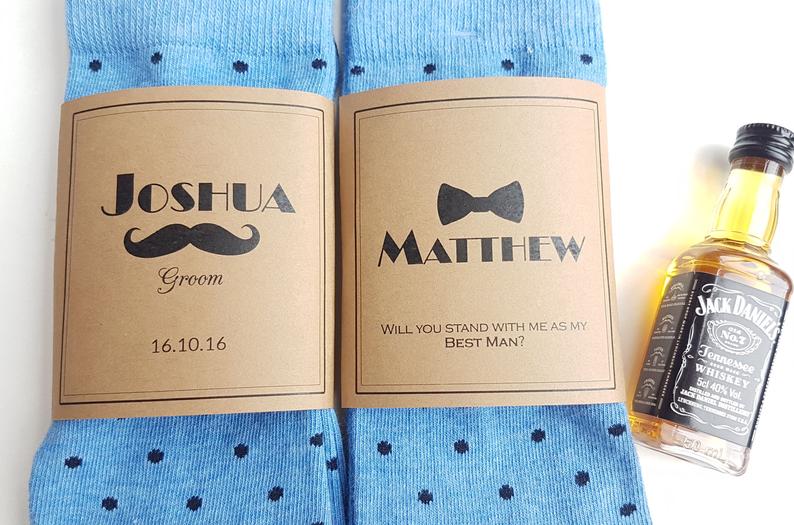 13. Matching groomsmen cuff links.
Last, but certainly not least — matching cuff links! Gift your groomsmen these tiny accessories they'll want to wear again and again. But only if you make them re-usable. It wouldn't really make sense for them to wear cuff links with your wedding date on them any other time. So instead, tie your wedding theme in another way. If you're having a mountain wedding, these mountain cuff links would be the perfect way to tie it in. You can use the color scheme or season as ideas as well!
These adorable mountain cuff links are from Cabin on Etsy.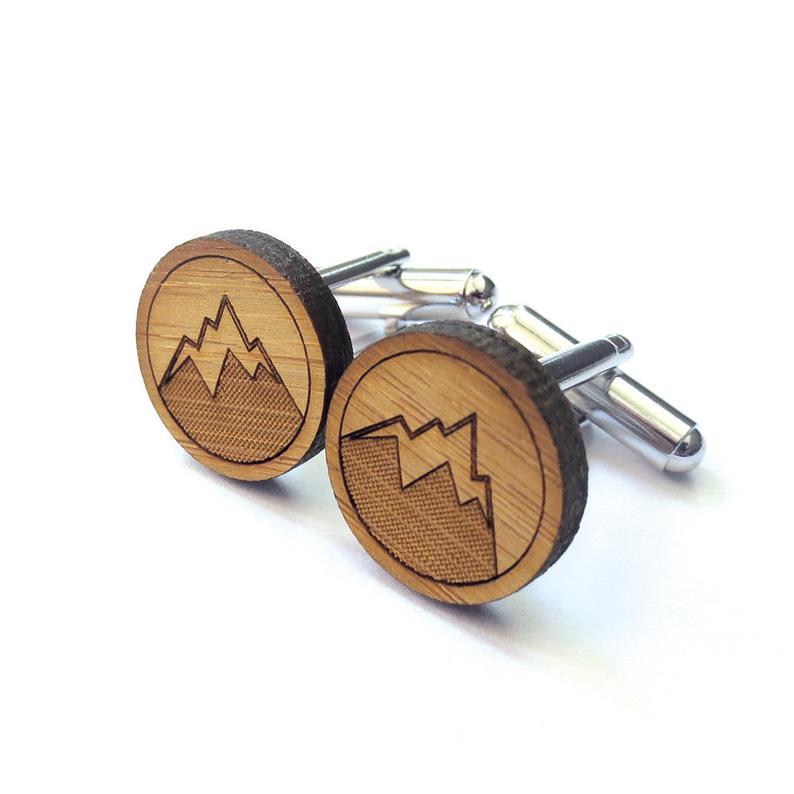 Don't forget to actually thank your bridal party!
Gifts are absolutely lovely and your bridal party will be oh so grateful to get a little something for their involvement, but don't forget to actually thank them. Of course, give them all a big old hug and a thank you on your big day and then don't forget to reach back out with a thank you note.
It's a simple gesture that is so easily overlooked, but also oh so important! Send your bridal party thank you notes and don't forget to personalize the message with a little something unique for each person.
Pro tip: Postable will print, address and mail your thank you cards for you!
Use a photo thank you card like this one and either include a picture of you and your new spouse OR a picture of you and the bridal party member! They'll love getting to walk down memory lane one more time.